When I spoke with people from RHA at the London CanJam 2019, they told me that the RHA TrueConnect were "true wireless" earphones aiming to get both features and sound right. RHA actually got more than that, as they also scored high in design, battery life, microphone quality and connectivity. That's quite a list of achievements considering this is their first TWS product! The TrueConnect are the ideal compromise between functionality and good sound quality (with a touch of fun).
Disclaimer: I would like to thank Lorna at RHA for sending this unit free of charge. Additional information can be found on RHA's website. The TrueConnect retail for £150/$170/€180.

TL;DR: recap
Pros




Cons

Small, light and comfortable

Almost-neutral sound signature

Very good technical ability

Super-strong Bluetooth connection

A bit of background hiss
Rating: 8.4/10
Packaging & Accessories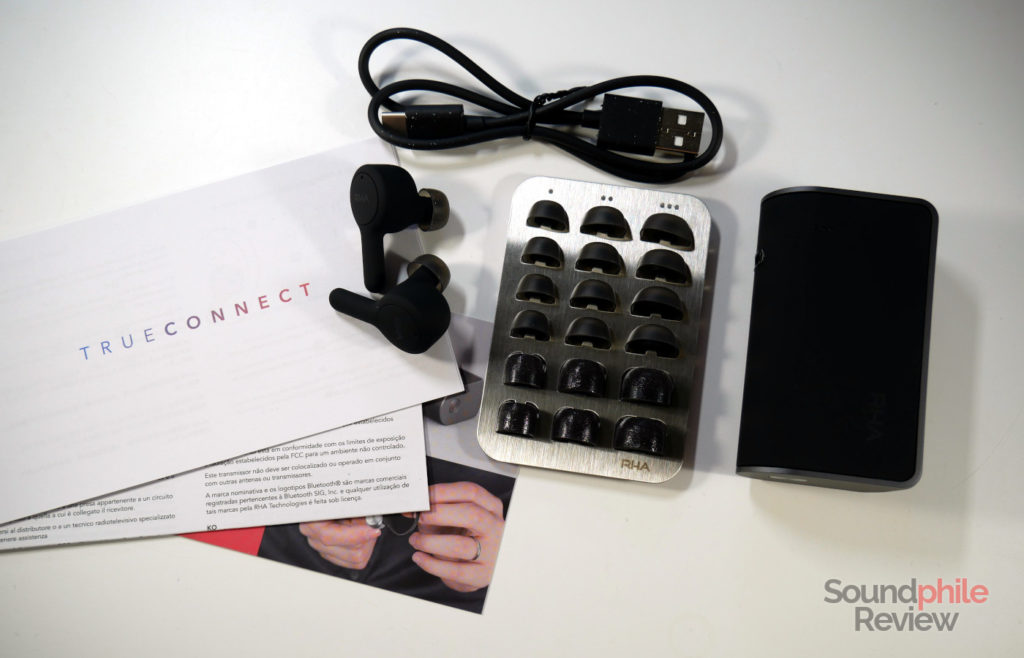 RHA may change the way their products are presented in the box, but they really don't change the spirit of important things – which is, the accessories. The box contains the earphones, the dock/case/cradle, a metal plate with a host of eartips in different sizes and shapes (three single-flange silicone, two double-flange silicone, three foam), a USB to USB Type-C cable. Alas the usual bag made of nets is not there. Despite this absence, it's a super-complete package!
Design & Comfort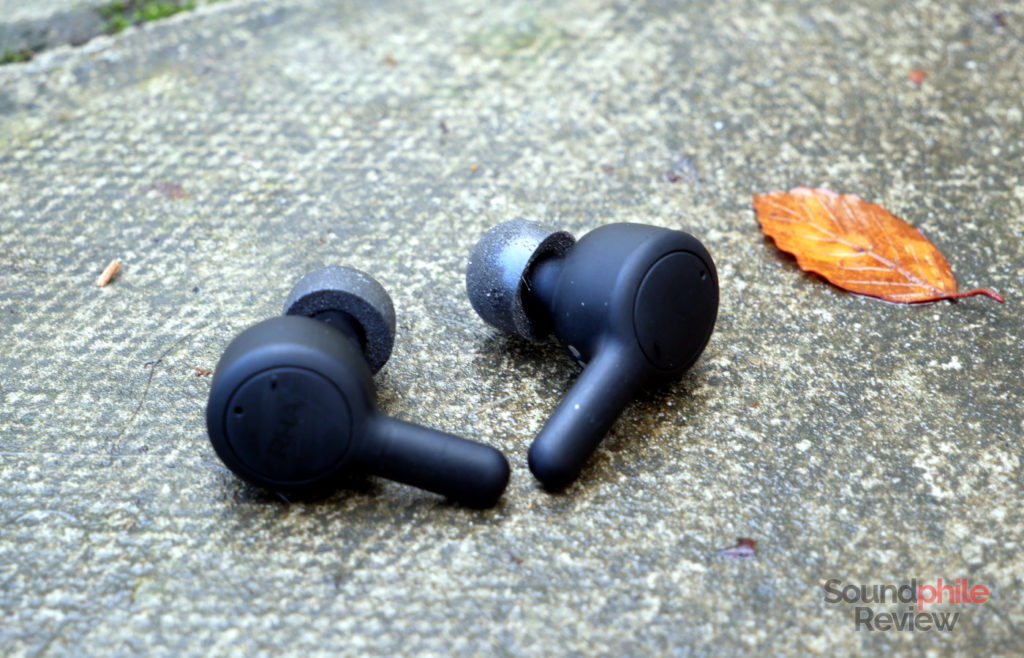 There are two main design currents nowadays regarding TWS earphones: AirPods-like, with a stem protruding from the main shell, and all-in-one, with everything inside a shell which resembles that of a usual IEM. The RHA TrueConnect are part of the former current. They're definitely not AirPods-like in their appearance, though. They are in fact really different: they have large round shells from which relatively small stems depart.
On the shell there's a large button that's the main way of interacting with the earphones. On the end of the stem is a hole, which is where the microphone is. Just beside the stem are the two pins that allow the earphones to charge when they're in the dock.
The earphones are covered in plastic with a soft-touch finish that looks and feels good but is also a fingerprint magnet. Luckily it's also easy to clean it. Overall, the build quality appears really high, with the materials being used that appear high quality.
The TrueConnect are IPX5 certified, so you can wear them while having a shower or when working out without any risk of them breaking. You can't swim with them, but the laws of physics would prevent the earphones to work anyway.
In terms of comfort, in my case the RHA TrueConnect are not the best I could hope for. The large shell size makes them press against my ears in a way that causes discomfort after half an hour. That won't be true for everyone, but it's something to consider if you happen to have normal or small ears.
In terms of isolation, the eartips provided with the RHA TrueConnect really did not fit my ears well, so they would only offer very limited isolation. That's also true about the foam eartips. When switching to "normal" tips, they would be much more isolating. That's my strictly personal experience with eartips, though; what we can infer from that is that the TrueConnect offer good isolation and it's only a matter of finding the right eartips.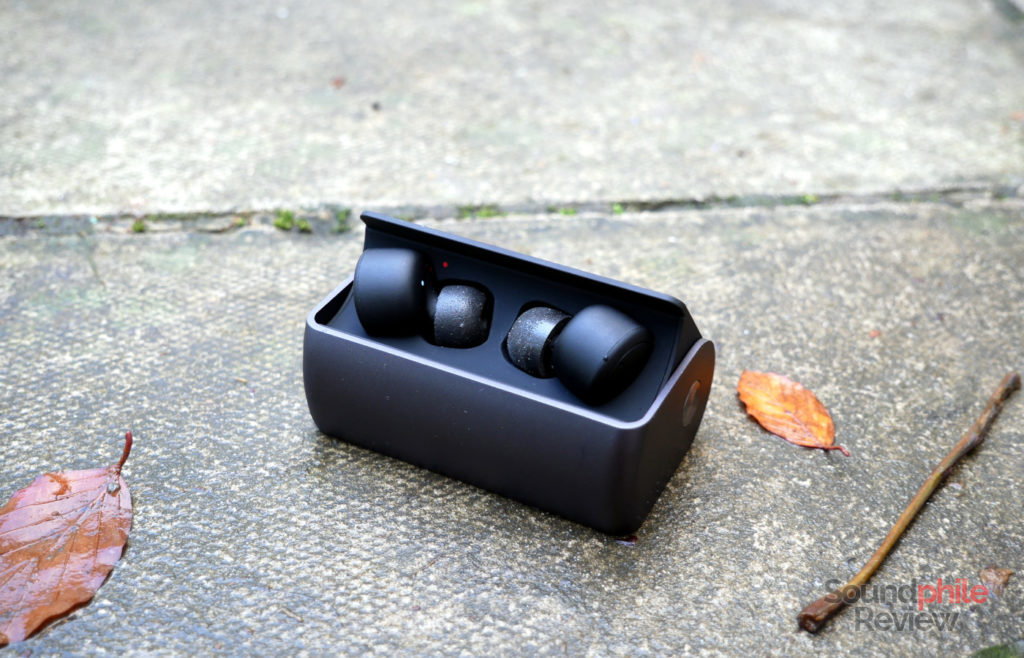 The design of the case/cradle/dock/whatever-you-call-it is just wonderful. Not only is it practical, it's beautiful, too. It's made of two distinct components: an aluminium C-shaped part which rotates around a common axis with the main cradle. The latter is made of the same plastic with a soft-touch finish that covers the earphones. There are three LEDs on one side which tell you how much charge is left. The LEDs light up when you open the case, which is quite convenient. There are also LEDs on the earpieces themselves, so you can tell if they are fully charged or not. There's a USB Type-C connector on the dock. It is really easy to open and close the case with just one hand and, most importantly, once it's open it stays open – there's a click when the two parts reach either end and they lock in place.
Extra Features & Battery Life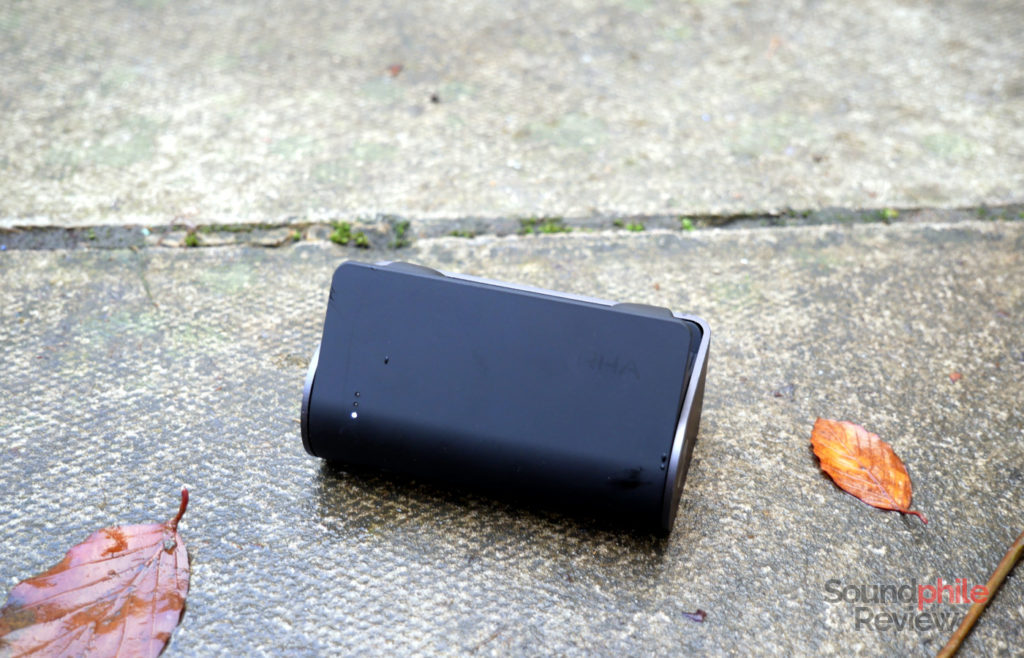 When designing the TrueConnect, RHA decided to opt for the latest and greatest, so they adopted the Bluetooth 5.0 standard. This new version has just one advantage for audio applications: it enables audio streaming in low power mode. No difference in terms of audio quality is present. The lack of high-quality codecs such as aptX or LDAC is therefore a bit disappointing, though the TrueConnect support AAC for the Apple folks.
There is a set of sounds that indicate the various states – earbuds paired, successful pairing with source, low battery, pairing mode, etc – but they're not entirely intuitive and it takes a bit to figure out what each sound means. The good thing, though, is that the sounds are truly international so no translation is needed!
I have a simple test for connectivity: I walk from my room to the kitchen. I admit it's not super-scientific, but it's consistent and that's what counts. There is always a wall between me and the source, with a maximum distance of about 5 metres. Most Bluetooth headphones and devices fail this test, either because the signal drops entirely or because music stutters. Well, the RHA TrueConnect stay true to their name and keep a high-quality signal, without ever dropping the connection or displaying any stutter. That's really impressive by any standards, and it's even more impressive given these are true wireless earphones.
The microphone is probably the best I've seen in "true wireless" earphones by a very large margin. People I was on a call with could always hear me clearly, even in noisy environments. There was just a little difference with using just the smartphone to manage calls and that's just great!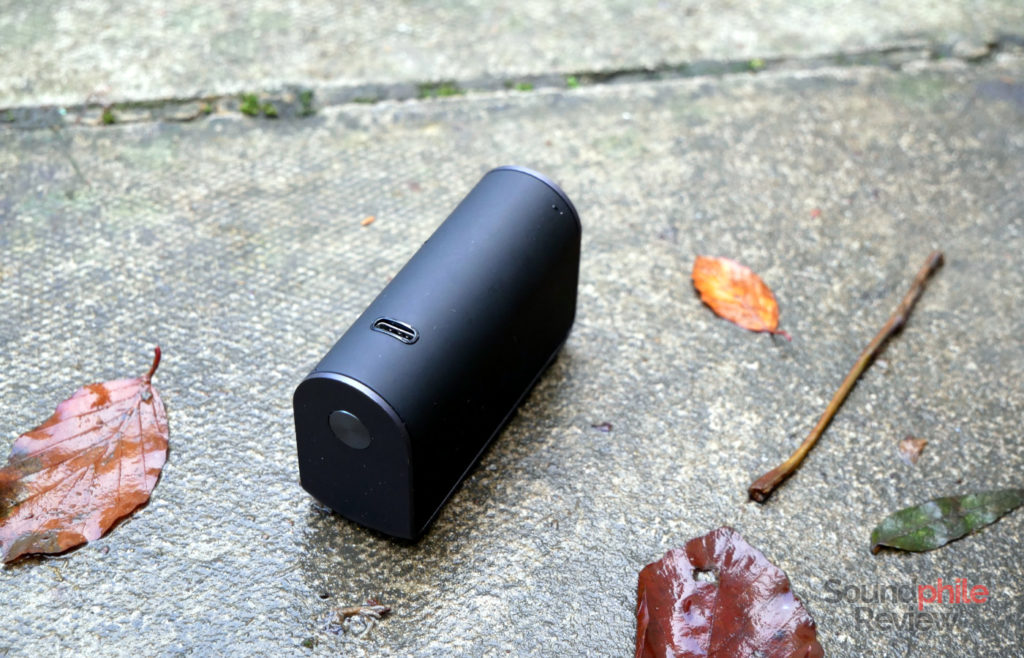 The RHA TrueConnect sport up to five hours of battery life according to the manufacturer. I decided to put them through their paces and they held up to their promises, offering almost five hours of mixed usage comprised of phone calls and music listening. The case allows one to charge the batteries around four additional times (though in my experience it's closer to three and a half). It also integrates a quick charging technology thanks to which 15 minutes of charge allow for 2 hours of playback -. no special adapter needed.
Sound & Specs
I mostly used a Shanling M2X DAP as the source, but I also used a Honor 9 smartphone. Both were loaded with mainly FLAC files in standard 16 bit / 44.1 kHz resolution.
| | |
| --- | --- |
| Frequency response | N/A |
| Impedance | N/A |
| Sensitivity | N/A |
The RHA TrueConnect use a single dynamic driver 6 mm in diameter. It's small, but not unprecedented in the TWS world.
Soundstage does not have much width, but it surprisingly has depth. It feels like the music is being reproduced in a small room, with the musicians close to the listener but still with some space behind them. Imaging is limited in its ability to place instruments on the stage, but it's still decent. Instrument separation is all right, though the most crowded tracks can show its limits.
Despite the small driver size, RHA was able to squeeze some mighty performance out of it. Bass has a real punch, so much so that I would have said the driver was larger than it actually is. Bass is physical, so you can feel it when there's a drum beat or another transient. It is emphasised, to the point I would say that the overall signature is bass-heavy; it's not a bass cannon, but bass has a huge presence in the mix. Depth is good, as it extends easily to 30 Hz, though the main bump is around 80 Hz. There is a good amount of detail, which in turn is enabled by the good control over bass – although it has a large presence, it never leaks over the midrange.
Midrange is recessed compared to bass and treble, though it's a gentle recession that does not make it seem distant. Internally, midrange is relatively balanced, so anything just sounds good – whether you want to listen to Rage Against the Machine, Death or Miles Davis, the TrueConnect should serve you well. Tonality is neutral(ish), so voices appear natural and most instrument just sound good. There's a good level of detail which leaves the most minute details out but gives you a very good idea of what's going on by portraying details of all instruments – even if you throw a bunch of things at the driver, it won't smear details when the situation gets more complex. It's RHA's famous clarity! Again, physicality is really good.
Treble is emphasised, in what we might call a classic V-shaped tuning. Luckily, this emphasis is a good one: treble comes out being just ahead of midrange, but it's not too much in focus so it doesn't distract one from what's happening in the midrange (so voices, guitars, pianos, and all the other instruments you usually want to hear "front and centre" are exactly there). This emphasis on the treble is made interesting by the fact that there is a lot of details here. Most importantly, the emphasis is such that treble is neither piercing nor fatiguing nor sibilant. It's just really enjoyable!
RHA TrueConnect Comparisons
How do the RHA TrueConnect stack up to the competition? Let's find out!
Lypertek Tevi: in terms of connectivity, the RHA TrueConnect offer much better range than the Tevi. In terms of sound, the TrueConnect have much more prominent bass, especially in the lowest area; it is in fact a characterising feature of the TrueConnect, whereas the Tevi have a much leaner (but also slightly faster) bass section. Midrange is in the forefront in the Tevi, while the TrueConnect place it in a more recessed place. Treble is a bit more emphasised on the TrueConnect, but it's more extended on the Tevi. The overall level of detail is better on the Tevi, though by a small margin. SOundstage is larger on the Tevi, which also has the upper hand in imaging and instrument separation.
Shanling MTW100: the TrueConnect offer better connectivity than the MTW100, but they're also better all-round in terms of sound. That's not a matter of tuning: the TrueConnect have much more bass than the MTW100, again especially in the lowest end, more recessed midrange and similarly-emphasised treble. Given they both have a good balance, it's a matter of preference. The TrueConnect are better than the MTW100 in the sense that they offer more detail (especially in the treble area!), better instrument separation, larger soundstage, better imaging and so on. On the technical front, RHA's earphones are just better.
Final Thoughts
In order to succeed, "true wireless" earphones need two things: good sound quality and good connection quality. Without these two things, wired earphones will always have the upper hand. The RHA TrueConnect have both. They are easily enjoyable from a tuning perspective and they top it up with good technical ability; plus they have best-in-class connectivity. While I'm sure that sound quality is mainly dictated by the willingness of companies to provide it, connectivity is a technical and technological challenge that all companies must face. So the fact that RHA is actually able to provide both sets them apart from a good chunk of the market and makes the TrueConnect some of the most interesting "true wireless" earphones on the market at the moment. They're a bold statement of what this new type of headphones can offer, and it's a clear statement: this can be the future of portable audio.