The Lypertek Tevi introduce themselves as just "true wireless earphones", but the truth is that they are more than that. Their tuning is in fact something that many audiophiles will prize as it aims for neutrality (though it falls just short of it), and they're technically competent enough to be interesting even comparing them to wired alternatives. They're not a perfect replacement for wired earphones, but they're as good as "true wireless" gets nowadays. And fortunately that means they're really good!
Disclaimer: I received the Lypertek Tevi from their UK distributor, KS Distribution. A big thank you to John for making this review possible. They sell the Tevi on HiFiHeadphones at £99. Additional information on the Tevi is available on the manufacturer's website.
TL;DR: recap
Pros




Cons

Small, light and comfortable

Almost-neutral sound signature

Very good technical ability

A bit of background hiss

Bluetooth connection is not super strong
Rating: 8.5/10
Packaging & Accessories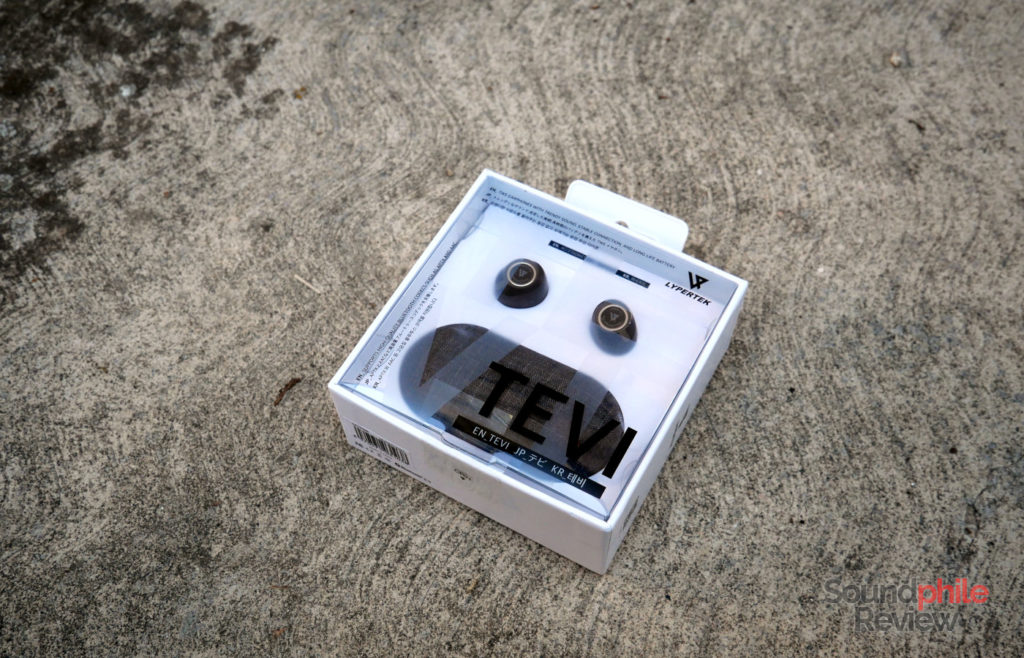 Packaging is simple, yet effective. The cardboard box is closed with a transparent plastic lid that shows the earphones and the case-dock. Inside the box are a few eartips (three sizes in silicone and one size in foam), one USB Type-C cable and a manual.
Design & Comfort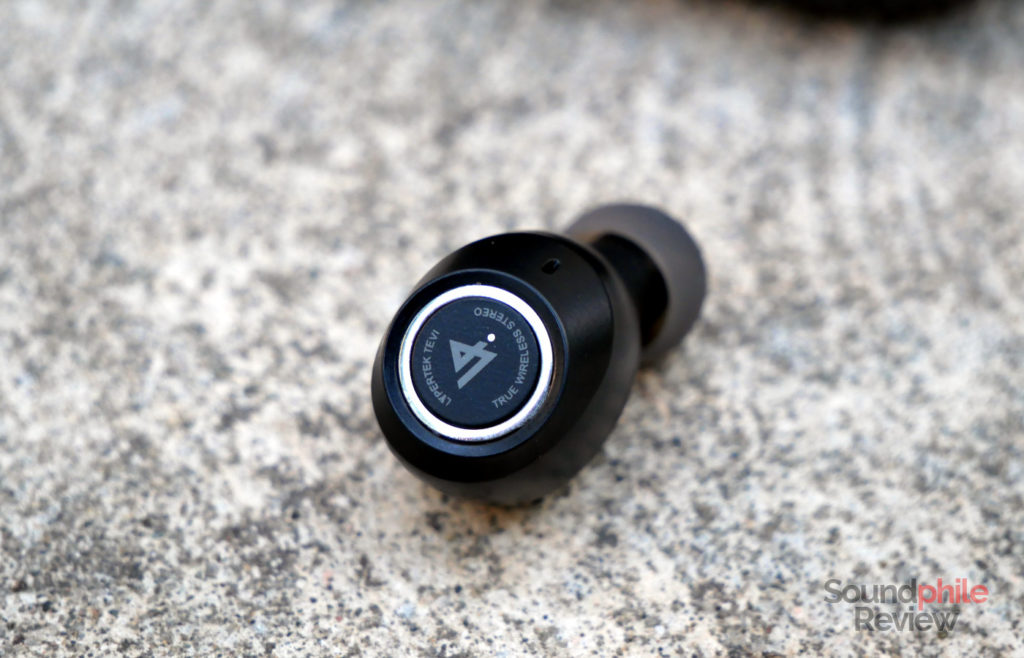 The Lypertek Tevi are small, so small it seems impossible they have batteries and electronics inside their shells. They do though, and it's astonishing how much technology has progressed for companies to be able to create such products. Positivist thoughts aside, the Lypertek Tevi have what we might call a "classical TWS" design. The shell is small, but it's tall (or deep, depending on how you see it). It's made of black plastic and it has a metal circle on the faceplate. This circle surrounds the only physical button.
The black plastic used for the shell is demi-matte, in the sense that it is matte but not completely. The part facing outside is a bit glossier than the one facing the ear for some reason. All in all the Tevi are pretty elegant and good-looking, as they have an oval shape with no sharp edges nor odd shapes. It's streamlined and simple.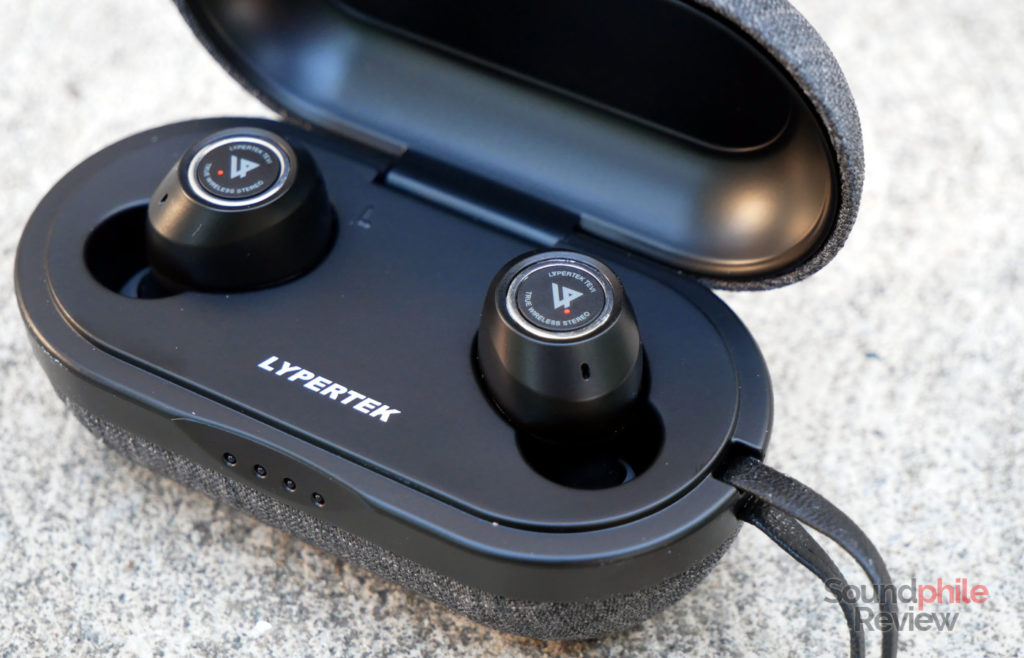 The only physical button on the earphones (one per earpiece, actually) is alas the faceplate itself. I say "alas" because it means that clicking it pushes the earphones in your ears, sometimes causing discomfort. It's also a bit stiff and requires some force for actuation.
The earpieces are IPX7 certified, so they're able to withstand being completely submerged. The practical result is that one can take them under the shower and they won't break, or wear them during workouts.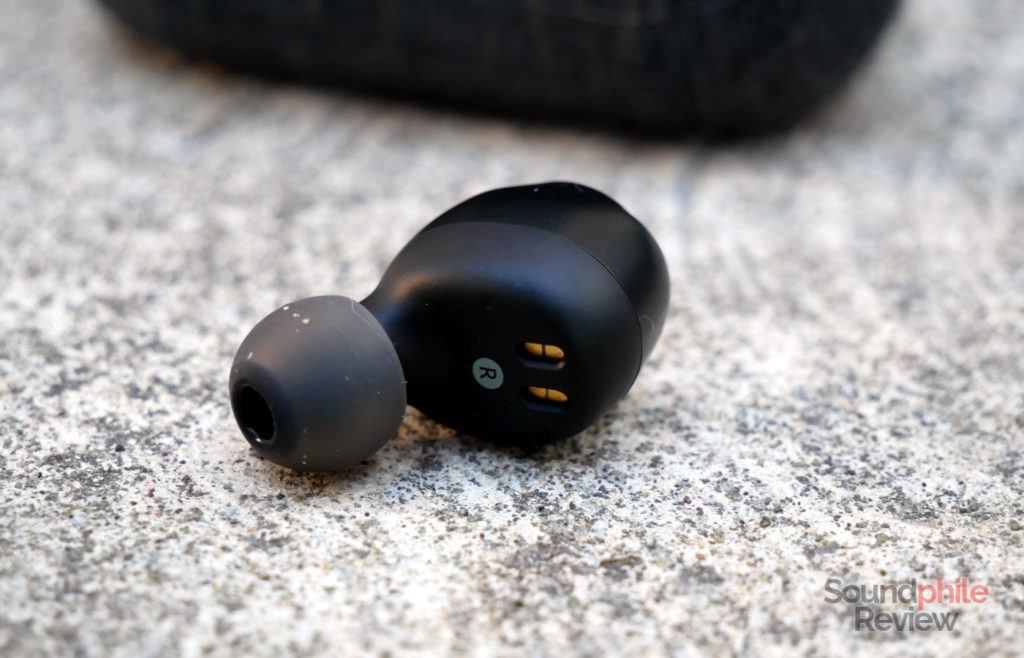 The Lypertek Tevi are really comfortable once I find the right position. I found that putting them in and then twisting them up a bit and pushing them further in works best and allows for a comfortable listening experience. I still feel a bit of fatigue after about an hour, but a quick adjustment solves that.
Isolation is not the best I've found, but it's still enough to reduce outside noise by a couple notches so that one does not have to raise the volume. That's unless you are in a very noisy situation, such as public transport (though I noticed Italian public transport seems to be noisier than elsewhere, so your mileage may vary. And no, I'm not referring to people, it's the trains and buses themselves that are noisier).
The case is one of the best-looking I've seen to date. It's not really special, but it is covered in fabric and this gives it a distinctive look. It's also really lightweight. It is made of plastic and it feels solid, although its low weight is surprising and makes one wonder if it's built correctly – no, seriously, it's really light as a feather. There is a charge indicator on the front, which however I never truly understood how to use as it seems to light up more-or-less randomly. There's also a USB Type-C connector on the back and a string on one side. The lid is magnetic and one can open it with just one hand relatively easily, though it does not lock in place when it's open.
Extra Features & Battery Life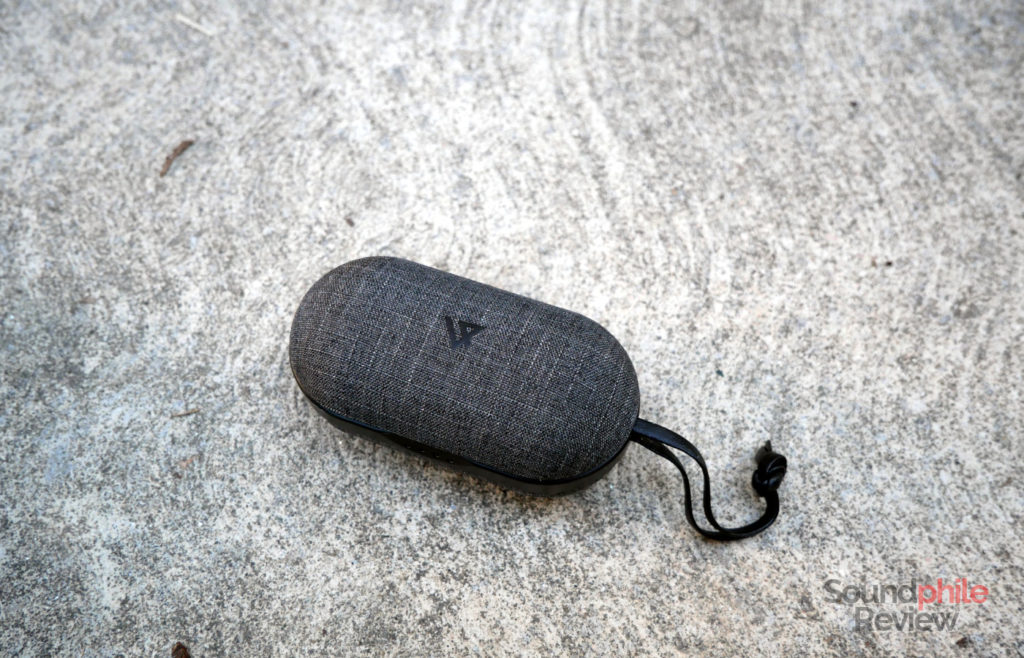 The pairing is a bit different than that of other TWS earphones I've tried. One has to pair the right earpiece, then the left one asks for pairing with the device. The right earpiece is then connected and one can play music and take calls. In theory both earpieces should connect to the source, therefore being independent of each other. That's thanks to Qualcomm's TrueWireless Plus tech which connects both earpieces to the source. Practice is different though, and you need to have a compatible source with a Snapdragon 845 or better to take advantage of the tech. So at least when connecting them to my Shanling M2X I would definitely make the playback on the left channel stop if I shielded the right earpiece so that it could not communicate with the player. With modern smartphones this issue should probably not be present.
It is also possible to connect just one earpiece at a time in mono mode, so one can use it as a traditional Bluetooth earpiece to take calls. Speaking of calls, the microphone is good quality and it works well even in moderately noisy environments.
The Lypertek Tevi support SBC, AAC and aptX codecs. They basically have all bases covered, though they lack compatibility with higher-quality codecs such as LDAC.
Pressing the buttons has various effects: one click plays or pause the music or answers the phone on both earpiecs; two clicks reduce the volume on the left earpiece and raise it on the right one; three clicks go to previous track on the left channel and to next on the right. Volume control is independent of the source, so one can adjust volume on both the earphones and the player in order to find the sweet spot. I found that there are slight differences in the management of volume between the earphones and my DAP and smartphone, so lowering the volume on the Tevi and raising it on the source.
Battery life is really great on the Tevi. I wasn't able to reach the advertised 10 hours, but they worked for eight hours straight. That's downright impressive. The case, despite being small, is able to provide seven full charges. There's a quick charge feature that gives you 2 hours of playback in just 15 minutes of charge. All in all the Tevi are among the top performers in terms of battery life among TWS earphones.
Sound & Specs
As I mentioned, I mainly used a Shanling M2X as the source for the Lypertek Tevi, though I also used a Honor 9 smartphone. Most tracks were standard-res FLACs (16 bit, 44.1 kHz).
| | |
| --- | --- |
| Frequency response | N/A |
| Impedance | N/A |
| Sensitivity | N/A |
As with almost all Bluetooth earphones, and especially "true wireless" earphones, the Lypertek Tevi have a bit of background noise. It's limited in quantity, so it is never too noticeable unless the track is really quiet. Lowering the volume on the earphones makes it all but disappear.
In terms of technical ability, the Lypertek Tevi are the most accomplished true wireless earphones I've tried at the time of writing this. They're almost indistinguishable from a wired set, and this is meant as a huge compliment. Soundstage is more than decently wide, although it doesn't have much depth (it isn't completely flat either!). There's a good lateral extension which is exploited well by the positioning of instruments, which are placed on the whole stage. The instruments are also well separated from each other and even relatively complex tracks are still clear with little mixing of different instruments.
Although depth is not the best quality of bass on the Lypertek Tevi, it has all the other qualities that make it sound good. It is in fact neutral(ish), which means it has the right weight in the mix, and it has enough control and speed to feel right. It is linear enough, with the peak around 100 Hz and a slope on both sides that leads to reach ~40 Hz on the left and to a slow descent on the right that leads to lower midrange. It's not too coloured, and it is only because it's maybe slightly south of neutrality. The Tevi definitely are not for bassheads! Control is good and this leads to a good amount of detail being displayed, and it is surprisingly not too bad compared to many wired alternatives in the same price range. It won't compete with higher-end earphones, but it's plenty enjoyable. I could also never hear bass overcoming the mids and becoming annoying or fatiguing. Speed is also decent, with the longer decay that's typical of dynamic drivers, though it's not too physical.
Midrange is well balanced, with a bit of emphasis on the upper end that adds some vividness without being fatiguing (hey there, KZ, you should check this out!). In general I would say that no single part sticks out clearly from the mix, but it's more of a matter of nuances. The slight emphasis on the upper region is so that midrange appears a bit more sparkling and vivid, without affecting the general tone too much – male voices have the right sound. Detail is really good for earphones in this price range, wireless or not. Even speed is remarkable. It's not something I'd say "wow" for, but at this price? It's really great.
Treble is interesting as it is well detailed, but it does not have much extension. It's a bit mixed, as it does have good internal balance, with a small peak in the middle region which does not end up being fatiguing. It's not really sparkling nor airy, but its presence in the mix is apparent and it meets the need for something counterbalancing bass. In fact treble is roughly at the same level as bass and midrange, so it is always clearly present. Detail is really, really good, to the point I can hear some minor details of the cymbals in Friedrich Gulda's Blues for H.G., one of my favourite jazz tracks.
Lypertek Tevi Comparisons
As I have a few TWS earphones, I'm going to compare the Lypertek Tevi to those:
RHA TrueConnect: the TrueConnect are tuned according to RHA's house sound – which is to say, with additional bass. Lows are in fact much more prominent and also a bit more extended, but with similar detail; midrange is a bit brighter and more detailed, so it appears more vivid; treble is slightly more emphasised, but is also more detailed and airy, so it ends up being more enjoyable in my opinion. In terms of technical ability, I would say there is no clear winner: soundstage is similarly wide, but deeper on the TrueConnect; imaging is slightly more accurate on the TrueConnect; instrument separation is a bit better on the TrueConnect. In the end, the TrueConnect may be a bit better, but not a "two and a half times the price" kind of better, at least when it comes to sound. They have much better connection quality though! Battery life is better on the Tevi.
Shanling MTW100: the MTW100 are a couple of steps below the Tevi in terms of sound quality. Their bass is more emphasised and less detailed; midrange is heavily recessed and sounds distant, on top of having a peak in the upper area that makes it sound a bit shrill; treble has similar emphasis, but much less detail. Soundstage is narrower, imaging is not as accurate and instrument separation is worse. Battery life is worse, too, and so is connection quality.
KZ E10: the KZ E10 are more in line with the rest of KZ's line-up. Bass is more prominent in the mid-bass area, with similar extension but less detail and a presence that's more invasive; midrange is definitely brighter, thanks to a moderately large emphasis on the upper area, and a comparable level of detail; treble has more emphasis on the lower area and less overall detail. Soundstage is larger on the Tevi, which also has more accurate imaging and better instrument separation. The E10 also have shorter battery life and better connection quality.
Final Thoughts
The Lypertek Tevi are surprising as they offer great sound quality even though they're totally wireless. My expectation bar for "true wireless" earphones has been set pretty low so far, as the technology seemed not to be ready for primetime yet. Things have changed though, and it seems like the Tevi is showing us how good "true wireless" earphones can be when they're well designed and executed. At less than $100 they're stellar and the only real drawback they have is their connection being not really strong. If you care about sound quality and have a limited budget, be sure to check these out – you'll love them.