Good products are notable when they are launched, great products stay notable in time. That's the case for the RHA T20, which are still great headphones four years after their debut. How could they be any better? RHA gave them the wireless treatment and instantly got a product that has all the perks of the original plus the ability to use it wireless. But as in RHA tradition, there are tons of accessories that allow one to experience the RHA T20 Wireless the way they want – both wired and wireless.
Disclaimer: I received this unit free of charge directly from RHA (thank you Lorna!). More information is available on RHA's website. The RHA T20 Wireless retail for £/€/$199.

TL;DR: recap
Pros




Cons

Great build, high-quality materials

Great comfort

Same tuning as the wired model

Long battery life

Smart features such as vibration with incoming calls

Good value for the price

Moderately strong background hiss
Rating: 8.5/10
Accessories & Packaging
RHA fitted the T20 Wireless with a slew of accessories – as they always do with all of their products. The box includes the earpieces, a wireless cable (sorry for the apparent nonsense), a cable with a 3.5 mm jack, a carrying case, a set of three nozzles with an acoustic filter embedded in each and a set of eartips (six pairs of single-flange silicone tips, two pairs of double-flange silicone tips and two pairs of Comply foam eartips).
Design & Comfort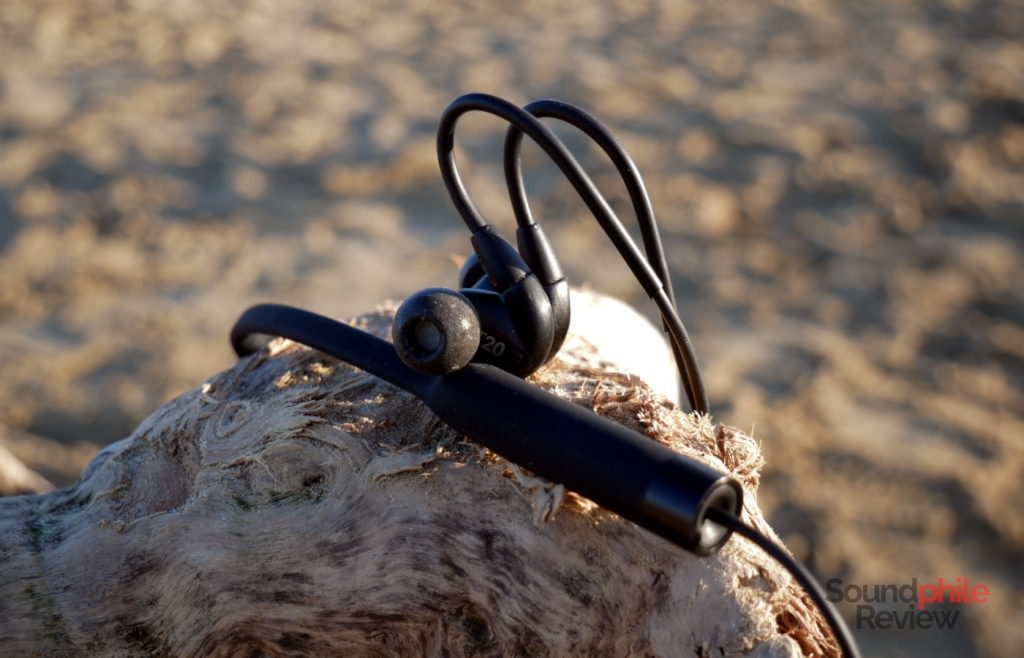 You don't change a winning team, do you? That's why RHA decided to stick with the design of the original T20 without changing it significantly. The shells are in fact identical, with just one difference: there are magnets inside them that allow the earphones to stick together when you're not using them. The shells are made of steel painted black and are extremely well made, with an odd smooth-yet-rough surface finish.
Build quality is very, very good, with no apparent weak points – save for the MMCX connector, which alas is notoriously more prone to breaking than alternatives. At this price point it's not often that you find products built so well.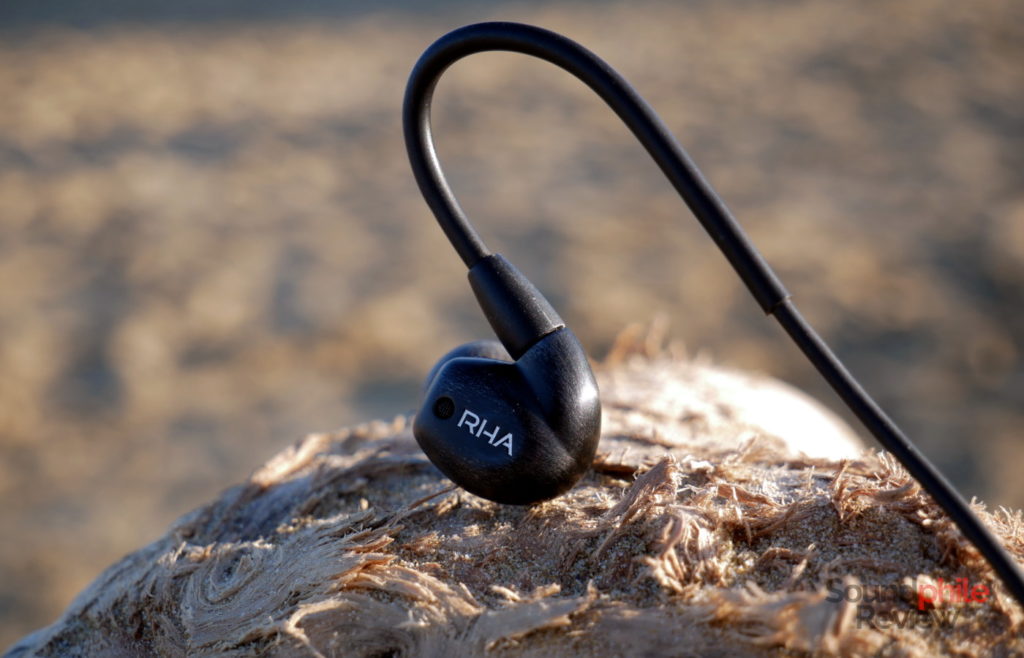 The shape of the shells is such that the T20 have been among the most comfortable earphone I've tried to date. They're not large, and the curved shapes make it so that they stay comfortable even during longer listening sessions, in my case especially when using the foam eartips. Of course comfort is deeply personal, so take these considerations with the due amount of salt in your pinch.
The RHA T20 Wireless offer very good passive isolation from noise, which makes them ideal to use in noisy, crowded environments – e.g. public transport or open-space offices.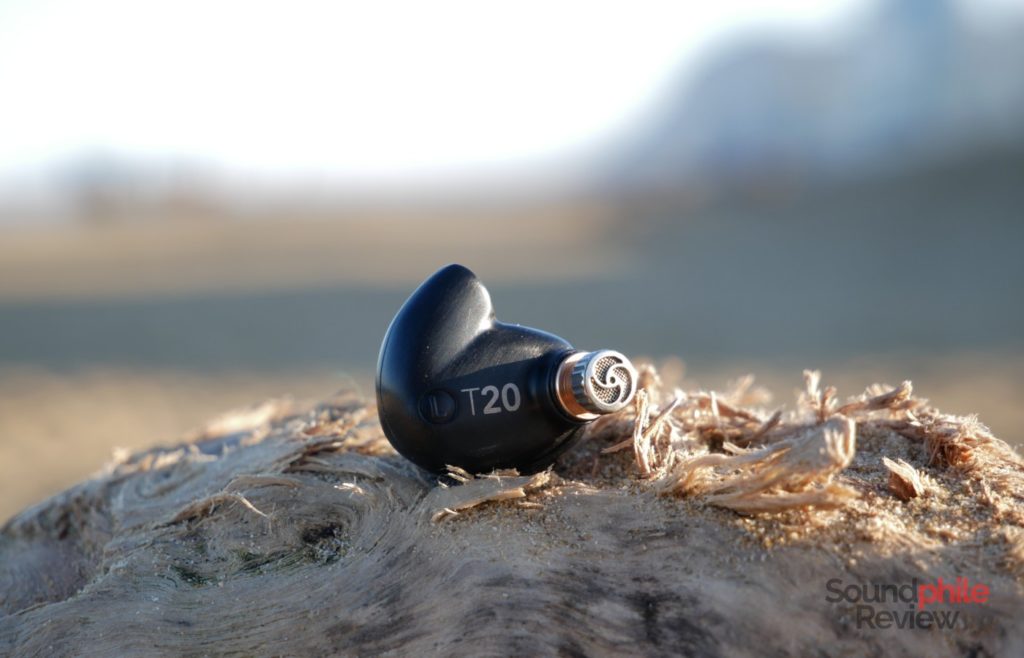 RHA provides the T20 Wireless with two options when it comes to cables: one neckband with two MMCX-terminated cables and a cable with a 3.5 mm jack. The latter offers almost the same experience as that of the T20i Black, with the most obvious difference being it having MMCX terminations; it is otherwise identical but for the ear hooks. The neckband is – again – almost identical to a previous product: the RHA MA750 Wireless, with the only difference being the colour of the metal part (it's black instead of silver). In both cases the comfort is really good, with the Bluetooth module being lightweight and covered in rubber which allows for great comfort and for some grip, so it will stay in place even when moving.
I absolutely loved how one could give shape to the cable on the original T20i: it made it possible to customise its shape to better suit the shape of my ears. Alas this is no longer a possibility on the wireless edition, as the cable is pre-moulded with stiff plastic guides. This is true on both the Bluetooth cable and on the 3.5 mm one. There's also no microphone if one opts for the usual jack.
Extra Features & Battery Life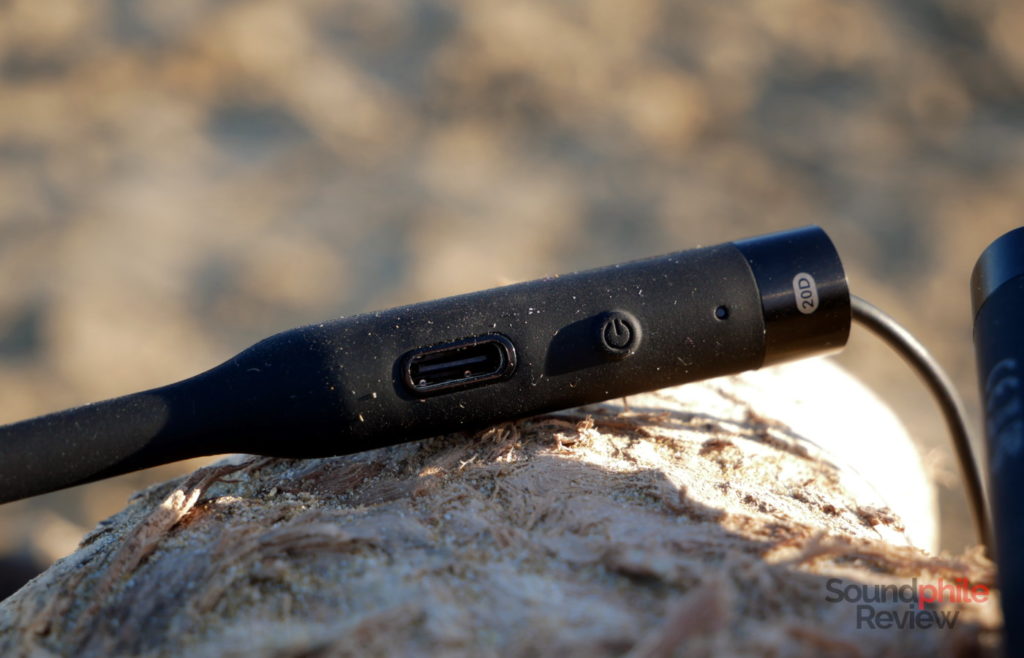 The RHA T20 Wireless features the Bluetooth 4.1 connection but it adds the aptX codec on top of it, which actually improves the sound quality over the default SBC codec. The AAC codec is also available. The connection is rock-solid and with very good range, too; even when performing my usual test of going from a room to another on the other side of the house I could never find a place where audio would stutter or interrupt. There's also NFC which adds convenience to the pairing process.
The T20 Wireless can be used to manage calls thanks to their embedded microphone (only available on the Bluetooth neckband), which does a fairly good job at picking up the voice and discarding the background noise. There is alas no sound when the call ends if one terminates it using the in-line remote; the only way to tell the call's not on anymore is that the background hiss stops. Incoming calls activate a vibration motor on the earphones that gives the user a tactile feedback on top of the auditive one.
Volume control is directly linked to that of the source. This can be an issue if the source's volume is too high even when it is at its lowest setting (which is exactly what I experienced, alas).
RHA rates the battery life at 12 hours, but I got closer to 10 hours of battery life with the T20 Wireless. It's still a very long time and one that allows to listen to music on most intercontinental flights for the whole flight time. The presence of the "traditional" cable with a 3.5 mm jack makes it possible to listen to music indefinitely – or as long as the source's charge lasts.
Sound & Specs
I tried the RHA T20 Wireless using a HiBy R5 DAP and a Honor 9 smartphone.
| | |
| --- | --- |
| Frequency response | 16 – 40,000 Hz |
| Impedance | 16 Ω |
| Sensitivity | 90 dB |
There are not many headphones which are near-identical when used with and without wires, but this is one of those cases. The RHA T20 Wireless are in fact indistinguishable from their wired counterpart. That's a great thing as one can then enjoy their favourite tracks in whatever way they please knowing that the quality is unaltered.
I wrote the RHA T20i review three years ago – in fact it was the second review I published on Soundphile Review. What I wrote back then still holds true today and applies to the T20 Wireless, too.
The only major difference is that there is a constant hiss in the background whenever the Bluetooth module is active (e.g. playing music or during calls); it's low in volume, but noticeable. That's a minor issue, but one that requires mention anyway.
Final Thoughts
The transition to wireless is not always good from the perspective of sound quality. There are countless products whose wireless counterpart is not as good as the wired one. The RHA T20 Wireless is just as good as the wired version, if not even better. It offers great sound quality, superb comfort and a great accessory set at an affordable price, which makes for a quite interesting proposition. I especially love the clarity of he T20 now that they offer it without cables just as much as I did when they had one. RHA created a product that is by all means an evolution over the classic they created five years ago – not only because it offers more freedom by doing away with cords, but because it adds convenience and customisability through the MMCX connector.
There is always an element of compromise with Bluetooth earphones I've tried so far. Some compromise a bit less, some compromise more, but there's always something one has to trade in for the convenience of wireless. Not so with the RHA T20 Wireless. They're as close as possible to paragon Bluetooth earphones: they offer detachable cables, a wireless module/cable that is comfortable and which actually adds value and convenience to the product, a wide array of accessories and great sound. If there any are compromises to be made, they're so minor I haven't realised they were made.
I'll throw in an idea for RHA: why don't you sell your Bluetooth module as a stand-alone product (maybe using the same spring-powered ear hooks)? It's so great I think many would actually buy it for their IEMs. Just an idea. (I'm joking, do it now!)