Glasgow, Scotland-based RHA knows how to make earphones. That is apparent once you start listening to their T20i, last year's flagship model. An evolution over the previous T10i, the RHA T20i's main features are an around-the-ear cable, a filter-tuning system and the DualCoil dynamic driver.
The improvements over the previous generation are impressive and the RHA T20i ends up being a detailed, fast and fun (yet accurate) earphone. Unlike the Meze 11 Neo, these are premium earphones in every aspect – including price!
Disclaimer: RHA sent me a T20i unit I did not have to pay (thanks RHA!). Please head to their site for technical details and other info.

TL;DR: recap
Pros:
Build quality;
Compatible with smartphones;
Accessories;
Fantastic instrument separation;
Filter system to somewhat tune the sound to one's liking;
Great detail;
Superb comfort.
Cons:
A bit bassy, may not appeal to everyone;
Filters could remove a little bass to even the sound a bit more.
Rating: 8.7/10
Packaging & Accessories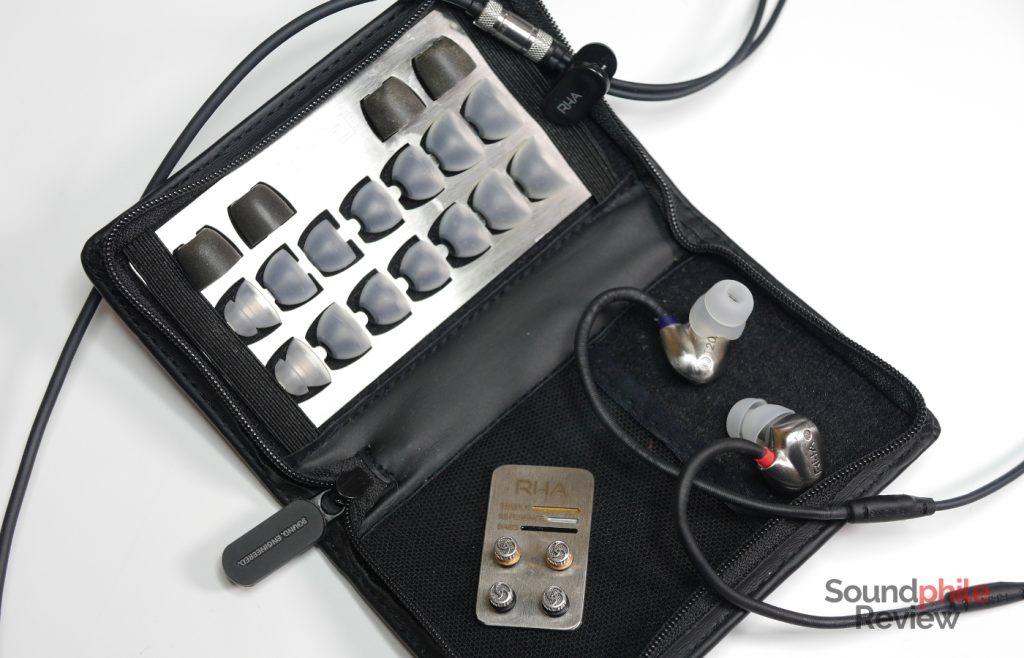 Out of all the headphones and earphones I have had a chance to try, those made by RHA are the most impressive when it comes to packaging and included accessories. There is a semi-rigid case made of plastic leather, a cable clip and a copious amount of eartips:
six pairs of single-flanged silicone tips with hard core;
two pairs of double-flanged silicone tips with soft core;
two pairs of foam tips.
The package I received came with RHA-made foam tips, but buyers should get Comply Comfort tips. There is a steel rectangle, too, which is used to store the filters while not in use.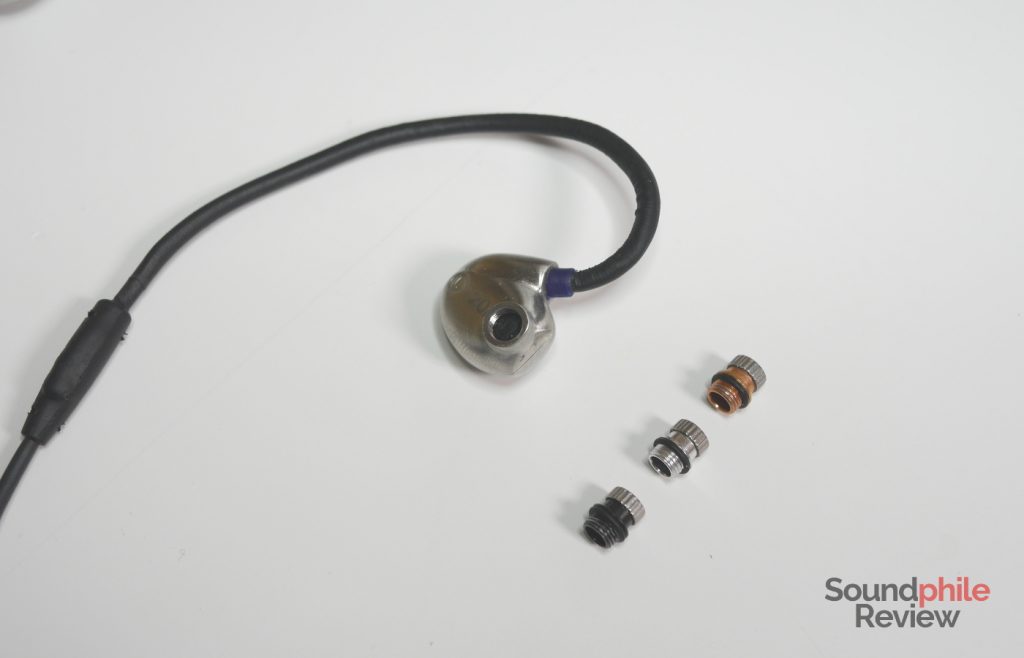 Design & Comfort
Stainless steel is the material RHA chose to build the T20i. It is injection moulded and this allows for a gentle shape which fits comfortably in the ear. Steel has a peculiar feel to it: it is solid and cold, yet it is natural and refined. I found out I actually prefer steel over aluminium. The build is excellent and I could not find any apparent flaws.
The cable is around-the-ear, so that there is no force applied to the ear canal. While the vast majority of it is covered in rubbery plastic, the last 15 cm before the earpieces are different. There, the cable is not too hard nor too flexible: it takes the shape one gives it, so it is able to adjust to each possible ear shape. I wear glasses, but this never turned out to be a problem. RHA has a patent pending for this cable hook. There is a small coloured ring at the junction of cable and earpiece: it is red on the right, blue on the left. It may help finding the right earpiece.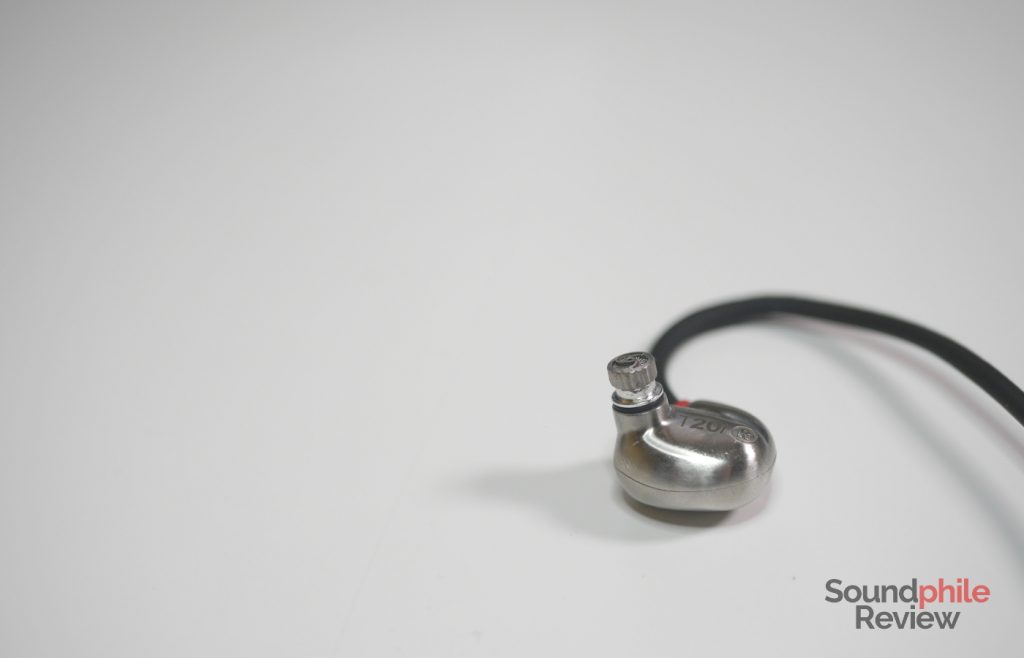 The cable's rubbery finish has both pros and cons. One major positive factor is there is little tangling, if at all: I have hardly had to unravel the cable in the past year. It also shows almost no microphonics, which can be further reduced using the provided clip. The other side of the coin, though, is that I often found the cable snagging on clothes, bags and other things.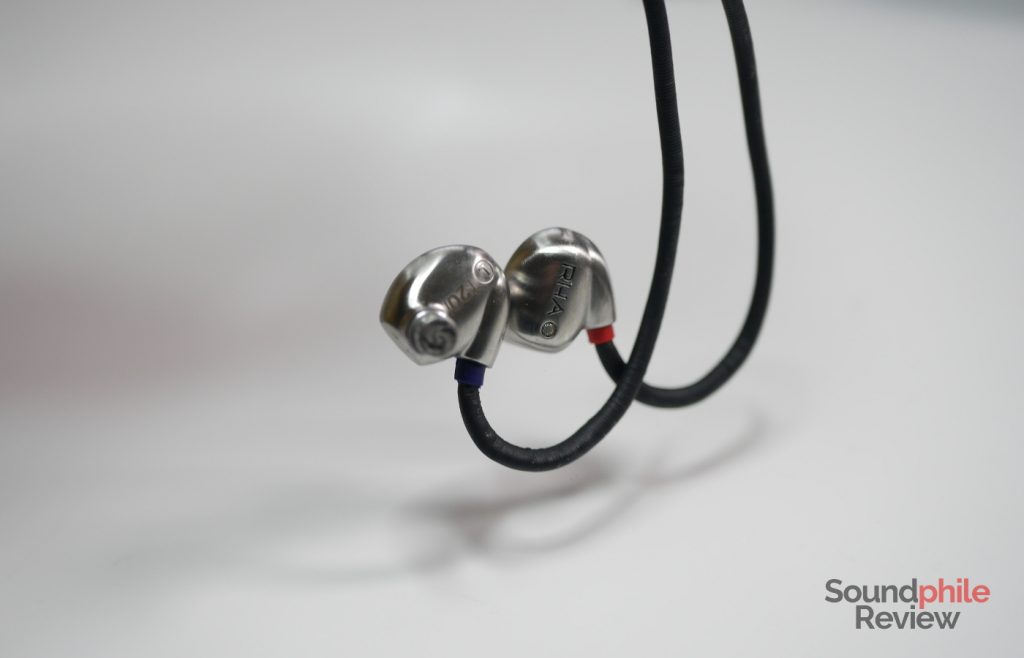 The cylinder which hosts the 3.5 mm jack, the remote and the small cylinder where the cable splits are all made of the same stainless steel as the earpieces. A spring near the jack connector ensures the cable does not get damaged because of excessive bending.
Comfort is great and these are among the few earphones I can wear for a few hours before I start to feel a mild discomfort. What turns out to be annoying, though, is the eartips and not the earpieces per se: the latter do not cause me fatigue, while the eartips do. This may not be always true, of course, as comfort is one of those features far from being universal.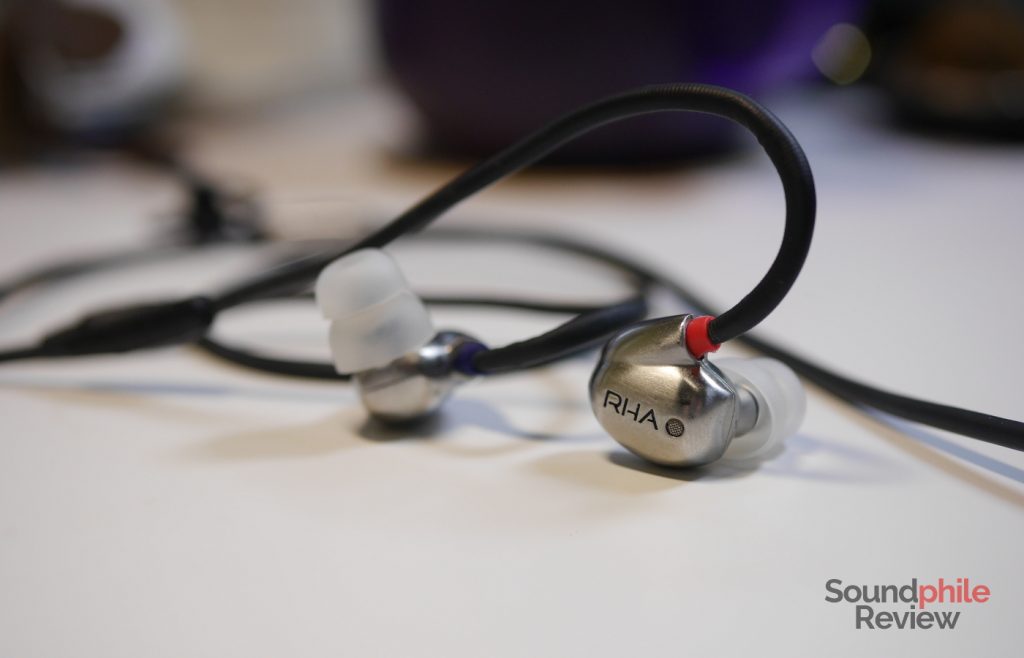 Of all the eartips, I found the most comfortable and isolating ones are the double-flanged tips. Those are the ones I have been using all the time. Isolation is fantastic: only the loudest sounds penetrate when listening to the T20i while on the subway. In silent to moderately noisy environments, ambient sounds are almost completely cut off. This is why I do not wear them when I'm cycling!
Two versions exist: the T20i, which has a remote with microphone, and the T20, which does not. The microphone does a good job at capturing the voice, even though it requires a bit more volume in crowded and noisy environments. It is otherwise very clear.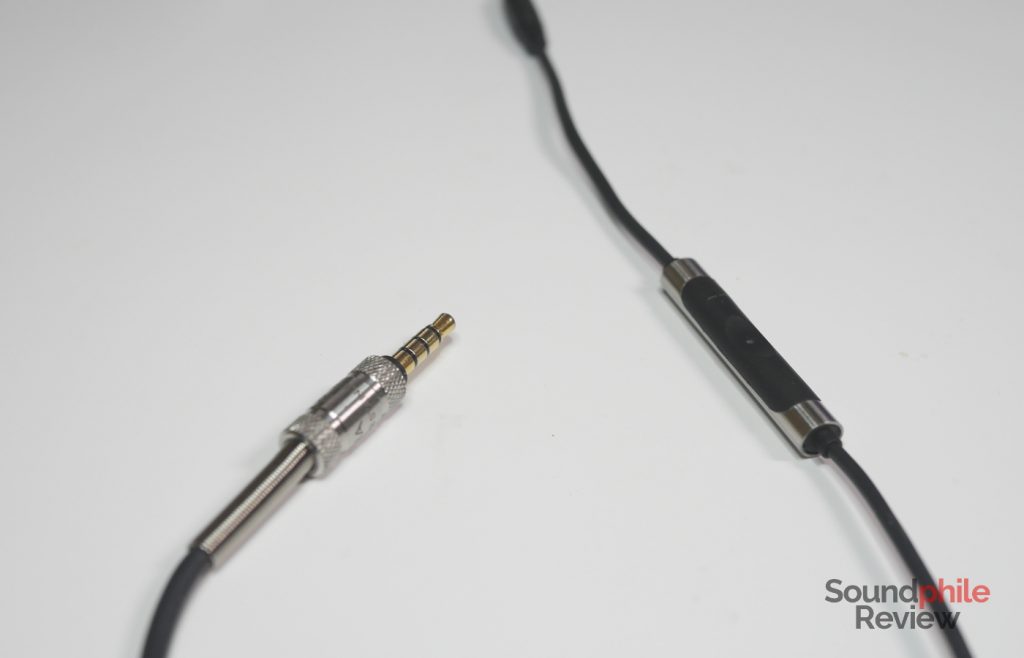 Specs & Sound
As I did with the Meze 11 Neo (and all other headphones I try), I burned in the RHA T20i for 100 hours… one year ago. I guess it's now five or more times that! I use a PC with a Zorloo ZuperDAC attached to it as the main source. I also used a Lenovo Vibe Shot while on the move to get an idea of how the T20i perform with smartphones. In both cases, file sources were mainly FLACs (16-bit, 44.1 kHz) with a few MP3s (320 kbps) in between.
| | |
| --- | --- |
| Frequency response | 16 – 40,000 Hz |
| Impedance | 16 Ω |
| Sensitivity | 90 dB (+/- 3 dB) |
Before owning the T20i I had the T10, and the leap between the two generations is remarkable. The T10 are far more bass-intensive, so much that it seems they've got an embedded subwoofer. That's not negative per se, but the T20 are more balanced and transparent.
Those are indeed the two words I'd use to describe how the RHA T20i sound. These are detailed, balanced (with a touch more bass than perfect neutrality) and dynamic earphones. The sound is fairly open and wide, with a great stereo imaging and more-than-decently wide and deep soundstage. The instrument separation is one of the best features of these headphones, even though it is not perfect.
Even when paired with low-quality sources, the RHA T20i show a details, a fine separation between instruments, and a good presence. There are, however, downsides, too: with lower-quality MP3s and similar source files, you can distinctly hear the lack of detail and general lower quality of the source. As an example, cymbals' quality in Evolution 1:1 by Connect.Ohm is terrible and I can distinctly hear that.
One of the most distinctive features of RHA T20i is their filter system. A rare sight in this price range, the filters allow one to tune the sound to their liking while keeping the fundamentals intact. Three different filters are available: bass (black), mid (silver) and treble (copper). The latter is the neutral one – as in "you hear the sound the earphones are producing" – while the other two filter out frequencies to add emphasis to lows or mids. The treble and mids filters do not affect bass, however, so if you are looking for more neutral earphones you're out of luck.
This is a small recap of how the filters behave:
Bass filter: treble is less prominent while bass gains a bit more rumble and presence. There is also a notable increase in punchy-ness.
Reference filter: there is just a slight difference in bass when compared to the bass filter, but treble is a bit more prominent.
Treble filter: bass decreases noticeably, while treble gains "weight" and becomes more central.
The following breakup of sound has been done while listening to the RHA T20i using the treble filter – I like bright earphones.
Bass is full and rich, with a great texture, a good extension and great control. There is much to say both in terms of quality and quantity. RHA's sound is characterised by a warm, dense signature. Whiskey comes to my mind: it is warm, pleasant and full. Other than alcohol comparisons, though, bass is just north of neutral: that added touch may be too much for those looking for an analytical and neutral earphone, but it gives a bit more dynamism to the sound as a whole, without (in my opinion) being excessive nor altering the sound to the point it is not accurate anymore. I would not recommend RHA T20i for bass-heads, even though they could be a viable option using the bass filter.
The thing I love the most about the T20i's bass is it does not cause fatigue, even after long listening sessions. Unlike many other earphones and headphones I tried, the emphasis here does not lead to bloated sound and overlapping with mids; bass retains its own identity and space, while leaving room for the rest of the sound. My opinion is this is quality bass, as opposed to that of other products (e.g. Bose QuietComfort 35).
It is well-controlled, with individual notes easy to hear, and also deep enough to be able to go as deep as 20 Hz without too much trouble. I listen to Aes Dana's Conditioned to test out bass control and depth, and the RHA T20i manage to control them almost perfectly while getting as deep as can be.
The midrange is natural and rounded. Listening to tracks such as Naar Vinden Graater… by Vàli (and the whole album Forlatt) shows the T20i's ability in rendering guitar with great detail, the necessary warmth and depth and colour. The guitar seems to be just there: it is front and center, surrounded by everything else, but unmistakably in the spotlight. I also like to listen to Daft Punk's Giorgio (by Moroder) because of Giorgio Moroder's voice and surrounding noise. The voice there is crystal-clear and show little to no sibilance. Around the song's half there is a passage where Moroder's voice reverbs, and I heard few earphones reproduce that reverb up until now. The presentation somewhat highlights upper mids and this make the midrange stand out.
Treble is open and bright, though not sharp nor fatiguing. It is not thin by any means, either. Cymbals in Blue Rondò à la Turk by Dave Brubeck burst with detail and life and are airy and spacious, and trumpets in Ravel's Bolero (performed by the Saint Lewis Sympony Orchestra, directed by Leonard Slatkin) are very convincing. It has a nice extension and very good detail, which make it crisp and easy to enjoy. I never felt the need for more resolution, although it sometimes can be a bit grainy.
As for the genres to listen to with these earphones, I would say they are excellent all-rounder. Among the genres I listen to, I think their strength lies in rock, metal, electronic music, folk/celtic and even classical music. While the last may sound strange, the added touch of bass gives it a bit more energy and fullness. As a practical example, I've heard few earphones reproducing Duel of the Fates (from the Star Wars: Episode I soundtrack) as close to hearing it live as the RHA T20i do.
I do not currently have any earphones in the same price range to compare the RHA T20i to, but I can compare them to lower-tiered earphones:
RHA T10: the T20 have a softer and quieter bass, together with more prominent mids and more detailed treble. I would say the midrange is also more forward and smooth. The T10, however, excel in electronic music and other genres where deep and lush bass is required.
Creative Aurvana In-Ear3 Plus: the Creative earphones show less detail and way less bass, which in turn means the sound appears less balanced to my ears. The T20i's instrument separation is also unmatched.
Creative Aurvana In-Ear2 Plus: while way cheaper than the T20, the In-Ear2 Plus show similar balance (with a tad less bass) but less detail and less instrument presence and separation.
Final thoughts
I have been using the RHA T20i as my daily driver and my go-to earphones for the last year or so. The sound quality, comfort and sheer convenience of being able to use these with my smartphone won me. These are the earphones all other earphones I compare against. They check all the relevant marks on my personal list. They are little marvels I struggle to find flaws in.
The RHA T20i retail for 239$/€. Some may argue that this is not a truly "premium" price. That certainly holds true against thousand-dollars earphones, but it also is well above the average price consumers pay for this kind of product. Given the attention to detail, the build quality and the overall sound quality, I feel like "premium" is the aptest adjective.
Talking about the sound, it is detailed, balanced and pleasant, with a wide soundstage and fantastic instrument separation. It is just north of neutrality when it comes to bass, so those who prefer perfectly balanced sound should take this fact into consideration. If you listen to modern genres you may well find these can suit your needs, but I even enjoyed listening to classical music. The RHA T20i are definitely worth a listen.