After receiving unanimous praise last year from critics and public alike for the TrueConnect, RHA is back again with a new generation of "true wireless" earphones: the RHA TrueConnect 2. While they're almost identical to their predecessors, the TrueConnect 2 boast improvements in many key areas including battery life and touch controls. On top of this, RHA slashed their price by a fair amount, so it may seem like the new model is better in every way possible. The tuning was also altered with a larger focus on midrange, though, and this is what makes the whole difference.
Disclaimer: thank you to Lorna for sending me a unit! Additional information is available on the official website.
TL;DR: recap
Pros




Cons

Touch controls

Maybe the best case design out there

Great battery life

Some background noise

Earpiece design might not fit smaller ears

Sound is thin and fatiguing

No high-quality codecs…

…which leads to a low level of detail
Rating: 6.2/10
Packaging & Accessories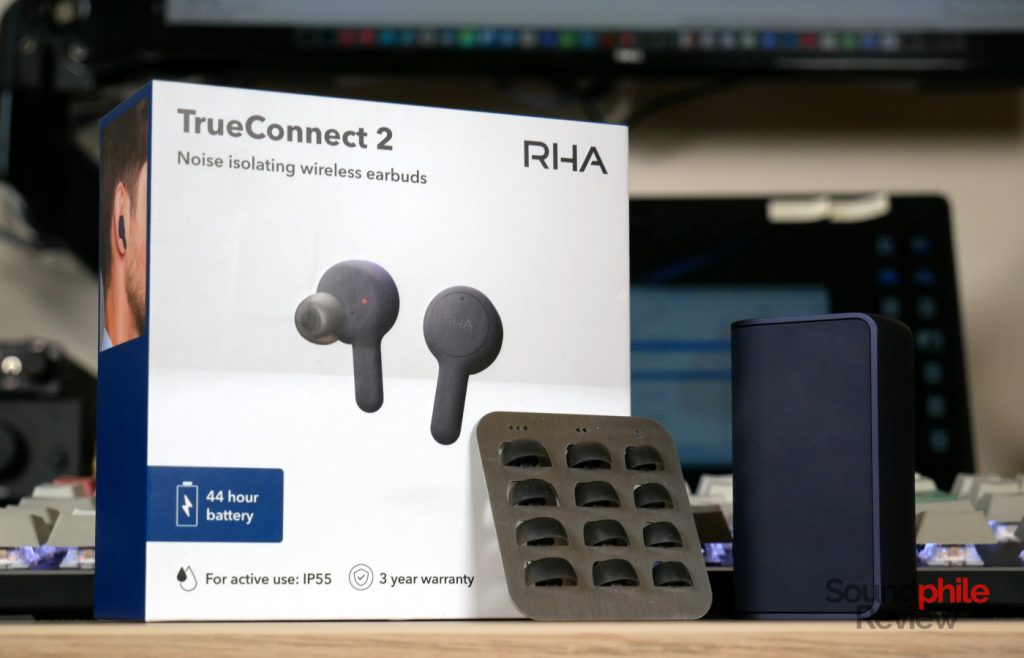 Unfortunately RHA ditched the Comply foam eartips with the second version. While not essential, I found them to provide a much, much better comfort than the silicone tips provided with the earphones. A valid alternative would have been to include SpinFit tips, which RHA might consider for future products (hopefully).
Design & Comfort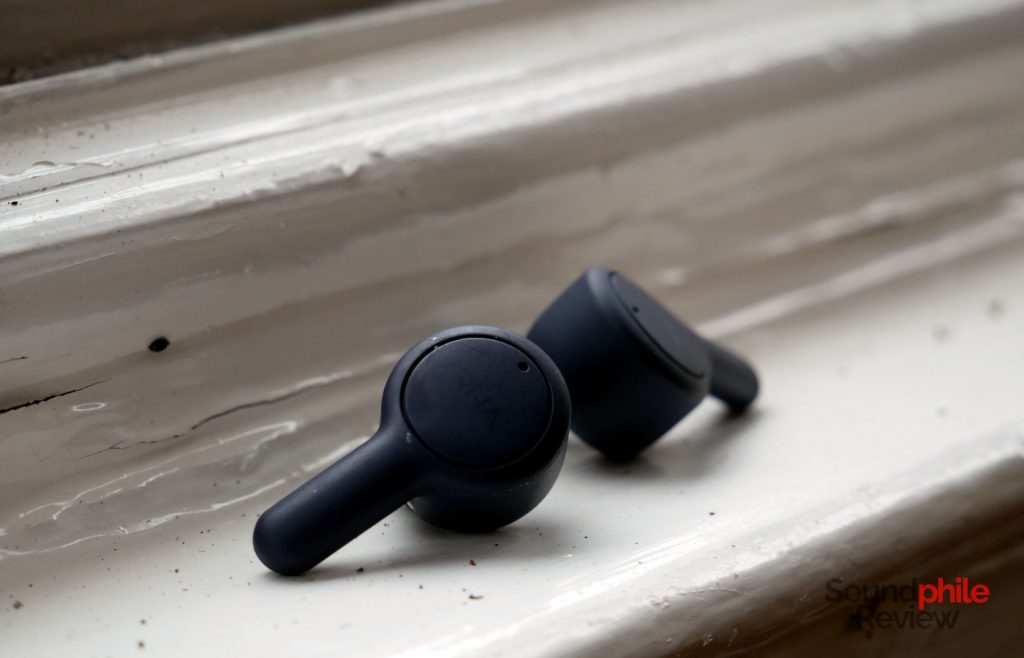 The design of the RHA TrueConnect 2 is a direct evolution of the previous generation. The shells are in fact identical, save for one little detail: there was a physical button on the first version, whereas this one has touch controls. They retain the same AirPods-like stems and large shells that are so peculiar. They're made of plastic covered with a soft-touch finish, so they provide a bit more comfort at the expense of being more prone to showing fingerprints and other similar marks.
As is customary for RHA products, the TrueConnect 2 are built quite well, with durable materials and great assembly quality. The seams in the plastic are barely visible. The earphones are resistant to water and dust, so they are IP55 certified (which means you can splash them as long as you want, but not submerge them). Sports, showers and trips to the desert should not be an issue.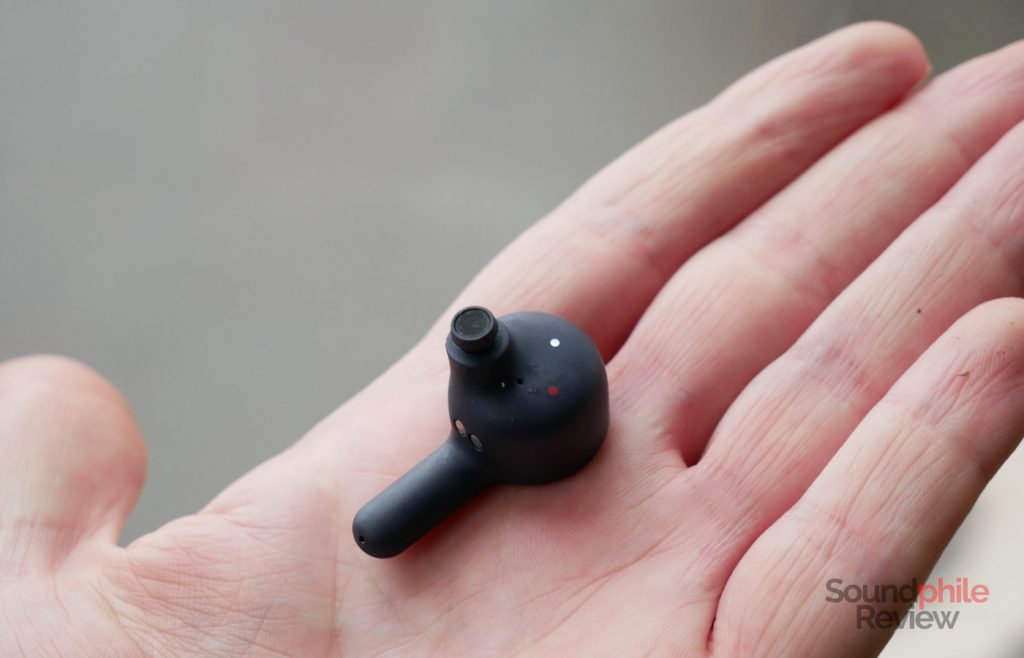 I found the lack of Comply tips to be an issue with comfort and isolation. The stock tips just don't fit well in my ears; this is quite a subjective topic, though, so the stock tips might fit perfectly in your ears. A colleague of mine who also tried the TrueConnect 2 made the same remarks as me so I know it's not just an issue of mine at least! The problem is that I can't seem to be able to get a good seal, possibly due to the size and shape of the shells. Using different tips, such as the SpinFit CP360 or the CP1025, I can get much better results in terms of comfort and seal. The overall passive isolation is not that great, though, and I can still hear sounds around me quite clearly.
The large size of the shell is also probably going to be a problem for those with smaller ears out there. I have medium-large ears and I found the TrueConnect 2 to be fatiguing after about an hour. The funny thing is that the right earpiece fits just right, while the left one is more prone to cause discomfort – it seems like my left ear is slightly smaller than my right one.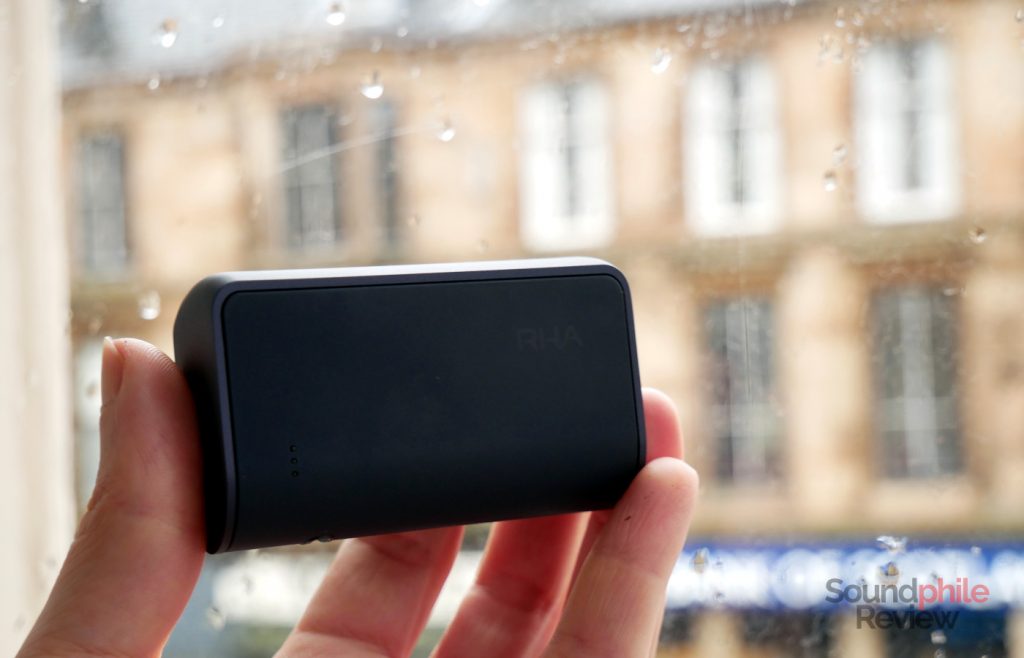 The case is identical to that of the previous generation, which worked amazingly well and is therefore a very welcome non-news. The only thing I would have liked to see improved is the presence of clear-cut edges, which can (and will) damage other stuff you may have in your pocket such as a phone. Okay, you shouldn't put your phone in the same pocket where you keep metal objects, but still… There are three LEDs on one side that indicate the remaining charge and a USB-C connector right next to them. The case is really easy to operate with just one hand, which is quite convenient – in fact it's among the best case designs I've seen so far.
Extra Features & Battery Life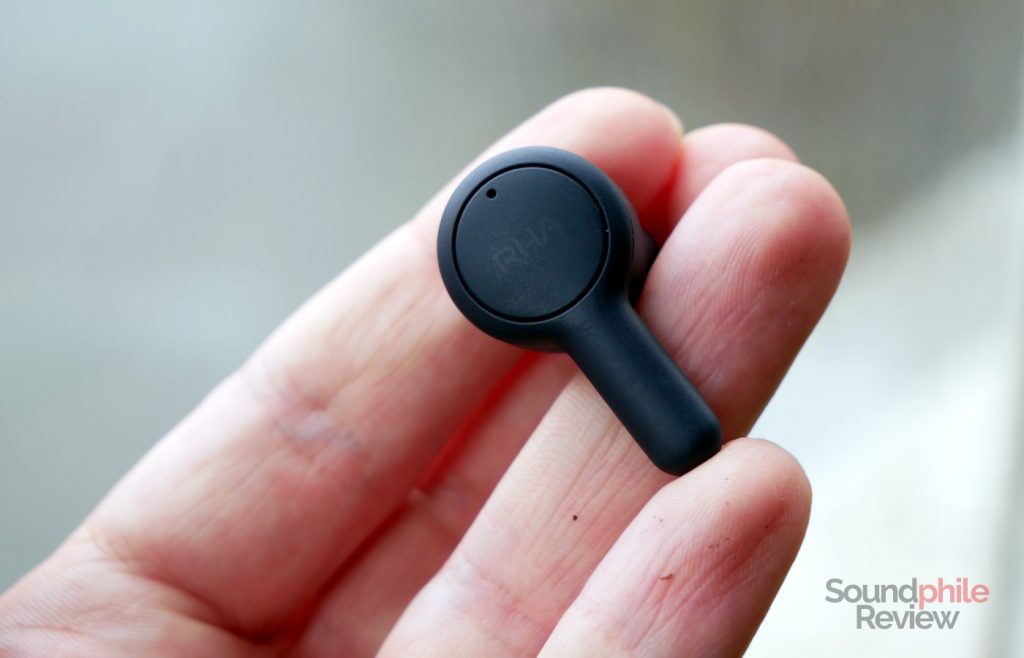 RHA provided the TrueConnect 2 with Bluetooth 5 connectivity, but then only gave them compatibility with the SBC codec. It can be tuned to have audio quality on par with AAC and aptX, but in this case it seems like it was tuned for a somewhat low quality target and you can definitely hear that there are limitations. On the positive side, though, the SBC codec allows for low-latency transmission, so the TrueConnect 2 are great for movies and games.
Weirdly enough, though, my Linux computer says that AAC is also available and it works just fine, plus I can also force the AAC codec using my Shanling M2X player. Why that happens I don't understand, so I asked the fine people at RHA. They didn't reply in time for publication.
Range and strength of the connection are slightly above average. Strength in particular is stronger than most other earphones, so it's very rare to hear interruptions or disturbances. On the other hand, range is fine but not too much better than competitors. In other words, I can walk from my studio to the kitchen, but as soon as I get halfway through the kitchen the signal drops and music starts stuttering.
The various states and their changes are indicated by sounds; they're not immediately clear in their meaning, but they're easy enough to understand you can guess the second time you hear them.
The TrueConnect 2 feature touch controls, which is a welcome change from the previous physical button as you don't need to push the earphones into your ears to do what you want. However, the controls seem not to cope well with water (e.g. if you are under the shower) as there are random commands issued when the water touches them. It's a minor issue, but it happens consistently so it's worth reporting.
The microphone does an amazing job and allows for clear communication, even more so than the previous model. I'm not sure how it fares in noisy situations as I wasn't able to get into one (you know, lockdown and all!), but in relatively silent environments it works quite well.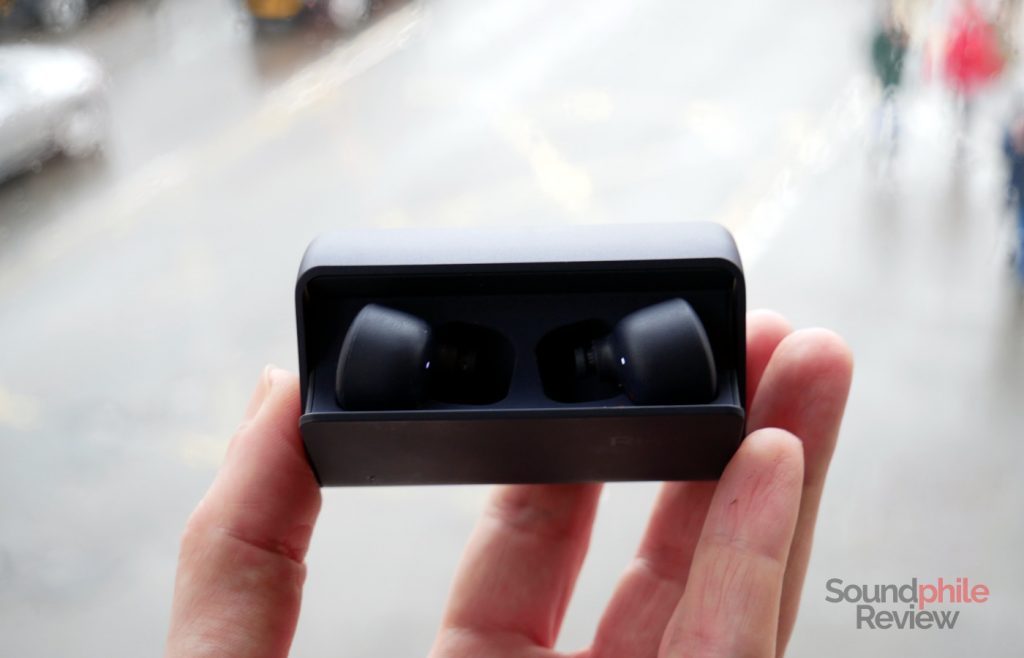 Battery life was seriously improved from the first generation and it's now market-leading at 9 hours. The figure RHA gives is quite accurate. On top of that there's a further 3-point-something charges, so the grand total should be around 40 hours – a sizeable improvement from the first TWS earphones!
Sound & Specs
I tested the TrueConnect 2 using my Shanling M2X and my HP EliteBook 745 G5 laptop PC. Most files were FLACs in 16 bit, 44.1 kHz resolution.
| | |
| --- | --- |
| Frequency response | 20 – 20,000 Hz |
| Impedance | 100 Ω |
| Sensitivity | 98 dB |
| Bluetooth version | 5.0 |
| Codecs | SBC |
I have so far liked pretty much all of RHA's earphones: in my opinion they managed to strike the right balance between accuracy and fun, so that the sound was exciting but realistic (as much as possible, anyway) at the same time. I'm not a proper fan, but I surely enjoy their products. The TrueConnect 2 changes this by putting midrange front and centre, with a bright accent that's pleasing and that's also a consequence of the strong midrange section skewed towards the upper area.
Soundstage is wider than you'd expect from closed-back "true wireless" earphones. In fact it extends a fair bit laterally, but it has close to no depth so you get that "in your ears" type of sound. Imaging is quite decent, as it offers good precision in placing instruments on the stage and a diverse array of places – in other words, instruments appear in various places and you can easily hear where each one is. Instrument separation is fine, with even relatively complex tracks (e.g. Snarky Puppy's Minjor) being rendered correctly, but there's almost like a veil over the sound that makes it lack that sensation of crystal clear clarity RHA is so famous for.
Bass is difficult to locate, as it is approaching neutrality but not it's not quite there, so it adds a bit of colour without completely altering the overall sound nor becoming invasive. It's a small boost in the mid-bass region that adds a bit of warmth but doesn't overdo it. It has little depth, with sub-bass being heavily recessed and barely audible unless you dial up the volume and play a track with emphasised bass. In terms of quality, bass has decently fast transients but low physicality, so that it sounds almost as a hybrid between a dynamic driver and a balanced armature. There is a limited amount of detail, surprisingly, which makes bass unremarkable from this point of view.
Midrange is definitely the star of the show here, thanks to its central position: it sits front and centre, with the middle region being especially emphasised. This emphasis makes it more present and livelier, but it also causes some issues: male voices appear sharper and thinner than they should, with inhales and similar sounds being clearly audible on top of everything else. On the other hand, electric guitars have more bite and vibrancy. All this is because there is a sizeable bump around 1-2 kHz, similarly to the HiFiMAN TWS 600 but in a more reduced fashion which makes the TrueConnect 2 a bit more balanced. Mids are a bit more physical than bass, surprisingly, with a similarly limited level of detail as well. They sound a bit muddied up, with clarity not being their best quality. Listening to tracks such as Restless Nights by Scorpions leads to a messy situation which has the vocals sound dull and lifeless, with too much of an accent on the upper region that means the sound lacks body and impact.
Treble has caused me a bit of a headache – figuratively speaking, not literally! – as it seemed really lacking in detail and generally not quite pleasing. I tried switching sources: I was using my trusty Shanling M2X and I switched to my Linux-powered laptop computer. The latter used AAC by default… but, although at first the situation seemed to improve, there was no real difference. The following words were written after (and while) listening to the TrueConnect 2 using my laptop. Treble detail is largely insufficient. Basically any track reveals the limitations in treble: it sounds flat and monotonous, as if everything was flattened down to sound the same and variability had been taken away. This also means that although there is decent extension, it's barely noticeable.
RHA TrueConnect 2 Comparisons
Let's compare the TrueConnect 2 to other earphones!
RHA TrueConnect 2 vs RHA TrueConnect: remember that thing about the balance between fun and accuracy? The first-generation TrueConnect's tuning is definitely more orientated towards fun, with a much larger bass presence that's accompanied by a much larger physicality; bass has a bump in the mid-bass area, but it also reaches slightly deeper and this gives the sound more warmth (and more of the aforementioned fun). On the TrueConnect 2 it's more reserved, but a bit faster. Midrange is more balanced on the first generation, even though it's also more recessed; it has more warmth, also thanks to the larger bass presence, and slightly more detail. Treble, on the other hand, is much more pronounced on the first TrueConnect, which display it much more in the front and also deliver much better detail. Soundstage is comparable in size, while imaging is more accurate and instrument separation is better. The new generation wins hands down in basically all functional aspects (battery life, microphone, etc).
RHA TrueConnect 2 vs Lypertek Tevi: the Tevi are my North Star in the TWS world, so this comparison is a tough one. In comparison to them, the TrueConnect 2 lack bass presence, depth and detail, sounding much duller. Midrange is much muddier on the RHA, lacking the finesse the Tevi offer: although both have a prominent mid-upper region, the Tevi are much clearer, more detailed, and with much better clarity. Treble is much more in focus and sharper (in a good way) on the Tevi, which offer better much, much more detail and better extension. Soundstage, imaging and especially instrument separation are better on the Tevi. While the TrueConnect 2 offer better battery life, a better microphone and touch controls, the Tevi offer better IP rating and better quality codecs.
Final Thoughts
The RHA TrueConnect have long been among my favourite TWS earphones thanks to their great balance of sound quality and features. In some ways, the RHA TrueConnect 2 manage to beat them and bring real added value to the table: they offer touch controls, much better battery life and better microphone quality. And they keep almost every other good thing, too, while also reducing the price! They're not a direct replacement, though, as the signature of the old version is so much better: more physical, much more detailed, and overall genuinely better sounding with a tuning that feels more natural despite its flaws, so I think the first version still has its place in the market.
With the second generation out RHA has made improvements in important areas to an already successful and well-received product, but on the other hand they made several steps back when it comes to the sound. The TrueConnect 2 are great earphones from a functional standpoint, but from the audio perspective they don't offer the same value as their predecessors: whether it is caused by the new driver or by the lack of high-quality codecs, or a combination of both which I consider most likely, they are just not as good as the first generation.