So-called "true wireless" earphones have taken the market by storm and are rapidly becoming the de-facto standard in many manufacturers' line-ups. 1More makes no exception and appears to be increasingly focusing on this market, with even their low-end products now being completely without cables. The latest device to come out of their factories is the 1More PistonBuds, whose name recalls the very first Piston earphones by the company. They're comfortable earphones with good battery life, but it seem like 1More had to make a few compromises to make them more affordable.
Disclaimer: thank you to Tom for providing me with a complimentary unit to write this review. Additional information is available on 1More's website.
TL;DR: recap
Pros




Cons

+ Really comfortable

+ Lightweight

+ Well-built

– No status LED on the case

– Relatively low battery life

– Unstable connection

– Too bassy
Rating: 6.8/10
Packaging & Accessories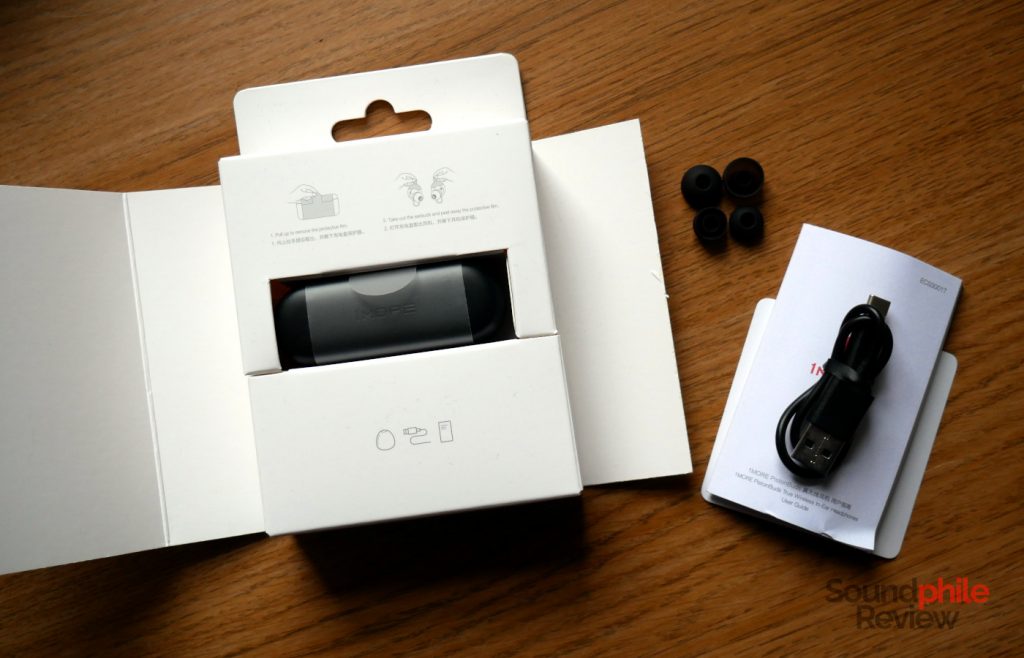 The packaging of the PistonBuds follows in the footsteps of previous products, but it's definitely simplified. The box has the same book-like way of opening, but there's no plastic window like on more expensive products. The accessories (three pairs of eartips, a USB to USB-C cable and a manual) are also all stored in a compartment of the box.
Design & Comfort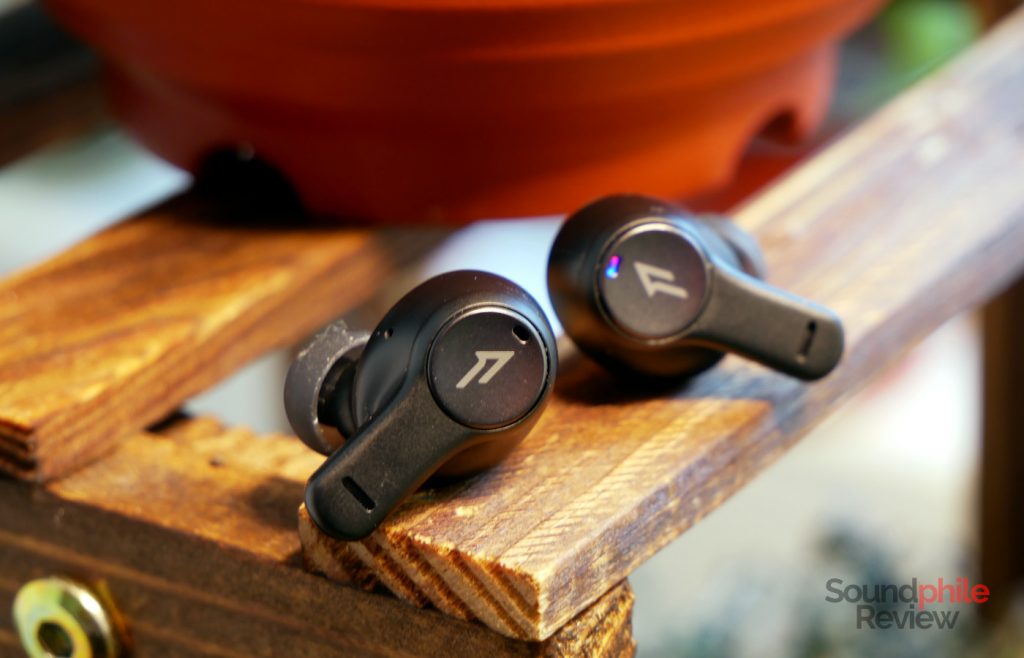 After years of trying to resist, 1More finally caved in and decided to release earphones with a stem. I understand it, 1More, and I won't hold it against you for using this AirPods-inspired design. In fact it's a very good take on it, as it mixes the stem with a more traditional, ergonomically-shaped shell design – they basically got the best of both worlds.
The earpieces are built quite well and this is something I really like of 1More products: they're all built very well independently of the price range, so they are all quite reliable and durable. You can tell they're not premium earphones, but you would be forgiven for thinking they cost more than $100 by their appearance and feel.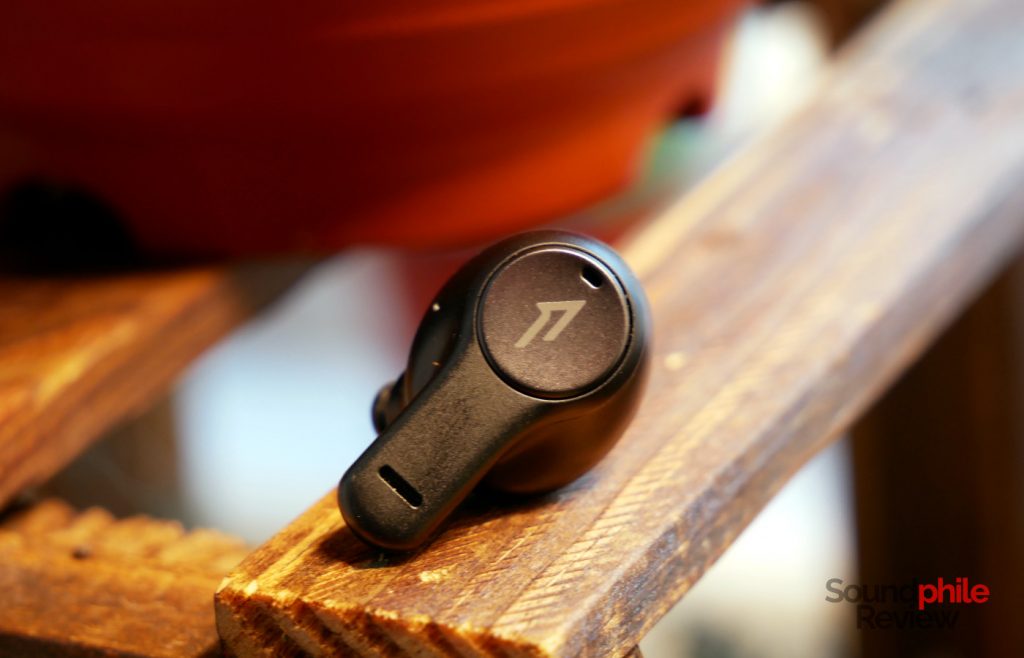 Comfort is very good thanks to the ergonomic design, the small size of the earpieces and the light weight. All these elements combined make for a comfortable listening experience, even long ones and even if you have smaller ears.
Isolation is limited and I can easily hear my keyboard while I type, so you can imagine how the louder sounds of the streets are not stopped in any way.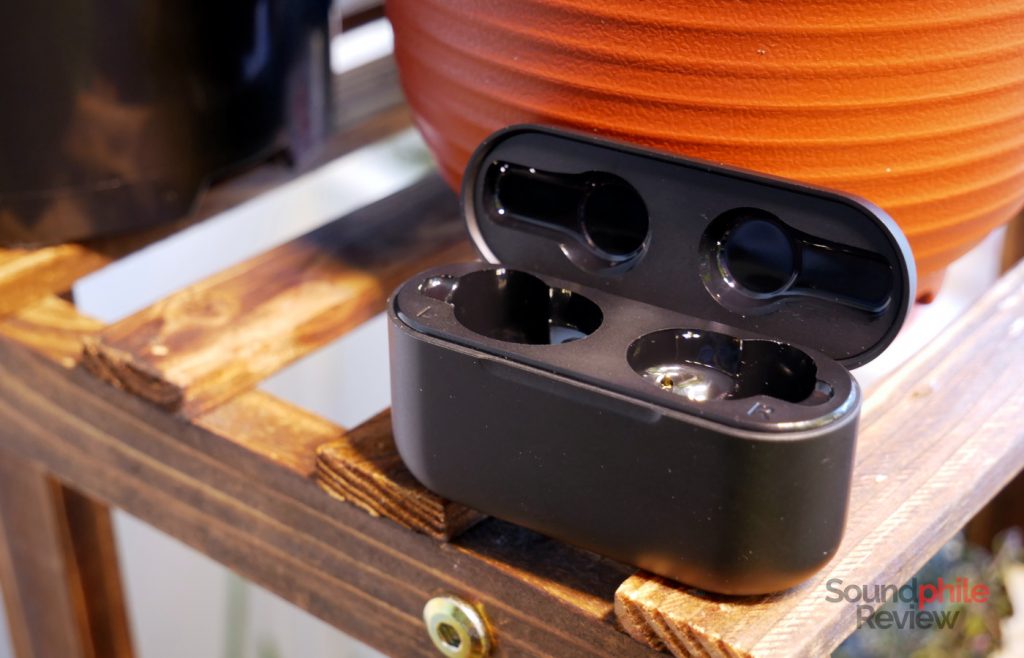 The case is quite small and easily fits into any pocket. It's black like the earphones and is made of the same plastic – which feels quite alright in terms of solidity. The lid has very little play and there is no creaking whatsoever, so build quality appears to be quite good. There is room for criticism though, as there is no LED to know how much charge is left in the case's battery and this is a major issue. On the other hand, the presence of a USB-C connector is quite appreciated.
Extra Features & Battery Life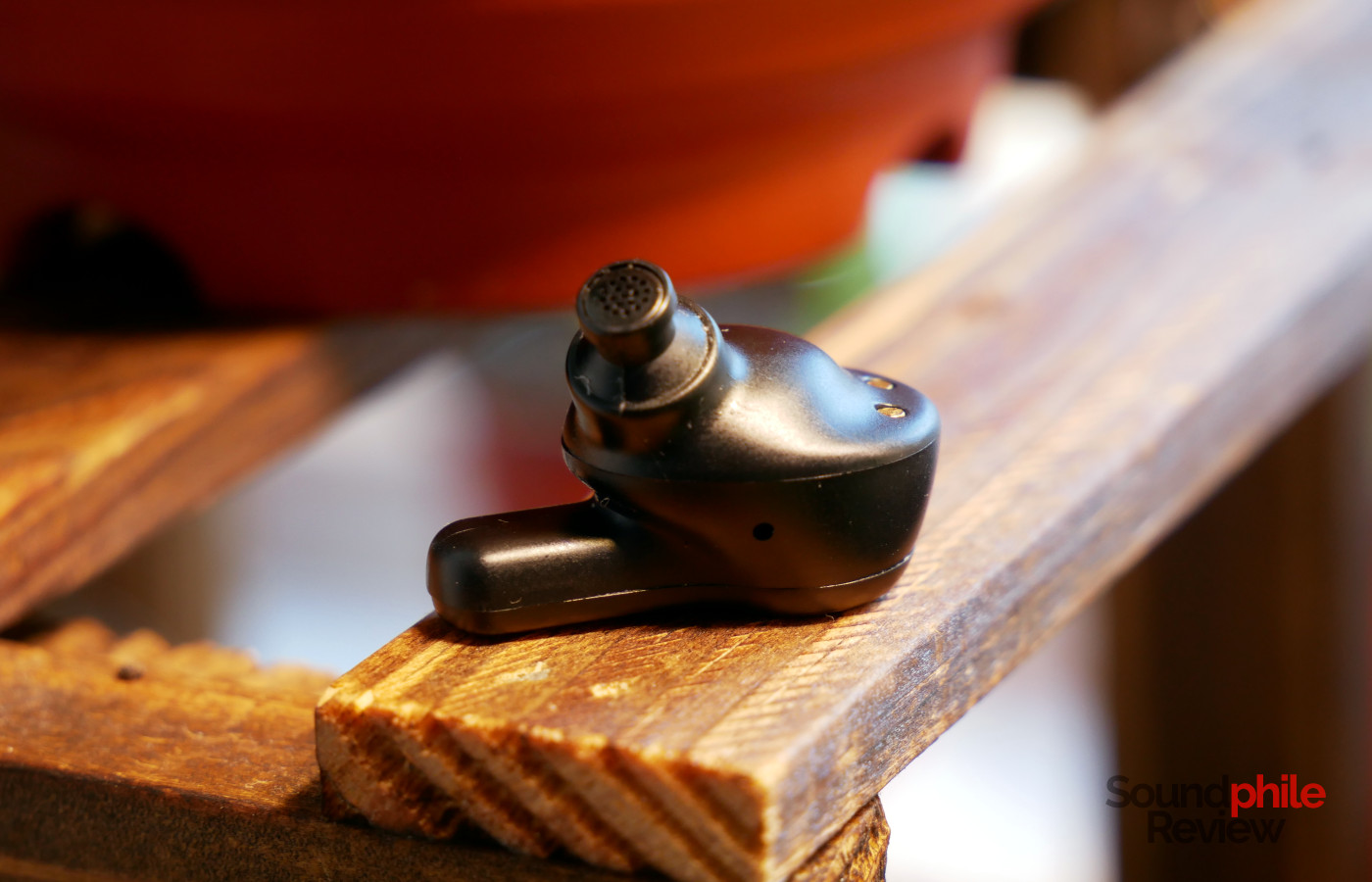 The PistonBuds offer the SBC and AAC codecs, the latter offering good sound quality out of the box (while the former depends heavily on the implementation on the source). The base is Bluetooth 5.0, which also enables low-latency communication with the source if you use SBC, and this opens the doors to viewing video content and playing games. I found that the earphones tend to drop the connection quite often: independent of the device I choose to use, there's often stuttering or downright interruptions in the music. This appears to be completely random, as sometimes I don't get interruptions for half an hour, but immediately after it gets really bad. I haven't been able to find a cause for this behaviour, but it gets worse when using SBC.
Range is also relatively limited; my non-scientific yet highly-reproducible test of walking around the house shows that the PistonBuds drop the connection as soon as I enter my kitchen, whereas most other earphones at least me allow to take a few steps inside there. I haven't had issues walking around with my DAP in my pocket.
Touch controls work well and I noticed that they are not activated by unwanted touches (e.g. if you fix your hair) as they all rely on two taps. The command set is in fact quite simple and includes play/pause (two taps on the right earbud), activate voice assistant (two taps on the left earbud), answer or hang up call (two taps on either earpiece). There's no volume adjustment, nor a way to skip tracks.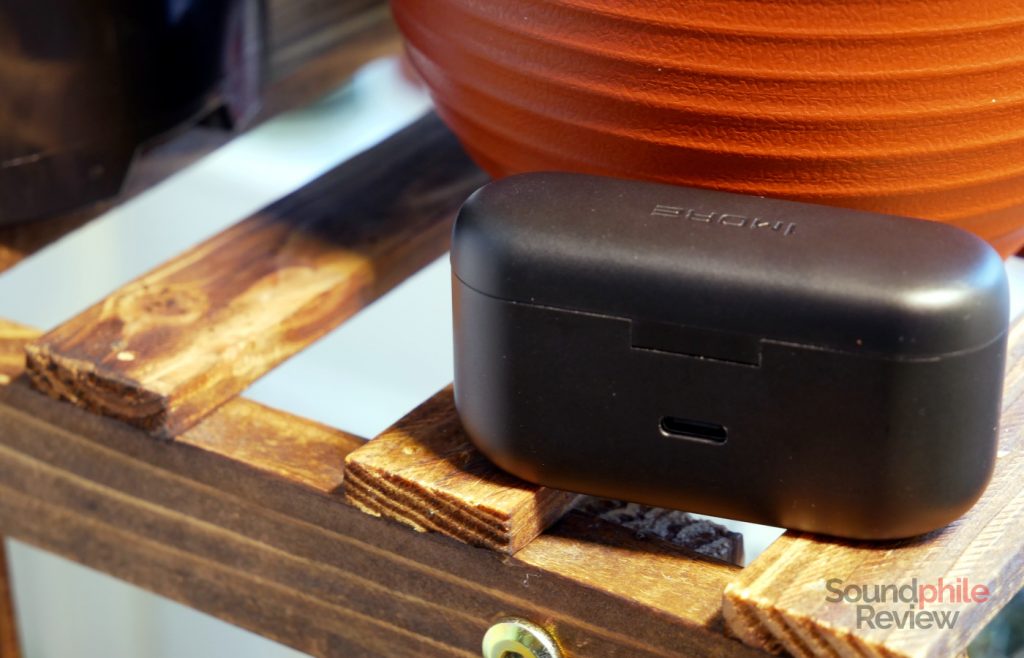 I was able to use the PistonBuds for more than three hours at a time, which falls in line with what 1More promises. It's not a record-breaking performance, but it's actually acceptable for TWS earphones in the sub-$50 range. The charging case provides about 5 additional charges, though the lack of a status LED makes it really difficult to understand how much charge is left. One thing I noticed is that, like with many other TWS earphones, the battery drains even when you are not using them.
Sound & Specs
I tested the 1More PistonBuds using mostly my HP EliteBook 745 G5 notebook computer. Most files I used were standard-resolution (16 bit, 44.1 kHz) FLACs.
| | |
| --- | --- |
| Frequency response | N/A |
| Impedance | 16 Ω |
| Sensitivity | N/A |
| Bluetooth version | 5.0 |
| Codecs | SBC, AAC |
Soundstage is average in width and depth for the price range the PistonBuds belong to, which is to say it's neither wide nor deep and gives you that "in your head" feeling. Imaging is poor, as it makes everything sound in the same place and doesn't really distinguish between left, centre and right either. Instrument separation is, once again, poor: the excessive presence of bass makes everything sound muddy and makes distinguishing the various parts difficult.
The 1More PistonBuds are heavily bass-centric, even too much so actually. Bass extends down to about 50 Hz, which is commendable for this price tier, and has a bump around 100 Hz: the usual mid-bass hump you find in mainstream earphones which gives the impression of powerful and deep bass. The problem is that this emphasis is excessive and ends up leaking over mids and covering them, so bass becomes the thing you hear the most. It's fun with certain tracks, but it often causes the track to become muddy and dark. As you can expect, transients are not exactly fast, but there is a good amount of physicality (for the size of the driver, at least).
Midrange suffers quite a bit from the excessive bass and from a lack in presence in the upper region: even the electric guitars in Nile's Execration Test, which usually are quite present in the mix, end up being almost inaudible as they are covered by bass. This is also caused by mids being recessed and this recession in turn causes them to sound muddy and distant, far from the centre of the scene. The level of detail is such that you get what's going on generally, but don't expect minute details to pop out.
On the other end, treble has a spike in the lower region but then rapidly degrades towards inaudibility as the frequency goes up. Despite this apparent inoffensiveness, tracks where there are lots of cymbals and other high-pitched instruments are a bit aggressive and become fatiguing after a while. The limited extension means that treble lacks that lightness and airiness that would contribute to counterbalance bass. Highs aren't well detailed either, so there's a lot that could be improved here.
Final Thoughts
The 1More PistonBuds sit in the lower end of the TWS market, but they don't skimp on build quality. In fact they're extremely well built for the price and 1More needs recognition for this: they are really serious about making products that are well-made with quality materials whatever their price point is. Their design is also quite conducive to good comfort and in fact the PistonBuds are extremely comfortable, also thanks to their light weight. They have average battery life and a case that's easily transportable. All in all they're good for the price. They have issues as well, though: connection isn't the most stable I've found, the case has no battery indicator and the sound signature is too bassy and congested for an audiophile public.
Tuning aside, they're in line with what I would expect at this price point and they're actually a bit better than that: contrary to many competing earphones, they're built well and there's thought behind their design. They may not be the real best out there, but they're fine for the price. The alternatives include the likes of the Tin HiFi T2000 and the KZ S2, against which the PistonBuds look, work and sound great. So if you really want wireless earphones, the PistonBuds are an option you should consider – just don't expect them to compare to TWS earphones in the ~$90 range.