After several years in which the in-ear format seemed to be completely dominant, there's been a lot of innovation in terms of form factor in the earphone world. Sparked by the success of the EarPods first and the AirPods later, the semi-in-ear format has gained quite a lot of popularity and multiple companies have been experimenting with that. The 1More ComfoBuds 2 take that design and give it a twist of their own, with a silicone tip that makes it a hybrid between semi-in-ears and in-ears. With results that are somewhat difficult to assess.
Disclaimer: thanks to Tom at 1More Europe for the review unit.
TL;DR: recap
Pros




Cons

+ Great-looking design

+ Incredibly cute case

+ Nice features through software

– Way, way too dependent on the fit to sound correctly
Rating: 5/10
Packaging & Accessories
There's nothing new regarding the packaging and accessories here, as they are exactly like those of all other 1More products: the box holds the earphones, plus an extra pair of tips and a USB to USB-C cable.
Design & Comfort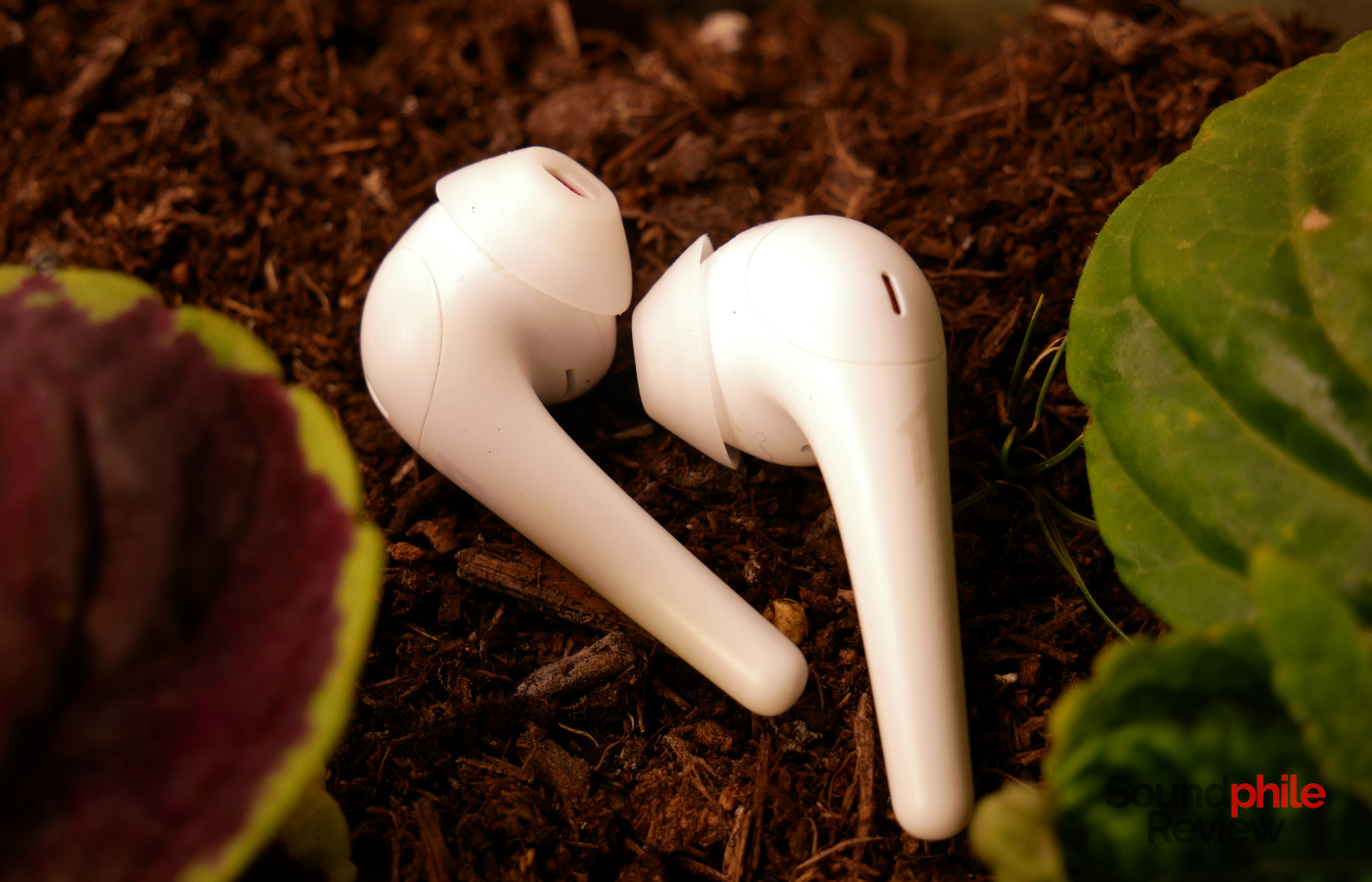 The name 1More chose for the ComfoBuds 2 is indeed right. These earphones are in fact quite comfortable, thanks to their smooth, rounded design. It is quite unique for sure, with a semi-matte finish that makes the earpieces quite good to look at. The stems are relatively small and they're fused with the main part of the shell where the driver is, which is quite large in comparison.
While this shape looks quite good, the problem with it is that whether you get good sound is entirely dependent on the shape of your ears. In my case I don't get enough seal for bass and lower midrange to be audible, unless I really push the earphones deep in. They won't stay that way, though, so it's really hard to get a good compromise. This is in fact the main issue with these earphones, as they are way too dependent on the fit for their sound.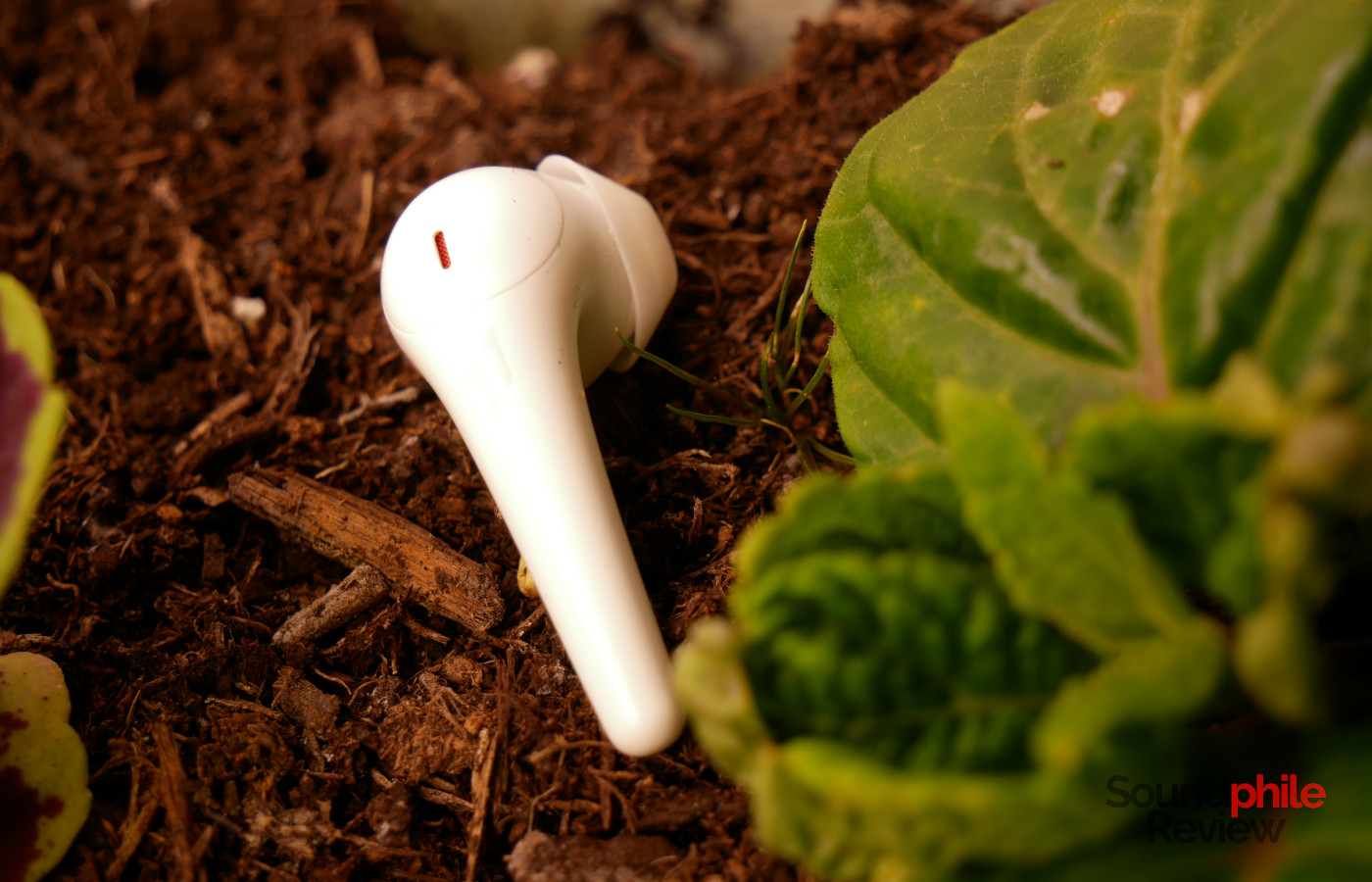 If we compare them to the AirPods we can find a small, but incredibly significant difference: the AirPods are small. This allows them to get inside the ear canal enough to be at a point in which the lack of seal (due to the absence of an eartip) is offset by the fact that the actual earpiece is inside the ear canal itself at a relatively significant depth. The fact that the AirPods are small and with a low height is important, because this is what allows them to get deep enough. The ComfoBuds 2 try to reach the same result, but with a much larger earpiece that doesn't allow you to get the deep insertion and with a weird eartip to offset that. The problem is that the eartips are not large enough, at least in my case, and they don't manage to compensate the lack of seal. I suspect that 1More designed these earphones with people with a small tragus in mind, but as I have a moderately large one, this design simply doesn't work.
I tried circumventing this issue by using normal eartips, but that didn't work either: the ComfoBuds 2 are meant to be used without a proper seal, so with normal eartips you get massive bass that overwhelms everything else. Not even with foam tips the situation gets better. Your experience may be different from mine, though, and as other reviewers have praised the ComfoBuds 2 I am sure that is the case. The fact that my experience is not positive, however, hints at the fact that the design should be further tuned to adapt to more people.
The earphones are IPX5 certified, so they won't be damaged by rain or by wearing them in other situations with high humidity. Build quality is, as usual with 1More, excellent.
Comfort is quite great and I can wear these for a long time without any fatigue or discomfort; in fact I can barely notice the earpieces are in my ears at all.
There is simply no isolation whatsoever, so these are not ideal in noisy situations as you will be forced to raise the volume to hear anything.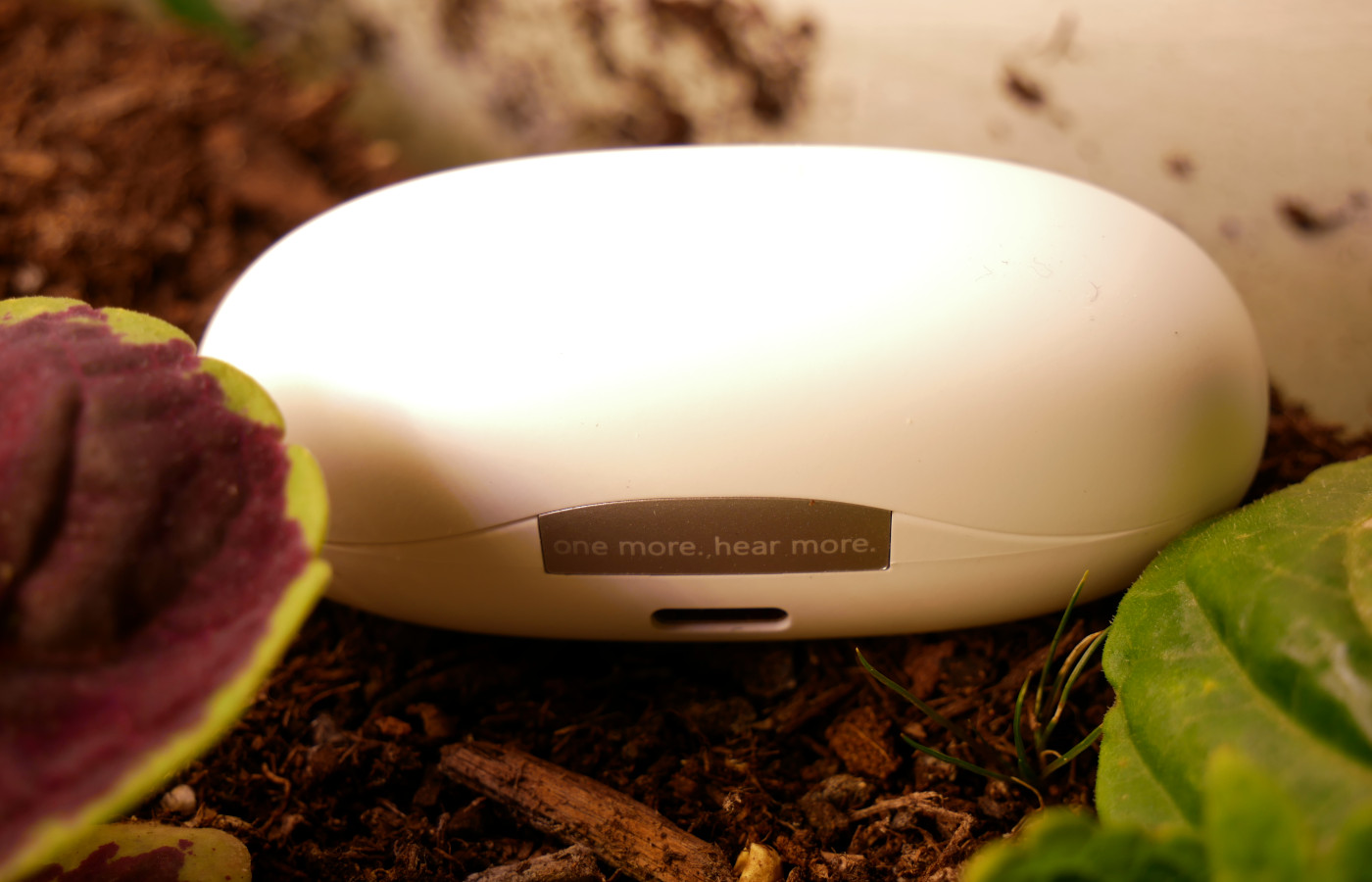 The case is very small and light, so it's quite easy to put it in a pocket and to forget about it: it weighs just 26.9 g. It has the same semi-matte finish and it sports a status LED on the front, a button inside and a USB-C port on the back.
Extra Features & Battery Life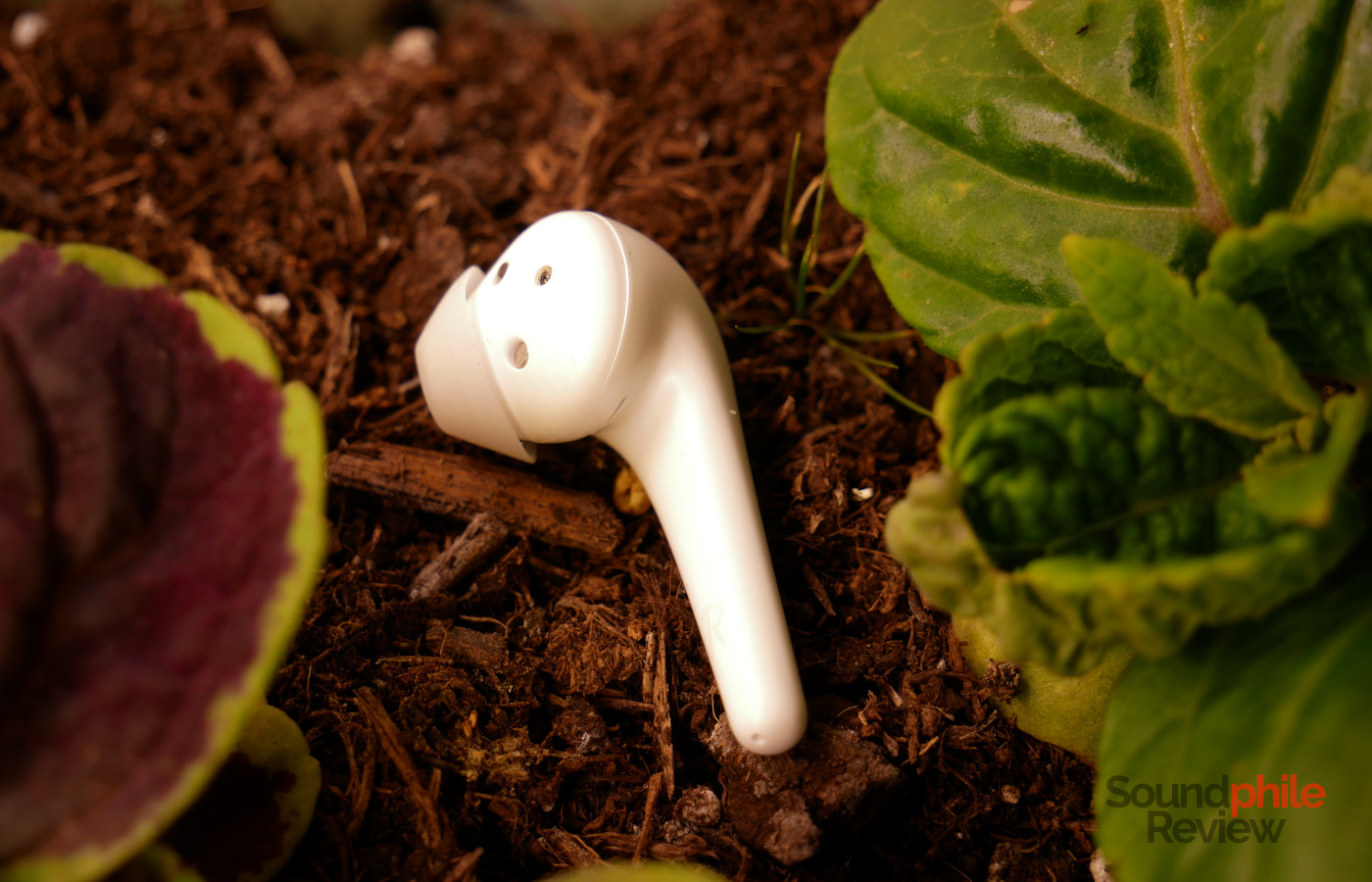 The 1More ComfoBuds 2 use the Bluetooth 5.2 standard with the SBC and AAC codecs. The connection is quite stable and I was actually quite surprised by the fact that the ComfoBuds 2 have a truly great Bluetooth range, as I can move around my house with the earphones connected to my PC and they won't have any issues with that, save for when I am in the furthest corners of the house. That's better than 99% of the TWS earphones I've tried so far, which is not bad at all.
As the earphones feature a proximity sensor, they can auto pause and resume music as you take them off and put them on. Controls are quite easy to operate, but a bit limited: you only have two taps (play/pause/answer call/hang up) and three taps (invoke voice assistant).
The ComfoBuds 2 also have a "gaming mode" that allows them to reduce latency to a minimum, so you can be more immersed in the game and readier to respond to acoustic cues; it can be enabled in the 1More Music app. It allows you to choose an equalisation setting among 12 different ones made by Luca Bignardi, which is quite interesting. Each one is indeed quite different from the others, though you may find that they work well with genres other than the ones indicated by the labels.
Battery life is quite close to the six hours promised by 1More, with three additional charges provided by the case that bring the total to about 24 hours of playback. While not record-beating, it seems like a fairly good result for earphones in this price range.
Sound & Specs
I've mostly tested the 1More ComfoBuds 2 with my PCs.
| | |
| --- | --- |
| Frequency response | N/A |
| Impedance | 28 Ω |
| Sensitivity | N/A |
The following considerations are about what I heard which, in this case especially, may be different from what you hear. As it's impossible for me to try how other people would hear, though, I am in the position of not being able to give you a representation of the sound of these earphones that aims towards objectivity. Please take this into consideration while reading this section of the review.
Soundstage is wide, but less so than I expected: while it does sound more open than most closed-back earphones out there, it's not as open as that of earbuds such as the VE Zen 2.0 and sound appears to come from inside the ears anyway. Imaging is not the best I've found, as instruments do not have a clear placement on the stage. Instrument separation is quite good as far as I can tell, although it's quite difficult to judge.
Bass is almost absent and that's the whole issue with these earphones, as I can basically hear only midrange and treble. If I press the earphones into my ears I can hear full-bodied, relatively deep bass, but that's not quite practical. Saying anything on bass is therefore quite difficult.
Midrange is all shifted to the right, so that it sounds extremely bright and even harsh. Most instruments and voices sound as if the lower part was missing, as that's what's happening. This makes them quite fatiguing. From what I can hear, there is a decent level of detail.
Treble is quite harsh and that's not because of faults of its own: it's just that there's no counterbalance from bass and lower mids, so treble comes out on top and becomes fatiguing. There's a decent level of detail, but that's about as much as I can tell.
Final Thoughts
The first generation of the 1More ComfoBuds line was widely received as insufficient because of its fit issues and problematic sound quality. The ComfoBuds 2 aim to correct some of these issues with a new, replaceable eartip system. The problem is that this does not fix the main issue, which is the bulky design of the earpieces that doesn't allow them to go much inside the ear canal. With even larger tips one may get better results, but it's hard to say without actually trying them – and I haven't been able to find any suitable ones so far.
The problem with the 1More ComfoBuds 2 is that they are way too dependent on the fit to get good sound reproduction and in some cases, like mine, that fit simply doesn't work. The idea is indeed worth of commendation, but the implementation still needs some tuning. My recommendation for the 1More ComfoBuds 2 is therefore to try them out and see if they work for you and your ears, as there's very little else I can say about how they will sound for you. This is one of those cases where my impression of them can be entirely opposite as yours.
A conclusive note: my final mark of 5/10 is not due to me not liking these, but to me not being physically able to experience these the way I should. It's not a matter of will: the shape of my ears is such that the ComfoBuds 2 will never work for me. I am quite sure that there are many other people out there who will experience the same, if anything because of statistics, so my judgement takes this into account. Earphones which need you to have a specific shape of your ears to sound well – earphones which, ultimately, throw a fit about how they fit – are not something I can recommend.