The 1More ComfoBuds Mini are… small. Yes, they really are "mini"! With lots of earphones being designed for those with larger, or at least average-sized, ears, the ComfoBuds Mini appear like an attractive alternative. 1More got us used to packing lots of features in their earphones and this stays true for the ComfoBuds Mini as well.
Disclaimer: I received a free sample directly from 1More. You can find more information on 1More's website.
TL;DR: recap
Pros




Cons

+ Superbly comfortable, even if you have smaller ears

+ ANC works well

+ IPX5 certified

– Low passive isolation

– ANC is hampered by the point above

– Sound signature is not quite balanced
Rating: 6.5/10
Packaging & Accessories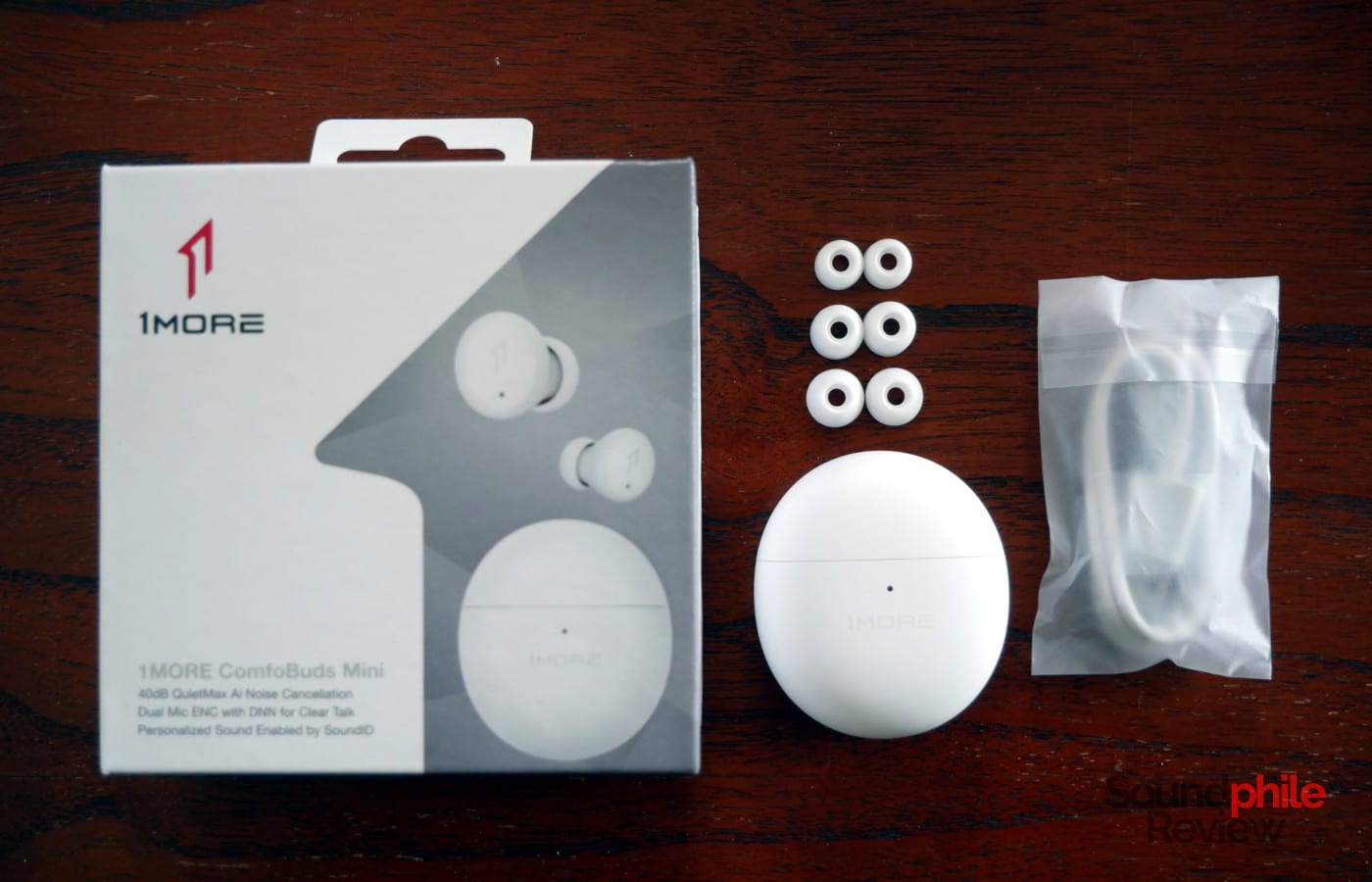 The ComfoBuds Mini come in the usual 1More packaging – a cardboard box with a transparent plastic window. Inside it there's the bare minimum in terms of accessories: three additional pairs of eartips in different sizes and a USB to USB-C cable.
Design & Comfort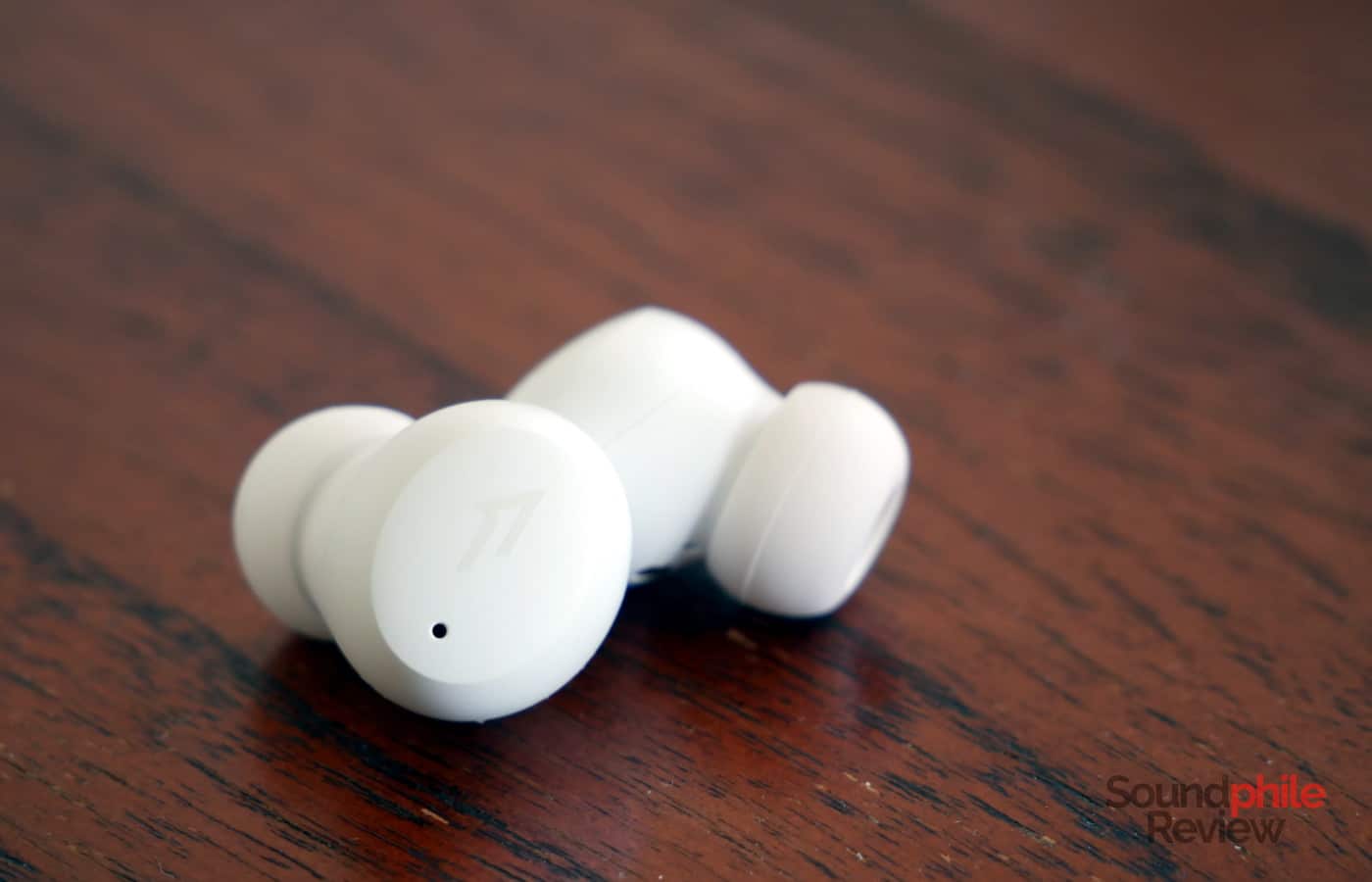 The name really says it all with these earphones. The 1More ComfoBuds Mini are meant to be comfortable and small so that anyone can wear them for a long time and still find them comfortable. They're actually very small, even smaller than the ColorBuds 2, and rounded, so they should fit even the smallest ears. In my case they're white (but there is also black available), with the 1More logo on the faceplate. They're made of plastic with a soft touch finish.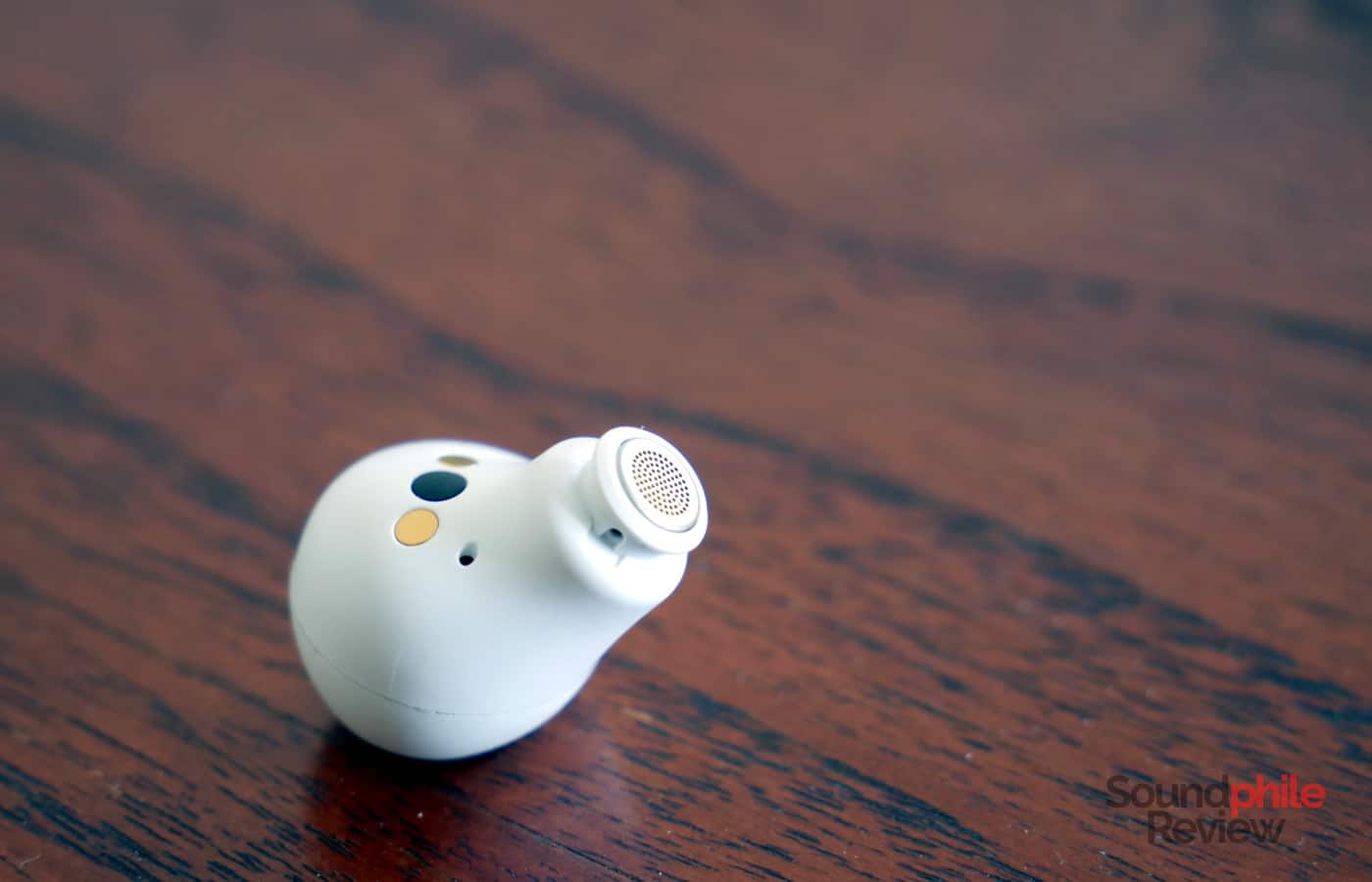 Build quality, as is tradition with 1More, is quite high and I can't find any flaws in it. They are IPX5 certified, which means you shouldn't worry when using them during workouts or in situations where there's water involved. There is a proximity sensor on each earbud that allows them to automatically pause and play music as you remove them from your ears and put them back.
I find comfort to be extremely good. Thanks to their small size, they fit in my ears without any issues; considering they're smaller than the ColorBuds 2, which fit perfectly in my girlfriend's rather small ears, people with small ears should find no problems in wearing the ComfoBuds Mini for longer periods of time as well.
If there is one flaw that characterises the 1More ComfoBuds Mini, that's the lack of passive isolation. No matter which eartips I use, they fail at reducing the volume of sounds coming from outside, especially with mids and highs. This makes ANC much less useful, as we'll see later.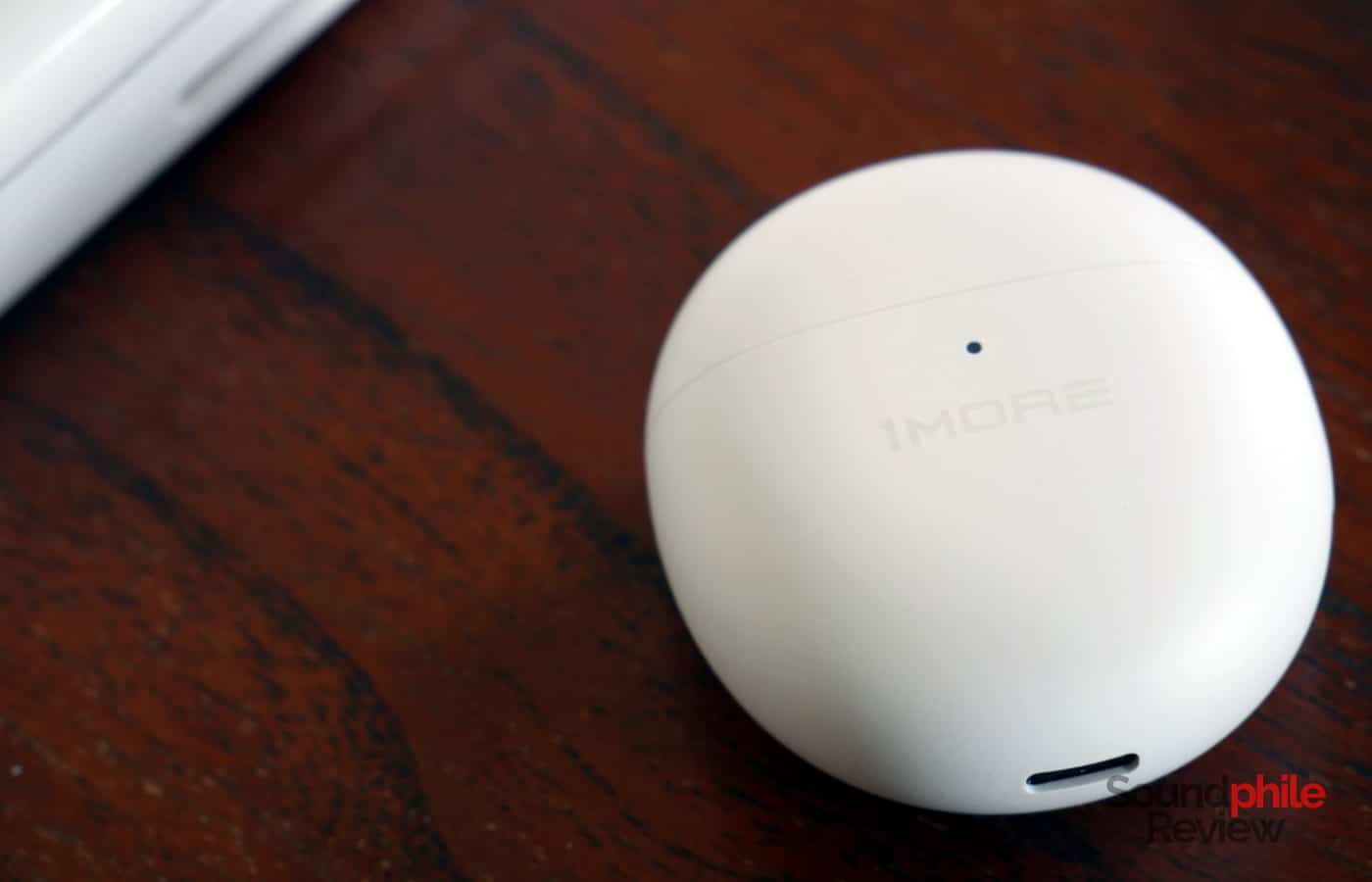 The case is super small and it's extremely easy to both handle and keep in your pocked unnoticed. It's also very light (just little more than 50 g!). The lid is easy to open and then actually stays open, so it's easy to take out or put back the earphones. There is a status LED on the front that informs you of the charge left in the battery, plus a USB-C port on the bottom and a button on the right hand side to initiate pairing, among other things.
Extra Features & Battery Life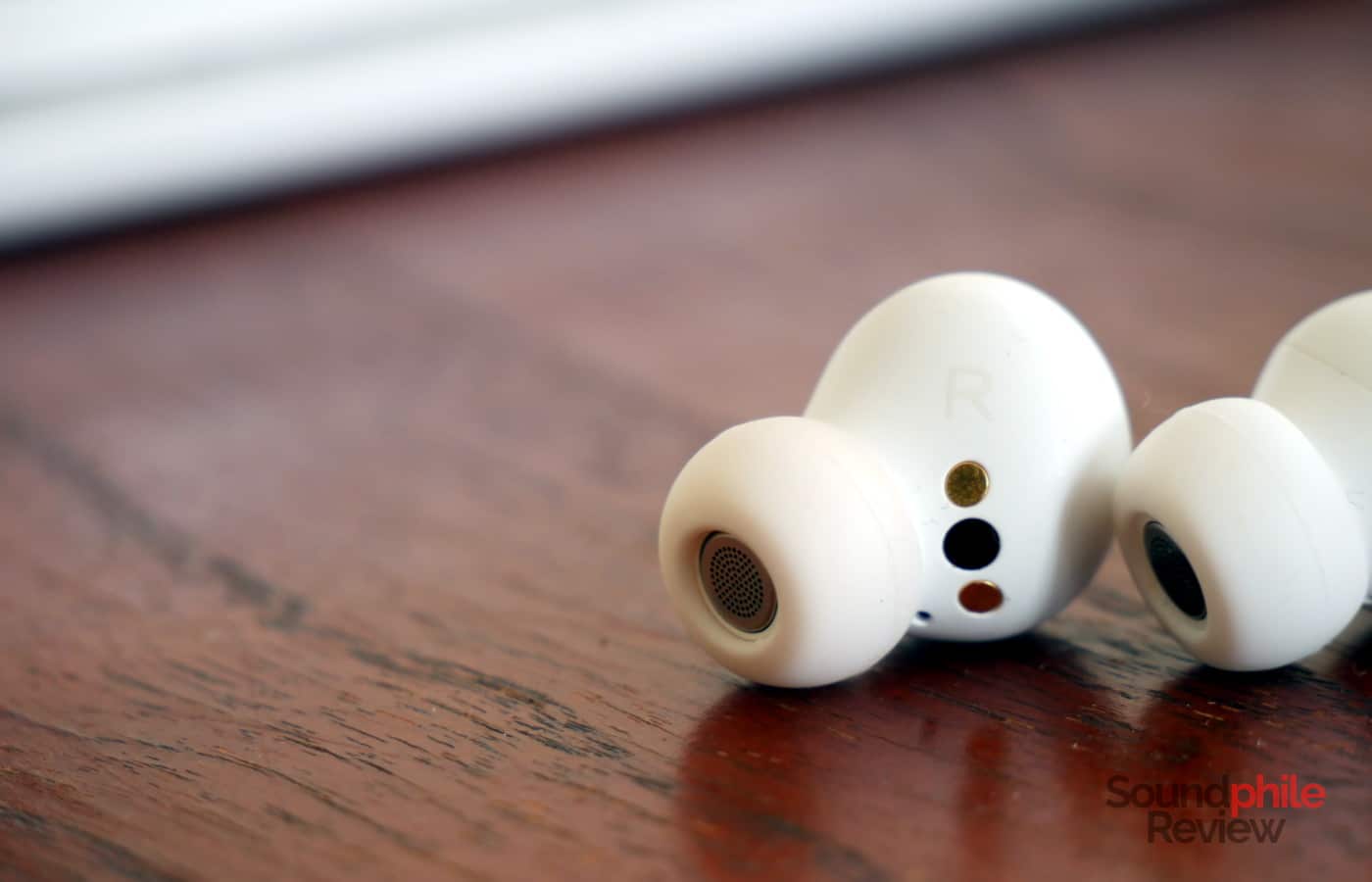 The 1More ComfoBuds Mini are compatible with the Bluetooth 5.2 standard and feature the SBC and AAC codecs. The range and strength of the connection are decent and I have had no issues with them, though I can't move around the whole house while wearing them without encountering stutters.
ANC works quite well with low frequencies, basically removing them entirely and making them inaudible but for the loudest noises. The issue is with the rest of the spectrum, as the lack of passive isolation makes mids and highs clearly audible – voices, as an example, are even emphasised by the lack of low-frequency noises. Using the ComfoBuds Mini on public transport, as an example, is therefore less ideal of a situation as I thought it would be, as people talking can be heard clearly and so can other high-pitched noises. There are two ANC modes, strong and mild, but I personally find the latter not to be that useful considering the limitations of the earphones in passive isolation.
Touch controls work well, though they're a bit limited: two taps play or pause music and accept or end calls; three taps invoke the voice assistant; tap-and-hold cycles through ANC modes (on, pass-through, off). There is limited customisability, with the two and three taps that can be assigned to the defaults, to track skipping or to volume control.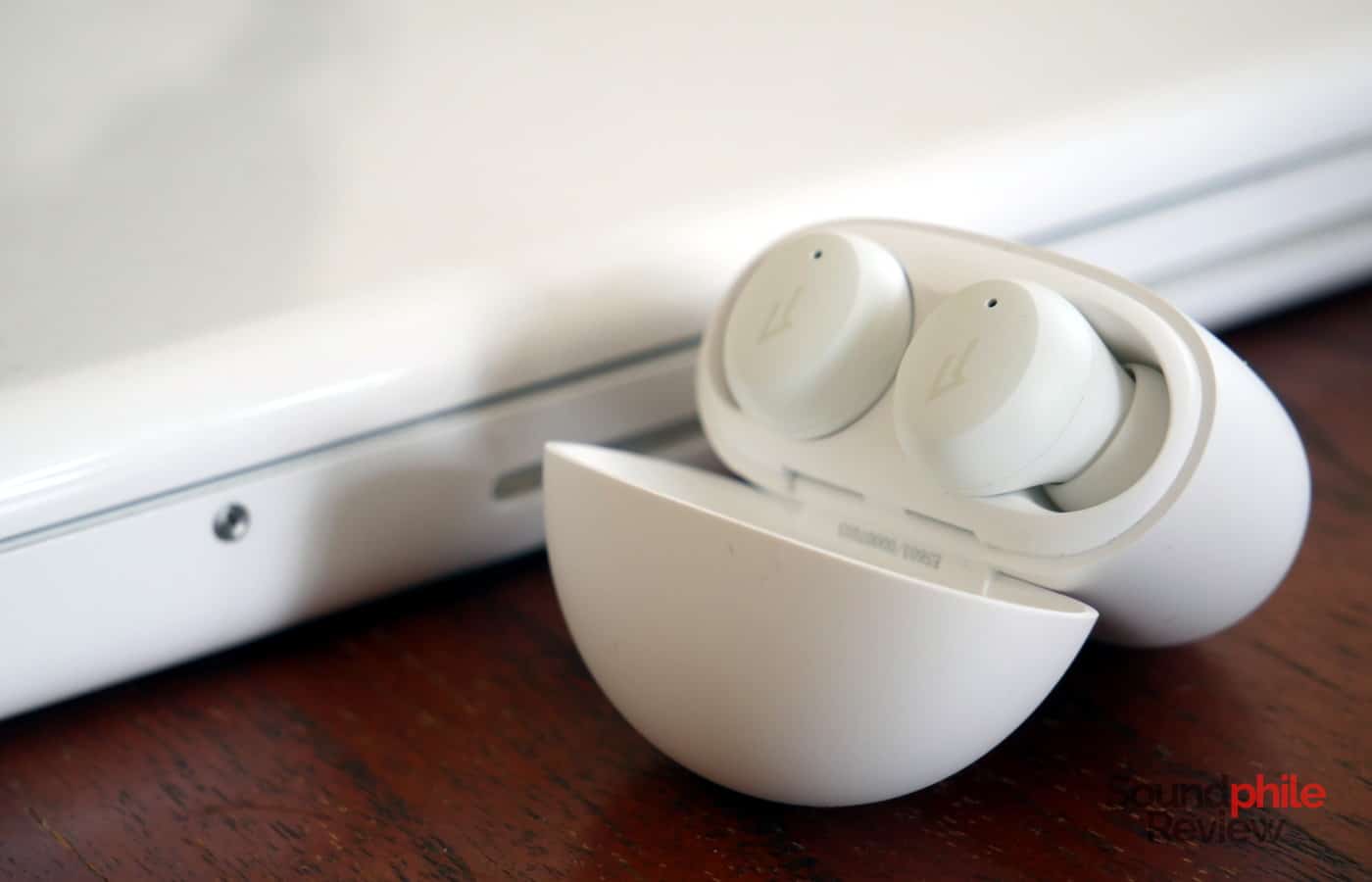 Through the 1More Music app, available for both Android and iOS, you can use the SoundID feature to tune the sound of the earphones based on your preferences, though this is quite limited in my experience, as well as customise the touch controls.
The ComfoBuds Mini offer good battery life for their size class, as they offer around 6 hours of playback with ANC enabled. Three additional charges are provided by the case, for a grand total of around 24 hours. The case features compatibility with Qi wireless charging, so you can just pop it on a compatible charger without fiddling with cables.
Sound & Specs
I've tested the 1More ComfoBuds Mini using mostly my computers, as well as my Honor 9 smartphone.
| | |
| --- | --- |
| Frequency response | N/A |
| Impedance | N/A |
| Sensitivity | N/A |
| Bluetooth version | 5.2 |
| Codecs | SBC, AAC |
Soundstage is neither very wide nor very deep, leaving you with the impression of music coming from inside your ears. Imaging is limited as well, with only the basic placements of left, centre and right being clearly distinguishable. Instrument separation is just above sufficiency, as nuances get lost in the mix.
The sound signature is heavily bass-focused, with mid-bass being the most prominent area and sub-bass being mild in comparison (but still somewhat present, which is quite something considering the size of the drivers). The presentation is quite dark overall, with bass taking a lead role in most situations, though it never gets to the point it overshadows the rest. Speed is on par with expectations from a small dynamic driver, so it's sufficiently fast, but with a somewhat slow decay. The level of detail is sufficient.
The darkness I mentioned before is somewhat counterbalanced by an additional emphasis on the upper midrange and lower treble, but that works only partially. Even bright instruments such as trumpets sound a bit muted and distant, as you can hear in Snarky Puppy's Semente. Detail is sufficient, while the same considerations about speed I made above apply here as well. One thing I quite like is that drumbeats and other transients are quite physical despite the small size of the driver.
Treble has a decent level of detail and sufficient extension, with a relatively steep slope as frequency goes up. It can be a tad aggressive at times, thanks to a couple of peaks in the lower region, but is mostly enjoyable.
Final Thoughts
The 1More ComfoBuds Mini are nice little earphones with many interesting features that make them pleasant to use: ANC works well, the proximity sensors are really useful, the small size makes them comfortable even for longer periods, battery life is enough to cover most people's needs. They do have a few flaws, too, such as poor passive isolation and a sound signature that's not really balanced. These two elements make them harder to recommend at their suggested retail price of $99.99, as they clash with great earphones like the Lypertek SoundFree S20 and the Moondrop Sparks – which may not be as sophisticated in terms of features, but sound better and offer better passive isolation. All in all, the ComfoBuds Mini are likeable, but they cater more towards those who put comfort and "smart" features in front of sound quality.