Last weekend London saw hundreds of headphone aficionados gather to listen to the latest and greatest in our hobby. There was a huge amount of people listening to a huge amount of headphones in a huge amount of booths. Yes, the show floor was (wait for it) huge. It was so large I didn't have the time to listen to everything and to cover everything. But this was a great experience as I got to meet a lot of interesting, fun, kind and knowledgeable people.
Here's a round-up of what I've seen and listened to in CanJam London 2019 in no particular order (though it's close to my visiting order of booths…).
HiFiMAN
At CanJam HiFiMAN brought their full line-up of headphones, complete with their latest wireless offerings. In fact HiFiMAN just announced their new "true wireless" earphones, the TWS 600, and had them on display there. They are also now ramping up production of the new wireless Ananda BT, which are an odd product if you ask me but promise good sound quality without the wires.
The TWS 600 seemed a bit bright to me, but I could not understand if that was due to the poor fit of the eartips or due to intrinsic sonic characteristics. I came back home with a pair, so I will have the opportunity to test them out. The Ananda BT, on the other hamd, surprised me for being really close to the wired thing. I really look forward to wider availability to try them out!
RHA
RHA brought their all-new T20 Wireless to the CanJam – it's the old good RHA T20i (which was the second product I reviewed here, yay!) with a MMCX connector that makes it possible to use them with a wireless neckband cable. They may well be the ultimate wireless in-ear headphones, if you ask me. Yes, I still deem the T20 as my favourite earphones, probably also due to the many good moments I lived when using them. Plus, the T20 Wireless are an elegant black. Nice.
(also, the people at RHA are great. Thank you guys!)
Audioquest
Audioquest was at CanJam introducing the new Dragonfly Cobalt, which is an improvement over the previous Dragonfly Red as it uses an all-new USB controller and a new DAC chip. I had an interesting discussion with Robert Hay about the pros and cons of audio through USB Type-C and Lightning, with the latter being much more reliable and standardised but also much less open in terms of what one can do with it (the max output is 100 mA!). The first is more open, but also way more difficult to work with as there is a huge variety of different implementations on the market and a lot of variability (e.g. one phone using USB Audio in one market and not in one another). The new Cobalt has a new implementation that should work better with more devices while also drawing less power thanks to a new controller chip.
oBravo
oBravo had their lastest creation and their only affordable product on display: the new oBravo Cupid, a hybrid in-ear with a dynamic and a planar driver. They say that planars are not really good at reproducing bass (a claim that contradicts my personal experience, though), so they used a dynamic driver to boost bass presence. In the brief time I spent with the earphones, they sounded detailed and were comfortable, but did not have a very large soundstage.
They also had their new Ra w and Ra c earphones on show. They were absolutely gorgeous and, on top of that, they had an incredibly well detailed sound, coherent and pleasant. They are not as comfortable as one would like, but that's a price I would likely pay for that sound quality.
ZMF Headphones
ZMF is famous for their boutique headphones and that's for good reason. I had heard of Zach being a nice guy and when I first looked at him I thought he looked like a nice guy. Then we had a somewhat long discussion and he confirmed that first impression. He had the full set of headphones on display, so on with the impressions!
The closed-back Vérité was the star of the show, being introduced at CanJam London. When listening to it I felt instruments to be placed closed to the listener with the sensation of being a large room, with a greatsense of space. They appeared really neutral sounding, with restrained but well controlled bass and incredibly detailed treble; my impression was they had a coherent sound all round. They had superb instrument separation.
The Eikon were really open sounding, with a sensation of a huge space. They sounded balanced, but a bit warmer so they sounded really good with acoustic instruments, while being thoroughly detailed.
On top of being incredibly good-looking, the Auteur sounded great. Compared to the Eikon their midrange is a bit brighter and treble is a bit more forward, so they sounded very open sounding with a vast stage and crisp details.
The original Vérité is more intimate sounding than the Auteur and it is highly detailed, with superb instrument separation. It is fast and impactful – I was surprised by how fast it sounds.
The Aeolus has deep, impactful bass, with overall fast transients. Instruments sound close but in a wide space, so I could feel a good sensation of space. And they're also gorgeous, which is always a good thing.
The Atticus is open sounding, with a huge stage and very good imaging that makes you feel there. Their tuning is a bit warm and they have great detail while being very fast.
I sincerely hope I will be able to feature some of these headphones soon, so stay tuned!
Acoustune
I stopped by the Acoustune booth and they had their four earphones on show. The lower-end one (which is still €699…) is the HS1650CU which is more balanced, but with less bass than the others. It has very good instrument separation. Up €100 is the HS1655CU, which is a bit bassier than the TI and more wide-sounding. The HS1670SS is heavily V-shaped, with punchy bass and fast transients coupled with a detailed sound and a wide stage. The top-of-the-line HS1695TI, which si also the one I liked the best, has a neutral, highly detailed, spacious sound with good instrument separation.
Brise Audio
The same booth used by Acoustune was also used by Brise Audio, a Japanese manufacturer of cables. They had all their offerings on display, which comprised cables ranging from $200 to $1,000. They appeared to be well-made, with the main difference between the various models being that the cables are increasingly thicker. They were soft and their rubbery cover was really good to the touch.
Westone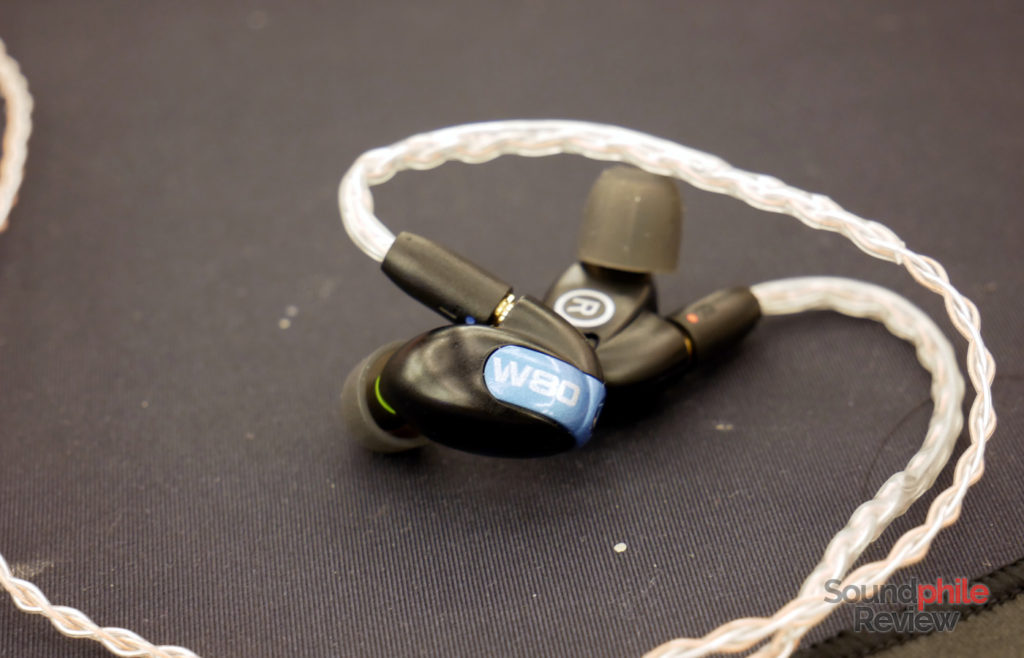 I took a look at Westone's IEMs, too: they had many interesting ones, though I concentrated on the W60, W80 and UM Pro 50. The UM Pro 50 is probably the most representative stage monitor, as it has boosted bass that leaves almost anything else in the background, with a spike in the upper midrange that adds a bit of presence in the voice range. I guess that's the ideal tuning in dealing with bass and drums on the stage.
The audiophile line is really different: the W60 is almost neutral and sounds really good. It has very good separation of instruments, coupled with a large soundstage and accurate imaging – it really sounds good and it was one of the best-sounding IEMs I've heard at CanJam. It was overcome in this by the W80, which takes the W60 and adds a bit more punch – everything is more lively, vivid and physical. It has extraordinarily physical bass for only using balanced armatures and it is incredibly small for having eight drivers inside. In Italy we say "il vino buono sta nella botte piccola" (good wine is in the small casket) and I guess the W80 prove that true once again…
(also, I was so concentrated on listening to the earphones I forgot to take pictures of them)
Noble Audio
I finally got to listen Noble Audio's flagships. The Khan is gorgeous, no doubt on that. It is a bassy IEM, with great instrument separation, and is the warmest of the three. On the other side there is the Encore, which is the most neutral of the three according to my ears; it is highly technical with a super large stage. The Katana seemed a bit bright to me, with lots of treble presence that sounded highly detailed and a more-than-decently large stage. I especially liked the Katana and the Encore, not only because they sounded super good, but also because they looked good and were super comfortable.
InEar
The InEar booth was the last I visited… while the show was coming to a close. But I made it in time to listen to the ProPhile 8, an interesting and very neutral-sounding IEM which has two switches to add treble and bass. Just flipping one or both switches changes the sound so everyone can tune it to their liking. The difference is pretty striking, though I personally prefer the neutral tuning. They were also insanely comfortable (and so beautiful!).
---
And that was a wrap. Alas the CanJam show floor was so large I was not able to visit it all and to listen to all the wonderful things that were there – I hope I will be able to do that next year, Brexit permitting!