With the surge of earphones sporting a replaceable cable, a number of manufacturers saw the opportunity to market replacement cables and fitted this niche with products ranging from very low cost to premium. As I don't believe in audible changes duento cables, I guess the reasons to want a new cable are basically reduced to aesthetics, build quality and materials. The Yinyoo brown 8-core silver plated cable has a good combination of all three aspects while keeping the price in check, which makes it a suitable replacement for stock cables.
Disclaimer: I got this cable directly from AK Audio who asked me to review it. It goes for $26 on their AliExpress store.
TL;DR: recap
Pros




Cons

Well-assembled with good materials

Seemingly durable and resistant

Affordably priced

Not found at this price
Rating: 8/10
Packaging & Accessories
The Yinyoo brown 8-core cable comes in a simple plastic bag with no other accessory or packaging.
Design & Build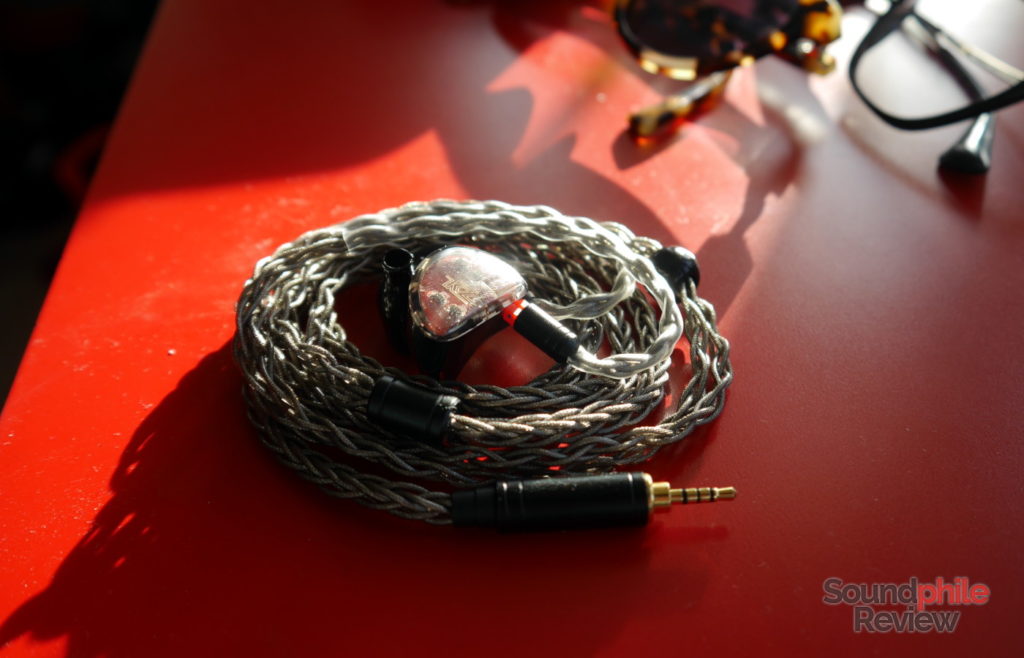 Despite what the name implies, the Yinyoo 8-core brown silver plated cable is not brown. One could wonder why they chose this name, but colour is an opinion after all, at least to a certain degree, isn't it? It is in fact dark silver, which has some brown/gold notes in it, but it is a far cry from being truly brown.
One thing that is in fact accurate about the name is the reference to the number of cores. There are 8 braided cores, that split in two groups of four. Each core is individually sleeved in plastic – it's this plastic that is coloured and gives the cable its silvery-brown look. Contrary to most of the plastic I've seen used as sleeve, in this case it is rough and it almost seems like it is embroidered itself.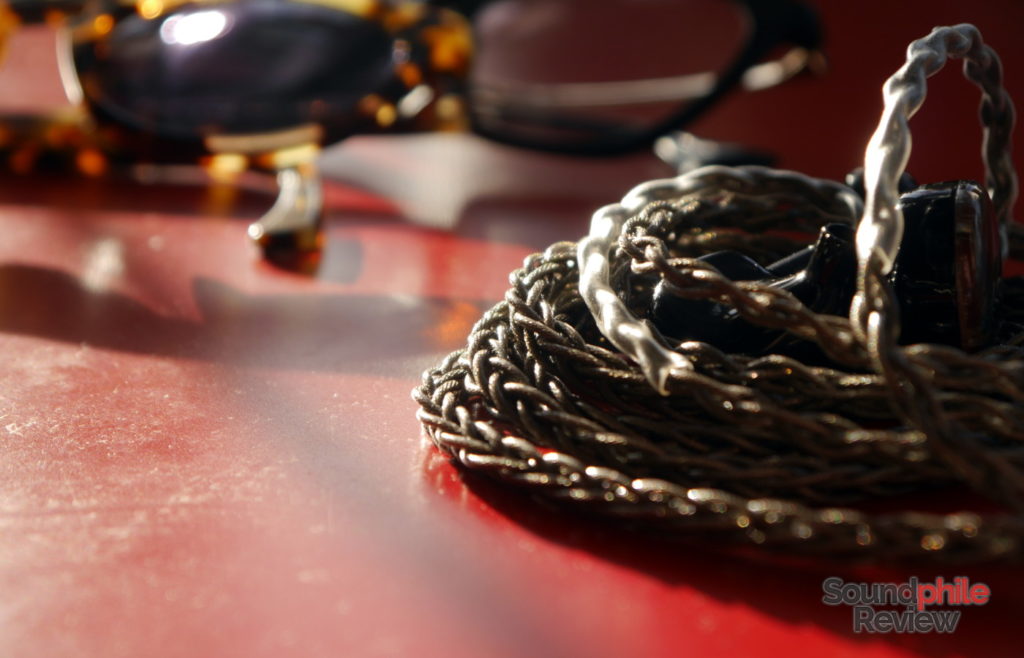 At one end of the cable is a jack (a 2.5 mm TRRS jack in this case, though 3.5 mm TRS and TRRS and 4.4 mm are also available) protected by an aluminium cylinder also sporting a bit of soft plastic as a strain relief. At the other end are the two connectors that go in the earpieces: they can be either 2 pins or MMCX (in my case it is the former standard), and they are preceded by two small aluminium cylinders and pre-moulded plastic that is shaped after the pinnae. Right in the middle is the Y-split, also made of aluminium, accompanied by a chin slider made with a black plastic sphere – effective, despite the looks.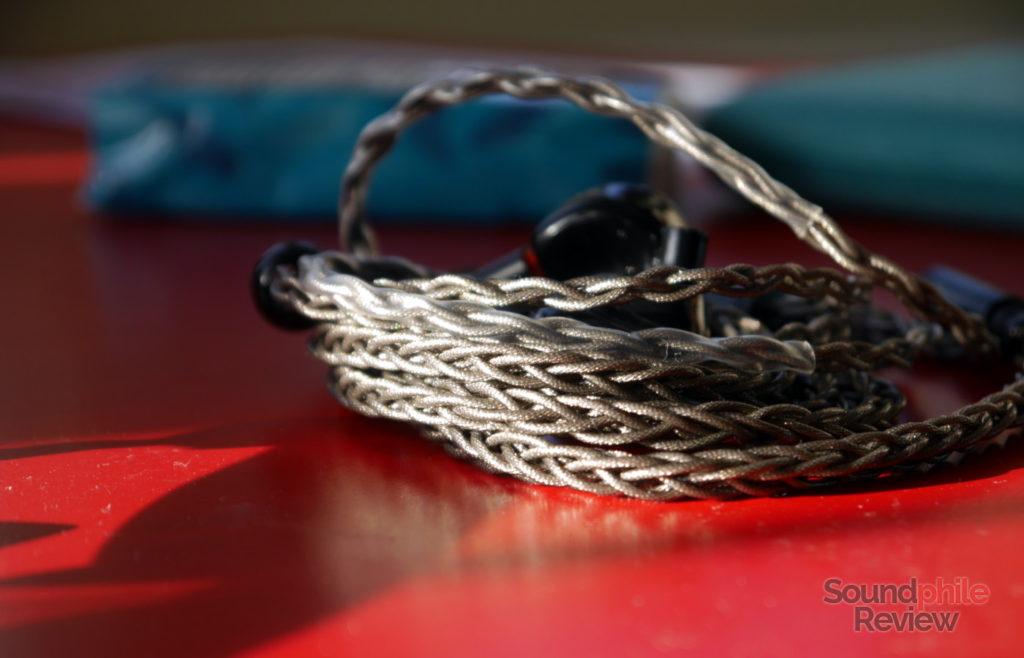 All in all the cable looks well built and decently durable. Its appearance does not leave any doubt on the affordable positioning of the cable, but it also is better than most stock cables in terms of appearing strong and resistant.
As the pre-moulded plastic makes the cable smooth and makes it adapt to the shape of the ears, comfort is very good and a serious upgrade over most stock cables in my opinion. Microphonics is also kept to a minimum, so one can walk around without hearing any constant thump.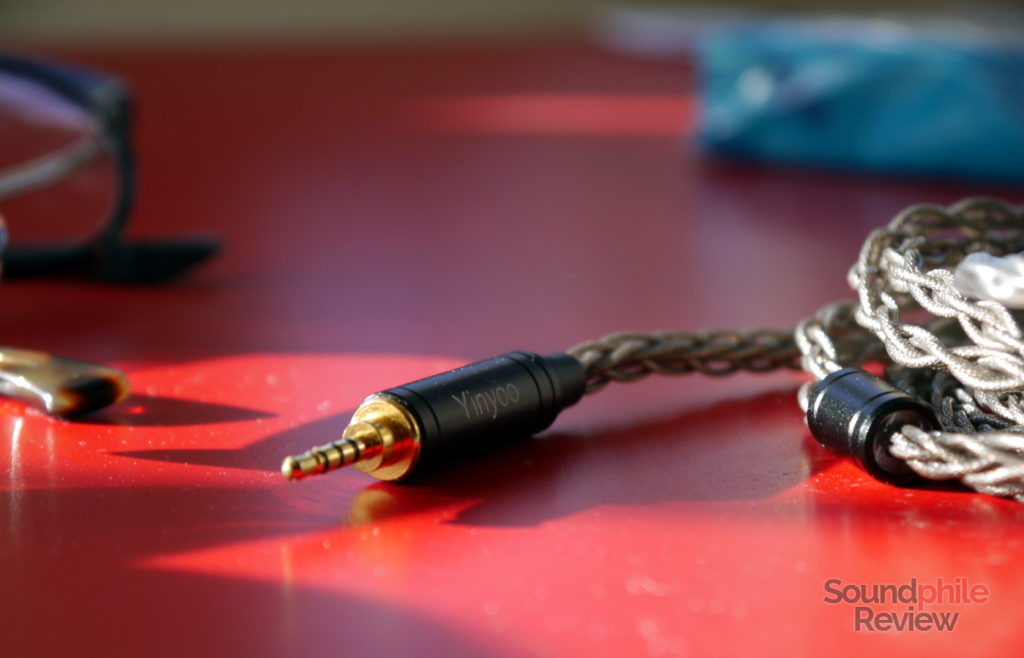 Sound
I tested the Yinyoo brown 8-core silver plated cable with a few different earphones, including the KZ AS10 (pictured above), KZ ZS4 and TRN V80.
My stance on cables is pretty clear – I can't hear any difference 99.9% of the time, and if there are in fact differences then they're really minor. As differences cannot be detected by measuring instruments, I won't comment on the influence of cables on sound – to me, picking cables because of their sound is out of the question, so I won't recommend any cable because of its supposed sound.
Final Thoughts
Finding great cables around $25 is now easy enough, thanks to Chinese manufacturers flooding the market with affordable products. Although you will probably not find any advantages in using those cables from an acoustic perspective, the build quality is most probably better than that of stock cables sold with earphones below $200.
That's also true for the Yinyoo brown 8-core silver plated cable. I can't find any significant flaw in it, at least not for the price. It therefore wins my recommendation: it is a good product at a good price.