It may be small, but that does not mean that it is not a powerful device. Lindmann has been building audiophile devices for the past 25 years in Germany and the company is now concentrating their efforts in building devices to stream music with. The Lindemann Limetree Network is one such device, meant to combine a strong streaming section with an equally strong headphone amplifier section. We might say it's a streaming device to rule all desktops.
Disclaimer: I would like to thank Christopher at Lindemann for making this review possible. I will keep the unit for future reference but will ship it back to Lindemann if they request it. The Lindemann Limetree Network retails for €895, roughly $1000. Additional information is available on the website of the manufacturer.
TL;DR: recap
Pros




Cons

Compatible with a lot of formats

Can be used as a stand-alone CD player

High-quality headphone output

Easy-to-use, full-featured app

Android app has some rough edges
Rating: 9/10
Packaging & Accessories
Packaging is simple yet complete. Inside the box are the device, a set of four silicone feet, the power adapter and an Ethernet cable. Additional details are available in the unboxing article.
Design & Build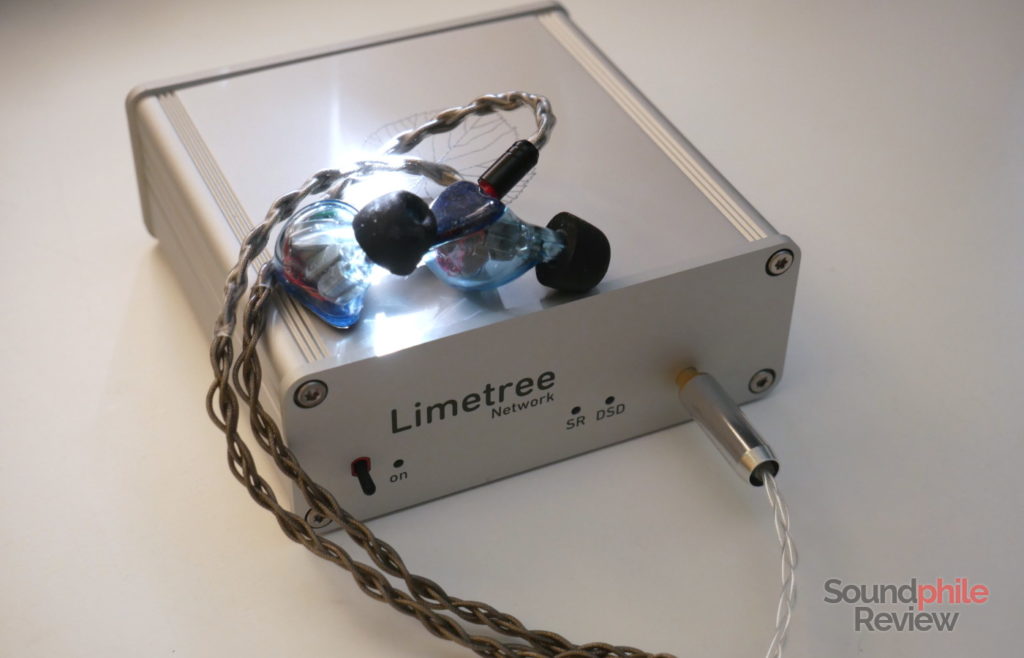 The Lindemann Limetree Network looks diminutive in size: with its 107 x 107 x 40 mm, it is rather small and it can fit any desk easily. It's even smaller than the already small Topping A30! It is similar in style to that device, too, with clear aluminium coupled with a somewhat "pro audio" look that uses straight lines and bolts in plain sight. The Limetree Network in fact concedes little to aesthetics, concentrating on substance instead. The only thing that's not functional is minimal the engraving of a lime tree leaf on the top, which looks elegant and classy.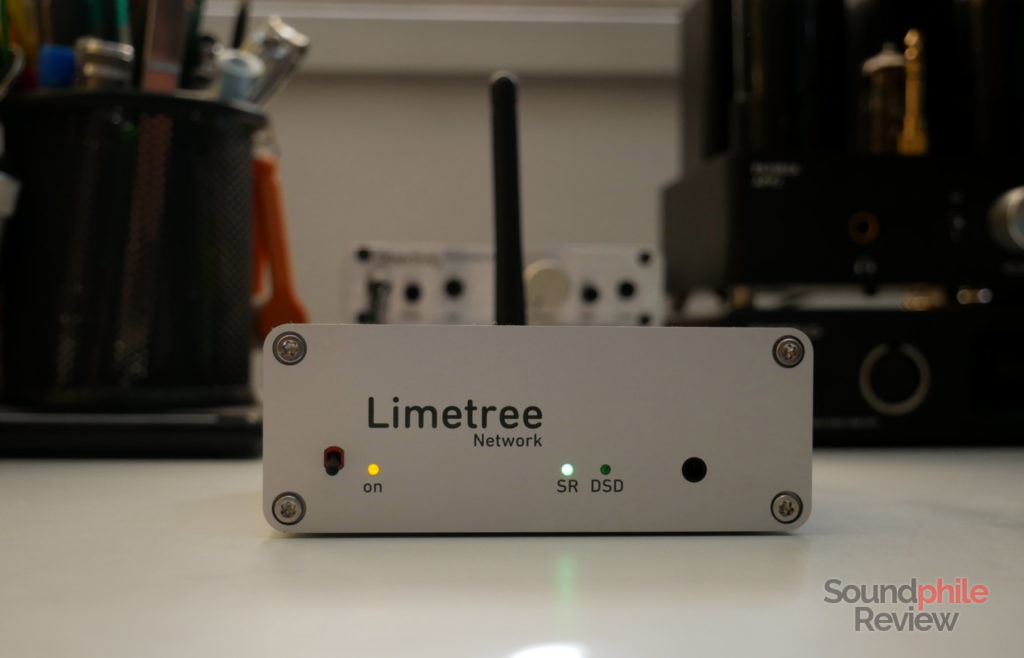 The chassis is made of three parts: the main body, the front and the back. The latter two are made of a single slab of aluminium which is slightly larger than the rest of the body. Four large bolts keep them in place. The central section has some stripes running from front to back, both on top and on the sides. The four lateral edges are smoothed out, so they appear slightly curved.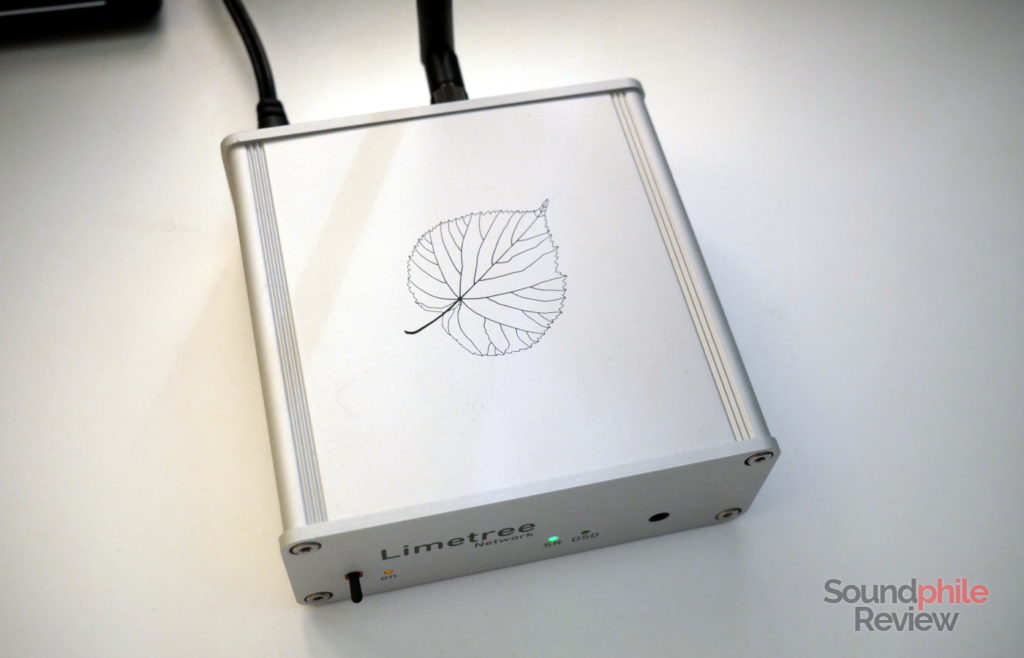 As a whole, the Lindemann Limetree Network appears solid. It's made of solid pieces of metal which are well assembled, so it should be pretty much eternal if left on a desk and not thrown under a tank.
The front hosts the power switch, the power LED, the sampling rate (SR) LED, the DSD LED and the 3.5 mm headphone jack. The back hosts two RCA outputs (L/R), a WPS button, a USB port, the WiFi antenna, an Ethernet connector and the power connector.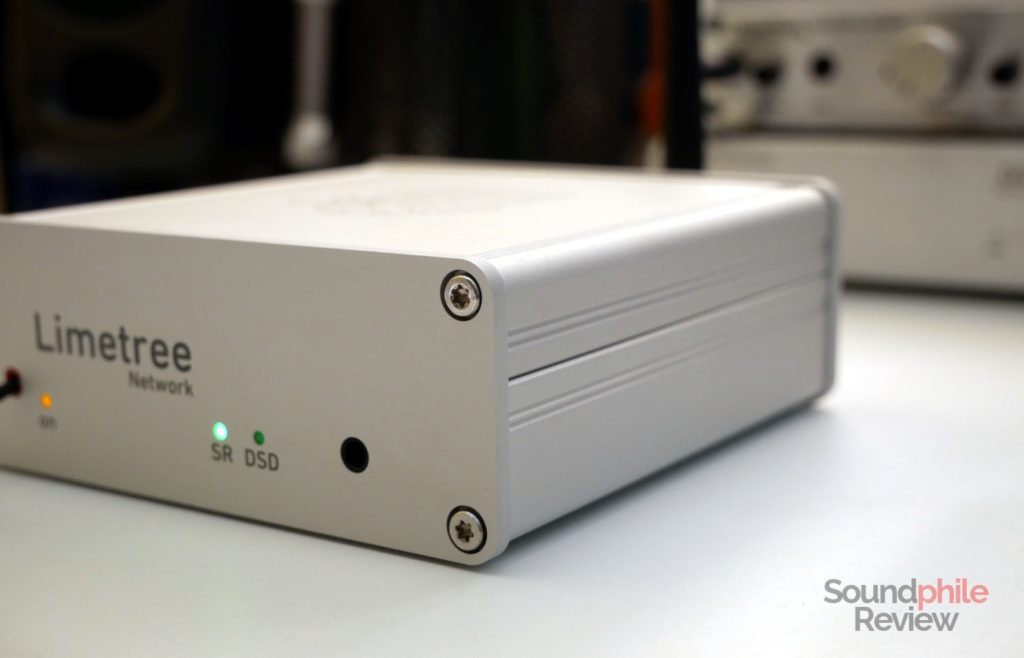 As you may have noticed from the pictures and from my description, there is no volume knob. The Lindemann Limetree Network is in fact controlled using an application, and volume is controlled from there. There is in fact no way to control the device without the app.
Specifications
Lindemann Limetree Network
DAC chip
Dual AKM AK4452
Amp chip
N/A
Suitable headphones impedance
32 Ω – 200 Ω
Output impedance
N/A
Maximum output power
N/A
THD+N (@1 kHz)
< 0.001%
SNR
> 120 dB
Operating System
Linux
Supported formats
PCM up to 24 bit / 384 kHz
DSD up to DSD256
Inside the Lindemann Limetree Network is a DAC chip from AKM – or, well, there are two of them. There is in fact a pair of AK4452 DACs running in dual differential mono mode, which is another way of saying "balanced". The headphone output, however, is not balanced, as the balanced outputs from the DAC are converted in an unbalanced signal that's then amplified by a TI OPA 1622. In this sense the Limetree Network works a bit like the Hidizs AP200.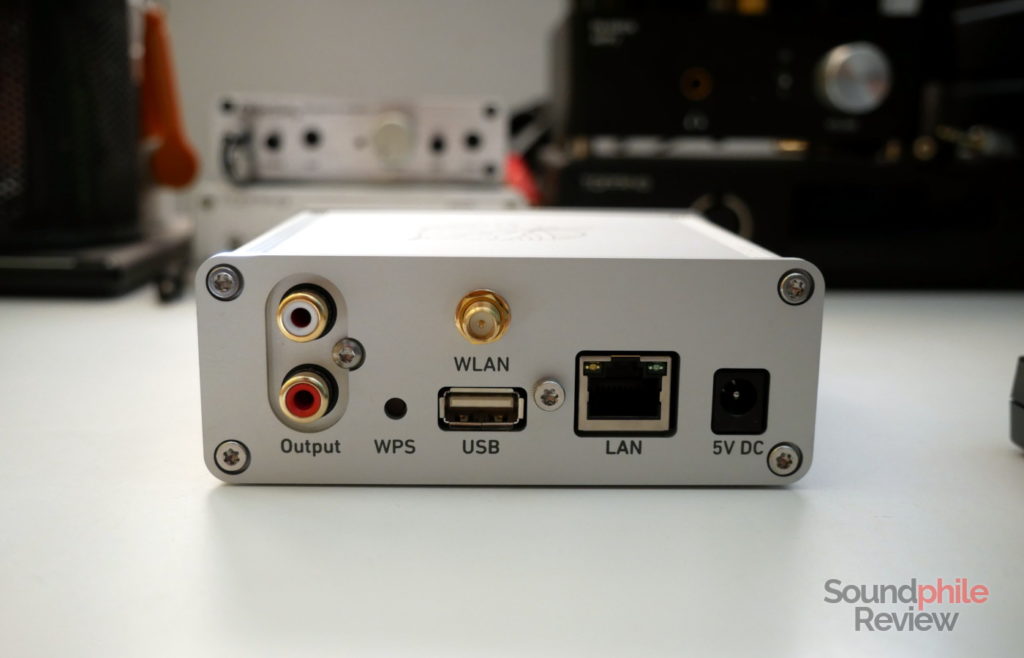 Lindemann does not specify what power output the Limetree Network has, so there's no way to know it as I do not have the necessary measuring equipment. What I can say is that they assured me that the Limetree Network can drive headphones between 16 Ω and 200 Ω without issues. The manual says that "under no circumstance should headphone impedance fall under 32 Ω", probably because of limits in how much current can be managed, but they told me it actually supports 16 Ω IEMs. I can confirm that the upper limit is not as strict, anyway, as the device drives headphones up to 300 Ω flawlessly: I tested it with the Sennheiser HD 6XX and it could drive them to high listening volume.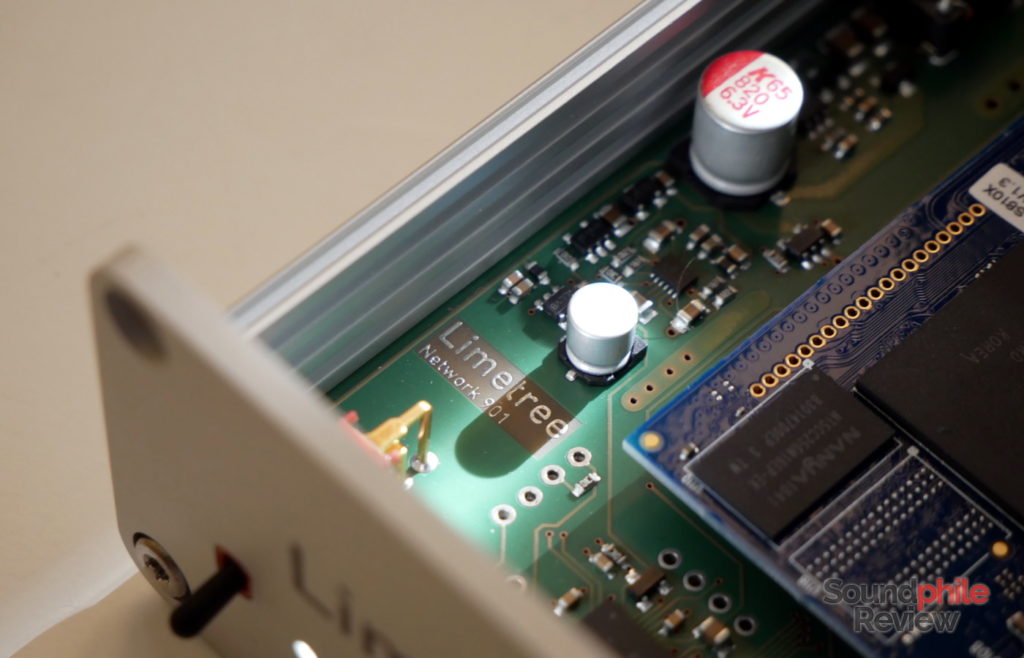 Line-out works in preamp mode, so one can set the volume directly from the Limetree Network. That's especially useful as you can use the app to set the volume without touching the volume knob on the target device, or if you want to use powered speakers such as the IK Multimedia iLoud Micro Monitor.
The boot process takes a bit: it usually takes around 15-20 seconds for the unit to power up and when the process is done the SR LED lights up in green.
While the Limetree Bridge has a USB port on the back that can be used to connect devices such as DACs, the Limetree Network does not offer such option. In fact the USB port only acts as an input, as it can only accept storage devices such as hard disks, thumb drives and so on. It's not limited to that, though. It's a small thing, but one which I find both amusing and useful: the Lindemann Limetree Network can be used as a network-enabled CD player when connecting a USB CD drive to it. Since it uses Linux, it is compatible with practically any drive on the market (I used a Blu-Ray drive in fact). This is a really effective and practical solution – why buy a full CD player when one can use a device they already own and add a CD reader with little expense?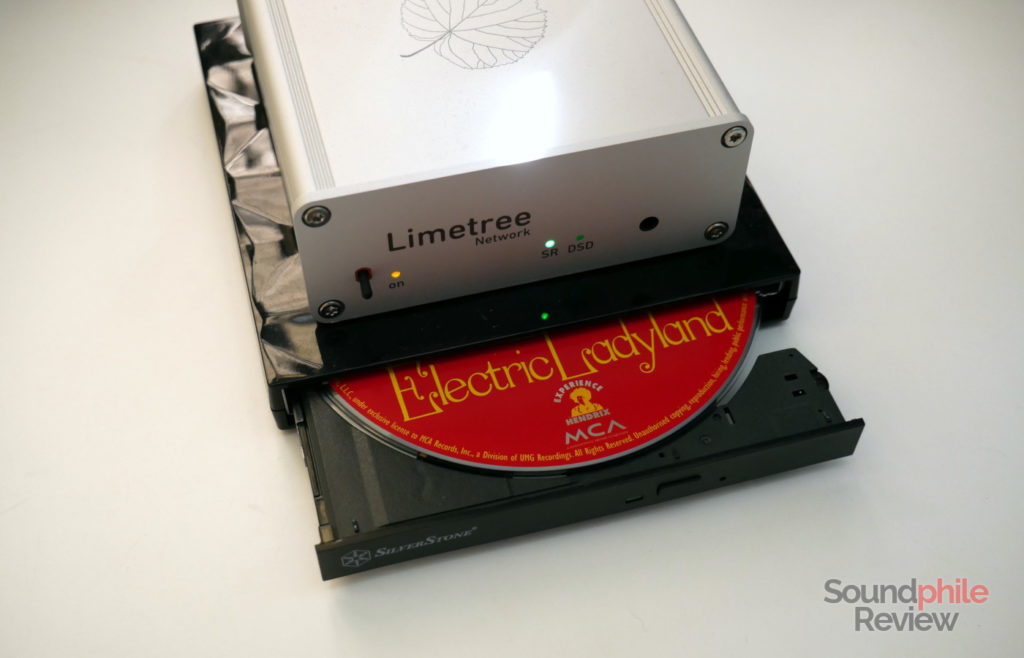 The Lindemann Limetree Network is compatible with the WAV, FLAC, AIFF, ALAC, MP3, AAC, Ogg Vorbis, WMA and DSD formats. It can basically play anything you throw at it, once you also consider its ability to read CDs! There's no specified limit on how big the storage device can be.
The antenna on the back is there because the Limetree Network supports WiFi (802.11a/b/g/n/ac) and Bluetooth 4.2. I never had any issues with those as the signal is always strong and steady.
Software & Features
The Lindemann Limetree Network uses Linux at its core, with some custom software running atop it to power the device. It's a solid foundation, and it shows in the stability and reliability of the device. Setup requires one to connect the Limetree Network to a wired network using the Ethernet port. Once powered on, the device is automatically detected by the smartphone application, which can then guide the user through the WiFi setup process. If one one wants to use the Ethernet connection, no further setup is necessary: it just works!
Playback is always reliable as there are no stutters, interruptions or other forms of distractions. The stream is solid and the player does a fantastic job at making it seem as if music was stored locally when playing from the network. It's not perfectly gapless, but it's close to it. And that's a great thing, as it gives one the illusion of playback just flowing. It's really effortless and painless – one selects the desired content and just lets it play. It just works, as the founder of a certain fruity company famously said, and I couldn't ask for more since it works well.
The Lindemann app is available for both Android and iOS. I tried the Android version as I do not have any iOS devices. The application is really simple and straightforward in its design, up to the point it doesn't feel really integrated in the Android ecosystem. I assume it is almost identical to the iOS counterpart though, so it keeps some internal consistency among platforms. There a few design choices I don't understand or support as a mobile enthusiast, but the app is otherwise functional and intuitive. It has everything one needs to use the Limetree Network and the other Lindemann devices.
The home page shows a list of devices found on the network with their current volume level. That's because one could use Lindemann devices in a multi-room setup! Clicking on one device brings up the full list of controls, which includes access to:
last played: a list of all the media that has been recently played, including radio stations, CD tracks and tracks on the various storage devices. The list is stored on the Limetree Network, so it is accessible to any device with the Lindemann app;
local playlist: a playlist created from a set of tracks on the Lindemann Network;
music server: a browser of storage devices connected to the network, such as NAS devices and shared folders;
USB: a file explorer of files on storage devices connected through USB;
Bluetooth: puts the Limetree Network in pairing mode so that one can connect to it with either their phone or other device;
Audio CD: reads CDs from a USB drive;
airable radio: a service that offers a catalogue of free online radios;
airable podcasts: as above, but for podcasts;
Tidal;
Deezer;
Qobuz;
HighResAudio;
Spotify;
settings.
Compatible streaming services are pretty much everything one could need. Not only are Tidal, Spotify and Deezer covered, which amount to probably 90% of users, but also Qobuz and HighResAudio. The login interface requires you to input username and password in the respective fields and then press "login", instead of allowing one to connect e.g. through the app installed on the smartphone or tablet. That's not a flaw, it's just a different way to manage the integration, and I guess something like this might be needed depending on how the connection to the services has been implemented. The only exception is Spotify, which requires you to use the app, again because of the way Spotify Connect has been implemented.
airable allows to access hundreds of online radio stations and podcasts. The catalogue is divided by nationality, popularity, trends, newness and quality – it's in fact possible to select radios that stream music in high quality, which often means 320 kbps MP3. That's enough not to hear any difference from a CD in most cases, as that setting is often perfectly transparent (though it also depends on the encoder itself).
There are some paper cuts here and there, though. The app reloads every time the screen goes off and it often means that you won't find yourself in the screen that you were using before. This is an issue that's especially present on Android and should be less present on iOS, as people at Lindemann told me. Also, there is no permanent notification on Android, so one has to unlock the phone or tablet and go through the various menus to get the desired result. That's a limitation in the streaming platform used by Lindemann (which is not developed by them, but used as a foundation to build their products on).
Sound
I tested the Lindemann Limetree Network with a variety of headphones. Among them are the Hyland Saturn One, the Sennheiser HD 6XX and the Meze 99 Classics. I also paired it with an APPJ PA1502A amplifier.
Output is relatively clean, with very little background noise. Only using extremely sensitive earphones (e.g. Moondrop A8) I could hear anything, which shows a lot of effort has gone in designing the device so that it would have clean current.
In terms of sound signature, my impression is that the Limetree Network sounds perfectly good. If there are any deviations from neutrality I can't hear them and nothing bad is happening for sure. Detail is really good, even when using revealing headphones. There's excellent separation of instruments, each of which is given its own place on the stage. Speed is also really good, as it drives even demanding headphones to fast and impactful transients. It seems to me, though it might be an impression, that the Lindemann Limetree Network sounds especially wide, more so than other sources I've tried. The soundstage is especially large, so even headphones that do not sound really wide gain some openness. It's not a "night and day" change, of course, but it's enough more of a tiny hint that it is noticeable.
All in all the Limetree Network sounds really pleasant. It's a device you can forget it's there. And that's a very positive thing, because you can then just concentrate on the music, which ultimately is the aim of all the efforts of audiophiles in history.
Final Thoughts
At roughly $1000, the Lindemann Limetree Network is not cheap. One might be tempted to think that it's a high price for a device this tiny, but that would be horribly wrong. The Limetree Network is a device I've fallen in love with thanks to its simplicity, ease of use and setup and sheer power, not only from an amplification standpoint but also because of how many domains it masters. Local streaming, streaming from the Internet, playback from USB storage devices, from Bluetooth and even from CDs… It can do it all. And it does it all so well it's hard not to love it. Whatever you would like to do, the Lindemann Limetree Network has an answer for you, and it's usually a "yes" followed by good-sounding music.