I don't know about other people, but I find cables to be an important part of my experience with earphones and headphones. Cables in fact influence comfort and have an undeniable impact on the looks of in-ear headphones, often also on the "touch and feel" part of the listening experience. Some say they also have influence on sound, though I never managed to experience that myself. But the other reasons are often enough for me to want another cable to replace the stock one, and the KB EAR 16-core silver cable delivers on those aspects.
Disclaimer: KB EAR directly sent me a free sample in order to write this review. They sell it on their website for $30.
TL;DR: recap
Pros




Cons

Well-assembled

Soft and flexible

Thin cores
Rating: 7.5/10
Packaging & Accessories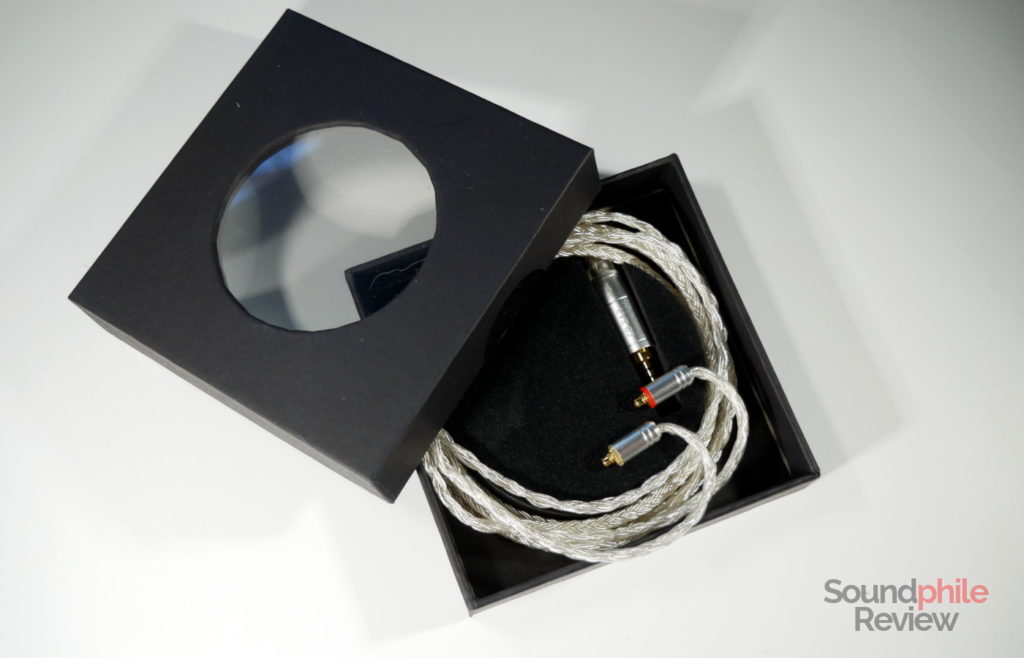 Packaging is pretty simple, yet effective. It's a cardboard box with a plastic window on top of it that shows the cable inside. The cable itself is coiled around a foam centre. It's not luxurious, but it's decent enough in terms of how it looks – from a functional perspective it's even more than needed, as the cable is not exactly fragile and does not need all the padding that's used here.
Design & Build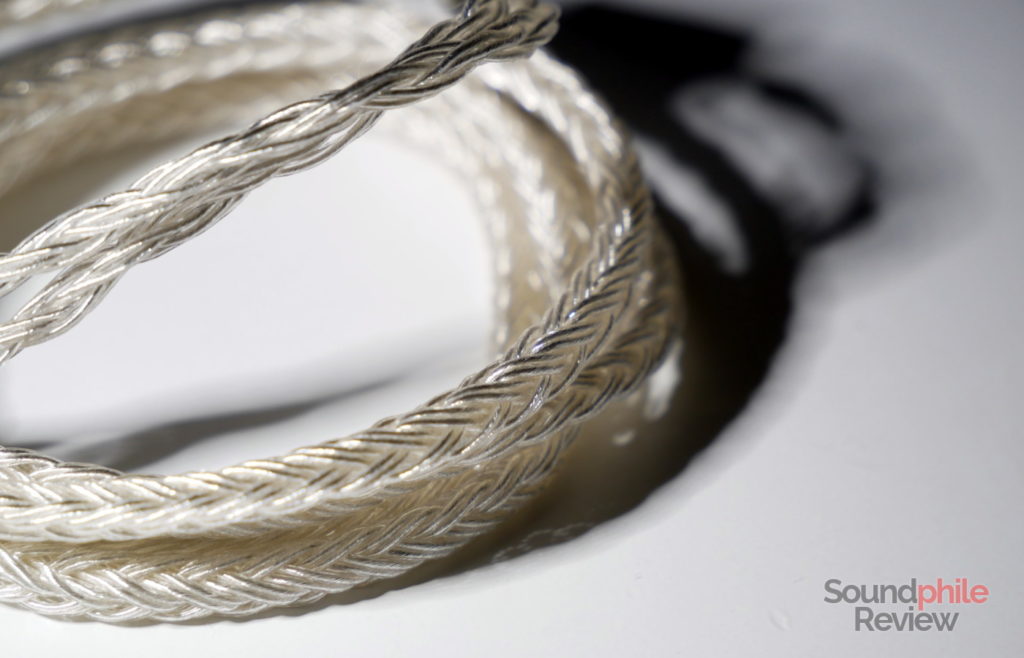 The name describes the cable pretty well: the KB EAR 16-core silver cable is in fact a cable for IEMS that uses silver-plated copper and has 16 cores. Those cores are woven in couples: two cores are coupled and then these couples are woven as they usually do with eight or four cores on other cables (e.g. Yinyoo brown 8-core silver plated cable or Yinyoo 8-core SPC cable). Each core has a thin plastic sleeving, so the cable as a whole is thin enough.
It seems to me like each core is silver-plated copper, rather than entirely made of silver as the name would suggest. That's just because of the price and with the cost associated in having a cable entirely made of silver – that would be much more than the $30 this cable costs: at just $1 per metre (which is probably a low estimate for a pure silver cable) and considering we have 1.5 m x 16 cores, we would end up with $24 for the cable alone, so it's really not realistic. Silver-plated copper is much more probable!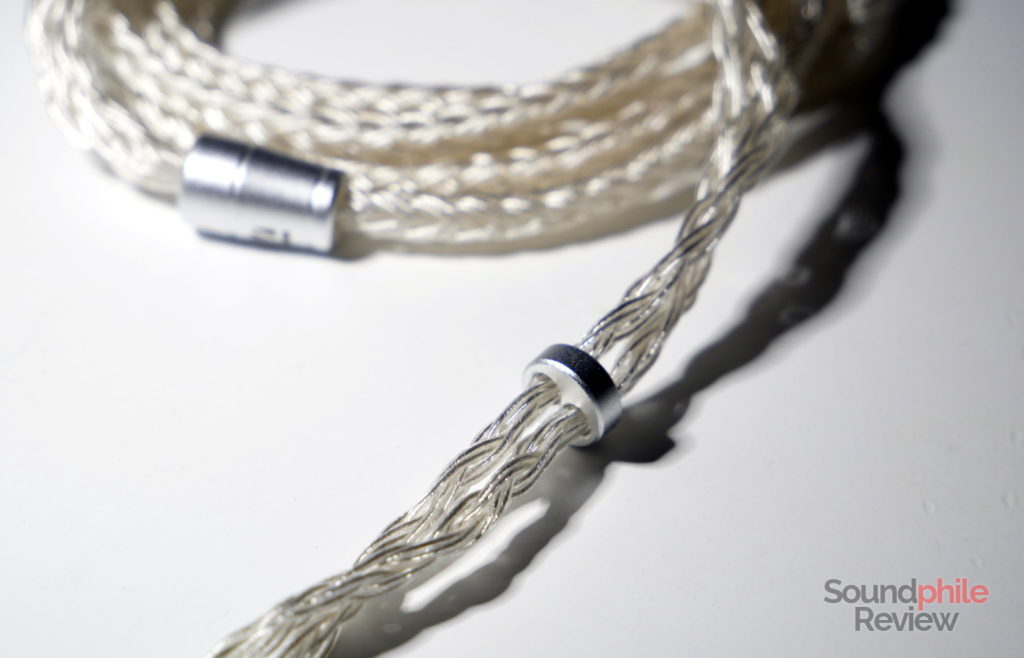 The cores are thin, and that might be an issue for two reasons: on one hand it is easier for them to break; on the other hand a thin cable may have high impedance and have an effect on sound. I could not hear differences with the earphones I tried, but I can't rule out that other headphones do not run into these issues.
The cable appears to be put together more than decently well, though it doesn't look especially resistant (but not frail either). Wear and tear can probably get the better of it in time, though I suspect it would take a while. All the connectors (jack and earphone connectors) are protected by metal housings, and so are the Y-split and the chin slider. They seem to be pretty good in terms of quality.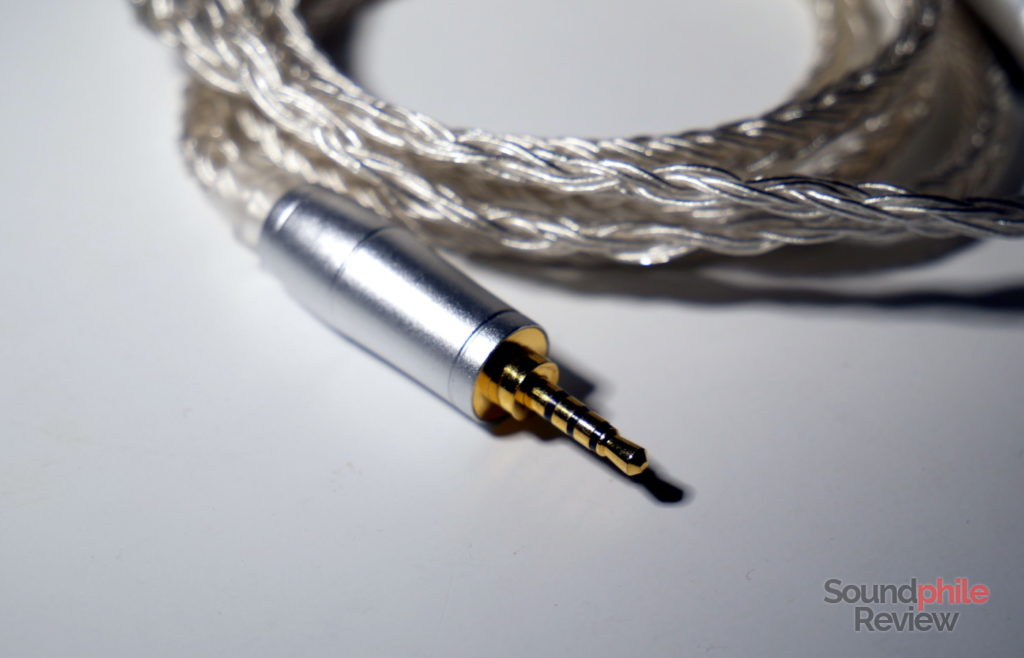 Talking about connectors, the KB EAR 16-core silver cable is available with different options: 2.5 mm TRRS, 3.5 mm TRS and TRRS and 4.4 mm jacks are available, while on the other end the possible connectors are MMCX, 2-pin and QDC (which is the one used on the KZ AS16, as an example)
Probably thanks to the braiding, the thin cores and the thin sleeving, the cable is soft and malleable. It is comfortable to wear, also because it is rather light. The pre-moulded plastic that forms the ear hooks also keeps things comfortable even for longer listening sessions. Microphonics is limited, though present.
Sound
As I mentioned, I am not among those gifted by the audio gods with the ability to hear differences between cables, so I won't report any. Truth is I have a "sound" section only to pre-emptively answer questions about "how does the cable sound".
Final Thoughts
The KB EAR 16-core silver cable is a decent cable for the price. It won't blow your socks off and it probably won't make you discover things you'd never heard before. It should provide a valid alternative to stock cables included with some earphones, though, thanks to its softness and decent build quality. That's probably everything one needs, so that's good enough to me.