"True wireless" is still largely seen as a forbidden word in the audiophile world, and there's a good reason why. Concerns over the quality of the audio stream are enough for many audiophiles to be put off by wireless entirely, but "true wireless" earphones are often not really good in terms of tuning and technical ability, which is another can of worms. The 1More Stylish True Wireless alleviate both issues a bit, thanks to high quality codecs and to a tuning that's "mainstream", but still enjoyable. They don't forego features, though, so they are actually a good choice even if you re looking for that.
Disclaimer: this sample was provided by 1More Europe – thank you Tom! Additional information is available on the company's website. They retail for $99/€89/£89.

TL;DR: recap
Pros




Cons

Very comfortable

Smart placing of physical buttons

Good battery life

Decent technical ability

No battery charge indicator on the dock

The microphones are not the best
Rating: 7.5/10
Packaging & Accessories
1More famously gives lots of attention to packaging. The Stylish True Wireless confirm this attention once more with a sophisticated cardboard box that shows various drawings of the earphones. Inside the box are the earphones, their case-cradle, a USB to micro-USB cable, silicone eartips and silicone earhooks in three sizes and a plastic bag for storage.
Design & Comfort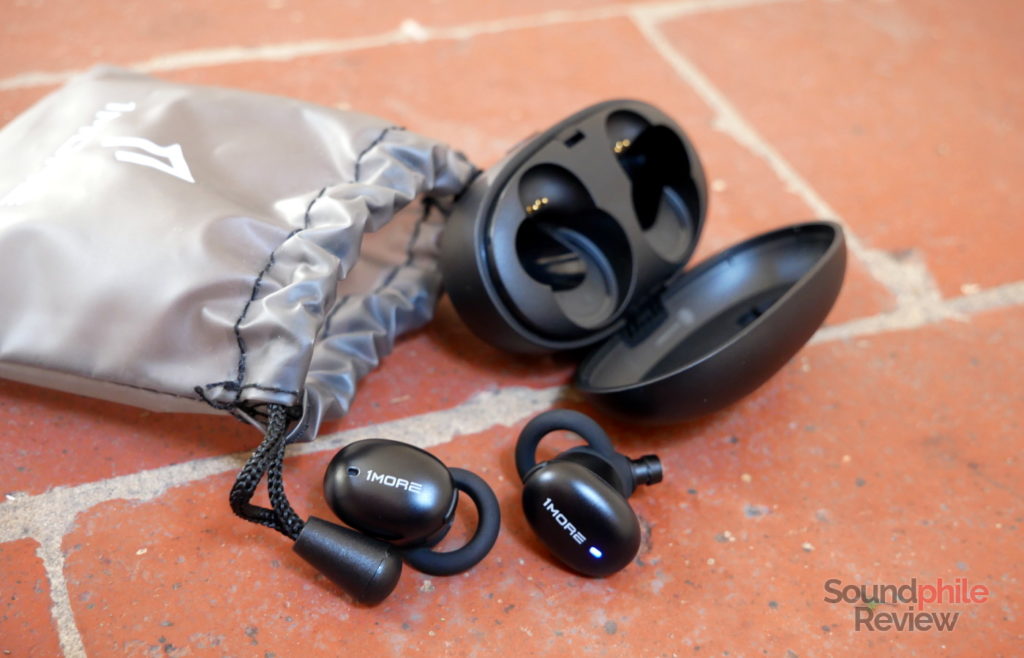 The 1More Stylish True Wireless are shaped as pills with the nozzles protruding out of one side. They are curved and have no hard edges, so they appear quite unique in this respect. They feature a small bump on the nozzle, which is where a small silicone loop is inserted: this helps stabilise the earphones in the ears and to prevent them from falling off. The design is certainly peculiar and distinctive, without being whimsical.
The faceplate has the 1More logo stamped on it, with a hole concealing a status LED right beside it. That same hole has a grille on it, so it seems like the microphone is inside it. On the other side, the one facing the ear, there are two metallic pins to charge the earphones.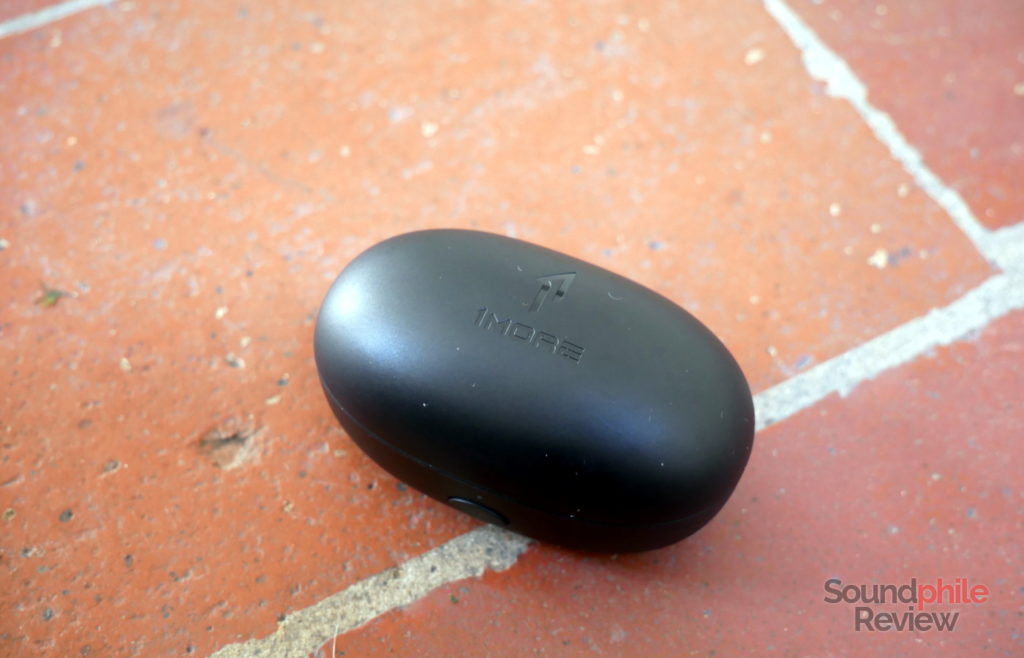 The 1More Stylish True Wireless are entirely made of plastic, which is completely matte black in the case of my sample. They are not a looker because of this, but they appear solid enough. Assembly is done well, and materials seem good, so there are no apparent concerns about durability.
One thing I especially like about the 1More Stylish True Wireless is how the designers swiftly solved the issue of using a physical button instead of touch: the button is placed on the back of the earpiece, so it's easy to reach and it does not require you to press against you ears. Not only does it work pretty well, it also does it intelligently as it does not impact comfort.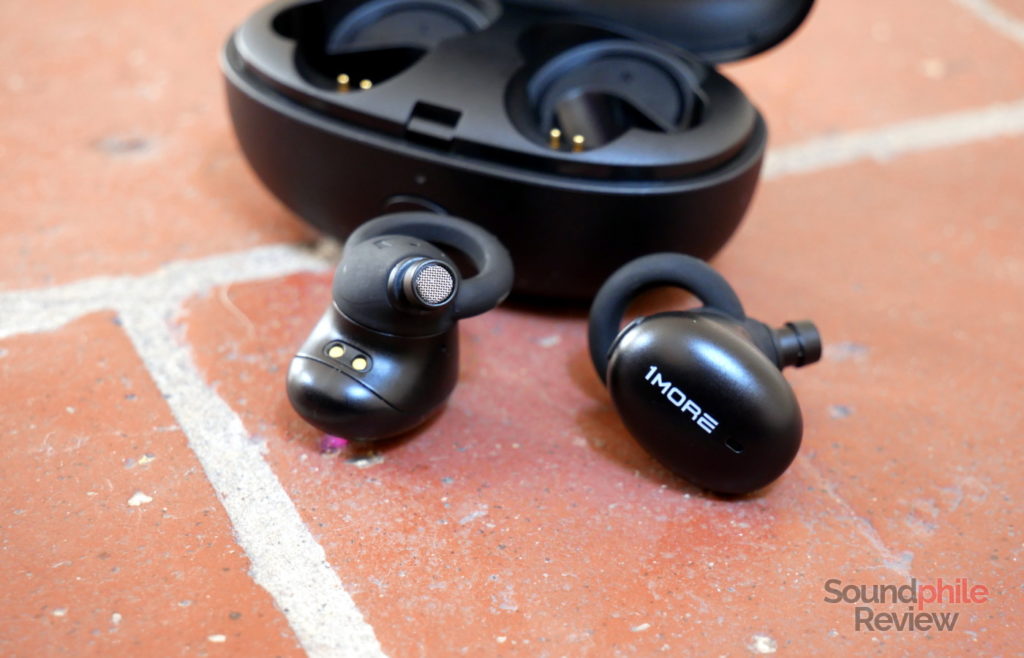 Thanks to their small size and curved surfaces, the 1More Stylish True Wireless are really comfortable and easy on the ears. They fit just right and I found them comfortable even after a few hours of use. The only issue I found is with the tips: none of the stock ones worked for me as they never provided enough seal. I had to use foam tips to get it right.
Although they are made for being used while out and about, the 1More Stylish True Wireless do not feature good isolation among their qualities. On the contrary, isolation is reduced to a minimum and the earphones allow one to clearly hear what's happening outside. This may lead to one needing to raise the volume to hear the music in crowded or busy places, but on the other hand may be safer in urban environments.
Alas the dock-case has very little to offer in terms of information: it's simple plastic, with just a LED on the back to inform the user that it's charging. There's no way to know how much battery the case has left. It's really well done in every other aspect, though, as it has a physical button to open it and it's easy to manage with just one hand. It's also really small, so it fits in any pocket with ease.
Extra Features & Battery Life
The 1More Stylish True Wireless feature Bluetooth 5.0, which does not mean much for audio apart from the possibility to use the low-power mode of the Bluetooth standard to transmit audio. In terms of quality there is not much difference and that's why 1More chose to provide the Stylish True Wireless with the aptX and AAC codecs on top of the usual SBC codec.
There's a voice prompt that informs the user of battery status at boot, but it is not possible (as far as I know) to bring up this prompt again when using the earphones.
The buttons on the earpieces only allow one to control playback (on the right earpiece: play/pause with one press, previous track with two presses and next with three; left earpiece: answer/hang up call with one click, bring up voice assistant with two clicks, decline call holding the button). There is no way to control the volume. Pressing the button on the right earpiece two times brings up vocal assistants when using a compatible smartphone, though one could also use the vocal activation to interact with the software (e.g. "hey Google" or "hi Siri").
The Bluetooth range with the 1More Stylish True Wireless is really good, more than I actually expected out of true wireless earphones. I can walk around the house leaving the player on the desk without much interruption, which is quite remarkable given much more lauded and more famous headphones do not fare this well. The connection between the two earpieces is also very good and I never experienced any drop. 1More told me they postponed the launch in order to improve the connection and the results seem to be good.
Continuing the connection part, the Stylish True Wireless can be used independent of the channel: each earpiece can be connected to a source depending on which one is powered on first, and this means one can pick up one and use it with their phone to take calls, as an example. The "master" earpiece is usually the right one, but the other one takes the lead if it has 30% more charge than the other when taken out of the cradle. This is automatic and done when powering on the earpieces, so no intervention from the user is needed and no interruption during playback happens. This should allow to optimise battery life.
In my tests the microphone did not fare too well; I always had to keep one earpiece right in front of my mouth and almost inside it to be heard, even in silent environments. That's not ideal by any standard, though it might well be my unit that's faulty.
As for battery life, the 1More Stylish True Wireless offer around 5 hours of playback, which is quite good. Other "true wireless" earphones do not offer this much even when they promise more. The dock/cradle allows one to completely charge the earphones three times, bringing the total amount of playback time with one charge from the wall adapter to 15 hours. There's also a quick charge tech at play which allows to have three hours of battery life with just 15 minutes of charge; it does not require any special adapter as it's built into the earphones. The only gripe I have is that there is no LED on the dock that indicates the remaining charge. On the positive side there's the fact that the earphones power on and off when they are take out or put back in the dock.
Sound & Specs
I tested the 1More Stylish True Wireless using a Shanling M2X and a Honor 9 smartphone as sources. In both cases source files were FLACs in standard resolution (16 bit, 44.1 kHz).
1More Stylish True Wireless
| | |
| --- | --- |
| Frequency response | N/A |
| Impedance | 16 Ω |
| Sensitivity | N/A |
The 1More Stylish True Wireless use a single dynamic driver, 7 mm in diameter, made of a titanium composite material.
The stage is not especially large; it's more intimate and never extends much further than the classic "in your ears" feeling of many in-ear headphones. There is however a small depth to it, so it does not sound compressed. Imaging is more than decent, with instruments placed with some hints of different positions on the stage. Instrument separation is quite good and allows one to correctly distinguish all instruments, even though the most complicated tracks may prove challenging.
Bass doesn't reach the deepest depths and is mostly concentrated in the middle region. I would describe it as mainstream tuned, as it is similar to what most audio gear targeted at the average Joe/Jane sound. It is in fact emphasised and definitely forward in the mix. It is not excessive, but it's close to that. It's decently well controlled, though, with the right amount of physicality and decent speed. Detail is limited, but that's to be expected.
Despite the large presence of bass, midrange is not left in the background and instead stays pretty much in the spotlight, though it appears warm. In fact the upper range is a bit recessed compared to the rest. This particular tuning is actually perfect for human voices (especially male!) and instruments such as acoustic guitars, pianos and similar instruments. Wind instruments and electric guitars are not as good. Coherence is good though, so you don't hear any odd ups-and-downs. Detail is decent and allows one to hear the most important things.
Treble is definitely laid back, relaxed and… barely audible in the mix. The 1More Stylish True Wireless have limited treble presence which make treble sit in the background, where it blends in with the rest without really being easy to reach and distinguish. It's more of a background than an actor in the spotlight. There's some detail, but it's difficult to distinguish it in the mix.
Final Thoughts
I am not really convinced yet about true wireless earphones: as an audiophile I prize audio quality, and so far the earphones I've tried have not offered much in this way. The 1More Stylish True Wireless are however decent in this regard. They are not really the best I've tried, nor the tuning I personally like, but they have all the right things including decent technical ability. They offer that on top of superb connectivity and good battery life. They're the best true wireless earphones I've reviews as of August 2019, so I highly recommend them if you like their tuning style!