Last year Australian audio specialist Burson Audio launched the Burson Play, a device meant to improve audio in PCs by offering high-quality components in an unusual format: that used by 5.25-inch computer drives such as DVD drives. The Burson Audio Playmate takes things to a new level by offering a better DAC stage, powered by an ESS Sabre ES9038Pro. This rather unusual and deceivingly tiny device does not limit itself to the gamer market, but is interesting to all audiophiles – even those who prefer to keep it on the desk!
Disclaimer: I was contacted by Charles at Burson Audio to see if I was interested in reviewing the device. I was and he sent me a unit. Burson Audio sells them at $449 on their website.
TL;DR: recap
Pros




Cons

Small and compact

Solid build

Can be used as stand-alone unit or inside a PC

Good variety of inputs

Powerful output

It's Class A so it becomes hot!
Rating: 9/10
Packaging & Accessories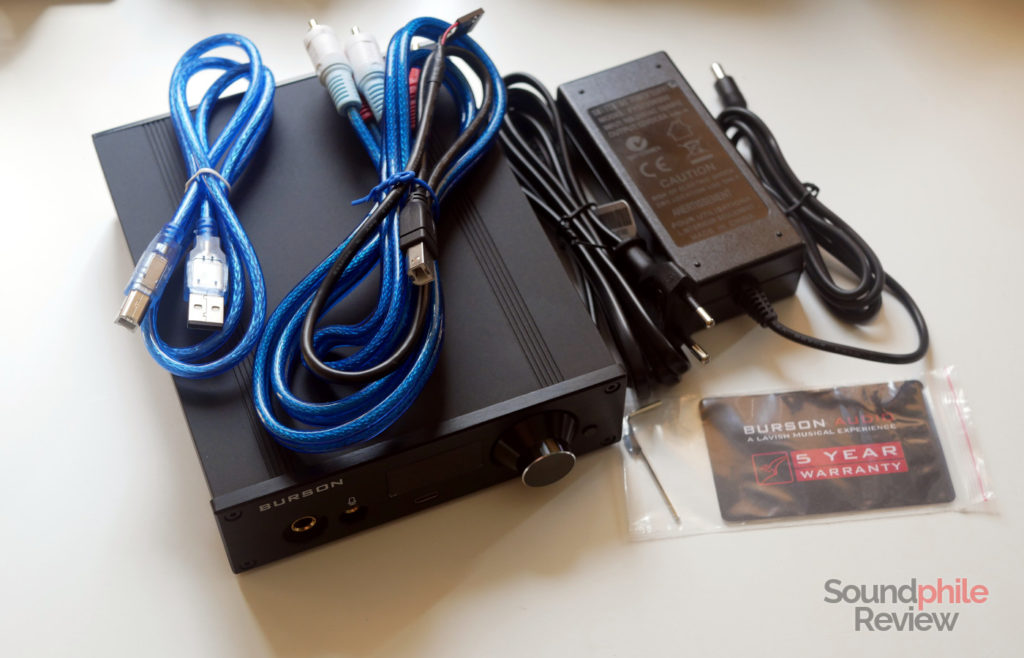 The Burson Audio Playmate comes in a fairly standard cardboard box which holds the device itself, the power supply unit (with an EU plug in my case), a USB-B to USB-A cable, a cable to connect the device to PC motherboards through their onboard USB connectors, an RCA to RCA cable, a bracket to have RCA output on the back of the PC, a hex key and a warranty card. There's nothing super fancy in this packaging, but it's more than enough to start using the Playmate.
There is an optional remote which is included in Playmate versions with higher-end opamps. It can also be bought separately.
Design & Build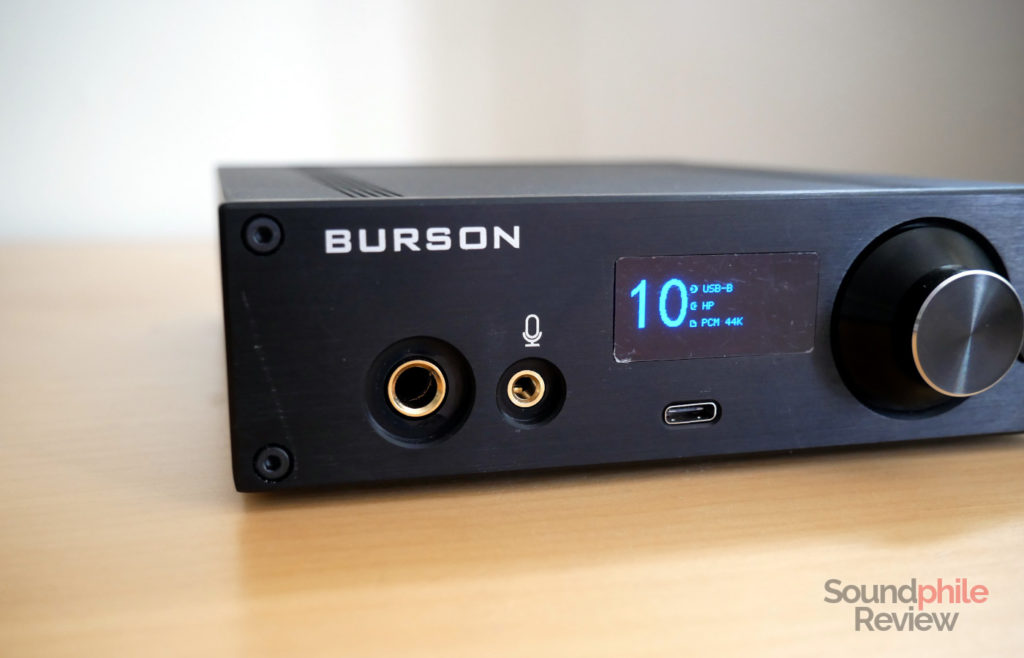 The first thing one notices about the Burson Audio Playmate is the fact that it is small. It is in fact 210 x 145 x 45 mm, which is the standard size of 5.25-inch computer drives. That's not a coincidence: Burson Audio designed the Playmate so that it could fit in a desktop PC. That makes it rather interesting as it provides good audio quality without taking up space on the desk – a real "win-win" situation.
The chassis is made of black-coloured metal, with a rough finish that lends it a "hard & heavy" look. The front, on the other hand, is covered with a brushed aluminium plate which looks modern, stylish and elegant. On a desk the Burson Audio Playmate appears relatively small, yet easily distinguishable with its had edges and "techy" look – it's not the usual headphone amplifier. The Playmate is available in black and in silver.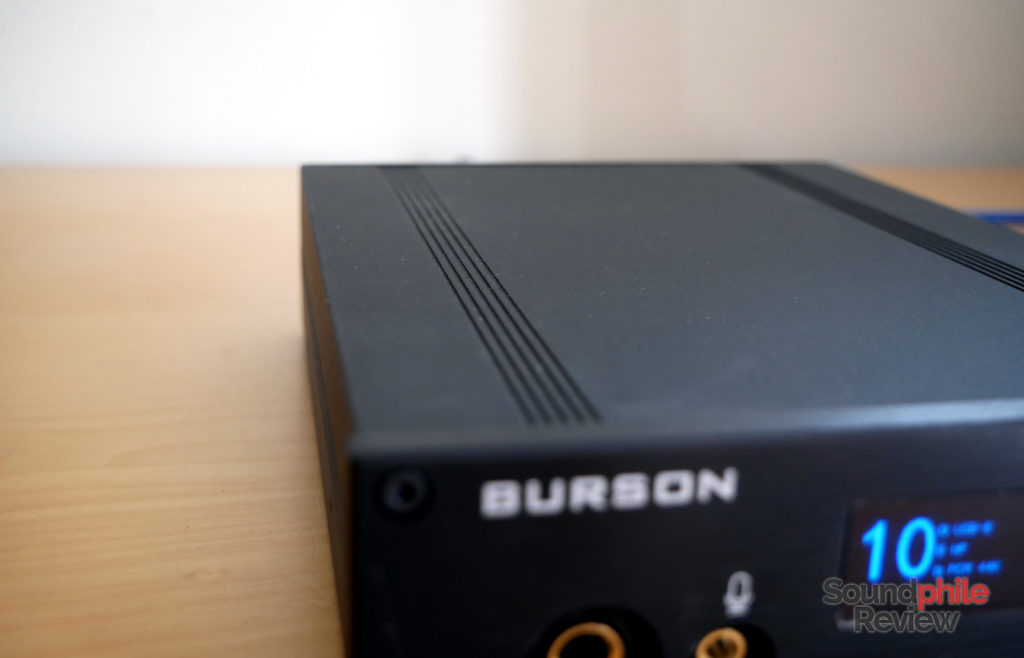 The front hosts a 6.3 mm jack output port, a 3.5 mm microphone input port, a display which shows the status and current volume, a USB Type-C port, the volume knob and a menu button. On the back we find a USB Type-B port, an optical port, the power adapter connector, a SATA power adapter (so one can connect the Playmate to their PC's power supply) and two RCA connectors.
The display has a blue tint and shows the current volume level, input used (USB on the back, optical or USB on the front), output used (headphone or RCA) and the type of input stream (DSD/PCM) with related sampling rate. It has decent brightness, which is high enough to see on a sunny day but low enough that it will not make you blind at night.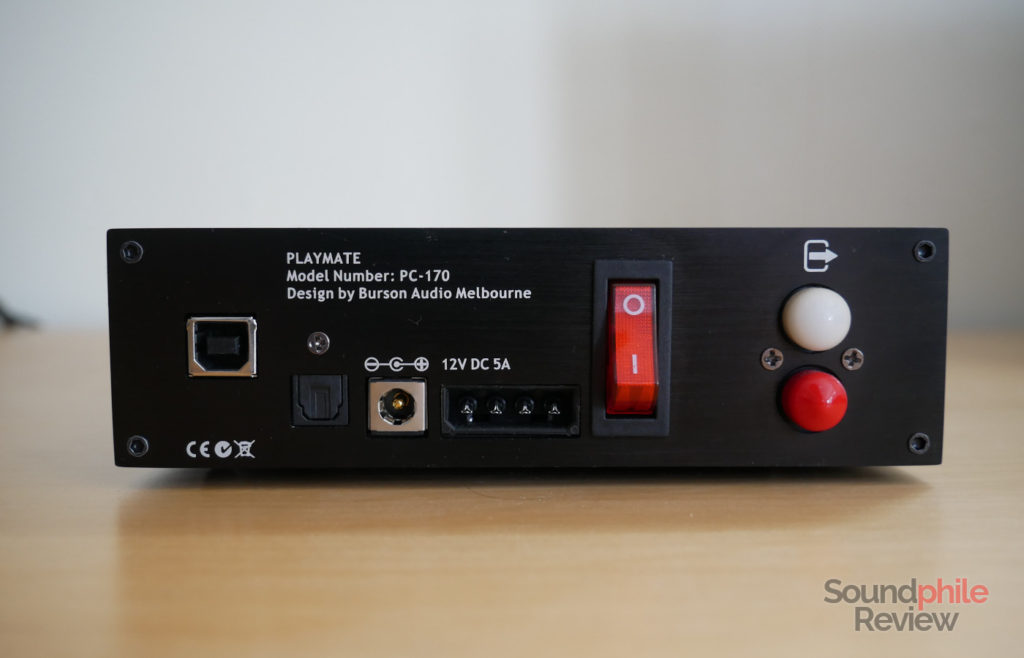 Being the amplifier in Class A, it dissipates a hell of a lot of heat. The Burson Playmate gets rather warm, and in the hot Italian summer it is a pain to use – it makes the room even hotter and its chassis becomes really hot, to the point it's not a good idea to touch it. This not a flaw in the device, but a design choice that is common among amplifiers in the same class and that has its consequences.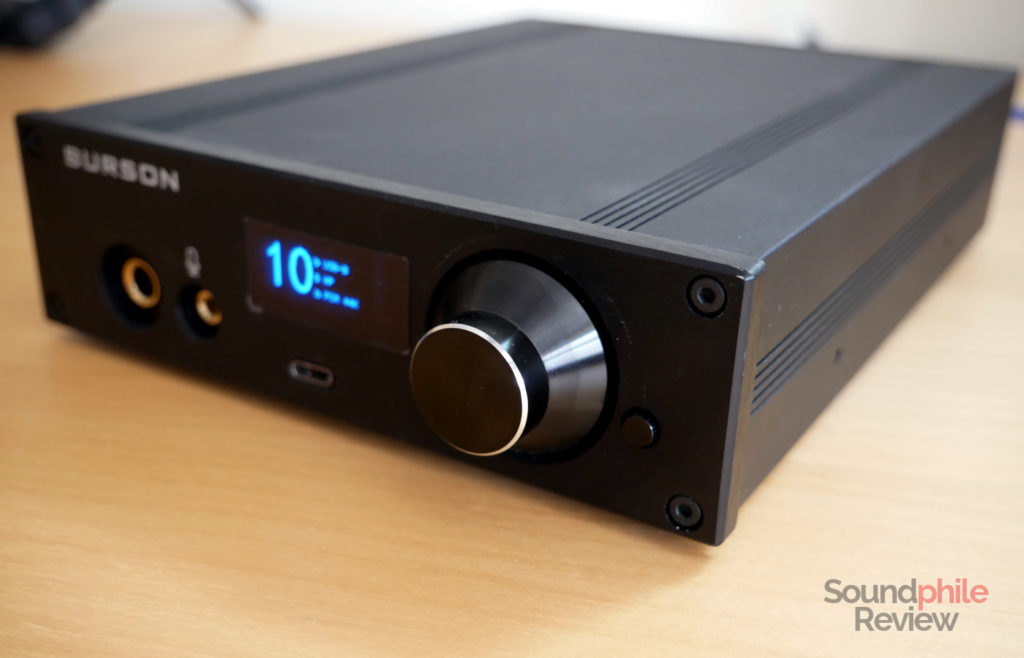 The volume knob clicks when rotated and can spin endlessly, so there are no boundaries in either direction. Volume control is in fact done digitally. The knob has the right weight for it to feel solid and to return the right amount of "weight" when turning it, so volume adjustments are more accurate thanks to this (on top of being aided by the steps defined by the clicks). It can also be pushed in so that one can interact with the device's menus.
Features & Specs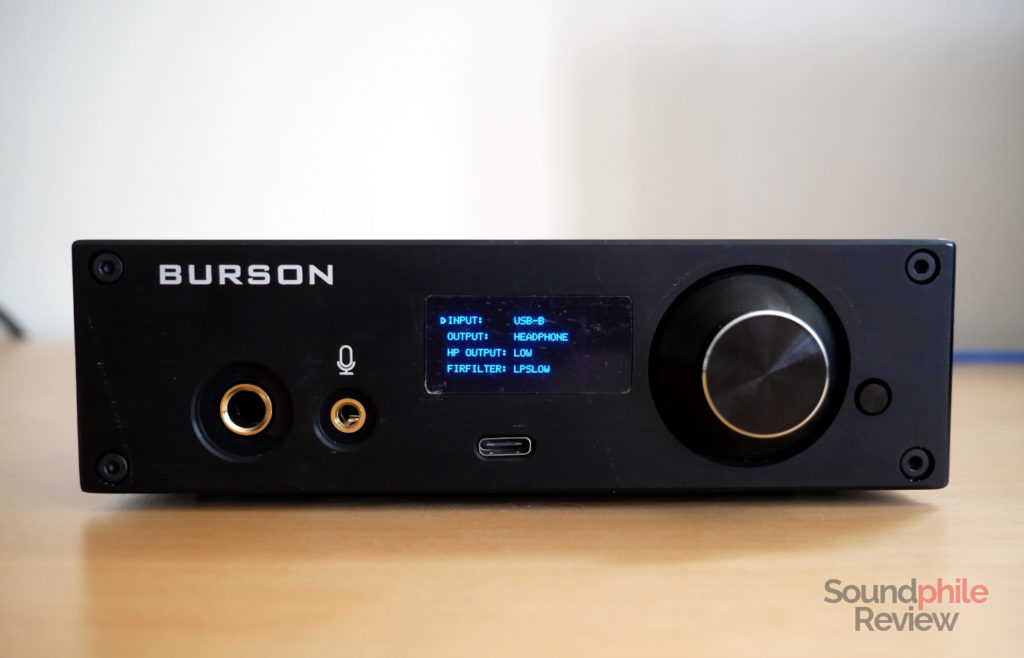 The front USB Type-C port can be used as if it was a normal USB port on the computer, so it can be used to connect various devices and even charge them (e.g. if you connect a phone). Not only that: it works as a fully functional input, too, so you can connect your DAP or phone and use it as an input device for the Playmate. In that case it is not possible to charge the device, though.
The Playmate needs drivers to be usable on Windows, but on macOS and Linux it is plug-and-play.
Input
16 – 32 bit / 44.1 – 768 kHz PCM
DSD64 to DSD512, DoP64 to DoP256
Suitable headphones impedance
16 – 300 Ω
Output impedance
< 2 Ω
Maximum output power
1,800 mW (16 Ω)
2,000 mW (32 Ω)
500 mW (100 Ω)
300 mW (150 Ω)
100 mW (300 Ω)
Frequency response
0 Hz – 35 kHz (± 1 dB)
THD+N (@1 kHz)
< 0.002%
SNR
96 dB (16 Ω load)
98 dB (100 Ω load)
Crosstalk
132 dB
The Burson Audio Playmate uses the ESS Sabre ES9038 DAC chip, the latest announced by the company. The amplifier stage is powered by the MCPS, or "Max Current Power Supply", a technology developed by Burson Audio themselves in order to maximise power output while reducing power to a minimum – further details here.
Power output on the Burson Audio Playmate is enough to drive practically any product on the market: with 2 W on 32 Ω loads, it has more than enough power to drive even low-sensitivity headphones to very high listening volume. In fact it can drive my HiFiMAN HE-560 to comfortably high volume at 30/99 using low gain. Although its lowest volume setting is relatively low, sensitive IEMs are not ideal to use with the Burson Playmate as it is just too powerful for those even when using the low gain setting.
Output impedance is not the lowest it could be, but it is still low enough that any headphones with at least 16 Ω impedance can be driven without issues. That rules out those with lower impedance (e.g. Campfire Andromeda), but they would be too sensitive anyway as described previously.
The Playmate supports both DSD and DSD over PCM (DoP) streams, on top of the usual PCM ones. There is a vast array of supported formats, so practically anything will be playable on the Playmate.
Volume is adjusted discretely, as it is adjusted in steps that go from 0 to 99. It is possible to use a low-gain setting or a high-gain one.
One has to select the desired output: it's either the front headphones port or the line-out RCA connectors on the back. In the latter case it is possible to use the Burson Audio Playmate as a preamplifier, so it is possible to control output volume.
There are various filters available on the Burson Audio Playmate: brickwall, CMFR, reserved, AP fast, MP slow, MP fast, LP slow. Telling the difference between them is hard, if not downright impossible: their differences are so small that it's hard to say what effect they do have on the sound.
Sound
I used a few headphones to try out the Burson Audio Playmate: I used the HiFiMAN HE-560 and the Hyland Headphones Saturn One among full-sized headphones, and the Moondrop A8, the Tin HiFi P1 and the Fearless Audio S10 Genie among IEMs. Standard/basic op-amps were installed.
The background is not entirely silent: there is a faint but noticeable hiss which is picked up by the most sensitive earphones. Those are not the target headphones though, as they don't really need amplification, yet they reveal that the Burson Audio Playmate seems to be somewhat sensitive to power noise, so one has to take that into account if they're going to use sensitive equipment.
The Burson Audio Playmate was built to act as a hi-end internal sound card in PCs, but it goes way beyond what one would expect of traditional sound cards. Contrary to most sound cards, the Playmate has plenty of power to drive practically anything and a volume adjustment that does not interfere with sound quality. In fact I found it interesting that there is no real sound quality difference when adjusting volume: it can be 1 or 99, it sounds the same. There is no audible distortion at either end of the volume range.
Whatever thing I throw at the Playmate or whatever headphones I use, I don't hear any audible influence on sound: the signature seems to be as flat as can be. I did not expect anything different, honestly, so that's great. What I do hear is that the Playmate is really fast and can drive demanding headphones to their best performance; the HE-560 really are impactful and fast and that's because the Playmate drives them well.
Final Thoughts
The Burson Audio Playmate stands out in many ways: its unique form factor is refreshing and gives a new perspective to PC audio, but then it is also notable for being really powerful despite its small size. Its easy-to-use interface, clean sound and fast speed make it a really good option even if you don't plan to put it in a PC. I am impressed by this small device: it can well be the only device one ever needs to play music, be it from a computer or any other source.