Who said that a big size means big power? They surely hadn't met the SMSL C200, which is sure tiny but mighty. This diminutive desktop DAC with integrated headphone amplifier surely does pack a punch, with 2.6 W of power output at 16 Ω – more than devices several times larger and more expensive! There's few compromises that were made to get to this point, and the result is an incredibly competent device that has everything you need without emptying your wallet.
Disclaimer: many thanks to Aoshida Audio for sending me a free unit. The SMSL C200 retails for $219. There's more info on SMSL's website.
TL;DR: recap
Pros




Cons

+ Compact

+ Elegant design

+ Lots of input and output options

+ Neutral sound

+ 2.6 W output!

– Not "true" balanced output
Rating: 9/10
Packaging & Accessories
On top of the device itself and the Bluetooth antenna, which you need to install manually, the SMSL C200's box comes with a rather slim set of accessories which only includes the remote control, a USB to USB-C cable and the power cable. There are also a manual and a warranty card.
Design & Build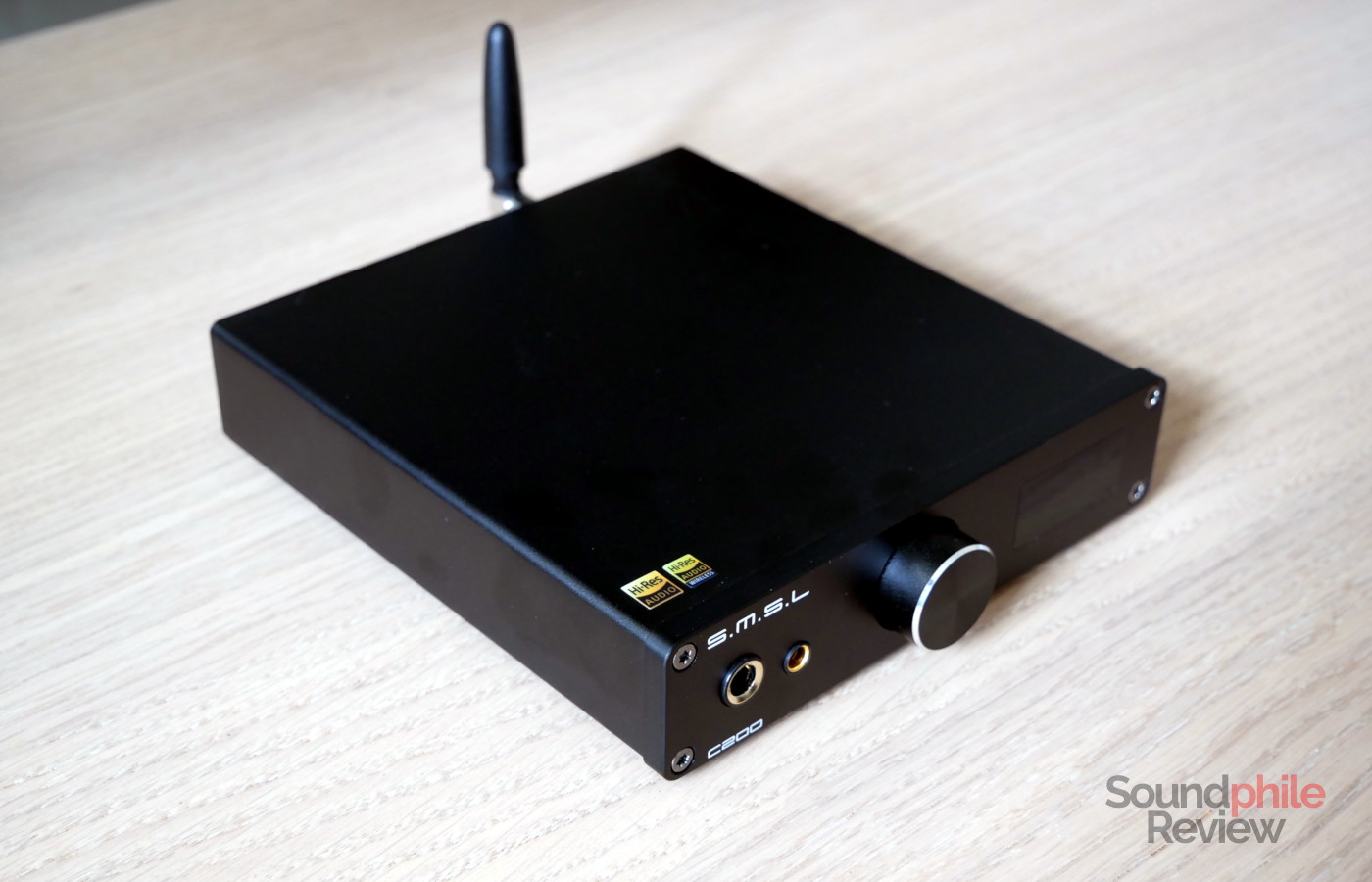 The SMSL C200 is really a diminutive device: it is just 139 x 147.5 x 32 mm, which makes it easy to place it on any desk without taking up much space. It features the classic "audio device" aesthetic that we've seen on countless products, from the Topping A30 to SMSL's own DP3 player. That's not a bad thing, either, because the design is really minimalistic and I can see it fit well in any context. The device has a metal chassis (aluminium, if I had to take any guesses) coloured in black, with white text on the front and back. It's an overall very elegantly designed product.
The front hosts a large volume knob in the centre (actually slightly of to the left!), with the two jack outputs to its left (both unbalanced 6.3 mm and balanced 4.4 mm), as well as a display on the right hand side. The back is much more crowded, as it hosts the power connector (the kettle type), an antenna connector for Bluetooth connectivity, optical, USB and coaxial input ports, as well as RCA and TRS 6.3 mm jack outputs.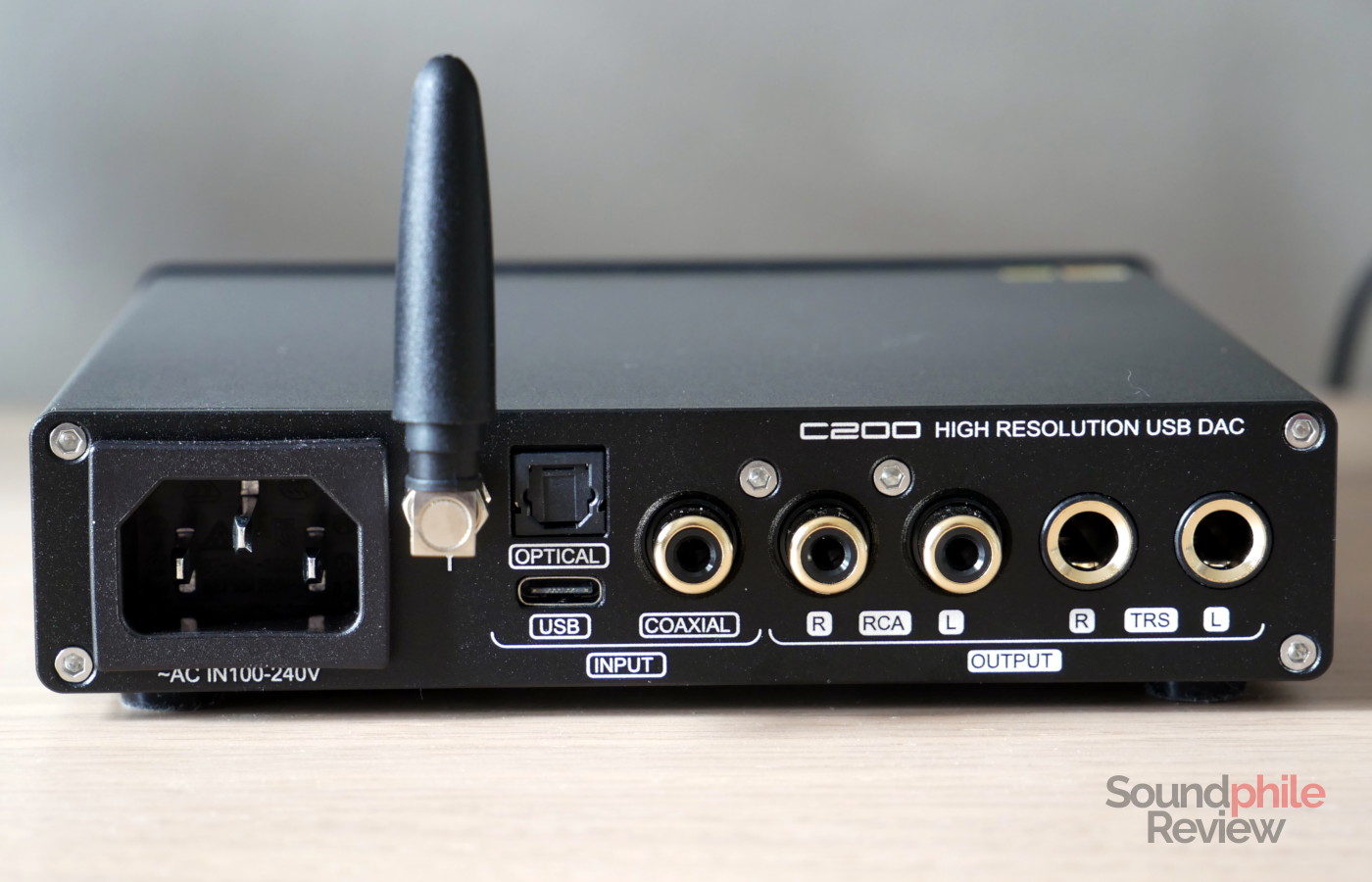 Back to the size considerations, I find it interesting that, in order to reduce the overall footprint of the device, they used TRS 6.3 mm jacks for balanced connections. These are far smaller than the usual XLR connectors while delivering largely comparable specs, and cables with XLR terminations on the other side are quite commonly found and reasonably priced. Despite the small size, the power supply unit is integrated directly into the device, which is quite something and further limits the space occupied by the unit.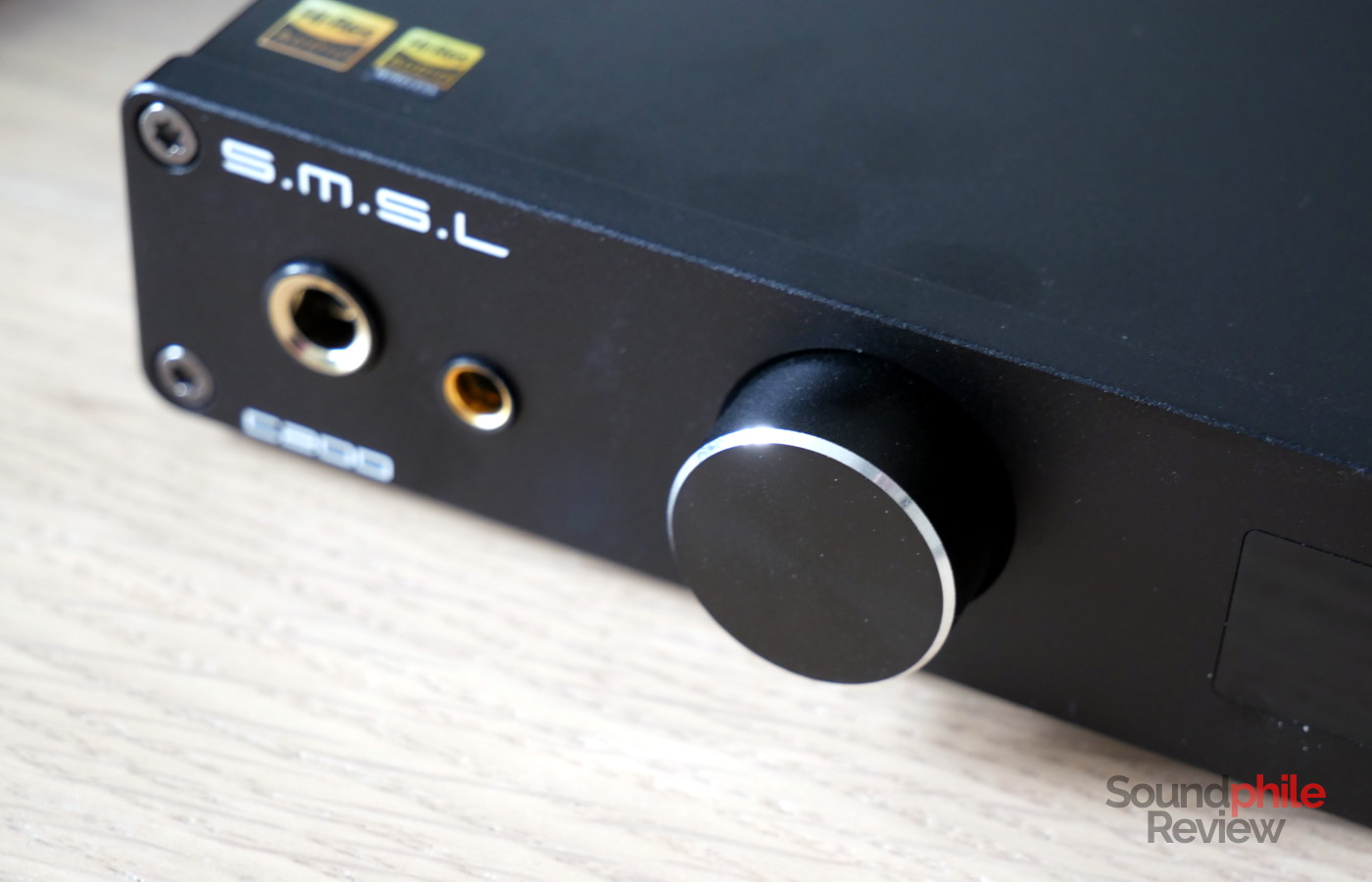 The volume knob is actually a clickwheel, with discrete steps that give you tactile feedback as you rotate the knob. It has a nice weight to it, too, so it's easy to adjust the volume with precision. The downside of having discrete volume levels is that sometimes volume is either too low or too high and there's no in-between, but that's an inherent bug/feature of this type of adjustment.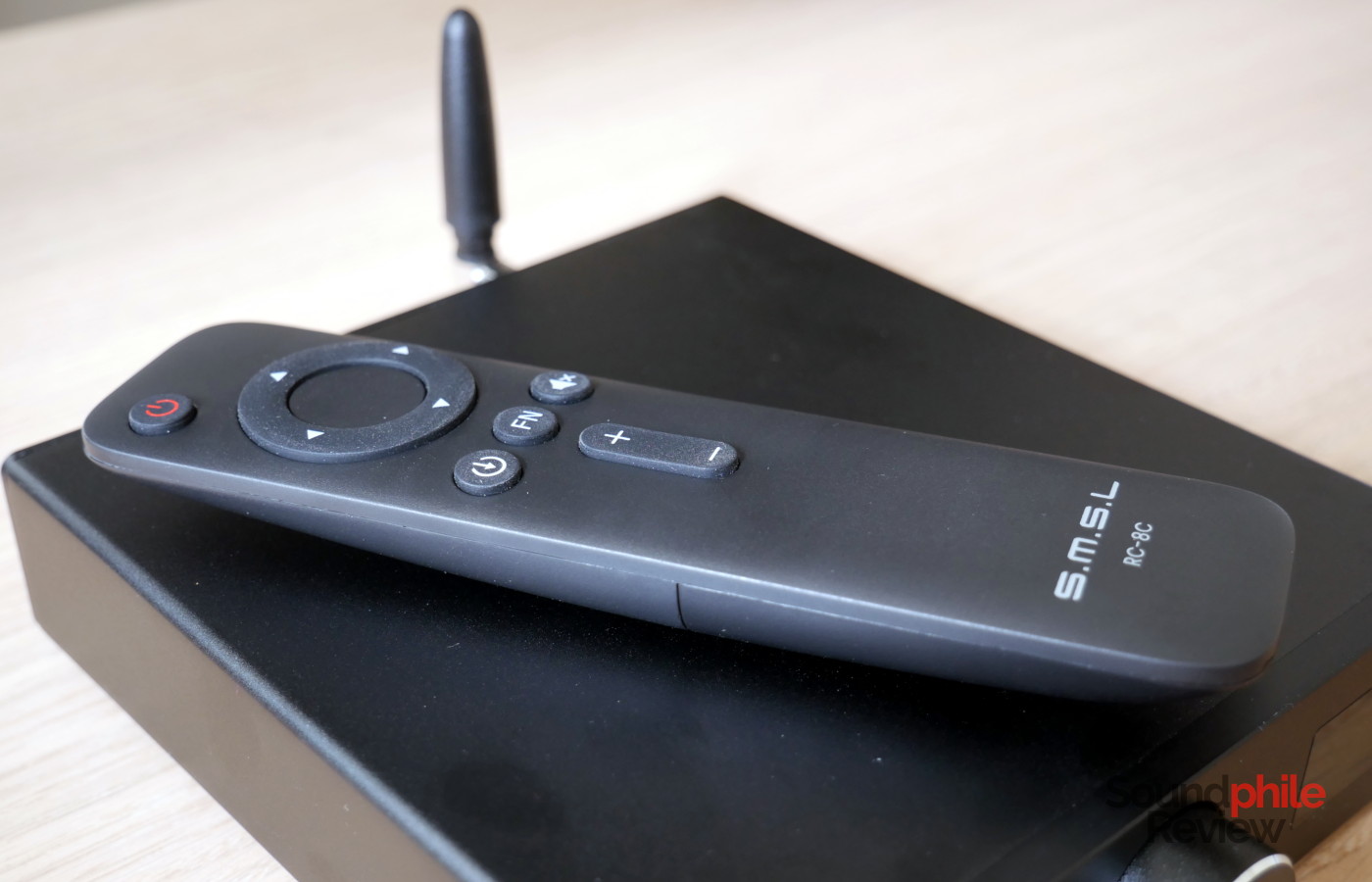 The unit also comes with a remote controller. It is not necessary to control the SMSL C200, as you can do it using just the volume knob, but it does make things easier and more convenient. It's made of plastic and it has the following buttons: power, up, down, left, right, enter, input, FN (used to switch outputs and, when long pressed, to set the screen to automatically switch off), mute, raise and reduce volume.
Features & Specs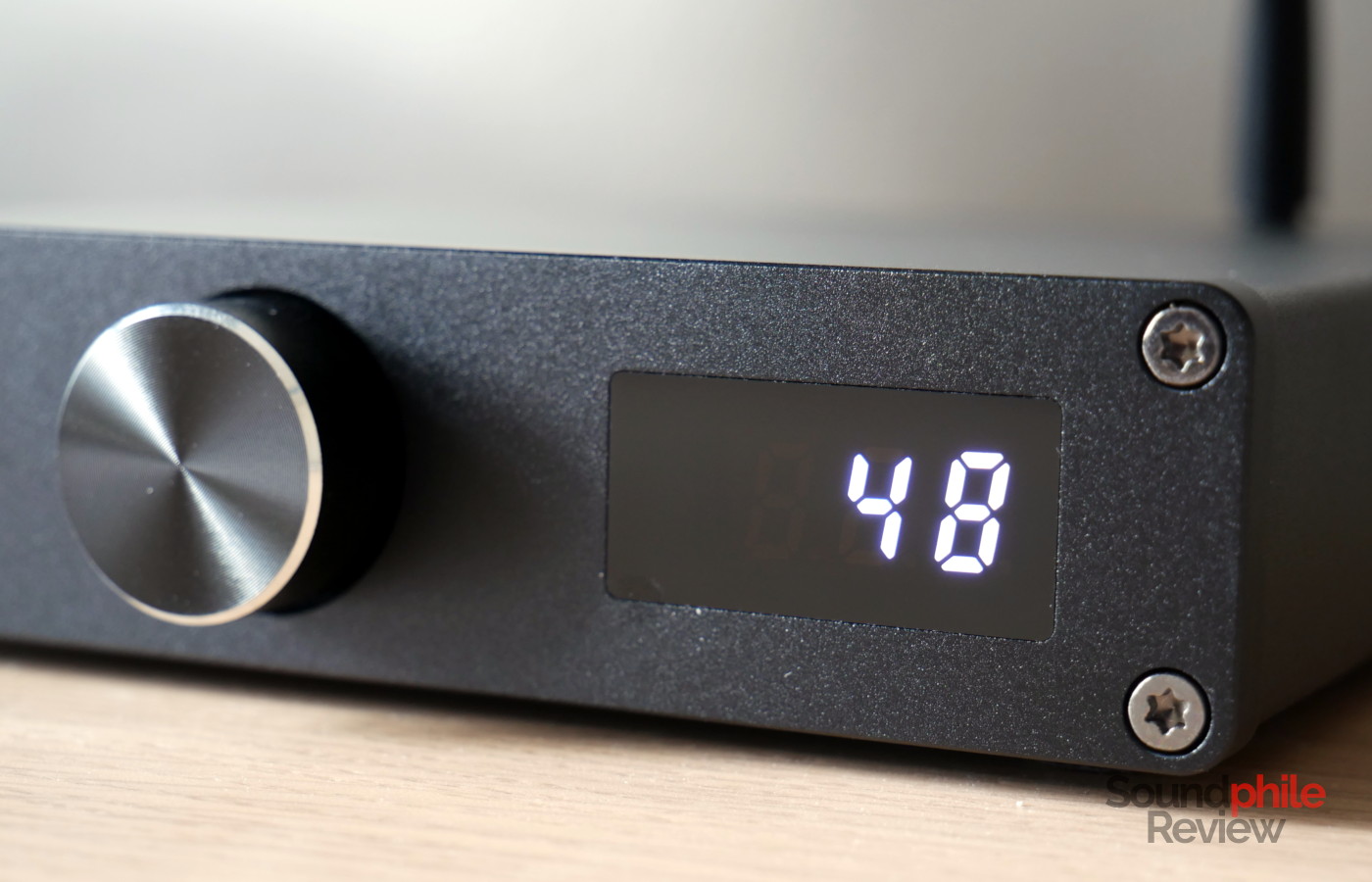 For a device this small, the SMSL C200 is quite versatile and offers a lot of input and output options. Not only can you use USB, but there are also optical and coaxial ports as well as Bluetooth. Speaking of which, you get Bluetooth 5.0 connectivity with SBC, AAC, aptX, aptX and LDAC codecs, which makes the C200 able to deliver great sound quality even without using the wires. You can select both the input and the output, though you can't differentiate between balanced and unbalanced (and that's reasonable).
Although it only requires 5 W of power, which can be easily provided by USB, the C200 requires the power cable to be connected in order to be powered – a bit of a missed opportunity to make it more portable, but on the other hand this is understandable due to the internal power supply being reasonably (and I am making an unsubstantiated assumption here) better quality than your average cheap USB power brick.
The SMSL C200 works in a plug-and-play fashion with all major operating systems, including Linux and therefore including the Steam Deck. It can be used in USB Audio Class 1.0 mode, which makes it compatible with game consoles.
Input
USB (up to 32 bit / 768 kHz, up to DSD512)
Optical/coaxial (up to 32 bit / 192 kHz, up to DSD64 as DoP64)
Bluetooth (up to 24 bit / 96 kHz)
Suitable headphones impedance
N/A
Output impedance
"Near 0 Ω" (headphones out)
100 Ω (line out)
Maximum output power
2.6 W (16 Ω)
1.3 W (32 Ω)
Frequency response
N/A
THD+N (@1 kHz)
< 0.00013% (headphones out)
< 0.0001% (line out)
SNR
123 dB (headphones out)
124 dB (RCA)
126 dB (6.3 mm)
Crosstalk
N/A
The SMSL C200 is based on the ESS Sabre ES9038Q2M DAC chip. It appears like just one DAC chip is used, which would make the C200 incapable of "true" balanced audio – which would require two DACs to process the signal in parallel. On the other hand, though, amplification is managed by four OPA1612A chips, which are able to output an overall 2.6 W of power – quite a large amount for a device this small.
Sound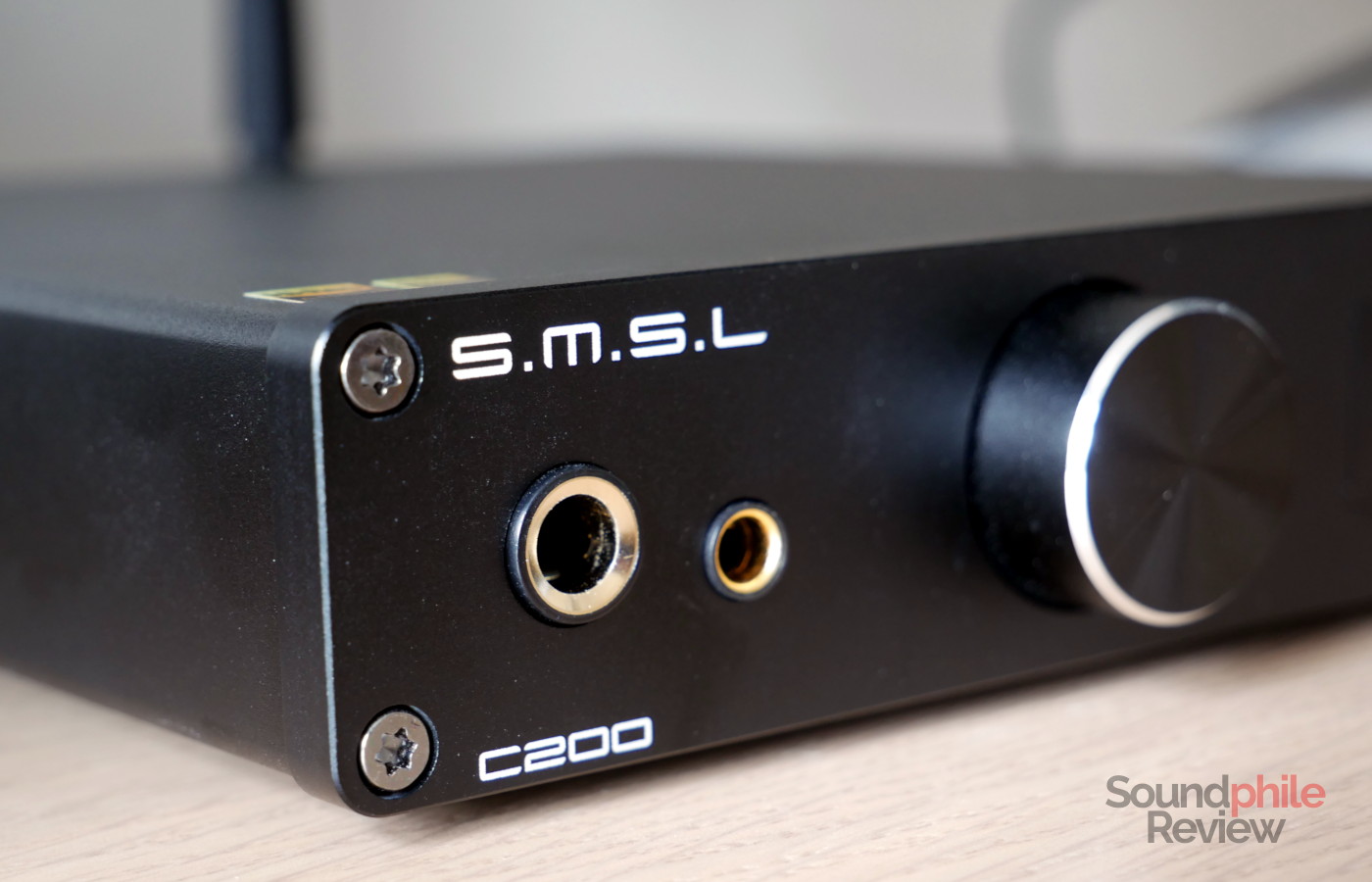 I have tested the SMSL C200 with various headphones, including the HiFiMAN Edition XS and the 7Hz Salnotes Zero.
Although it's so small, the SMSL C200 is able to drive practically any headphones out there. Even fairly demanding headphones such as the HiFiMAN HE-560 are driven easily and show no issues at all.
As you can legitimately expect, the SMSL C200 has a perfectly neutral signature, which means it's indistinguishable from most other solid-state devices out there. I deem this a good thing as it means the device is not going to add its own flavour to your music, staying instead out of the way and letting you concentrate on the music itself (or on the headphones, if you wish to do so). There's a remarkably low noise floor and there's no hiss nor buzz, despite other devices on my desk having it – which appears to be proof of a good job done by SMSL in managing the power. I find transients to be quite fast, which is especially appreciable with fast headphones like the aforementioned HE-560 or the Edition XS.
Final Thoughts
It is nothing short of astonishing to think that in such few years there has been such an incredible progress. When I started this blog, six long years ago, there was nothing that was even remotely comparable to the C200 at a similar price point. You had to pay at the very least two times this price, but probably even more, if you wanted something that had a similar set of features. It's impressive to see how much more affordable high-quality audio equipment is nowadays, and with which speed it has arrived. The SMSL C200 is definitely a remarkable device, even more so because it is quite affordable at $210. It doesn't have all the bells and whistles that more expensive devices offer, but it has plenty for anyone who doesn't really want to split hairs while looking at a specs sheet. I can't help but sincerely recommend the SMSL C200 to anyone and everyone: it's a great device under every perspective and it is definitely worth checking out.