Network players are an expanding business in the audiophile world, with many manufacturers betting on these devices. The concept is nothing new, but affordable devices are a bot more novel. Here steps in SMSL, with a network player that has rich features and yet sits in the lower area of the market. The SMSL DP3 offers a lot for the price and is a good choice for budget-conscious audiophiles, but has its own share of limitations.
Disclaimer: the SMSL DP3 was provided by BangGood free of charge. They sell it for $268 in their store. More information on the DP3 is available on the manufacturer's website.

TL;DR: recap
Pros




Cons

Can be controlled by a smartphone through the HiBy app

Lots of input options, including microSD and USB storage

Can output directly to USB DACs

Has a remote

Adjusting volume and navigating menus is made difficult by poor controls

Low power output

Cannot get music from online sources

Slow library update process
Rating: 6.5/10
Packaging & Accessories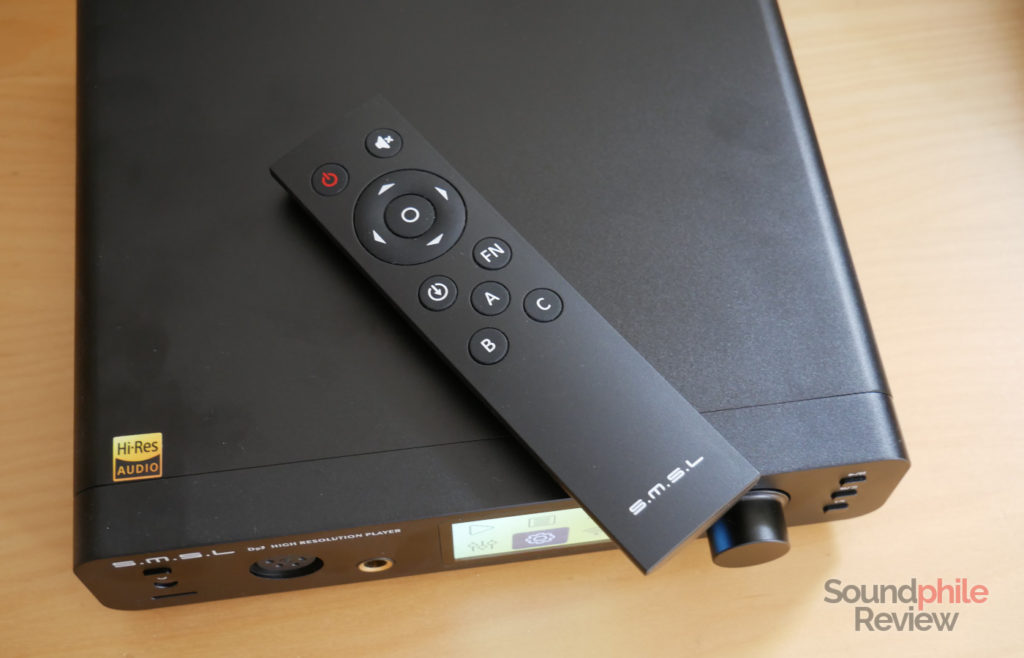 The packaging is simple and almost spartan: the device is held within a heavy cardboard box with foam to prevent damage to the unit. There are also a power cable, a remote (with batteries!) and a manual included.
Design & Build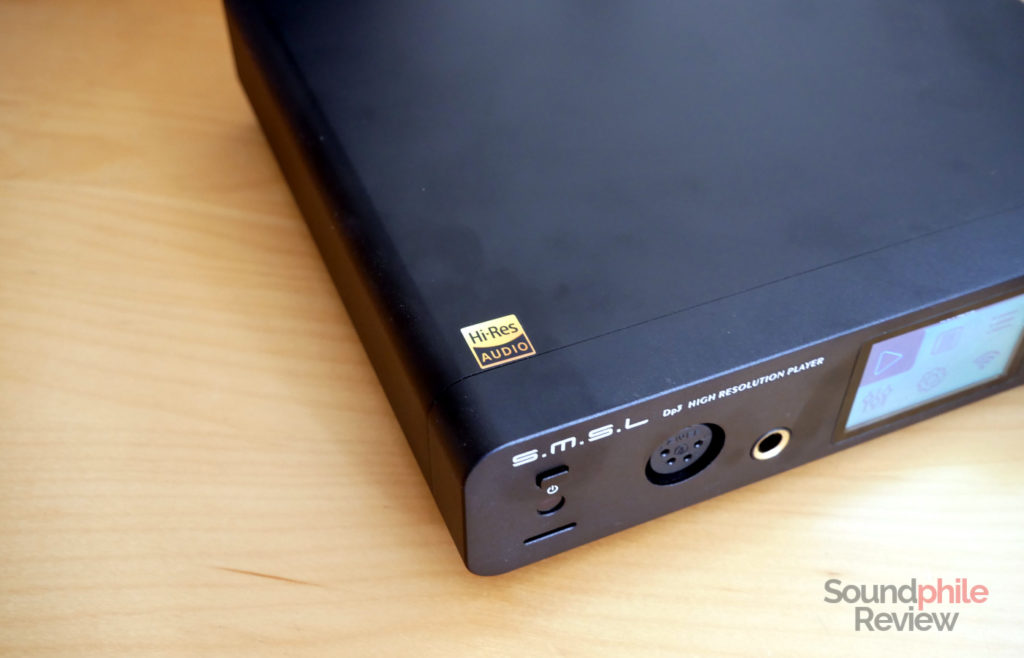 The SMSL DP3 is similar in design to other products on the market. With the power button, balanced and unbalanced output ports, screen and volume wheel on the front, it is similar to many other devices on the market – the Topping DX7 being the most notable example. The SMSL DP3 does have its own peculiarities, though: its matte black aluminium shell has rounded edges that set the device apart from most other products that have clear-cut edges, as does the large colour screen. It's not really innovative in how it looks, as it seems to bet more on familiarity, but the SMSL DP3 looks solid and blends in well with other devices, a quality not to be underrated.
The chassis is made entirely of aluminium. In fact it is made of two pieces of metal: one makes up the large majority of the device, whereas the other makes up the front and extends to all other sides with a depth of about 3 cm. The parts are decently assembled, though some seams are clearly visible. All in all the build quality is good and the materials being used appear to be of good quality.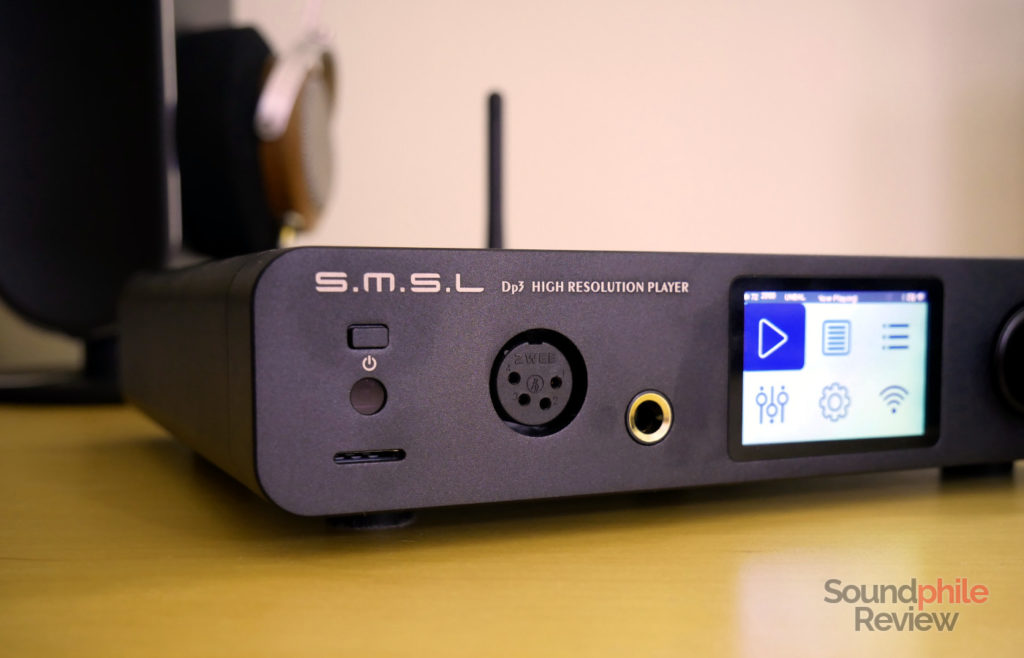 As I mentioned, the front is quite busy-looking: it has the power button, the IR receiver for the remote, a microSD card slot, an XLR4 balanced output port, a 6.3 mm jack output port, a 2.4″ colour LCD screen, a volume knob and three buttons to operate the device. The rear side, on the other hand, has a lot of connectors: there is an Ethernet port, two full-size USB ports, a micro-USB port, two RCA connectors, an optical output, a coaxial output, an AES connector and an antenna. On the lower side there are four large rubber feet.
The screen serves its purpose of displaying information, but it is limited in terms of quality: its viewing angles are narrow and the colours are reproduced without great accuracy. The brightness is also limited, so if the Sun shines directly on the screen you won't be able to see much.
There is a Hi-Res Audio sticker on the device, which however seems fake: real stickers don't use a gradient like one used here, as they use a gold-like reflective colour. It does not really mean anything, apart from the fact that there was no independent testing and certification of the device.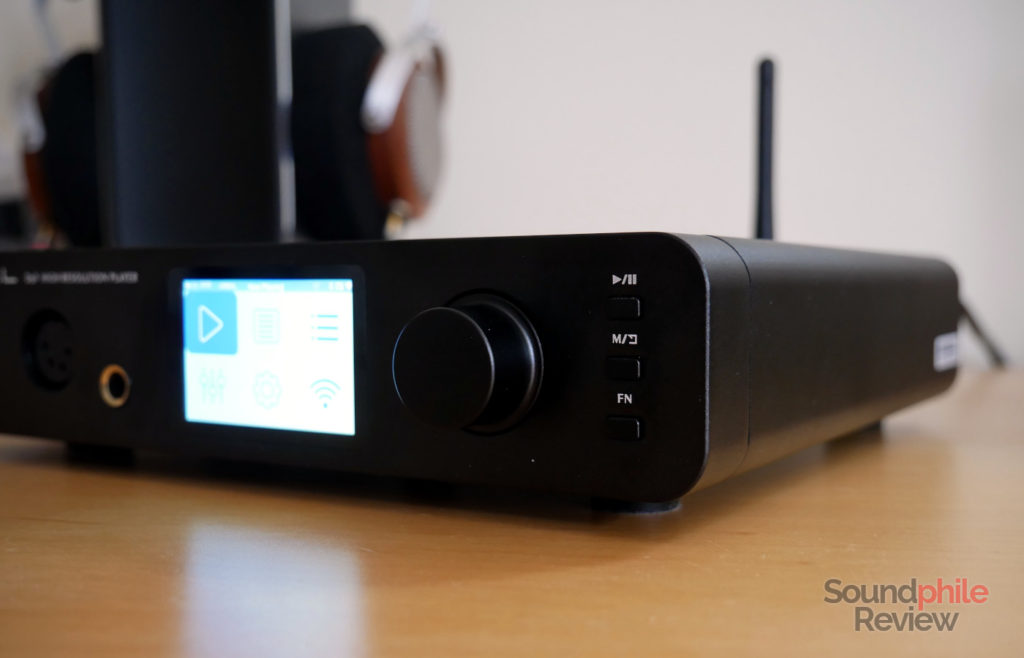 The volume knob is not really an analogue knob: it is halfway between a knob and a clicking rotary wheel, and that's the main issue. I say this because the volume is adjusted not only when going from one "click" to the next, but also between clicks, so it is really difficult to adjust the volume as the knob tends to slip to the next click. The point is that each click equals to 10 or even 15 points on a scale of 100, which is quite a lot, so the knob requires minimal movements to get it right. It's definitely not the best from a usability perspective.
Specifications
DAC chip
ESS Sabre ES9018Q2C
Amp chip
Integrated in the DAC
Suitable headphones impedance
N/A
Output impedance
N/A
Maximum output power
Single-ended:

58 mW (32 Ω)
46 mW (64 Ω)
25 mW (150 Ω)

Balanced:

113 mW (32 Ω)
1210 mW (64 Ω)
78 mW (150 Ω)
49 mW (300 Ω)

THD+N (@1 kHz)
0.0008% (single-ended an line-out)
0.0004% (balanced)
SNR
112 dB (single-ended and line-out)
110 dB (balanced)
Operating System
HiBy
Supported formats
PCM up to 32 bit / 384 kHz
DSD up to DSD256
The SMSL DP3 has a lot of output options: on the analogue side there are a 6.3 mm unbalanced jack, a balanced XLR4 connector and two RCA connectors for line out; on the digital side there are USB, optical, coaxial and AES.
The SMSL DP3 has two USB ports on the back and they can be used to connect various devices: on top of USB thumb drives, hard disks and other similar storage devices, one USB port can be used to connect an external DAC. Fortunately there is no action one needs to take to make an external DAC work other than plugging it in. This design choice is especially good as it allows one to bypass the internal DAC and amp, as the latter is a bit poor in terms of output power.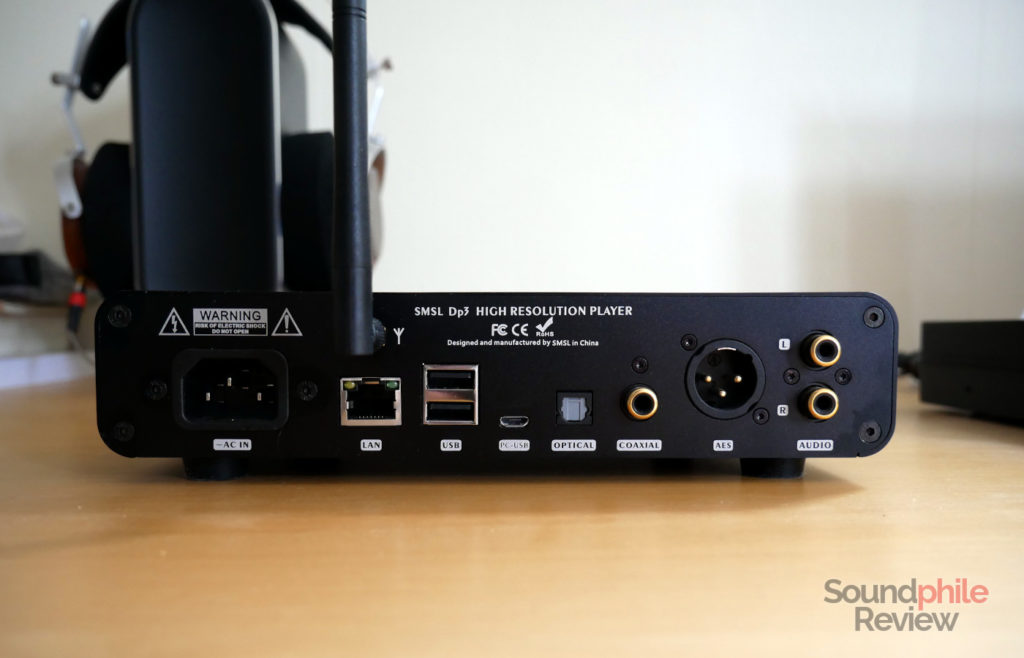 Power output is in fact very limited and is more in line with a DAP than with a desktop device, and it does not seem to be a matter of limited available power considering the fact that the USB ports can output a maximum of 2A for a total of 10 W! The SMSL DP3 is more useful as a source to feed an amplifier than as an all-in-one device. This is because the DAC chip, the ESS Sabre ES9018Q2C, is designed for mobile applications and has an integrated amplification stage. Due to being designed for mobile scenarios it has limited power and that's understandable, but it is not the best solution for a desktop device.
The SMSL DP3 supports a rather vast amount of encoding formats, which is too large to list here – you can find a full recap here. Most formats should play just fine, with AIFF being the only one with support for 32 bit streams and all other formats being limited to 24 bit.
There is support for the Bluetooth standard, too, which can be used both ways, so the DP3 can receive audio streams and also act as a Bluetooth source. SMSL chose Bluetooth 4.0, which is a bit outdated, but included support for the aptX codec. Bluetooth range is decent, but not much better than what I get from my phone or Shanling M2X DAP.
The front microSD slot supports cards with capacity up to 256 GB, while the USB ports support drives up to 4 TB in capacity and formatted in FAT, FAT32 or NTFS.
Software & Features
The SMSL DP3 uses firmware developed by HiBy which is probably based on Linux, just like the other firmwares the company has developed. As of the writing of this review, the latest firmware available is version 1.6 and that's the one I tested. It seems to be made especially for this kind of players. As in every other non-Android HiBy software I've come in touch with, translation is rather fanciful to say the least. Luckily the firmware is fast and easy to use despite the translation.
The main screen shows six icons: now playing, music library, file explorer, playback settings, device settings and wireless settings. One can play music on the network by selecting the file explorer and navigating through the storage devices exposed to the network; the device supports the SMB protocol. The feature works decently well and has no interruptions even when streaming through WiFi.
The update process of the music library is terribly slow and takes more than five minutes for a 200 GB card with ~7000 files on it. My advice is then to set the update to "manual" so that the device does not update the library every time one plugs in a new storage device.
The SMSL DP3 cannot play from online sources. TIDAL, Spotify, online radios and so on are out of reach for the DP3. It can only play music from the local network. It can play music from streaming services if one uses their phone to stream music through Bluetooth, but it's really far from ideal and it defeats the point of a dedicated network streamer device.
Let's see what's inside the various setting menus. Playback settings include:
resume mode, which allows one to choose if the player has to remember the song it was playing and if it has to resume playback from the start of the song or from the beginning;
gapless playback (either on or off);
play mode: play the playlist once, repeat track, shuffle or repeat all;
continue play through folders, so once all files in a folder have been played the player jumps to the following folder.
The device settings menu has the following items:
update music mode: the library can be updated either automatically or manually;
update music: forces music library update;
output mode: selects output mode from unbalanced, balanced, line out and SPDIF (optical), but does not include USB as a DAC is automatically used when detected;
DSD output mode: D2P, DoP or native;
USB mode: either USB, which allows one to access the contents of connected storage devices, or DAC, to use the DP3 as a DAC;
backligh brightness;
backlight timer;
"key custom": it should be "customize FN button" and it can be set to either next, previous, output, explorer or song list;
clock format;
set clock;
language: firmware supports English and what I assume is traditional Chinese or simplified Chinese;
about device: basic information on the device, including information on connected storage devices and firmware version;
restore factory settings;
system update: it can be only performed by downloading the firmware file from SMSL's website and putting it on a microSD. The last version was released in December 2018 and no further developments have been published, so I assume there won't be new versions.
Finally, wireless settings are as follows:
Bluetooth: it is used to turn on and off Bluetooth, to set the name of the device, to set HiBy Link, to set use of aptX codec ("high quality"), to scan for devices and to connect to paired devices;
WiFi: there are options to turn WiFi on and off, to scan for available networks and to connect to them using an awkward on-screen keyboard one has to operate with the terrible volume knob or with the remote, which results in a frankly frustrating experience. The translation also could be better as "available networks" becomes "disconnected from WiFi" for some unfathomable reason;
DLNA (either on or off);
AirPlay (either on or off).
Controlling the SMSL DP3 with the on-device buttons or even the remote has some very rough edges which can be avoided entirely thanks to the fact that the DP3 is controllable using the HiBy Player app on smartphones. The SMSL DP3 does in fact support the HiBy Link technology, which allows one to control enabled devices with the app. The experience is identical to that of using the app to reproduce music on the phone, but the music is then reproduced on the DP3 – which is quite neat if you ask me. As we've come to know, HiBy software always has a few issues, but this time I have to say that it works pretty good. In order to enable HiBy Link one has to set it in the Bluetooth menu on the DP3; that makes the device "unpairable" (if you try to pair your phone to it, it just fails) but makes it possible to control it through the app, which has a specific menu item for HiBy Link. That makes it pretty easy to use the feature.
Sound
I used a variety of headphones when trying the SMSL DP3, but when I was writing the review I used a Moondrop A8, a Toneking T4, a Tin HiFi P1 and a Hyland Headphones Saturn One. I used the SMSL DP3 both as a DAC connected to my PC and as a stand-alone player with a USB disk connected to it or with a microSD card in it. In both cases source files were the same and were largely FLAC files in standard resolution (16 bit, 44.1 kHz).
The SMSL DP3 seems to be susceptible to external sources of noise and therefore does not have a clean background. In my case I could clearly hear noise, even though I was not using extremely sensitive earphones. An attenuator is therefore needed to operate the DP3 with low-impedance headphones.
The problem with the DP3 is that it is not really suitable to drive high-impedance headphones, nor low-sensitivity ones. The sweet spot is around 64 Ω, where the background noise is almost reduced to inaudibility and there's enough power to drive the headphones correctly.
In terms of sound quality, I found the DP3 to be quite satisfying as it is by all means transparent, as it adds no colouration whatsoever. On the other hand, it provides nothing really interesting either, as it is not especially fast, nor detailed, nor with a peculiar soundstage representation. It's what some might call boring, but it's just plain to me. There's nothing special going on and I deem that a good thing.
There is no difference between balanced and unbalanced outputs in terms of sound.
Final Thoughts
The SMSL DP3 does very well under many key metrics. It has a good design and it's built decently well, it has a plethora of input and output options, it has HiBy Link so one can control it from the phone. On the other hand it has terrible controls, low power output and a firmware that could be improved. It also can only play music on the local network, which may be seen as limiting.
If all one wants is an all-in-one device that can act as a stand-alone player that sources music from various devices, including those on the local network, then the SMSL DP3 is good enough for the purpose. The problem is that it's only good as a basic device. It is an affordable player which has to make compromises in order to keep the price down. It is up to the reader to decide whether these compromises are excessive for their use case: for a basic usage which comprises streaming content from the local network or playback from microSD or USB devices, it's a good choice.