The SMSL DO300 is a mid-range DAC which adopts the same design as the lower-end DO200 MKII, but employs two ESS Sabre ES9039MSPRO chips, 11 op-amp chips and a specially-designed low-noise power supply unit. This is in addition to a wealth of connections that make it incredibly flexible and a great addition to any setup, be it on your desktop or in your living room.
Disclaimer: I received a free unit from Aoshida Audio. They sell the DO300 for $549, though it is going to be on discount at $494 until March 28th. There's additional info on SMSL's website.
TL;DR: recap
Pros




Cons

+ Lots of input and output options which includes Bluetooth

+ Very well-built

+ Loads of settings

+ Neutral sound signature

+ No background hisses, hums, etc

– No status LED when LCD is turned off
Rating: 10/10
Packaging & Accessories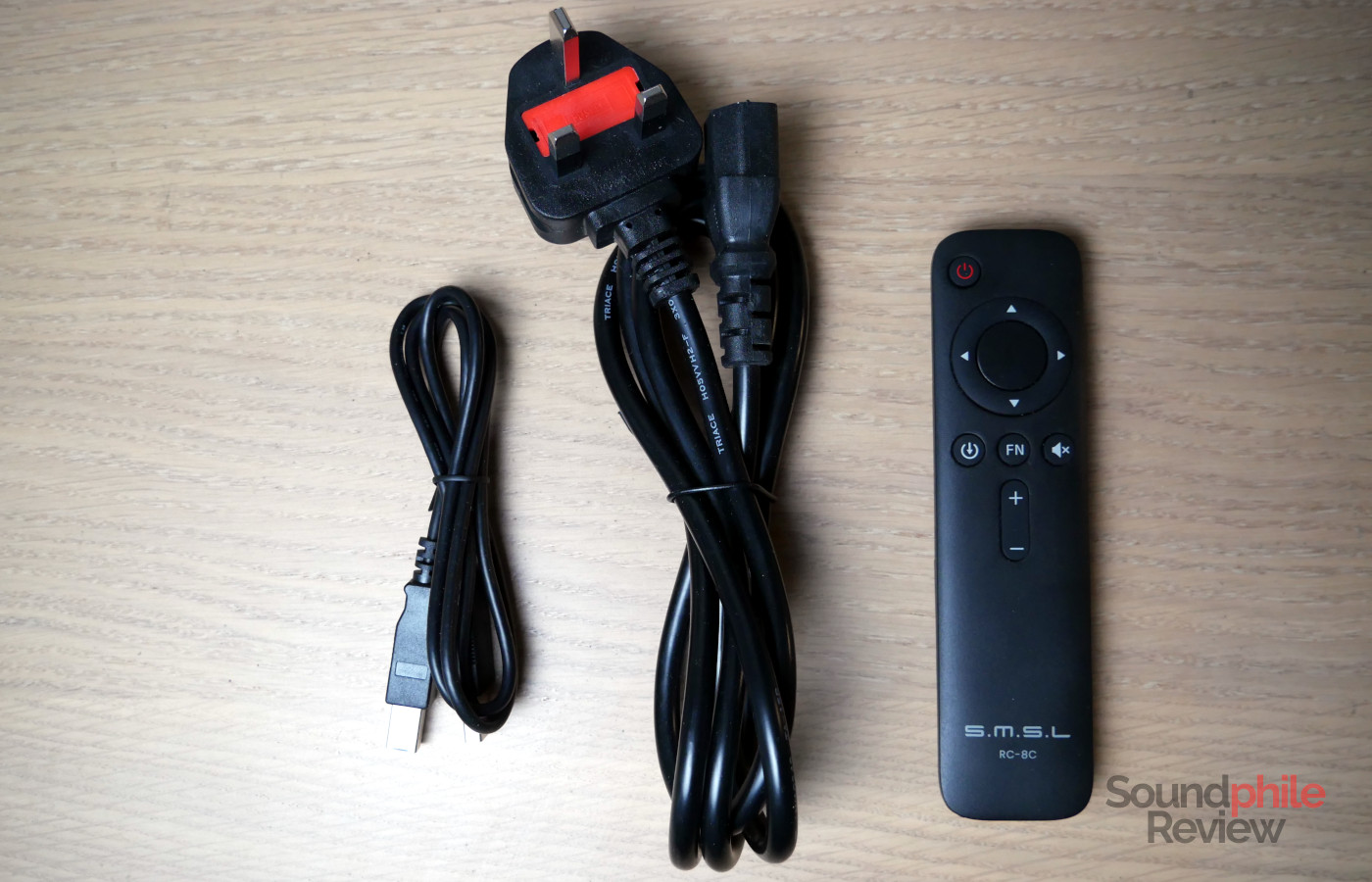 The SMSL DO300 comes in a simple cardboard box and is held in place by some plastic foam. Inside the package we find a USB-A to USB-B cable, a power cable, a manual, the remote and the Bluetooth antenna (which you have to screw on).
Design & Build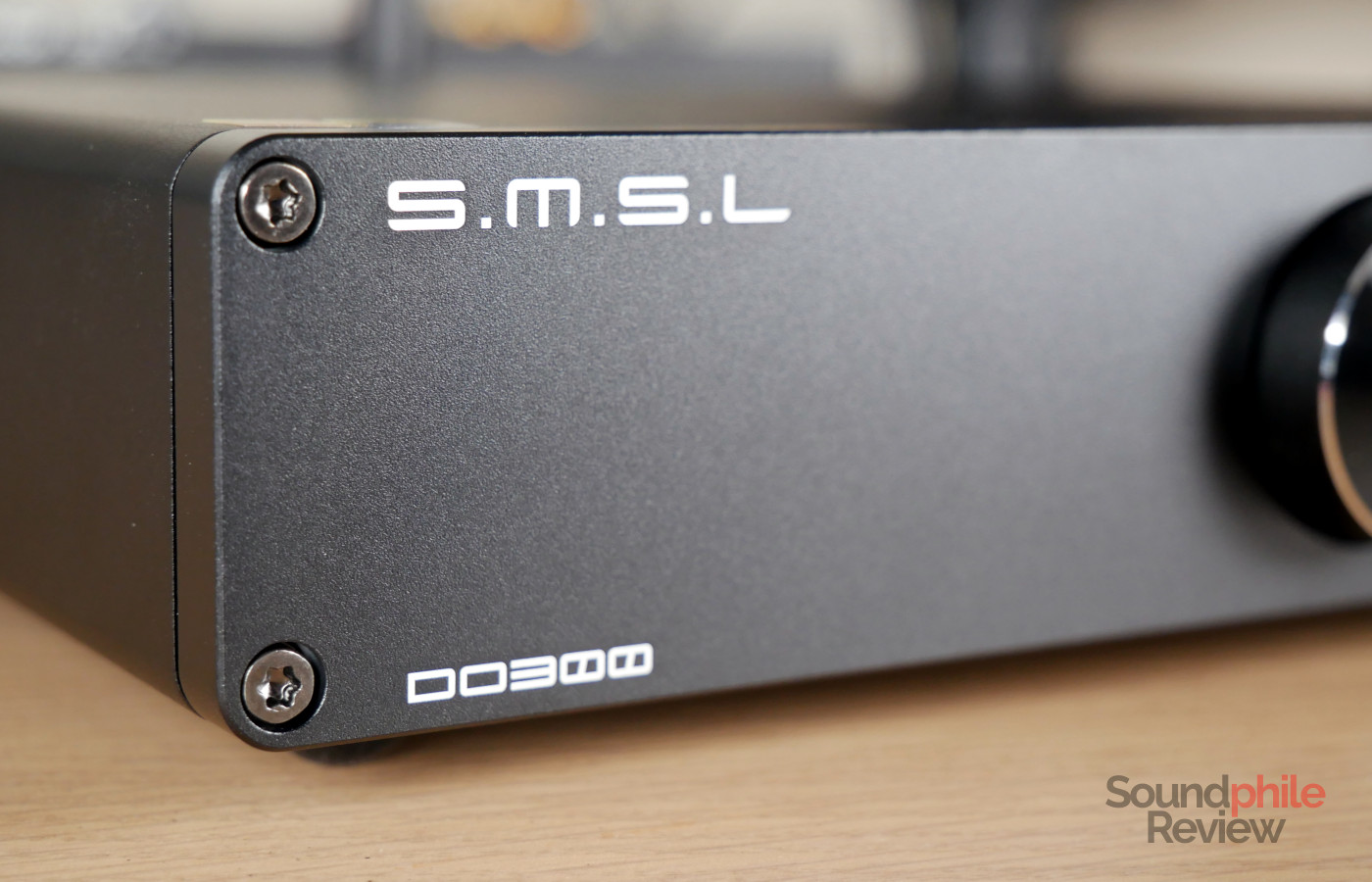 In terms of design, the SMSL DO300 looks exactly like the DO200 MKII, to the point the only way to distinguish them is to read the model number on the front. This is actually a god thing, though: the aluminium chassis is well-made and polished, with a very nice finish; it comes in matte black only. Build quality is top notch and I cannot find any faults with it.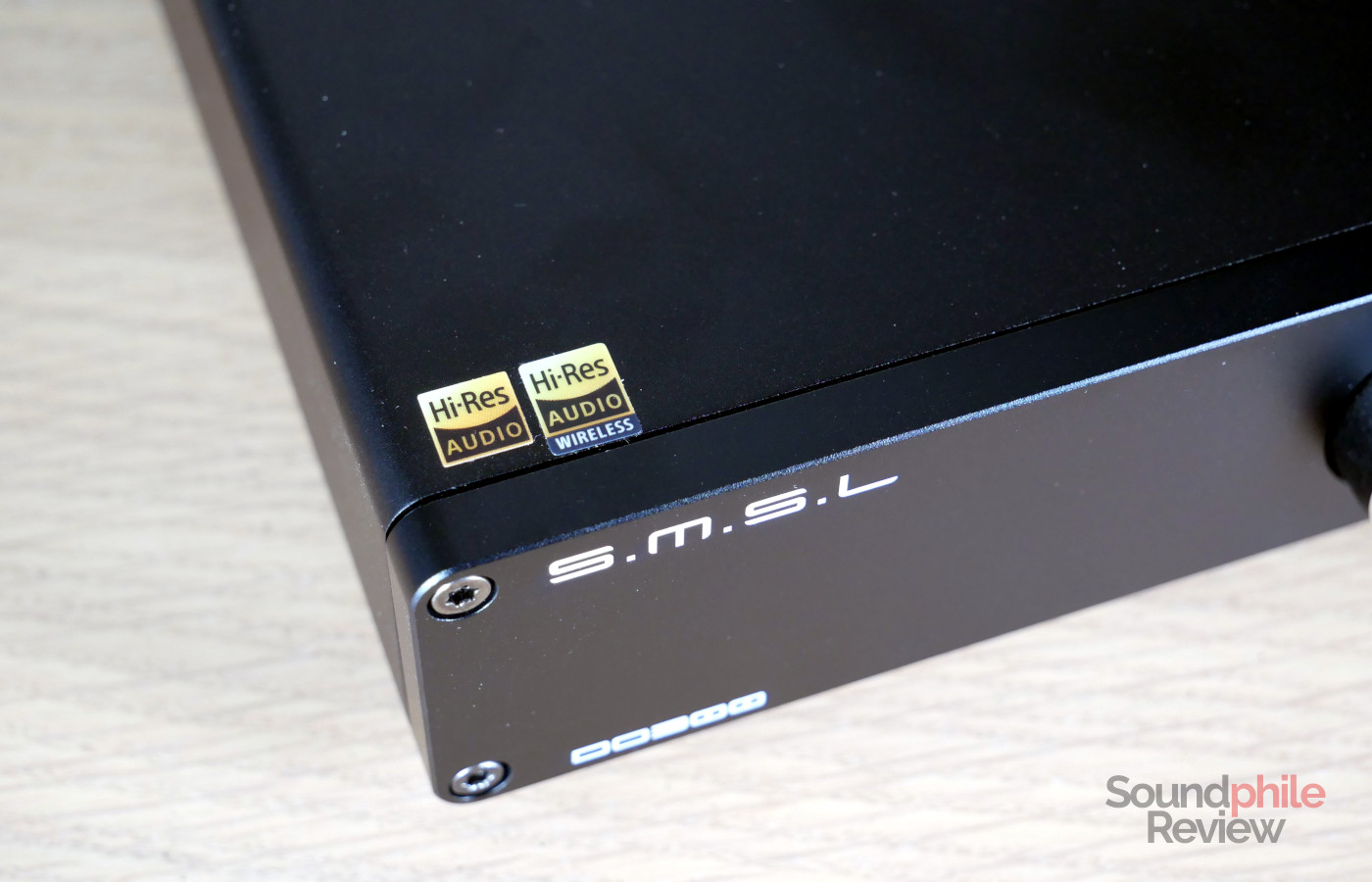 The front hosts the volume wheel, which doubles as the power button, as well as an IPS display and the remote receiver. On the back we find a whole variety of connectors: on top of the power connector and on/off switch, there are XLR and RCA outputs, as well as USB-B, coaxial, optical, AES (XLR3) and I2S (through an HDMI connector) input ports, as well as the Bluetooth antenna.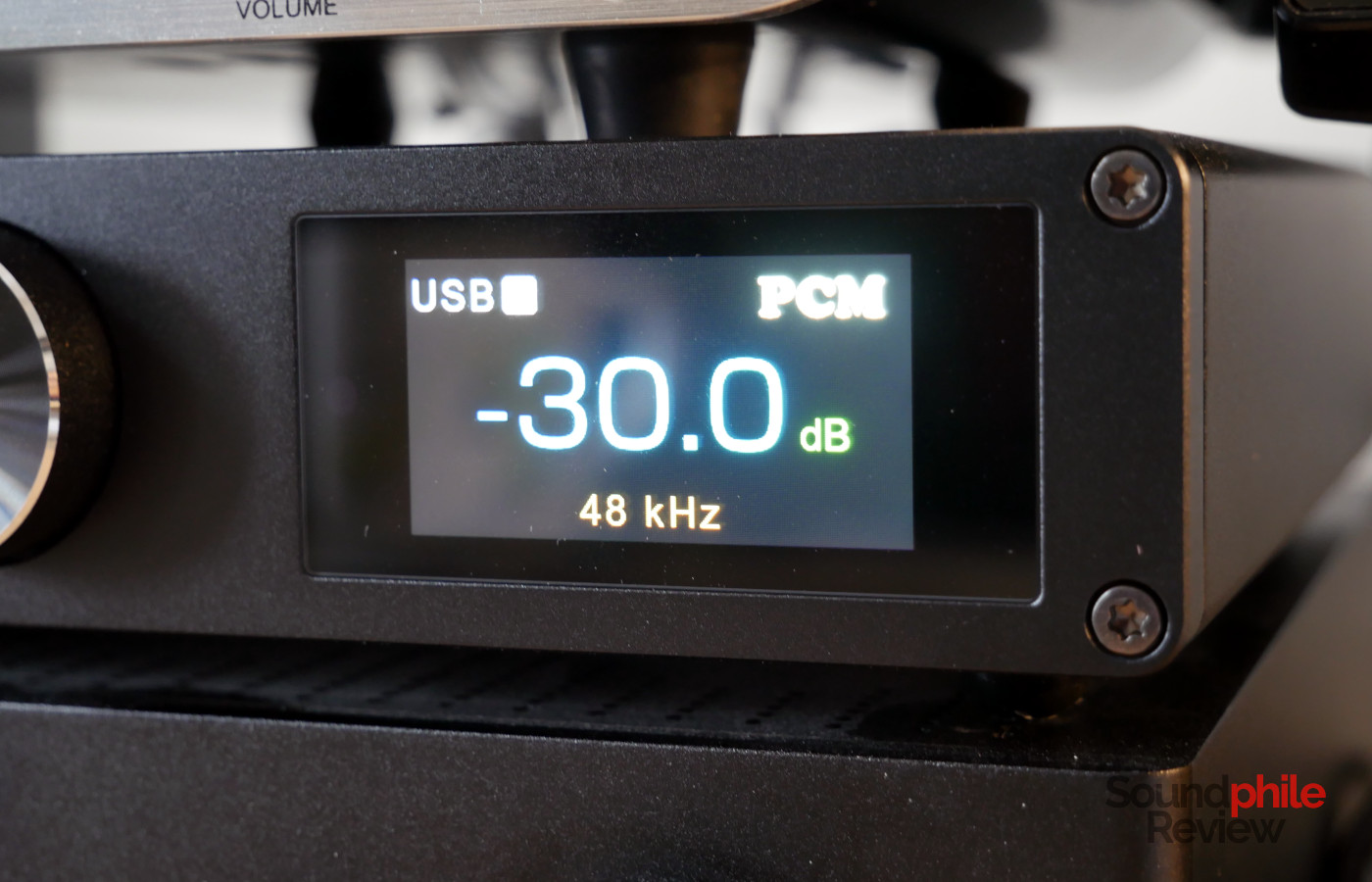 The DO300 is just 210 x 185 x 43 mm, which makes it a rather compact DAC, especially in terms of depth.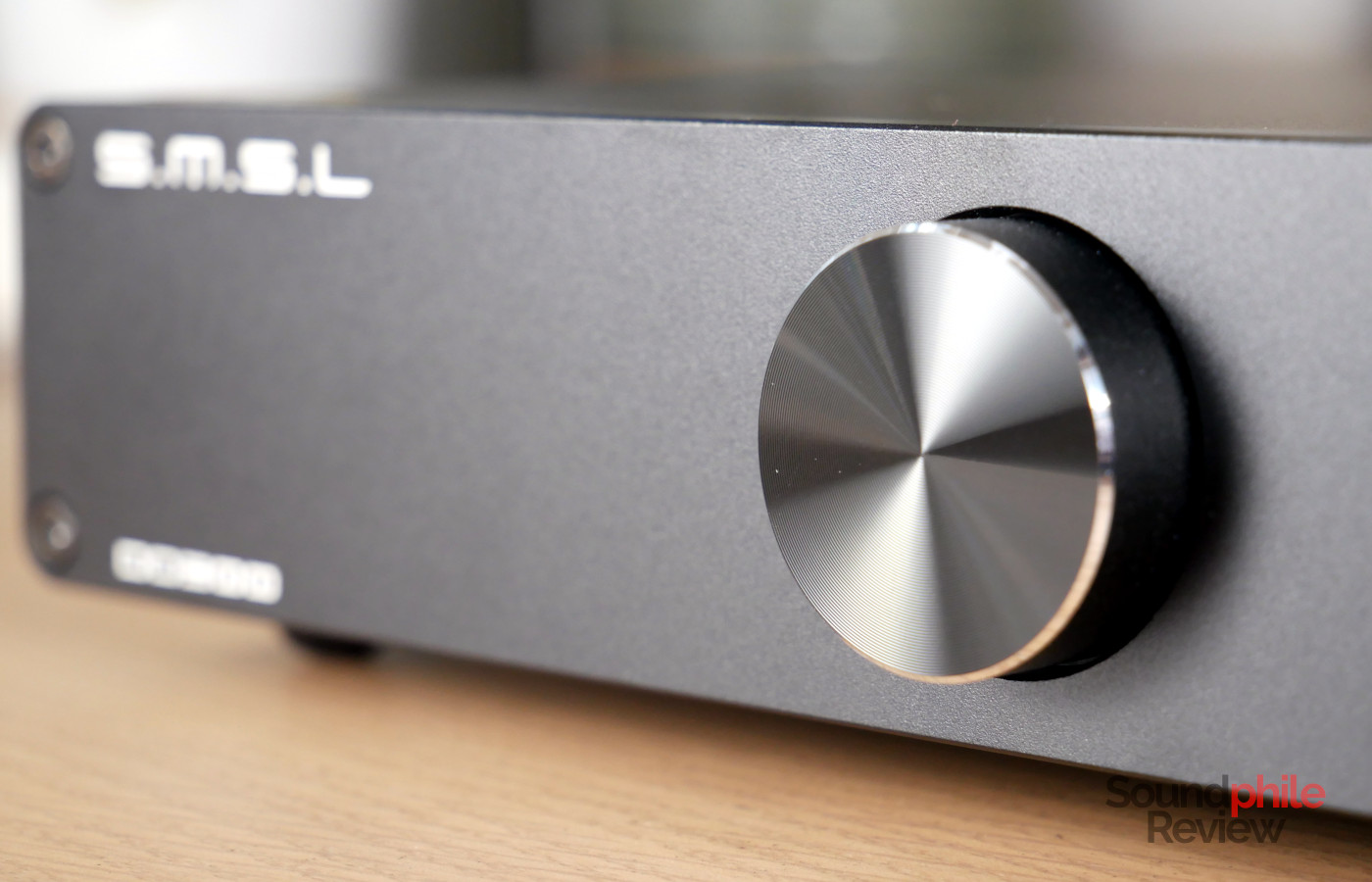 The volume wheel can be clicked and therefore also acts as the power button (with a long press) as well as the button to access and navigate the menus. It is not a potentiometer, but a wheel with predefined steps which also give you a tactile feedback when you turn it.
Features & Specs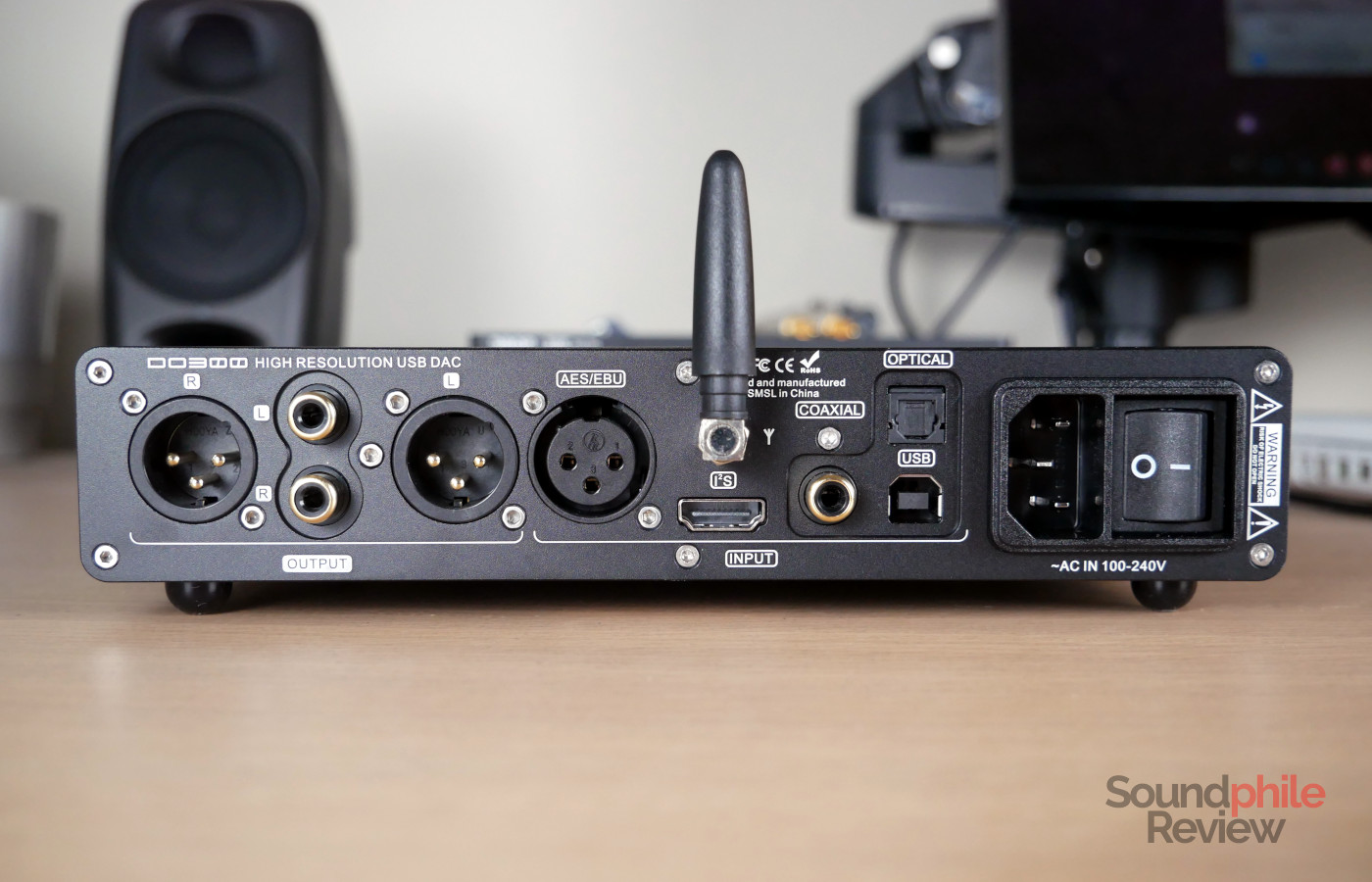 The SMSL DO300 offers a wide variety of input and output options. Input includes USB (through a USB-B connector), I2C (using an HDMI connector), optical, coaxial as well as Bluetooth, while output comprises XLR and RCA.
As I mentioned previously, there is a volume knob, as you can use the DAC both in fixed-output mode and in variable-output mode: the latter is useful if you have powered speakers, as an example, as it gives you the ability to control the volume directly from the DAC itself rather than from the connected devices (e.g. active speakers whose volume knob might not be directly accessible).
Speaking of the wireless bit, the SMSL DO300 offers Bluetooth 5.0 with a variety of codecs: SBC, AAC, aptX, aptX HD and LDAC. The connection is stable and reliable, with quite a long range. I have never experienced any stuttering or interruptions.
The device works out of the box with all major operating systems, including Windows, macOS and Linux.
Just like the DO200 MKII, the DO300 features the possibility to turn off the screen on the front, but that leaves you without any way to tell if the device is turned on or off, which is quite inconvenient as it can (and, in fact, does) lead you to leave it powered on.
Input range
USB, I2S: 16 – 32 bit / 44.1 – 768 kHz, up to DSD512, MQA
Optical, AES, coaxial: 16 – 24 bit / 44.1 – 192 kHz; DSD64 via DoP
Bluetooth: SBC, AAC, aptX, aptX HD, LDAC
Output impedance
N/A
Frequency response
N/A
THD+N (@1 kHz)
< 0.00005%
SNR
> 127 dB (RCA out)
> 134 dB (XLR out)
Crosstalk
N/A
The SMSL DO300 uses the ESS Sabre ES9039MSPRO, the company's flagship DAC which launched last year. While it doesn't feature anything new in terms of format support, it features lower THD and better SNR. There is just one chip, which can however manage up to 8 channels – so it is perfectly capable of handling a "true" balanced signal path. It also supports MQA, in case you have any files with that lying around, however unproven the benefits of this format are.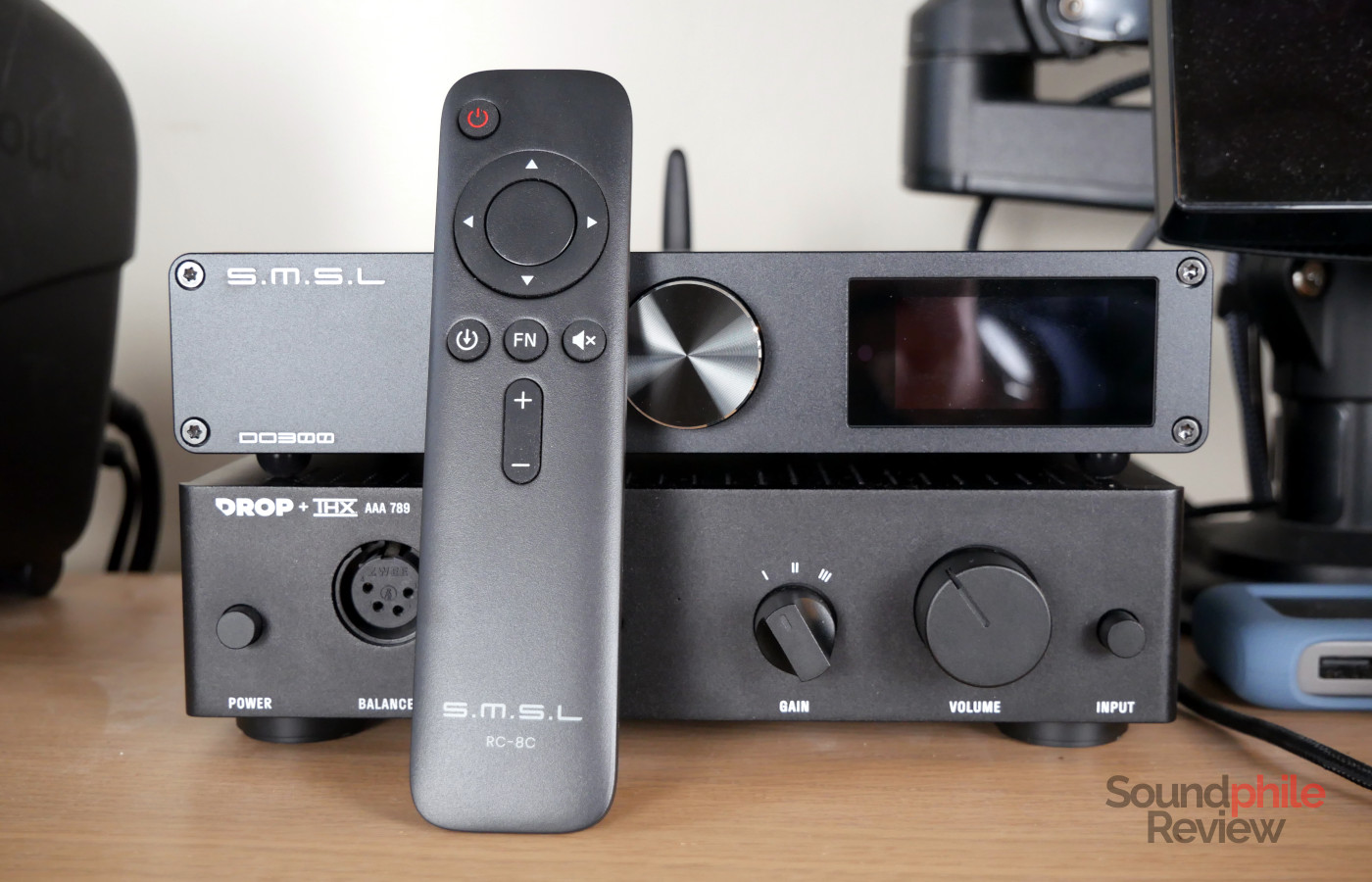 Just like the DO200 MKII, the DO300 features quite a few menus that allow you to set inputs and outputs (which can be individually selected, so you can switch between them), PCM filter (fast linear, slow minimum and minimum phase), "sound colour" (standard; rich 1, 2 and 3; tube 1, 2 and 3; crystal 1, 2 and 3), preamplification mode (fixed or variable), FN key (output selection, Bluetooth and phase), DPLL bandwidth, I2S mode (normal or reversed), I2S DSD channel (PCM data or LRCK), phase (normal or inverted), screen off timer, screen brightness and system reset. The ability to select not only the input, but also the output adds quite a bit of flexibility.
Sound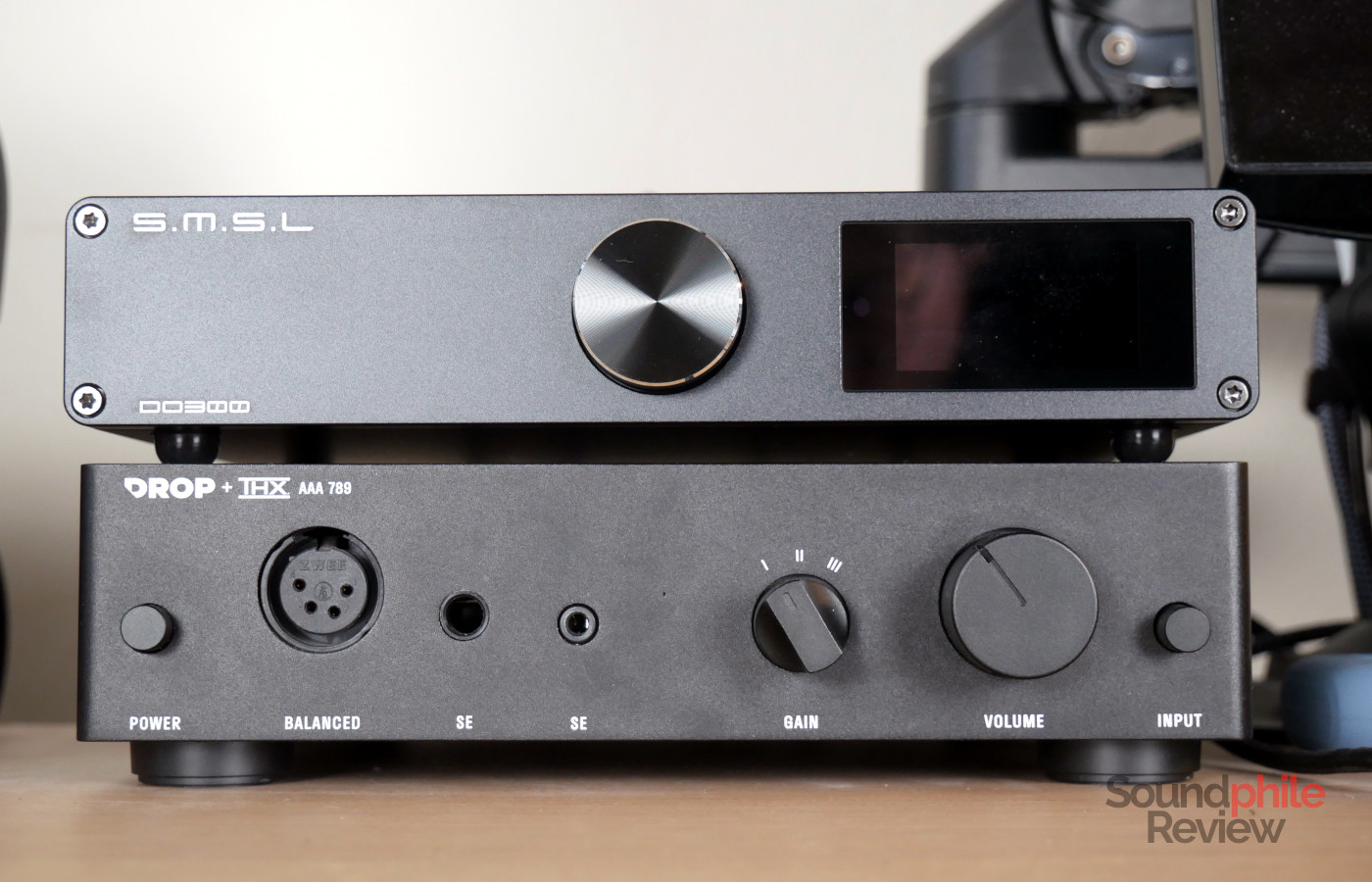 I have tested the SMSL DO300 with a Drop THX AAA 789, connected with both XLR and RCA cables (in the latter case, they were Stager Cables pure silver RCA interconnects).
In terms of pure sound quality, there's not much to say. Which is incredibly positive! From my own listening experience, the SMSL DO300 sounds dead neutral, with no deviation from a straight line throughout the audible spectrum. I can't hear any distortion nor any buzz or hum – SMSL's ultra-low-noise PSU appears to do what it says on the tin. Transients are very fast, just like decay. In other words, the DO300 will not alter your music, which is exactly what you want in a DAC – for it to stay out of the way and just produce music with no audible effect on it.
I cannot tell the difference between all the various filters which are available: if there is any, I feel comfortable saying it is not really audible.
Final Thoughts
The SMSL DO300 is quite a remarkable DAC. It has everything you need in a small, neat package. It offers crystal-clear audio with no distortion or background noise, owing to the ultra-low-noise PSU as well as to the new ESS ES9039MSPRO DAC. It features so many options it is hard to remember them all, which is why the included manual comes in handy. I also quite like that it doesn't colour the sound at all, leaving that task to the headphones if that's what you want. It is the DAC which I will be using from now on for my reviews – take this as my statement about how good I think it is!