What if earphones were not actually earphones? That sounds like a paradox, but it is what happened with the Haylou PurFree Buds. They are in fact small speakers enclosed in earphone shells, which should help fix a lot of issues stemming from having something jammed into your ear canal. This appears to be a new trend among manufacturers, as a lot of them are coming up with such designs – which, however, still show signs of their young age. Let's find out more.
Disclaimer: I received a free unit directly from Haylou.
Packaging & Accessories
The cardboard box only contains the earphones, a USB to USB-C cable and a manual.
Design & Comfort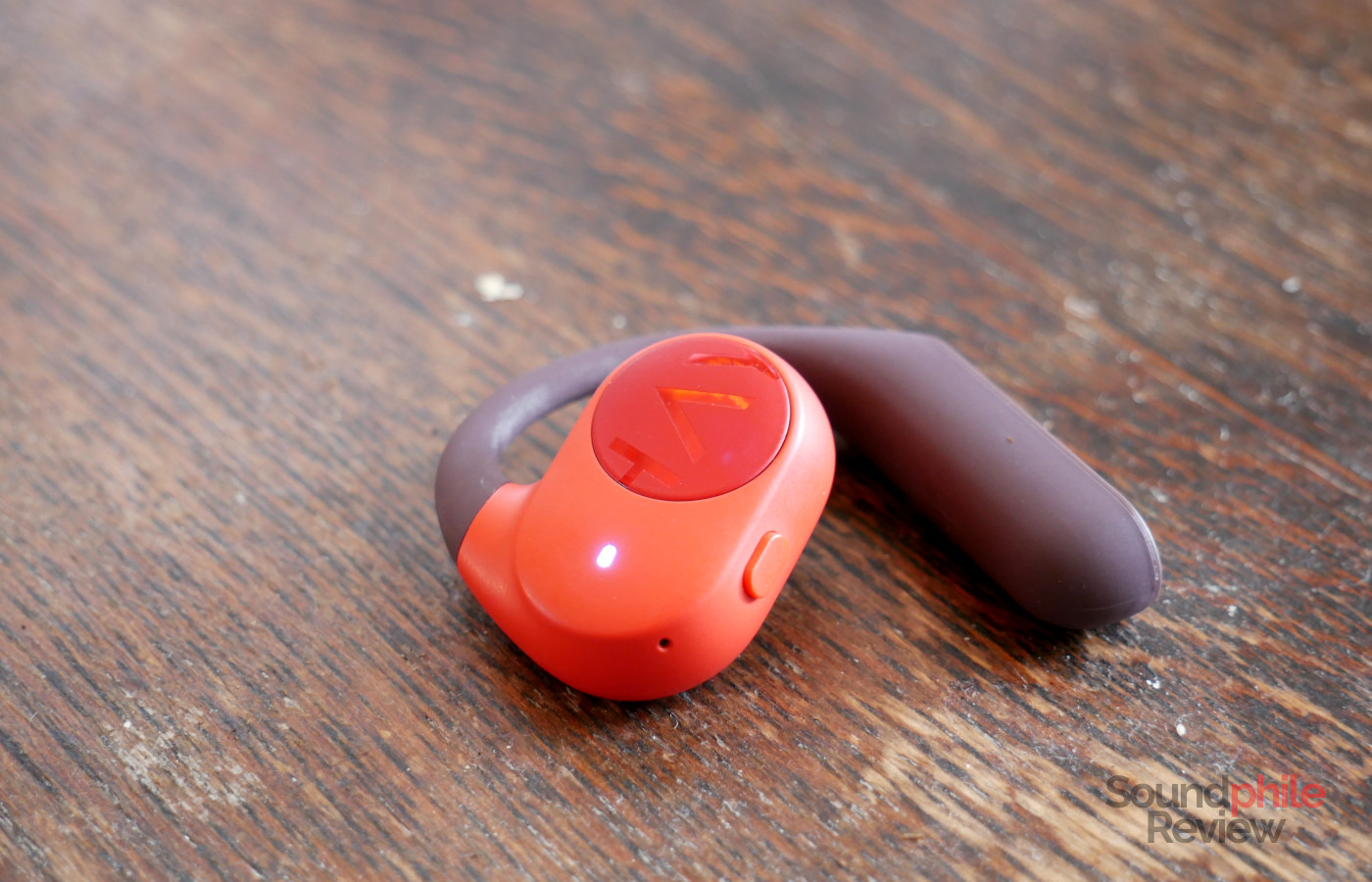 Purely in terms of design, the Haylou PurFree Buds look a lot like conventional sports earphones, just a little larger. They have a hook design that goes around your ear, so they stay put even if you are working out. The main difference appears when you look at the side that goes against the ear, as it is flat. There is just a small hole, which is where the sound comes from. It is rather weird!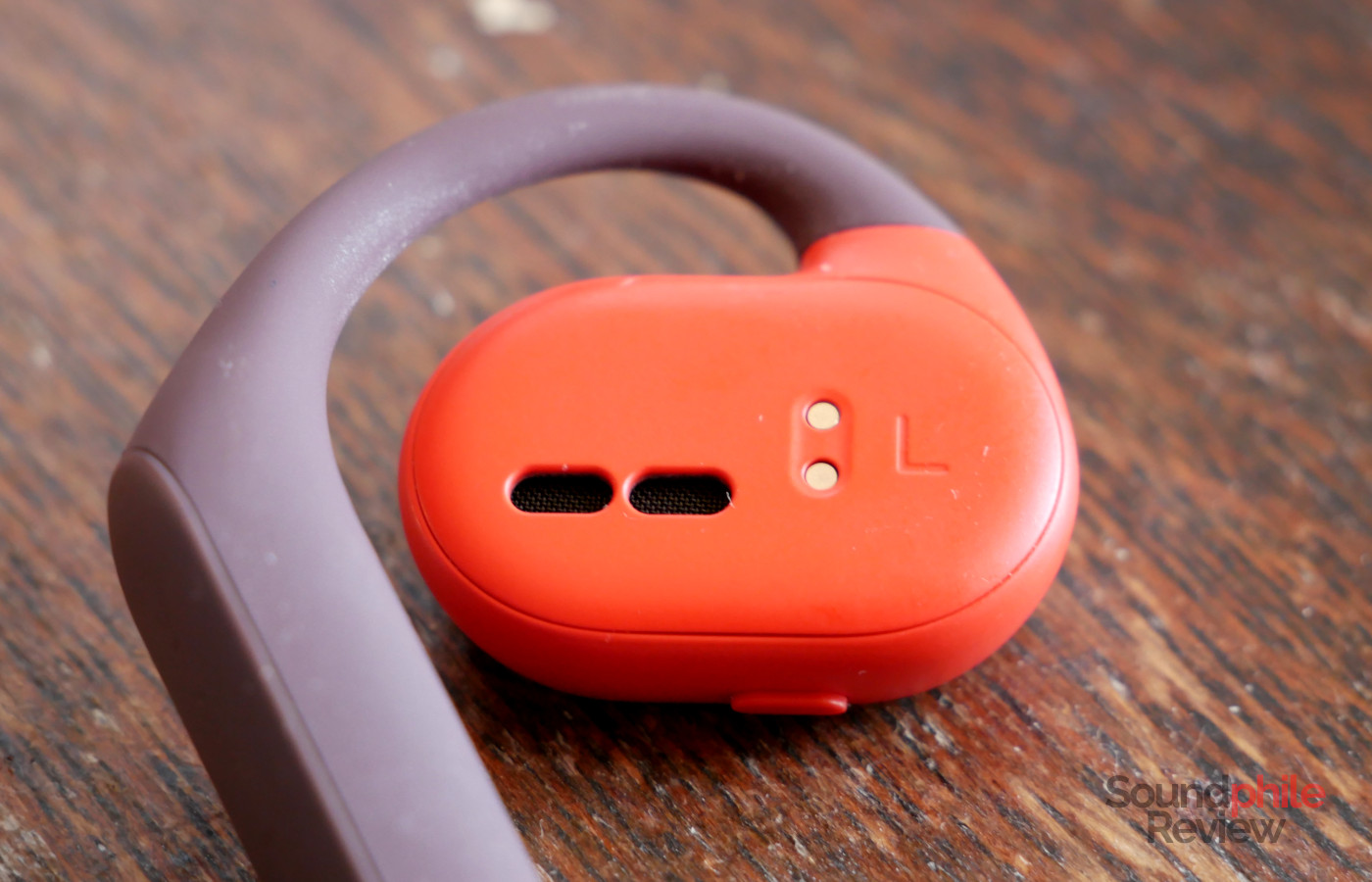 Build quality is rather high, and the earphones look and feel like a premium product that is built accordingly. The earphones are IP55 certified, so they're perfectly able to withstand rain and usage during workouts.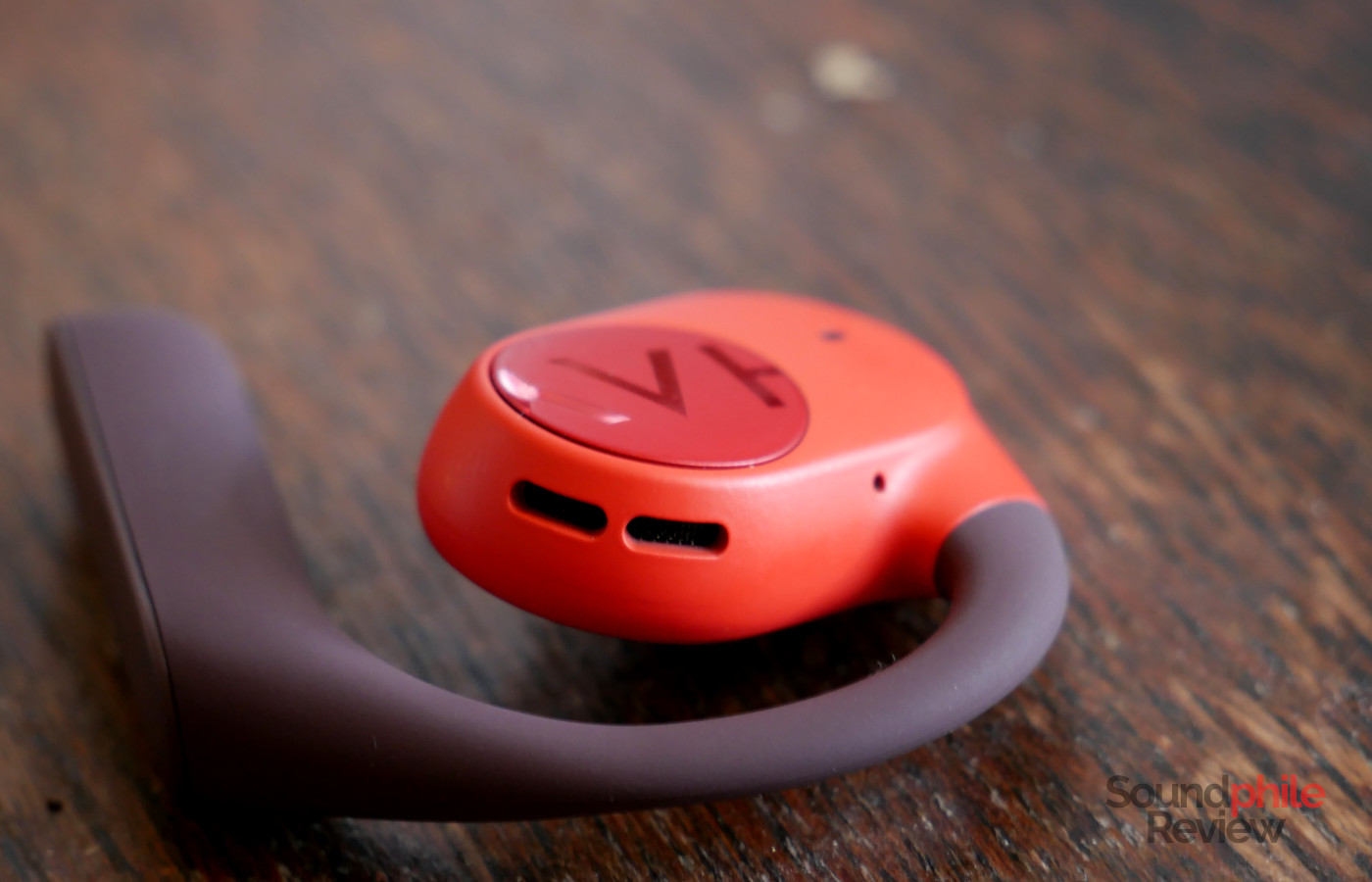 I find the Haylou PurFree Buds to be relatively comfortable, though getting them on is a bit of a challenge. It also takes some time to find the right position. While the hook is bendable, it does not keep the shape you give it, so it tends to press against your pinnae and, in the long run, this may give you a bit of discomfort, especially if you wear glasses like me.
Isolation is, for rather obvious reasons, nihil.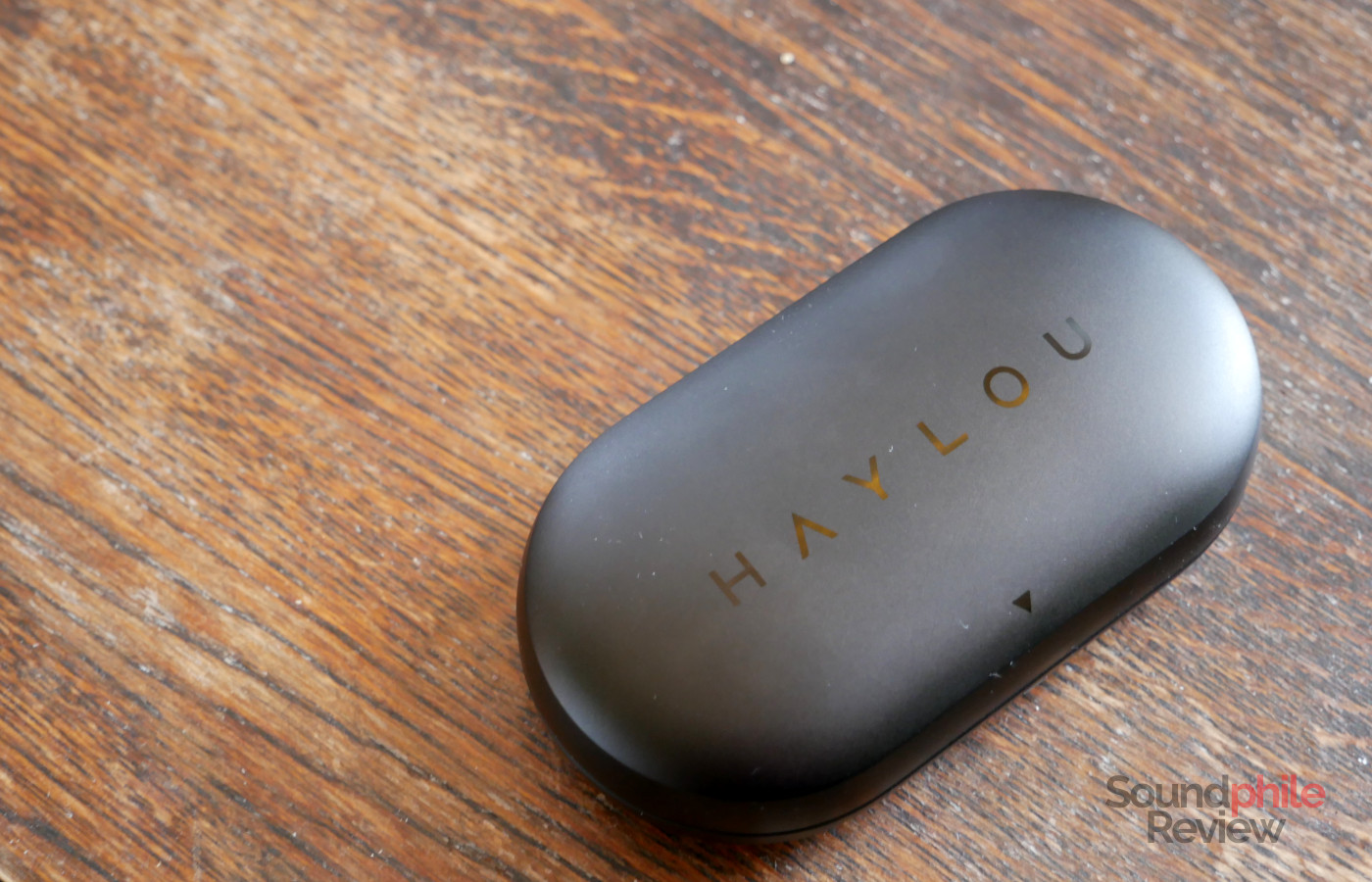 The case is very large in all dimensions: it is in fact around 10 x 5.3 x 2.8 cm, which can rightly be considered "massive" by modern standards. The exterior is entirely made of aluminium, while internally it is made of plastic. It is quite slick and the fact that the two halves do not line up perfectly leaves some space for the colourful plastic to emerge, which gives it a very nice appearance.
Extra Features & Battery Life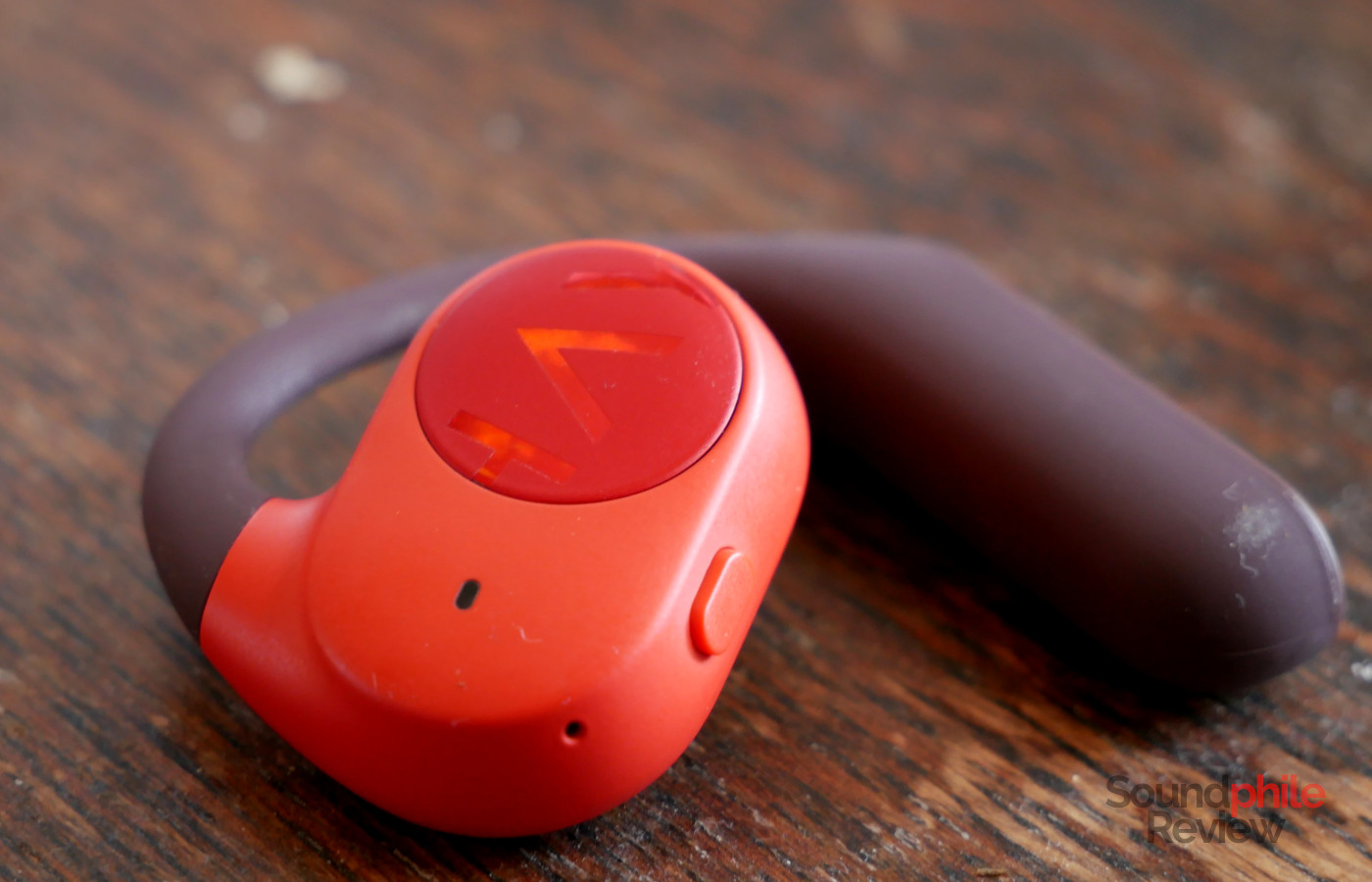 The Haylou PurFree Buds offer compatibility with the Bluetooth 5.2 standard as well as with the SBC and aptX codecs. The connection has average range, which means that I can freely walk around in my room, but I hear stutters as soon as I go outside.
The control scheme is simple: one tap on either earbud plays or pauses music, while tap-and-hold evokes the voice assistant; two taps on the left hand side skip to the previous track and on the right hand side skip to the next track. Clicking the button on the left hand side reduces volume, while on the right hand side it raises it; long-pressing the button turns the earphones on and off.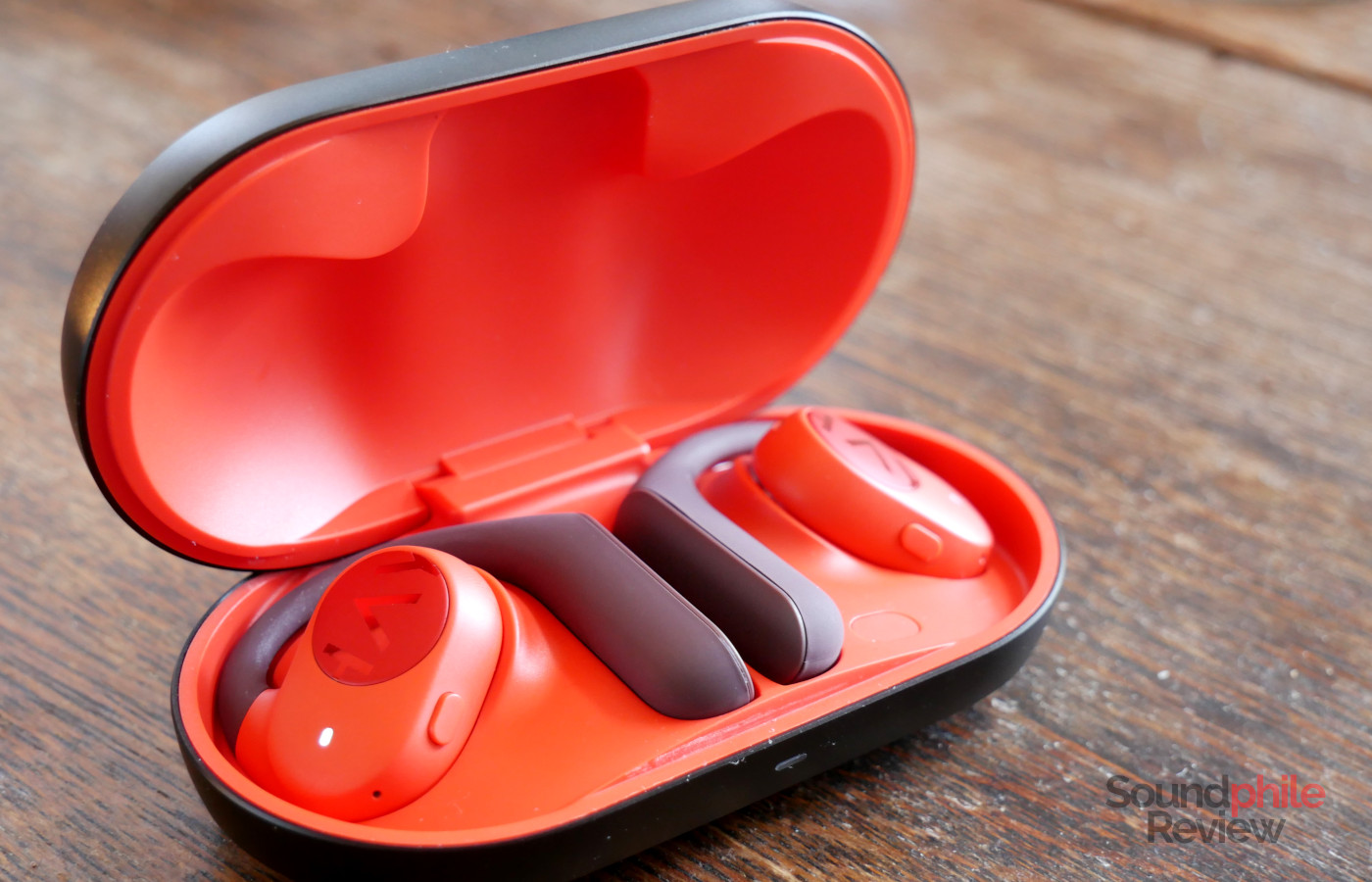 Due to the issues mentioned in the next section, I haven't been able to fully test the claims around battery life. The company says that the PurFree Buds are able to offer 8 hours of playback, plus three further charges which bring the total to 32 hours.
Sound & Specs
I have tested the Hayloud PurFree Buds with a variety of sources, including a Pixel 6 Pro and a HiBy R5.
The thing about the Haylou PurFree Buds is that they are quite… peculiar with the way they sound. They are quite unlike anything else due to their novel way of delivering sound to you. They are basically small speakers residing just outside of your ear canal. The thing is, earphones require to be inside the ear canal because bass needs an enormous amount of energy, and a large diaphragm, to be produced in open air at good volume. If you create an enclosed space, then it is quite a bit easier to produce loud lower frequencies. Taking the earphones out of the ear canal means dealing with an open space though, which means you have to use a lot of power to create those lower frequencies. And that's where the problem is.
In fact, the Haylou PurFree Buds lack bass almost completely. It is somewhat there down to around 150 Hz, but below that it just disappears. The problem is that even above 150 Hz, up until 500 Hz where we are in midrange territory, it is quite weak. That, in turn, means that any other sounds (e.g. noise from your surrounding environment) in that range is going to prevail over those produced by the PurFree Buds. Just walking on the street will obliterate any bass and lower mids, leaving you with just the upper frequencies.
And that's the main issue: the PurFree Buds were quite fatiguing to me because they only presented me with the higher frequency component of music, which can be perceived as incredibly aggressive if it is not inside a mix with lower frequencies. I am not an expert in neurology, but I guess that it has to do with how our brains are wired – for the same reason, even bass-only and mids-only speakers achieve the same effect of giving you fatigue.
Given this, the Haylou PurFree Buds aren't really suitable for music listening. They are good if you want something to use for calls, but that's about it.
Final Thoughts
The concept behind the Haylou PurFree Buds is extremely interesting and it actually got me excited: the idea of having de facto small speakers on my head that could give me even more of that spacey, huge soundstage that actual loudspeakers can provide was indeed intriguing me. Expectations were then tampered by reality, though. The PurFree Buds are really not meant for music listening, not even when doing sports. They are absolutely fantastic for taking calls, but that limits their possible uses. When it comes to music, the almost complete absence of bass makes them unpalatable to most people as well as quite fatiguing, at least to me.
As a side note, I do quite like how Haylou reacted to my criticism. I gave them my impression of the earphones before publishing the review and they reacted by acknowledging the limits of the technology and asking for advice on how to improve the product. While I do not believe I can ultimately help them with practical recommendations (after all, I am not an engineer, unfortunately), I appreciate that my feedback was taken seriously – something that's not so widespread.