Design is certainly one of the most interesting and relevant legacies we got from the so-called "Space Age" of the late 1950s up to early 1970s. That design is surely one of the most recognisable styles  ever and it still inspires designers to this day, as the TRETTITRE TreSound Mini demonstrates. As for sound – well, that's another story.
Disclaimer: I received this unit directly from TRETTITRE for free. The TreSound Mini retails for $229. You can buy it on TRETTITRE's official website and using the code SPR10OFF you can get a 10% discount.
TL;DR: recap
Pros




Cons

+ Look and feels like a luxury object

+ Exquisitely built and designed

+ Plenty of volume for such a small speaker

– Sound quality could definitely be improved
Rating: 6/10
Packaging & Accessories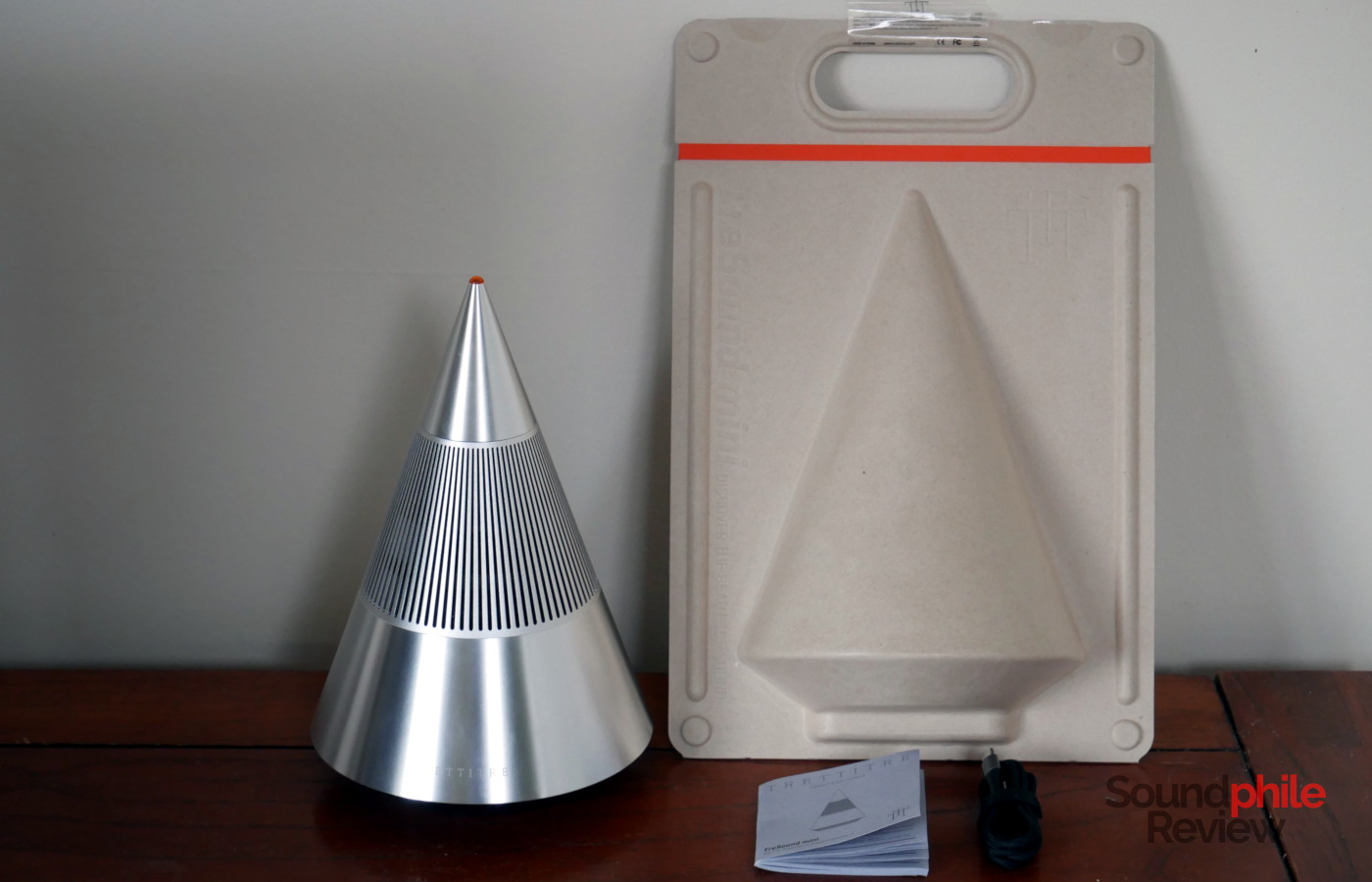 I'm not usually one who's sensitive to packaging, unless it is badly made, but TRETTITRE has done something really special here. The TreSound Mini comes in a… box? Solid bag? I don't know what to call it. It is a bag-like box which is a bit as if they used vacuum bag around the speaker and then solidified it. It looks incredibly cool! The box is held close by a large elastic band and contains the speaker itself, a USB-C cable to charge it (it has USB-C connectors on both sides) and a manual.
Design & Build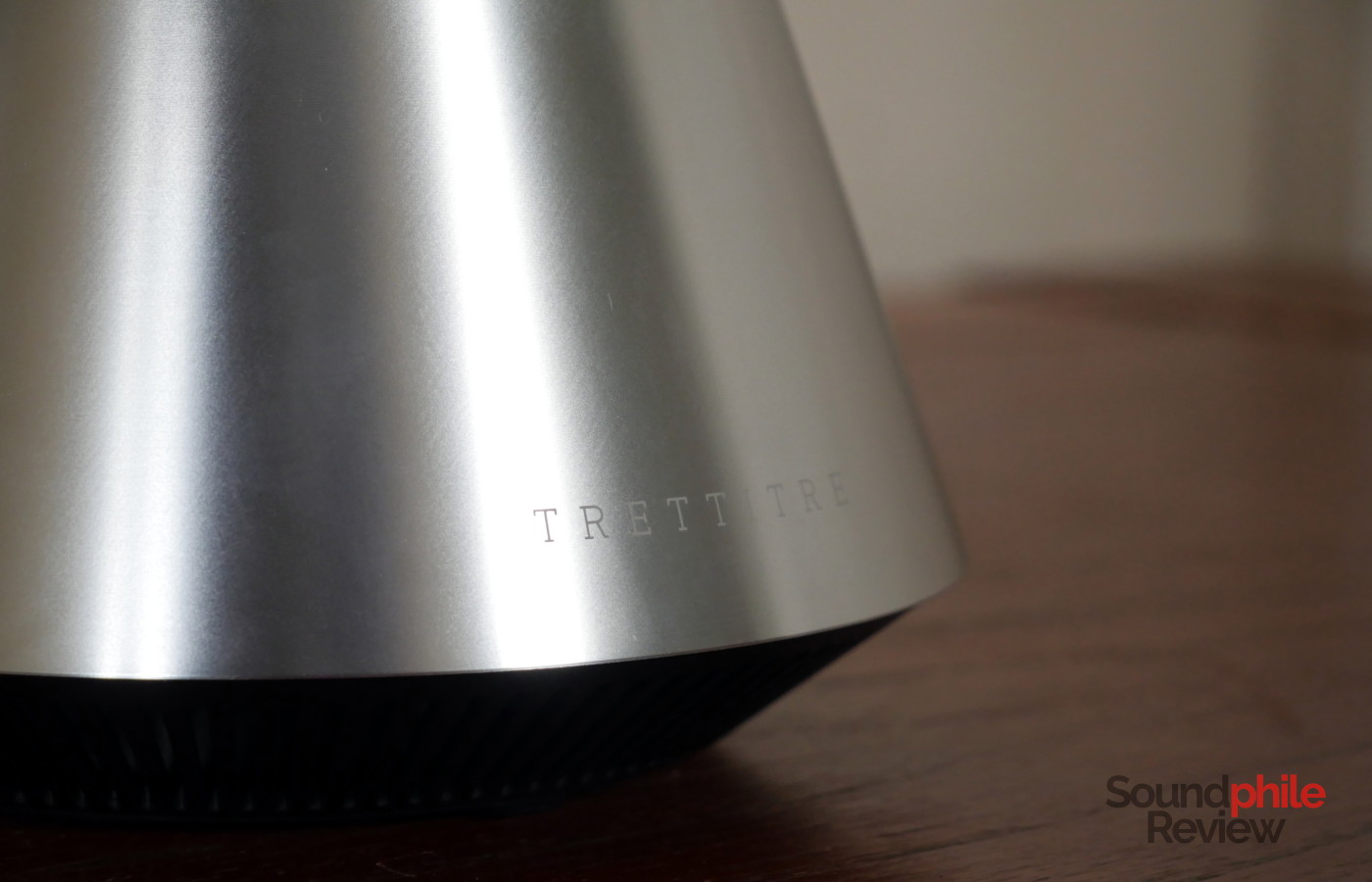 The TRETTITRE TreSound Mini is, like the name implies, a close relative of the TRETTITRE TreSound1. The overall design is basically identical: the speaker has a conical shape, with the middle region characterised by vertical slits from where you can see the two drivers and the diffuser. The drivers are placed horizontally: the bottom one is the woofer, while the top one is the tweeter. There is a faint orange light which turns on when the speaker is powered on and which adds a tube-like glow to the whole thing. It does make things look as if it was an analogue device from the '60s or the early '70s, as I mentioned in the introduction.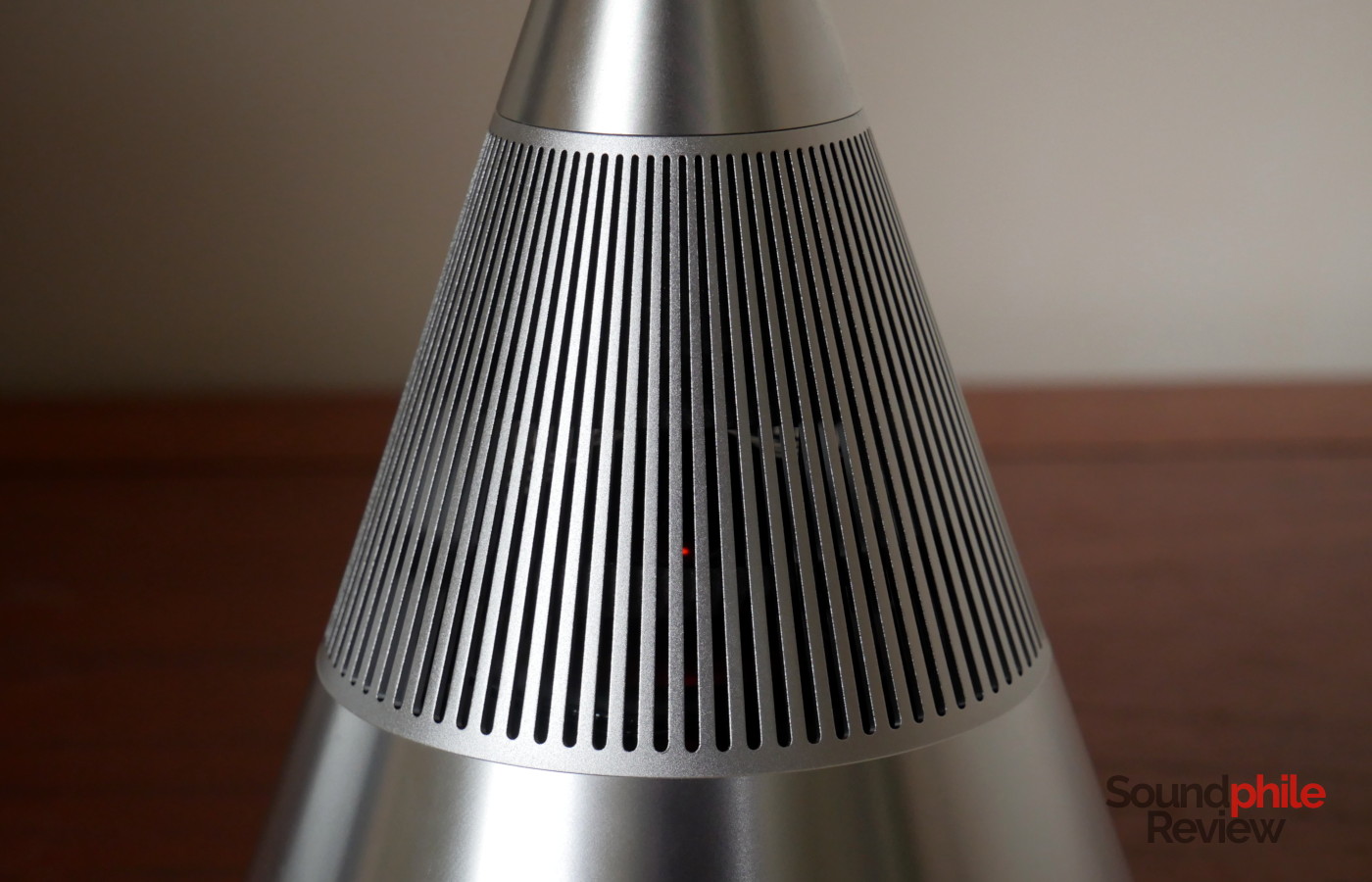 This analogue, Space-Age-like look is betrayed by the fact that the bottom hides LED lighting which turns on as soon as you power on the speaker. This lighting is quite soft as the designers adopted a nice trick: they placed the LEDs on the bottom facing upwards, where the passive bass radiator is; this means that the light you see is actually reflected off of this surface, which is why it is soft and even.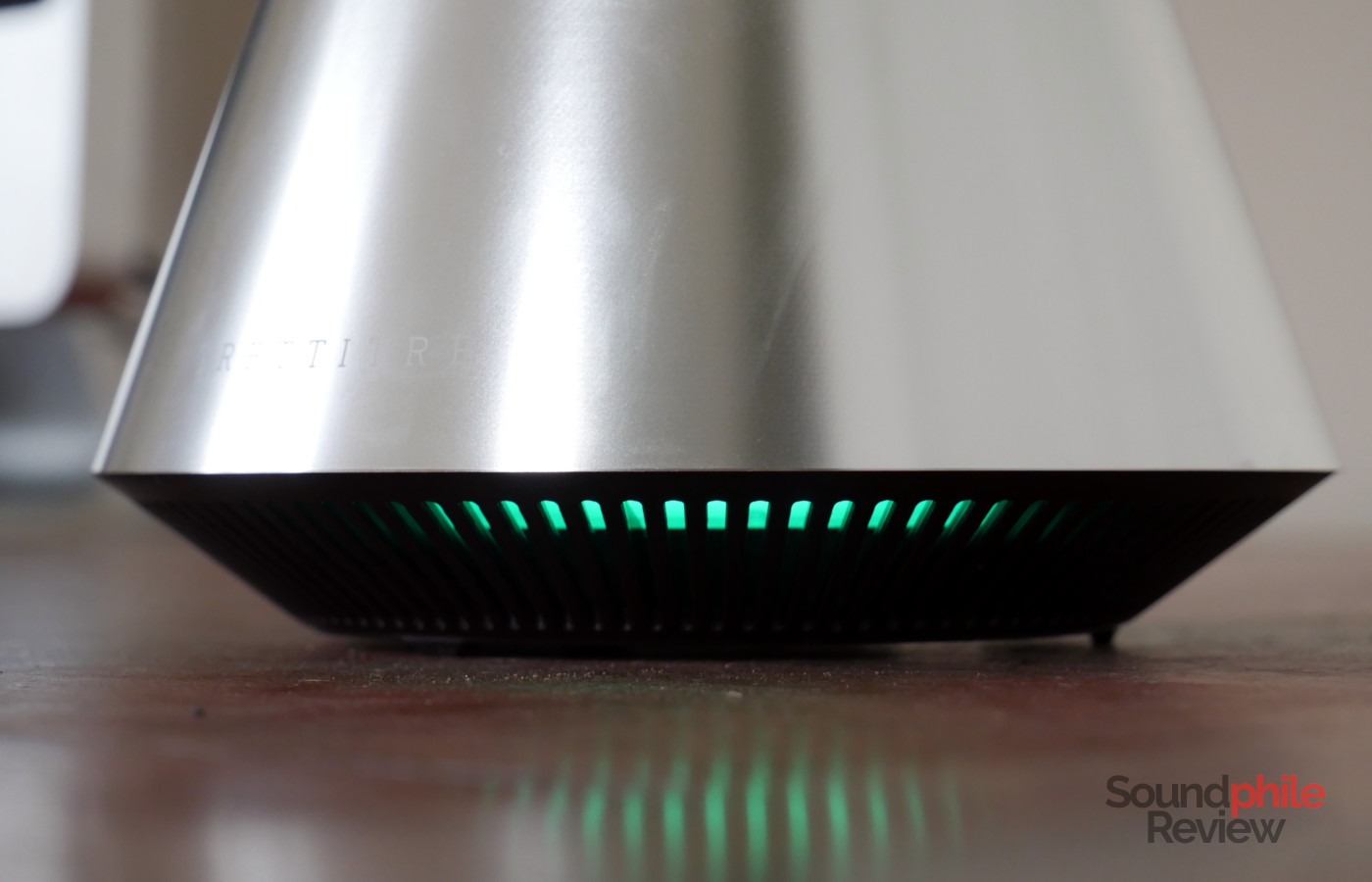 The cone itself is made of aluminium, which comes in four colours (natural silver-like, gold, blue and black). It is exquisitely made, with a consistently smooth surface. The base, as well as the rest of the frame, is made of plastic. The top has a transparent orange plastic bit which is sensitive to touch and which is used to interact with the device. There are three rubber feet at the bottom which isolate the speaker very well from the surface it rests on. In fact, very little vibration is transmitted.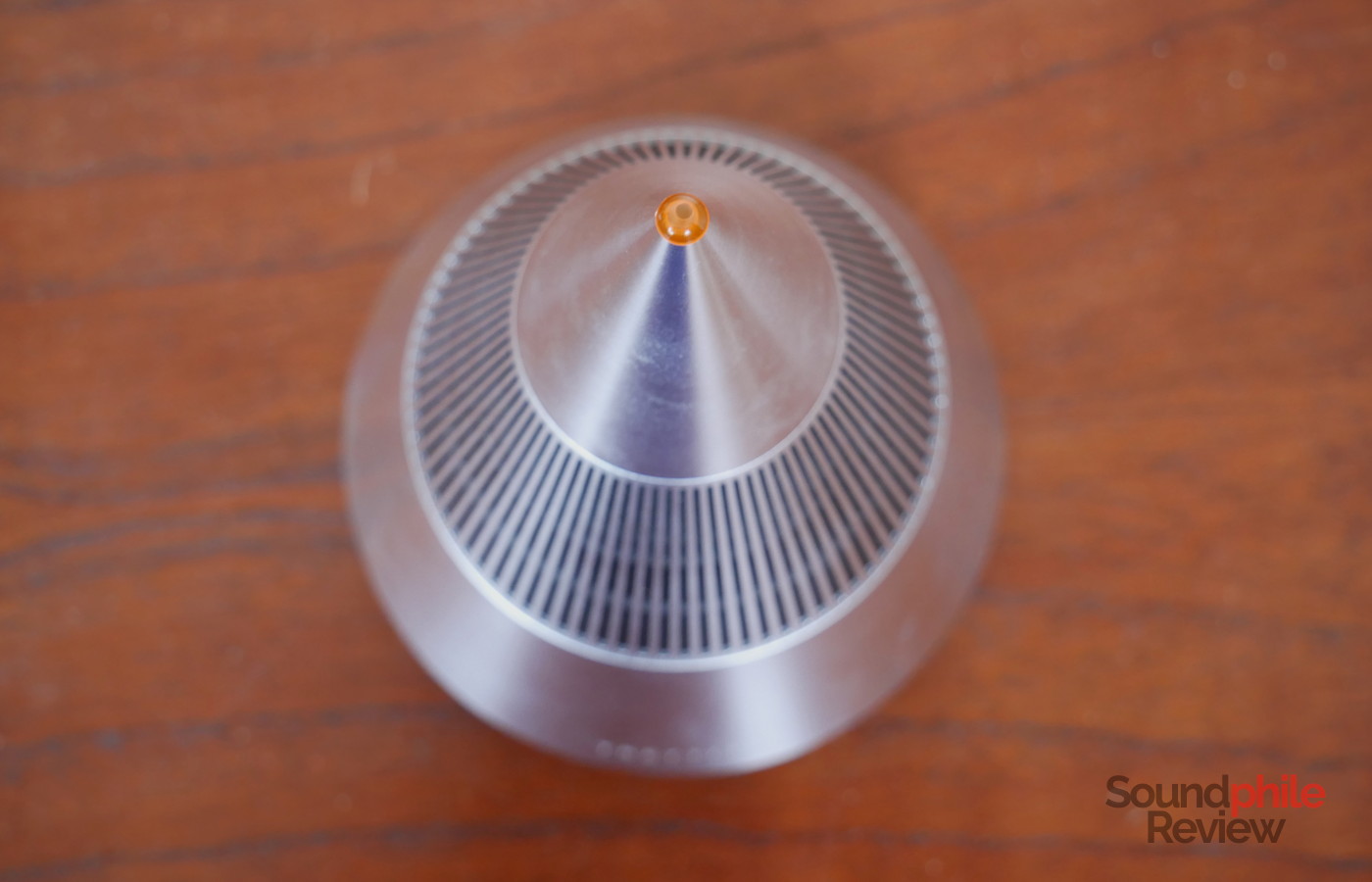 Build quality is exceptionally high and places the TreSound Mini firmly in the "premium" tier. This is meant as a luxury object and it shows, as care is clearly paid to small details.
There is a USB-C port on the base, at the back (although talking about "back" and "front" with a conical object doesn't make too much sense… I guess it's the port itself that defines that?), together with two buttons to adjust the volume as well as one to enable pairing with another unit to obtain a TWS setup.
Extra Features
The TRETTITRE TreSound Mini features compatibility with the Bluetooth 5.3 standard, but unfortunately it doesn't offer any high-quality codecs: it is in fact limited to SBC. The range is quite extended and I can take it with me around the house while it's connected to my computer with no interruptions or stuttering in the music.
The TreSound Mini features LED lights which you can change by tapping once on the summit: you an cycle through white light, coloured cycle and off. Two taps on the top pause and play the music.
Battery Life
There is a large enough battery on he TreSound Mini to allow it to run for about 10 hours at 50% volume (which, trust me, is very loud!). I can confirm that this figure given by the manufacturer is in fact accurate, with minor variations caused by the specific differences in usage.
Sound & Specs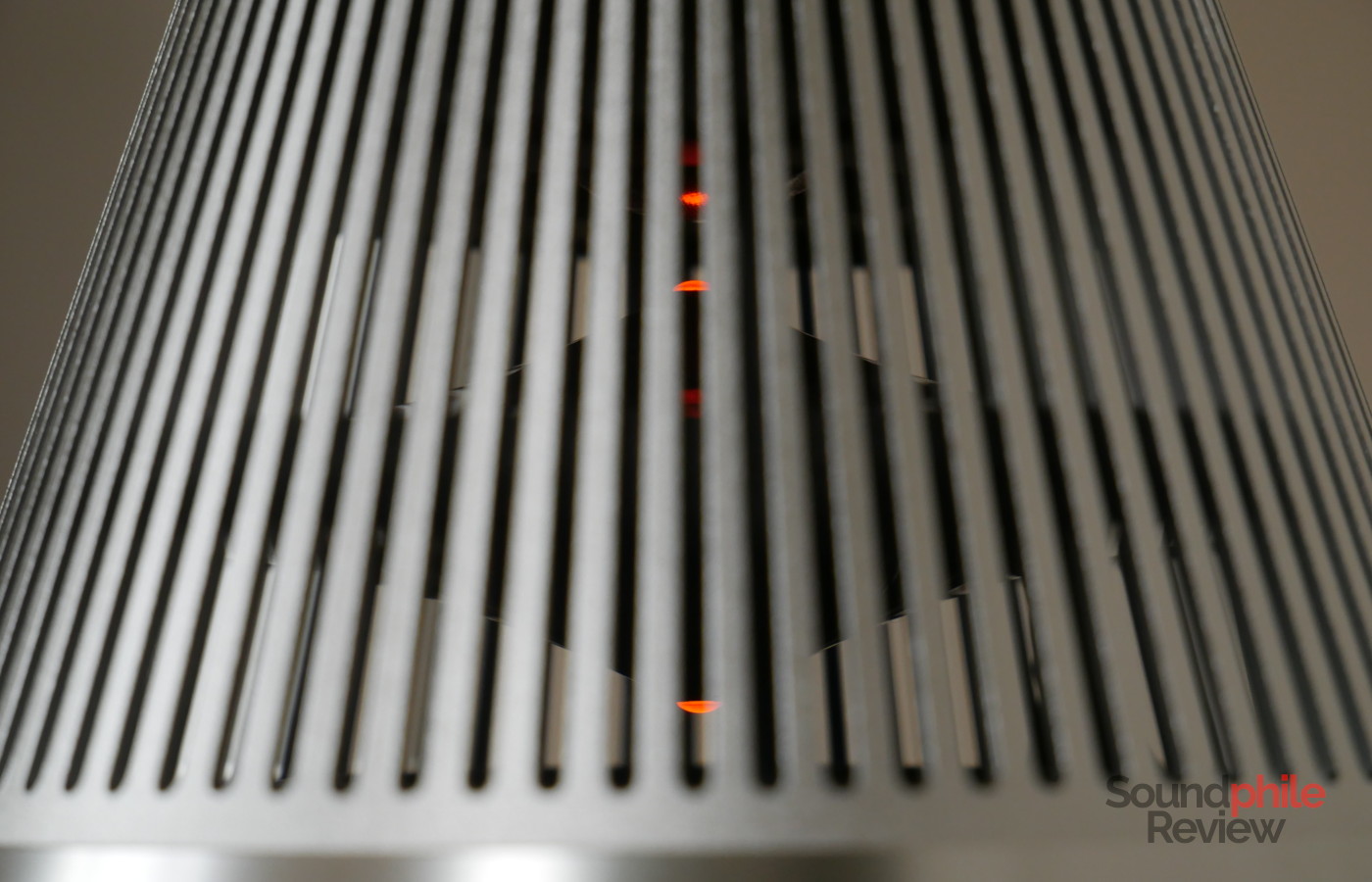 I have tested the TreSound Mini with both my desktop computer and my Google Pixel 6 Pro smartphone.
| | |
| --- | --- |
| Frequency response | 50 – 20,000 Hz |
| Power output | 30 W |
| Maximum SPL | > 92 dB |
| Connections | Bluetooth 5.3 |
| Codecs | SBC |
| Driver type | 1 woofers, 1 tweeters, 1 passive radiator |
One bit that is worth mentioning is that, no matter the source device, I always seem to hit a half-second lag when I start playing a track, which can be quite irritating when said track has a strong attack in the first second (e.g. Snarky Puppy's Chonks).
Soundstage and imaging are completely lost on an omnidirectional speaker like the TreSound Mini. The upside of this, however, is that you are going to hear the exact same thing wherever you are in the room. Instrument separation is a bit of a hit-and-miss, but the TreSound Mini are not meant to reproduce complex, layered tracks and they do not excel at that.
While the challenges of creating a portable speaker are significant and any product is always the result of compromise, I find that the compromises that were made here are a bit too much on the side of design rather than on that of sound quality. While the TreSound Mini does have some positive qualities, the tuning has some issues.
Let's start with the good things. On the positive side, bass is quite deep for a speaker of this size and can reproduce even difficult tracks like Massive Attack's Angel or Solar Fields' Cobalt 2.5 with decent results for this type of speakers. Bass hits with quite some force, which is significant given the size – despite which, the TreSound Mini can easily fill a mid-sized room; coupling two speakers can surely be enough to fill even a large room. Detail is sufficient throughout the whole spectrum.
On the other hand, though, bass is overly boosted, with the result that most tracks sound dark and muddied. Take Queen's Innuendo: the drumbeats at the beginning only have the bass component, rather than being crisp and clear. Voices and guitars suffer the same fate: the chorus around the 3:00 mark has the voices presented as made of just the lower component and the upmost one, making them sound unnatural; same with the following classic guitar solo as well as the iconic "surrender your ego, be free, be free to yourself" passage later. These same remarks apply to other tracks as well, like AC/DC's Highway to Hell or Fleetwood Mac's Dreams, where the female vocals sound shrill and overly emphasised in their upper-end component. You can clearly hear this in Cesare Cremonini's Maggese, as his voice is overly sibilant and "breathy". This is because there seems to be an issue with how midrange is portrayed: it is heavily V-shaped, with some emphasis on the lower area caused by the overly present bass which then dives to a trough in the middle area followed by a very steep slope in the upper area, which in turn leads to over-emphasised instruments which operate in this region (e.g. trumpets, electric guitars, violins…).
This brings us to another issue with excessive emphasis when moving further upwards. Treble is, in fact, overly prominent, especially in the area above 10 kHz: it sounds very aggressive and piercing, no matter what track the speaker is playing, as long as there are cymbals and hi-hats. This makes most tracks very fatiguing to listen to.
Given its sonic qualities, the TreSound Mini can be thought of as a speaker for specific genres. It does a great job with many electronic music tracks I've tried (e.g. The Prodigy's Smack My Bitch Up), and it generally seems to do well with modern genres; acoustic and vocal music, however, seems to suffer due to the peculiar tuning which make the midrange behave weirdly.
Final Thoughts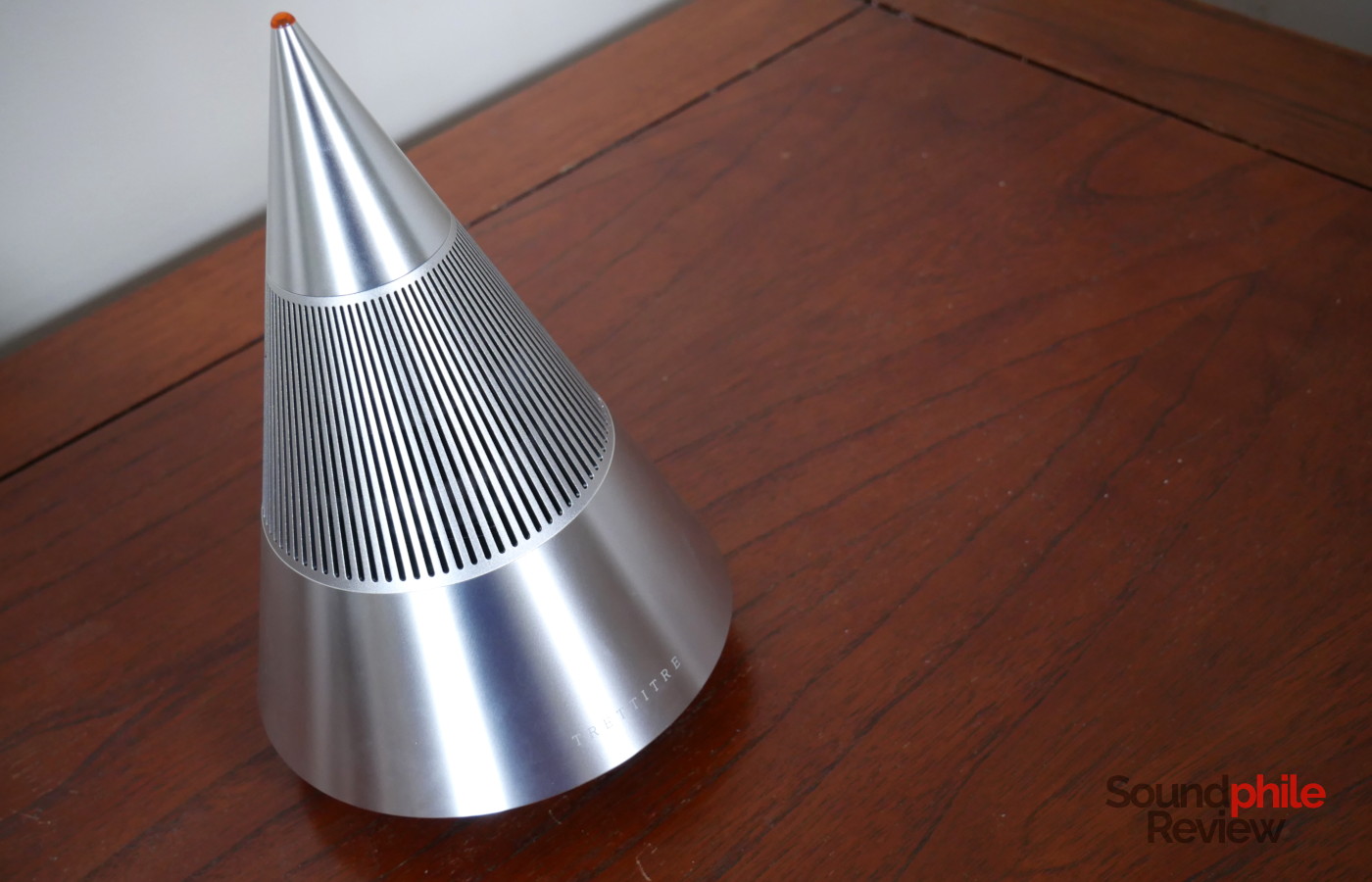 The TRETTITRE TreSound Mini is a superb design object, with great design and exquisite build quality. Unfortunately, despite these fantastic qualities, it requires some work when it comes to sound. It does a great job playing some specific genres, thanks to punchy and deep bass, but it won't satisfy demanding listeners for anything involving acoustic instruments or voices unless you use heavy equalisation. This makes the TreSound Mini a bit of a one-trick pony, which isn't exactly the best at the price it is sold at. If you want to equalise it, or if you like its natural tonality, it can be an option among omnidirectional Bluetooth speakers; however, if you are looking for something capable of reproducing different genres with equal ability, the TreSound Mini can be a bit of a disappointment.
There surely isn't an equivalent on the market when it comes to looks, so I can certainly (re)commend it for its incredible design and superb build quality.