Equal parts piece of furniture and loudspeaker, the TRETTITRE TreSound1 surely does its best to impose itself to your attention. Despite its very Italian sounding name (with "tre ti" meaning "three Ts", a reference to the company's logo), the TreSound1 comes from China and targets the very upper end of the market with its conical shape and omnidirectional sound.
Diclaimer: I received this unit directly from TRETTITRE, free of charge. They sell the TreSound1 for $649. You can get an additional $50 off using the code AJ888R75Q70C.

TL;DR: recap
Pros




Cons

+ Unusual, unique design

+ Exceptional build quality

+ Reaches sub-bass depths despite its size

+ True omnidirectional sound

– Sound can get a bit muddy at times

– High price
Rating: 7/10
Packaging & Accessories
There's not much to say about the packaging, as the gargantuan heavy cardboard box the TreSound1 comes in is quite utilitarian. Inside it there's two large pieces of polystyrene which encase the speaker and a small felt bag which holds the power cable and the power supply unit.
Design & Build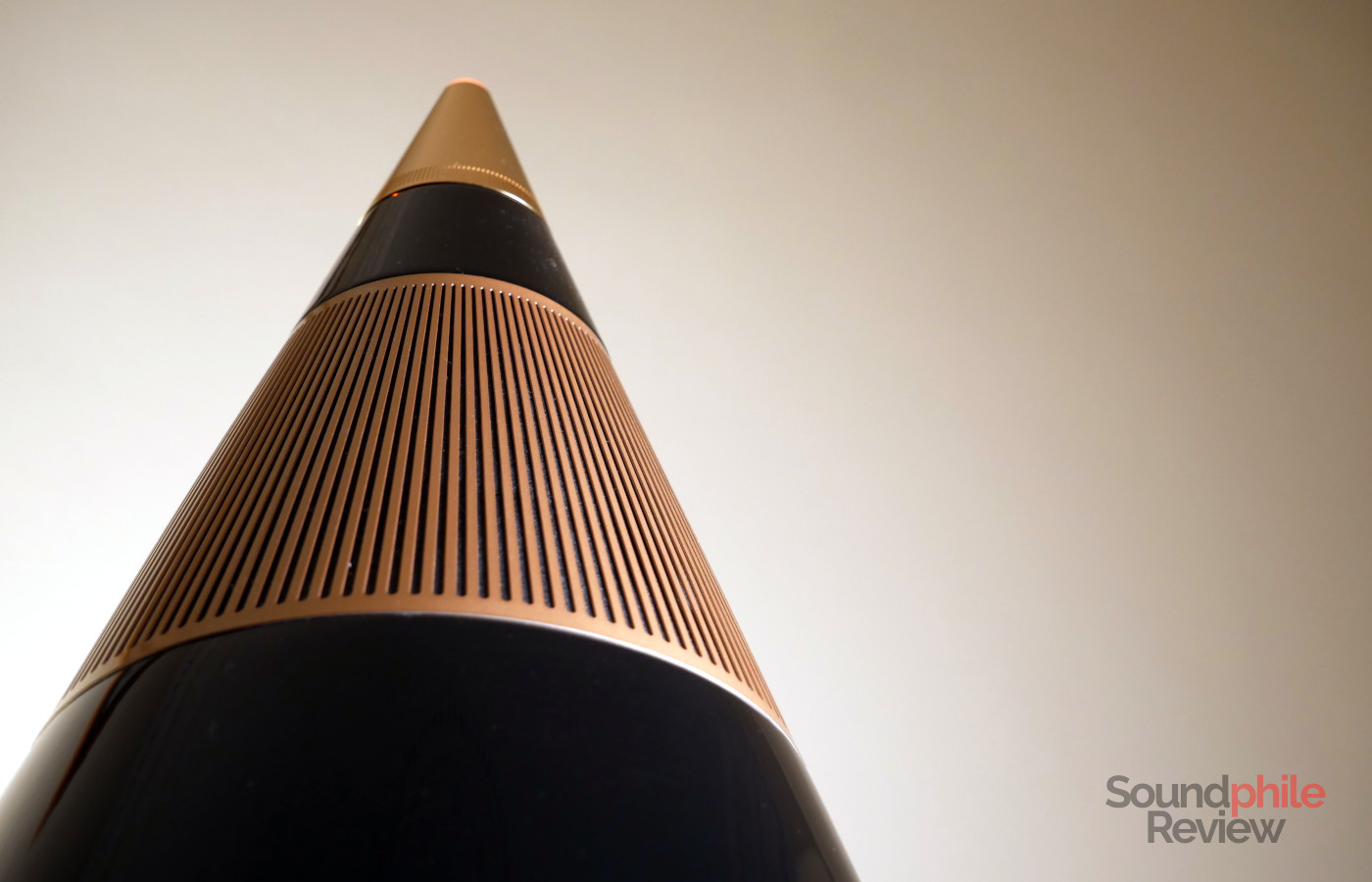 The thing that really distinguishes the TRETTITRE TreSound1 is without a doubt the design. Its conical shape is quite unique, but on top of that we have to add the metal bits and the lacquer finish. All combined, these elements make the TreSound1 quite the looker. The top bit is made with a metal cone with a small plastic bit on top: that's where the status LED is. The metal cone itself serves as the volume wheel; rotating it turns the device on. Under this there's a small lacquered ring and then we find a (plastic) grille which hides the tweeters and midrange drivers. The base is made of solid metal (iron, judging from the weight of it) and detaches the body of the speaker from the ground, as there is a downward-facing bass driver on the bottom of the main chassis.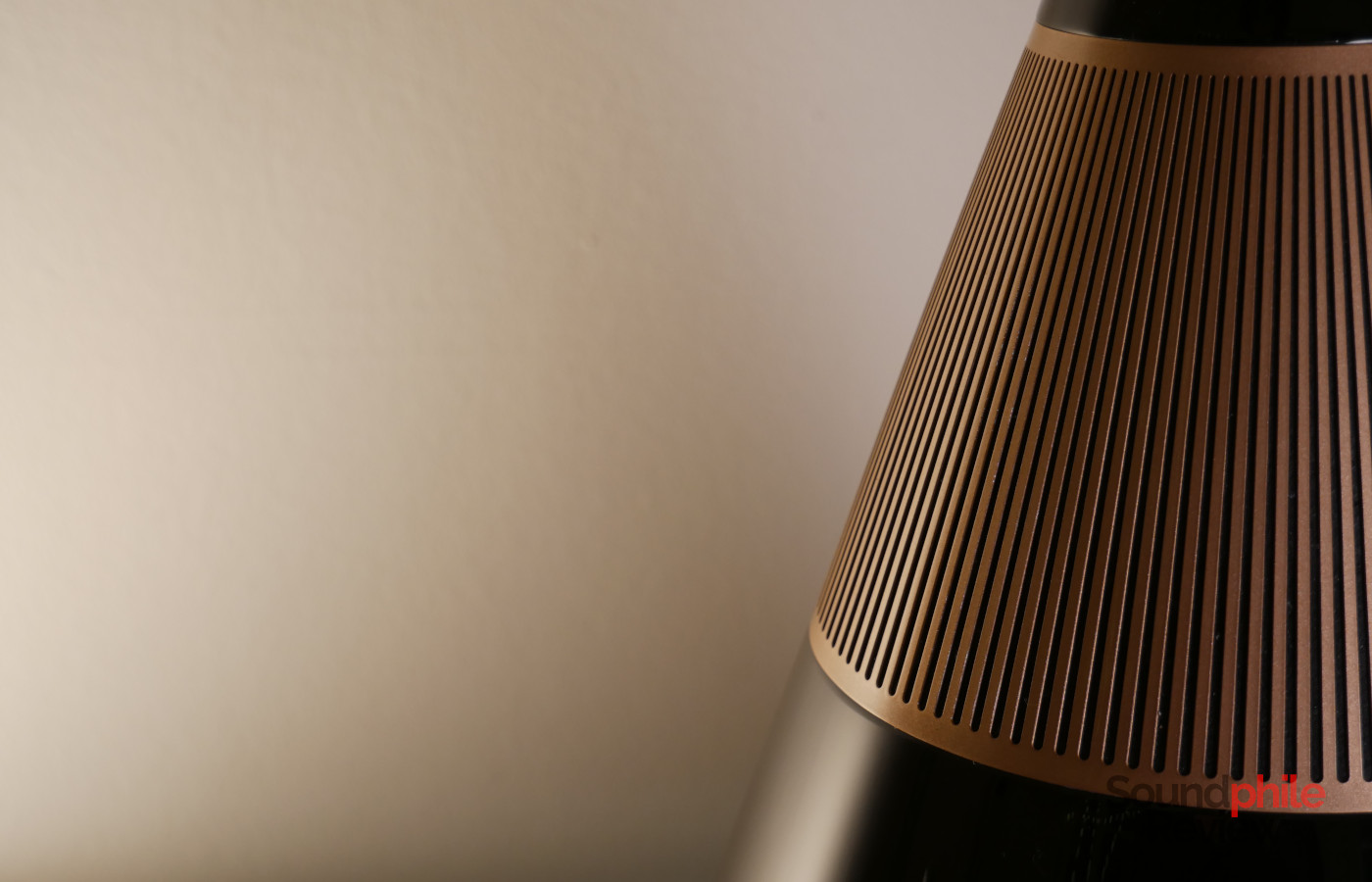 It's here, at the bottom of the chassis, that we find the power connector as well as a reset button and a 3.5 mm aux port. These are the only physical connectors on the speaker. There are also LED lights in the base, which further add to the "piece of luxury furniture" bit I mentioned previously.
The finish screams "luxury" and really sets the device apart. It looks like a piece of luxury furniture, and I mean this as a compliment. The lacquer is spotless and the TRETTITRE text imprinted on it is very well done. The colours are chosen with taste and so are the materials.
Extra Features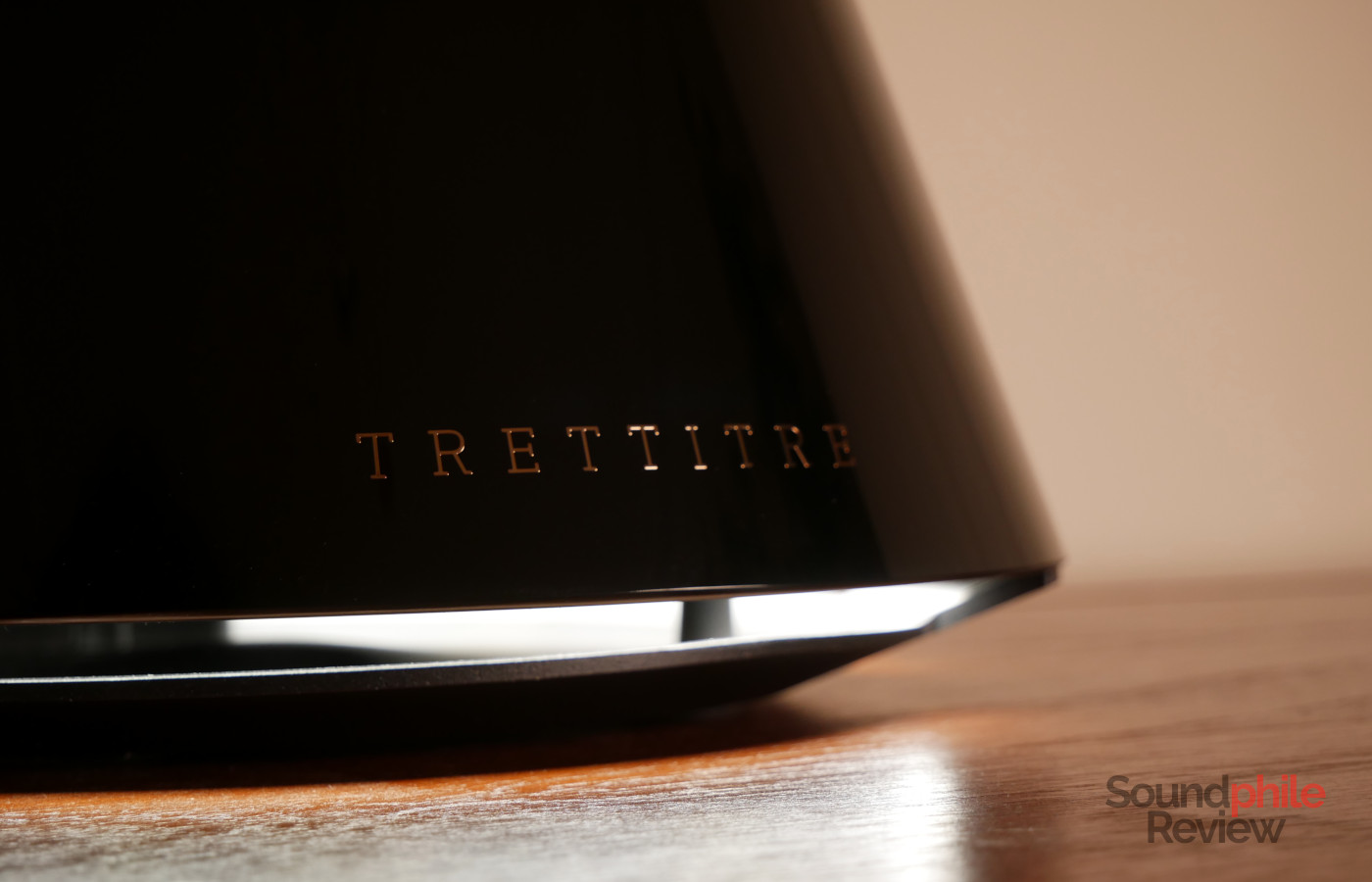 The TRETTITRE TreSound1 supports the Bluetooth 5.1 standard with the SBC, AAC, aptX and aptX HD codecs. Although there's no support for more advanced codecs like LDAC, this is still quite a good range of codecs. Speaking of range, the TreSound1 offers a very good connection range and I can move the source device (in my case, a Google Pixel 6 Pro) quite a bit far from it before there's any stuttering or other issues.
Although the volume knob on top spins continuously, the volume itself is adjusted in steps with quite an audible difference between them – sometimes one is too high and the next is too low. You can play around this by setting the volume on the source device as well, as the two are not linked.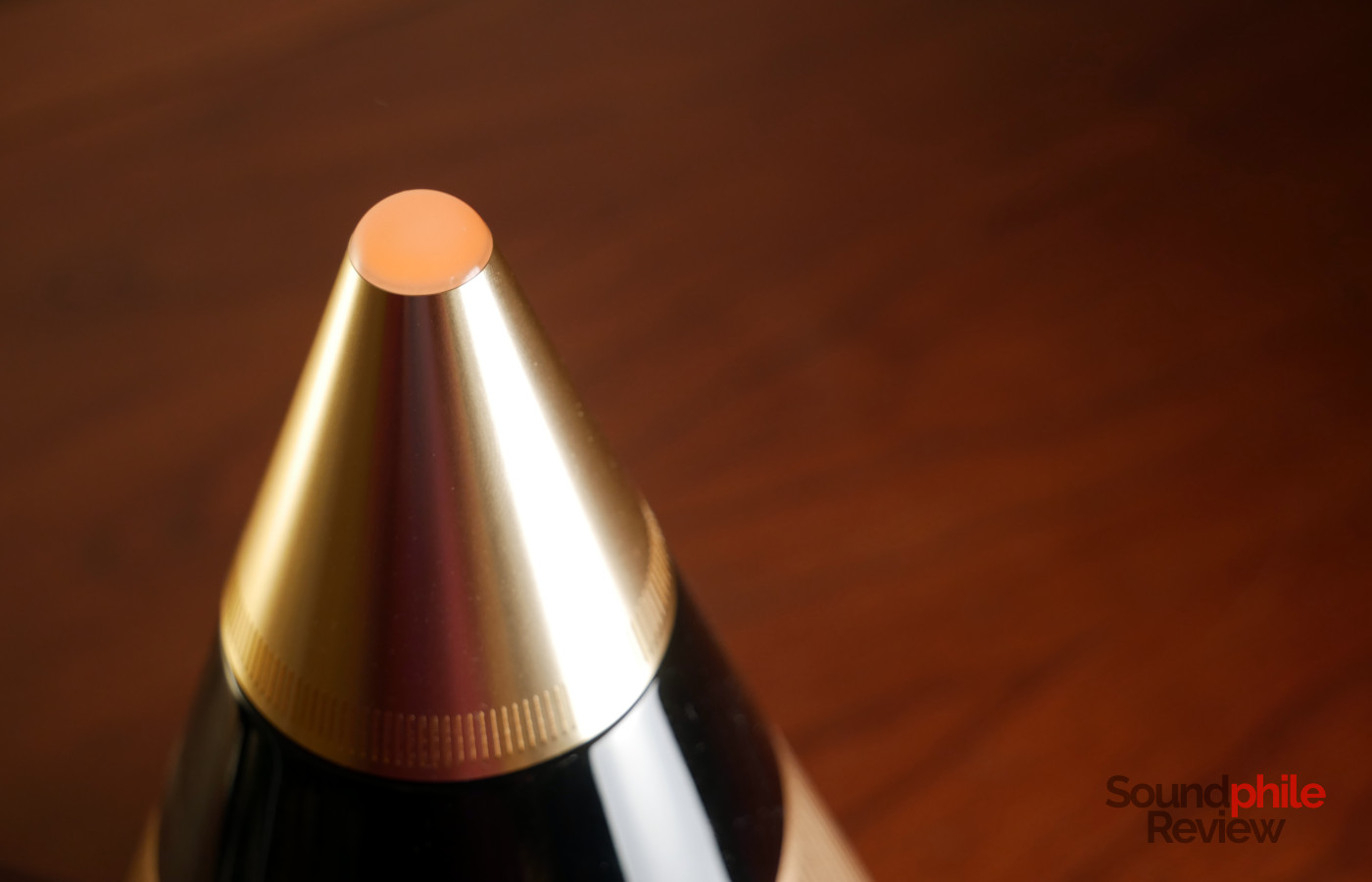 Contrarily to many Bluetooth speakers (like e.g. the Gravastar Mars Pro), and understandably given the size and weight, the TRETTITRE TreSound1 is not really portable in the sense that it doesn't have an internal battery and requires to be plugged in at all times to function.
Sound & Specs
I've tested the TRETTITRE TreSound1 using both my computer and my Google Pixel 6 Pro.
It is a bit pointless to talk about soundstage and imaging on a device like this. On the other hand, instrument separation is generally good, though there are tracks where there's a bit of a mishmash – more on this below.
Bass is quite impressive on the TRETTITRE TreSound1 as it goes quite deep and goes well into sub-bass territory. When listening from a couple of metres away, it sounds well-balanced, if a bit strong; when listened to from close up it definitely sounds overwhelming. Then again, the TreSound1 is not meant to be used while sitting next to it. Detail is, considering the size and target of the speaker, surprisingly good, while speed is decent. There are some issues, however, which emerge clearly with complex, layered tracks: bass becomes a bit mushy and loses coherence; in some tracks, like Audioslave's Cochise, you can clearly hear that bass is almost cut off when mids kick in.
This is something that we can find in the midrange as well, with tracks such as Queens of the Stone Age's Medication where the lower section sounds muted and dampened. With less dense and layered tracks, though, the TreSound1 really shines: Enya's A Day Without Rain sounds fantastic. Voice is rendered quite well for both male and female singers. The level of detail is quite good, too.
Treble is quite rich and offers quite a bit of detail, but it can sometimes be a bit aggressive. In general it is well balanced internally, with quite a good extension that makes it varied and light; looking at the whole signature, though, treble comes out as quite emphasised, so that more treble-sensitive people will probably find it a bit too much.
Despite my best efforts, I couldn't find a way to equalise the TreSound 1 to make it sound flatter and more neutral. I thought there was a physical reason for this, the use of one single chamber for all drivers, which would explain why there is often the sensation that the sound is muffled and muddied; however, this is not the case. EQ'ing a lot of bass out does make things significantly better, although it introduces other issues (like making mid-high instruments such as trumpets and violins piercing).
Having said that, there is actually a lot to like about the TreSound1. As a speaker meant for entertainment rather than critical listening, it is actually quite a great device. It fills even big rooms with sound and its conical shape means that you will hear the same thing wherever you are in the room. It's definitely not groundbreaking technology, as there are multiple products that feature this type of design, but it is done quite well: there's very little change in what you hear if you move around, which is exactly the point of this type of speakers. The fact that it can pump out a lot of volume makes it only more interesting for its intended purpose.
Final Thoughts
The TRETTITRE TreSound1 is a great speaker with a lot to like and a few drawbacks. It is definitely impressive in its ability to deliver powerful sound in every direction. Its unusual design is a great way to conceal the technical choices behind the way it works and is surely going to turn heads. It is as much a speaker as it is a piece of furniture to decorate your home (or office). Despite its relatively small size, the TreSound1 is able to fulfil a room with sound, which is no small feat. Its simplicity and straightforwardness are, in my opinion, pros.
Overall, I find the TRETTITRE TreSound1 to be quite an interesting speaker that fits a peculiar niche. Its high asking price is counterbalanced by an exceptional build quality, while its sound is sure to please many.