One thing I remember from when I was an adolescent was that the first gaming devices were making their appearance on the market and they were absolutely gaudy, as their design was excessively aggressive. That kind of aesthetic was also reflected in gaming PCs with neons and neon colours – it was all very colourful. This kind of attitude towards design hasn't faded and we still see its legacy in products marketed towards gamers like the GravaStar Mars Pro, a Bluetooth speaker that appears to be straight out of a videogame. It's almost uncanny and it definitely looks like it's about to jump off the desk and hit you, but luckily that's not the case – it will only hit you with its bass (sorry, I had to do this.).
Disclaimer: I received the Mars Pro free of charge directly from GravaStar. You can get an additional 20% discount using the code SOUNDPHILE (16% after 31st of May 2022).
TL;DR: recap
Pros




Cons

+ Incredible design

+ Very well built

+ Immersive sound for games

+ Long battery life

+ Stable, strong Bluetooth connection

– Sound quality is definitely not audiophile-level
Rating: 7.5/10
Packaging & Accessories
The Mars Pro is quite large and so is the box that holds it; there is plenty of material to prevent it from being damaged during transport. The accessories only include two cables: one USB-A to USB-C and one 3.5 mm jack to USB-C. There are optional accessories like a charging base which need to be purchased separately.
Design & Build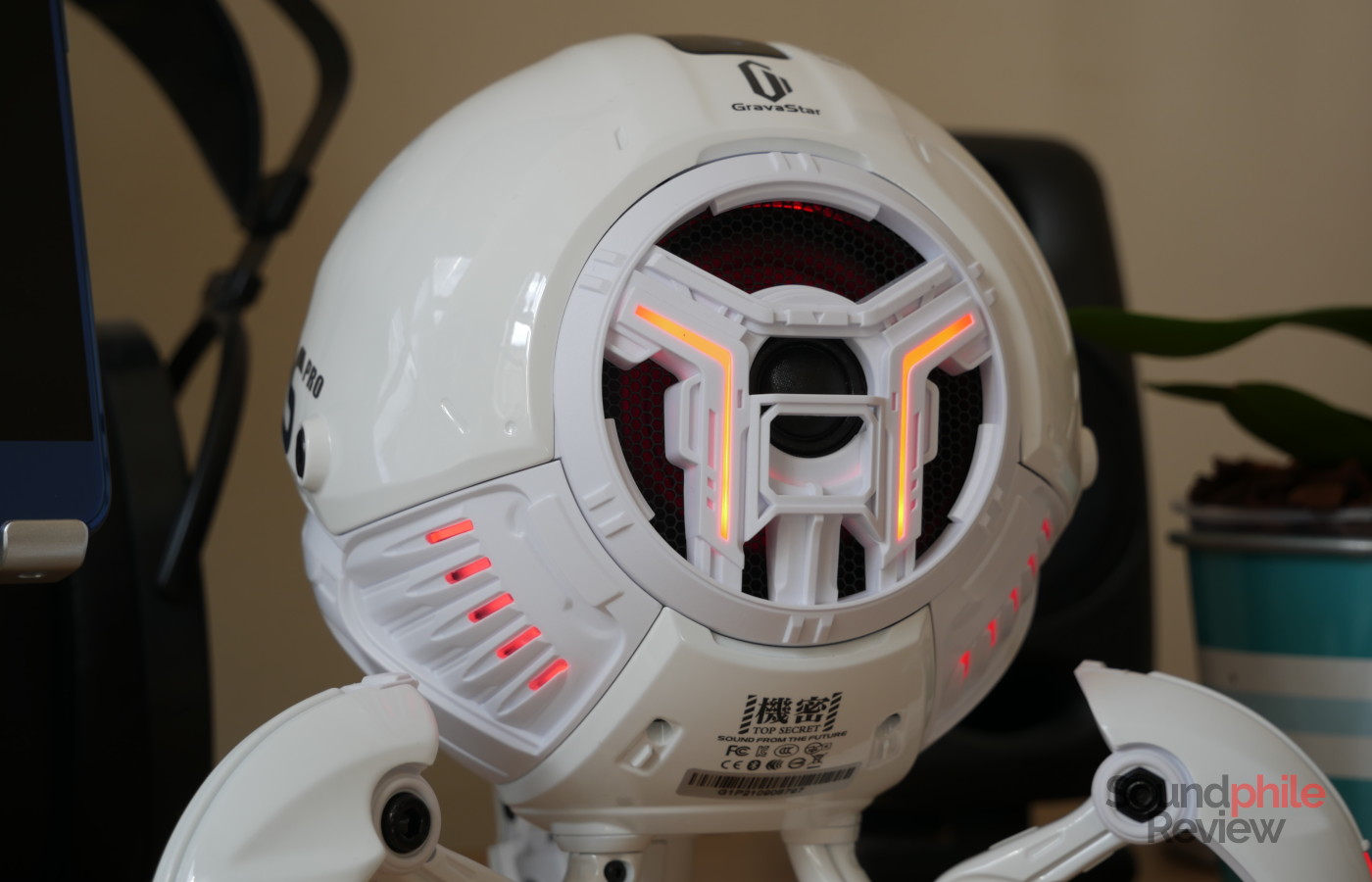 The GravaStar Mars Pro is surely quite unique in terms of design and it looks it's directly out of a videogame – not by chance, I would say, given gamers are exactly the target audience. The speaker features all of the usual tropes of the gamer aesthetics: hyper-aggressive lines, RGB lights, random Chinese characters and bold text. It's nice, if you're into this kind of things. There's also a version, dubbed the "Shark 14", which takes things to the next level by also offering add-ons: a shield and a Gatling gun that you can attach to the sides. It's as gimmicky as it gets!
The speaker's main body is made of zinc alloy and plastic; the upper half and parts of the lower one are in fact made of metal, just like the legs. This means that the Mars Pro is quite heavy – in fact it is 1,3 kg, just a few grams lighter than the massive Tronsmart Mega Pro! The legs fold to make transport easier, but offer little functionality other than that. Folding the posterior one will make the speaker face slightly upwards, which can be a good thing if you're using it on your desk, but it's a very small difference that won't change things too much. There are tiny rubber pads that make sure that the legs won't scratch the surface they're placed on.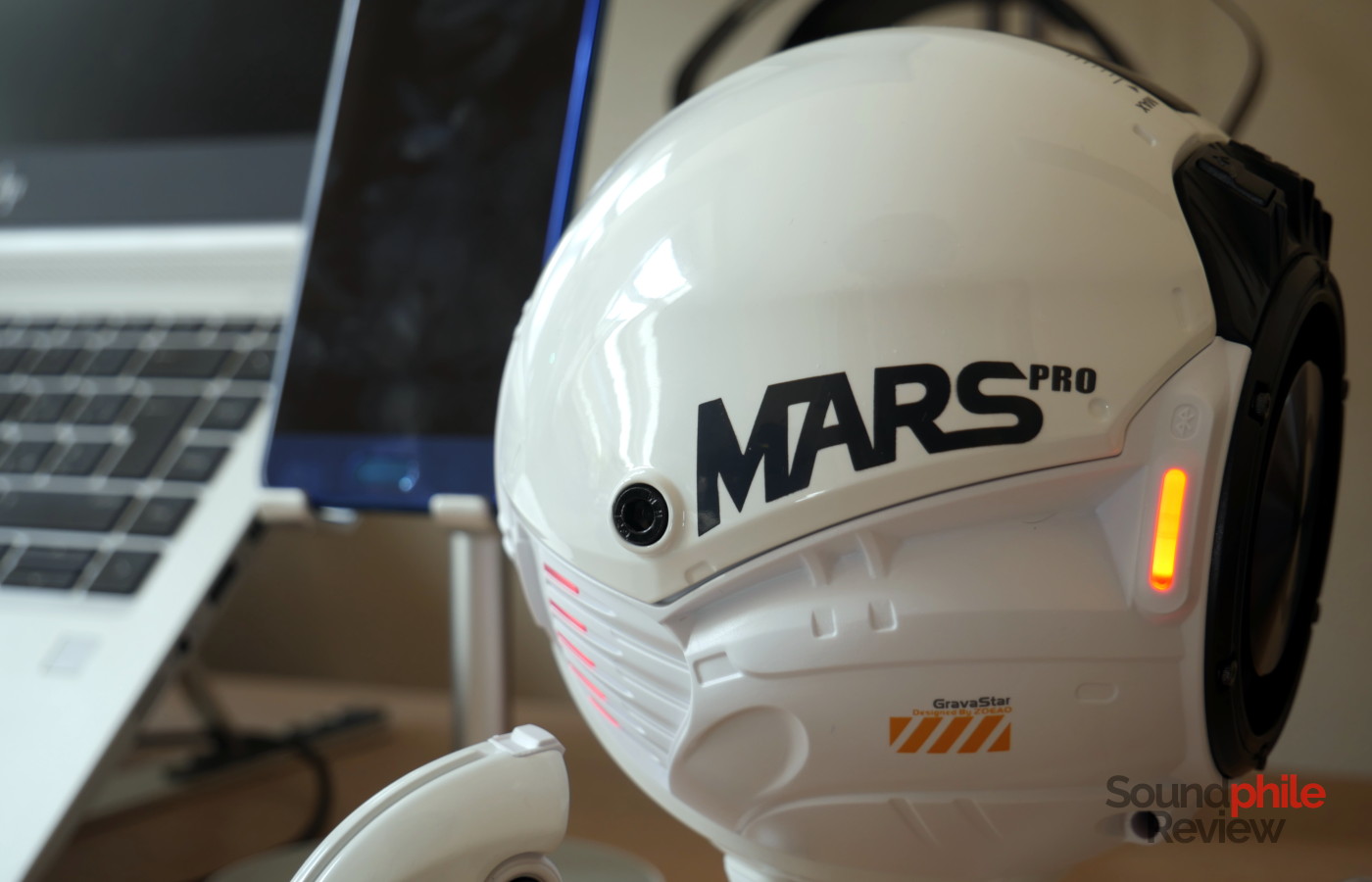 The black strip you can see on top is actually sensitive to touch and allows you to adjust the volume. Behind it, facing backwards, are three buttons: one to initiate Bluetooth pairing, one that doubles as both play/pause and power button, and the third to change the colour of the RGB LEDs (you can cycle between red, light blue, blue, orange, green and pink). The two LED strips on the back also serve as indicators: the one on the left is for battery status, the other for Bluetooth status. On the underside there's a USB-C port you can use to charge the device as well as connect to a source using the USB-C to aux cable.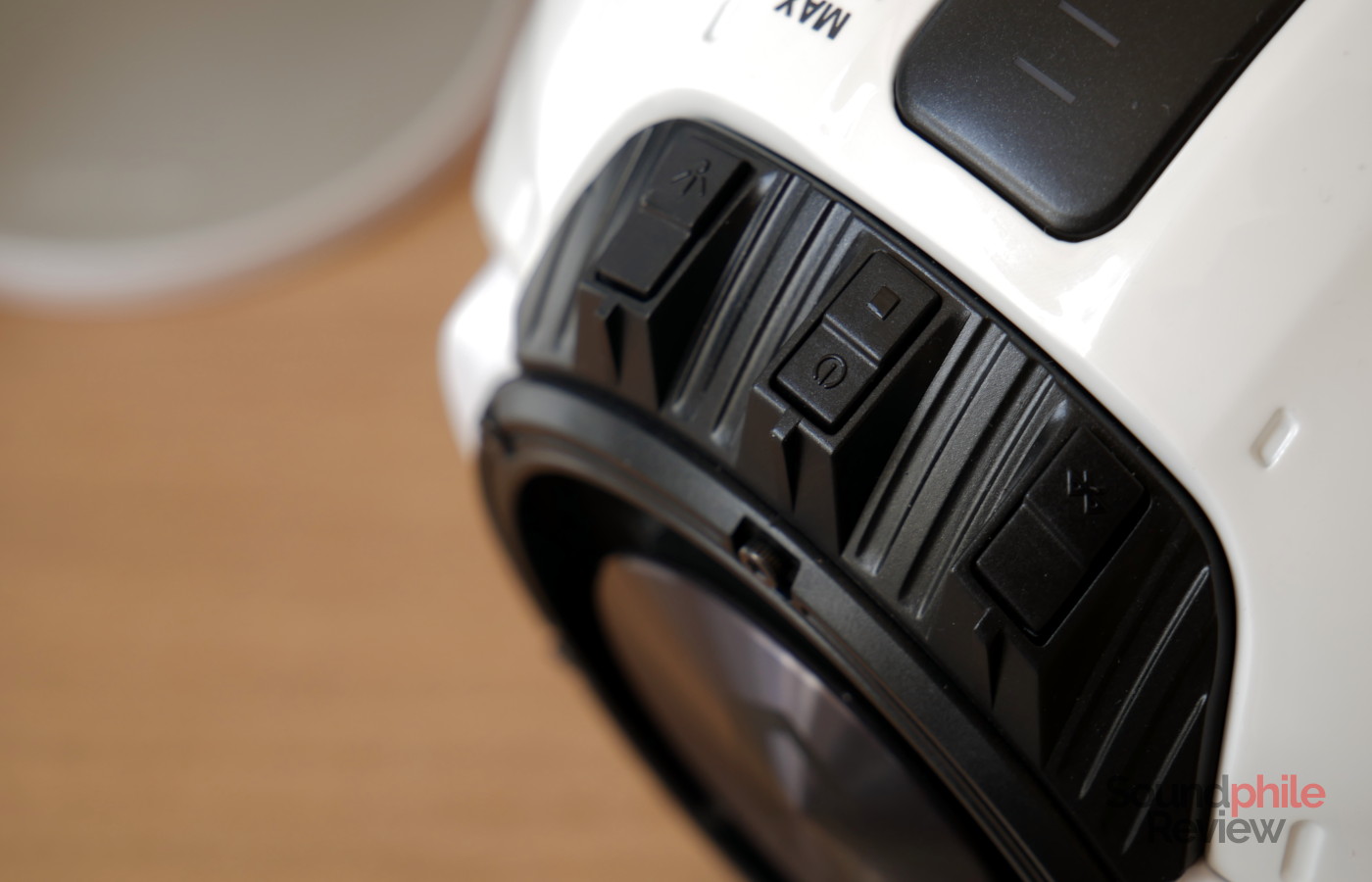 Overall the Mars Pro is built like a tank; it's not just that it's mostly clad in metal, but also that the parts fit reasonably well together with very little seams and gaps which, considering the complexity of the shapes, is quite something.
Features & Specs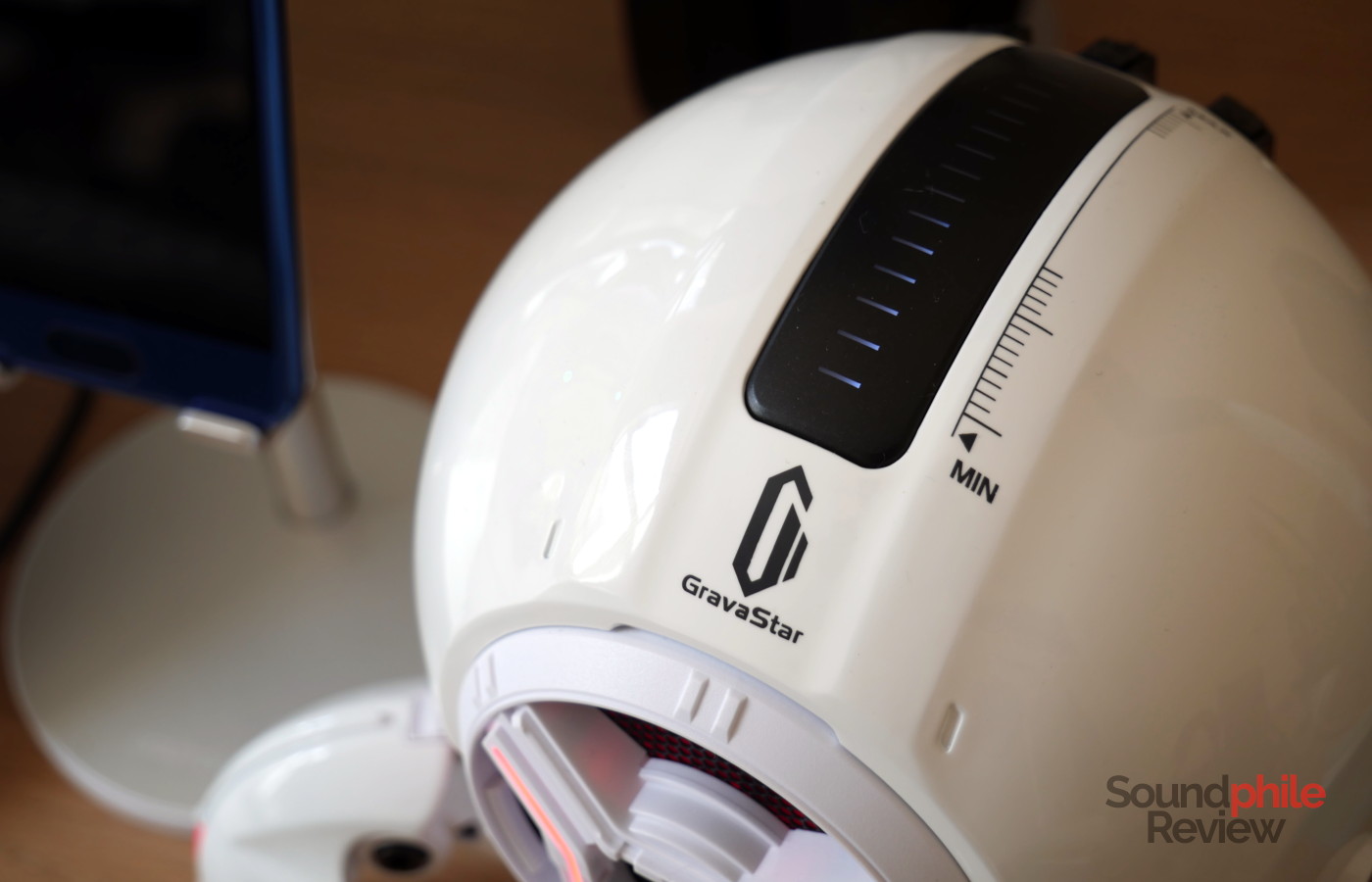 The GravaStar Mars Pro offers compatibility with the Bluetooth 5.0 standard and with the SBC codec – there's not even AAC here. I was really surprised by the fact that the range is quite extensive and that the connection is really stable, even when the speaker is quite far from the source and with multiple walls in the middle.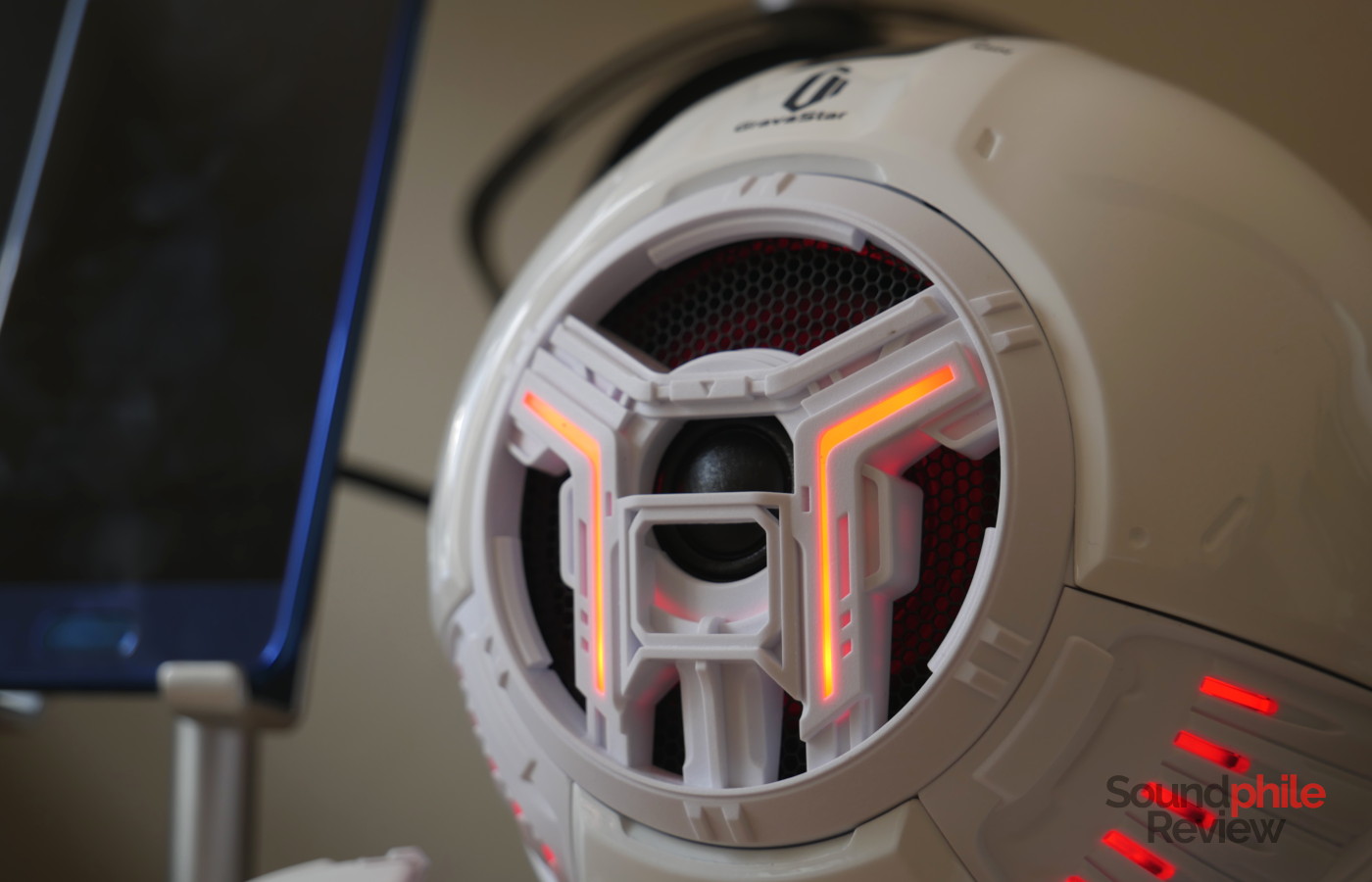 It is possible to connect two Mars Pros in order to get stereo sound, as an example if you want to use them with your gaming computer. I only received one unit, so I couldn't test this feature.
A funny thing is that the GravaStar Mars Pro plays noises when it powers up and shuts down – they're sci-fi-like sounds with little intrinsic meaning which, however, are absolutely in character for this speaker! The RGB LEDs can also be made to cycle through the colours or to light up in sync with music – and if you listen to something like Nile, you'll find that they are almost constantly on! You can switch modes by simply pressing the LED button twice.
| | |
| --- | --- |
| Frequency response | N/A |
| Power output | 20 W |
| Maximum SPL | N/A |
| Connections | Bluetooth 5.0, aux in |
| Codecs | SBC |
| Driver type | 1 woofer, 1 passive radiator |
The only inputs supported by the Mars Pro are Bluetooth and aux, as direct USB connection doesn't appear to work.
Battery Life
GravaStar touts a battery life for the Mars Pro of up to 15 hours, which is entirely realistic if you use the speaker at around 50% volume. This result is still significant considering the size of the device.
Sound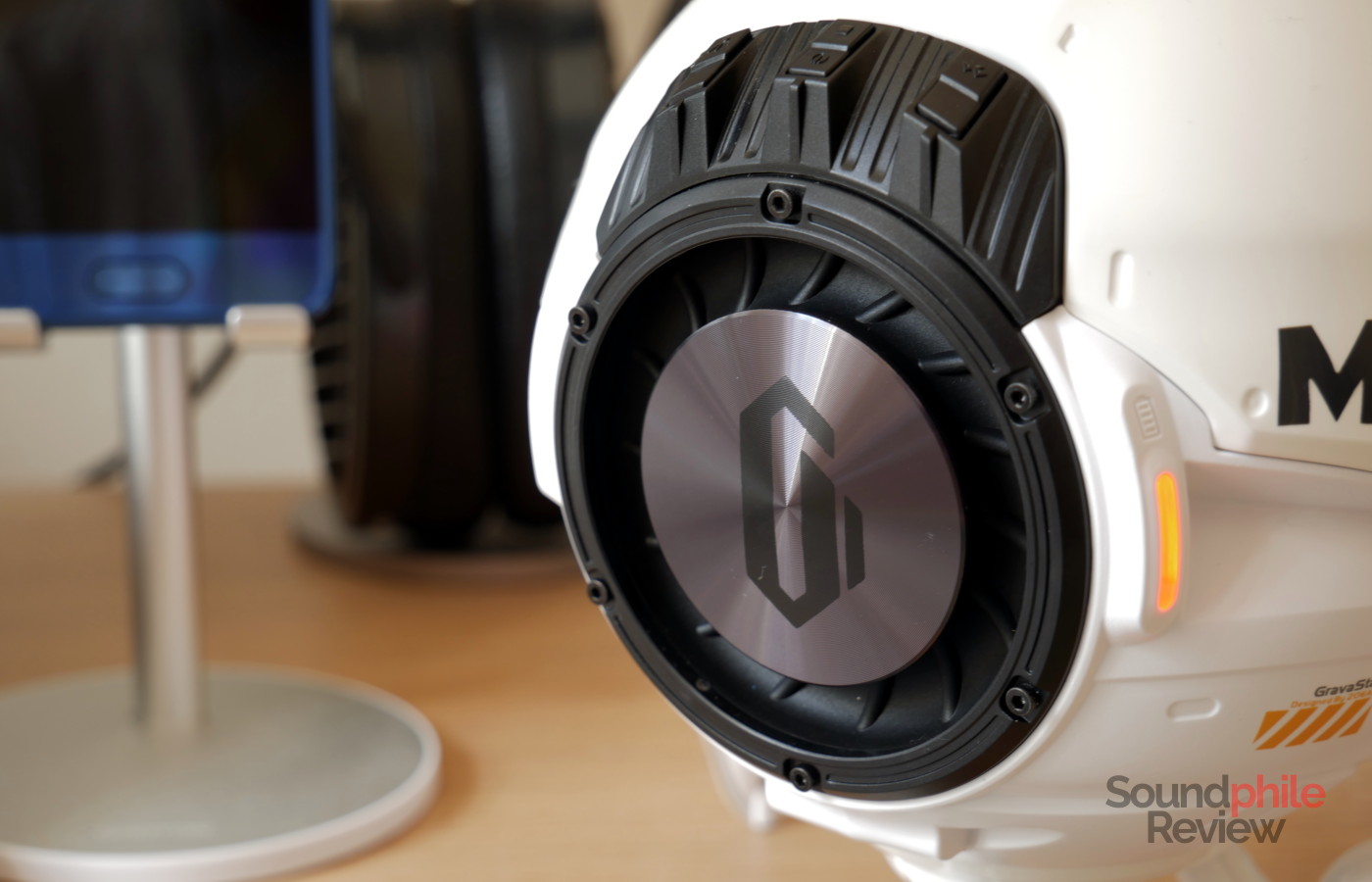 Given the target user, the GravaStar Mars Pro does deliver the typical "gamer" kind of sound as well as the aesthetics. This means it offers emphasised bass and treble to provide that additional bit of immersion.
The Mars Pro has a tweeter and a woofer on the front as well as a passive radiator on the back. Due to that passive radiator, it needs a bit of space behind it not to become a bass cannon. Even just 30 cm is enough to retain good punch without it becoming exceedingly aggressive.
In terms of pure sound quality, the Mars Pro doesn't deliver a lot to audiophiles – relatively complex tracks like Foundations of Stone from the soundtrack for The Lord of the Rings: the Two Towers sound garbled and messed up. Bass is predominant and makes midrange sound recessed and muddy, while treble is difficult to appreciate. The situation gets a bit better with simpler tracks, especially when there's vocals and little else – in that case the Mars Pro really shines and is actually quite impressive, considering the size.
While playing, though, this emphasis on bass can actually be quite good, as it adds a bit of kick to explosions and similar sounds. The fact that transients are decently fast (in the context of a Bluetooth speaker, of course) also reinforces this. Contrarily to when you listen to music, you don't miss a lot when playing due to the tuning.
Final Thoughts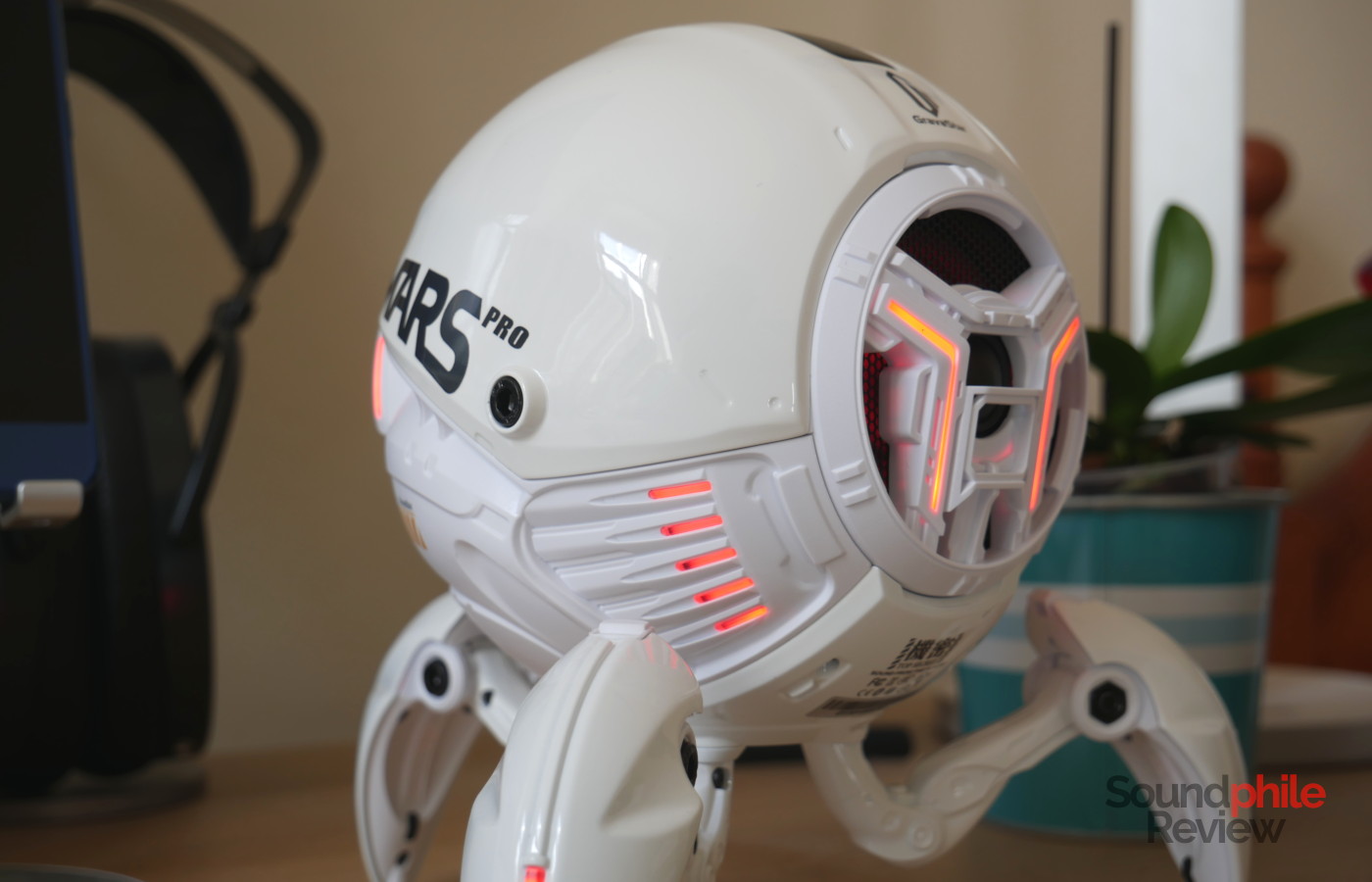 In the wonderfully diverse world of gaming accessories, the GravaStar Mars Pro is certainly unique. Its design looks like it's from out of this world and adds an aesthetic value to it if you're into this kind of things. I personally love this and I know I would have done anything to get this when I was 15. That said, the Mars Pro is exactly aimed at people who place more value into its "gamer" aesthetics than into accurate sound reproduction – in other words, it's not something for audiophiles. It does work quite well for games as it delivers exactly what's needed for that, plus it can also play music decently, which is a pro. I would buy it just for the looks, so the fact it even sounds good enough makes it definitely worth considering.