As far as names go, "Tronsmart Mega Pro" really isn't too imaginative. Yet it is just right for this massive portable speaker whose main feature is the astounding 60 W of power output. It's a big device that definitely packs a punch and has almost any feature you may ever want.
Disclaimer: I received the speaker through Geekbuying. It normally retails for $79.99, but using the coupon code NNNSPRRR you can get it down to $61.25.

Packaging & Accessories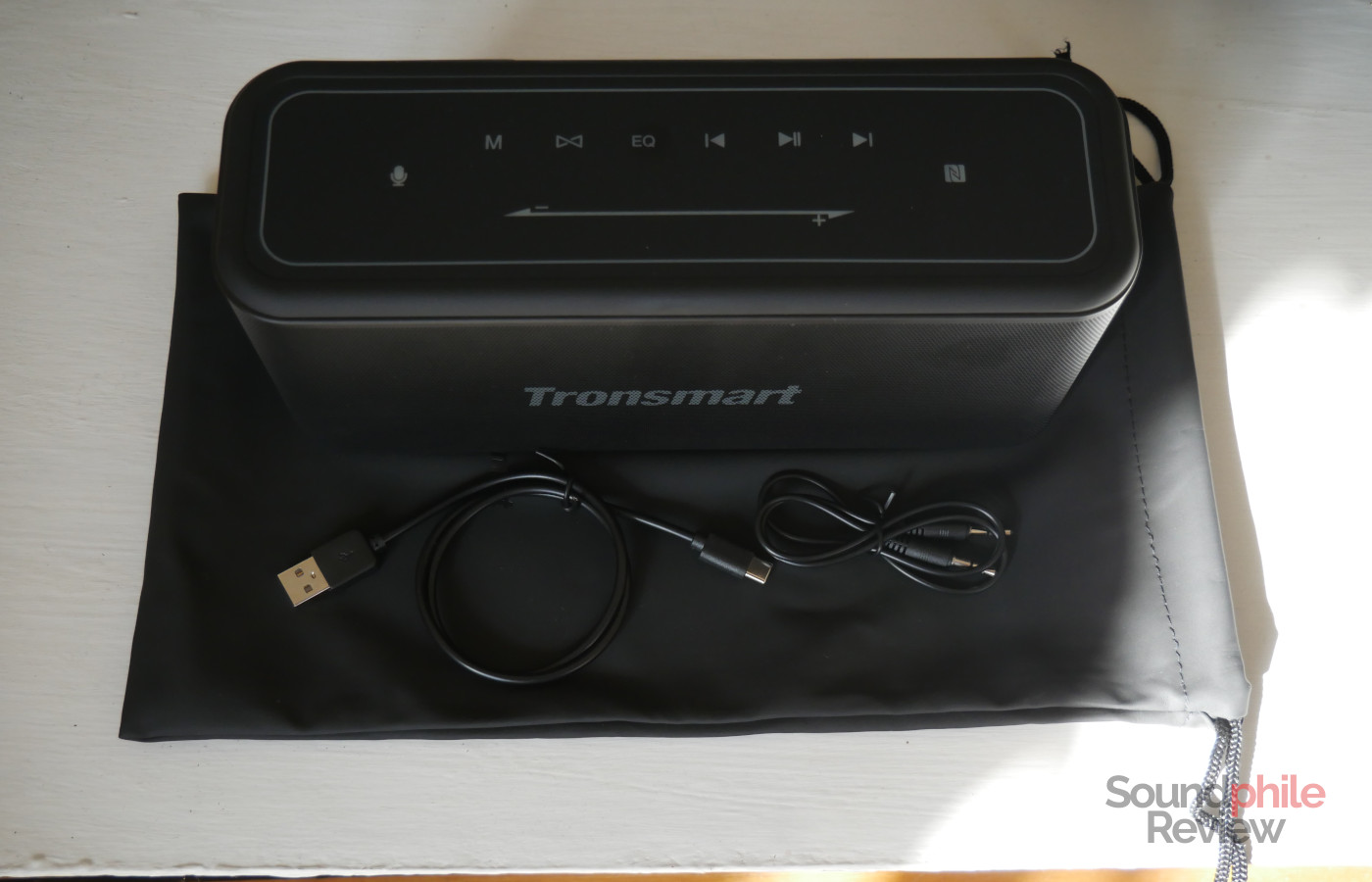 The simple cardboard box that the Tronsmart Mega Pro comes in contains the speaker itself, a USB-A to USB-C cable, an aux cable with 3.5 mm jacks on both ends, a plastic drawstring bag as well as a manual. Considering the price, the accessory set is not bad at all!
Design & Build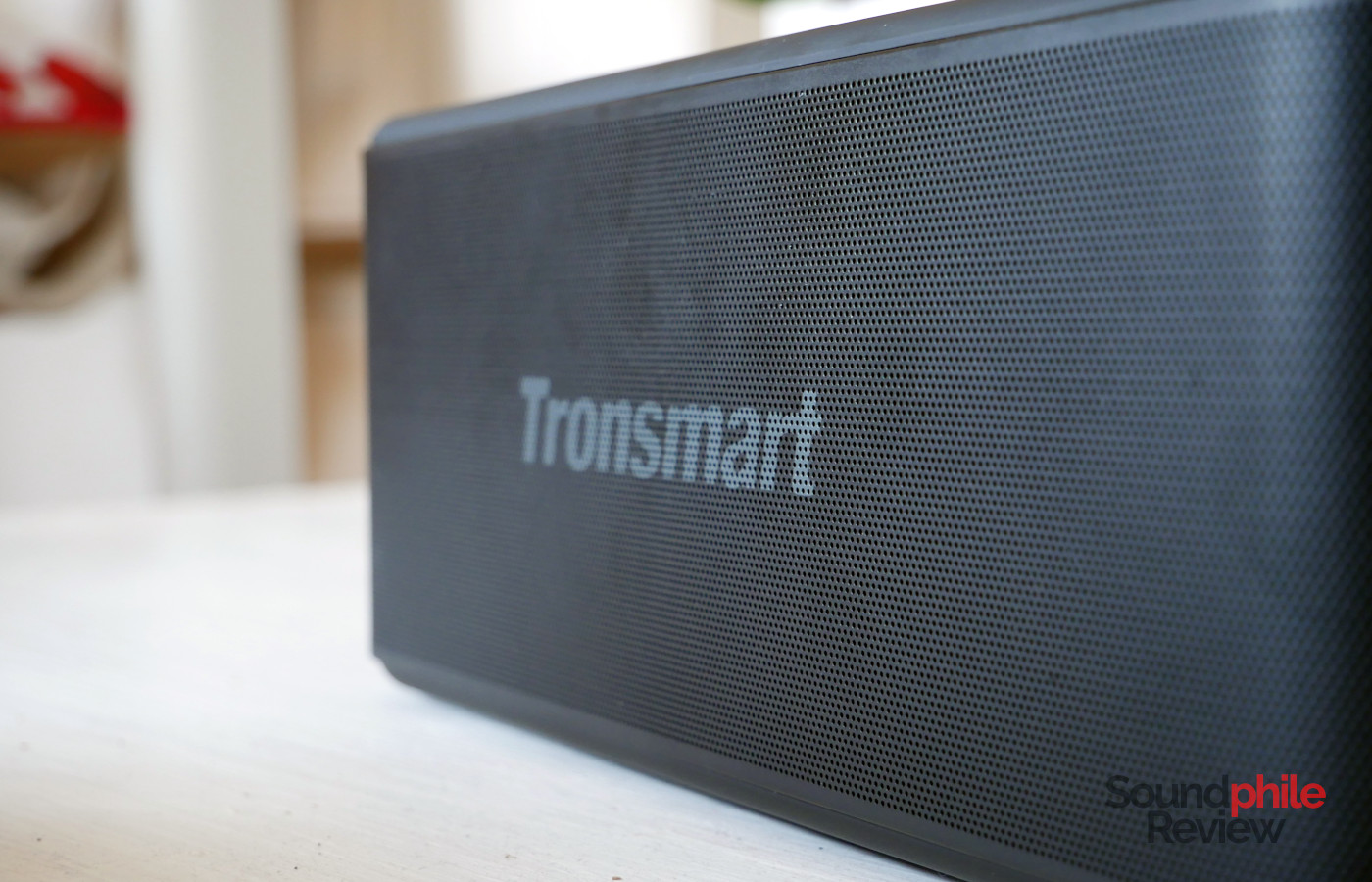 It's not quite imaginative, but the first thing I noticed about the Tronsmart Mega Pro is its large size. It is indeed quite big for a portable speaker, at 250 x 82 x 104 mm, and the weight is considerable as well, at 1,782 g. The design is quite "serious", with the sides being covered by a metal grille with a fine mesh and the Tronsmart logo on the front. The top is made of plastic and features all the controls, while the bottom is covered in plastic as well but also has a rubber sheet applied to it, so that the speaker won't slip. On the back there's the power button and a rubber flap that covers the USB-C port for charging, a USB-A port as well as a 3.5 mm jack input.
The reason why the ports are covered by this rubber flap is because the Tronsmart Mega Pro is IPX5 certified, so it can withstand being splashed with water – but not submerged. In other words, it's perfectly safe to use it under the shower or at the poolside.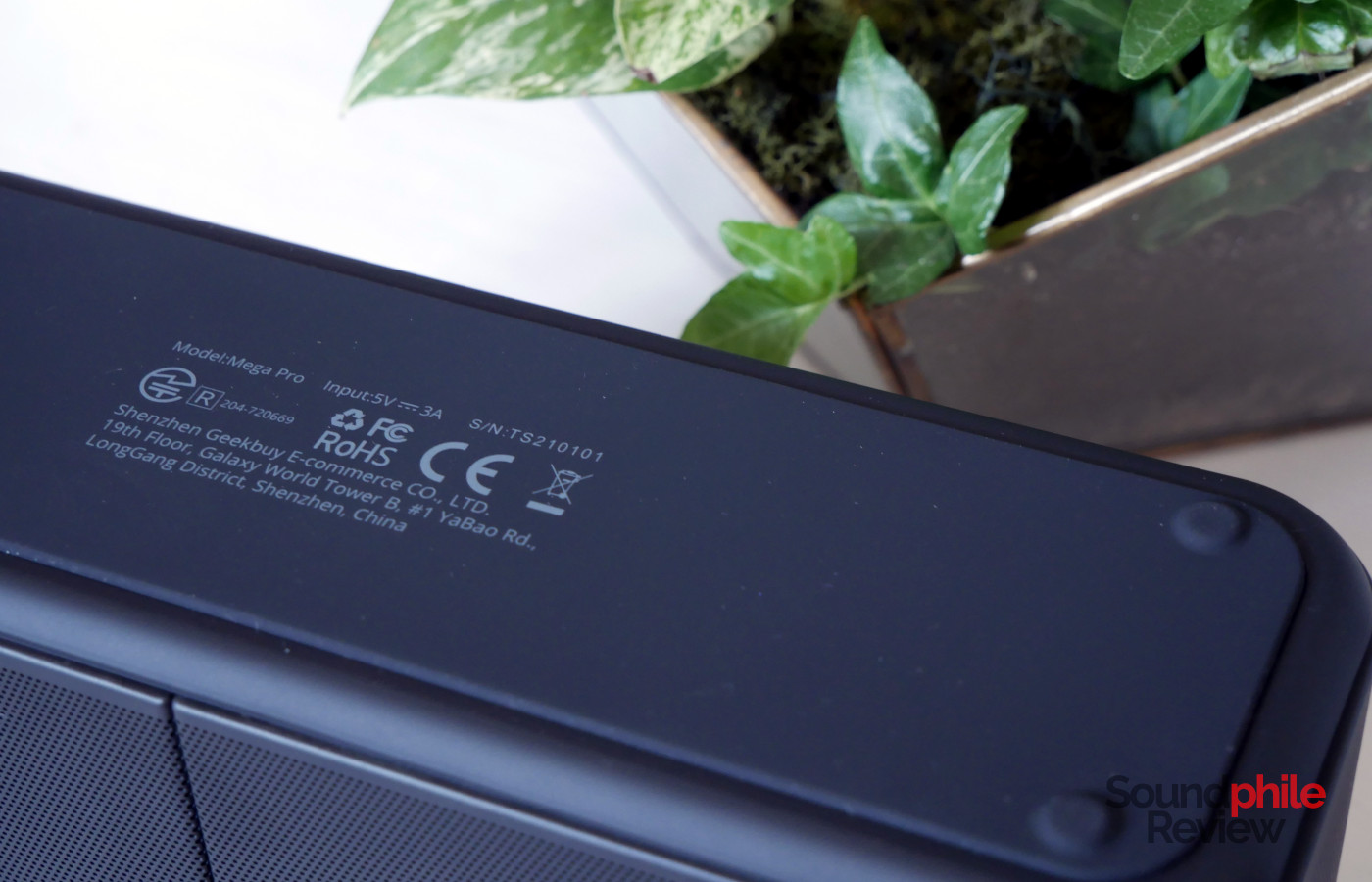 All in all, the Tronsmart Mega Pro appears quite solid – if anything, because of its hefty weight. The metal mesh that encircles it is another reason, too. The only issue it has is that the top is a bit of a fingerprint magnet.
The controls on the top include a microphone button to invoke voice assistants and manage calls, a volume slider, an input selector button, a button to pair another Mega Pro, the equaliser button, playback controls (previous track, play/pause, next track) and NFC.
Features & Specs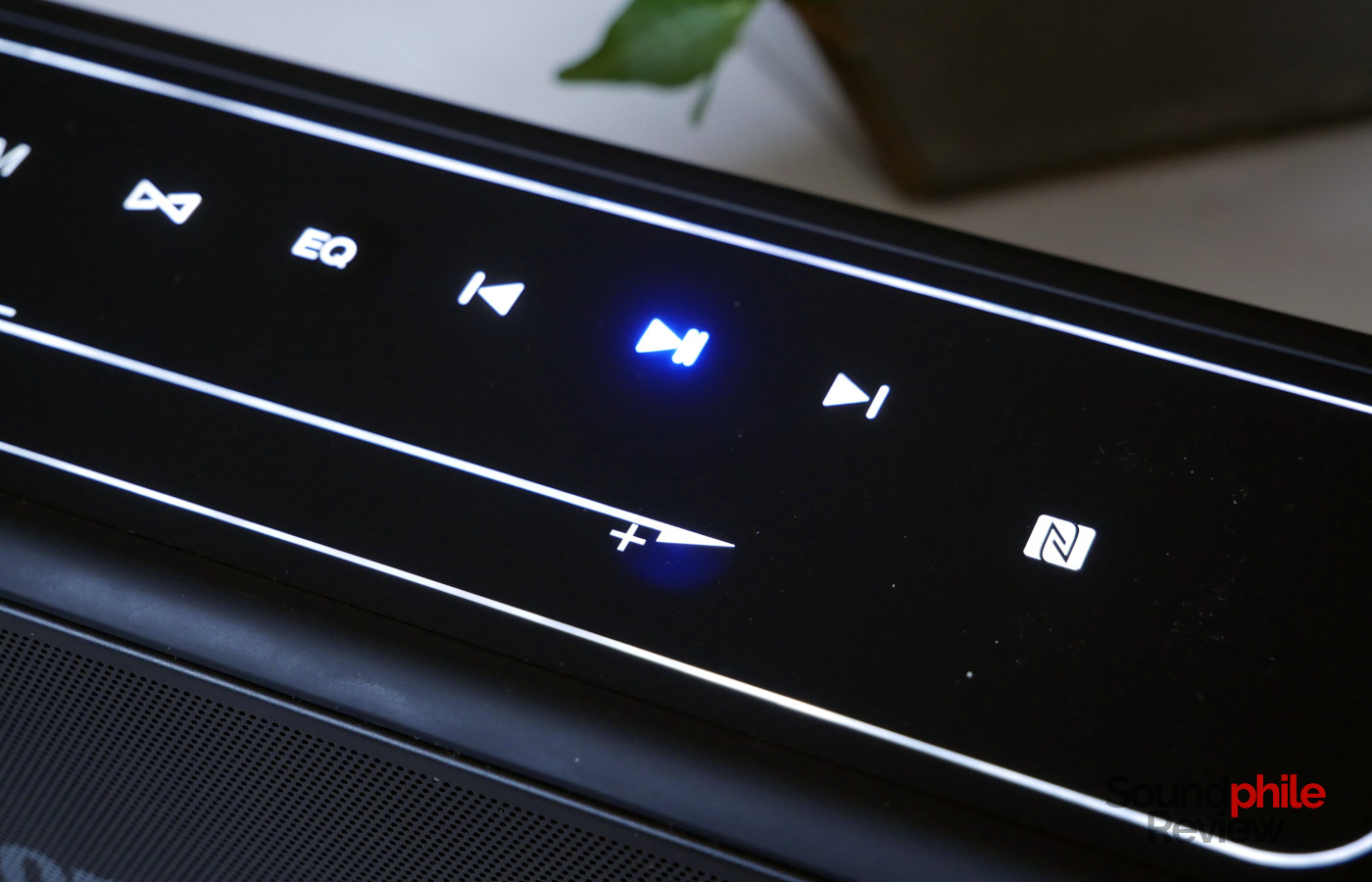 The Tronsmart Mega Pro employs the Bluetooth 5.0 standard and only offers compatibility with the SBC codec, which is quite rare today – you usually also find AAC. The connection is really stable, though the range is not as good as I wish it would be: if I go around the house I can't get much farther than 5 metres from the computer (with a wall in-between), which is actually less than many TWS earphones. Still, outside there are no such issues and you can actually move around quite freely with your phone in your pocket.
It is possible to connect two speakers together to get a stereo setup. The process to pair two speakers is rather straightforward and involves simply pressing the "TWS" button on top on both speakers. I haven't been able to test this myself as I only received a single unit.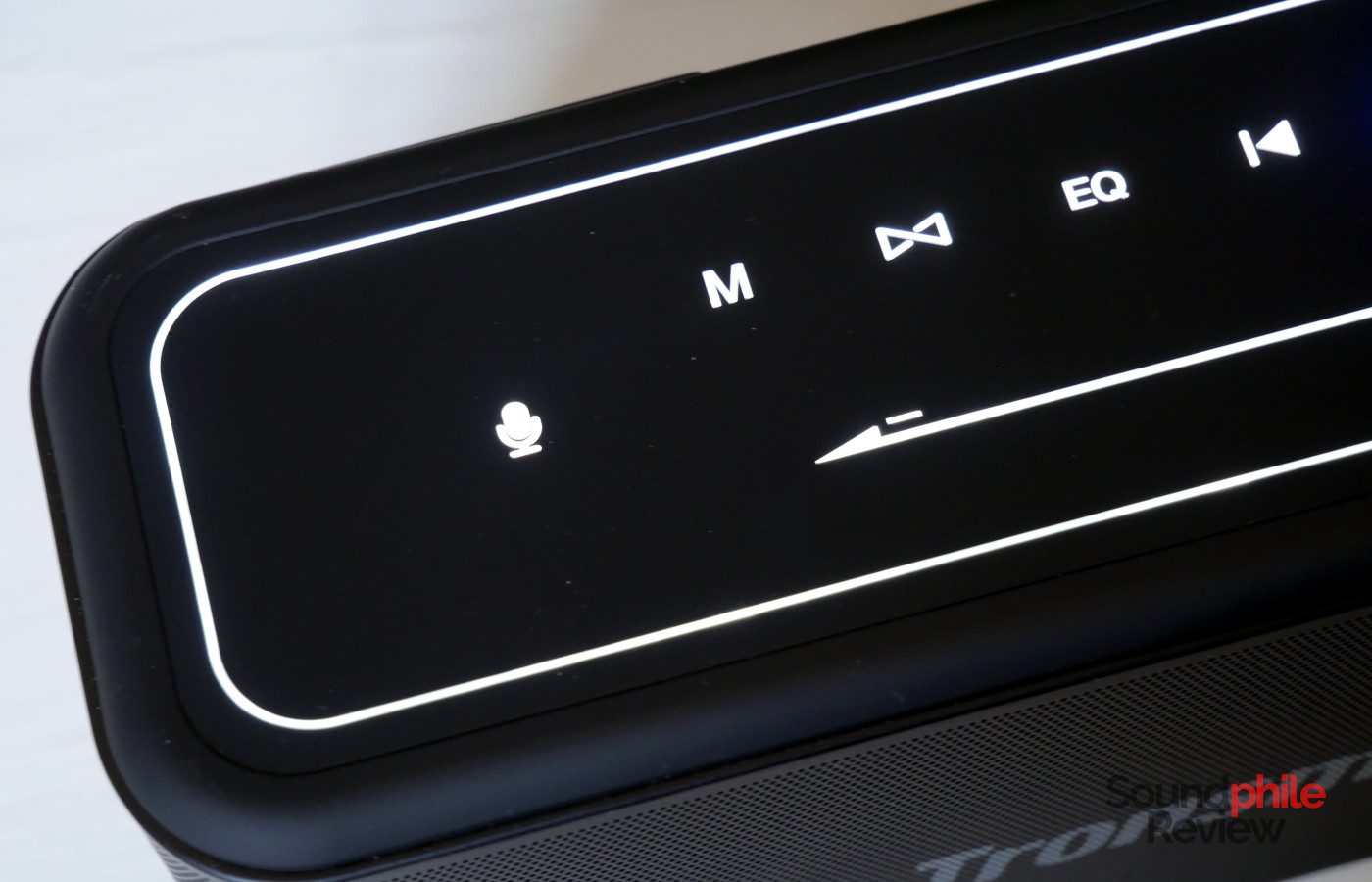 I've tried using the Mega Pro to take calls, but all people I've talked to told me that they could barely hear me, even though I was less than half a metre away from the speaker and speaking at relatively high volume.
The device supports invoking voice assistants when connected to a phone and supports Siri, Cortana (whatever that's worth, considering it's dead) and Google Assistant.
| | |
| --- | --- |
| Frequency response | 20 – 20,000 Hz |
| Power output | 60 W |
| Maximum SPL | N/A |
| Connections | Bluetooth 5.0, aux in, NFC, microSD, USB |
| Codecs | SBC |
| Driver type | 1 woofer, 1 passive radiator, 2 tweeters |
On top of supporting Bluetooth, the Tronsmart Mega Pro supports playback from microSD cards and USB keys (up to 128 GB), as well as using an aux cable.
Battery Life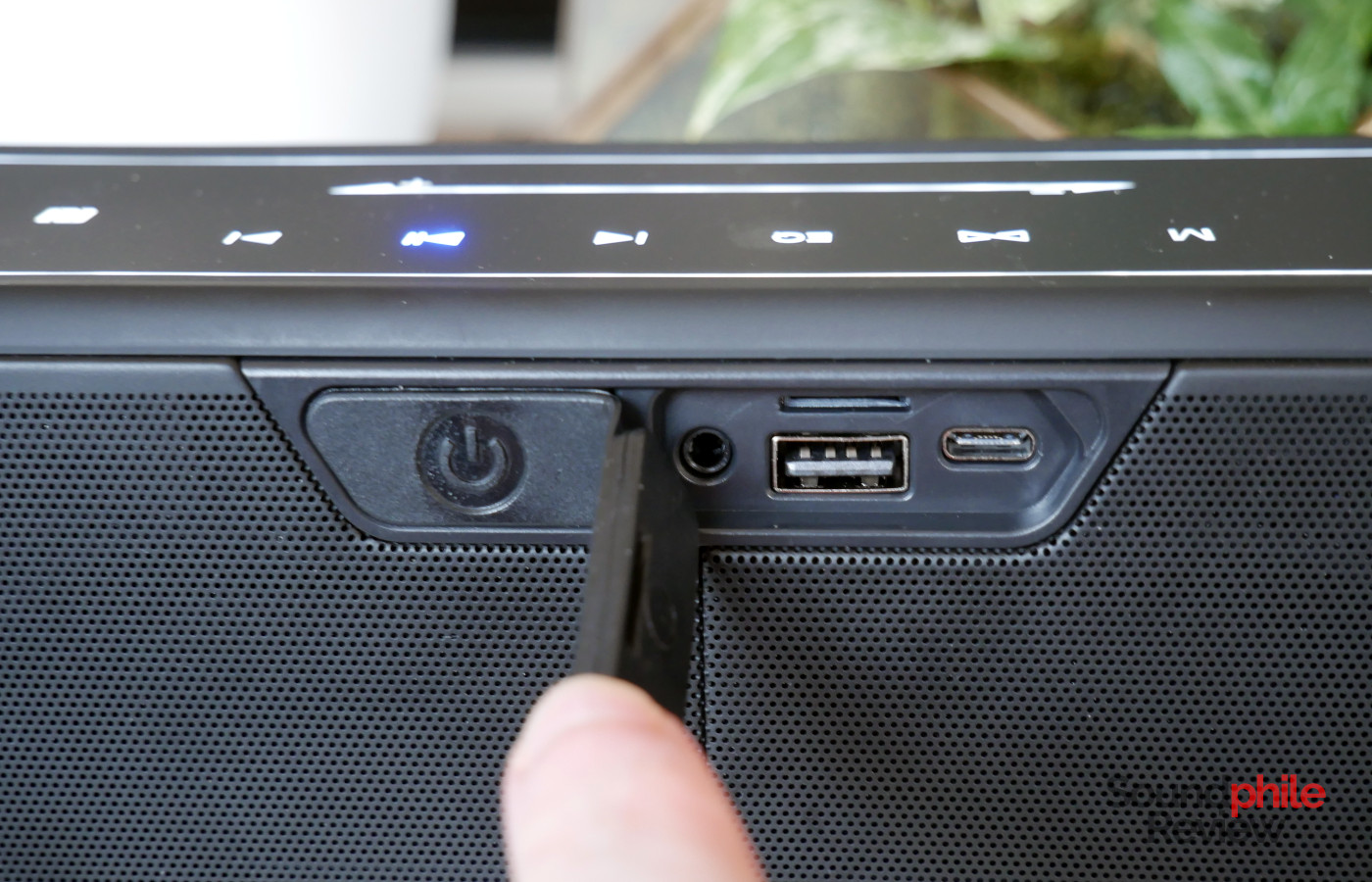 Tronsmart says that the Mega Pro can play music for up to 10 hours at 50% volume; that figure appears to be correct enough. That's not a massive figure by any standards, considering even smaller speakers like the SoundCore Flare+ achieve almost double that, but it's one that is understandable given the power output.
It should be noted that the 10,400 mAh battery of the Mega Pro can also be used to charge other devices using the USB-A port on the back.
Sound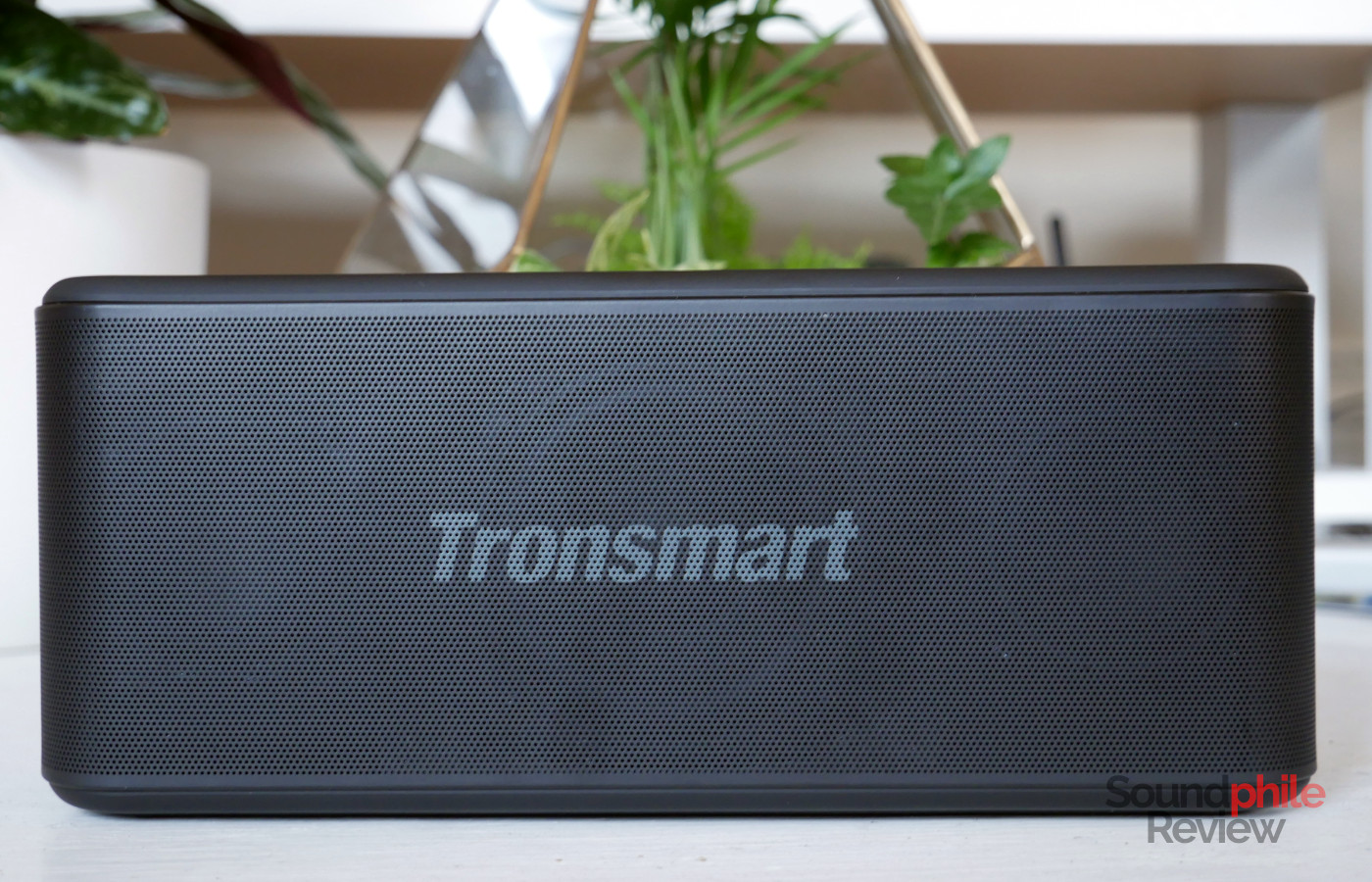 I've mostly tested the Tronsmart Mega Pro using my desktop computer, using the integrated Bluetooth card of an ASUS ROG Strix X570-E motherboard.
As you can probably expect from a device of this type, soundstage and imaging are limited, but considering the Mega Pro is meant to be used for parties or outdoors, I would say that doesn't even matter too much. Instrument separation is decent, save for the most complex tracks.
Bass really surprised me because of both its depth and its strength. It's not common to find speakers of this size that are able to pump out such strong and powerful bass while also reaching such good depths. It's nowhere near neutrality, as it's quite emphasised, but it's still quite enjoyable with the right music as it's not obtrusive and invasive. The bass lines in Master Margherita's Eight Degrees South are rendered admirably, with enough detail being presented to the listener to make bass not appear monotonous (as in "a single note"). There are still some challenges, though, as speed isn't really the best you could hope for and the layering is often lost with especially crowded tracks.
Midrange is enjoyable, with a tonal balance that is a bit quirky but still works for most songs. It has a bump around 1 kHz that can get fatiguing over time due to its intensity, but it's really track-dependant. Lower midrange suffers a bit from the large bass presence, but manages not to get entirely overpowered and is still audible, so that male vocals maintain their timbre. It's still recessed, so it does suffer from bass presence anyway. Speed is limited, but detail is overall very decent.
Treble is quite emphasised and can become a bit fatiguing if you're sensitive to it and you use the Mega Pro as a speaker for your computer as I'm doing while writing this. In a context where the Mega Pro is not half a metre from you, however, it achieves a good balance and the increased treble presence is not much of an issue. Detail is sufficient, but not much more than that, and you can definitely tell the limits of the drivers in terms of resolution and speed.
Oddly enough, the names of the equalisation presets do not seem to match the real effect being applied: the default effect, which is the most balanced, is dubbed the "deep bass" effect; the "vocal" effect, meanwhile, pumps bass and reduces mids. The 3D effect appears to further emphasise treble by reducing bass and mids; it does actually make the sound appear "bigger" and more spacious. There is also a big difference in volume between the three modes: the default one has the loudest volume and it is followed by the "vocal" one and then, with the lowest volume, by the "3D" effect.
Final Thoughts
The Tronsmart Mega Pro is certainly quite an interesting device in its own category. For an affordable price, it offers a lot of things that are easy to like: a sturdy build, NFC, three equalisation modes, the ability to pair it with another speaker and the possibility of playing music from microSDs and USB keys. This is on top of a very high maximum volume and a decent battery life for a device able to produce such a high volume. And it's water resistant, too!
It is quite a valid portable speaker for parties both in and outdoors, or simply to enjoy some music while you're away from your main speakers on your desk or in your living room – with some added fun to it.