My other big passion other than audio or, more correctly maybe, my main big passion is technology. I've been passionate about technology ever since I was a kid and I played Flight Simulator 95 on my father's computer, and I've worked in the technology journalism sector for more than a decade now (goodness, that makes me feel old). So it's quite nice to be able to mix these two things here with the IKKO ITX01, a USB-C hub with an integrated DAC and amplifier. It's a great idea as it condenses a practical device like a USB hub and a nifty accessory like a portable DAC in one single device.
IKKO refers to the ITX01 as a docking station, but I prefer the term "hub" as docking stations usually are meant to be fixed on a desk, rather than portable. This is just a problem of terminology however – the functionality is basically the same!
Disclaimer: I received the IKKO ITX01 free of charge directly from IKKO. The device is selling for $99.
TL;DR: recap
Pros




Cons

+ Very complete feature set

+ High bandwidth

+ Both 3.5 mm and 4.4 mm outputs

+ Allows charging up to 100 W

– Background hiss

– Low power ouput
Rating: 8/10
Packaging & Accessories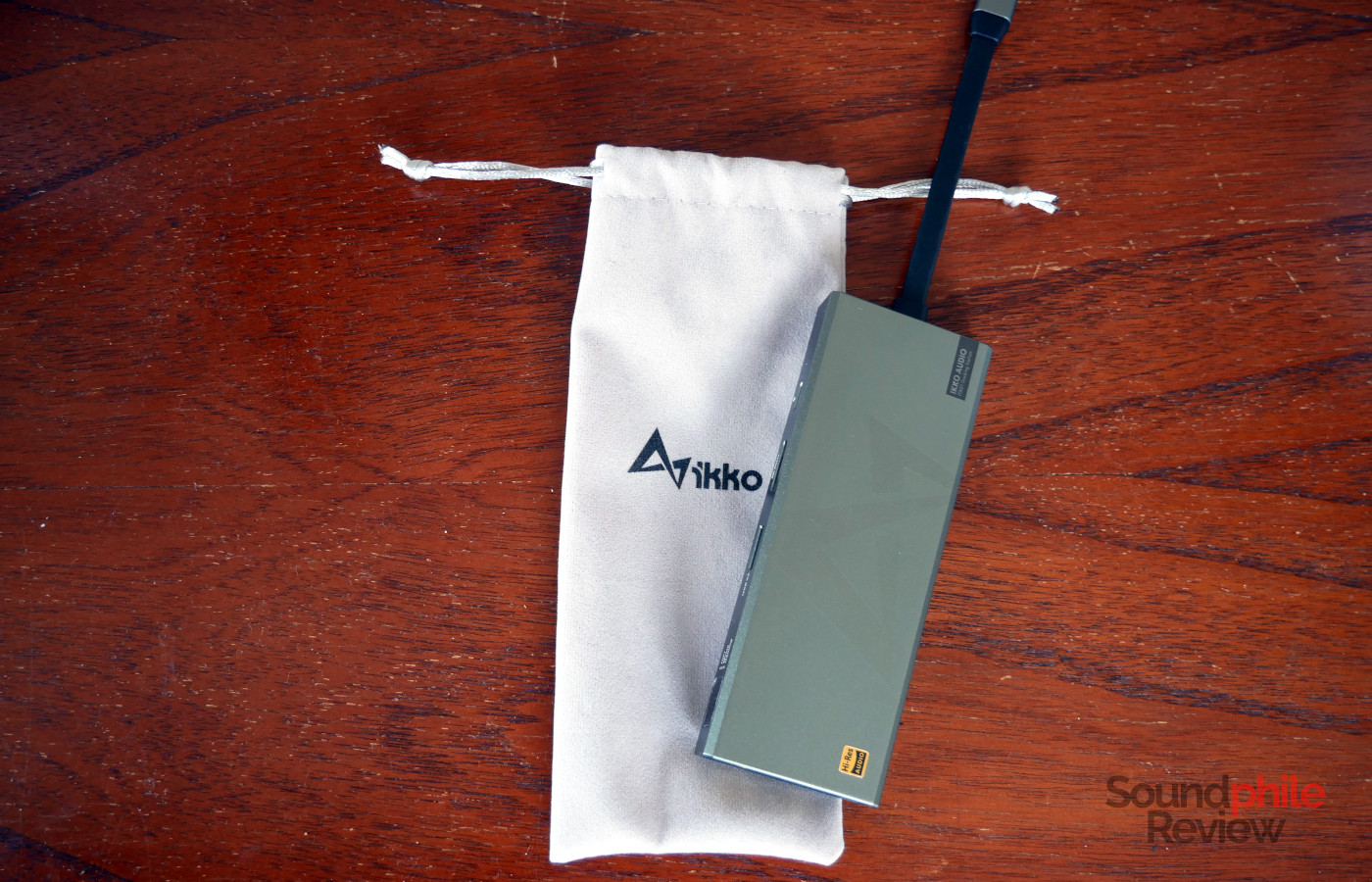 The box come with the hub and a drawstring pouch, plus a manual and a warranty card.
Design & Build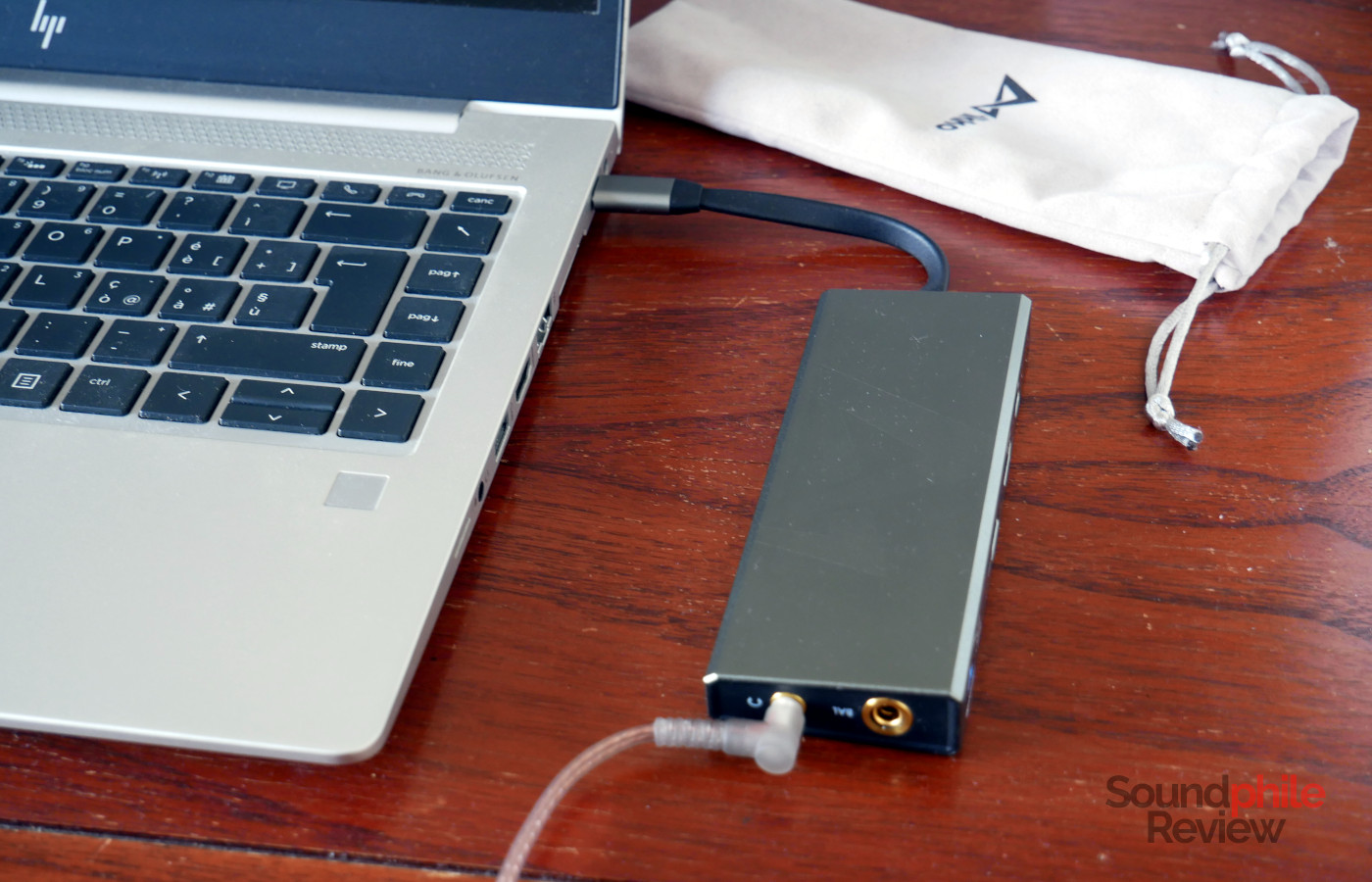 The IKKO ITX01 looks just like any USB-C hub out there: a slab of metal with ports on the front and the back. The only innovative feature is the presence of audio output, with both 3.5 mm and 4.4 mm jacks, on the small side. As far as I know, it is the only device of this kind to feature such specific functionality, as most hubs do not feature audio output at all, let alone balanced output. It is trapezoidal in shape, which is uncommon as well. It is dark silver in colour and would probably pair well with one of the newer MacBooks of similar hue.
The ITX01 is made of aerospace-grade aluminium according to IKKO, save for the two small sides which are made of plastic. Build quality is decent, although the cable can move quite a bit. It is unfortunately not removable, which prevents replacing it in case it breaks or using a longer one – a common issue with USB-C hubs, even high-end ones.
One thing that always leaves me puzzled with USB hubs made by Chinese companies is that they seem to use ports upside-down compared to what we're used to in the West. Here it's common to insert e.g. a USB key with the hollow part of the USB connector on top; many hubs made in China, on the other hand, appear to be designed for the opposite. The same applies for SD cards: for some reason, Chinese hubs always make you plug in cards with their contacts facing up, rather than down. This is not a flaw, but rather something I have noticed – a small and inconsequential detail, but one that is interesting nonetheless and makes me wonder about the origin of such difference (just like calling microSD cards "TF cards", which is a very, very old name for the standard!).
The labels are made having in mind the hub on the left hand side of the notebook and this is the reason why they appear rotated upside-down on the opposite face, so that if you rotate the hub you're still going to read them correctly.
One thing I immediately noticed with the IKKO ITX01 is that it emitted a strong high-pitched noise whenever it was connected to a computer. This appears to indicate that there might have been an issue with the capacitors. After a while using it, however, the hiss disappeared completely (and it's not a matter of getting used to it: high-pitched noises very quickly give me headaches, plus I haven't used the device for a few days to make sure it wasn't an impression).
Specs & Features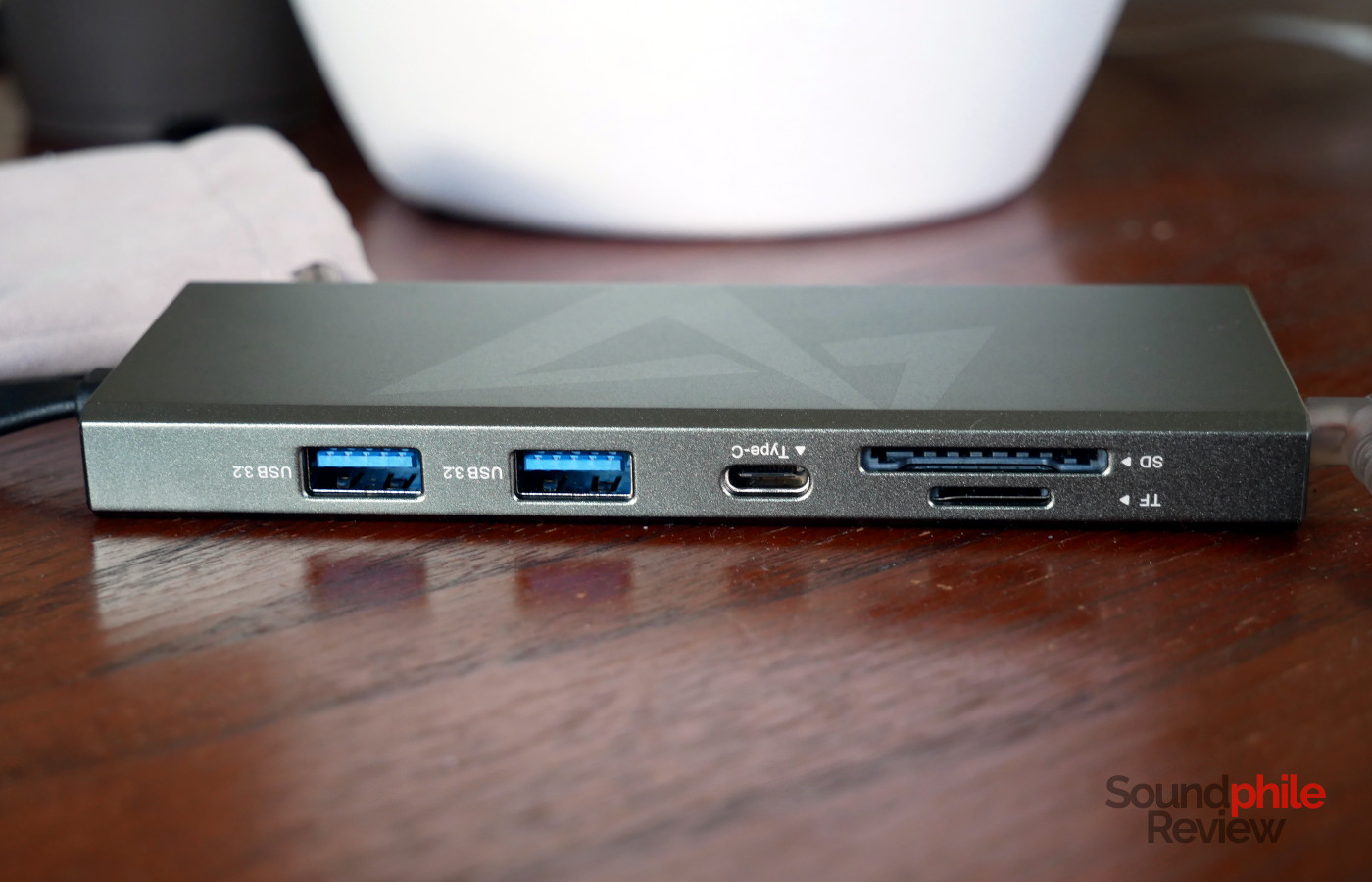 The IKKO ITX01 features three USB-A 3.2 ports, one USB-C port for data, one USB-C port for charging which supports USB Power Delivery up to 100 W, an HDMI port which supports up to 4K resolution at 60 Hz as well as SD and microSD card readers. I really like that there is an additional USB-C port on top of the USB-A ones, as this allows you to use various USB-C devices without adapters. There is no Ethernet port, though, and this may be a significant limitation if you are going to need that because your notebook doesn't feature it.
Transfer speeds are on par with what native ports on my HP EliteBook 745 G5 offer. I have run a few benchmarks (on Linux, using the command dd bs=1024M count=1, with a 500 GB Crucial P2 NVMe SSD using an external enclosure made by Sabrent) and sequential write speeds are comparable to those I can get by attaching the drive directly to the computer. In fact I get ~500 MB/s in both situations, which shows the ITX01 gives you comparable bandwidth to native ports.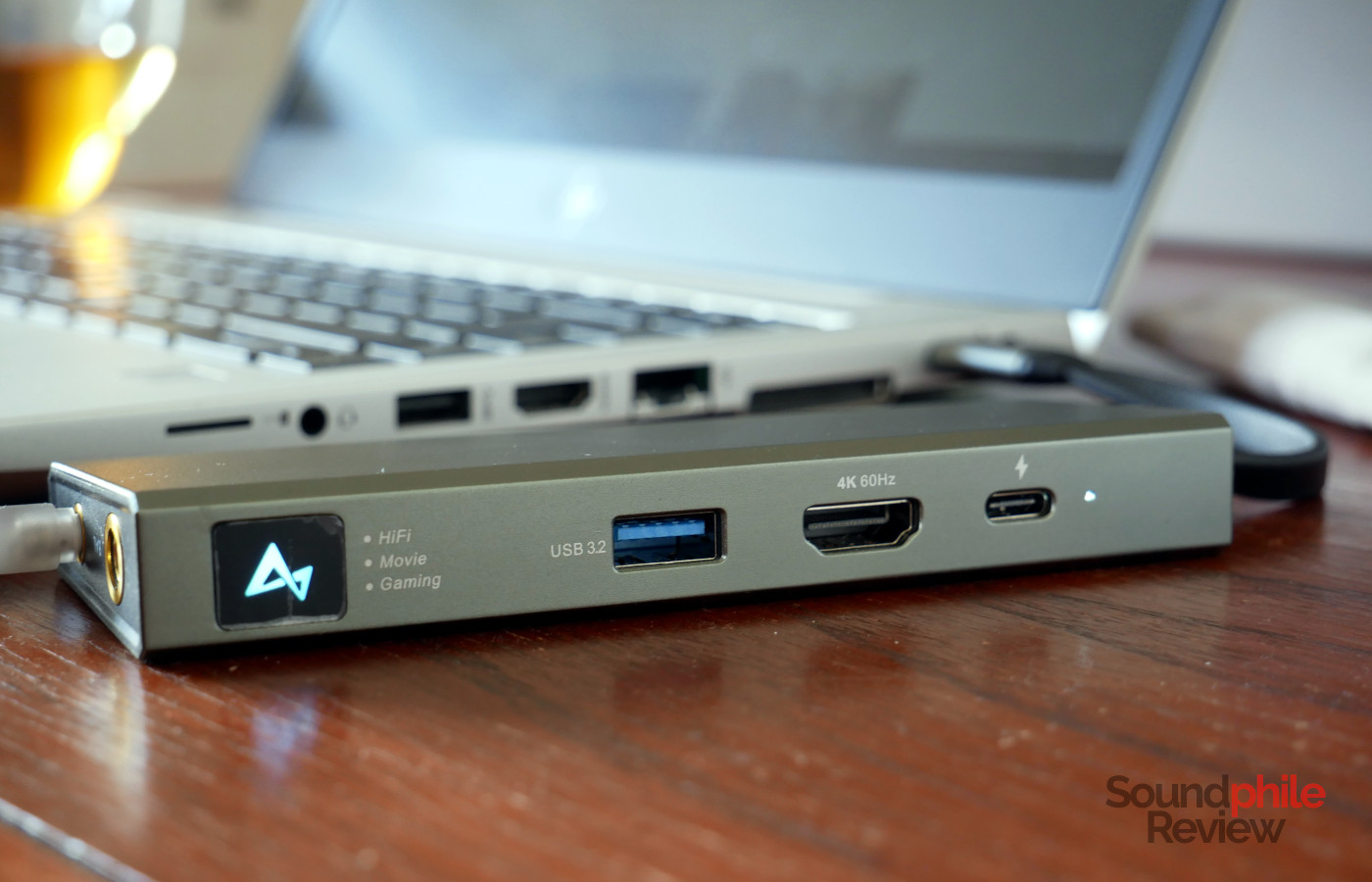 One small note about platform compatibility. I only use Linux and I have noticed that the ITX01 requires me to reset the USB stack before I attach external storage drives, otherwise they simply don't show up in the OS. On Linux at least, in order for the audio interface to show up you need to connect your headphones, otherwise the ITX01 simply doesn't show up in the audio menu. Using Windows on my girlfriend's Surface Book 2, it seems like these issues are not present, but the connection sometimes falters and the external peripherals (including the monitor) stop working for a second before resuming normal operation. I haven't had the chance to test out the device with other platforms as I don't own a recent enough Mac, nor iOS devices, nor consoles. In theory the IKKO ITX01 is compatible with iOS, Android, Nintendo Switch and PlayStation 5.
The IKKO ITX01 offers three different modes: hi-fi (yellow logo), movie (blue) and gaming (purple). The transition between them is not seamless; my Linux computer detects that the device disconnects and then reconnects. While this is understandable when enabling gaming mode, as this switches the device to USB Audio 1.0, I don't understand why it does it when switching between hi-fi and movie modes. The device appears to always start up in gaming mode.
Fellow Linux users will also not be able to use the ITX01 without a bit of hacking (I have to reset the USB stack after plugging in the hub in order for it to be detected). The company doesn't say that the hub is compatible with Linux, though, so that's fair.
| | |
| --- | --- |
| Input | USB (up to 32 bit / 192 kHz PCM) |
| Suitable headphones impedance | 16 – 600 Ω |
| Output impedance | N/A |
| Maximum output power | 64 mW (@ 32 Ω) |
| Frequency response | 10 – 40,000 Hz |
| THD+N (@1 kHz) | < 0.01% |
| SNR | > 100 dB |
| Crosstalk | – 93 dB |
Unfortunately IKKO doesn't disclose too much information on the specs of the ITX01. In fact the maximum output power spec doesn't come with the corresponding impedance, there's no frequency response (even though the presence of the "Hi-Res Audio" sticker would normally indicate that it goes over 22 kHz) as well as no output impedance nor suitable headphone impedance. There is no information on the differences between single-ended and balanced outputs.
The DAC used is a "SNC 8600", which appears to have only been used in this specific device, so it's impossible to infer further information just from that. One thing to note, though, is that the specs that IKKO provides appear to be not quite top-of-the-line: THD and SNR are not great and are a far cry from other portable DACs. This is probably a consequence of placing the audio electronics so close to the non-audio stuff which creates noise and limits the ability of the ITX01 to provide a clean signal. It may also be a consequence of the DAC itself not being great but, again, no information on it is available and it's therefore difficult to draw conclusions.
Sound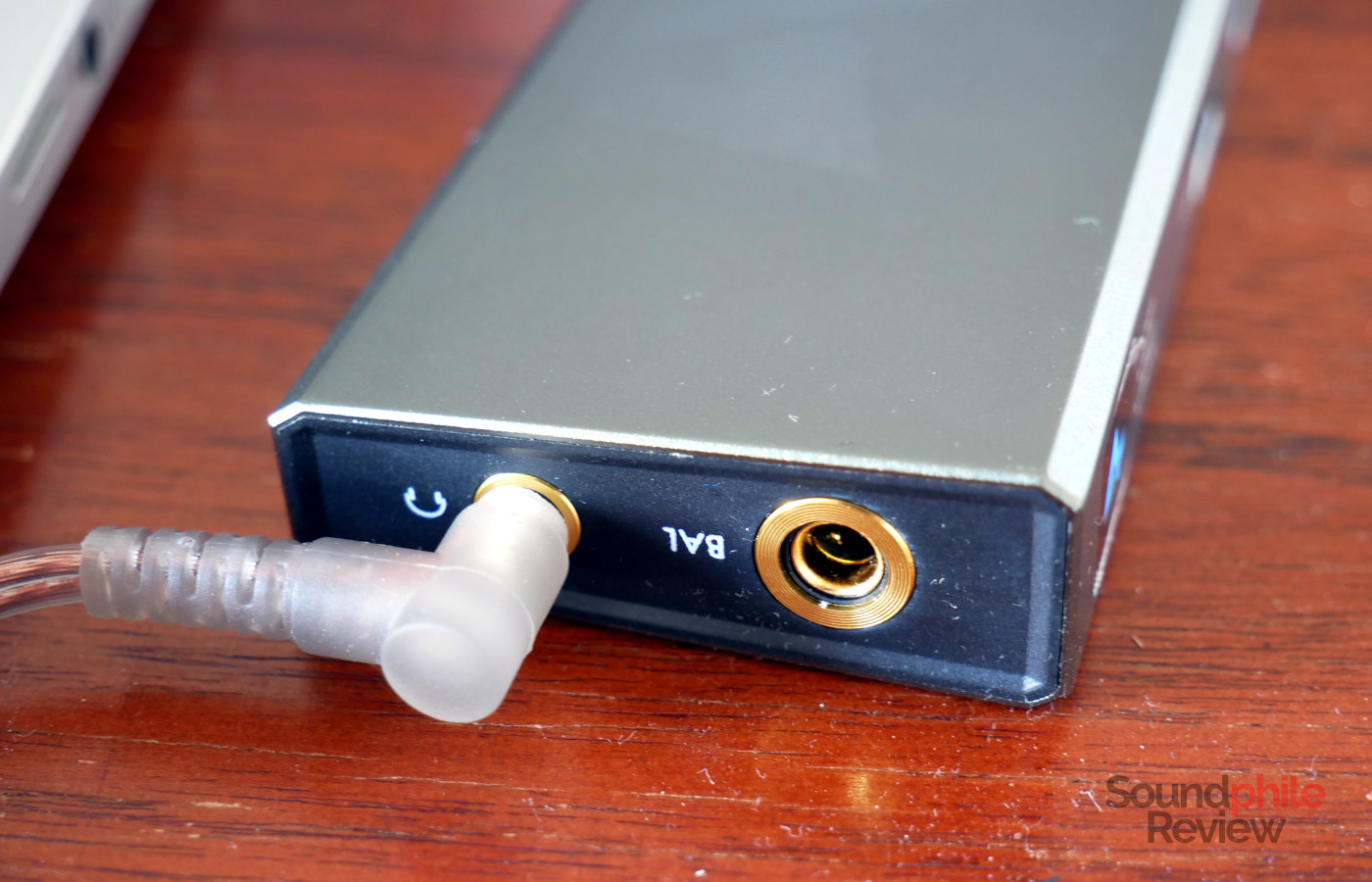 I've tested the ITX01 using various headphones, mostly the HiFiMAN HE-560, using my laptop as source.
As the IKKO ITX01 offers limited power output, this reflects on its ability to drive demanding headphones. The limit is still quite high, though, as it can drive the HiFiMAN HE-560 to very high volume levels – and it is capable of driving them to perfectly acceptable and safe levels at 50% volume. It does struggle more when it comes to the Sennheiser HD 6XX, but it's still quite good.
It's hard to pinpoint any faults in the tuning and, in fact, the ITX01 appears perfectly neutral to me. The problem it has is with a strong background hiss which means treble is lightly smeared and loses a bit of detail. This loss is very small and it is barely noticeable, so I don't deem this as a major flaw in the context of a device for on-the-go listening, but it is present. The hiss is definitely noticeable and is present even when the ITX01 is powered directly (and solely) by the laptop's battery, the cleanest possible source; it is more noticeable on low-impedance, high-sensitivity earphones and less so on full-sized headphones with higher impedance. The other thing I can hear is that the ITX01 is not as fast and physical as more powerful amplifiers with demanding headphones due to the limited power available; with low-impedance, high-sensitivity earphones this issue is not present.
The difference between the three modes is not large, but present. The hi-fi mode is, as I mentioned above, neutral and without significant departures from my expectations of a hi-fi device; the movie mode has emphasised bass and reduced mids and treble, which makes it quite warm; gaming mode, on the other hand, presents emphasised treble and, to a lesser extent, bass. The one big difference is the volume, which is reduced in hi-fi mode and quite high in the other two.
Final Thoughts
I have had the chance to try various hubs and docking station, but none of them featured the same focus on audio as the IKKO ITX01. They were all entirely functional and only aimed at providing additional USB ports, often with the addition of HDMI, Ethernet and SD card readers. The ITX01 really brings something new to the table as it allows you to combine the useful functionality of a USB-C hub with the pleasure of having audio output that's better quality than that of most laptops.
From a purely functional standpoint, the ITX01 offers almost everything that you could ever need, save for an Ethernet port. From an acoustic standpoint, it is a bit of a mixed bag: it does offer higher power than most laptops and tablets, but it has relatively high distortion that can affect its sound, at least with some headphones. The end result is therefore a compromise between these two aspects that is fairly well balanced in my opinion, but which doesn't make the ITX01 a full substitute for a dedicated audio device like a portable DAC/amp if you want to go full-in on audio. It is an upgrade over most laptops' integrated audio, but don't expect the same level of improvement of dedicated audio interfaces if you use demanding headphones.