The 1More EO323 are in-ear headphones that make up the spine of the Chinese company's offering, given their relatively low price of ~65$/~60€. Their creators thought of them not only as a mean to listen to music, but also as a fashion accessory – a trend we've seen increase in the last five years. Given their consumer attitude, the 1More EO323 are characterised by a "consumer" sound signature, with emphasised low-mids and accentuated treble.
1More is a branch of Xiaomi, originally founded by ex-Foxconn managers with the aim of competing with Beats using lower-priced products that deliver good value. The company is now partially owned by Xiaomi and manufactures all Xiaomi headphones.
Disclaimer: 1More Italia, the Italian distributor of 1More products, sent me a free sample in exchange for this review. You can buy from Amazon.it or from their site to support them.

TL;DR: recap
Pros:
Good build quality, great design & premium materials;
Nice comfort;
Remote with microphone;
"Consumer" tuning with V-shaped sound (also a con for some!);
Relatively low price
Cons:
Low-mids are a bit bloated and bass is not very tight;
Only average detail
Rating: 7.2/10
Package and accessories
This is one of the most elaborate and elegant packagings I've seen in lower-end headphones. 1More definitely wants to build itself an image of a classy and luxurious brand. The box is made of hard paper with a nice texture and an aluminum plate on the lid; the inside is even better, as the EO323 are presented in a way that is more typical of jewels than of electronic products.
There are a hard carrying case, a metal clip, an aeroplane adapter and silicone tips in four sizes, complemented by various manuals and leaflets.
Design & Comfort
The 1More EO323 are first and foremost a fashion accessory. That's a hyperbole, of course, but it gives you an idea of how much effort the company put in the design process. My idea is these earphones are especially targeted at the female public, given their gilded pink colour. While I don't see the 1More EO323 as a product for everyone, I am also convinced that they can be suitable for male consumers, too – it depends on one's taste, in the end!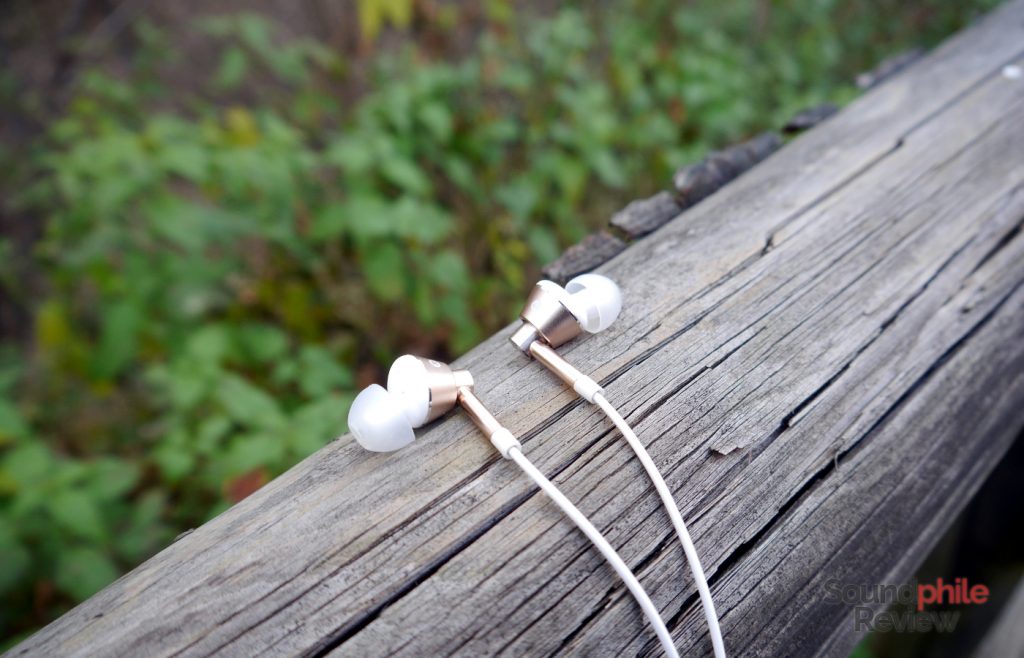 The design is similar to the one adopted by the Xiaomi Hybrid Earphones and its heir, the Xiaomi Piston Pro (which was announced a few weeks ago). The difference here is the whole "body" of the earpiece (housing and strain relief) is made of aluminium without any plastic, with the exception of the side facing the ear and the nozzle. 1More put great care in making the EO323 look refined and this is apparent looking at the materials they used. The cable is braided between the jack connector and the Y-split, with aluminium cylinders marking each cable segment (one at the Y-split and one before the jack connector); it is covered in rubbery plastic after the split.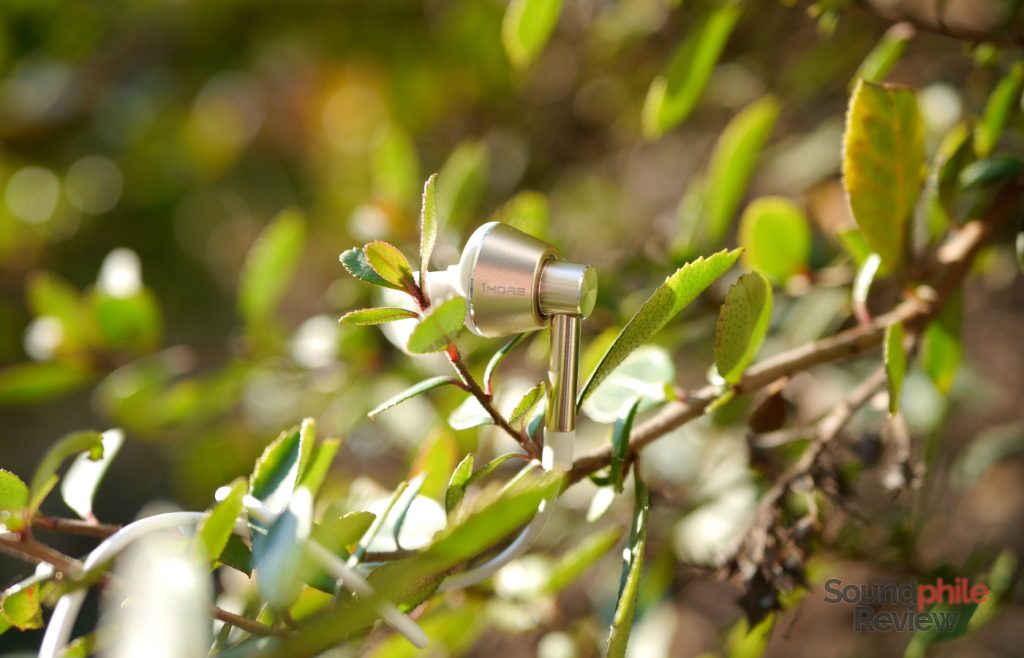 I found the 1More EO323 to be very comfortable, as I could wear them for several hours without my ears suffering from fatigue. My opinion is that this is largely due to the angle the nozzle is positioned, that allows the earphones to gently slide into the ear canal without forcing. The round shape of the housing also makes it easy for the ear to adapt to it.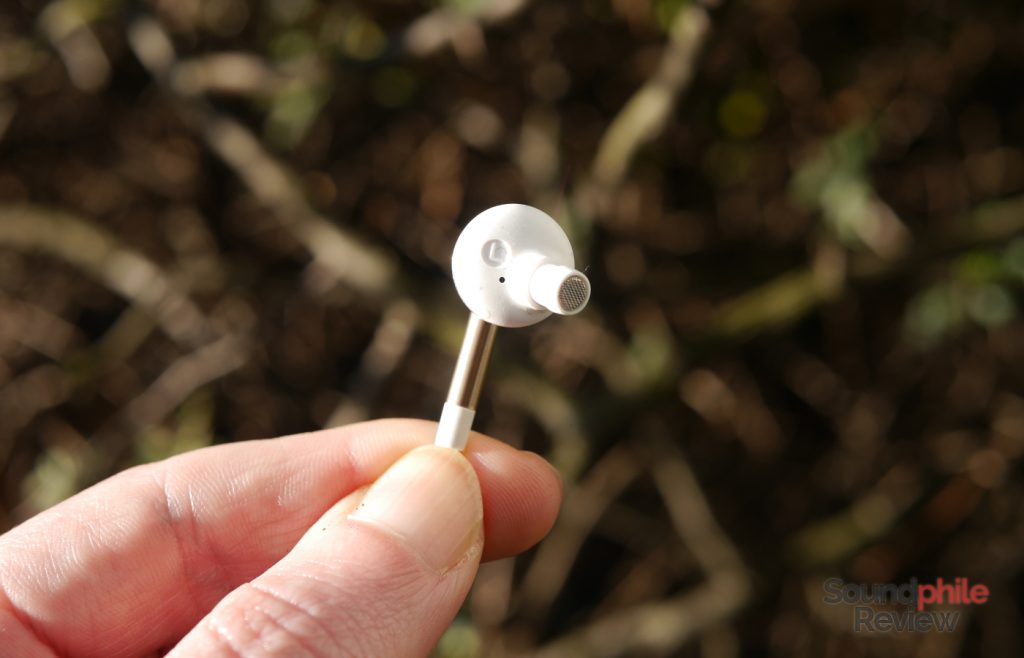 Isolation is not the best I've seen in in-ear earphones: when compared to the RHA T20i or the Meze 11 Neo, the 1More EO323 perform poorly. This is not to say that their performance is poor on a general basis, however; while you can hear your surroundings, there is a considerable reduction in noise. The 1More EO323 may not offer a perfect seal, but isolation is enough to allow you to listen to music without issues even in loud environments.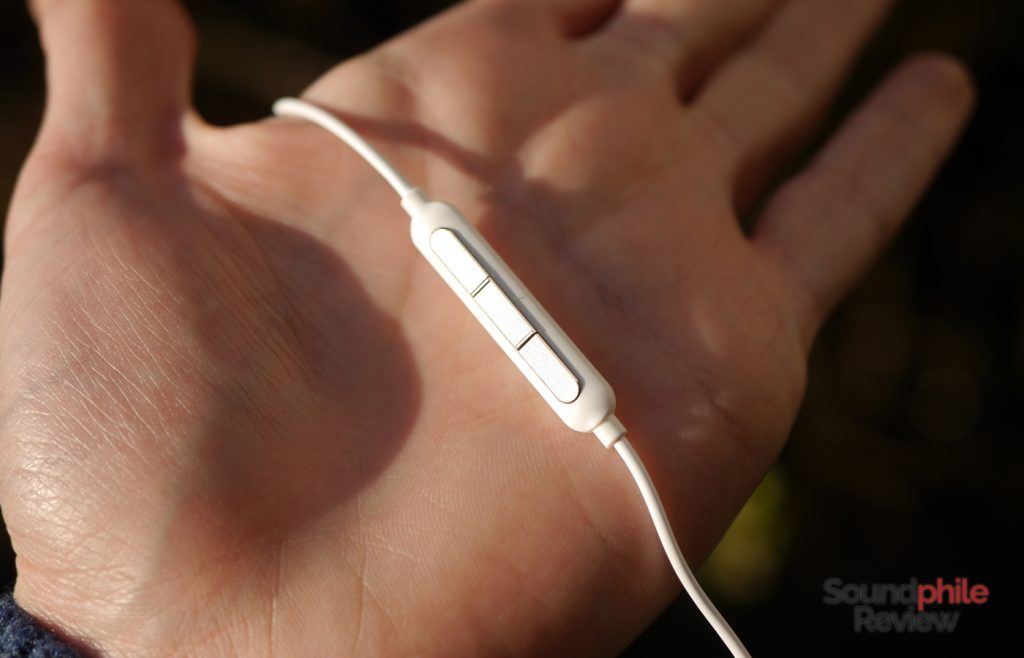 The right cable hosts a remote with three buttons (vol-, play/pause, vol+) and a microphone. The latter works fairly well in calm environments, but it is not able to diminish the background noise and put the focus on the user's voice if you use it outside. Using it at home or in the office yields good results, though!
Sound & Specs
The 1More EO323 unit I received underwent ~100 hours of burn-in. The listening setup is made of a desktop PC with a Zorloo ZuperDAC connected to it. While on the go, I used a Lenovo Vibe Shot as the source device. All files used are either FLAC or MP3 (320kbps).
| | |
| --- | --- |
| Frequency response | 20 – 20,000 Hz |
| Impedance | 32 Ω |
| Sensitivity | 98 dB |
1More aims at the Beats market: mostly young, fashion-aware people who look for a product not only with an immersive and engaging sound signature, but also with refined aesthetics. Sound is often left as a lower-importance element in this market. While the 1More EO323 are definitely not audiophile earphones, I have to give credit to 1More for creating a product which indeed is good-looking and offers decent sound. They also continued the trend of involving famous people to promote audio products, by asking Grammy Award-winner Luca Bignardi to specially tune the earphones.
As they appeal to the younger generations, used to hyper-compressed music with very little dynamics, the 1More EO323 have a somewhat V-shaped sound signature which places bass and treble in the foreground while leaving the midrange a bit in the background. Treble is, however, less prominent than bass and is only slightly more accentuated than midrange is.
The company achieved this sound by combining a dynamic driver and a balanced armature driver. The latter renders mids and treble, while the first handles bass. This kind of configuration is not rarely seen in the product lines of both Xiaomi and 1More, and it is one of the firms' signatures. They try to reap the benefits of both technologies – with moderate success.
While mids and treble remain almost stable in their output if you raise the volume, bass gains significant strength and volume. More generally, it seems like the 1More EO323 are better suited for high-volume listening than low-volume, as they perform noticeably better.
I would say the instruments are nicely separated, even though bass sometimes trespasses its boundaries and covers parts of the low-mids. Stereo imaging is nothing exceptional, though it is acceptable in this price range. Soundstage is definitely wider than that of the Superlux HD381 and comparable to that of the Meze 11 Neo.
Bass is powerful and full. The company wants to compete with Beats and it delivers bass that can confront the Californian competitor without fear: it is not completely in the same league, as I would argue it is more controlled and less bloated than the "Beats sound", but it is somehow similar in the sense that it is front and centre. The focus is on mid-bass, as one would expect; I can definitely feel it when listening to electronic music and I feel inundated by it (in a positive way, though). I won't hide that I find them especially pleasing and fun, even though bass is not really tight.
As for the midrange, listening to Again by Monty Alexander (included in Chesky's 30th Anniversary Collection), the piano is dull and devoid of that liveliness and fullness that should be typical of the instrument. The pianist also quietly sings along, but he is even barely audible. This is cherry-picking flaws, though: they otherwise sound smooth and relaxed, with a decent clarity and sufficient detail. If you want to listen to midrange-heavy music these may not be the best choice, but the mids are not as recessed as to sound bad nor lack too much detail.
As I already wrote before, the V-shaped frequency response graph which characterises these earphones means both bass and treble are elevated. Balanced armature drivers are widely known as being able to reproduce high frequencies with very good results and the 1More EO323 fall in line with these expectations, even if they are not excellent at it. Treble detail is fine in EO323's price range, although it is a bit overshadowed by bass. It is not too bright nor too analytical and this may actually be good for the folks looking for a relaxed presentation and an engaging sound.
What, using the RHA T20i, is a clear series of cymbal beats in the previously cited Again, becomes a jam of undistinguishable sounds using the EO323. That is fine, however, as the earphones are never sharp and maintain a fun attitude that will please many listeners. Extension is a bit poor, as you may have imagined.
My opinion is the 1More EO323 are earphones made with modern genres in mind – especially electronic music, rap/hip-hop, pop, rock. Classical music, jazz, folk and, more generally, all those genres which require a balanced sound are not within EO323's reach.
Given they are positioned halfway between 50$ and 100$, EO323's natural competitors come from both ends of the spectrum. I compared them against a few other earphones:
Xiaomi Piston Pro: manufactured by 1More, the Piston Pro combine a dynamic driver with a blanaced armature just as the EO323 do. The difference is the Piston Pro are "Hi-Res Audio" certified and offer much more detail and much better balance across the full sound range. They can also be too bright to handle for people who prefer modern genres and "consumer"-tuned headphones. While the Piston Pro are an overall better alternative, I would recommend the 1More EO323 to non-audio-enthusiasts as they offer a more enjoyable tuning. In my opinion there's no point in recommending something that would not suit people's tastes!
Meze 11 Neo: similar price and similar tuning make these earphones obvious competitors to 1More's. The midrange is more detailed and rich, while bass is a bit better controlled. The better resolution and treble extension on the Meze 11 Neo make them more attractive to those looking for an all-round in-ear headphone.
RHA MA750i: RHA's lowest-priced Hi-Res Audio earphones, the MA750i are more balanced and more detailed. They are ideal for almost every genre, and they offer a more complete listening experience – but not a necessarily more satisfying one, as it is up to one's taste. Better dynamic range, better resolution and neutral balance make these earphones better for the demanding listener. That very neutral balance and enhanced resolution may not be appealing to everyone, though. They share the premium build and materials that characterise the EO323, even though their over-ear "hook" allows for a better comfort.
RHA T10: these earphones' price tag is about double the one of the EO323. There's a reason: the T10 share the bass boost with the EO323, but that's about the only thing they have in common. Wider soundstage, way better resolution, better tonal accuracy, better bass control and overall better balance make the T10 an overall better option for the demanding listener and the casual listener alike. The elevated bass makes them appealing to consumers looking for fun, too!
Creative Aurvana In-Ear2 Plus: these are definitely lighter on bass, while offering more accurate treble and a flatter response, which may better suit midrange-focused tracks. They also have less instrument separation and a narrower soundstage. Build quality is inferior and materials are also way more plasticky. The 1More EO323 are an overall better alternative in my opinion.
OnePlus Icons: Xiaomi's competitor OnePlus got in the headphones game since its first smartphone launch. The Icons are the firm's top offering and offer a pleasant sound with a large soundstage and very good resolution. They've got plenty of bass and a nice, smooth midrange. Their presentation is overall more musical. They are also very similar to the EO323 in terms of build quality and materials.
Final thoughts
Considering 1More is in charge of manufacturing Xiaomi's headphones, I had high expectations of the 1More EO323. I was not disappointed. The 1More EO323 are engaging, warm earphones with a laid-back attitude that offer great fun at a low price. They check many boxes without any big con to point out. Their sound is enjoyable and appeals to almost everyone looking for relax and fun. The average isolation makes them a bit hard to recommend to frequent commuters, but I did not suffer too much from it on my commutes.
Most people would fall in love with these and I can clearly see why. You can't go wrong for less than 70$.