The OnePlus Buds Pro are possibly among the best-looking true wireless earphones out there, with a stunning design that really sets them apart. They also sport some advanced features including ANC, the LHDC codec and a slew of features like automatic pairing and low-latency audio when you use them in conjunction with a OnePlus smartphone.
Disclaimer: I received this unit from Hekka. They sell the Buds Pro for $120.99, but you can get $10 off with the code "Soundphile10". Additional information is available on OnePlus' official website.

TL;DR: recap
Pros




Cons

+ Beautiful design

+ Small and portable case

+ High-quality LHDC codec

+ Very effective ANC

– Limited technicalities

– Treble can be aggressive

– Fit is not for everyone

– Some features locked to OnePlus phones
Rating: 7/10
Packaging & Accessories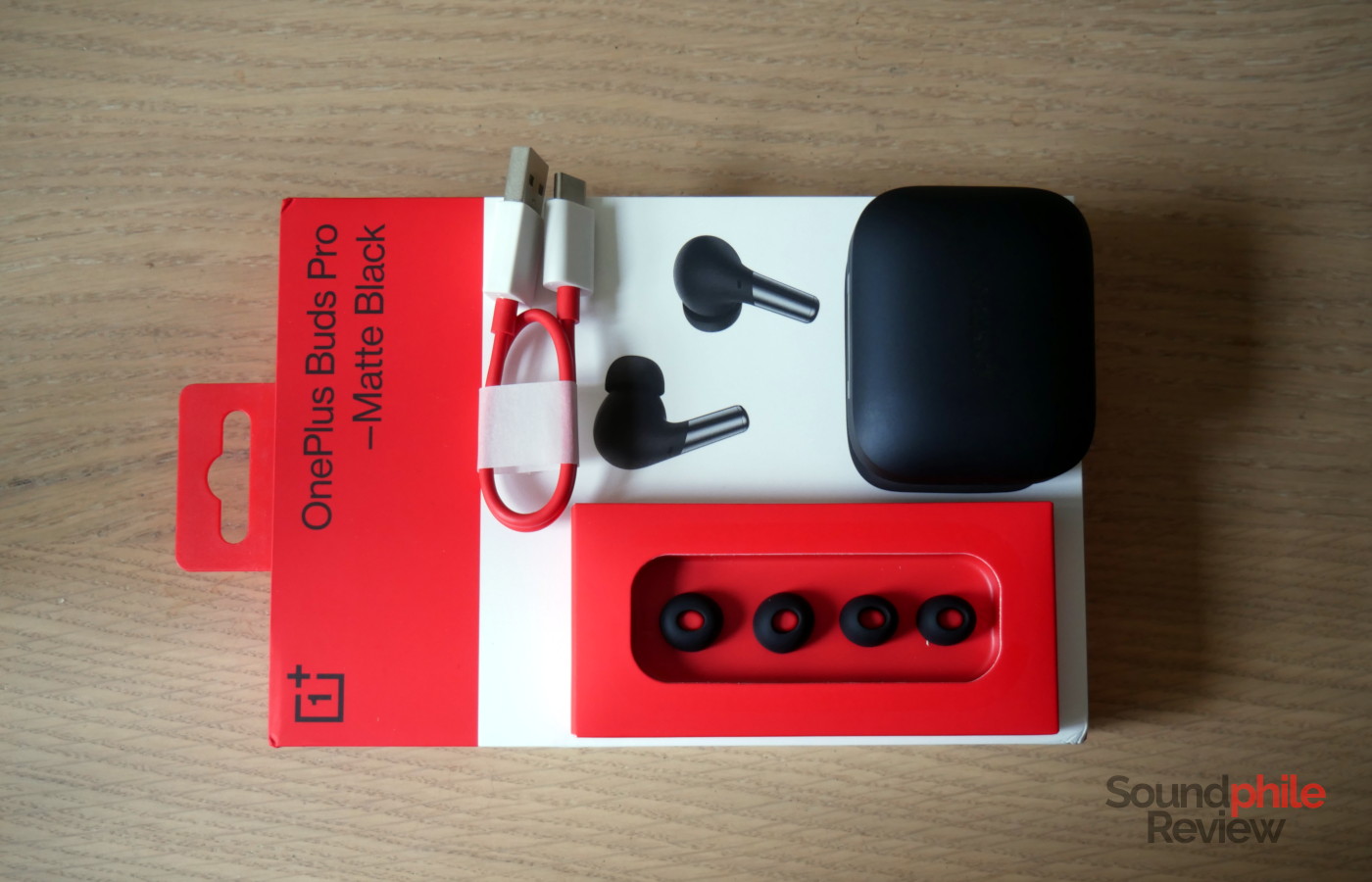 The packaging is really simple – a red and white cardboard box – and the accessories are few as well, with just a USB to USB-C cable and a set of eartips in three sizes.
Design & Comfort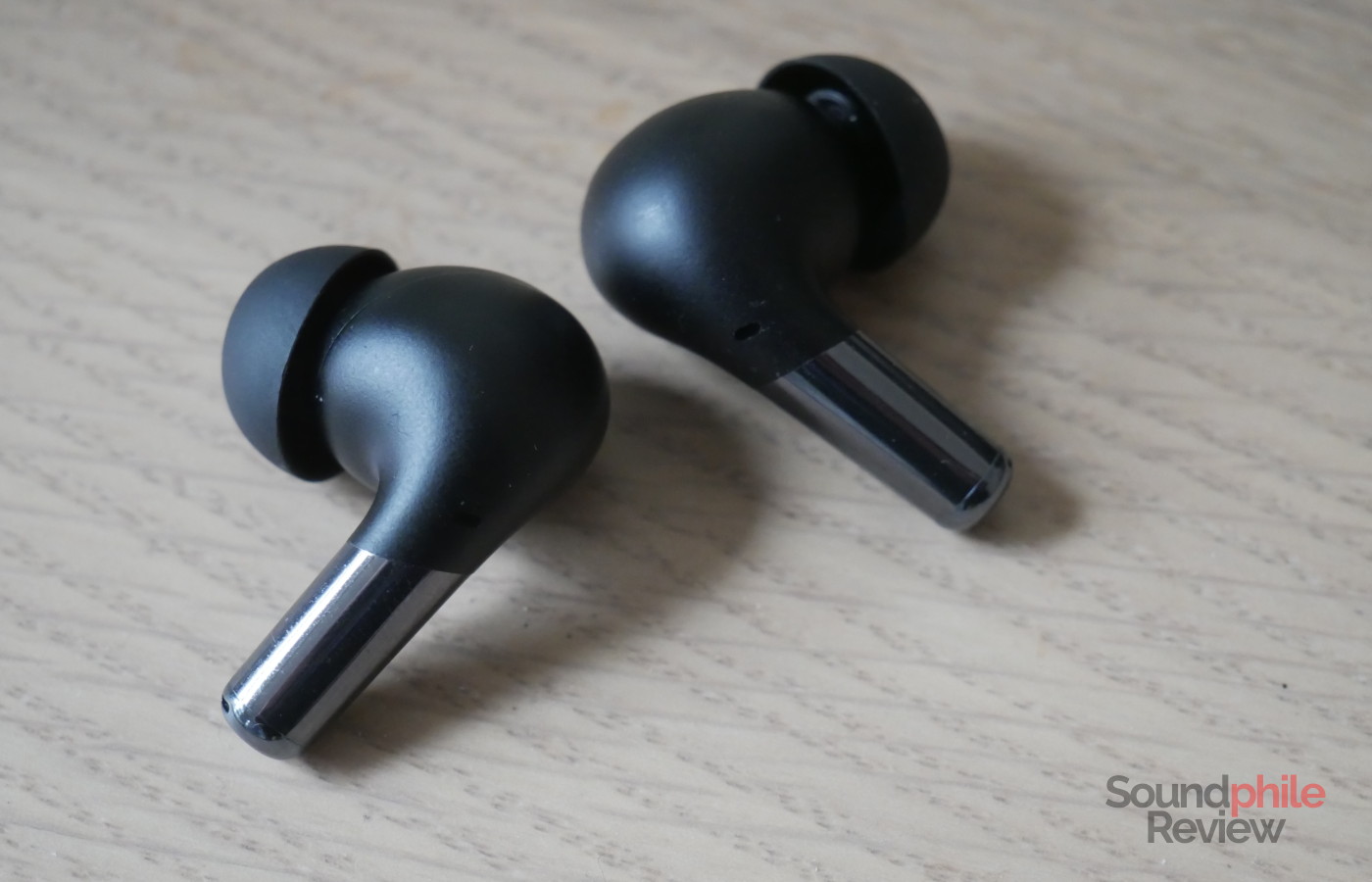 If there is one thing that OnePlus really nailed with these earphones, it's the design. The Buds Pro are really attractive and so is their case. They're very simple, but probably it's this simplicity which makes them attractive. What makes them stunning to me is that their curves appear to just flow from one place to the next, with no clear limit between the various parts of the earbuds. The only thing that distinguishes the shells from the stems is that the latter are painted with a metallic finish.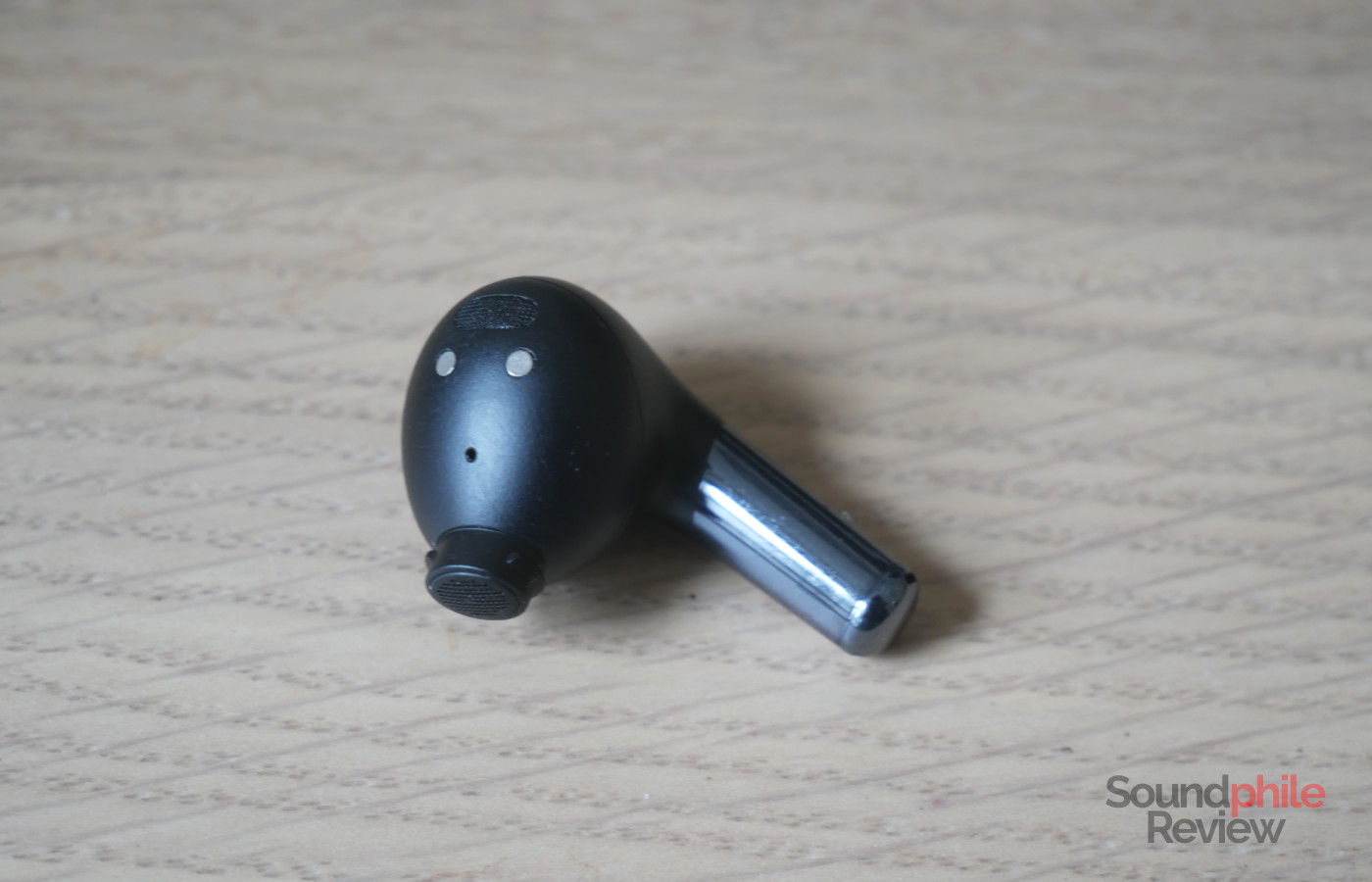 They're built quite well and I can't find any fault into their assembly. They also feature IP55 certification, which ensures the earphones won't be damaged if they are used while working out, under the rain (or the shower) and other similar situations.
A possible issue with them is that their fit is very shallow. They're not meant to go inside your ear canal, but rather to stay at its entrance; this is made evident by the shortness of the nozzles, which barely protrude from the shell. Some people may really like this as this doesn't give you that feeling of having something inside your ear that so many in-ear headphones give; on the other hand, people like me who prefer a deeper fit will find the OnePlus Buds Pro less enticing. Using normal eartips (e.g. the SpinFit CP100) mitigates this, but makes it difficult to fit the earphones in their case, so it's a trade off that needs some evaluation. In general, I would say that the OnePlus Buds Pro are not very friendly towards large ears and are more targeted towards small ears (for once, I know!) and that eartips require replacing, as the stock ones are not the best.
This weird fit does not just cause problems with comfort, as it makes you feel the earphones are constantly just about to fall off, but also with passive isolation, which is basically non-existent. To be entirely fair, it doesn't really matter which eartips you use: the OnePlus Buds Pro won't block much of the noise coming from outside, especially midrange and treble – and this appears not to be an issue with fit, as OnePlus' own app says the fit is perfect. The ironical paradox is that enabling ANC makes these sounds stand out even more and negates the benefits of this technology. Glasgow's subway, to give a practical example, is not exactly silent and a lot of its noise resides in the middle and high ranges; the OnePlus Buds Pro fail at protecting you from these, so you have to crank up the volume quite a bit to be able to hear music – exactly the kind of situation you want to avoid! This also means that human voices, among other noises, are still clearly audible, so the Buds Pro won't be of much help e.g. in a noisy office.
The case is stunning: it's very small, so it sits in a trouser pocket easily, and is super wieldy. It weighs just 51 g without the earphones inside, which is not a lot. It can be used with just one hand, though it's a bit tricky to open. It is also IPX4 certified, which is quite rare, and this means you won't damage it if it gets some splashes of water or some rain. Inside there is a button which you can use to initiate the pairing with non-OnePlus devices (as those by OnePlus get automatically paired).
Extra Features & Battery Life
The OnePlus Buds Pro offer compatibility with the Bluetooth 5.2 standard and with SBC, AAC and LHDC codecs. Despite OnePlus using Android on its phones, the company has chosen not to avail of the compatibility with higher-quality codecs such as the aptX family or LDAC, but they do offer LHDC which is available on some devices.
I am thoroughly impressed by the range and stability of the OnePlus Buds Pro. In my usual test of walking around the house, the kitchen is usually a black hole – as soon as I enter it, the connection drops. Not so with the Buds Pro, as I can walk freely around the kitchen and the whole rest of the house without music so much as stuttering. This really is one of the most stable connections I've seen in Bluetooth headphones in general, not just with "true wireless" earphones.
Unfortunately I couldn't make them work with my Shanling M2X. As soon as I connected them, the right hand side earbud would start emitting a loud series of thumps. If I tried to start reproducing music, they would disconnect, play thumping sounds and then reconnect. This is the first time something like this happens to me, but it appears the OnePlus Buds Pro are not compatible with some devices out there (every other wireless earphones I've ever tried, I've tested with the M2X, so it looks like the player's not the source of the problem).
One thing I really don't like about the OnePlus Buds Pro is that there are some features that only work with OnePlus smartphones. There's no valid technical reason for this, given OnePlus phones don't use special chips designed in-house, but simple greed and will to lock the customers in. So if you don't have a OnePlus phone, you can't get the low-latency mode (which is actually part of the Bluetooth 5.x standards), nor the Dolby Atmos audio. The low latency mode allows to reduce latency to 94 ms, according to the company, and this number doesn't impress either – aptX Low Latency's official specifications go as low as 40 ms.
ANC works well and removes low frequencies very effectively, so much so that they basically disappear. It doesn't work as well with midrange, though, and this is an issue given the fact there's basically no passive isolation. It's still quite useful and it works very well to remove the rumble and the hum of the jet engines on planes, as an example.
At times, the ANC feature would not work correctly and this would result in high-pitched screeches that are less than pleasant. On top of this, I've had multiple occasions in which one earbud would randomly start producing pink noise-like sounds; this was seemingly random as it would start out of the blue and then end after a few minutes. It often happens when I take a single earbud out, which enables the ambient mode on the earphone that stays in.
The ability to completely disable ANC and transparency mode is only given through the application, which also gives you access to firmware updates, controls customisation and Audio ID, which is OnePlus' take on the customisation of frequency response based on your hearing (oddly enough, in my case it would boost bass and lower midrange, making everything warmer). There's also a feature called "Zen Mode Air" which reproduces calming, white noise-like sounds if you press the stem for three seconds.
The controls set is not extensive and includes play/pause (single tap on the stems), next track (two taps), previous track or voice assistant (three taps) and enable ANC or transparency mode (tap and hold). The triple tap and the tap-and-hold controls can be customised. There is no way to control volume, which is quite an omission in my opinion on earphones of this price.
Battery life is honestly not great for the price these are sold at. At just around 5 hours, the OnePlus Buds Pro are closer to earphones costing around $50 than their competitors that cost $150. That figure is with ANC enabled, as disabling it takes battery life to around 7 hours, but it's still quite low compared to similarly-priced competitors that manage to get to 8 hours and beyond with ANC on. The case, despite being so small and light, actually holds about four additional charges that bring the total to around 25 hours – nothing to scoff at, but nothing too special either. The case is also compatible with Qi-certified wireless chargers.
Sound & Specs
I've tested the OnePlus Buds Pro using mostly my computers and a HiBy R5.
| | |
| --- | --- |
| Frequency response | 20 – 20,000 Hz |
| Impedance | N/A |
| Sensitivity | 98 dB |
| Bluetooth version | 5.2 |
| Codecs | SBC, AAC, LHDC |
Just like most "mainstream" earphones nowadays, the OnePlus Buds Pro offer a V-shaped signature with significantly emphasised bass and treble. The single dynamic driver has a diameter of 11 mm, which is generous for this type of earphones.
Soundstage is neither very wide nor deep, never beating the impression that the sound is coming from directly inside your ears. Imaging is limited to the basic positions (left, centre, right) and doesn't give much more accurate spatial information than that. Instrument separation is hampered by the abundant bass and often fails to correctly portray all of the instruments.
Bass is quite dominant in the signature and is concentrated in the mid-bass area, where there is a peak, although depth is quite good and sub-bass is well represented. Just like in most mainstream earphones, bass quality is not ideal with a slow transient response and a relatively long decay. Detail is therefore limited, especially with complex tracks, while physicality is decent.
Midrange is recessed and has a small bump in the middle area, but it's otherwise reasonably tuned. It's still clearly audible despite being recessed, although tracks with a lot of bass tend to make midrange less clear and clean – in other words, bass does tend to leak on mids. The level of detail is, again, limited, like speed.
Treble can be a bit aggressive, as it is tuned to stand out to provide that "boom and sizzle" that many people look for. That means it is sometimes fatiguing, especially if the track already has highs that stand out (e.g. Aes Dana's The Gradual District). There's a decent amount of detail overall, but the multiple peaks and dips in this area create a skewed representation.
OnePlus Buds Pro Comparisons
As I write this, I don't have other TWS earphones in the same price range, so let's compare the OnePlus Buds Pro with other notable earphones in the ~$100 range:
OnePlus Buds Pro vs Nothing ear (1): the ear (1) are quite different than the Buds Pro. Their bass is much less emphasised, so much so that it's almost absent in comparison; there is a lot less sub-bass, but the rest is comparable – speed, detail and physicality are similar. Midrange is quite different between the two, as on the ear (1) it has more emphasis in the upper region and much less presence in the lower one; detail is again comparable, with the Buds Pro having a slight edge on the Nothing. Treble sees the Buds Pro win in terms of tuning as, despite the emphasis that characterises it, it is still more restrained than that of the ear (1), which also come second in terms of detail. Soundstage is slightly wider on the Nothing, while imaging is comparable and instrument separation is (slightly) better on the OnePlus. The OnePlus deliver better ANC, as well as better battery life (and that's something!), but the Nothing offer much better controls and a better app.
OnePlus Buds Pro vs Lypertek PurePlay Z3 2.0: the PurePlay Z3 2.0 simply blow the OnePlus Buds Pro out of the water in terms of pure sound quality – there's no contest whatsoever in any sense. The part where the Buds Pro win is the features, as they offer ANC (while the Lypertek don't), more ergonomic touch controls as opposed to physical buttons (but that's subjective, I may actually prefer the physical buttons), the portability (the case is much smaller) and the connection stability and range. The Lypertek offer better battery life, though.
Final Thoughts
I'm really not a fan of products having features that are only available when you stay inside a company's walled garden – there's a reason I use Linux, after all! – but I also understand that some things can only be achieved if you have control over the whole chain. This consideration aside, the OnePlus Buds Pro do a lot of things well, with the ANC being very effective and the connection range and stability being superb, but they also miss the mark on a few important aspects: passive isolation is nihil and makes ANC less effective, the sound signature could see some improvements, battery life is well below average for the price range, the fit is far from perfect.
In the end, the OnePlus Buds Pro are good earphones if you want something to listen to music or podcasts on the go while removing some background noise, but they're not competitors to products targeted more specifically at audiophiles, despite the compatibility with the LHDC codec. They also look insanely cool and I would buy them just for that, if design were at the top of my priority list. While demanding audiophiles will probably find their tuning a bit limiting, in the mainstream market they are quite good earphones and most people will probably like them quite a lot.