The Audio-Technica ATH-SQ1TW certainly do not have a name that rolls off the tongue, but they are the Japanese company's first entry in the true wireless market and its first attempt at offering its house sound in a more modern, and arguably more convenient, format. An attempt which is, to a large extent, a success.
Disclaimer: I received these earphones for free directly from Audio-Technica. Additional information is available on the official website.

TL;DR: recap
Pros




Cons

+ Very good build quality

+ Incredible passive isolation

+ Superb comfort

+ Very stable connection

+ Entertaining, lively sound signature

– SBC is the only available codec

– Hear-through automatically enabled during calls
Rating: 8/10
Packaging & Accessories
The packaging is quite simple: the earphones come in a simple cardboard box (of the brown variety, so the most basic option) in a cardboard sleeve. Inside it are the earphones in their case, a USB to USB-C cable as well as three pairs of eartips in different sizes and a manual.
Design & Comfort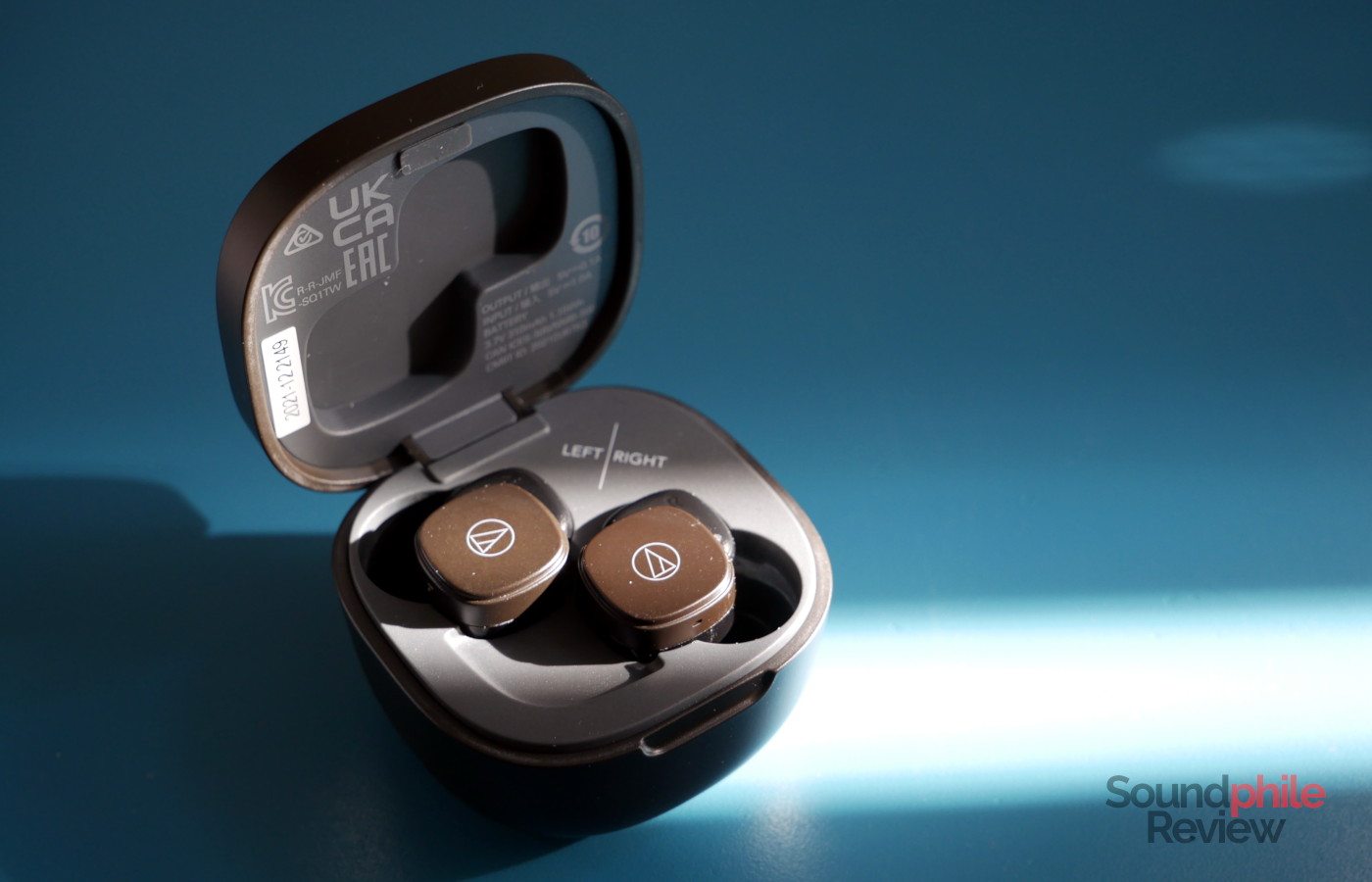 The earpieces are almost squircles, with a protruding bit on one of the corners. They're really small, so much so it's actually difficult to believe there are batteries and electronics inside them. The shells are made of matte black plastic, while the protruding bit is made of semi-transparent black plastic. One bit of very fine design is the fact that the channel letters are engraved into the protrusion and they light up in white as they double as status LEDs.
In terms of build quality, the ATH-SQ1TW are quite good, as they are made of solid plastic that looks and feels resistant and durable. They are IPX4 certified, so you can use them during workouts without any concern of damaging them.
Comfort is great. The Audio-Technica ATH-SQ1TW are very small and lightweight, so they fit perfectly inside my ears – but they're so small even people with smaller ears should be able to wear them without any discomfort.
Much to my surprise, these little plastic earbuds actually provide a whole lot of passive isolation. So much so that they have become my go-to wireless earbuds for my workouts at the gym: they isolate me enough to allow me to concentrate on the music (and on what I'm doing) without hearing much of neither the other gym-goers, nor the gym's music. And this happens without any active noise cancellation! As an additional note on this, I found myself at a concert without my earplugs, but having the ATH-SQ1TW in my pocket: surprisingly, they worked really well as makeshift earplugs! The difference between wearing them and not was stark and they allowed me to enjoy the concert much better than if I hadn't worn anything.
The charging case is quite small, though it is also quite thick. It is still small enough to fit easily into pockets. There is a USB-C port on the back, as well as a status LED to indicate the charging progress. The only flaw I can think of is the lack of a system to indicate the remaining charge.
Extra Features & Battery Life
The Audio-Technica ATH-SQ1TW support the Bluetooth 5.0 standard with the SBC codec – that's it, no other codecs are supported. This ensures wide compatibility, but it also means the earphones are more limited than many competitors in this regard. I've never had issues with the range and stability of the connection, even in relatively busy environments like the gym where there are lots of Bluetooth device that interfere with each other.
The touch controls are quite complete and intuitive. With one touch you raise the volume (left hand side), play/pause music (right hand side) or answer a call (both sides), with two touches you reduce volume (left) or skip to the next track (right); with three touches you skip to the previous track (right); with a long-press you enable the low latency mode (left) or the hear-through mode (right), or end the call (both).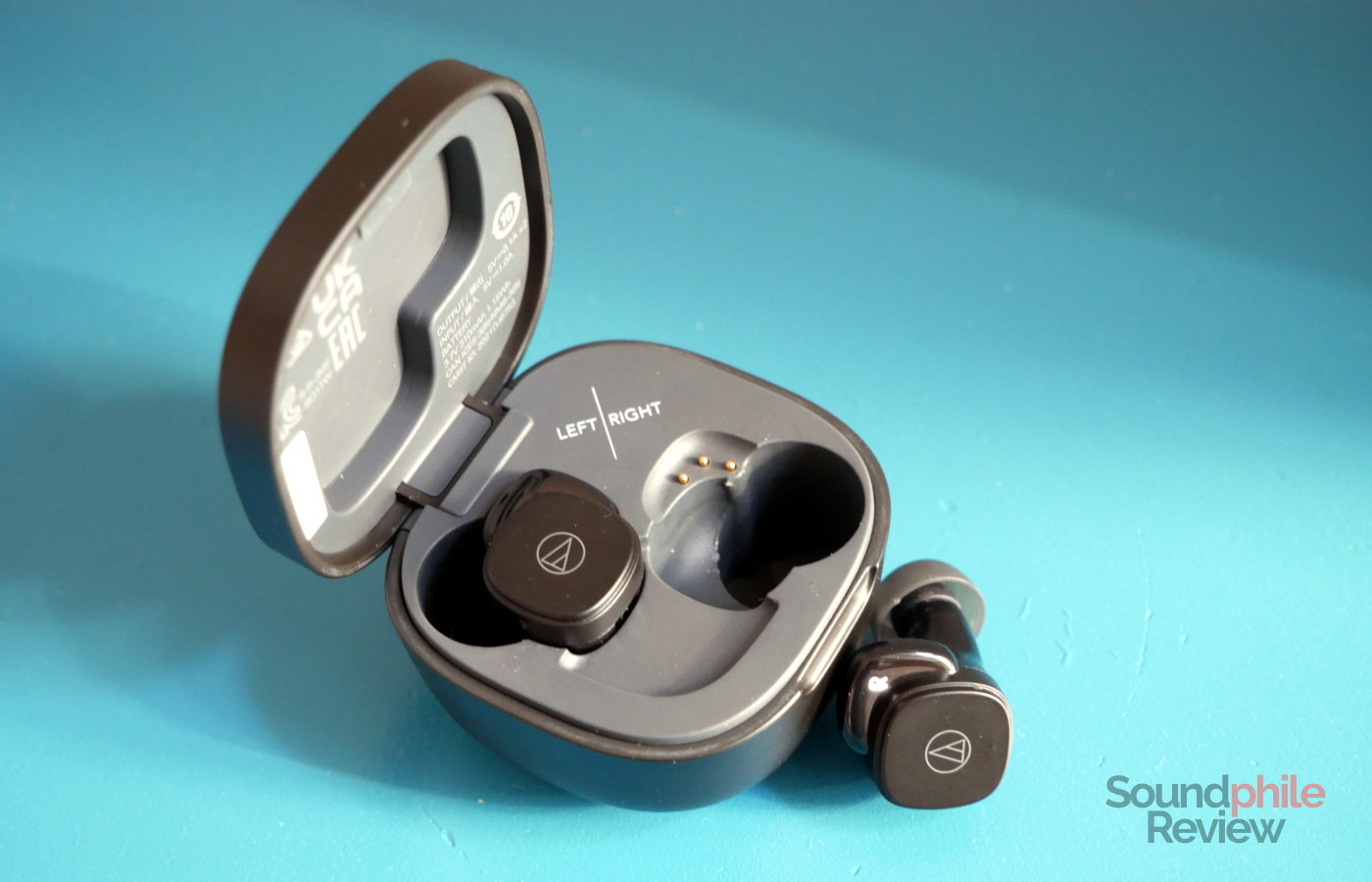 The microphone works decently well, though people told me that I sound a bit distant when I'm using the earphones during calls. The thing I do not really like about the ATH-SQ1TW is that they automatically enable the hear-through mode during calls, which means the microphones capture surrounding sounds and replay them; this gets rather annoying, as more often than not you actually want surrounding noises to be reduced rather than increased in order to hear the other person correctly.
Battery life is acceptable, at around 6.5 hours per charge plus two additional charges in the case which amount to a total of 19.5 hours. The single charge is more than decent, especially given the size and weight of the earpieces, but the case could offer more than two charges.
Sound & Specs
I've tested the Audio-Technica ATH-SQ1TW with a variety of sources, including my computers, a HiBy R5 and a Google Pixel 6 Pro.
| | |
| --- | --- |
| Frequency response | 20 – 20,000 Hz |
| Impedance | 16 Ω |
| Sensitivity | 100 dB/mW |
| Bluetooth version | 5.0 |
| Codecs | SBC |
Surprisingly, the Audio-Technica ATH-SQ1TW have quite a spacious soundstage. While it isn't very wide, it has some depth which makes up for it. Imaging is very good, as the instruments are placed in the full spectrum of positions from extreme left to extreme right. Instrument separation is generally good, but it is conditioned by the sound signature and therefore sometimes fails to distinguish instruments correctly.
Bass is elevated, but not so much as to cover the mids. There's good depth for earphones of this size, though sub-bass is barely there and the lowest notes stay out of reach. Mid-bass is the prevalent area. Speed is very good and decay is relatively short, so transients sound convincing. Detail is also quite good, though in more complex tracks it tends to get a bit lost in the mix.
Midrange is relatively recessed, though only slightly so, so this doesn't really pose an issue. In fact, midrange generally sounds clear and clean, though it is itself V-shaped and therefore tends to emphasise the lower and upper areas. Detail, just like with bass, is quite good but tends to suffer a bit in more complex tracks. Transients are well rendered, with good speed and fast decay.
Treble is quite accentuated, a fact which sometimes makes it relatively fatiguing. Overall, though, it is quite well balanced: it adds some spark to the music without becoming prevalent or piercing. There is probably a couple of peaks, around 8 kHz and around 12 kHz, which can lead to a bit of harshness if the track already has a strong presence in those areas, but other than that it sounds smooth enough. Detail is very good and beyond my expectations for earphones in this price range.
Final Thoughts
The Audio-Technica ATH-SQ1TW have become my de facto go-to earphones for the gym. No other true wireless earbuds I have available offer the same level of comfort, sound quality and passive isolation as they do. I have used them extensively over the past six months and their performance has never let me down. But they work very well even beyond the gym, thanks to their great all-round performance. Battery life is good when it comes to the single charge, but it could be better overall.
Considering the ATH-SQ1TW are Audio-Technica's first true wireless earbuds, I am impressed by them. They got basically everything right. So kudos to them, and my recommendation for the ATH-SQ1TW.