One thing I like about Shanling products is that they really keep on changing their design, creating ever-new ones. The Shanling MTW200 take the design of the company's "true wireless" earphones in a new direction: instead of the now-usual IEM-like shell design, the MTW200 sport shells with a stem. And not only that: there's a completely new tuning approach, too.
Disclaimer: I received this unit free of charge directly from Shanling. They retail for $89 in the black version and $99 in the chrome version you see pictured here. Additional info on the official page.

Packaging & Accessories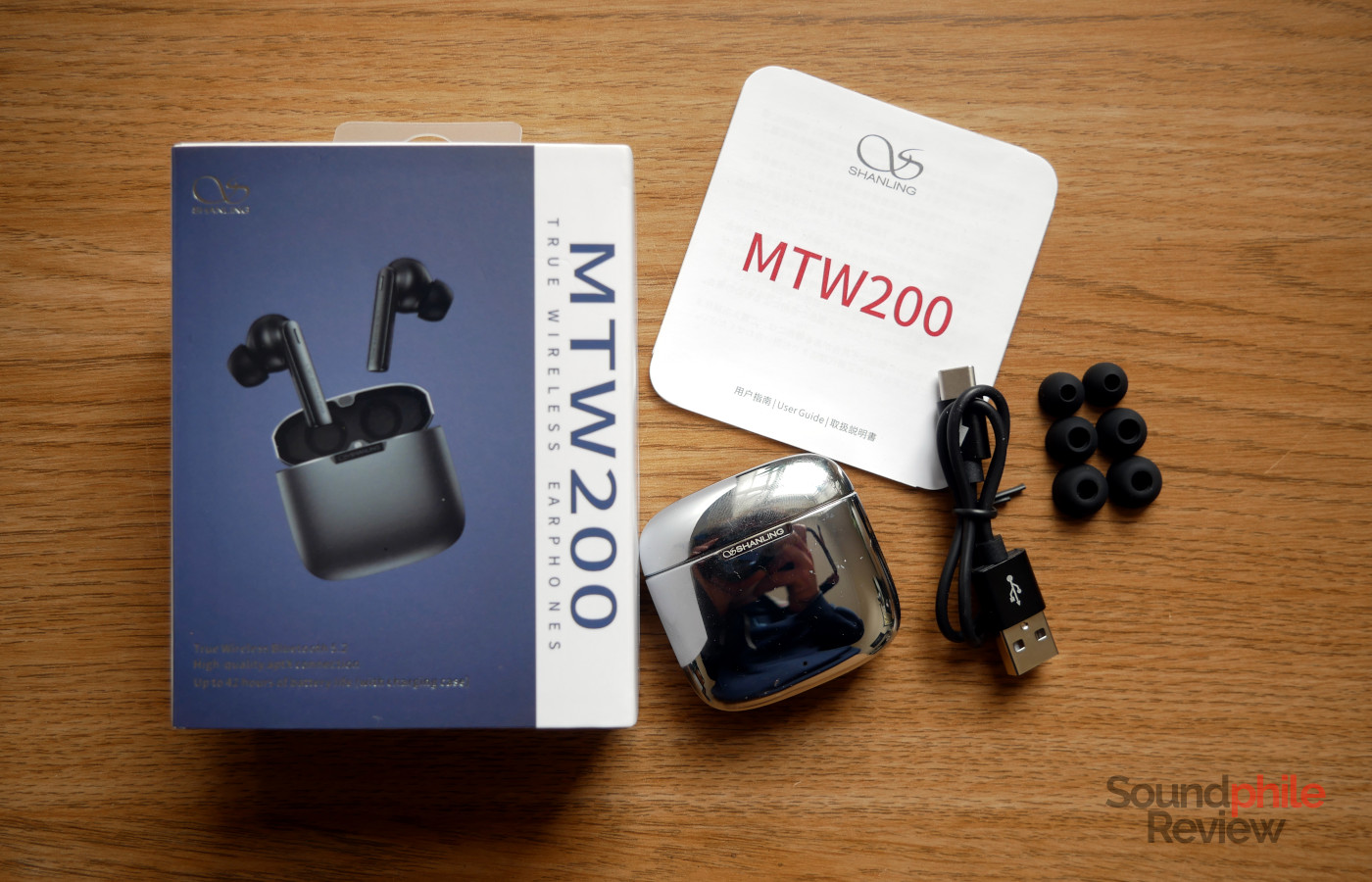 Packaging and accessories are simple and to the point: the cardboard box contains the earphones in their case held in place by some foam, plus a short USB to USB-C cable and a set of silicone eartips in three sizes.
Design & Comfort
The shell of the Shanling MTW200 has the familiar design with a stem, just like the best seller on the market (you know which one: the fruity one), but it has its own take on it with the use of dual tones: the stem is covered with a silver-coloured plate on the outside, while everything else is matte black. The main part of the shell, the one where the driver is, has a drop-like shape so that it fits better into the ears, with the tip pointing downwards; this makes it so that when you wear the MTW200, the stem goes in the incisura (that small gap below the ear canal, between the tragus and the antitragus) and sits there comfortably.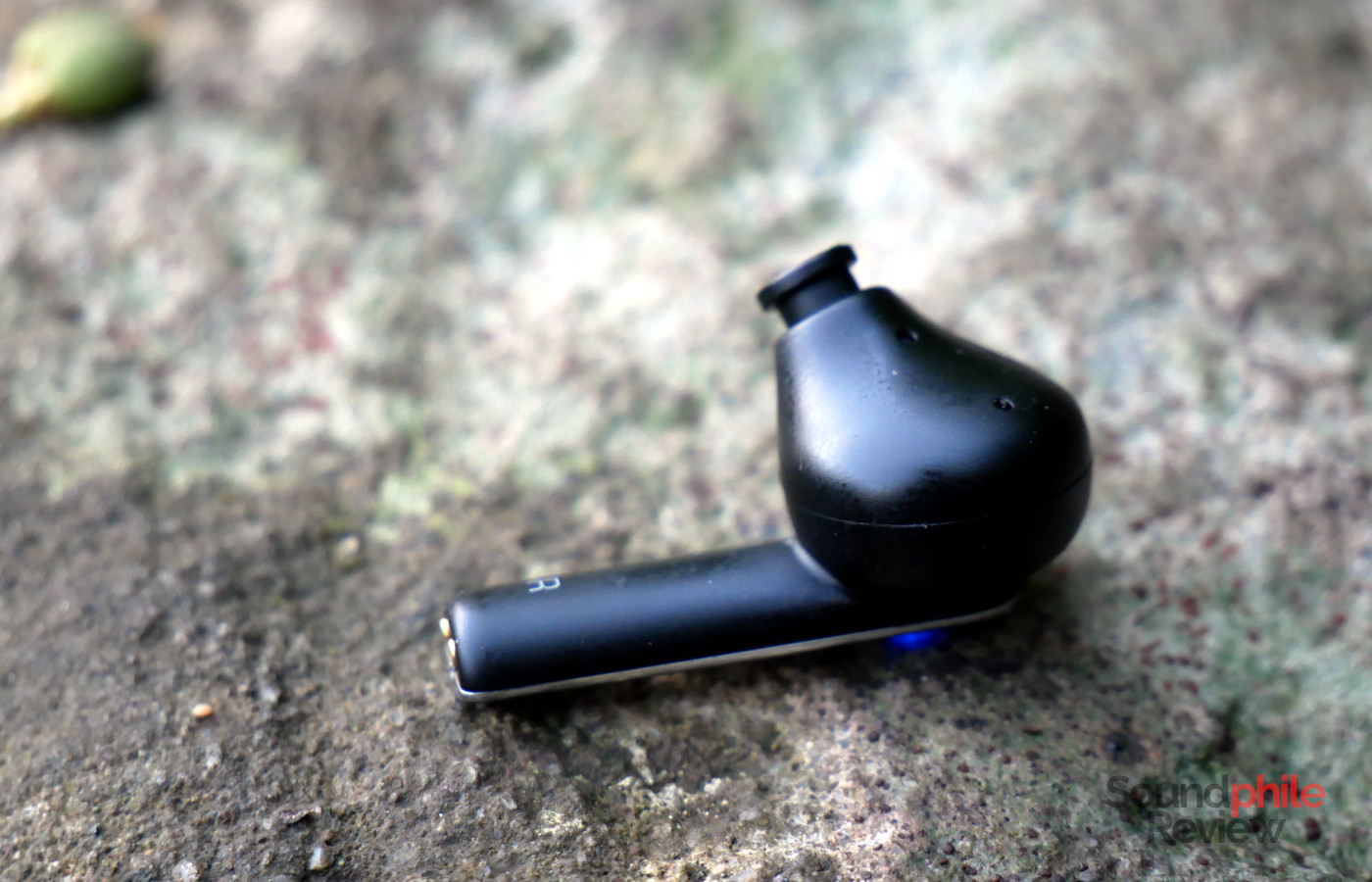 There's a small oblong hole on the outside of the stem which hides a status LED: as an example, it lights up when you put the earphones in the case, so you can verify they're actually charging. I find the MTW200 to be quite well designed overall, with a simple styling that's highly functional. The shells are also assembled well and I can't find any flaws in their build quality; the materials appear to be durable and resistant enough. The MTW200 are IPX4 certified as well, so you can take them on your workouts or under the shower without issues.
I find the MTW020 to be really comfortable, thanks to their small size and the curved shape of the shells. I can wear them for a couple of hours without issues and they're light enough for that not to be a problem at all, either.
Isolation is not quite on par with comfort though, as I can always hear my surroundings quite clearly no matter which eartips I choose. I can clearly hear my (relatively silent) keyboard when I type and the sounds of a busy road are not blocked effectively, either, so this should give you a good measure of how these fare in this regard.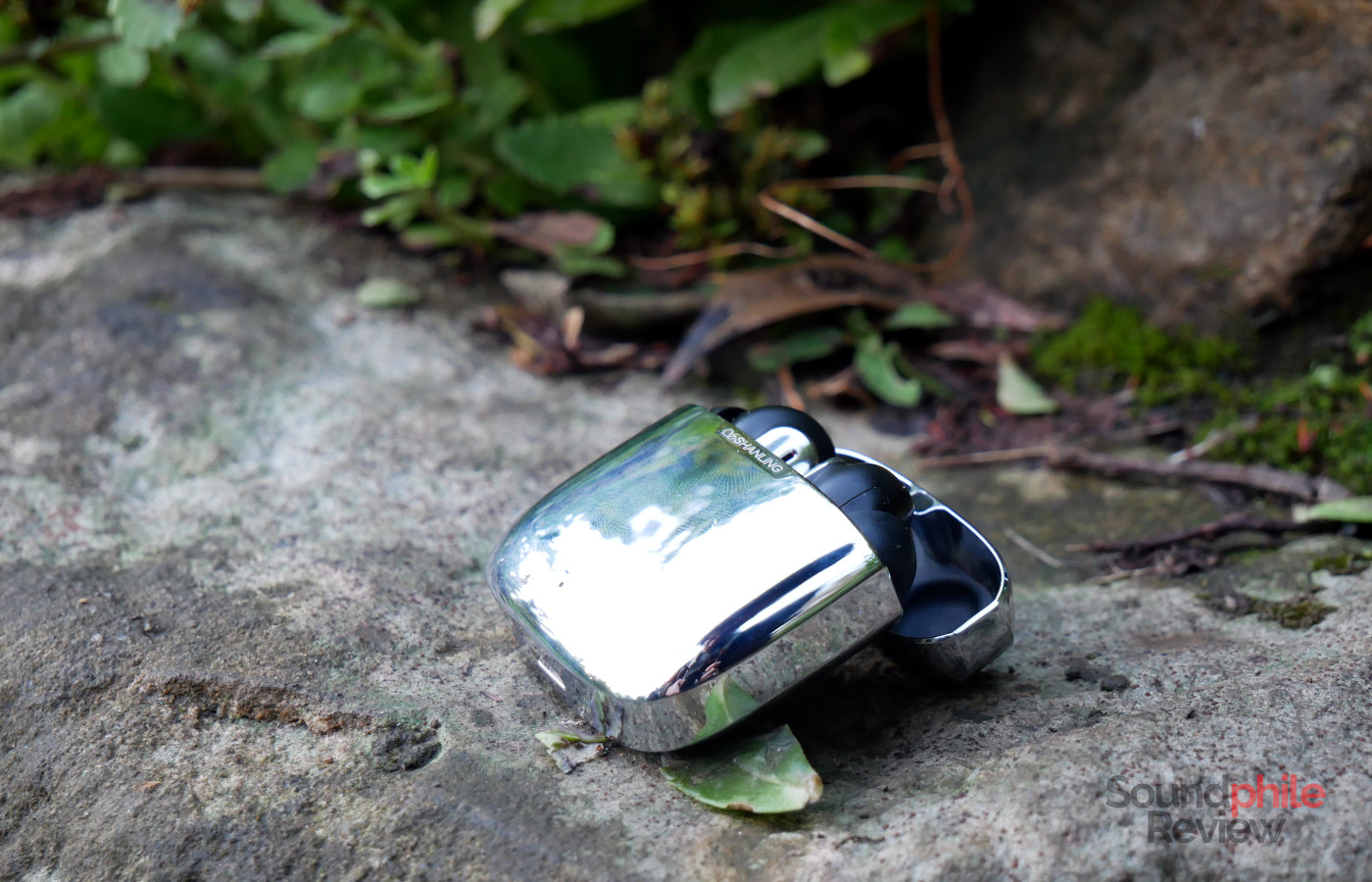 The one thing I really like about the Shanling MTW200 is their case. It looks a bit like those old flasks, a lighter or like something a designer from the '60s would have thought – with some modern touches that make it quite unique. It surely is shiny and metallic, no doubt about that. It's also quite small, but substantial at 90 g – it surely has a weight to it that makes it feel somehow more premium (I know, it's this weird thing about the heavy-ish stuff feeling better than the light one). The case is also totally devoid of hard edges, which means it will sit comfortably in your pockets without tearing holes in them. Good stuff. Another thing I quite like is that the lid stays open once you open it, even if you then place the case on a surface, and then it has a magnet to keep it from opening. This is how cases should be designed! Finally, there's a single hole on the front where a multi-coloured status LED is housed.
This beauty has a price though, as I learned the hard way. The chrome finish is in fact quite fragile and prone to showing marks and scuffs. I unfortunately dropped my unit by accident and it still shows the signs of that fall, even though it was from less than half a metre from the ground. If you do pay attention, unlike I did, it's probable that the metal will last longer than plastic and prove more durable and resistant in the long term, though.
Extra Features & Battery Life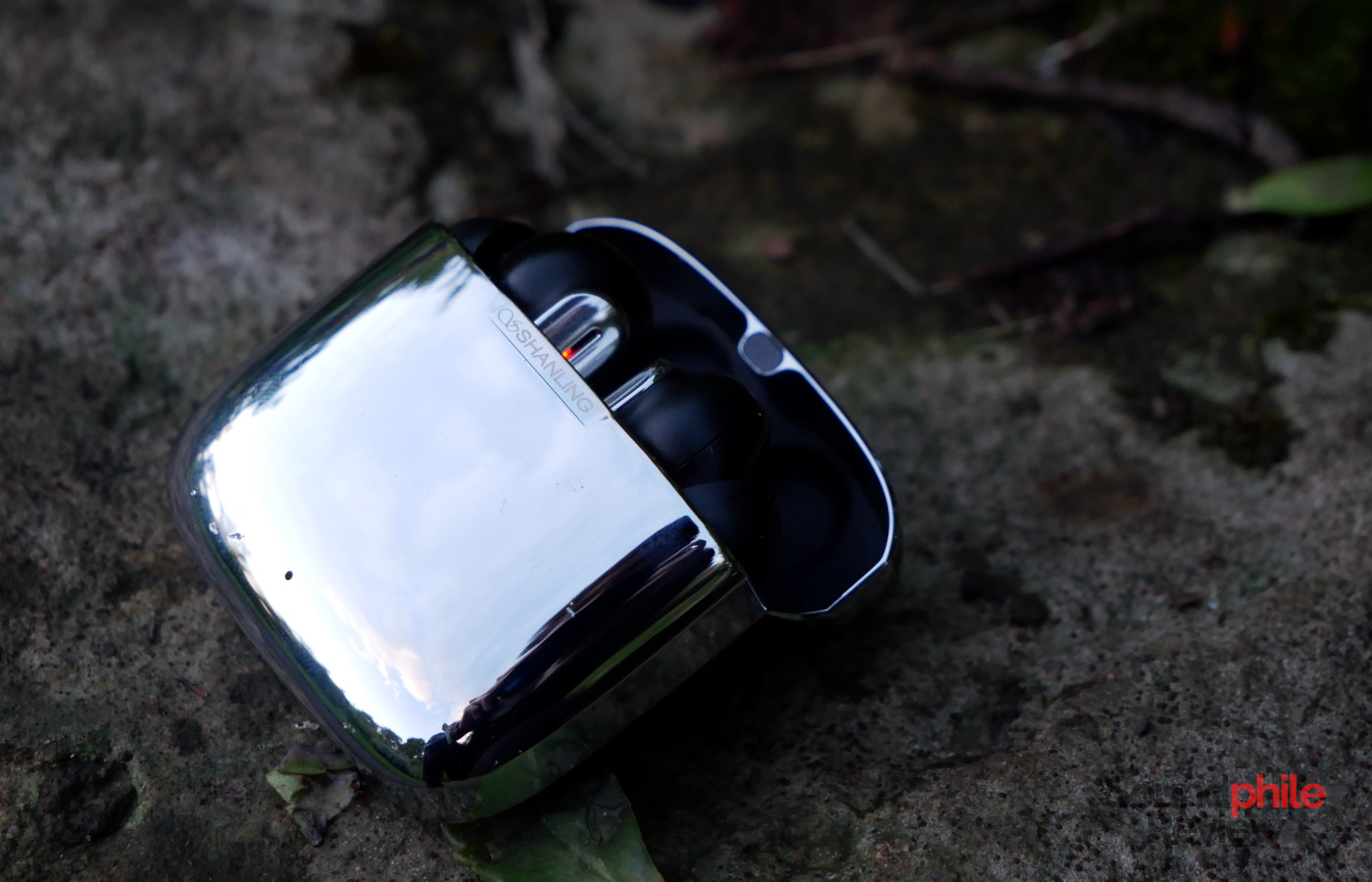 The Shanling MTW200 use the Bluetooth 5.2 standard thanks to the Qualcomm QCC3040 chip, which also gives them compatibility with the SBC, AAC and aptX codecs. The range is quite good for TWS earphones and I would say that it's above the average. The stability is generally good, though there are sometimes brief interruptions that do not happen in the same circumstances (e.g. sitting at my desk) with other TWS earphone I have.
I really, really like that the set of controls is fairly complete. With a single touch on the earpiece on the left hand side I can lower the volume, while a single touch on the right hand side I can increase it; two touches on either makes the music pause or play; pressing and holding for 2 seconds will skip to the previous track (left hand side earpiece) or next track (right hand side earpiece). A triple tap will call the voice assistant. I can't think of anything more I would want.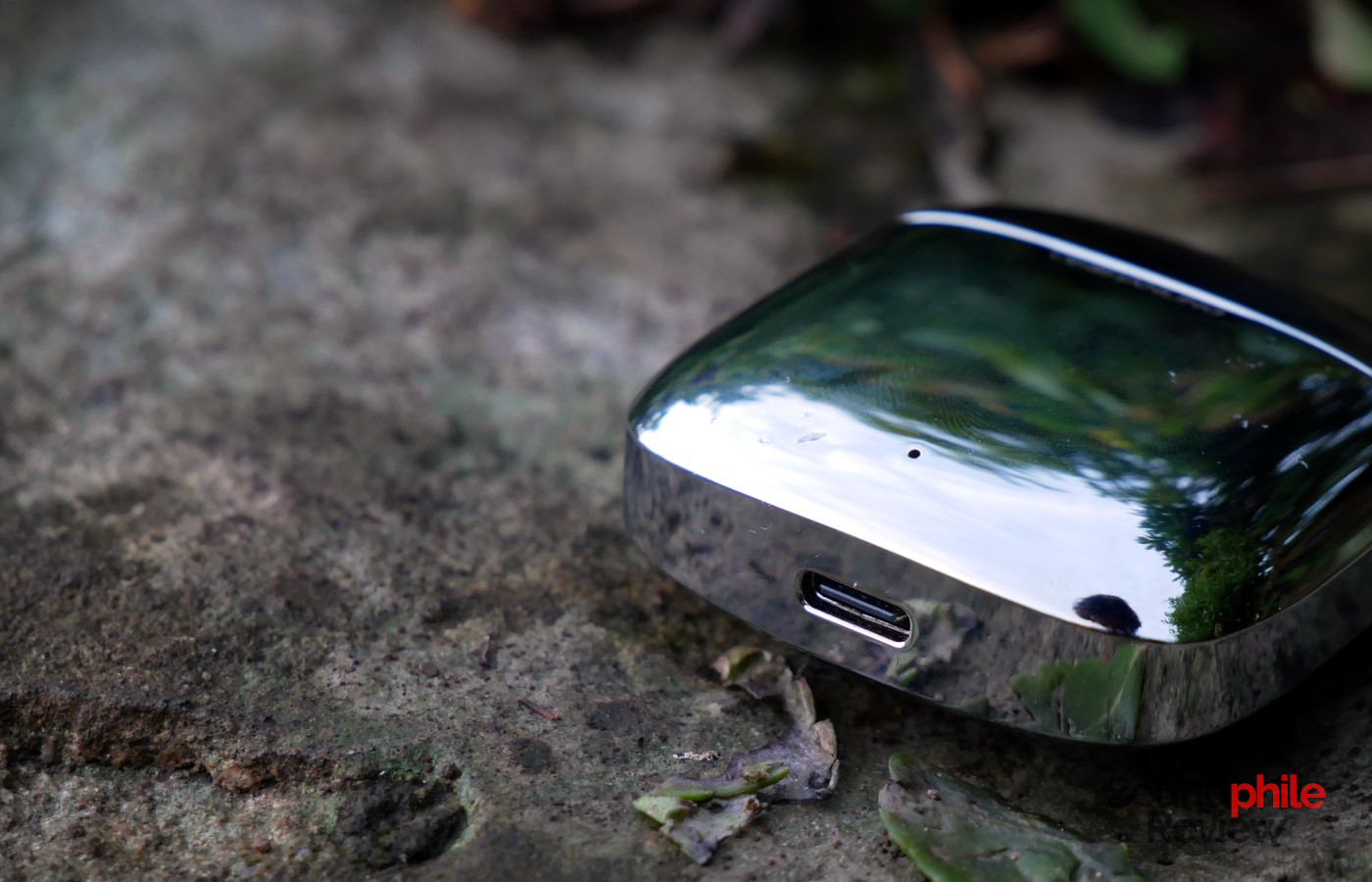 The company says that the MTW200 can play for about 9 hours continuously before they need charging. In my experience, they can play music for at least 7 hours using aptX, which requires more energy. The case offers around 4 full additional charges, for a grand total of more than 35 hours. It's quite a good result!
Sound & Specs
I've tested the MTW200 using both my desktop and laptop computers which played mostly FLAC music files.
| | |
| --- | --- |
| Frequency response | N/A |
| Impedance | N/A |
| Sensitivity | N/A |
| Bluetooth version | 5.2 |
| Codecs | SBC, AAC, aptX |
Shanling says that they engineered a new driver which has "heavy bass" and I have to give them credit: it's absolutely true! This driver has a 10 mm diameter and is made of composite materials. The MTW200 mark a clear change in tuning direction compared to all previous Shanling products I've tried, as it offers a V-shaped signature.
Soundstage is quite wide for this kind of earphones and it has quite good extension laterally, but only limited depth. Imaging is fairly good as I can easily hear the position of the various instruments on the scene. Instrument separation is sufficient, but it shows its limits when the track is complex and multi-layered.
Bass is quite intense and powerful, but it never becomes overpowering. It's also surprisingly deep for a TWS, which is quite amazing actually. It is definitely much more abundant than an ideal neutrality, with its peak in the mid-bass region and a slow roll-off as the frequency goes down, but with the lowest frequencies still perfectly audible. Speed is not quite the best you can find, with drumbeats sounding wet, but it's still entirely acceptable at this price. Detail is fairly good.
Midrange has a good emphasis on the lower region which makes it sound relatively warm, and it's then followed by a dip in the central region and by a small rise in the upper one, which then rises again (and even more) at the border with treble. This creates a weird sound signature which can sometimes sound a bit hollow, but which generally deliver a good and relatively balanced sound, as midrange is not too distant. There's a good amount of detail here as well.
The only issue I found with the MTW200 is that treble can sometimes be a bit fatiguing. In That Place by Philip Glass, from the Powaqqatsi soundtrack, you can hear how the triangle is a bit too forward and harsh. You can hear this emphasis in other tracks as well: as an example, Like Herod by Mogwai has a cymbal-rich passage around minute 4:00 that showcases this well. Other than this, which is caused by a couple of peaks around 7 kHz and 10 kHz, treble is quite decent with a good level of detail. It certainly doesn't allow for prolonged listening sessions at high volume, though.
Shanling MTW200 Comparisons
So let's see how the MTW200 fare against other earphones:
Shanling MTW200 vs Shanling MTW300: the MTW200 and the MTW300 are in many ways opposite. While the MTWS300 privileges treble, the MTW200 privileges bass. In fact the MTW200 has much deeper bass which is more concentrated in the sub-bass area; it is also slower and with a bit less detail, but more physical. Midrange is clearer and cleaner on the MTW300, which present it more brightly and with less presence in the lower section; there's also more detail and speed. Treble is where the two differ quite significantly, as the MTW300 make it quite more apparent without making it fatiguing; it is also more detailed and extended. Soundstage is wider and much deeper on the MTW300, which also has the upper hand when it comes to imaging (which is more accurate) and instrument separation.
Shanling MTW200 vs Moondrop Sparks: the Sparks appear to be a middle ground between the MTW200 and the MTW300. Their bass is not as emphasised as it is on the MTW200 and it is not as deep, while still being present overall; it is similarly physical, but more detailed and slightly faster. Midrange is more balanced, with a curve that follows the Harman target closely and therefore appears almost neutral; it is more physical and detailed than the MTW200, though the latter quality may also boil down to midrange simply being more forward and therefore more audible. Treble is less peaky and less fatiguing, although it is not as detailed. Soundstage is very similar in both depth and width, while imaging is similar and instrument separation is a bit better on the Sparks.
Shanling MTW200 vs Lypertek PurePlay Z3 2.0: the PurePlay Z3 2.0 offer less bass overall, but similar depth as the one we find on the MTW200; the difference is (literally!) in the details, as well as in speed and physicality, which are all better on the Lypertek. Midrange is much more present in the signature and has a tuning that makes it more balanced and pleasant, with the same remarks as those made for bass. Treble is richer and less peaky, with more detail overall and better balance with the rest of the signature (despite still being fairly emphasised). The Z3 2.0 are the ones with the widest soundstage, best imaging and best instrument separation among the three.
Final Thoughts
Shanling did make quite a significant change with the MTW200, opting for a V-shaped signature. Thankfully, though, this tuning maintains some balance and is actually quite enjoyable, although it is very coloured and is therefore a no-go for people who prefer neutral tunings. I've asked Shanling directly and (thankfully, from my perspective) this change in tuning does not represent a wider change in Shanling's house sound.
All in all the Shanling MTW200 are very attractive true wireless earphones with killer looks (especially the case!), good features and good enough sound. For $89, they are competitive with their peers, if anything because they offer a different sound signature that's well executed overall. I definitely recommend trying them out if you get the chance!
Also, let's be honest here: the MTW200 have the most gorgeous case ever and that's worth something in itself!