Sony's latest effort at making full-sized ANC headphones hit the market a few months ago to anonymous approval from both critics and public. The new Sony WH-1000XM5 mark the fifth iteration in the very successful 1000X line, which has set the bar for ANC headphones since its launch in 2017. The fifth generation raises that bar once again in terms of both design and functionality, while also refining the sound signature.
Disclaimer: a colleague of mine kindly lent me the unit for the purpose of this review.
TL;DR: recap
Pros




Cons

+ Premium build quality

+ Decent passive isolation

+ Very stable connection

– Boomy, leaky bass

– Poor comfort

– High price

– Cannot be folded like previous models
Rating: 5/10
Packaging & Accessories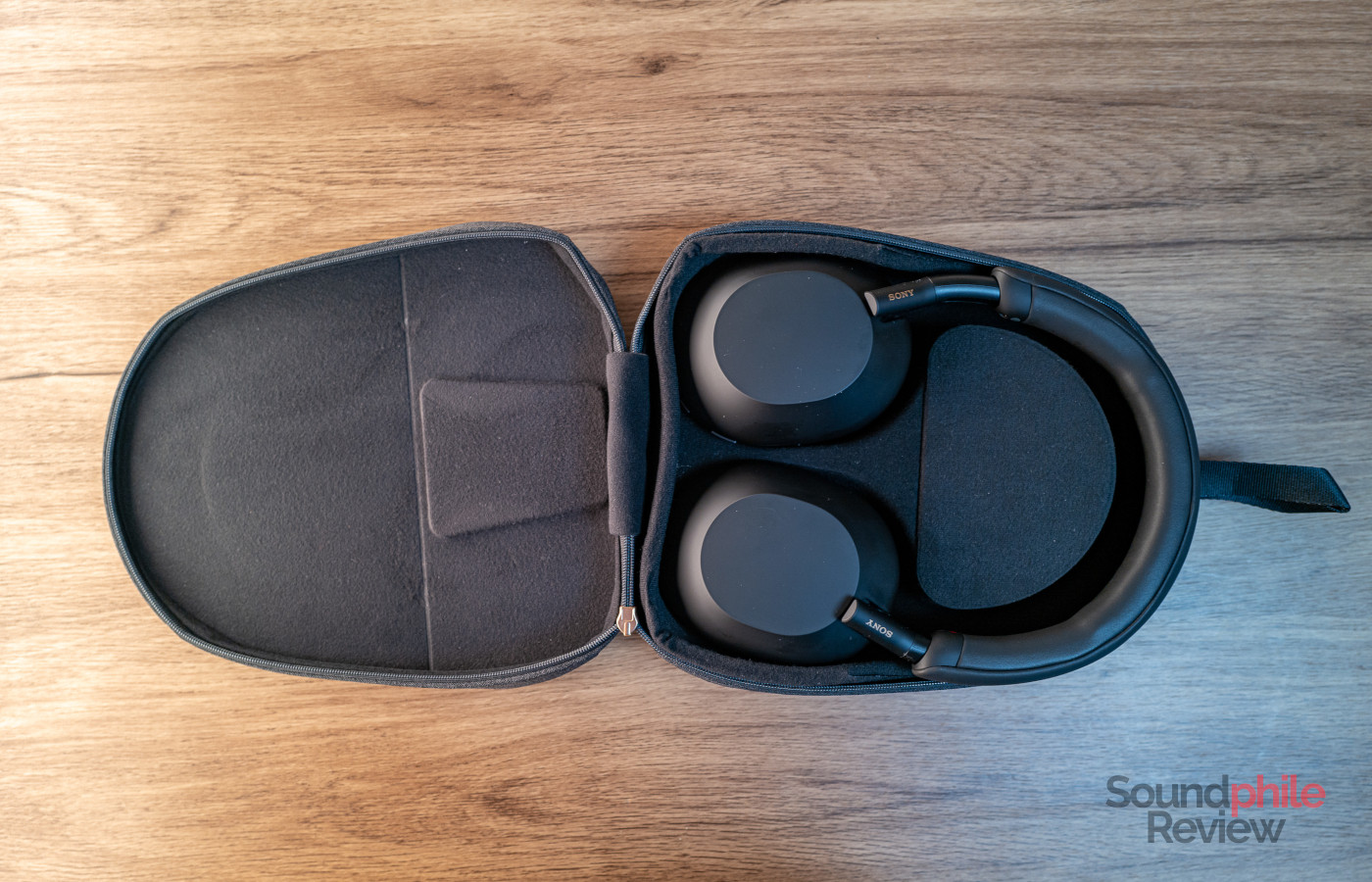 As this unit was loaned to me, I have no access to the actual packaging. The accessories the headphones come with, though, are all there: there's a hard case, inside which there is a compartment that holds a USB-C to USB-A cable as well as a 3.5 mm to 3.5 mm aux cable.
Design & Comfort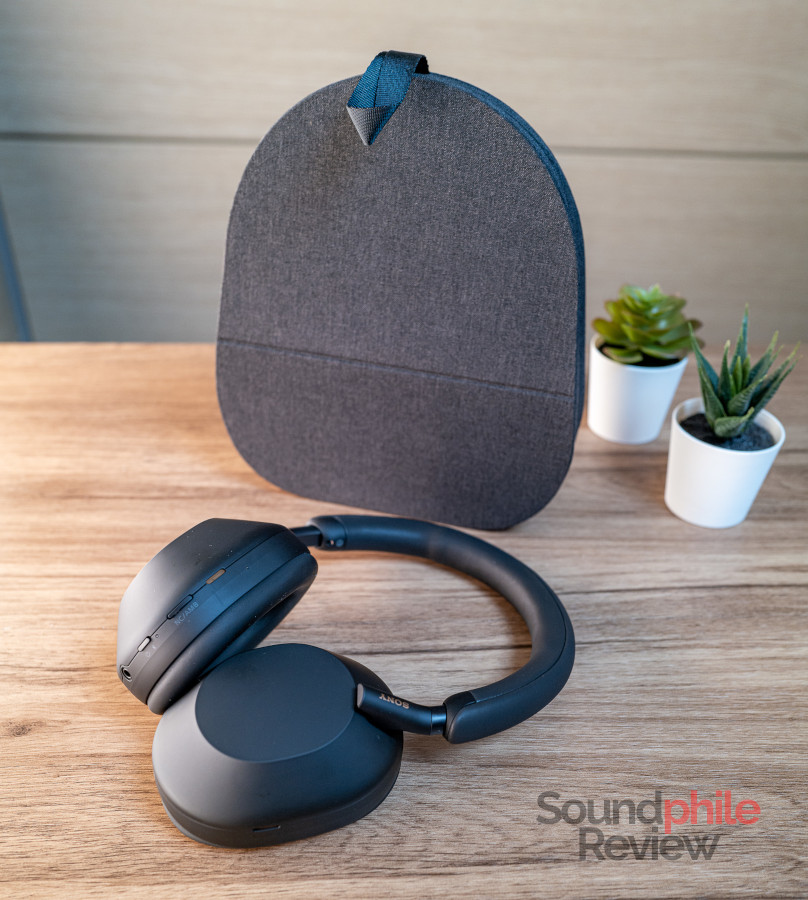 Sony appears to be aligning to the latest trends in terms of headphones design, favouring a smaller headband and a more streamlined, simpler earcup design. There is a similarity in approach to the Bose 700, which took the QuietComfort 35's design and slimmed it down; the same appears to be happening here, even though the design language stays unmistakably Sony's. The WH-1000XM5 are entirely black, with the only touch of colour being the red label for the earcup on the right hand side.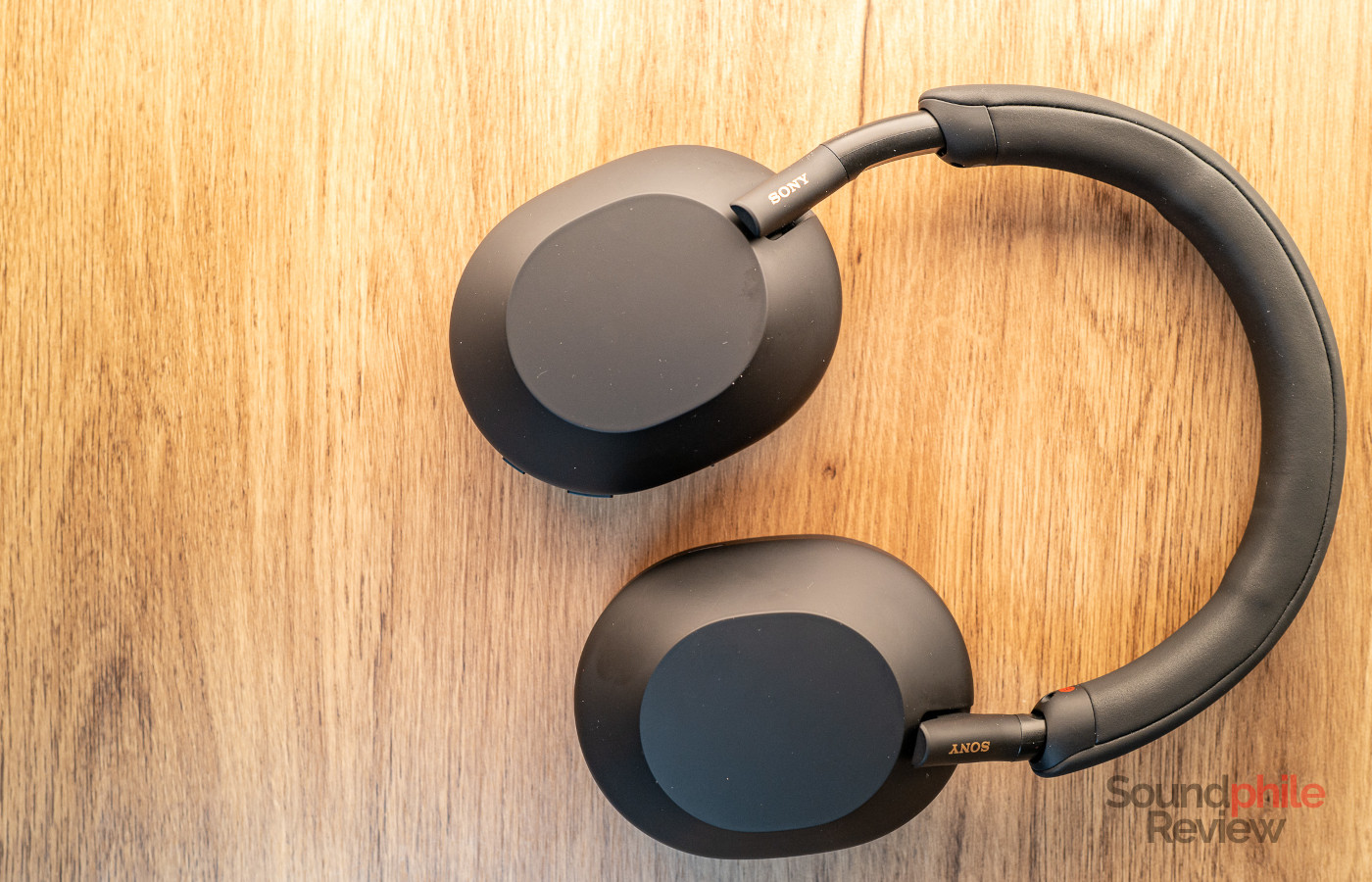 The earcups feature touch controls, but there are physical ones as well. The cup on the left hand side has an ANC/ambient mode button, as well as the power button with its corresponding status LED and a 3.5 mm jack input; the cup on the right hand side, on the other hand, has a USB-C port and an associated status LED.
Build quality is, as expected from Sony, very good, with quality materials being used and no evident faults with the construction (e.g. no creaks). The WH-1000XM5 feel robust and durable. The only minor criticism that can be made is that the plastic used for the earcups is a bit of a fingerprint magnet. One aspect that also has to be taken into consideration is that these headphones do not fold like the previous models, so this impacts how you can carry them around.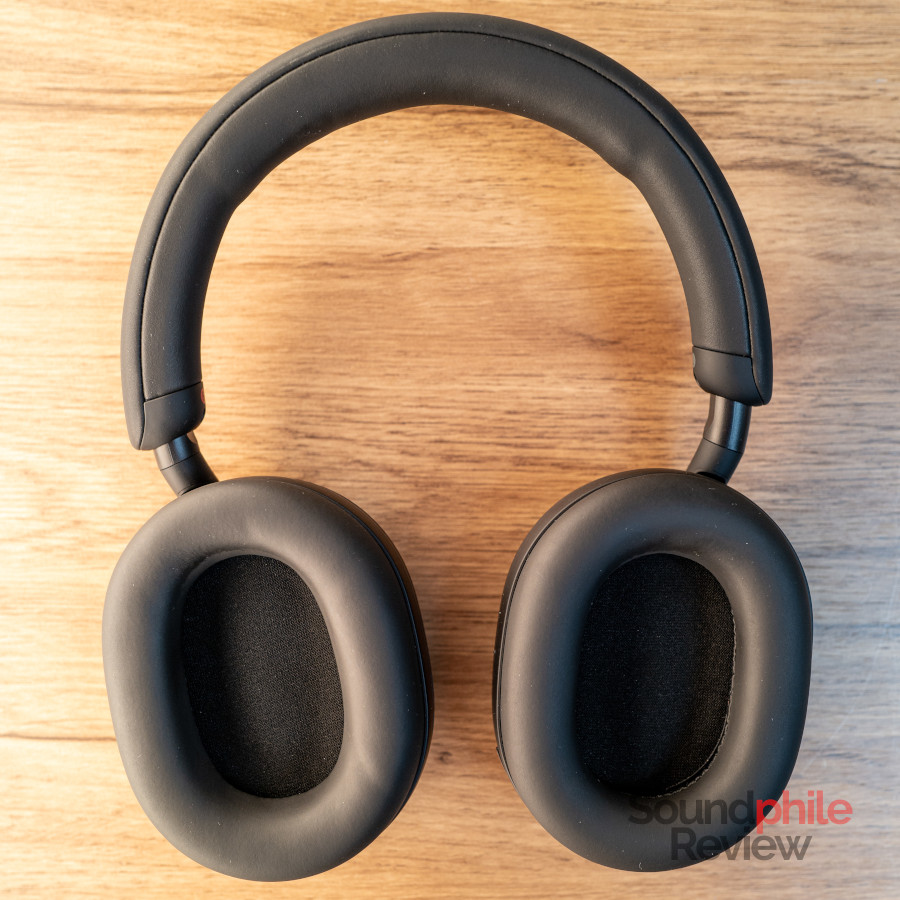 Although the headband is much slimmer than that of previous models, it stays reasonably comfortable. I can wear the Sony WH-1000XM5 for about one hour without feeling much fatigue, which is quite a good result considering my scalp is entirely too sensitive and gets upset over anything and everything. The earpads are also quite soft and large enough to accommodate even larger ears.
Passive isolation is quite good as it is enough to remove most low-volume noises, including people speaking at low volume (e.g. on a train, which is where I am as I am writing these words). Overall it's not comparable to good isolation provided by well-isolating in-ear headphones, but it is enough not to force you to raise the volume of your music.
Extra Features & Battery Life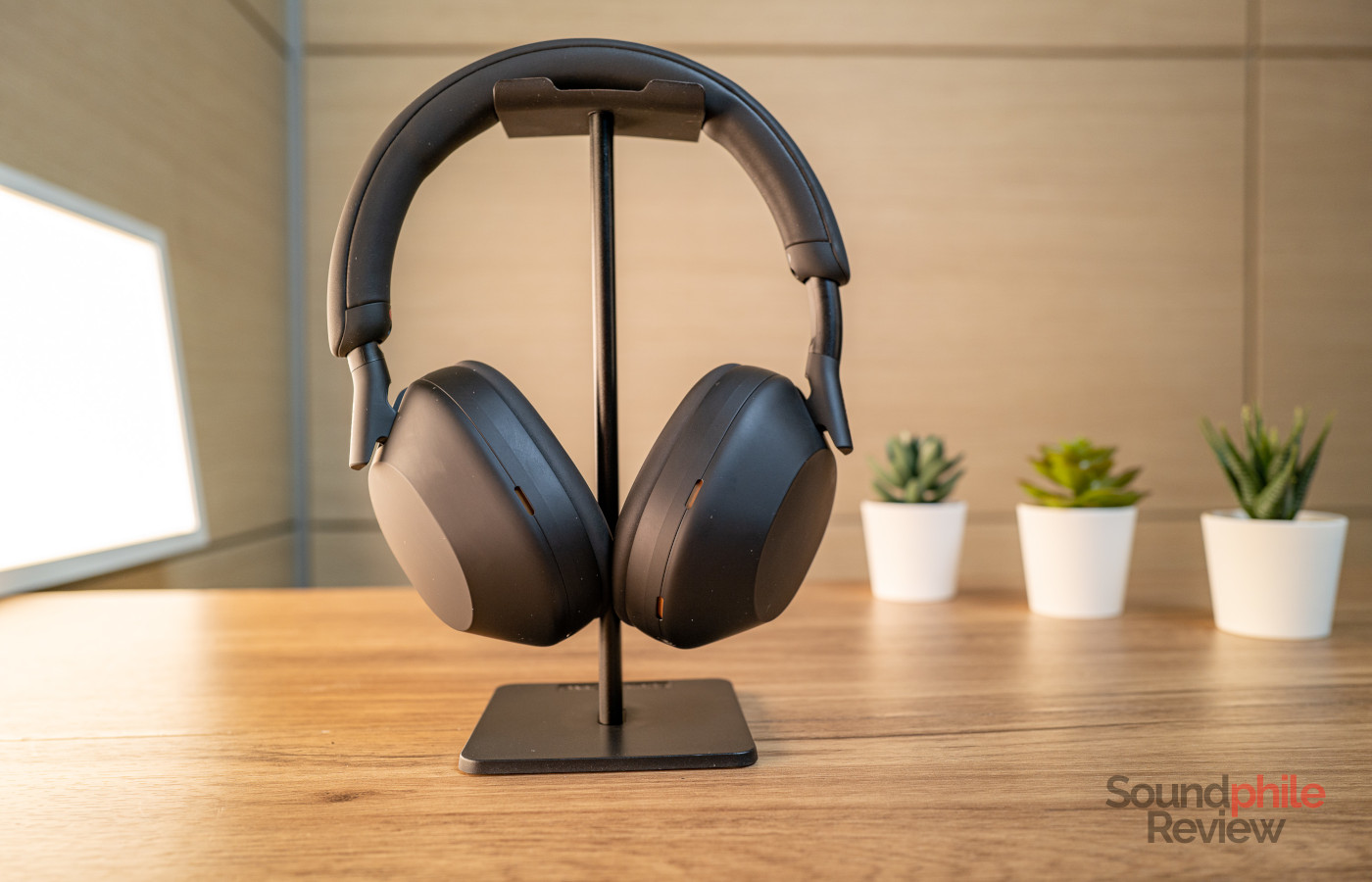 The Sony WH-1000XM5 offer compatibility with the Bluetooth 5.2 standard and provide the SBC, AAC, and LDAC codecs. There's no aptX, which is understandable considering Sony themselves invented LDAC. The connection is very stable even in difficult conditions (e.g. on a crowded train) and the range is very good, as well; the headphones pass my usual test of walking around the house with flying colours.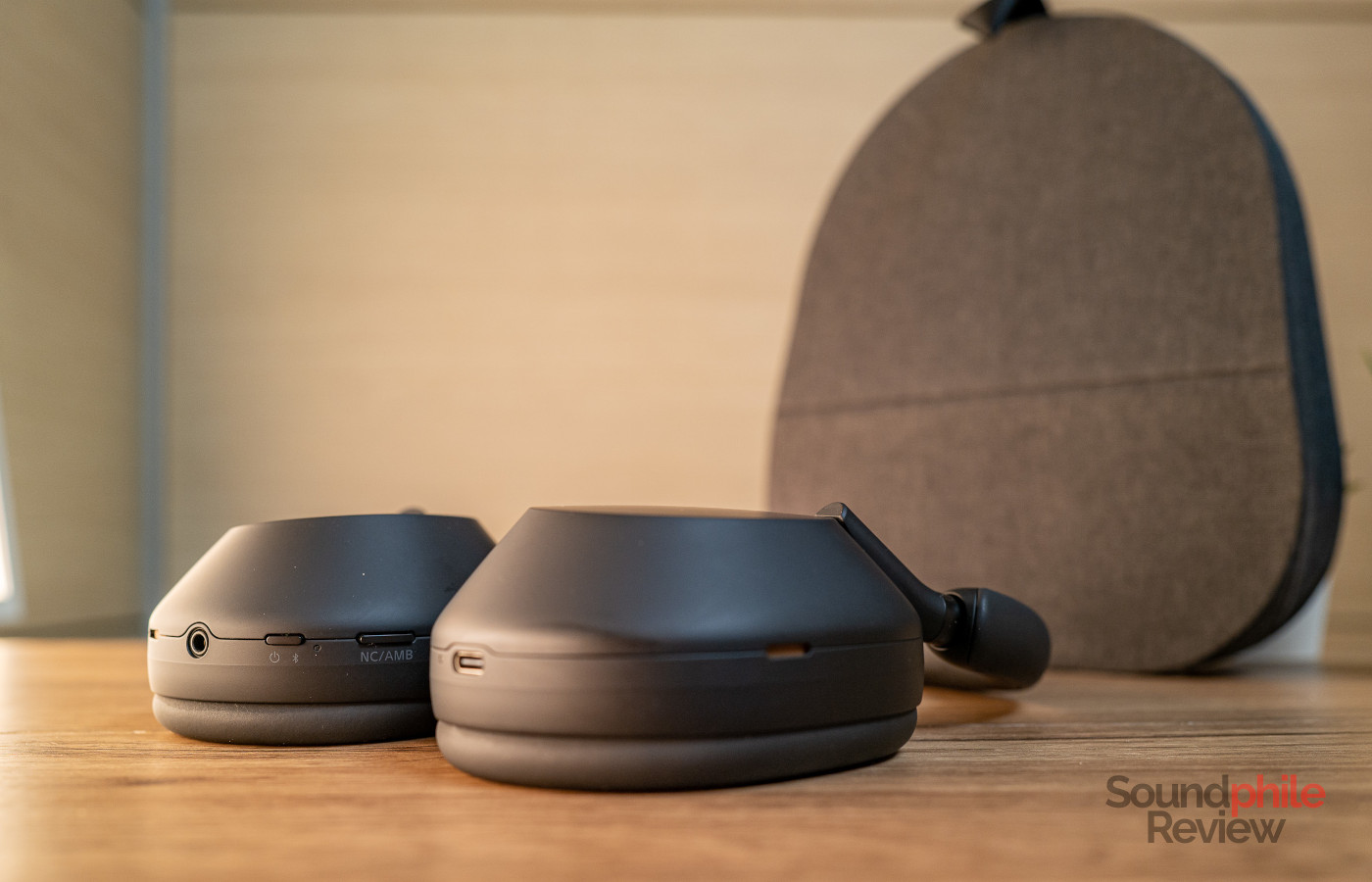 Controls are a bit weird, as there is a combination of both physical and touch controls. The ANC feature is controlled with the button on the left earcup, which allows you to switch between noise cancelling and transparency mode. Pressing the power button once reads the current battery level. All other controls are touch-based: you swipe forward to skip to the next song or backward to skip to the previous; up to increase volume and down to decrease it; if you press and hold those gestures you can continuously adjust volume (vertically) or do fast-forward or fast-backwards playback (horizontally).
Sony's ANC functionality set a new, high bar when the first 1000X launched and the company hasn't rested on its laurels since then, continuously improving their technology. The WH-1000XM5 try to keep that trend going with an ANC tech that is enough to remove most noise, save for the loudest sounds and the sudden ones (e.g. a door closing). The booming lows produced by a high-speed train are almost completely removed, while other sounds that are more in the midrange area like voices are just toned down a bit – but enough so to make them barely audible and become just something in the background. Still, this is not a surprising level of ANC any more, as many headphones now provide similar performance, which puts into question the premium pricing of the WH-1000XM5.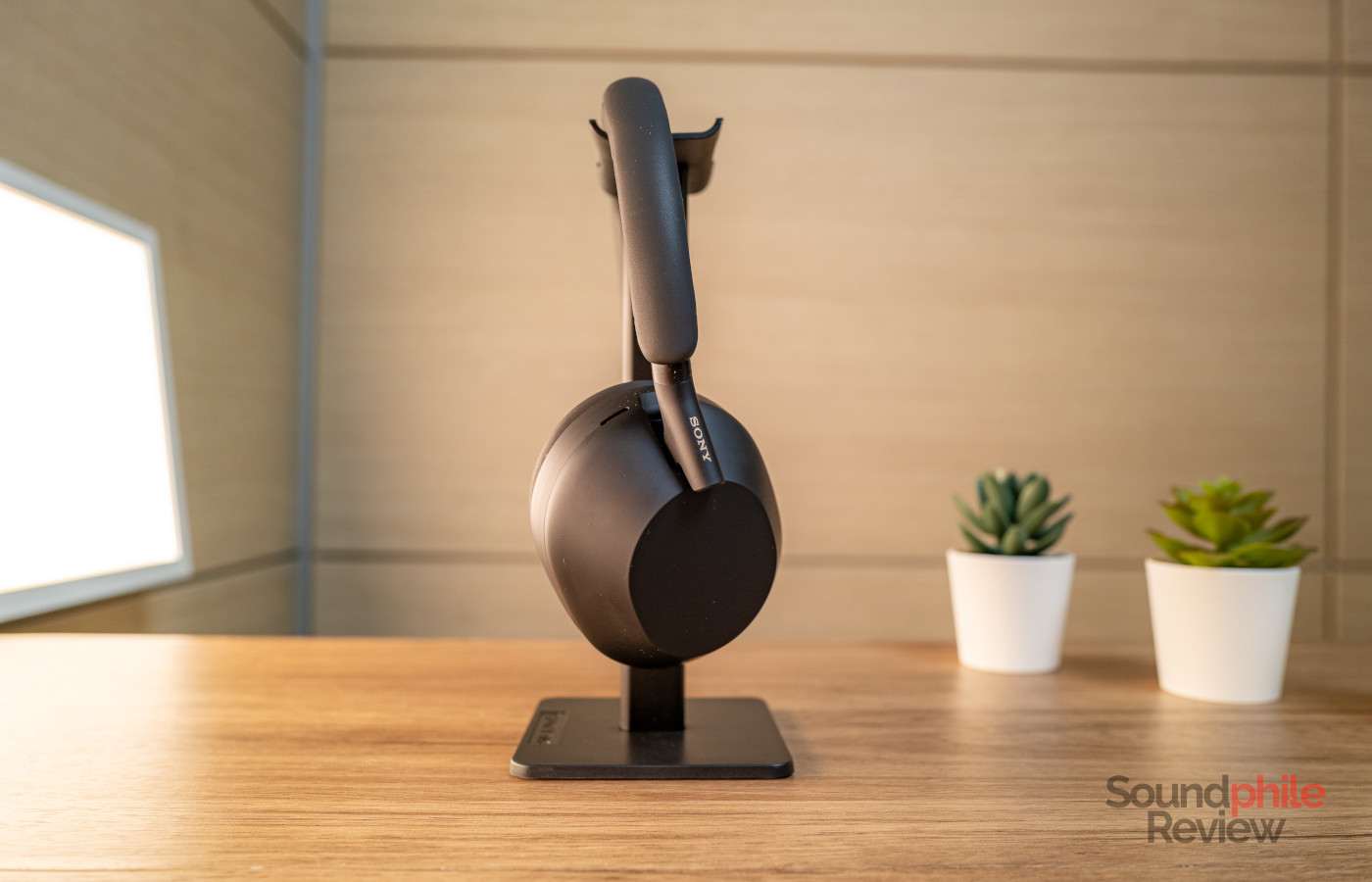 The Sony WH-1000XM5 offer 30 hours of battery life with ANC on and 40 hours with ANC off. While this is overall quite a good result, it is still worse than many competitors which now offer up to 50 hours of battery life, so this has to be taken into account.
Sound & Specs
I have tested the Sony WH-1000XM5 mostly using my computer as source, using the LDAC codec to reproduce FLAC files.
| | |
| --- | --- |
| Frequency response | N/A |
| Impedance | N/A |
| Sensitivity | N/A |
| Bluetooth version | 5.2 |
| Codecs | SBC, AAC, LDAC |
The tuning is in the same vein as previous headphones in the 1000X series and can be described as "mainstream": a warmer signature with more emphasis on bass and a slight emphasis on treble as well, which however doesn't leave midrange too recessed and isn't therefore classifiable as "V-shaped". What I quite like is that transients have a fast attack, which makes them feel quite physical, while their decay is a bit longer than I'd like but is still perfectly acceptable, which further cements this feeling of suddenness.
Soundstage is limited in both width and depth and never gets past the "you're wearing headphones" kind of presentation. Imaging is decent, but it suffers from the limitations of the soundstage; on top of this, it seems like it only covers 90 degrees – 45 degrees from the centre – so instruments rarely sound like they're coming from the sides; while this creates more of an impression that sound comes from speakers in front of you, it is not as immersive nor as spacious as other headphones. Instrument separation is barely sufficient, as it is hampered by the tuning choices; it is often difficult to hear all instruments (e.g. in Birkin Tree's A Cheap Present / The Session Chaser / reels, where the guitar often disappears behind the drums).
Bass is quite accentuated and sits atop everything else, especially in the mid-bass region. Surprisingly, though, there's very good extension that lends good depth to lows, with sub-bass being quite a significant presence in the mix. This makes bass sound quite varied; the very good layering confirms this. Still, bass tends to be quite invasive overall, often masking the lower mids. There's decent speed, so that e.g. drums have quite an impact and sound "full" and immediate, but as said before decay is long and makes transients less convincing than they could.
Midrange is almost V-shaped in that there's more emphasis on the two ends of the region, with the middle one slightly recessed; this emphasis is not extreme and leaves the middle area perfectly audible. This is true of midrange more generally: it does sound a bit recessed compared to bass and treble, but in a way that generally leaves it audible, so that it doesn't feel too distant. This tuning creates weird things, especially when there are multiple instruments more or less in the same space – as in Birkin Tree's The Gander in the Pratie Hole / The Corsair / The Glories of Spring jig / hornpipes, where the various instruments sort of mash together and become blurry, as if they lost their edges. Detail is therefore not the best quality of the WH-1000XM5.
Treble is weird in that it sometimes sounds recessed and sometimes it sounds aggressive, which seems to indicate there are some dips and spikes in the curve. It tends to me slightly more emphasised than the midrange. There's an upward curve that starts in the upper midrange and keeps on growing in the lower treble region, hitting its peak in the middle and then going down quite fast. In general it is not the cleanest treble section I've heard, as the details appear to be a bit smeared – probably due to the decay being long, with a contribution from the tuning itself. Fast cymbal hits are not well-defined and lack individuality, often sounding like they're a bit mashed up.
Sony WH-1000XM5 Comparisons
The only comparable headphones I currently have on hand are the 1More SonoFlow. The WH-1000XM5 offer more and deeper bass, with an overall (much) warmer signature; bass is, perhaps surprisingly, not significantly more detailed or controlled, though, and doesn't offer better speed either. Midrange is where there's a lot of easily-spotted difference: the SonoFlow offer much more emphasis on the upper region, making mids sound a lot brighter in comparison; male voices especially are deeper and more rounded on the Sony. Again there's not a significant difference in terms of speed. There is a significant difference in the treble region, which is richer and more detailed on the SonoFlow, with a more linear rendition; the Sony are less likely to cause issues to the treble sensitive folks, but they're overall inferior in purely technical terms to the SonoFlow. Where the Sony beat the 1More is in soundstage, which is slightly wider and deeper, while the 1More win in imaging, which is much better and offers much more precise placement. Instrument separation is overall comparable. ANC is, and this is a very interesting aspect, comparable in terms of overall reduction of ambient noise; it is passive isolation which differentiates the two and makes the WH-1000XM5 more capable of isolating you from your surroundings.
Final Thoughts
The Sony WH-1000XM5 did not impress me, despite their best efforts. They are the usual, run-of-the-mill mainstream headphones with a tuning that's made to wow those who value lots of bass. That is not a negative thing per se, although I do actively dislike this kind of sound personally, but the problem is that they fail to deliver significant performance in other areas of sound such as technical ability. But these are the priciest headphones in the 1000X series, with a price that hovers around $400, which I think could (and should) be justified by exceptional sound quality. However this is not the case.
Sure, the WH-1000XM5 offer great noise cancelling (though not the best out there, not any more!), but that's hardly enough to justify a similar expense. Had they costed around $300, the judgement would have been more lenient, but as these sit atop the mainstream market in terms of pricing, that's simply not possible. I expect nothing less than excellence in every regard, and the WH-1000XM5 fail to deliver that. Are there significantly better options out there? Not really, but that's no excuse. In terms of pure sound quality, the Cleer Flow II were surely a better option, but it seems they're unfortunately not manufactured any more. Overall I would say that they're not really an option for those who value sound quality, but they are still better than some of the competition (e.g. Technics EAH-A800) in that regard and offer good ANC. This means that, if you can snatch them for a decent price (below $300), they can be a good compromise. Otherwise, just opt for the 1More SonoFlow.