Building on the company's heritage of noise cancelling headphones, the Bose QuietComfort 35 feature both wireless and wired connection in addition to an enviable build quality and good sound performance – provided you like the "Bose sound".
With a price tag which is considered fairly expensive in the consumer headphones world (~$380), the Bose QuietComfort 35 are a solid product with few flaws.
Disclaimer: the local press agency kindly loaned me the Bose QuietComfort 35 I used for this review.
TL;DR: recap
Pros




Cons

Sleek and appealing design

Superb comfort

Excellent active noise cancelling and passive isolation

Plenty of battery life

Upgradeable firmware (via app)

Cannot disable ANC

No aptX support

Non-replaceable battery

Sound balance won't appeal to everyone
Rating: 8.5/10
Packaging & Accessories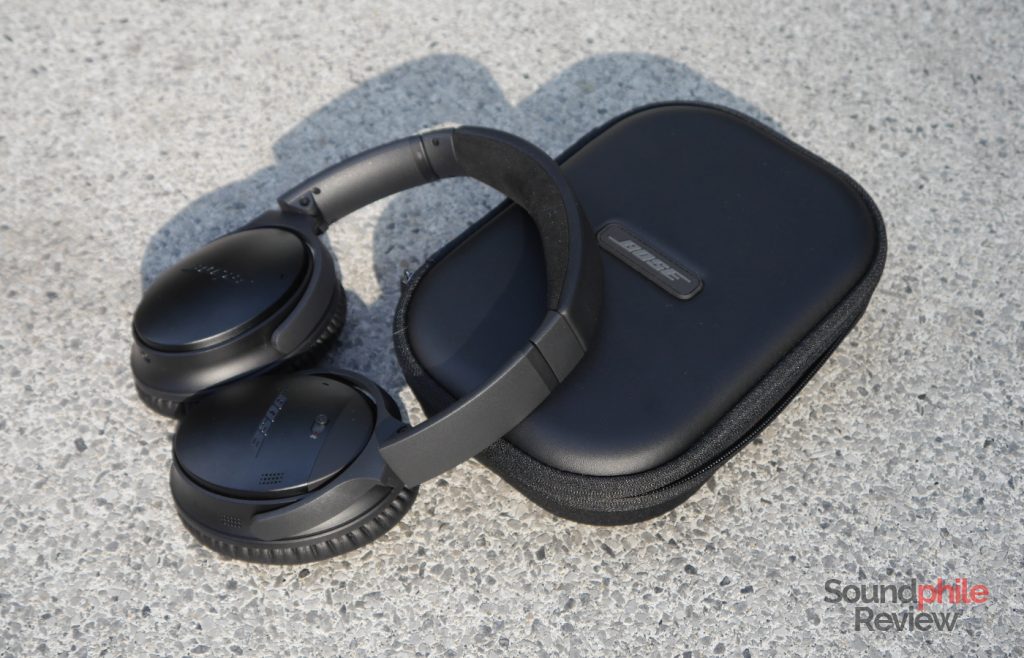 The Bose QuietComfort 35 come with a hard carrying case, a micro-USB cable to charge them, and a cable to connect them to various sources without Bluetooth. This cable has a 3.5 mm jack on one side and a 2.5 mm jack on the side which goes into the headphones, therefore you cannot use a cable with two 3.5 mm jack connectors and you are tied to using Bose's cable. This is an inconvenience which could easily be avoided and a choice on Bose's side that is difficult to understand, since it prevents users from using "normal", more universal cables.
Design & Comfort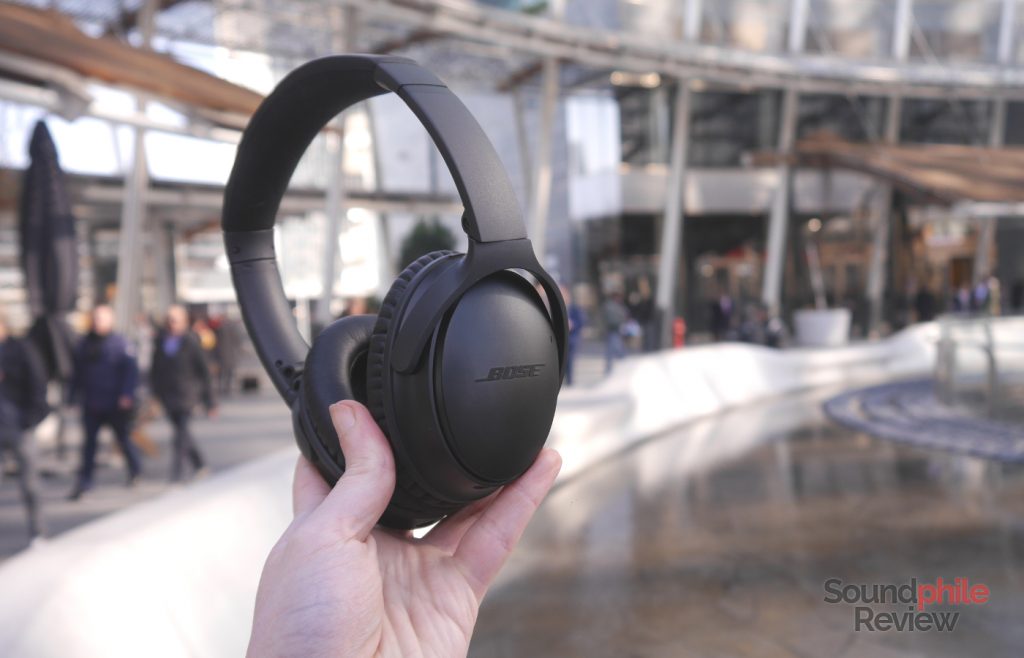 You never change a winning team, so Bose stuck with a design which is very similar to the QuietComfort 25's. Of course there are obvious differences, given the fact that the QC 25 were wired headphones and the QuietComfort 35 are wireless, but the overall appearance is almost indiscernible.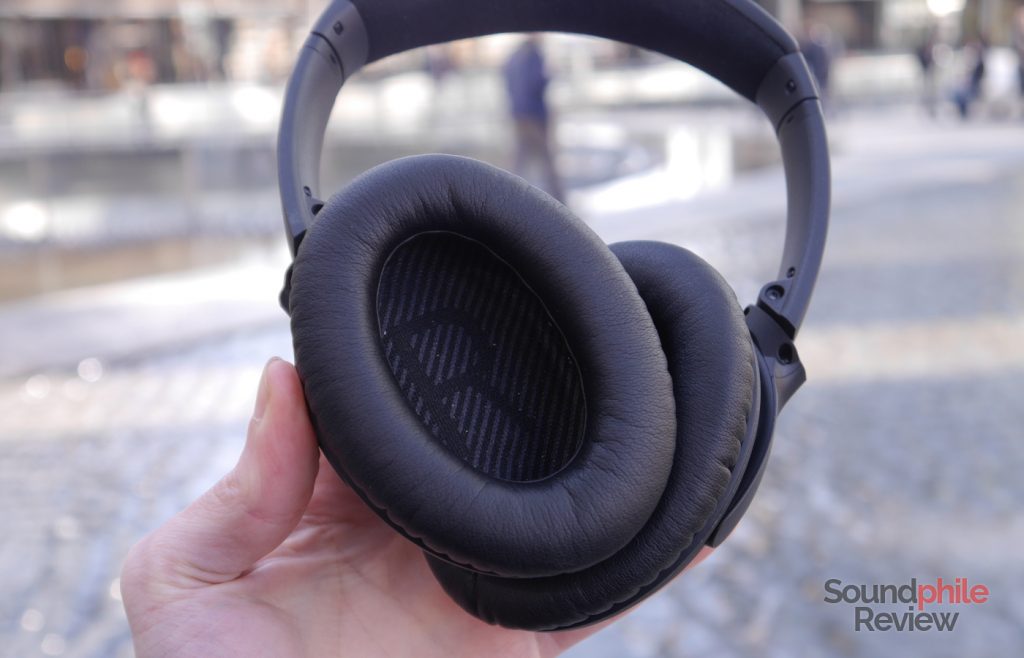 Earcups are made of machined aluminium and plastic, as is the headband. The latter is covered in Alcantara tissue with a generous amount of soft padding; the earpads are made of artificial leather. The structure seems to be resistant in its complex, although it appears a bit flimsy in a few spots (i.e. the hinges). The overall build quality is commendable, however, and the headphones seem to be built to last. They're available in two colours: black and silver.
The Bose QuietComfort 35 weigh in at 234 g, which is not feather-light but neither too heavy to bear. In fact it's still fairly little a weight for a full-size Bluetooth headset.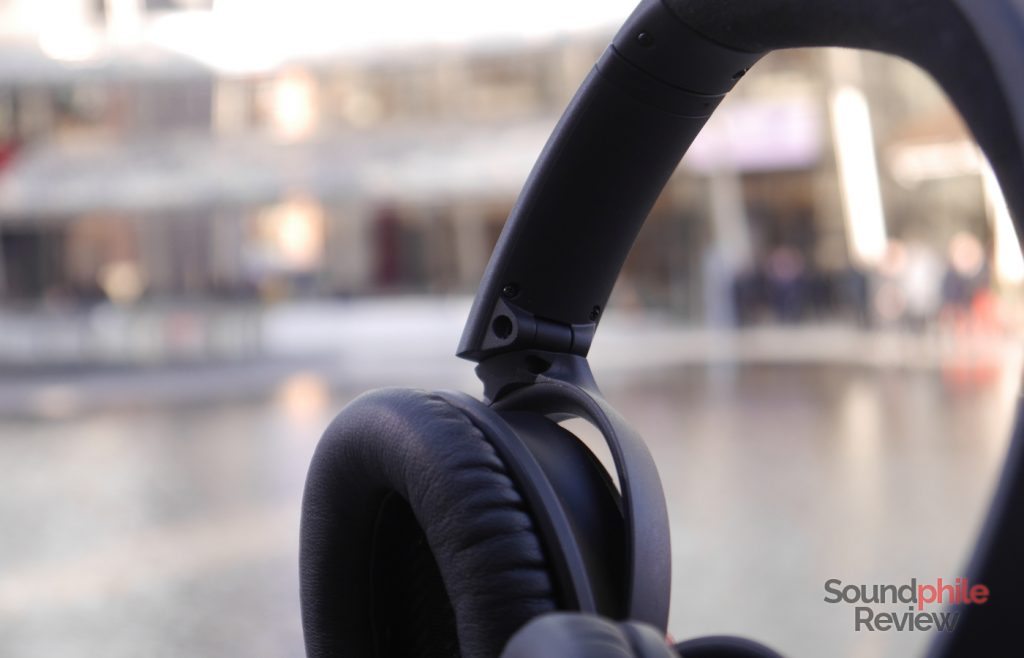 The QuietComfort 35 are fairly large, being over-ear headphones, but they come equipped with foldable hinges which help reduce the size and make storing them easier. I have one single complaint about this: if you keep them on your neck, they fold with the earpads upwards, which may be slightly inconvenient. I will get into more detail in an upcoming comparison article, but the Sony MDR-1000X do a better job at this.
There's a small switch on the right earcup which can turn on the headphones and put them in pairing mode when long pressed. The side hosts three buttons: vol+, multifunction and vol-. Beneath them are two LEDs, one for battery status and the other for Bluetooth (we'll get on functions later on), and the micro-USB port for charging. The 2.5 mm jack receptacle is on the left earcup.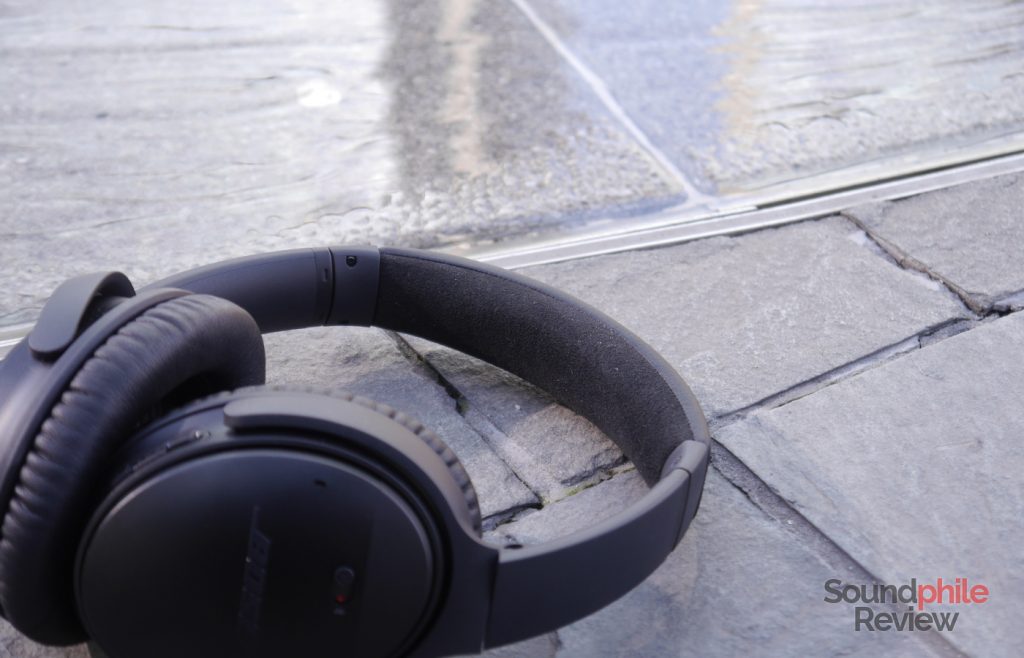 As I already wrote in the Bowers & Wilkins P3 Series 2 review and in the Plantronics BackBeat Pro 2 review, my scalp is unfortunately very sensitive. As a consequence, wearing headphones often leads to lots of pain, unless I use some kind of cap or other very soft thing to interpose between my head and the headphones. Despite all this, I could wear the QuietComfort 35 for more than one and a half hours before feeling the urge of taking them off – quite an accomplishment! The earpads are soft and do not cause too much heat to accumulate, so these should be nice to wear in the hotter season.
Extra Features & Battery Life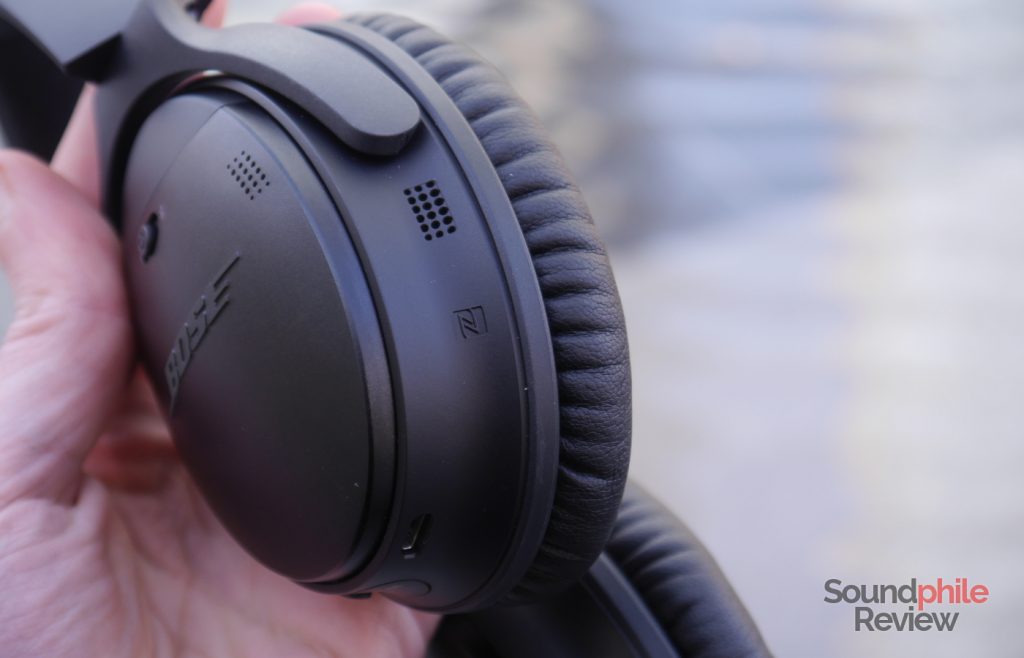 Bose's headphones are mainly renowned because of their noise cancelling abilities – they are among the best in this category and Bose itself marketed the first products with a noise cancelling technology. Now, the Bose QuietComfort 35 are an evolution over the QuietComfort 25, which were arguably the best full-size headphones made by the company. Not only do they keep every positive aspect intact, they also make noise cancelling better.
The QuietComfort 35 see a change in the way the microphones work: there are two now, so they can better pick up ambient noises and give an overall better noise cancelling experience. The microphones are on the same earcup, though, so you won't have directional noise cancelling.
Noise cancelling won't completely eliminate all sounds coming from outside, but it will just suppress lower frequencies, such as the rattling sound of a train or the drone of an airplane's jet engine. If the passive isolation is good enough, you will not hear much of what's around you – and this seems to be the case. I am writing this lines while being on a train and I can barely hear anything outside of the occasional high-pitched whistle of the train's braking system. All other sounds just magically vanish. There's still a bit of low frequencies which get through, but I suspect that's because of bone conduction (my body's bones directly conduct the sound to my inner ear).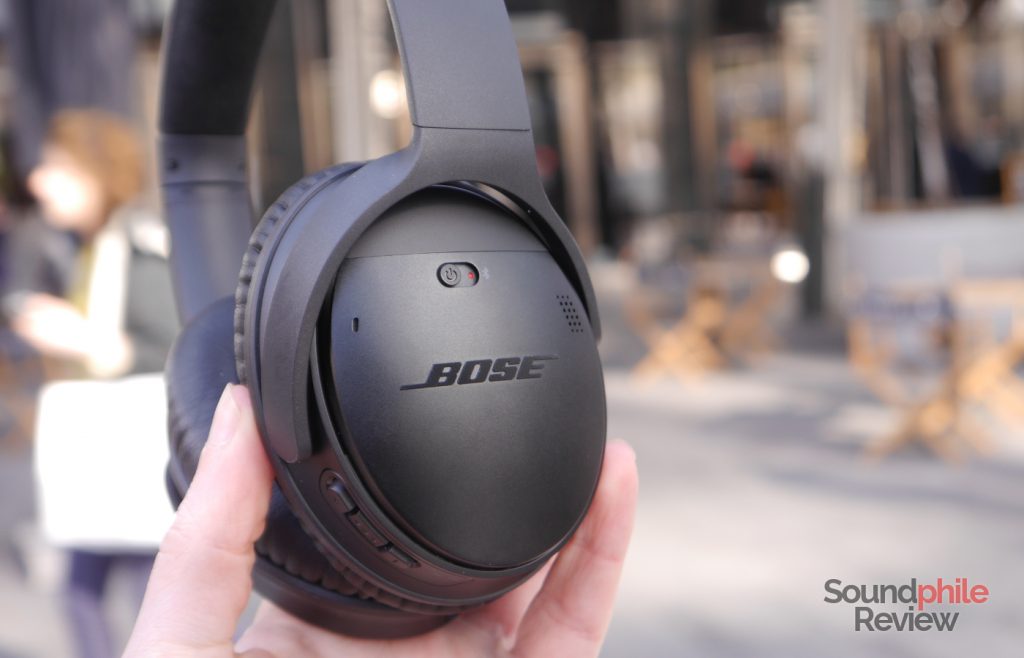 The only caveat of the noise cancelling is the pressure it seems to create on the eardrum, which may cause fatigue after a while. There is no way to circumvent this as far as I know. What's more, Bose does not allow to turn off noise cancelling while Bluetooth is on, so you can't just use the headphones without ANC – you have to turn to the cable for that.
Bose developed a companion app for its Bluetooth products, Bose Connect. I tried out the Android version, which is anyway identical to the iOS one (and that's a bad thing: it does not blend in well with the rest of the Android ecosystem). It's a minimalist approach to a companion app, but a good one at it: the interface is simple and intuitive and all the features are just a tap away. The app allows to control music playback, to update the firmware of the headphones, to check the battery status and to edit connections. You can also set an auto-off timer and voice prompts (i.e. the headphones greet you and tell you the battery status when you power them on). Alas there is no equalizer in the app, so you cannot really tune the headphones to your liking from within the app.
The Bose Music Share feature allows you to connect two Bose wireless headphones to share music with someone else. The idea is great, but it is a bit limited (and limiting) given that only Bose product will work. That's totally understandable, but not totally convenient in a multi-brand market.
Unfortunately the Bose QuietComfort 35 sport no aptX codec, but only AAC and SBC. Given that AAC is seldom found outside of Apple products, this means that most Windows and Android devices won't be able to stream high-quality content to the headphones, but they will be limited to lower bitrate codecs. That's definitely not a premium for premium headphones!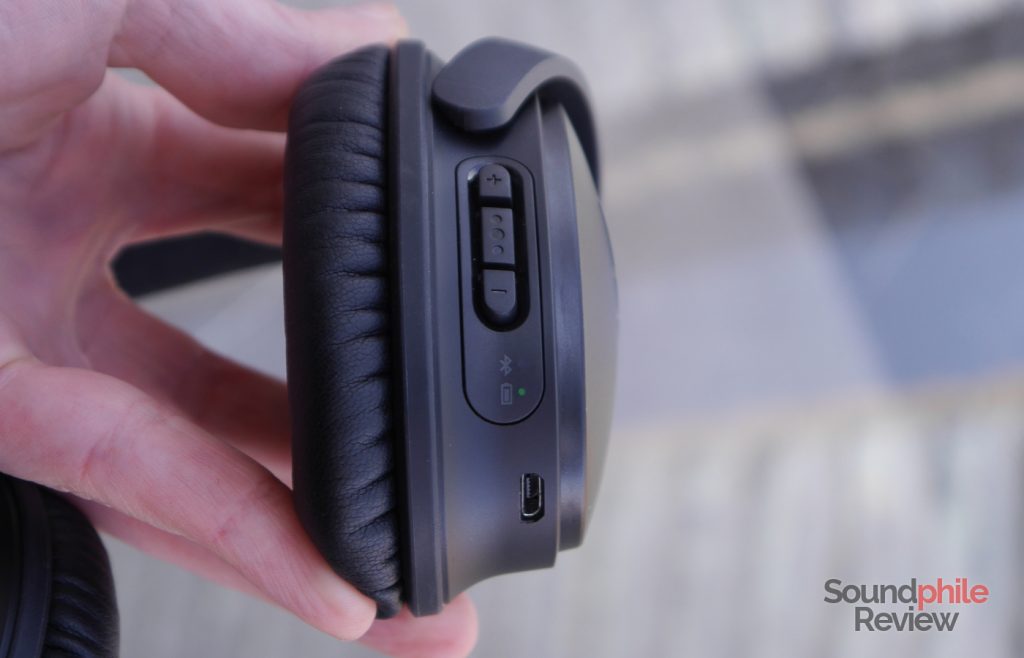 The multifunction button on the right earcup not only allows to play or pause, or to answer and end phone calls, but it activates the phone's voice assistant on long press. It works with both Siri on iOS and Google Now on Android (I can't assure it works with proprietary assistants as the ones by Samsung or Huawei).
Battery life is quite good, with the company claiming it to reach 20 hours. During my trials I could exceed that figure, but it of course depends on your listening volume. The not-so-good part comes now: the battery is non-user-replaceable, so when it will eventually die you won't be able to take it out and insert a new one. The Parrot Zik does way better in this regard, having the battery tucked behind a simple removable panel. The second negative thing is the fact that the QuietComfort 35 shuts down when on charge, so you can't use it wirelessly (and therefore have active noise cancelling) while you are charging it.
Sound & Specs
I usually burn in headphones for ~100 hours before using them, but in this case they had already undergone some burn in when I got them, as the sample has been used by various journalists around Italy. I used the Bose QuietComfort 35 both wirelessly with my Lenovo Vibe Shot and wired, with the Zorloo ZuperDAC.
Now, I usually include specs for the headphones I review, but Bose does not publish them. There are zero information about impedance, frequency range and sensitivity, among other things. This is a questionable behaviour in my opinion, but this is also a long-standing corporate stance which hasn't interfered with Bose being one of the most renowned consumer audio manufacturers.
During my first hands-on experience I noticed the QuietComfort 35 offered a bass-centered sound, with bloated low frequencies. I do not know whether it was Bose's demo tracks or any other setting in their demo units, but that bass bloat just isn't that much in the review unit I got. Quite the contrary, in fact: bass, while not neutral anyway, often feels like it lacks impact and depth. These definitely aren't a basshead's headphones.
I will indulge in a bit of digression. Over the years I have noticed that bass-intensive headphones tend to be better for commuting, as the low frequencies coming from outside tend to tame the headphones' bass. I found out this is also true for noise-cancelling headphones. The added emphasis on lows give the QuietComfort 35 the edge over better balanced headphones, as bass is better heard in noisy environments.
Soundstage seems a bit compressed when using Bluetooth, even though it's decently wide for closed-back headphones; it really opens up if you connect the cable and disable ANC. Instrument separation also improves and sound becomes more natural. Detail retrieval seems to be better using the cable, too. When using Bluetooth instrument separation is decent, but it's difficult to accurately separate sounds in more dense tracks. Stereo imaging is good, as you can easily pinpoint instruments in a good few tracks.
Sound is a bit dark and is generally not very detailed, even when the headphones are driven by cable. The "Bose sound" is heavy on bass, therefore this is to be expected. The result is a musical sound, which will please both electronics lovers and classical addicts (if they're not too picky) and everything in between – a nice feat in itself. One thing I noticed, though, is that tracks often appear dull and lack depth below a certain volume threshold.
I'd describe bass as powerful, in the sense that it packs a punch and is more than a neutral-sounding headphone would offer. It's not very deep, although it's well controlled and it has a nice texture. It is rounded and it takes a central role on the stage. In Koyaanisqatsi, Philip Glass' masterpiece, both the organ and Albert de Ruiter's baritonal voice appear full and upfront. Pray for Rain by Massive Attack highlights the fast decay of bass, which makes in turn the rhythmic side better and more enjoyable.
Midrange is decently detailed and natural. I listened to Cesare Cremonini's Maggese album and his voice is warm, with a nice presentation in front of the listener. Marmellata #25 ("jam number 25") showcases the headphones' ability to render the small nuances in the voice and the small details of the singer's peculiar way of pronouncing words. In Vàli's Dypt Inne I Skogen bass is actually more than one would expect from an acoustic guitar, leaving the midrange slightly behind. It is nonetheless an enjoyable listening experience.
What surprised me is the treble. It's not overly detailed nor too much extended, but it's very musical and quite natural. It's crisp and airy enough, so it contrasts the bass a bit and opens sound. I prefer brighter sounding headphones, as I explained in the RHA T20i review or in the Xiaomi Piston Pro review, but I did not find myself wishing for more treble listening to Bose's QuietComfort 35. It actually is a bit piercing and at times sharp, so what I wished for was a bit more resolution. It is otherwise fast and varying enough to come out as enjoyable most of the time.
A comparison with the Sony MDR-1000X and the Plantronics BackBeat Pro 2 will be published in a few days.
Final Thoughts
What you're looking at is a very nice pair of headphones. Some have dubbed them "the best wireless headphones ever made", but I beg to differ. The Bose QuietComfort 35 are really, really good, but only if you pit them against ANC headphones – and even then, they are not that good sounding if you compare them with other ~$350 wireless ANC headphones. Wired headphones around the same price (i.e. Meze 99 Classics) crush them on sound quality.
Given the commodity of noise cancelling and wireless, though, this is a price I'd be happy to pay – there's nothing like hearing silence around you when you want to relax and listen to music. They are incredible in the way they isolate your from your surroundings, thanks to a winning combination of both effective noise isolation and active noise cancellation. The only comparable headphones I ever listened to in this regard were the Parrot Zik 2.0, which were even better – but also costed way more back then.
The BoseQuietComfort 35 are a solid product most will like – they seem to get just the right blend of all the elements to make them work very nice. Bravo.