From a trend among keyboard enthusiasts, who naturally constitute a niche, smaller keyboard form factors have become increasingly mainstream, so much so that even major names have now small form factors in their catalogues. The Epomaker EK68 is a 65% mechanical keyboard (technically a 68%, given it has 68 keys in the ISO version) which offers a lot of very interesting features with a design that is going to appeal to both keyboard enthusiasts and the broader public. What really sets the EK68 apart is not just its build, but also its connectivity.
Disclaimer: Epomaker sent me a free unit for the purpose of this review. The EK68 sells for $89.99. You can buy it directly from Epomaker's website or from Amazon (click below).
TL;DR: recap
Pros




Cons

+ Good build quality

+ USB, 2.4 GHz and Bluetooth connections

+ Fantastic battery life

+ Quiet, with good "thock"

+ Good value

– Software is only available for Windows
Rating: 8/10
Packaging & Accessories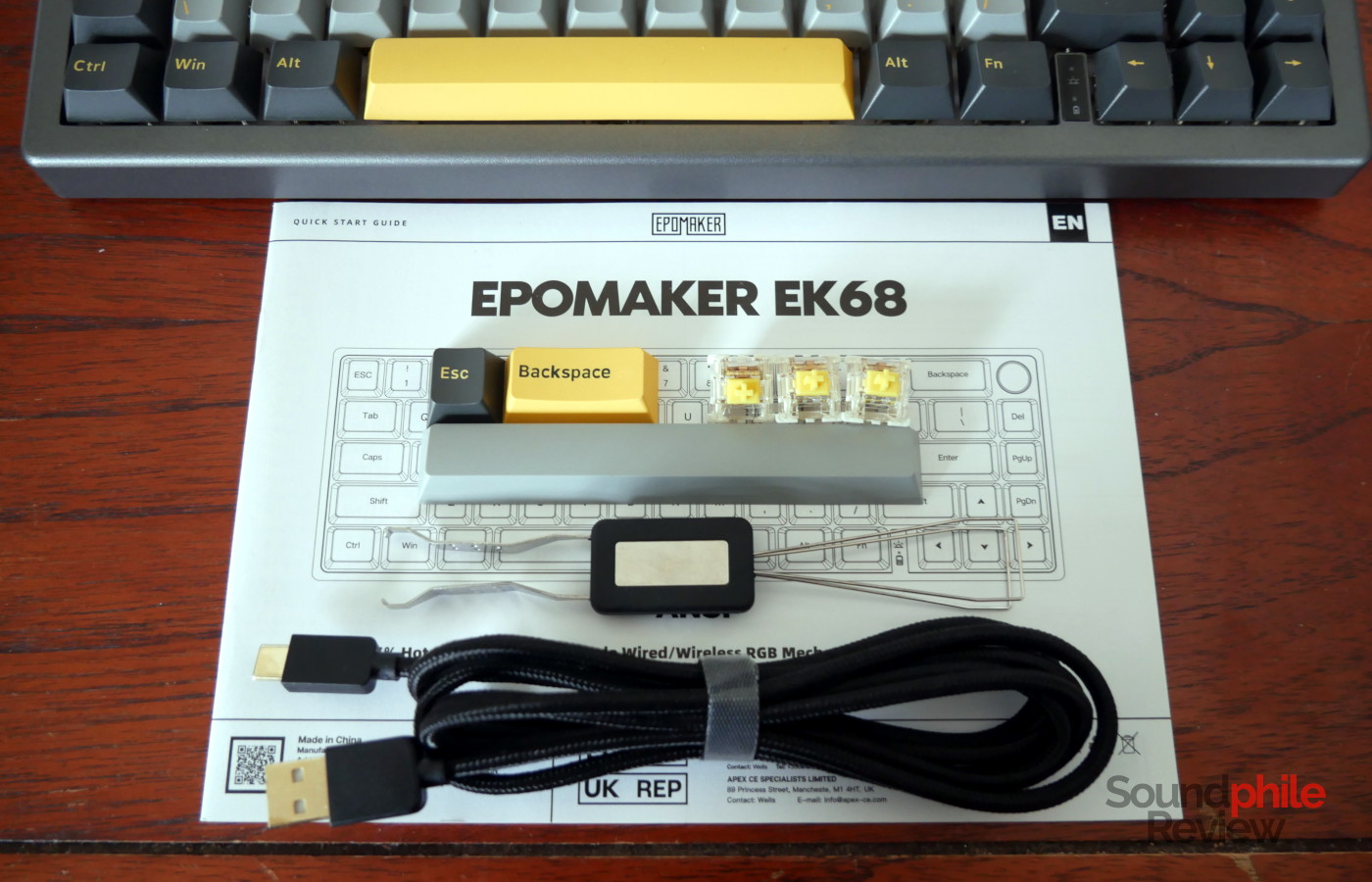 The Epomaker EK68 come in a colourful cardboard box which holds the keyboard itself, a USB-A to USB-C cable, a combined switch and keycap puller, three additional keycaps (a grey spacebar, a black Esc and a yellow backspace) and three spare switches.
Design & Build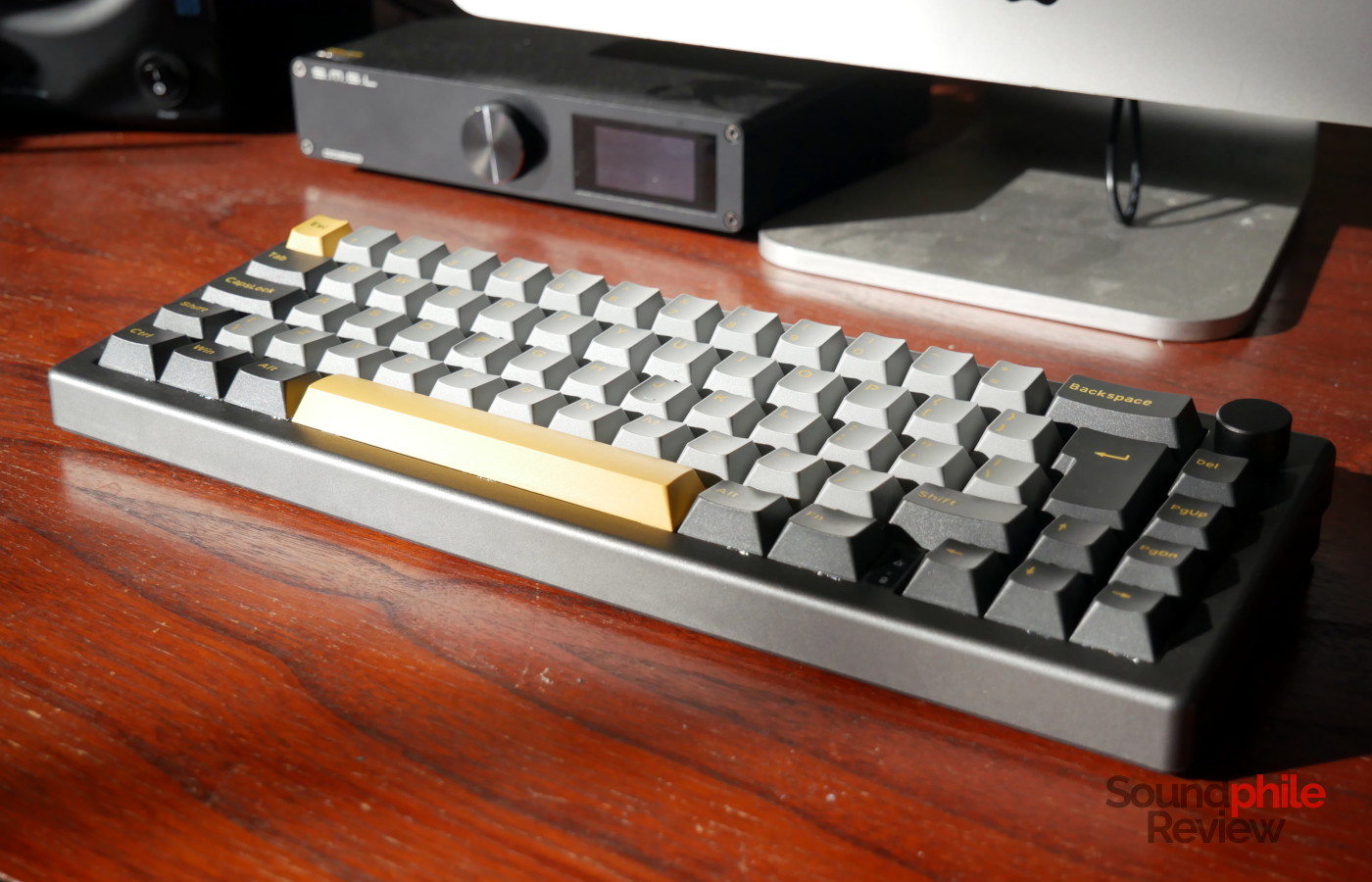 In terms of design, the Epomaker EK68 doesn't look especially distinctive and, in fact, it looks rather similar to many other 65% keyboards. It has a high profile, with the casing made of solid plastic which covers all the sides and also creates a frame around the keys. There are four feet on the bottom, two of which offer two levels of adjustment so you can make the keyboard sit at an angle.
On the far side there are the USB-C connector, a switch between Windows and Mac layouts and a switch between Bluetooth, USB and 2.4 GHz, as well as the USB adapter to use the latter connection. Between the left arrow key and the FN key there are two LEDs: one is to indicate that the keyboard is active when it is used in either Bluetooth or 2.4 GHz mode, the other is a battery indicator.
The materials used look and feel robust and sturdy; build quality is overall very good and the keyboard is assembled carefully.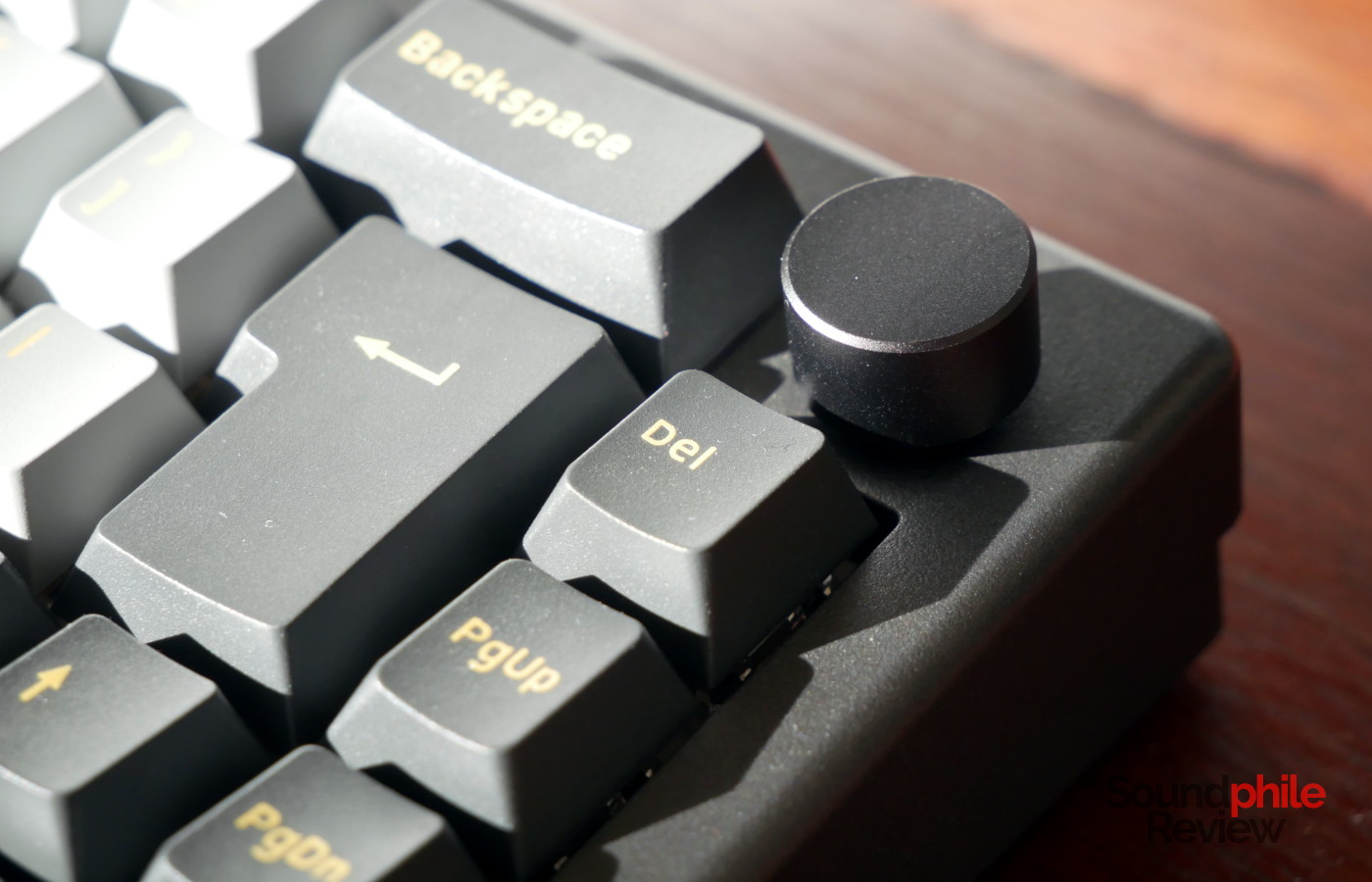 The EK68 comes in both ANSI and ISO layouts. In both cases there is an aluminium knob on the top right corner which you can use to adjust the volume (or to perform other functions, which you can program using the software provided by Epomaker). On the topic of layout, I wonder why Epomaker chose "page up" and "page down" as the two keys below "delete", as "home" and "end" are much more useful when you type (though this might well just be my own personal preference, but as someone who spends most of its day typing away I find those keys fundamental). In any case, you can reassign any key using the software. The switches are hot-swappable and the sockets are compatible with both 3-pin and 5-pin switches.
LEDs are South-facing, which avoids issues with Cherry profile keycaps while still offering very good lighting. Speaking of keycaps, the ones my unit came from use the Cherry profile, but there is also the option of a taller, SA-like profile.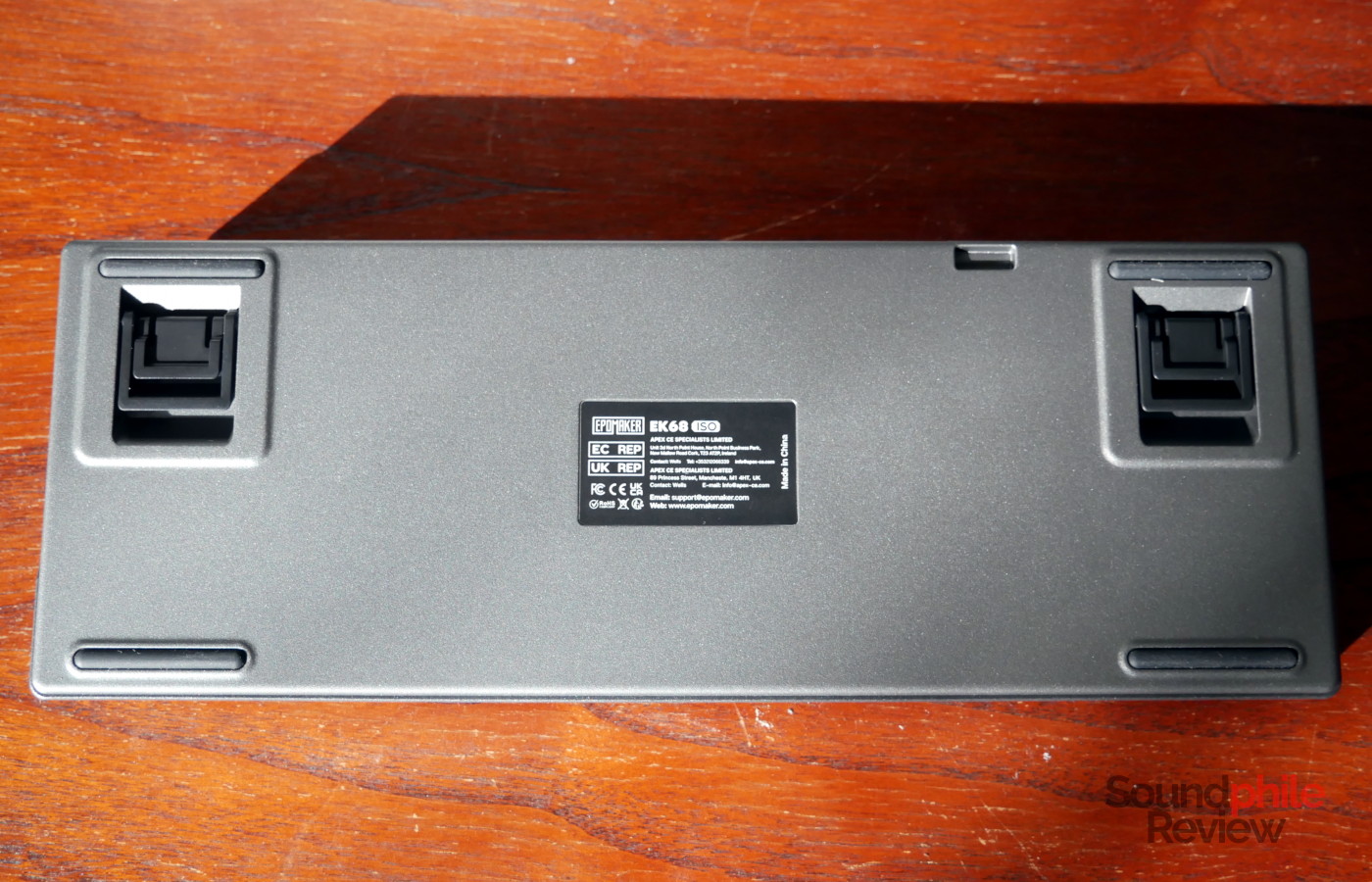 The Epomaker EK68 weighs 805 g, which makes it transportable and on the heavier side for plastic keyboards of this size. Still, it's light enough (or, conversely not too heavy) to transport it in a backpack.
Functionality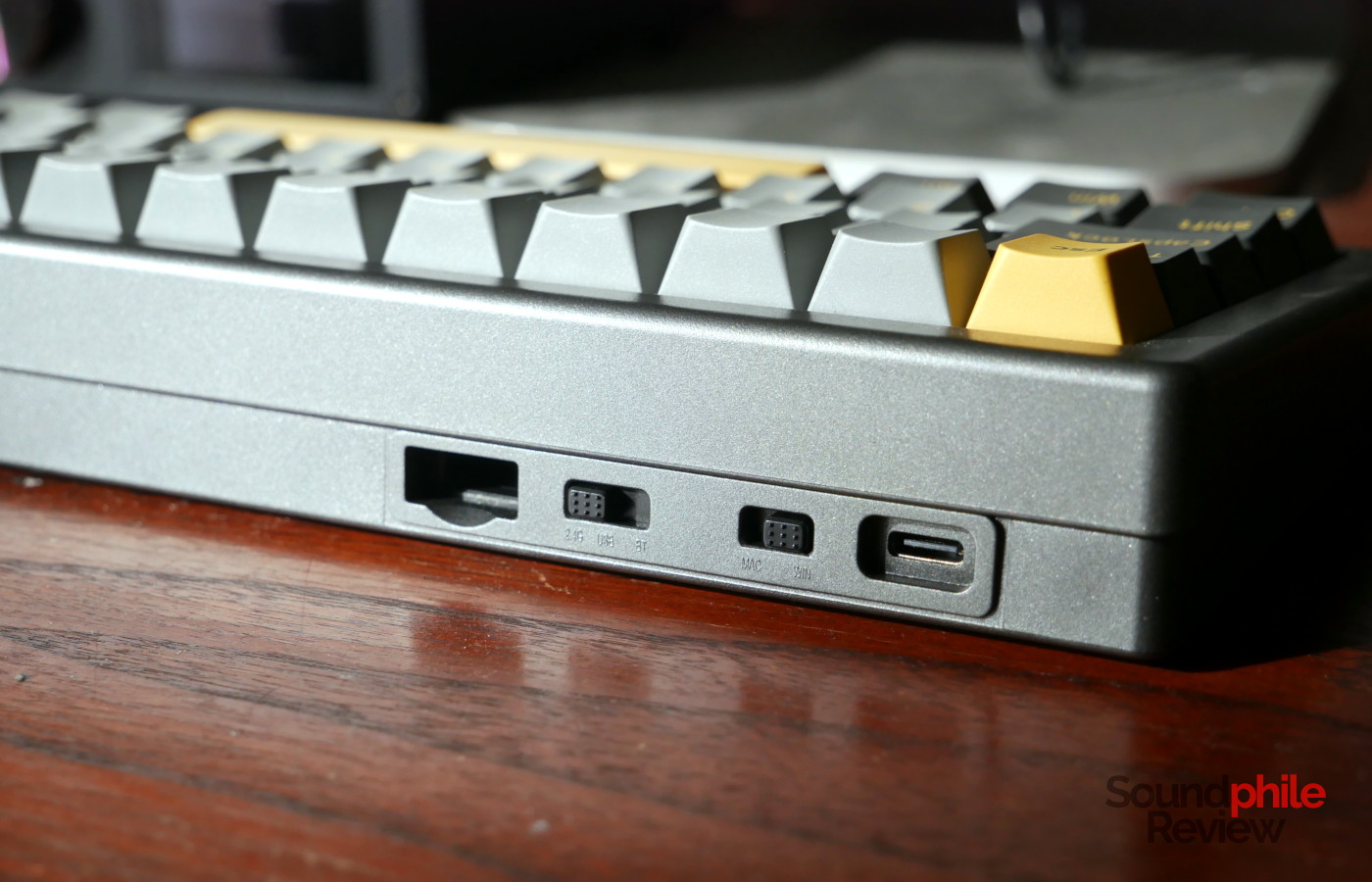 The Epomaker EK68 supports three different types of connection: USB, Bluetooth 5.0 and 2.4 GHz. The 2.4 GHz mode requires you to have a free USB-A port that you can plug the adapter into, whereas the Bluetooth mode doesn't require any adapter and is compatible with virtually all devices which support Bluetooth keyboards.
When in 2.4  GHz mode, the keyboard sleeps after a few minutes of inactivity, but it wakes up almost instantaneously and doesn't lose any key presses. Basically, if you are waking up your computer you can start typing the password and even though the keyboard hasn't connected yet, it will relay all the keypresses correctly as soon as it does. This is in contrast to the TH80 Pro, which does require you to wait until it is connected in order not to lose your key presses.
There is virtually no delay when using the keyboard in wireless mode, at least as far as I can tell (but I'm not a competitive gamer, so they might feel differences beyond my ability to discern delays).
The keyboard can be configured using a specific application you can download from Epomaker's website; it should be noted that it appears to be specific for this model, so if you have other Epomaker products, you will still need to download this. The software allows you to customise virtually every part of the keyboard, from key assignments (e.g. I replaced "page up" and "page down" with "home" and "end" respectively) to lighting (you can chose between nineteen effects!), to firmware updates. The amount of lighting effects available is significant and will surely please those who look to customise their setup with this.
The keyboard works out of the box with all three major operating systems (Windows, macOS and Linux), though the software appears to only be available for Windows, which might be an issue for Mac users (I won't even go into Linux territory…). The software also only allows you to configure the keyboard if you plug it in using the USB cable; having it connected with the 2.4 GHz adapter won't work as the software simply won't detect the keyboard.
Typing
The Epomaker EK68 comes with three switch options: Epomaker Flamingo, Epomaker Wisteria, Epomaker Budgerigar and Gateron Pro Yellow. The latter is the version I got, and they are lubed linear switches; the Flamingo are linear, too, but lighter; the Wisteria Linear which are slightly heavier than the Flamingo; the Budgerigar are relatively light, but tactile.
The Gateron Pro Yellow switches have an activation force of 50 g and a bottom-out force of 60 g, with a total travel of 4 mm. They offer a very nice typing experience thanks to the fact they're light, but at the same time they spring back quickly and with a bit of force, which makes typing much more pleasant in my opinion. The lubrication is definitely felt as the travel is very smooth. There is also very little wobble.
I found the EK68 especially nice to type on, in terms of both typing and sound. The good resistance that the switch offer makes it relatively difficult to press keys by mistake, though conversely it took me some time to adjust to the fact that I had to press the keys harder (but then again, it is only a matter of habit!). The sound is very "thocky", with a deeper note to it that makes it really enjoyable; it is also relatively quiet, so you won't disturb people around you even if the environment you are in is silent. You can hear a recording of the keyboard below.
Overall, the EK68 is a very satisfying keyboard to type and game on, and its customisability means it can appeal to a wide variety of people, from typists like myself who spend hours every day typing thousands of words up to gamers.
Battery Life
As far as I understand it, the Epomaker EK68 has basically infinite battery life. It has survived more than a month of usage draining only about 20% of the charge, which is phenomenal.
Final Thoughts
Despite its small size, the Epomaker EK68 packs a lot of features. Its connectivity allows it to work in basically any setting and with any device, and the ability to hot-swap the switches makes it very flexible and adaptable to any preferences. It looks and feels very solid, and it has an amazing sound. The EK68 is definitely a great keyboard for the price it is sold at (~$90) and it appears to undercut a lot of the competition from the big names easily.