Epomaker's TH80 Pro is an affordable, yet very complete and very well-built mechanical keyboard. As the name implies, it is an 80%, which means it is quite compact.
For the first time since I opened Soundphile Review, the review is actually going to be written on the device which I am reviewing! This is going to be the first review on a mechanical keyboard to be published here, (hopefully) the first of many: as I am not only an audiophile, but more generally a tech enthusiast as well, you're going to see more content that is not strictly related to audio devices from now on. I won't be publishing reviews of fish tanks, but I'll stray a little further from audio than I have until now.
Disclaimer: I received a free sample from Epomaker themselves. They sell the TH80 Pro for $99.99 on their website. It is also available on Amazon (click below).

TL;DR: recap
Pros




Cons

+ Well-built

+ Compact and light

+ Very comfortable to type on

+ Bluetooth, USB and 2.4 GHz connections

+ Superb battery life

+ Great value

– It takes a bit to reconnect after  the keyboard sleeps

– Weird power button and dongle placement

– LED lighting could work better with stock keycaps
Rating: 8.5/10
Packaging & Accessories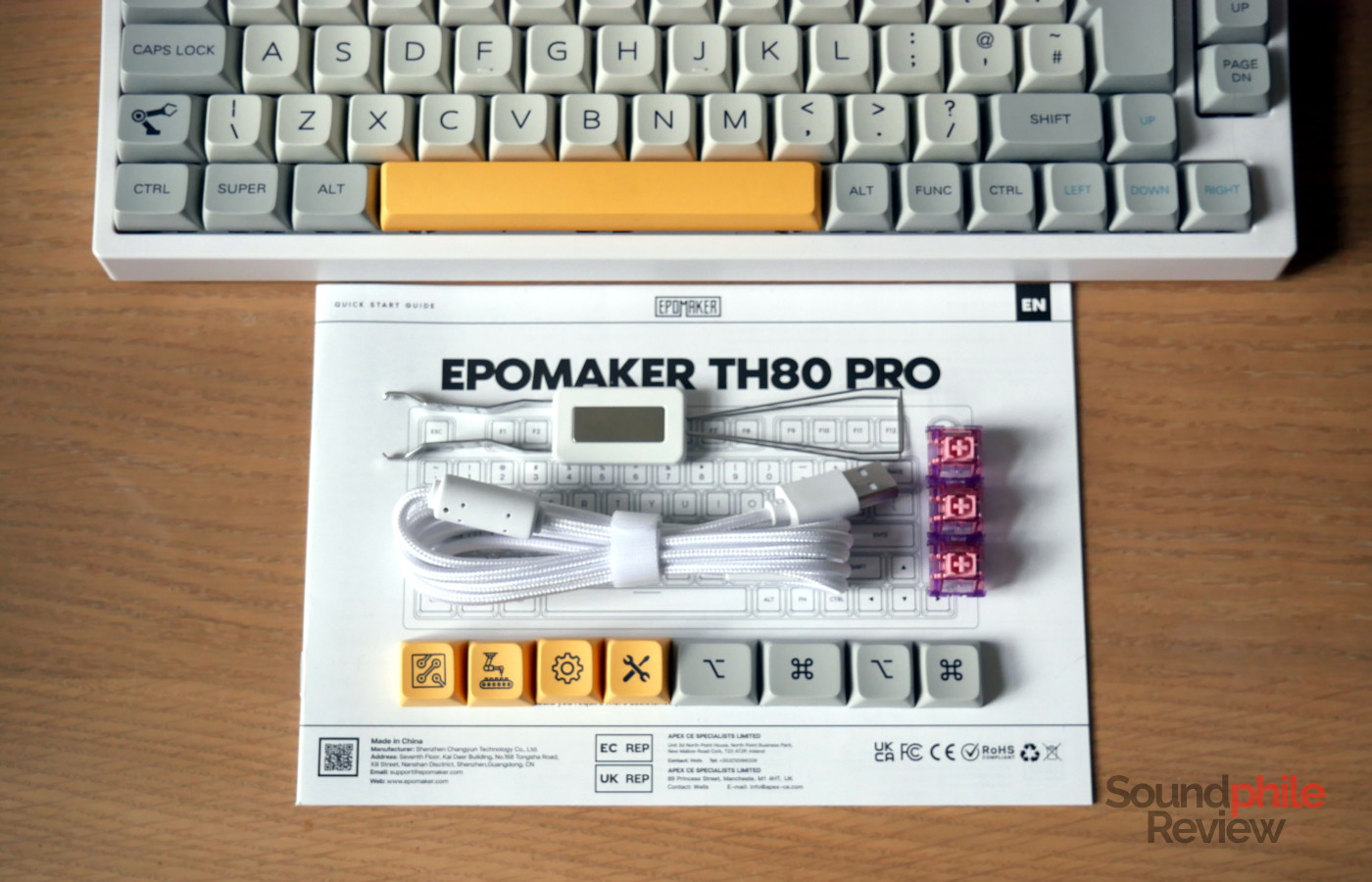 The Epomaker TH80 Pro comes with a good variety of accessories in its simple cardboard box. Together with the keyboard, we can find a white USB-A to USB-C cable, a keycap and switch puller, three spare switches and a few additional keycaps (modifier keys for Mac as well as four novelty keycaps).
Design & Build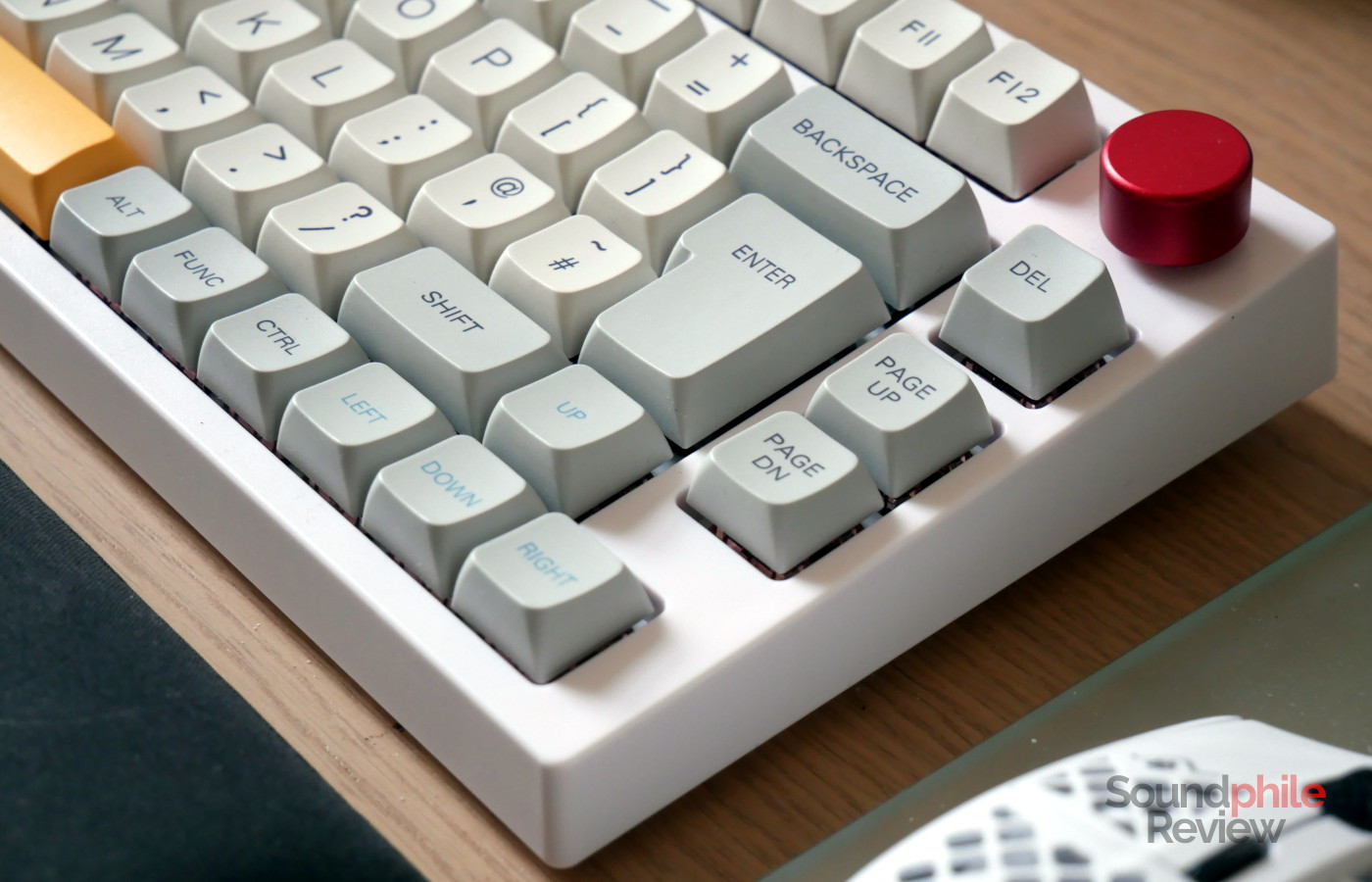 The Epomaker TH80 Pro looks like a fairly standard, understated keyboard. The chassis is made of white plastic, with a single piece covering the front and the sides. It sports a relatively small size (328 x 142 x 40 mm), which seems to be in line with most 75/80% keyboards. There is a USB-C port behind on the left, while a USB-A dongle is found on the bottom of the keyboard together with the power switch – not exactly the best positions, if you ask me (the Epomaker EK68 has them in a much better place). On the bottom there are also four rubber feet, two of which can be extended (in two different positions) to let the keyboard rest at an angle.
Build quality appears to be great, with no creaking nor other signs of poor construction or quality of materials. In fact, the TH80 Pro looks and sounds robust and durable. It isn't as solid as aluminium cases, but it seems Epomaker made the right choices when it comes to materials and assembly.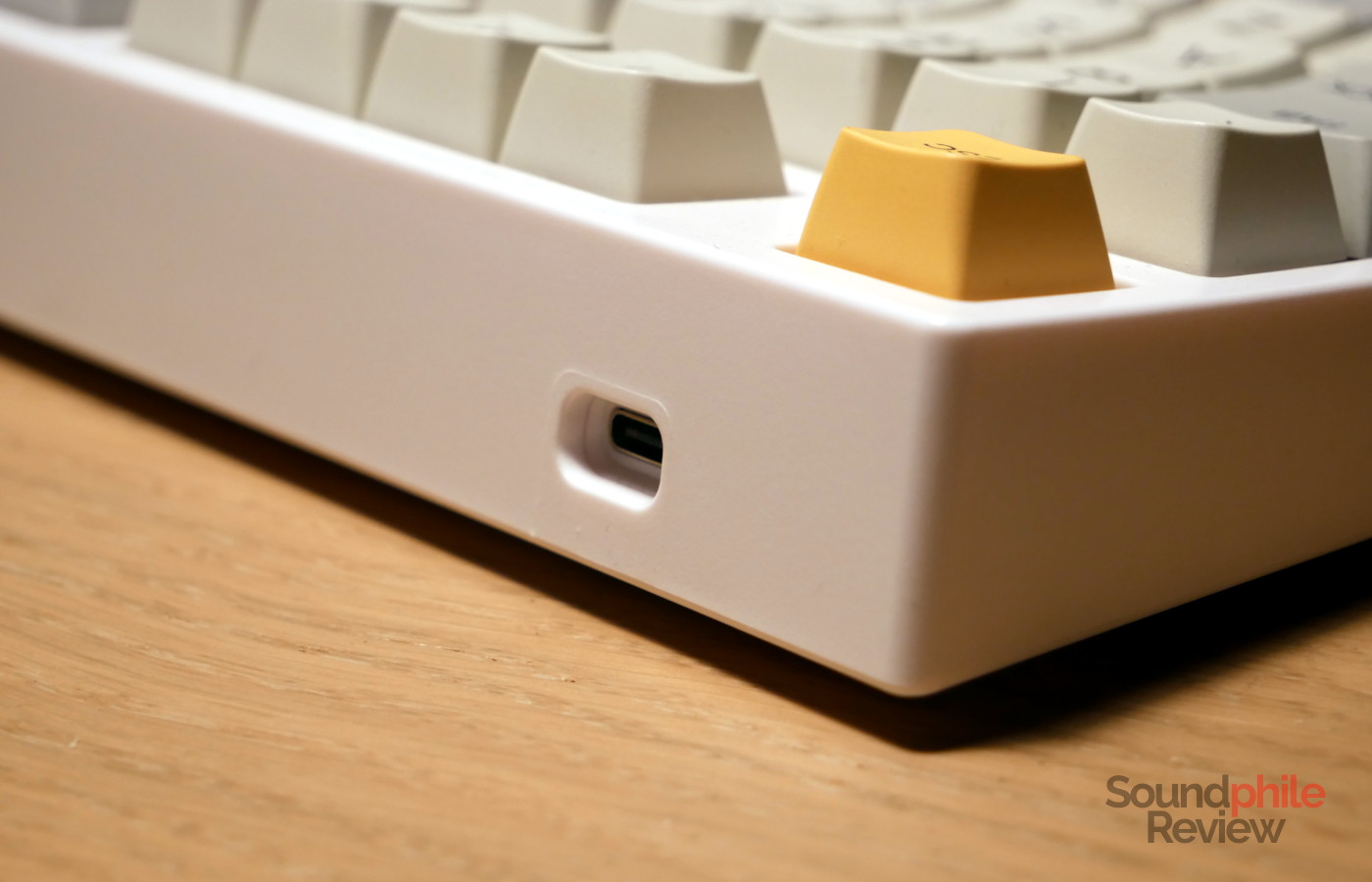 The TH80 Pro is one of the few Epomaker keyboards to come with both ANSI and ISO layouts. It also comes with an aluminium knob in the top right corner. Speaking of layout, I wonder why Epomaker decided to place a "del" key and then the "page up" and "page down" keys below it but with a separator between them, as without that separator they could have squeezed in another key.
All of the switches are hot-swappable and there is compatibility with both 3-pin and 5-pin switches. The TH80 Pro uses a gasket mount, though it offers very limited movement when you press. The main advantage appears to be that it's more silent than e.g. tray mounts.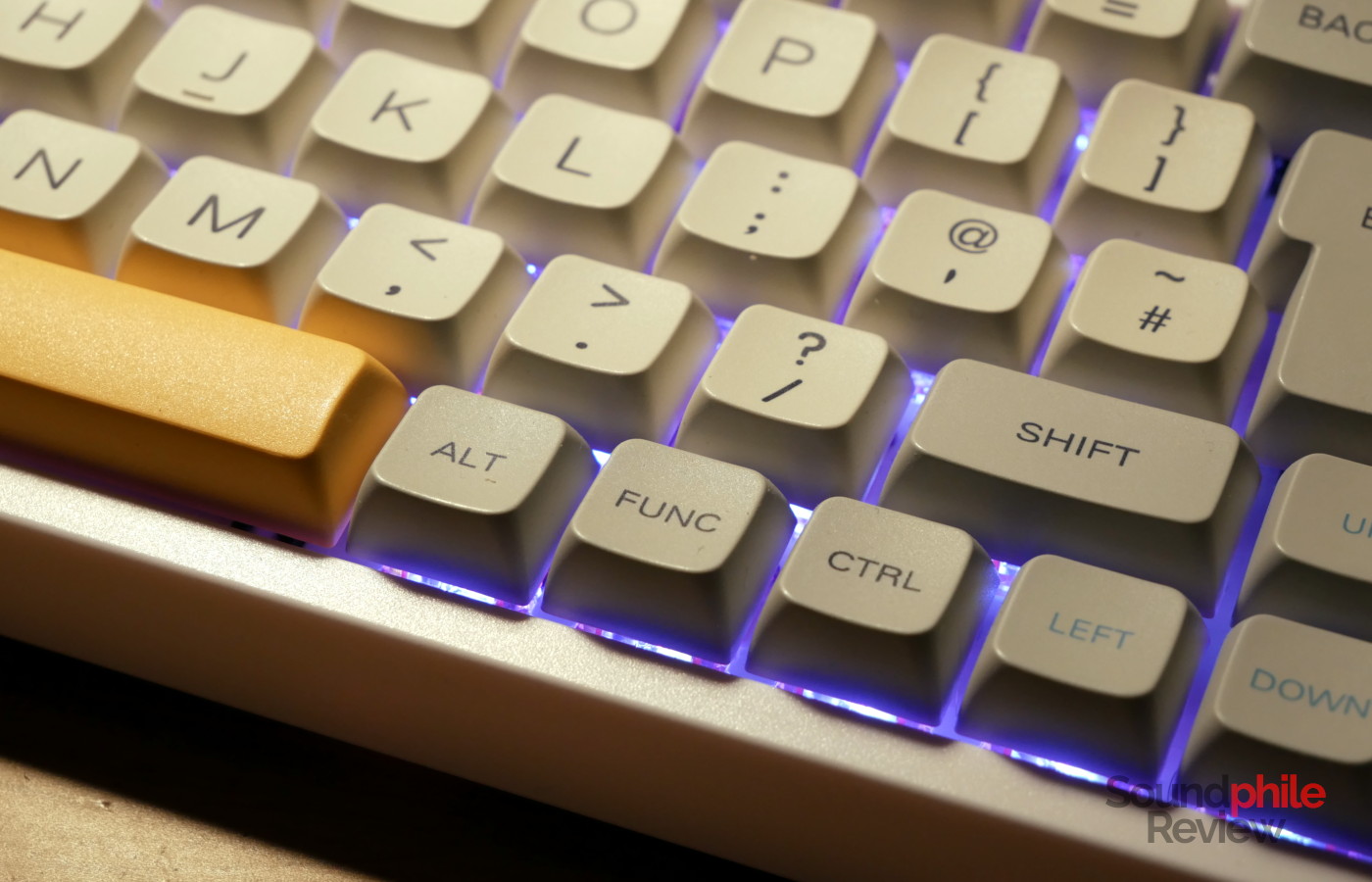 The LEDs are South-facing, which is preferred by many people due to the better compatibility with Cherry profile keycaps. They emit powerful light and, ironically enough, the fact that they are South-facing makes them actually less pleasant to look at as they are not covered by the keycaps and therefore remain visible when sitting at a desk.
The keyboard weighs 1 kg (1,017 g, to be precise!), which means it is on the lighter side for a product of this size and type. In fact, the TH80 Pro is relatively portable – and I can say that because I lugged it around Europe in my backpack.
Functionality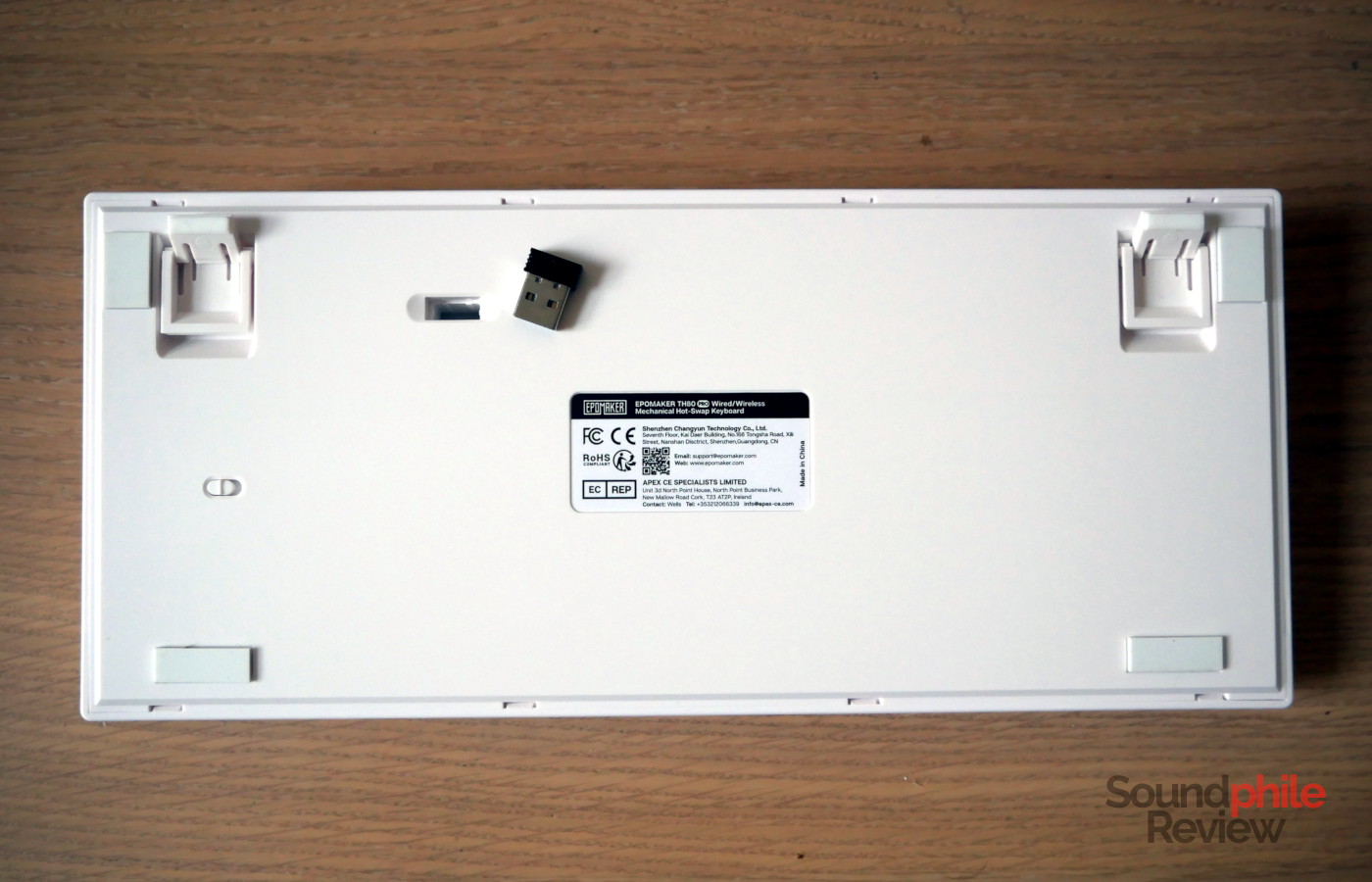 There are three possible ways to connect the keyboard to your computer: USB-C cable, 2.4 GHz adapter or Bluetooth. You can switch between them by using shortcuts on the keyboard. The USB-C cable is quite straightforward, while the 2.4 GHz adapter requires you to have a free USB-A port. Bluetooth uses the 5.0 standard and is compatible with basically any device that supports Bluetooth keyboards, including smartphones and tablets.
When it is connected using the 2.4 GHz adapter, the keyboard doesn't register key presses until it connects again after it goes into sleep mode (if it receives no input for 25 minutes, though this is configurable). This means you have to press a key for it to wake up, wait for it to connect (the LED under the "4" key will light up in green), and then start typing, which takes about 5 seconds. While this is not a big hassle, it's not as convenient as it could be.
Even in wireless mode, there is virtually no delay when typing, at least as far as I can tell. As a casual gamer who does not dabble in online play, I feel like the TH80 Pro works perfectly well even for FPS games.
There is a wide variety of shortcuts you can use to access either keys which are not physically present on the keyboard (e.g. print screen), or multimedia keys, or controls for the backlight. Speaking of the backlight, there is a huge amount of effects available (16!), so I won't list them all; suffice it to say, there are plenty enough to satisfy everyone.
Epomaker mentions that the TH80 Pro is compatible with both Windows and Mac; I can attest that it is indeed compatible with Linux as well (as I am typing this on a Linux computer using the TH80 Pro). The software, however, only works on Windows and Mac (I haven't tried the Windows version on Linux so I can't say whether it works). It is simple, yet powerful, as it offers a wide variety of options including setting keybinds for three different layers.
The software is not too intuitive when it comes to reassigning key bindings. I wanted to assign "home" and "end" to "page up" and "page down", respectively, and it took me a while to figure out that the interface was asking me to input a combination of keys when, in fact, I could input just a single key. Other than this, it works well and is indeed quite simple.
Typing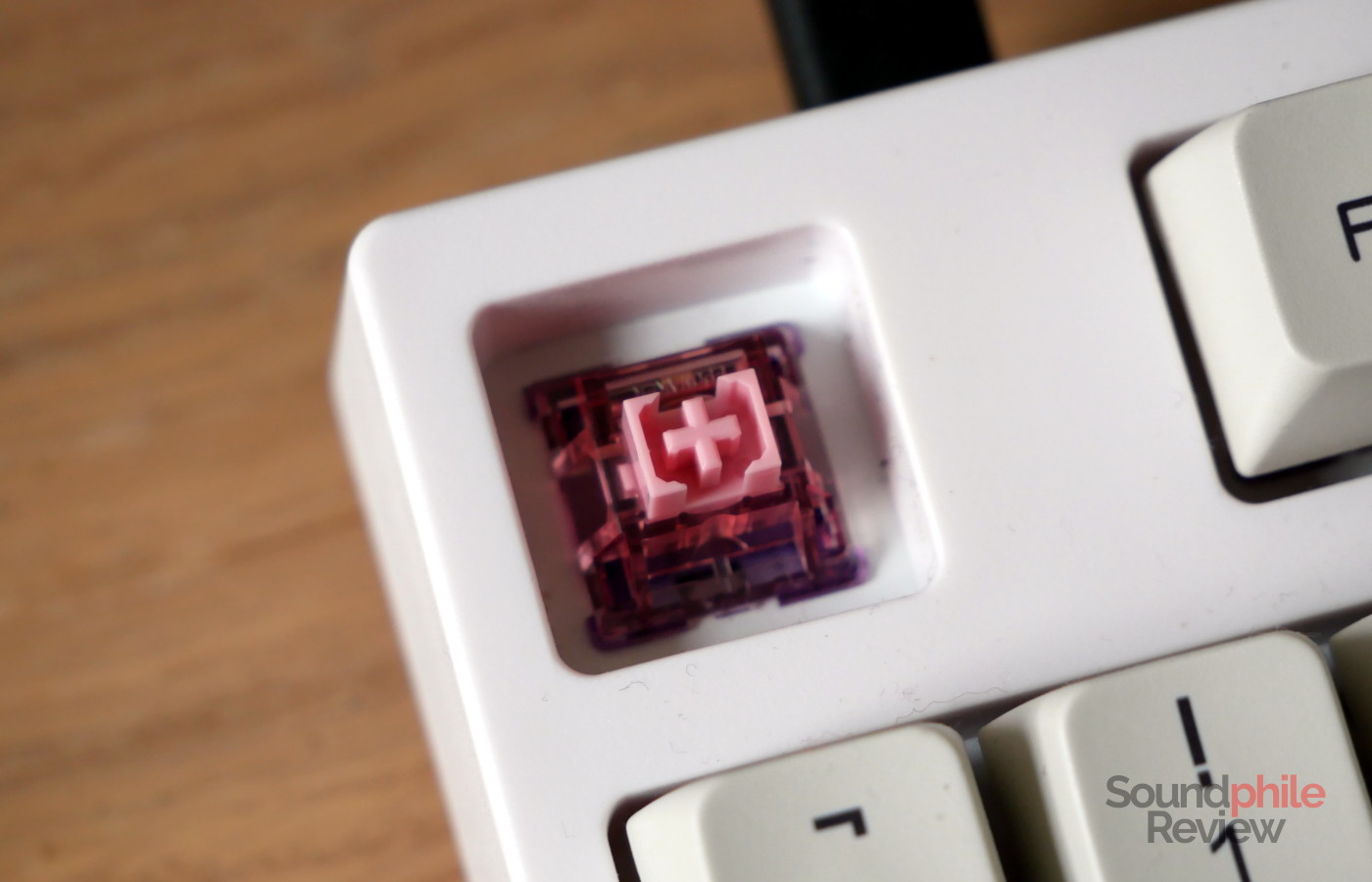 The Epomaker TH80 Pro comes with three switch options: Epomaker Flamingo, Epomaker Budgerigar and Gateron Pro Yellow. The Flamingos are linear switches, the Budgerigar are tactile, and the Gateron Pro Yellow are linear again.
The sample that was provided to me has the Epomaker Flamingo switches, which are designed are light linear switches with a total travel of 3.8 mm, an actuation force of 47 g, a bottom force of 60 g and a lifetime of 100 million activations. Despite not being factory lubricated, they are very smooth. Like the birds they take their name from, the Flamingos are pink and purple in colour, with transparent housing to let the light shine through them.
I personally find that these linear switches are incredibly light and the activation point to be quite shallow, so you need very little force for the switches to register the press. This makes them probably better suitable for gaming than for typing, as you need very little pressure to mistype – and while this is also true for games (and it has happened to me a couple of times to hit the wrong key by accident, in fact!), you want your keyboard to be more responsive in that case. There is a bit of stem wobble, but it's overall limited and it isn't too noticeable while typing or gaming.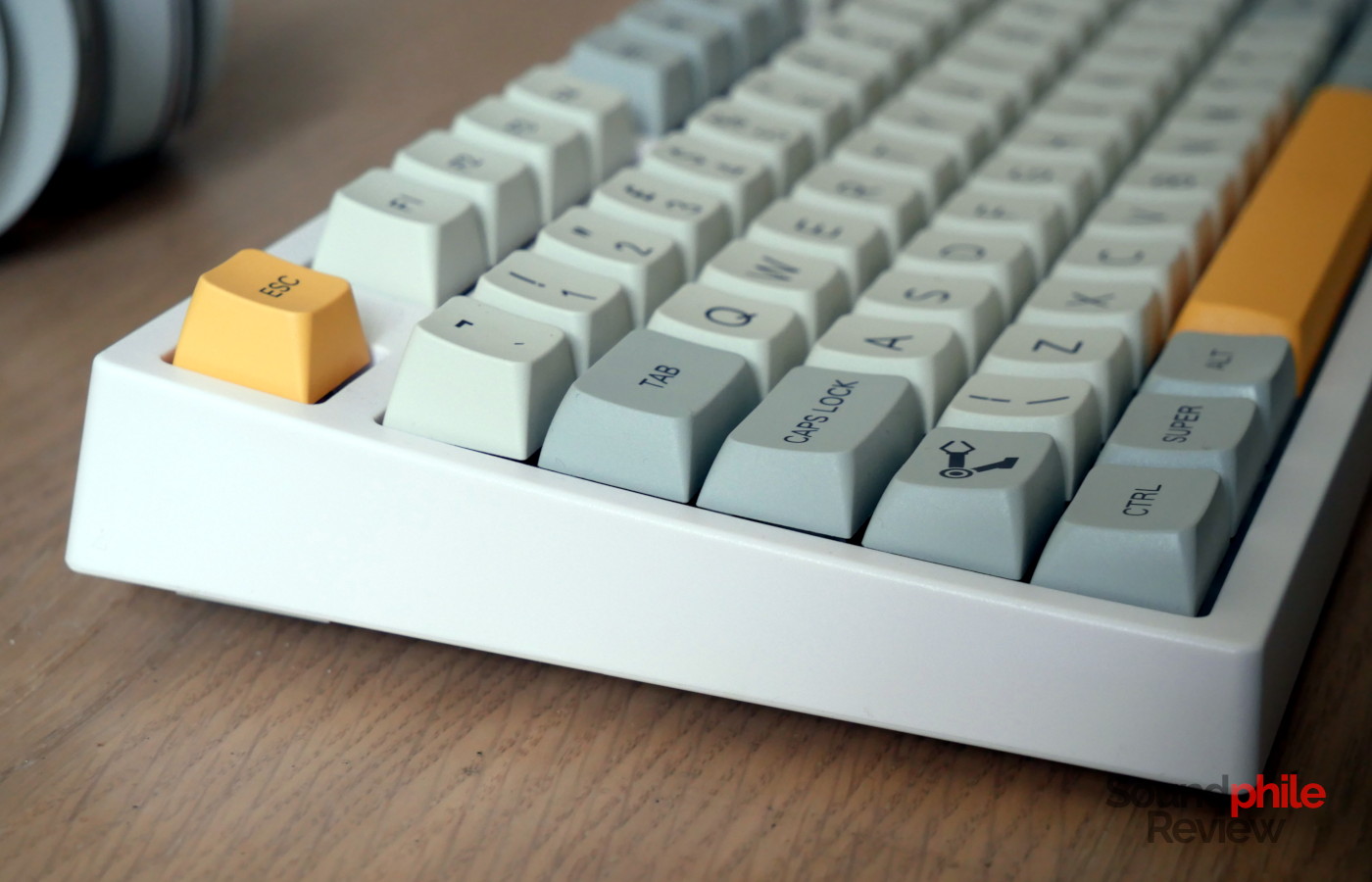 The Theory keycaps the keyboard comes with sport the MDA profile which is slightly shorter than the SA profile, but overall similarly shaped (with a few key differences, like the top of the keycap being larger which makes the keys easier to press). In a way, it appears to be a mix between the SA and the Cherry profiles, as it combines the scooped shape of the first with the shaping of different rows of the second, with a height that sits between the two.
As a journalist for an online publication by trade, I spend most of my day typing away articles; in my experience with the TH80 Pro, typing is a very comfortable experience; the keycaps are very nice to the touch as the dye-subbed PBT offers a very small bit of "grittiness" to it without exaggerating, which means your fingers won't slip but, conversely, it's not sandpaper either.
As you can hear from the preview above, the sound is nice, as it's relatively muted, but it feels "plasticky" and it's not the deep, authoritative "thock" many enthusiasts are after. Still, it's a pleasant sound that is relatively quiet as well (also according to my girlfriend, who usually complains about my keyboards making too much noise!).
Battery Life
The Epomaker TH80 Pro integrates a 4.000 mAh battery, which is really sizeable. I have used the keyboard every day for multiple hours a day for over a month, and I haven't had the need to charge it. In fact, while writing this review the charge left is over 80%. I never used the RGB effects for long stretches, so that surely must have helped preserving the charge, but I am impressed nonetheless given how much I have used it.
Final Thoughts
The Epomaker TH80 Pro is a great keyboard at a great price. It offers practically everything one may need at a very competitive price point – in fact, it significantly undercuts many competitors without sacrificing neither functionality nor quality. It is very well built, it comes with great keycaps and quality switches. The only real flaw I found was the delay in connecting to the computer when in 2.4 GHz mode; if we take this away, then it stands out as a fantastic keyboard which I absolutely recommend.