KB EAR recently popped up as another new Chinese brand of earphones. They seem to be related to KZ, or at least they sell earphones made by KZ as an OEM. The KB EAR Opal are good looking in-ear headphones, but they fail to provide an approachable, likeable tuning.
Disclaimer: this unit was provided directly by KB EAR, who sell the Opal on their website at $26.
TL;DR: recap
Pros




Cons

Beautiful design

Comfortable

Treble and upper midrange take over everything else

Too aggressive treble for the earphones to be usable
Rating: 5/10
Packaging & Accessories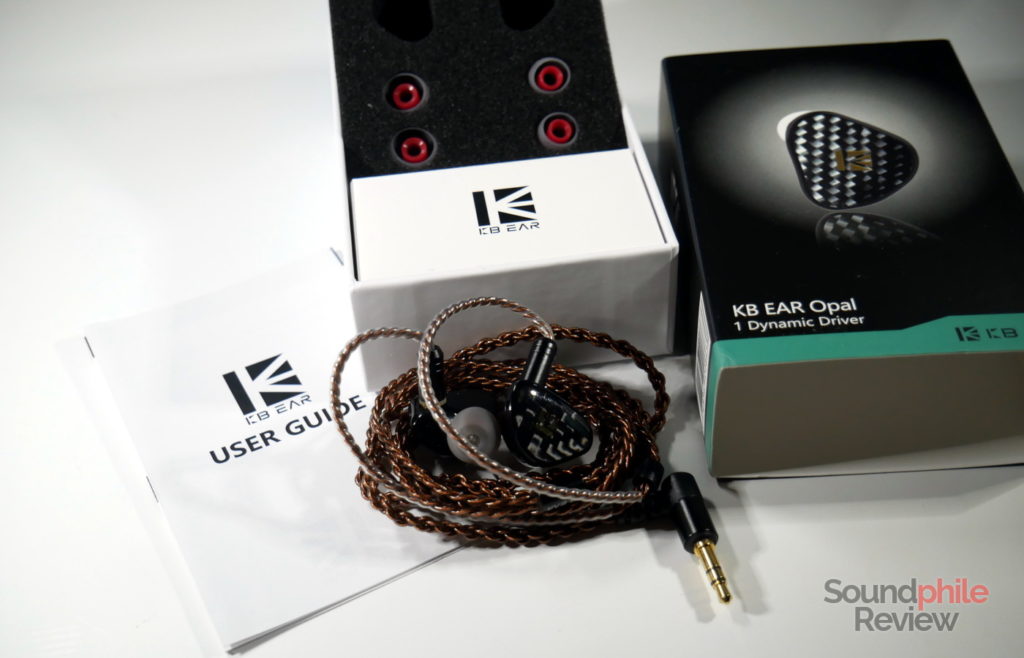 In terms of accessories, the KB EAR Opal is a bit poor. In the cardboard box are just the earphones and a set of three pairs of silicone eartips.
Design & Comfort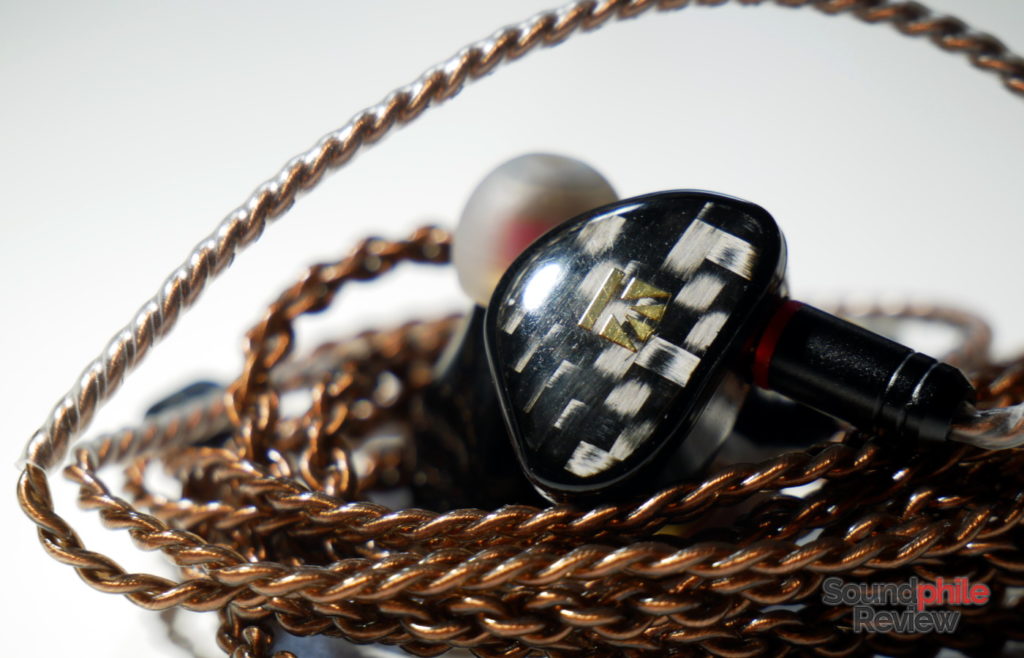 The KB EAR Opal are entirely made of plastics: the shell is made of black plastic with a glossy finish, while the faceplate is covered with a carbon fibre-like texture with the KB EAR logo in gold on it. The general shape of the shell is triangular, with no hard edges and all angles being rounded and smoothed. In terms of shapes the KB EAR Opal are not really innovative, but their use of carbon fibre and the contrast with the glossy black shell make them stand out of the crowd.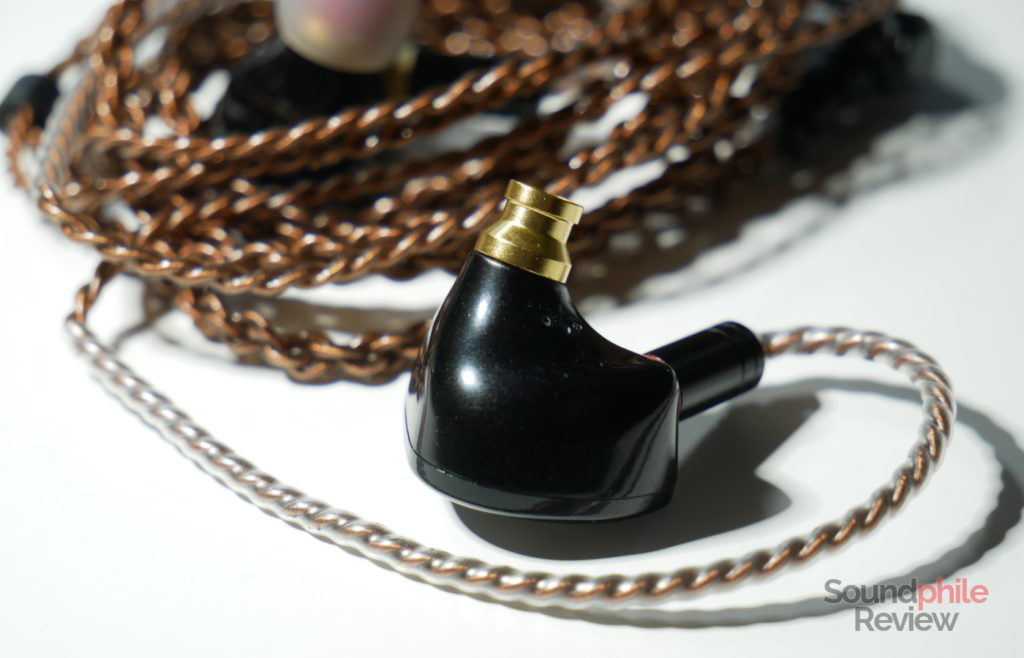 They're decently well built with seemingly good materials: being them in-ear headphones that cost less than $50, I would say that they are more than acceptable on this front. I wouldn't say they look rock solid, but they definitely do not look shoddy either.
As the shells are small and rounded, they are really comfortable and should be usable even to people with smaller ears. Once the right eartips are selected, the KB EAR Opal just vanish – it seems like they're not even there.
Isolation is barely sufficient, as it can just reduce the volume of surrounding noise by a tiny bit. They're not really recommended for commuting!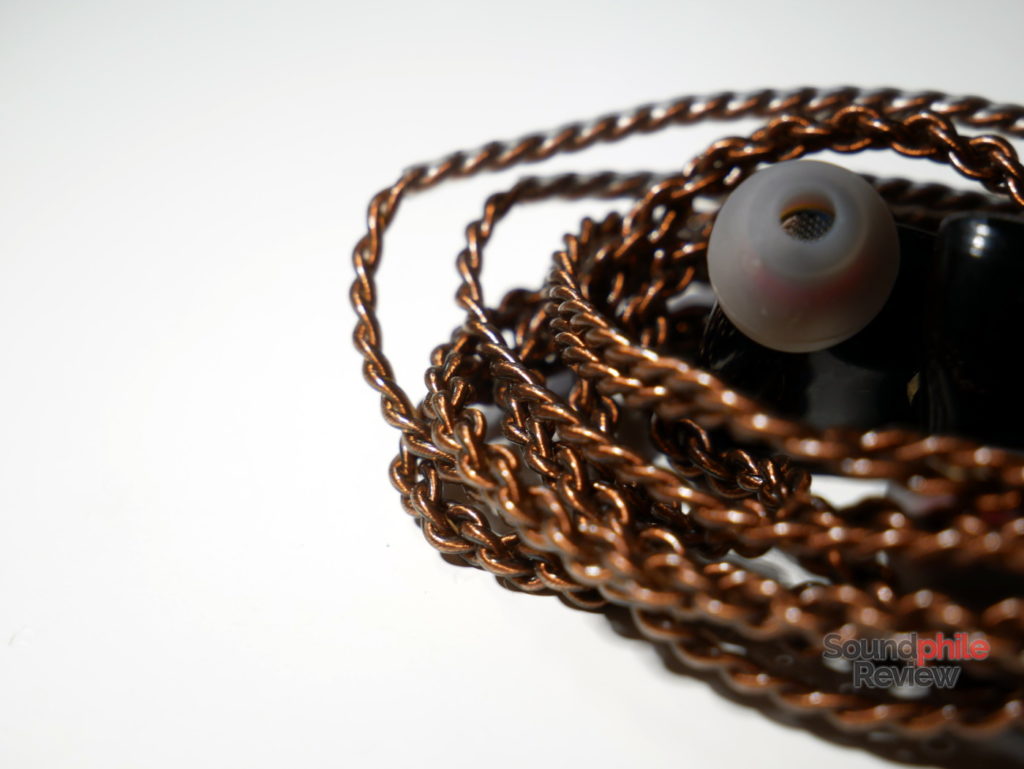 The cable is identical to that used by KZ lately (see the KZ AS16 or the ZS10 Pro for comparison): it is brown in colour and it is made of four cores, two for each channel, with moulded plastic ear hooks and a right-angle 3.5 mm jack. It's fairly basic, but it gets the job done – I would not expect anything better in this price range.
Sound & Specs
I tried the KB EAR Opal using an SMSL DP3 network player linked to a Burson Audio Playmate while at the desk, plus a Shanling M2X while on the move.
| | |
| --- | --- |
| Frequency response | 20 – 20,000 Hz |
| Impedance | 16 Ω |
| Sensitivity | 102 dB |
The KB EAR Opal uses a single dynamic driver. The low impedance and high sensitivity make the Opal easy to drive, so no amplification is needed.
Alas the KB EAR Opal were tuned in a way that I can only define as "terrible". It is a widely accepted fact that there is no single "right" way of tuning earphones. That does not mean that all ways of tuning them are made equal. The Opal has piercing and incredibly fatiguing treble coupled with prominent bass and very recessed midrange. They sound tinny, up to the point that it's almost like the only thing you hear is frequencies above 3 kHz.
Although bass is present and even emphasised when it is playing alone, it is immediately drowned out the moment anything else plays. It is decently deep, going as down as 50 Hz, and with a bump in the middle region. It's difficult to say anything more as it disappears when something even remotely complex plays.
Midrange is so emphasised in the upper area that it has almost no presence in the mid and lower sections. The problem is that while there is something there, it is completely drowned out by the upper midrange, so it ends up sounding hollow and tinny. All instruments sound as if they had no warmth – acoustic guitars, male voices, pianos all sound as if the lower range was muted, so they sound completely unnatural. Detail is sufficient, but as you only hear a part of the sound you only get a part of the picture with all other details lost.
Treble is piercing, fatiguing, aggressive, extremely annoying. I know this is a blunt way of describing it, but it cannot be overstated how aggressive it is – it just causes headaches to me. It is not really extended nor very detailed either, it is just very emphasised in the lower area.
Final Thoughts
The KB EAR Opal is really a looker, yet it fails to deliver good sound quality due to poor tuning. the balanced armature inside it has a peak that was not taken care of, and this results in the earphones being so aggressive they are unusable. I spoke with the people at KB EAR and they should be creating a new revision which fixes these issues: I hope they can fix them, because they are attractive!