The SMSL DO400 further expands SMSL's line-up with a combined DAC and headphone amplifier unit, something that was missing in this format and price range from the manufacturer's offering. The DO400 offers top-performing DACs as well as a very high-powered amp which make it a formidable all-in-one device to cover a wide variety of needs.
Disclaimer: Aoshida Audio kindly sent a free unit to me. for the purpose of this review. They sell the DO400 for $499. Additional information is available on the manufacturer's website.

TL;DR: recap
Pros




Cons

+ Solid build

+ Lots of features

+ Very high power output

+ Neutral sound signature

+ Great value for the price

– Doesn't stack with other DO-series products
(no, seriously, I can't think of anything else)
Rating: 10/10
Packaging & Accessories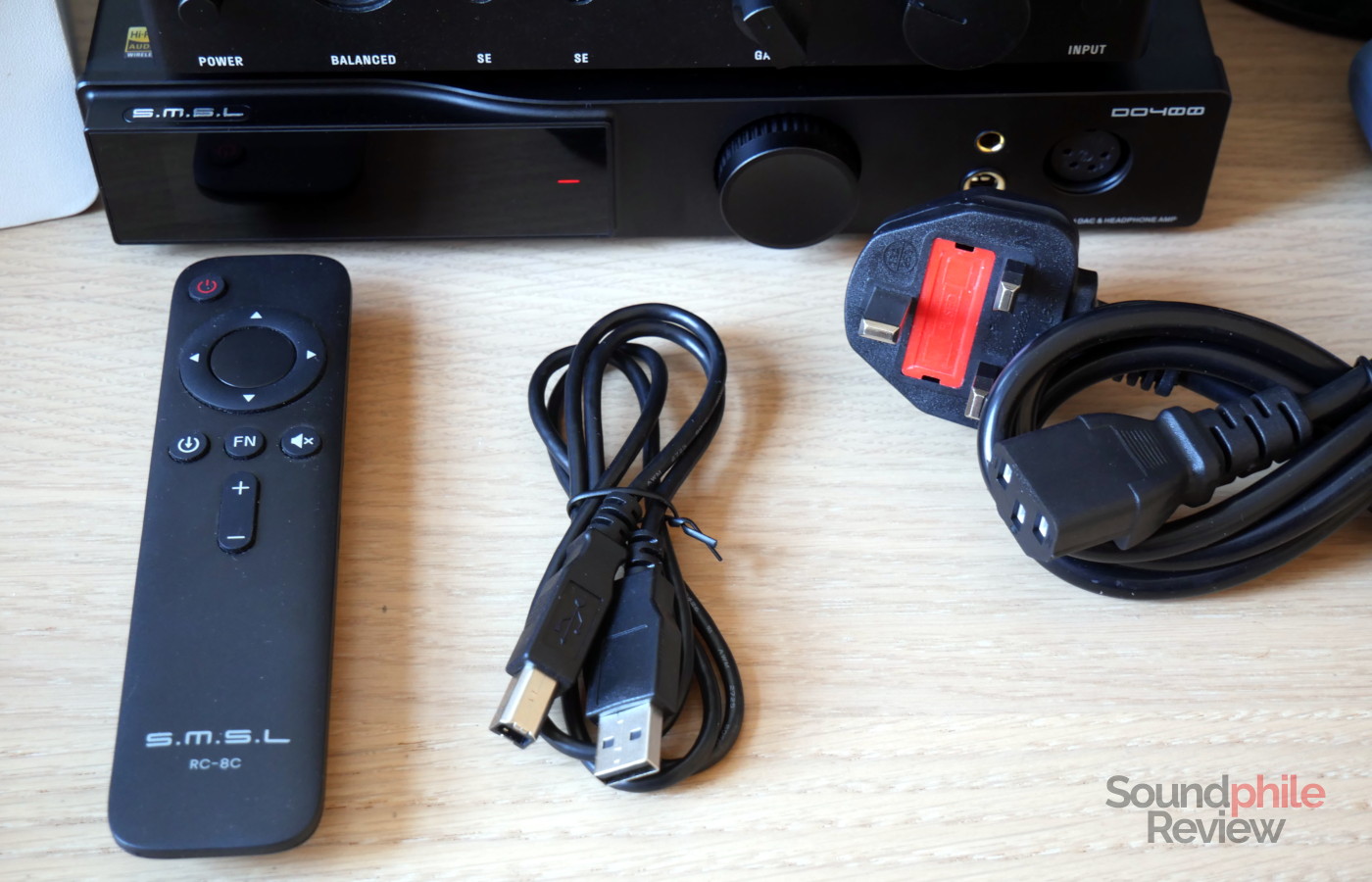 There's not much in the way of either packaging or accessories: the DO400 comes in a simple cardboard box which contains the device itself, the remote, a USB to USB-B cable as well as a power cord.
Design & Build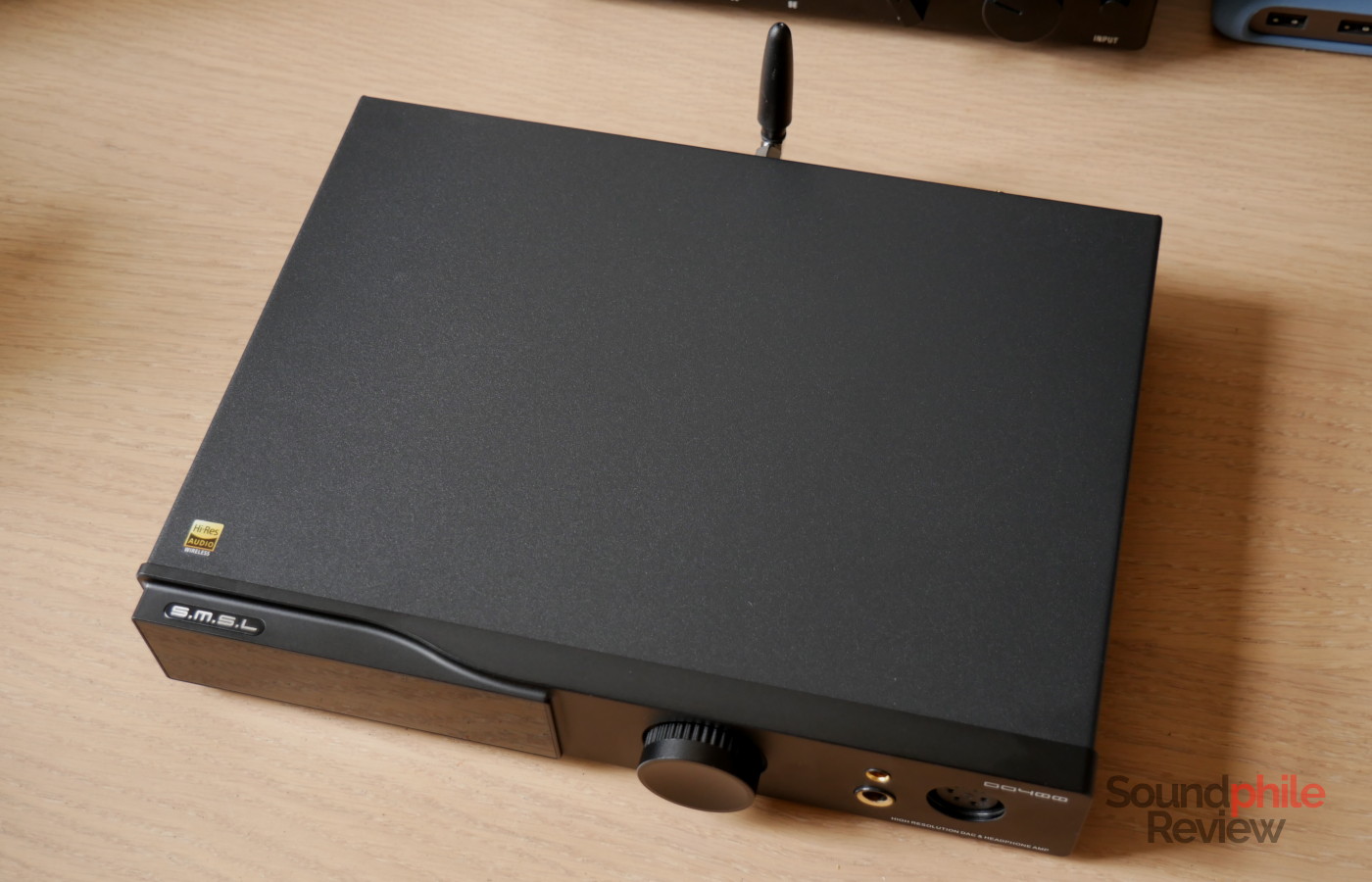 The SMSL DO400 is the first to use a new design which makes the screen "floating" and puts it on the corner in the left hand side of the front. This is quite a drastic change compared to previous models such as the DO300 or the DO200 MKII where the screen was in the centre or slightly off-centre. This seems to be a trend currently as Topping appears to be adopting the same type of design on their latest products. I have to say, and this is 100% down to personal preference, that I am personally not a super fan of this placement of the screen, as a more central position would make it easier to read it if you don't have the device on the dead centre of your desk, but again others may find it to their liking so it's really down to personal opinion (and also to where you place the unit on your desk!).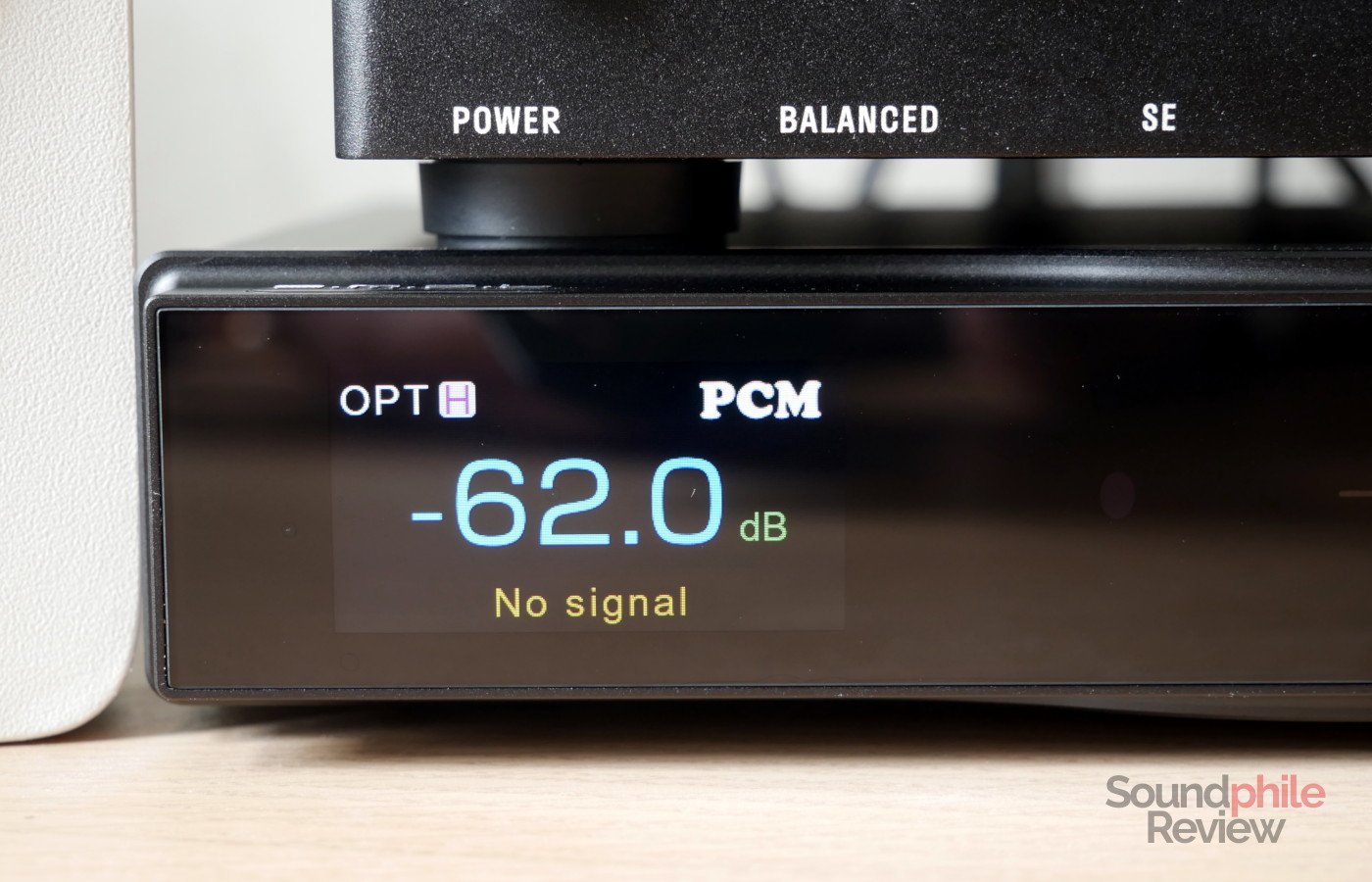 The front also hosts the volume knob, which also acts as the power button and as the way to interact with the menus, as well as a status LED that turns on when the unit is turned off. There are also three headphone outputs: XLR and 4.4 mm, both balanced, and 6.3 mm, which is single-ended.
The back is home to a lot of input and output connections: from left to right, we find two XLR and two RCA outputs, AES input (through a single XLR connector), I2S through an HDMI connector, the Bluetooth antenna, optical, coaxial and USB inputs, as well as the power input and the power switch.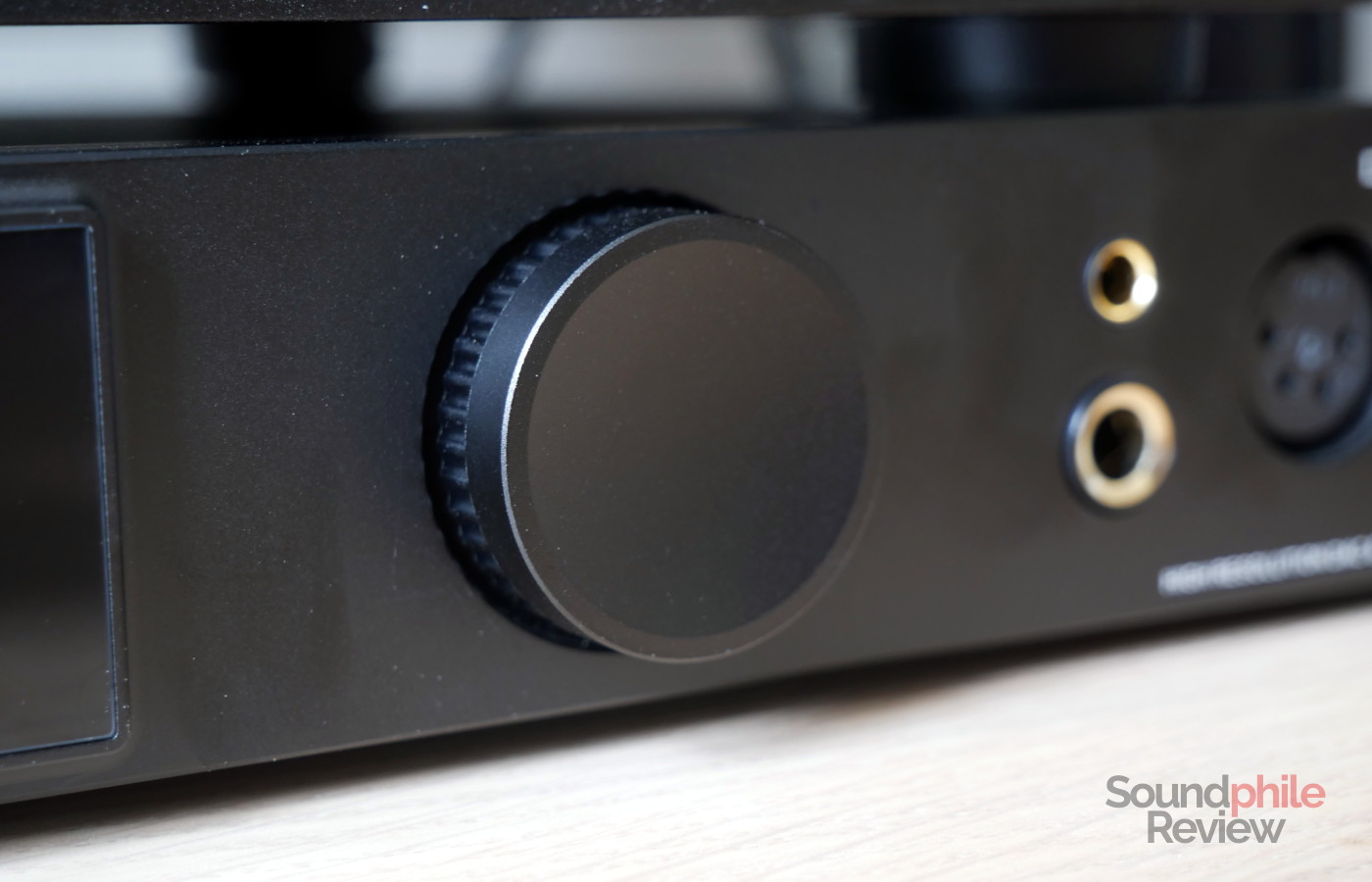 The knob has notches in relief which help you grip it as well as providing a bit of design variance. The knob itself is actually a digital stepped wheel, with discrete steps for volume adjustment as well as navigation through the menus of the firmware. It has a bit of weight to it that makes turning it (and therefore adjusting volume) with precision easy.
Features & Specs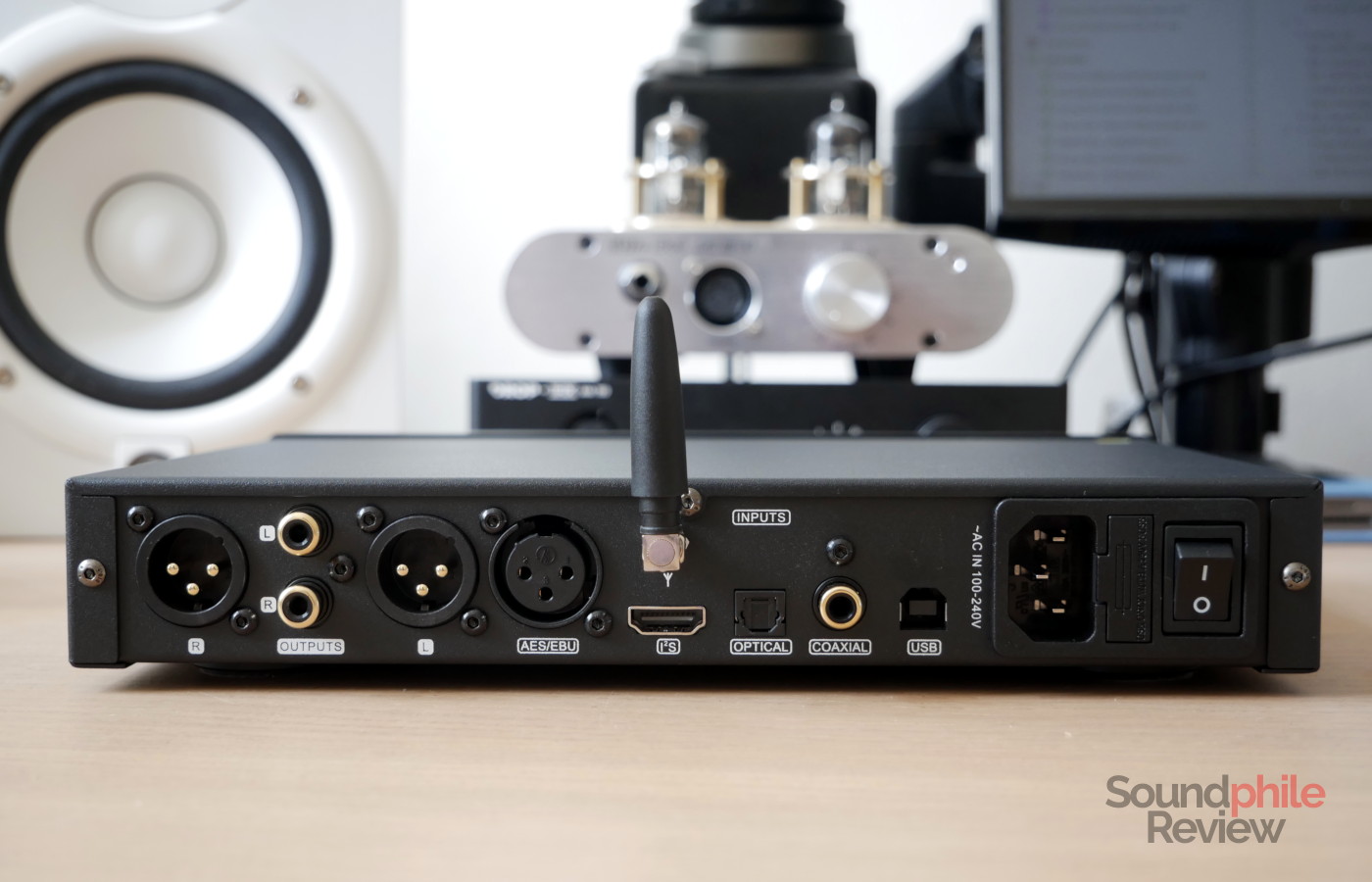 There are quite a few input options with the SMSL DO400: it supports USB (through a USB-B port), AES, optical, coaxial, I2S and Bluetooth 5.1, which offers compatibility with the SBC, AAC, aptX, aptX and LDAC codecs. This makes the DO400 extremely flexible and usable not just as a desktop DAC/amp, but also as the digital centrepiece for a stereo setup.
Output can be selected from the menu: you can choose between headphones, unbalanced, balanced or "all line out" (which includes both balanced and unbalanced). You can also select whether line out should be variable (so you can control the volume from the DAC: quite useful e.g. for active speakers) or fixed.
The DPLL value, which can be set through the menu to values between 0 and 15, helps combat jitter and stuttering: by default it is set to 5, but it can be raised if you encounter issues.
The DO400 officially supports Windows from version 7 onwards (drivers are required), as well as macOS (10.6+) and Linux. It is quite interesting to see that SMSL officially mentions Linux in the OS support section as this is very rare in the audiophile world. This also means that the unit is compatible with the Steam Deck, in case you would like to connect it to a dock.
Input
USB (up to 32 bit / 768 kHz PCM/DXDx2, up to DSD512, MQA)
Optical, coaxial (up to 24 bit, 192 kHz)
Bluetooth (SBC, AAC, aptX, aptX HD, LDAC)
Suitable headphones impedance
26 – 600 Ω (at least)
Output impedance
"Near 0 Ω"
Maximum output power
– 6,000 mW (16 Ω)
– 3,000 mW (32 Ω)
– 700 mW (300 Ω)
– 350 mW (600 Ω)
Frequency response
N/A
THD+N (@1 kHz)
< 0.00009% (headphones out)
< 0.00005% (balanced)
< 0.00007% (single-ended)
SNR
> 126 dB (headphones out)
> 133 dB (balanced)
> 128 dB (single-ended)
Crosstalk
N/A
SMSL opted for the ESS Sabre ES9039MSPRO DAC chip, which was announced last year. It supports up to eight channels, which means you can actually have a truly balanced setup with a single chip. On top of the "usual" 32 bit / 768 kHz PCM and DSD512 support, it also supports MQA. The connection is managed by a latest-gen XMOS XU-316, while eleven TI OPA1612A take care of amplification. The TI TPA6120A amp chips are the reason behind the massive output offered by the DO400, which goes up to an astounding 6 W at 16 Ω. That's more power than many discrete headphone amplifiers, which puts the progress done in recent years in this department into perspective.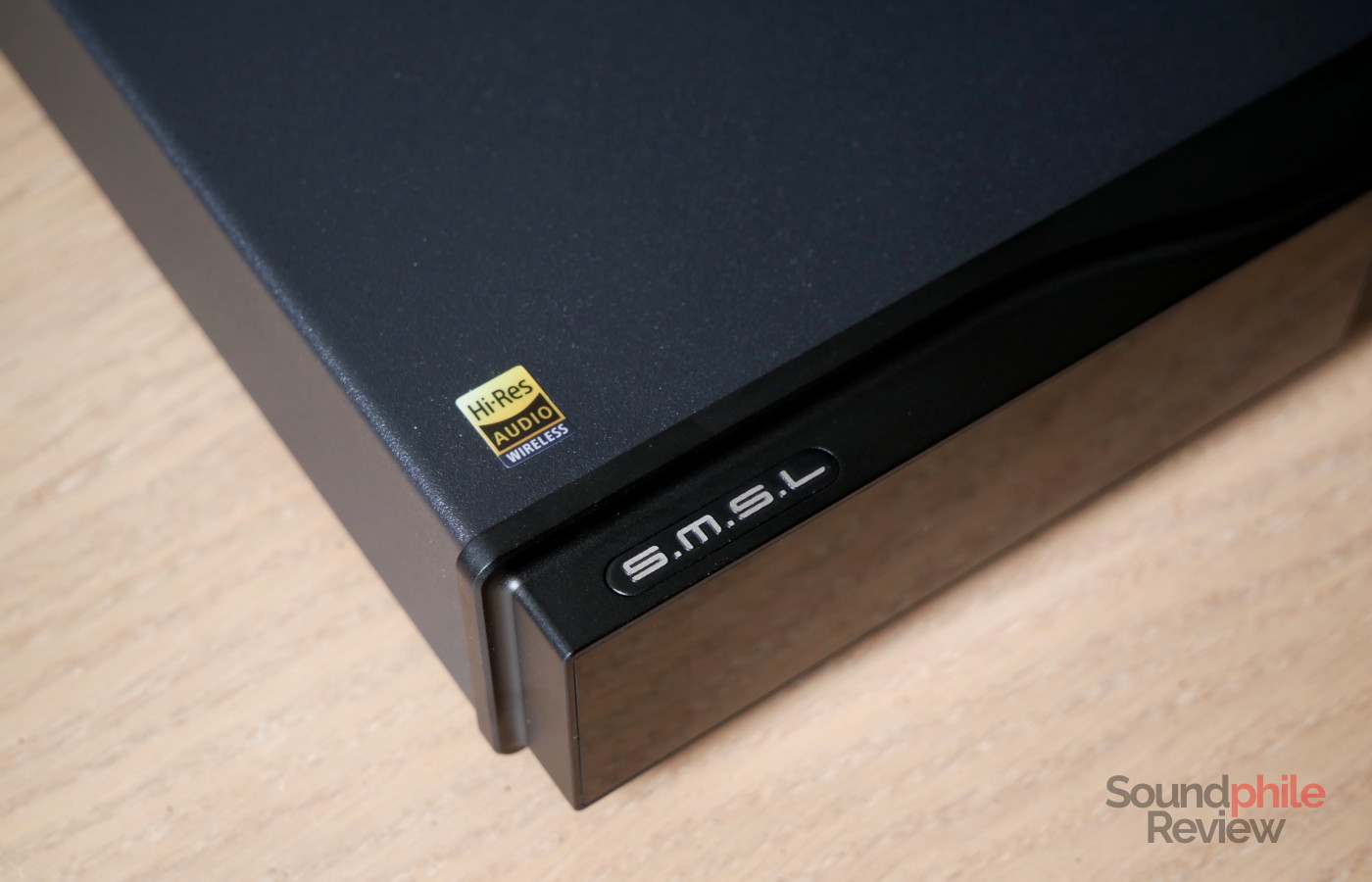 SMSL does not say anything about differences in output power between single-ended and balanced, which is quite interesting. I asked Aoshida, who in turn asked SMSL, and they said that balanced has twice as much power as single-ended.
There is a remote which allows you to turn the unit on and off, as well as to adjust the volume or to mute it entirely, and to select the input. It also has an "FN" programmable button: you can set it to switch between lint out and headphone output, or to cycle between output, to select Bluetooth as input or to select phase (normal or inverted).
Sound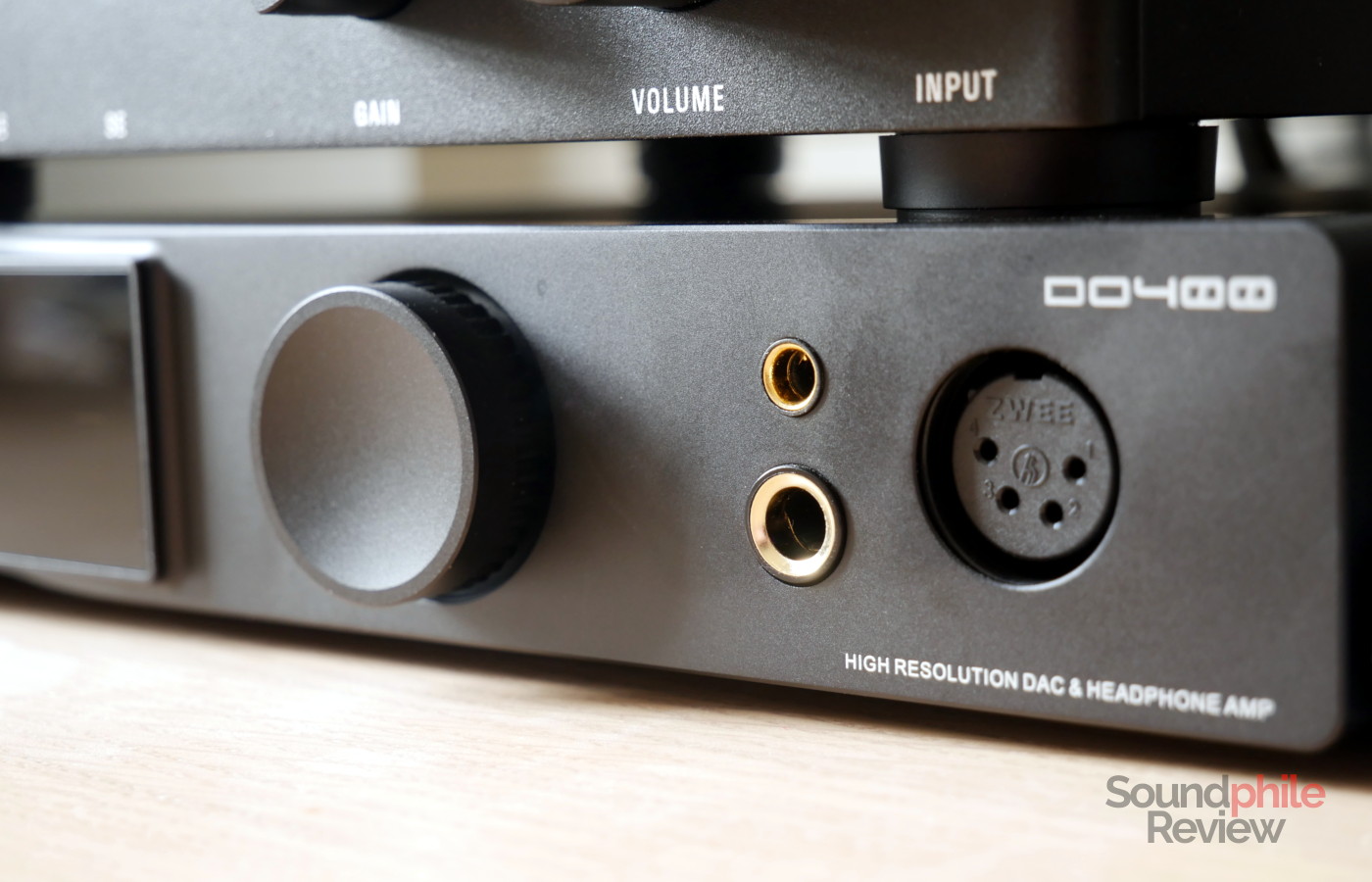 I tested the SMSL DO400 with my computers, a custom-built desktop connected through an optical cable and an HP EliteBook 745 G5 connected through USB. I used a variety of headphones, including the HiFiMAN HE-560, the HiFiMAN Arya and the KZ Krila.
SMSL's claim that their power supply is especially low noise is verifiable by the fact that there is no hum, buzz nor hiss in the background even when using very low impedance earphones. The unit's just entirely silent.
The DO400, like most DACs these days, offers a ruler-flat frequency response with virtually no distortion whatsoever. Its sound is clean and clear, with no audible deviation from perfect neutrality. Thanks to the super-low output impedance, there's no variation in the sound even if you use extremely low impedance earphones. Transients are really fast and the DO400 has no issues whatsoever driving very fast headphones such as the Arya. It doesn't have any issues driving headphones that require (or that can manage) a lot of power, either, including the likes of the HE-560 and the Spirit Torino Radiante; the significant power output it is capable of makes it a unit that can drive basically anything.
While I normally do not hear any difference between filters, the DO400 actually offers significant changes when you use them. The largest difference, and arguably the only one which I can hear, is that enabling filters reduces volume output by a good margin.
The "sound color" presets do not alter the sound significantly, but they do add some colour to it – these are minor variations in the tonality which don't change a lot, but which offer some things like added emphasis on bass which results in a warmer tonality (tube presets) or on the upper end (crystal presets), or a subtle emphasis on midrange (rich presets). Overall they're minor differences, but still appreciable.
Final Thoughts
The SMSL DO400 does basically everything and it does it just right. It offers a slew of options on all fronts: input, output and features. Considering it offers up to six watts of power on the headphone output, with extremely low output impedance, this can very well be your only device to drive your headphones as no external amplifier is needed. It also has virtually no noise coming from the power supply, which is a very welcome bonus. Overall there is no real reason not to buy the DO400 if you are in the market for an all-in-one DAC and headphone amplifier. It is just such a great device from every perspective I can't not recommend it.
I'd like to dedicate one last bit to the price. We've seen a significant hike in prices over the past few years, also owing to increased performance, but still significant compared to just five years ago; the DO400 goes somewhat against this trend and, to provide you an example, offers a lot more than the Topping DX7 which came out in 2017 at $400, especially when taking inflation into account. I quite like what SMSL has been doing lately and I'm curious to see what they'll do next.