TRN seems a bit like Microsoft, as their products alternate between good and bad (or at least not really good). The TRN V10 was not great, the V20 was decent, the V60 was forgettable and the V80 seems to be good. It is the latter model, the TRN V80, that has gained a bit of notoriety recently as a good budget IEM.
Disclaimer: the TRN V80 is a free sample I won't need to return. AK Audio sells it on AliExpress. Price for Soundphile Review readers is $26/$27 (no mic/mic). In order to get the discount, you can write "Soundphile Review" in the message field in the order confirmation screen, select "other payment methods" and then place the order. Cancel the payment and then wait for an email informing you that the price has been adjusted.

TL;DR: recap
Pros




Cons

Original design with premium materials and good build quality

Detachable cable

Relatively balanced sound signature

Good technical ability

Not comfortable in the long run

Stock cable can cause discomfort
Rating: 8.2/10
Packaging & Accessories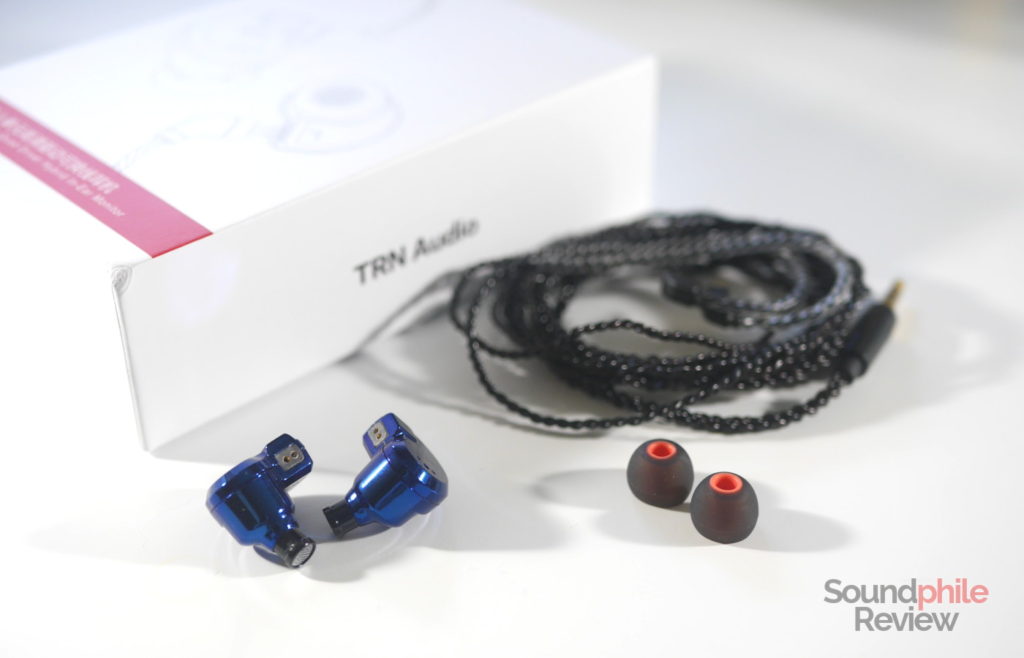 The TRN V80 is sold in a cardboard box that holds the earphones and the cable (which is identical to that of the TRN V10). My unit only came with a single pair of eartips: either TRN decided to cut costs or somebody in the QA department did not notice the eartips bag was missing. Even if the latter was the case, there are not a lot of accessories included – a bag or case would be welcome.
Design & Comfort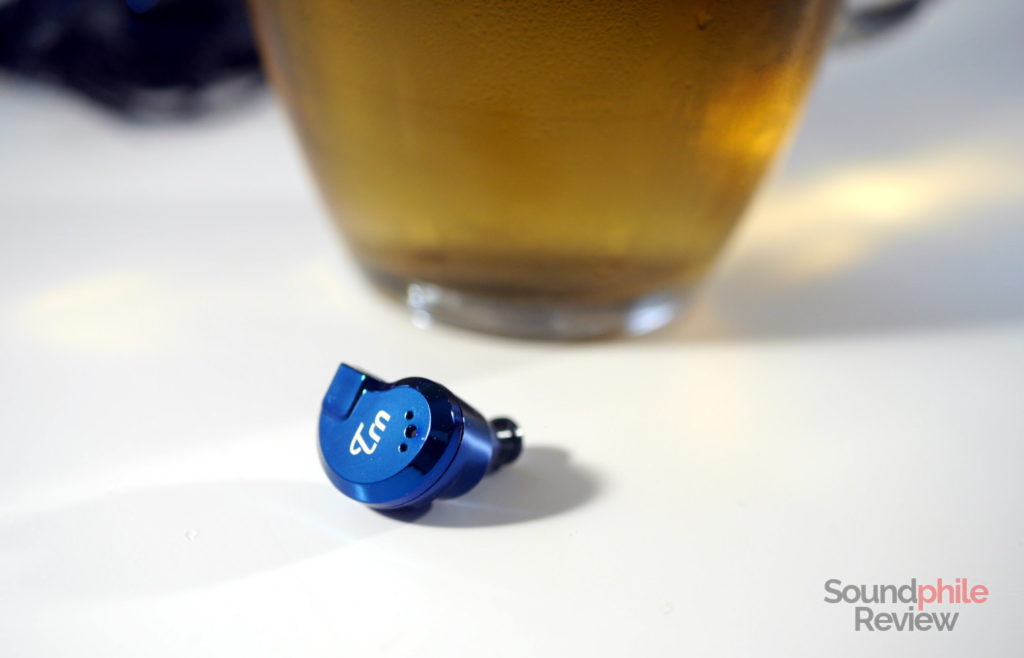 TRN decided not to play it safe when it comes to design and actually delivered an original and quite odd shell design. Shells in fact resemble drops, with a vertical part on top that houses the 2-pin connector socket. Three holes are placed on the lower part of the faceplates, with the one in the middle being larger than the other two. There are two colours available and one is a striking electric blue (which is the one you see in the pictures) – it surely doesn't go unnoticed.
The fully rounded shapes, save for the vertical cut where the connector is, make the TRN V80 easily recognisable and break away from the recent fad of using hard edges on earphones. This is not to say there aren't any hard edges, as those are present where front and back meet with the sides, but it's not the umpteenth Campfire Andromeda clone. The rest is luckily (from a comfort standpoint) rounded and smoothed out.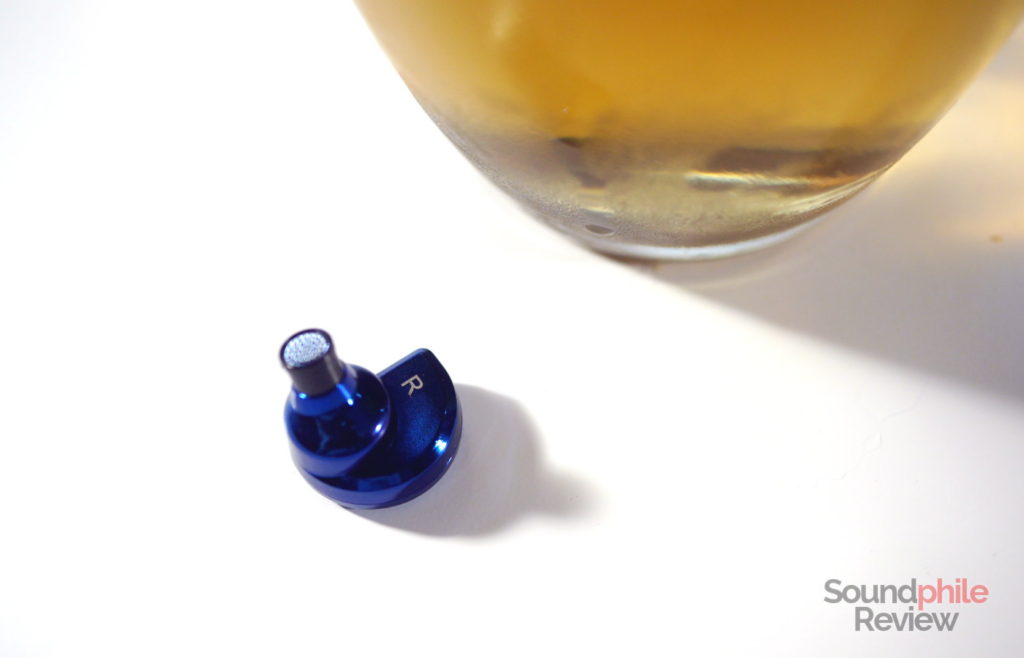 The shells are entirely made of aluminium, from the housings to the nozzle, and appear quite solid. Maybe their weight plays a part in this sensation, too, as the earpieces are quite heavy and feel dense. Assembly is well done and there are no obvious flaws. My only concern is that one of the nozzles seems to be covered in thick paint which started to rip and come off in little pieces (see picture below); I don't know if that's due to the eartips I used (KZ's foam tips) or if this is an inherent defect.
As Soundphile Review's reader Marek points out, the TRN V80 can come out of a full washing cycle in the washing machine intact and still able to reproduce music, which goes to show that they're actually quite well built.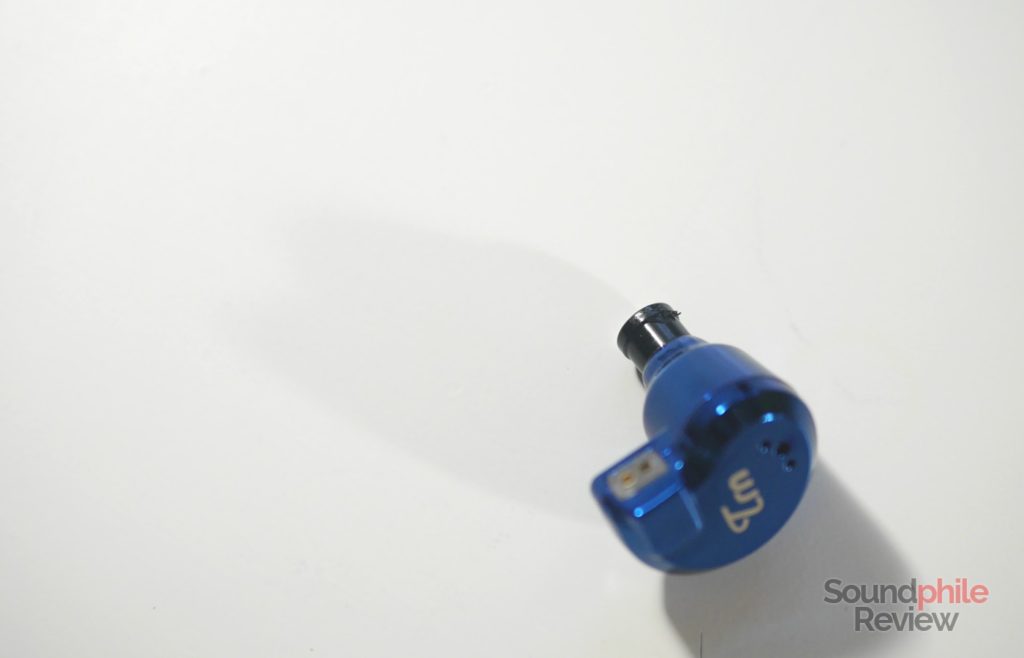 The odd rounded design, which could be comfortable, is offset by a larger than average size that makes the shells press against the inner part of the pinnae and cause moderate discomfort after relatively little time. It only takes an hour for the TRN V80 to cause a feeling of unease, and after a couple hours it degenerates into plain discomfort. This is strictly subjective as ear shape is different from person to person, but it is an indication of what you can expect.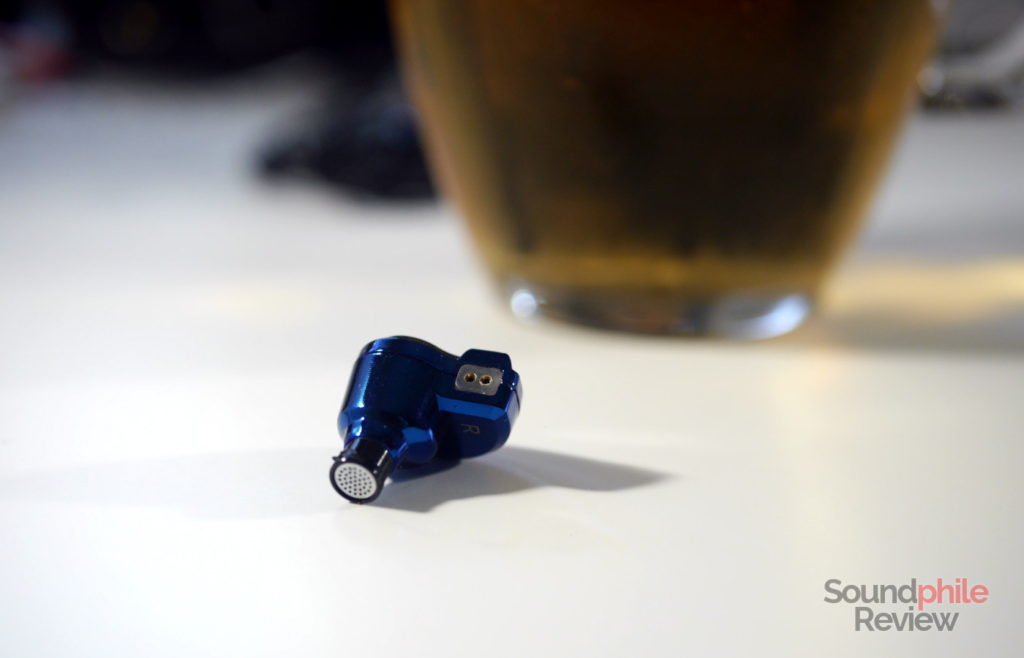 The TRN V80 are able to provide moderate isolation, as they can effectively reduce sounds coming from outside up to a degree. It is most notable in quiet environments, where everything disappears including low-volume voices, but in situations where there's much noise (think of public transport, busy streets, etc) then it shows its limits. In those cases the TRN V80 can't shield you away from the loudest noise, which force you to either raise the volume or live with the noise coming from outside.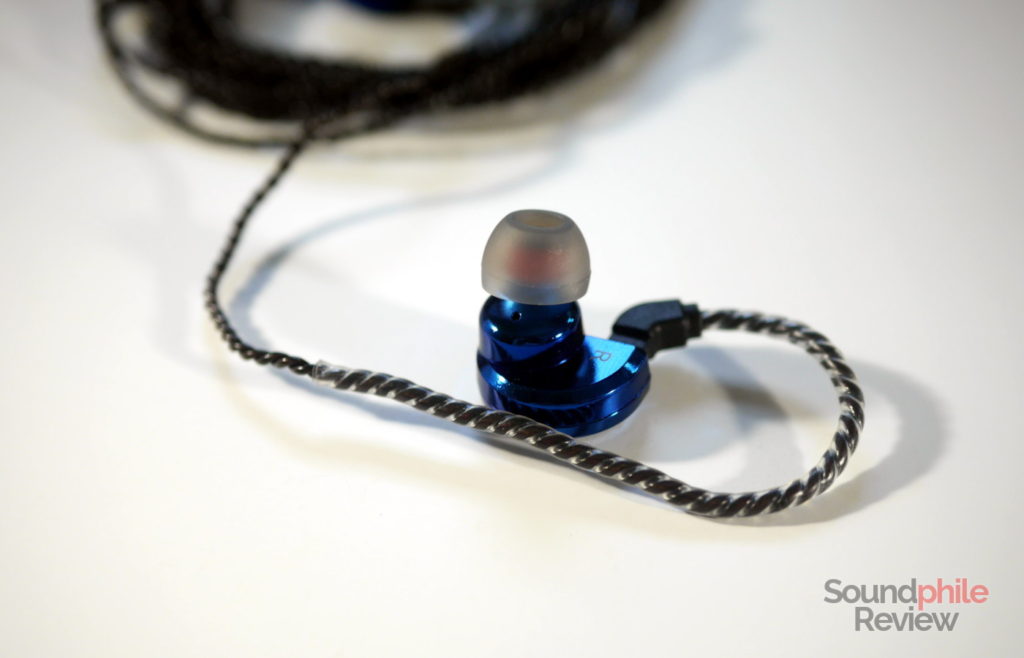 The cable suffers from the same issues of the TRN V10: while it is actually decent in terms of build, it is not great in terms of comfort. It has four braided cores up to the Y-split and two weaved cores up to the earpieces, with everything covered in black plastic; the general quality is not too distant from that found on other budget earphones such as the Geek Wold GK3. In terms of comfort, though, the moulded plastic at the end is shaped so that it tends to press against the ear and this is one possible cause of discomfort. It has to be noted that while the 2-pin connector allows one to use cables such as the Yinyoo 6-core copper cable or the Yinyoo 8-core SPC cable, the vertical cut where the socket is makes it less practical to use cables with a straight housing such as those mentioned.
Sound & Specs
In order to test the TRN V80 I ran a break-in session of 100 hours and then used the following equipment: Topping DX7, Topping D30 driving a Head 'n' HiFi Objective2 and a Venture Electronics RunAbout 2.0bl, a Cayin N5ii.
| | |
| --- | --- |
| Frequency response | 7 – 40,000 Hz |
| Impedance | 24 Ω |
| Sensitivity | 108 dB |
The TRN V80 follows the latest trend in the budget earphones industry as TRN stuffs four drivers in the earphones: two different dynamic drivers and two balanced armatures. Each driver takes care of a portion of the sound, thanks to an integrated crossover.
The TRN V80 does not mean to be neutral or have a reference tuning. It's not an IEM for those who want to relax or to hear everything "as the artist intended", but one for those who want some fun in the process. In fact there's a certain emphasis on bass and (though a bit less) on treble, with the final result being a very immersive and lively sound signature. Contrary to many other products in the same price bracket around $50, though, the TRN V80 manage to have a relatively balanced signature with no excesses and retaining some general coherence that makes it fun but doesn't alter tonality. It is V-shaped, but not excessively so.
If soundstage is decently wide, though still limited in its extension and with little sense of depth, instrument separation is good enough to rival other good examples in the same price range such as the RevoNext QT2 or the KZ ZS6. The TRN V80 are technically quite capable for the price bracket they're in, and this is also true for imaging which is as accurate as headphones with two or three times their price – the instruments in Azymuth's Light as a Feather are a good proof of this fact as I could always accurately place them on the scene.
The emphasis on bass is evident. The TRN V80 boost the lower frequencies, but this is not one of those Beats-like signatures. Bass has actually good extension (as it reaches down to 50 Hz with ease and 30 Hz with much reduced volume) and does not have excessive emphasis on the mid-bass that would make it bloated and obtrusive. On the contrary, it is rather well executed and sounds controlled and decently fast to be able to cope with moderately intricate tracks. There's even some feeling of impact, which adds immersion and naturalness to drums and a few other instruments such as hammered-on bass cords. Overall it's pretty satisfying, though it's of course far from being neutral and it may sound excessive in a few tracks. The thing is that despite being emphasised is it well done, so it becomes a matter of taste.
Midrange is recessed, but not dramatically so. It's just not at the centre of the scene. It's well balanced, though, without strange peaks or excessive emphasis on a single area, so it does not colour sound too much or result in an off tonality. It has a good level of detail, so one can get a good idea of what's going on despite the finest details being absent. There's a good speed and subsequent transient response, though, which is especially nice; in Azymuth's Jazz Carnival it is especially apparent, as the percussions give me that sense of impact and immediacy that makes them sound realistic enough.
Treble has a small peak around 10 kHz, but then is otherwise pleasant and likeable. There is no obnoxious emphasis or peak or dip; it is mostly smooth (as in "smooth curve", therefore "balanced"), with decent extensions that lends it enough air and spaciousness. It is a bit emphasised, as I wrote previously, but it never gets in the way and there's no relevant sibilance. It has the right amount of detail to correctly portray most instruments, with cymbals and crashes that sound just right. Again, there's no micro-detail, but that's acceptable.
As with most headphones with V-shaped sound signatures, the genres that play best with the TRN V80 are modern ones where bass and treble play the most important parts: electronica (Juno Reactor is fantastic!), hip-hop, contemporary pop… Other genres are hit and miss, depending on the single artist or even track.
A few selected comparisons:
Final Thoughts
The TRN V80 are honestly good headphones for their price. They're not excellent, but they're decently good at everything. There are few possible complaints, one of them being they're V-shaped like most other budget headphones on the market, but it all boils down to preference at that point. And that's because the TRN V80 are technically capable, with an overall balanced sound signature (and with "balanced" I really mean "there are no strange peaks, dips, tonal issues or any other crappy things going on in the sound signature").
They're enjoyable. They don't pretend to be something they're not, they're good budget IEMs that offer good sound, good build quality, good materials, even good design (up to a point). So yeah, go ahead and buy them if you wish, they look like a solid product.