Venture Electronics does not only manufacture earbuds and in-ear headphones, but also has a wide offering of headphone amplifiers called RunAbout. They range from the RunAbout Plus, which is the base model, to the impressive flagship the RunAbout 2.0 Balanced. In the middle sits the Venture Electronics RunAbout 2.0bl, where "bl" stands for "balanced lite". It is a smaller amplifier meant to be portable while offering compatibility with balanced sources and headphones.
The Venture Electronics RunAbout 2.0bl has enough power to drive even relatively power-hungry headphones such as the HiFiMAN HE-560 or the Sennheiser HD 650 with ease. And it is the small size combined with this high power output that makes it especially interesting.
Disclaimer: I got the Venture Electronics RunAbout 2.0bl at a discount in exchange for this review. It retails for $256 and is available on Venture Electronics' website.
TL;DR: recap
Pros




Cons

Solid aluminium shell

Both single-ended and balanced inputs and outputs

Neutral, transparent sound signature

Lots of power available

Portable, with very good battery life and user-replaceable batteries

Error 404
Rating: 10/10
Packaging & Accessories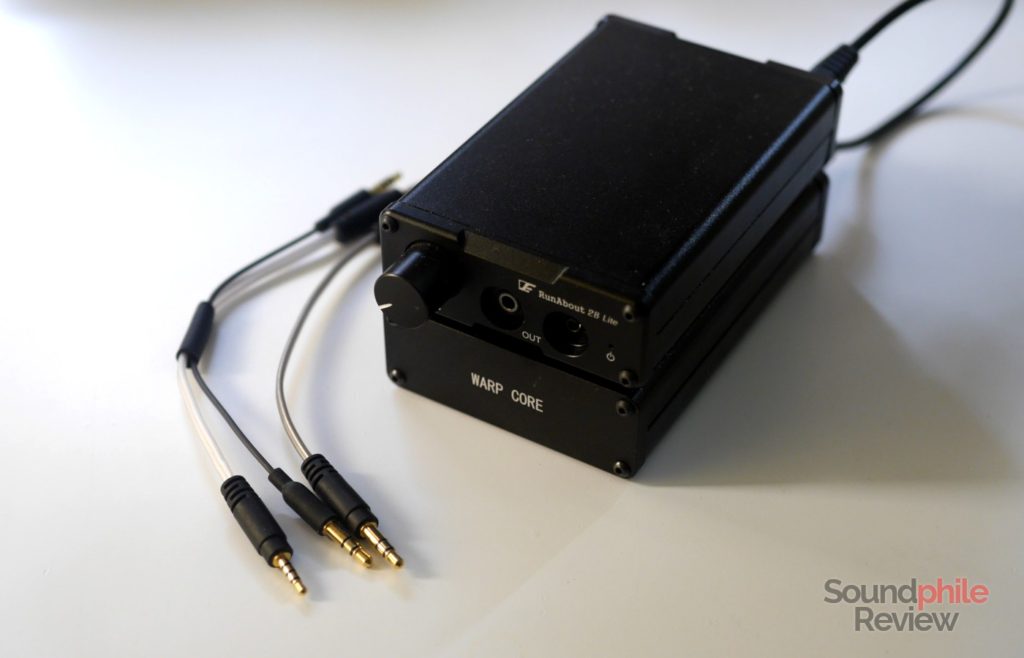 There is no real packaging for the RunAbout 2.0bl – it came in bubble wrap inside the shipping box, with each part individually packaged. A short 2.5 mm to 2.5 mm cable was included so that I could use the amplifier with DAPs sporting balanced output. There is an option to use an Oyaide 102SSC cable instead of the stock 2.5 mm to 2.5 mm cable.
Inside the box came two different power adapters: one rated at 18 V, the other at 16.8 V. They can be used interchangeably to power both the amplifier and the Warp Core (more on that later), with the 18 V one recommended to charge the batteries when they're completely empty. The 16.8 V source emits strong hisses around the 13 kHz mark when not in use, which makes it unsuitable for leaving it plugged all the time.
Design & Build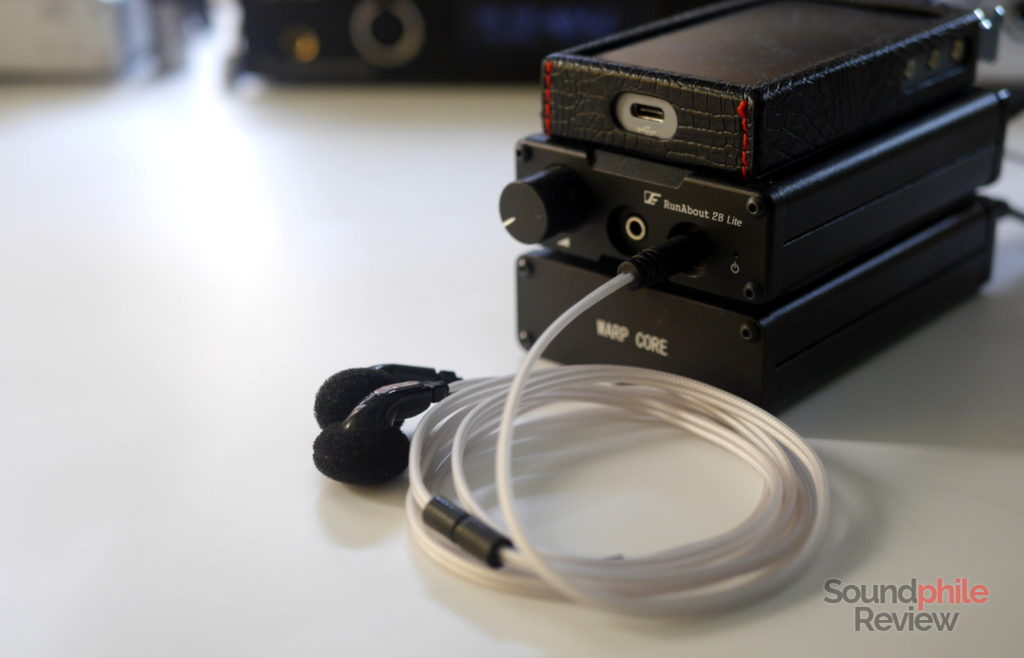 Venture Electronics uses an utilitarian, austere design on its amplifiers: they're basically rectangular slabs of aluminium with no claim to beauty or sophistication. Yet their simplicity affords the RunAbout 2.0bl an elegant and sleek look that makes it instantly recognisable.
The Venture Electronics RunAbout 2.0bl is made of two different parts: the amplifier itself and the Warp Core, which is the battery pack. They can be used together, but it is not a requirement: the amplifier can also be used on its own if plugged in. The two are made to be stacked on top of each other, so they are the same size (110 × 72 × 27). They are actually the same body with different plates on front and back.
Both the amplifier and the Warp Core are made of four pieces: the front, back and two halves that form the body. They're painted black and are treated to be smooth, yet not perfectly smooth. Front and back are held together by four screws each.
The amplifier weighs 190 g and the Warp Core adds another 100 g. Given their size and weight (which comes in at 290 g combined), the Venture Electronics 2.0bl is still fairly portable. It's not meant to be brought about in a pocket, but it can easily be tossed in a backpack or other bag to be used in the office (or in other places such as university, café, etc). Keeping the two parts together may be a challenge; at first I used simple rubber bands, but then Lee kindly sent me adhesive silicone pads that make the two stay together and therefore make transporting them much easier. They're easily found online and they're a real life saver.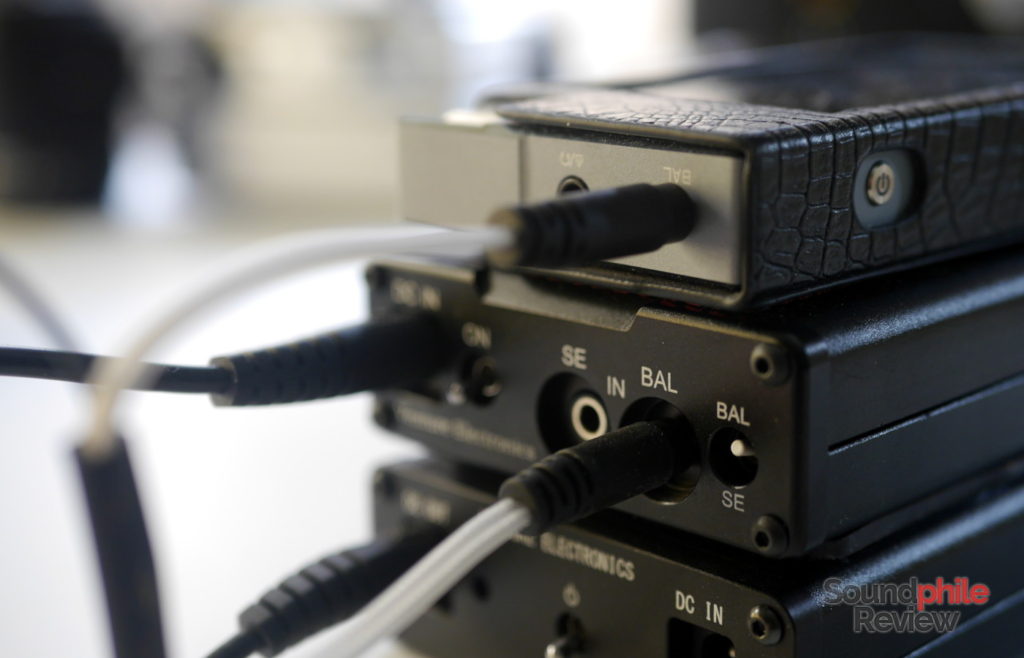 The front of the Venture Electronics RunAbout 2.0bl hosts the volume knob, the 3.5 mm output, the 2.5 mm balanced output and the power LED. The back is where the 2.5 mm balanced inout, 3.5 mm input, input selector switch, power input and power switch are found. The power switch would surely be better positioned on the front, but is luckily easily accessible anyway. The warp core only has ports on the back, where it holds both input and output of power and the power switches.
The volume knob is smooth and easy to adjust as it moves freely. It is relatively small and it is solid. As the rest of the amplifier, it is made of aluminium with a smooth finish and a black paint job. A white line marks the volume level selected. The imbalance zone is small as the correct balance between channels kicks in around 8 o'clock.
A side note. The volume knob was free when I opened the box, so I had to tinker with a screwdriver to get it in the proper place. This can happen with intercontinental shipping and despite the good isolation job. However, I think it is worth a mention – at least to say that the product itself is fine.
Features & Specs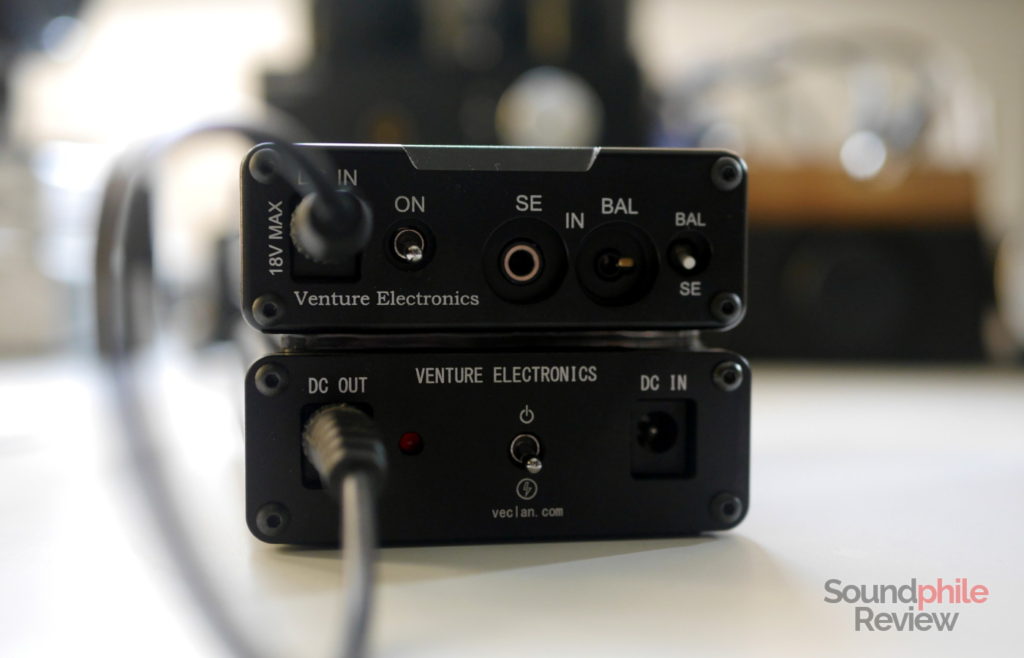 As the RunAbout 2.0bl can amplify both single-ended and balanced sources, the problem of which output port one should use when single-ended input is used arises. The answer is – any output is fine. The amplifier has an internal balancer circuit that transforms unbalanced input in balanced signal. Now, this is true, but any purported advantages in using balanced equipment come from a completely balanced chain, from source to headphones. The real advantage here comes from the increased power output that the balanced output offers.
The input options are not limited to single-ended, though, as the RunAbout 2.0bl also accepts balanced input using a 2.5 mm TRRS jack. The switch on the back allows one to choose the appropriate input mode.
Venture Electronics discourages use of both output ports at the same time, saying that it might damage the amplifier. So it can't be used to listen to multiple headphones using the same source without swapping them – a dedicated multiple output box is required for that.
Venture Electronics RunAbout 2.0bl
Suitable headphones impedance
N.D.
Output impedance
N.D.
Maximum output power
150 mW (32 Ω, single-ended)
100 mW (300 Ω, single-ended)
50 mW (600 Ω, single-ended)

450 mW (32 Ω, balanced)
300 mW (300 Ω, balanced)
150 mW (600 Ω, balanced)

Frequency response
20 – 20,000 Hz (± 0.2 dB)
THD+N (@1 kHz)
≤ 0.022%
SNR
≥ 98 dB, 1 V RMS, unweighted, 12.7 dB gain
Crosstalk
≥ 95 dB
Alas the company does not publish the output impedance specification, so it's difficult to say the impedance range which headphones must be in to play well with the amplifier. Alas I don't have (yet) access to low-impedance, high-sensitivity headphones with multiple balanced armatures that are very sensitive to output impedance, so it is hard to spot differences with the equipment I currently have on hand and draw conclusions from there. I also do not have proper equipment (nor expertise) to take measurements on my own.
Output power is quite generous, as I can listen to my HE-560 with plenty of volume when the knob is at 8 despite the low sensitivity. At 450 mW at 32 Ω, there's enough power to drive most headphones on the market with ease while also being too powerful for IEMs and other low impedance headphones.
Battery Life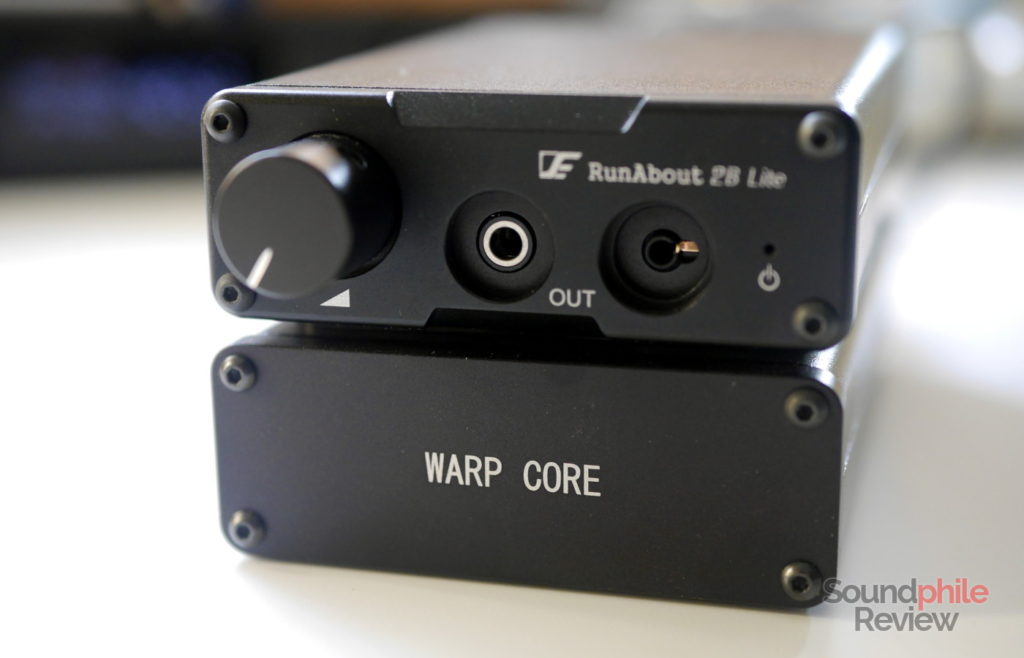 As you may know if you've been following me, I'm generally not too keen on using sensationalist vocabulary, but please allow me to say the Warp Core is a small wonder. It can power the amplifier non-stop for more than 10 hours using high-impedance and/or low-sensitivity headphones, assuring a full day of usage and often even more. Using low-impedance headphones (i.e. IEMs) and low volume I was able to reach almost 15 hours of battery life, which is nothing short of impressive.
Venture Electronics managed to create a device which can really be used as a great portable source that can kick in when no desktop equipment is available, all while keeping a very long battery life. Chapeau.
Sound
I tried the Venture Electronics RunAbout 2.0bl with all of the headphones I reviewed in the last two months plus a few others. A non-exhaustive list: IMR Acoustics R1, HiFiMAN HE-560, Sennheiser HD 6XX, RHA T20i, Tin Audio T2, Shozy Hibiki Mk2, Venture Electronics Zen 2.0 Omega Edition and Zen Lite, Venture Electronics Monk IE Smalls and Venture Electronics Asura 2.0s. I almost always used the iFi IEMatch and iFi IEMatch2.5. The source I chose was the Topping D30, though I also used a Cayin N5ii with a balanced cable.
Given how the earbuds line-up is coloured in one way or another, I expected this amplifier to also carry some colouration with it. It was therefore a pleasant surprise when I found the Venture Electronics RunAbout 2.0bl comes out as a very transparent source. It is linear and accurate and it does not introduce any form of colouration I can discern. The sound is just as it should be.
The only thing I noticed is that it seems to me like it is a bit faster than other amplifiers, such as the Topping DX7's amp stage. The sound seems to carry more impact and to be more precise and immediate. This is especially noticeable in transient-rich tracks – drums, strings and other instruments that go from silent to full volume in a small amount of time, then going back to silent (or reducing the volume significantly) in similarly reduced time are affected by this fact and make it especially noticeable.
All in all, then, I would say that despite sounding flat, the Venture Electronics RunAbout 2.0bl does not sound dull at all and, on the contrary, it sounds lively and engaging. It is not boring, as some say solid-state amplifiers are, at all.
I could not hear significant differences when switching from the single-ended output to the balanced one or viceversa, except for the added power output using the 2.5 mm jack. That is the only thing that really changes, as any difference in tuning is so subtle it's imperceptible.
In a way it is similar to the Head 'n' HiFi Objective2, which is almost perfectly neutral in terms of tonality while making the sound as a whole a bit tighter and more engaging than the average solid-state amplifier.
There is no background noise, especially when using the Warp Core which filters the current and removes any trace of noise. The famous "black background" is a reality, and this means you won't be bothered by hisses, buzzes and other interferences.
Final Thoughts
There are ways the Venture Electronics RunAbout 2.0bl could be better: it could be smaller, it could be more powerful, it could have nice features such as those the iFi micro iCAN SE has. But all those things would not make it substantially better. This is one of those cases where one sees possible improvements that are not really required for the product to be great. The RunAbout 2.0bl is not perfect, but it has the power to drive even hungry headphones with ease, it sounds great with a nice sense of speed and impact and it has a monstrous battery life. Plus, it's one of the few amplifiers to feature both input and output using 2.5 mm TRRS jacks for balanced lines. In short, it has everything one needs. And that's the reason why I gave it 10/10. Yes, it's not perfect, but it's just damn great at what it does. And that's what's important in my book.
At the price point it's sold, it is a really viable option and a valid contender for being one of the best products in its category. Venture Electronics nailed it in the head and did it big time.