It's real. I read many people raving about the Tin Audio T2 and wondered how much of it was real. Well, it seems like the hype was well worth it, as the Tin Audio T2 are truly brilliant. They have a very neutral tuning with just a hint of emphasis on treble that lends them air and sparkle without taking away from the generally very balanced signature. They're one of those must-listen-to budget earphones you can't miss.
Disclaimer: I received a complimentary unit from AK Audio. They sell it for $49.90. Using the code "SoundphileReview" you can get it for $36: just add the code in the message field during checkout, select "other payment methods" place the order and then cancel payment. You will receive an e-mail confirming they manually adjusted the price, then you will be able to pay the discounted amount.

TL;DR: recap
Pros




Cons

Comfortable and intelligent design

Removable cable

Affordable pricing

Neutral, almost reference tuning

Lacks sub-bass
Rating: 9.5/10
Packaging & Accessories
Surely packaging is the first sign that these are not your usual cheap headphones. The Tin Audio T2 come in a faux leather box which holds the earphones, one pair of foam eartips, five pairs of silicone eartips, the detachable cable and a manual. The display is surely impressive and even better than that of some products that cost more than 10 times as much, such as the IMR Acoustics R1.
There are not a lot of accessories, but everything one needs is there.
Design & Comfort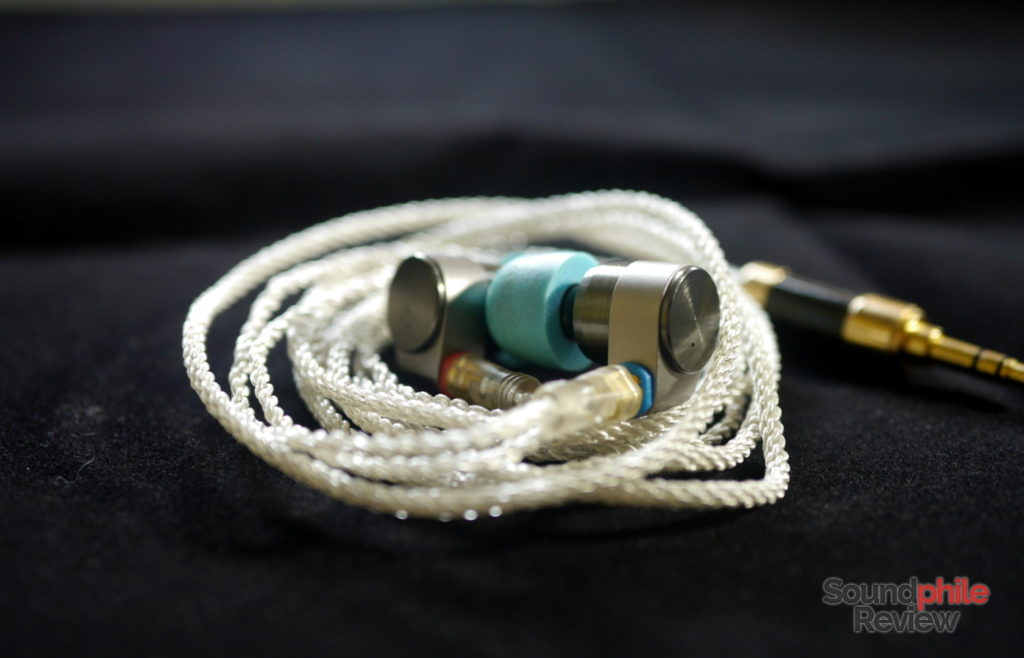 The earpieces look like cylinders with a protrusion on one side. Made of aluminium, they're roughly 1 cm in diameter and are two-toned: the main cylinder is darker, more like gunmetal (which is actually leadbelcher in modern terms) than aluminium, while the protrusion and its corresponding ring that goes around the cylinder are lighter in colour. The protrusion is where the MMCX connector is located. The housings are completely clear, as there is nothing written on them and they are therefore bare metal. Not even left and right are written on the earpieces: in order to tell one from the other, one has to look at a plastic ring that is red on the right channel and blue on the left channel. No other clue is given.
This is a very personal conclusion, but I think this design choice is sound and it gives the headphones a distinctive look. The simplicity of the lines reinforces my impression as the Tin Audio T2 is really simple, yet well-thought and elegant.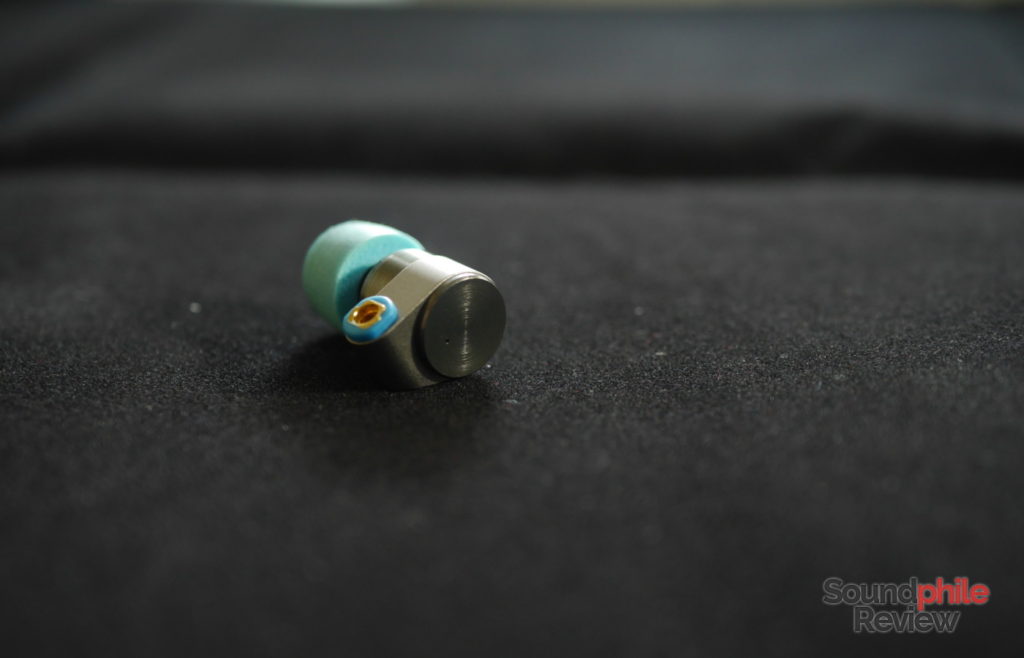 Build quality is very good and above the average. I wouldn't say it is flawless, but I also find it really hard to find any faults. Even the MMCX connectors appear solid. A brief thought on the matter: while not necessarily a flaw per se, I consider the adoption of the MMCX standard less than ideal, given its inferior durability and resistance when compared to competing standards such as the 0.75/0.78 mm 2-pin connectors.
When it comes to comfort and fit, the Tin Audio T2 is quite unlike most other headphones on the market. Usually in-ear headphones have either over-the-ear cables or more traditional, earbud-like downward-facing cable. The shape and size of the Tin Audio T2 allows it to be used in both ways, though it is never perfect. Let's be clear: though it is comfortable and can be used for hours, it is not as comfortable as, say, the RHA T20i (with over-the-ear cable) or the Xiaomi In-ear Headphones Pro (with "hanging" cable). It's a compromise, in the end, but it's one that works well. Since their shape makes the cable come out from the front, instead of the back, I also tried wearing them swapping left and right: comfort is in fact a bit better, but marginally so.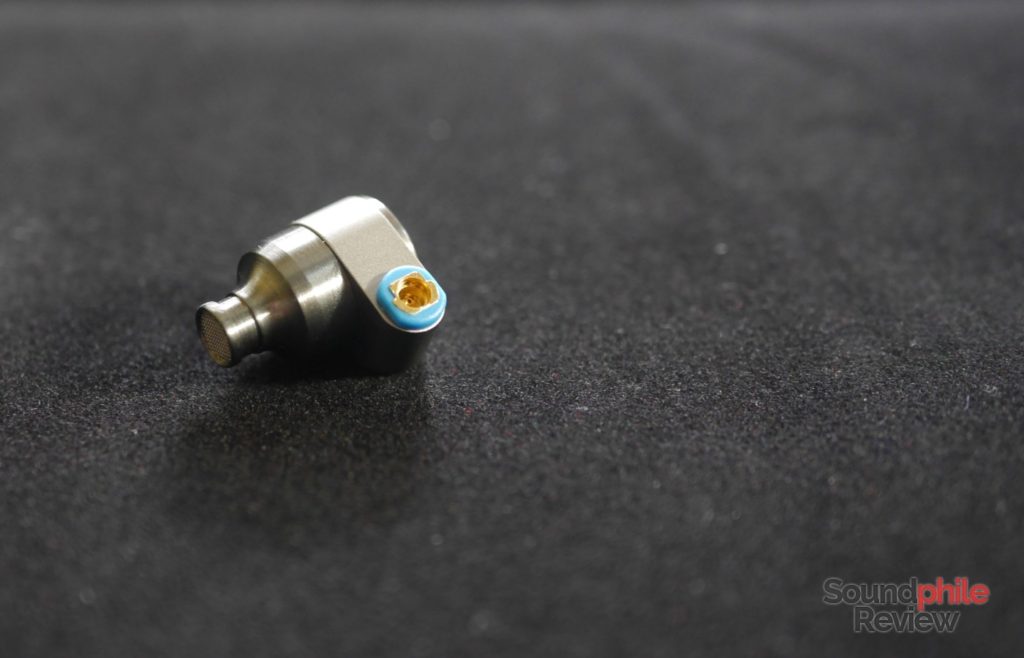 Isolation is just average: the Tin Audio T2 can't shield you from heavy noise and they're far from reaching headphones such as the RHA CL1 Ceramic or the KZ ZSA, but they're able to lower the noise enough to let you listen to music without cranking up the volume.
The stock cable is decent quality-wise, but it appears a bit frail and thin. It has eight (rather small) cores and is braided, with a plastic coating. Being thin, it bends easily, especially near the jack connector – an issue when one uses them in the go with a DAP, as repeated bending may cause breakage. All in all, however, the cable is well made and of higher quality than the norm at this price point, to the extent of being comparable to replacement cables you can buy online.
Tin Audio wins my favour with the stock foam tips: they offer the best compromise between sound (as bass seems better and soundstage seems wider), comfort and isolation. The other tips may offer slightly better isolation, but in terms of comfort they are not as good to me. The five different types of silicone eartips, though, can satisfy a wide range of people as they come in two basic shapes (conical and larger/flattened) that can adapt to many ear canals. On a final note, they are incredibly easy to get on and off.
Sound & Specs
I ran a 100 hour break-in session followed by testing with the following equipment: Topping DX7, Topping D30 feeding a Venture Electronics RunAbout 2.0bl, Cayin N5ii. I mainly used the foam tips and also used iFi IEMatch (when using stock cable) and iFi IEMatch2.5 (when using the Kinboofi 8-core SPC cable).
| | |
| --- | --- |
| Frequency response | 12 – 40,000 Hz |
| Impedance | 16 Ω |
| Sensitivity | 104 dB |
This is one of the few cheap earphones that use multiple dynamic drivers: inside the housings are one 10 mm driver and one 6 mm driver, the latter of which acts as a tweeter. This combination, along with a good job of tuning the drivers, seems to be the main reason why the Tin Audio T2 offers such a neutral sound. Their low impedance and high sensitivity mean one can use any source to drive them.
The Tin Audio T2 is very well balanced. Though not entirely neutral, it is ever so near to neutrality. It has a bit less bass and a bit more treble than what I'd say would be real neutrality, but to all intents and purposes this is incredibly accurate tuning, way better in this sense than what most IEMs offer at this price point.
But the Tin Audio T2 are not defined positively by their sound signature alone. They are incredibly apt even in technical aspects, with a wide soundstage assisted by precise imaging and superb instrument separation. Dynamic range is nothing short of surprising. Even when listening to tracks with complicate layering and multiple instruments, sound is always crystal clear and it is easy to distinguish instruments and hear even minute details.
As I already mentioned previously, bass is a bit shy and even lacking at times. The Tin Audio T2 does not go too deep: despite the manufacturer claiming 12 Hz as the lowermost frequency reached, reality is that frequencies below 40 Hz are barely audible. What's there, though, is definitely high quality: there's speed and consequent impact, control and fine texture, that together create a remarkable bass section. It's especially notable how the T2 is able to deal with different layers of bass without muffling up sounds, also showing a degree of detail that is rarely found in IEMs this price. What's also impressive is the transients, that are so good they would be notable even in headphones that cost five times more. It is not enough to envelop and absorb the listener, but it is fast and full of impact so it makes the rhythm section especially involving and enjoyable. Drums and bass in Azymuth's mythical Jazz Carnival is one example of a track where this is apparent: while bass gives rhythm and body to the track, the drums' beating is clearly audible and does not mix with the bass; the resulting mix is really catchy and fun to listen to.
Midrange is the backbone of the T2's sound and its main ingredient around which everything else gravitates. It is neutral and therefore it renders all instruments with great naturalness. When describing midrange, the first thing that comes to my mind is "clarity". The Tin Audio T2 are really clean in their presentation of mids: each instrument is portrayed as if it was the only one playing, and as a result instruments pop out of the scene and are rendered in the spotlight. This accuracy is combined with lots of details everywhere and fast speed that leads to exceptional transient response. Because of these qualities, string instruments and brass instruments are rendered really well by the Tin Audio T2.
The highs are crisp and clear. They have good extension all in all, though there's some roll-off happening after the 12 kHz mark. As I wrote previously, there is a slight emphasis around the 10 kHz mark, with a slow rise before and a somewhat rapid decline after. This gives the sound overall coherence and does not create unwanted, fatiguing peaks. There is abundance of detail and even a fair amount of micro-detail that make the music really enjoyable when listening critically. Overall there's sparkle and air aplenty that make treble really enjoyable and rich.
There's no genre that sounds inherently bad using the Tin Audio T2, though genres that require a bit more bass and sub-bass to shine are obviously at a disadvantage. Therefore electronica, hip-hop, rap and other bass-centric or bass-heavy genres are not rendered at their best.
Tin Audio T2 Comparisons
A small selection of comparisons:
Final Thoughts
The Tin Audio T2 is a real gem. It delivers a lot of value at an affordable price – but what's more important is that it sounds like a much more expensive product, with a refinement and general quality that is way beyond the average level at this price point. It may not be a "flagship killer", but it can be the only IEM for daily use for a lot of people. Yes, I think they are that good!
All in all I think this can be the reference for audiophiles on a budget. They do everything just right and there's nothing wrong with them that can prevent me from recommending you to get it and listen to them by yourself so you can fall in love with them, too. The Tin Audio T2 appear too good to be true, but they're luckily very much real.