What if you wanted to launch a new audio company whose products are targeted towards the budget-conscious audiophile and the tech savvy? The people at Geek Wold answered this question by using what is an awkwardly misspelled name (where did the "r" go?) or a name that means nothing (as "wold" means "hilly area"… So it would be "hilly area for geeks"?) and a product that has "3"in its name… but it's their first. But there may be an alternative explanation for the latter fact: the Geek Wold GK3 uses three dynamic drivers, a configuration that's not too common even among higher-tier products. They are a very peculiar product in more than one sense – and yes, the name isn't the oddest thing.
Disclaimer: I would like to thank Lillian at Linsoul Audio for sending this unit. I didn't have to pay for it. Linsoul sells the Geek Wold GK3 on both Amazon and AliExpress.

TL;DR: recap
Pros




Cons

Original design

Comfortable

Cheap

Cheap materials

Poor sound quality: poor tonal balance
and low technical capability
Rating: 5.5/10
Packaging & Accessories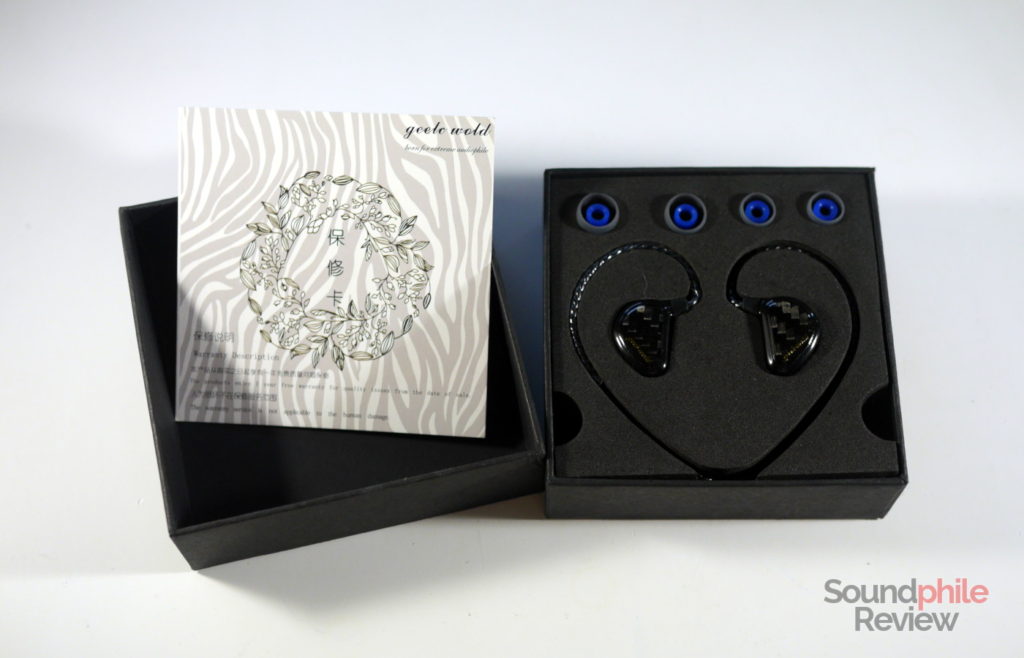 The box comes in an elegant dark grey hard cardboard with gold lettering, holding the earphones and three pairs of silicone eartips in a moulded foam tray. A warranty card comes on top of all (literally). This is more elaborate packaging than the average for the price and that's welcome.
Design & Comfort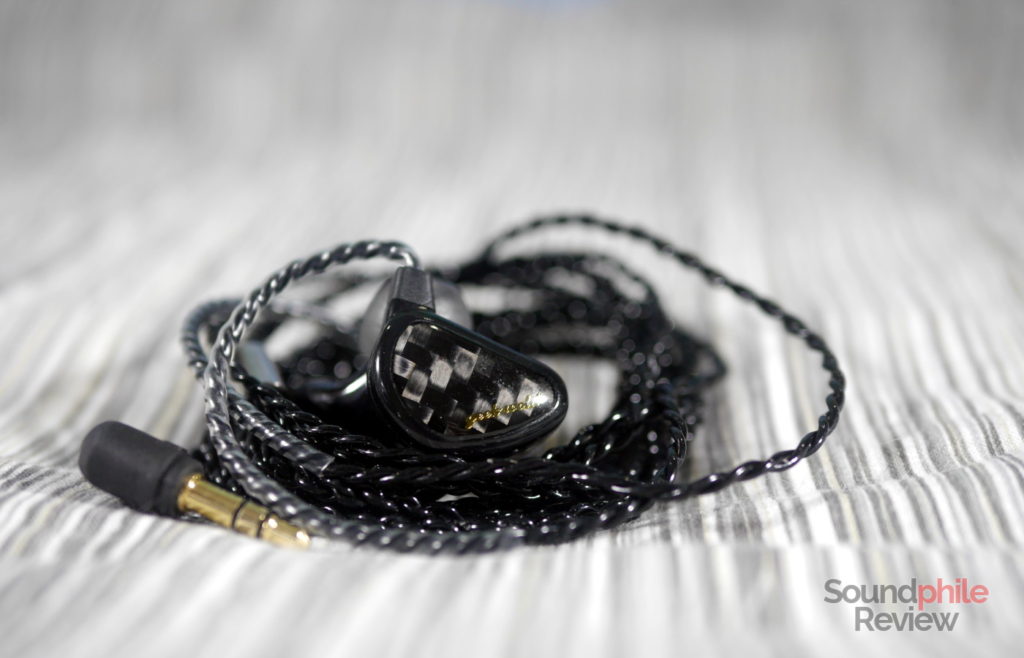 Geek Wold placed a big bet on design for its debut headphones. The Geek Wold GK3 use a reflective carbon fibre-like pattern on the faceplates, covered by a thick layer of transparent plastic. The Geek Wold logo, written in gold, is placed on the carbon fibre background. The rest of the shells is made of shiny black plastic and is pretty unremarkable.
In a world littered with Campfire Andromeda copies (KZ ZS6, RevoNext QT2, RevoNext QT3, PHB EM-023…) and other uninspired products, this approach to design emerges as original and stands out in the crowd. As the first product from the company, I may say it is a success on the design front.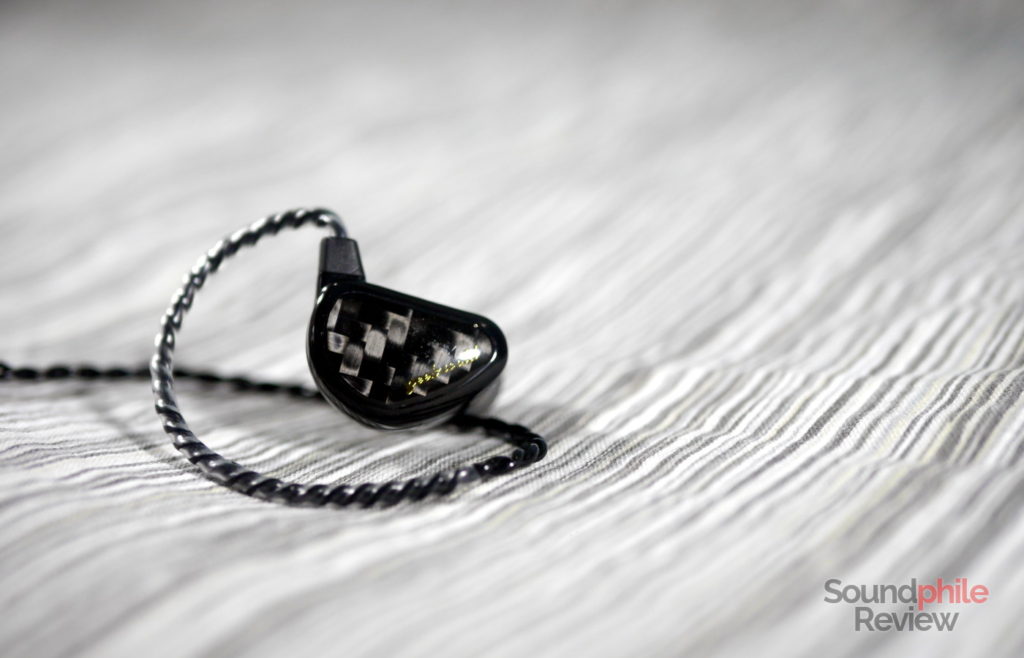 When we talk about build quality, though, the story is different. There's nothing wrong or inherently defective, but the Geek Wold GK3 are cheap and it shows when it comes to materials: the plastic appears not especially valuable, but then it doesn't look like it's going to break too easily either.
If there's one thing the Geek Wold GK3 nailed, then it's comfort. Thanks to their small size and rounded shape, the Geek Wold GK3 are truly comfortable and I can use them for several hours feeling completely at ease. The only possible improvement I see is the cable behind the ear, as the moulded plastic that keeps it in shape presses a bit against the pinna and may cause a slight discomfort during very long listening sessions.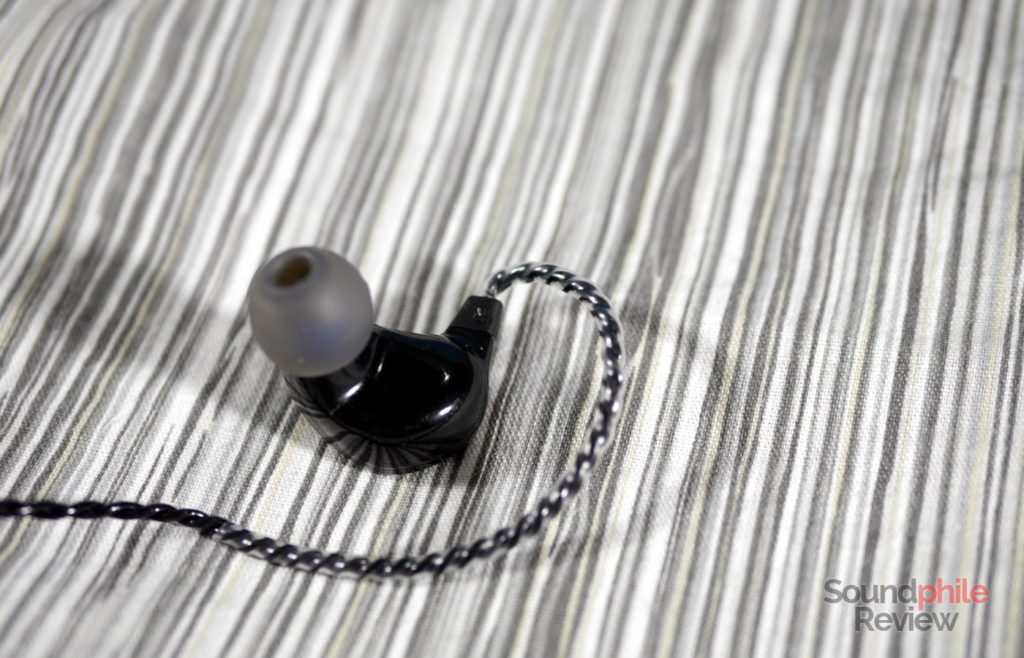 Isolation is also commendable: it is enough to shield you from people's voices even at low listening volumes, but it does only allow for good results in quieter environments (office, home) as it does not grant perfect isolation in typical noisy situations such as public transport or busy streets.
Contrary to many products on the market right now, the Geek Wold GK3 do not come with a detachable cable – and I have to admit this came a bit as a surprise to me, given the trends in the industry. Now, despite this, the cable is actually decent. It is a four-core cable with two cores per channel; between the jack and the Y-split the four cores are braided, and from there up they are just twisted. A harder plastic coating is applied in the last few centimetres, where the cable leans on the ear.
Sound & Specs
I followed my usual practice and, after 100 hours of (most probably unnecessary) break-in, I used a Topping DX7, a Venture Electronics 2.0bl and a Head 'n' HiFi Objective2 fed by a Topping D30 and a Cayin N5ii to test the Geek Wold GK3 out. My rather large collection of FLAC files (mainly standard resolution) was used as source.
| | |
| --- | --- |
| Frequency response | 20 – 20,000 Hz |
| Impedance | 8 Ω |
| Sensitivity | 102 dB |
With just 8 Ω impedance, these are among the headphones with the lowest impedance I've seen so far, especially given they use dynamic drivers. With three dynamic drivers I expected to find an extended frequency response and a highly detailed sound,despite the entry-level price position. Alas that's not really the case.
The sound signature is heavily V-shaped, being tilted towards the higher part of the midrange and lower treble and having a large presence in the mid-bass region. Overall it seems like it lacks body and is a bit shrill. Using equalisation to put a bit more presence in the lower mids region and to tone down the upper mids and lower treble. At first I suspected the eartips, but I tried four different types with consistent results, so I concluded it is the earphones' fault.
Soundstage is limited both in width and depth and is not enough to counter the "inside your head" feeling that's typical of IEMs. Imaging is also pretty basic, with limited positional cues that are often little more than "left", "right" or "centre". Three drivers would make one think the instrument separation was above average, but reality is different and the Geek Wold GK3 are not really good at separating all the different parts. Only the simplest situations sound correctly, while all the others sound congested and lose focus, blending instruments together.
The presence of a driver dedicated to reproducing lower frequencies pays off. Bass goes down to around 50 Hz and then it rolls off, being still audible at 30 Hz and rapidly becoming silent below that threshold. However, most presence is concentrated in the mid-bass section, which is predominant and sometimes even leaks over the lower mids (which are already absent, to add insult to injury). In terms of quality, things are not too good either: bass is in fact slow and unable to deliver much detail, resulting in a somewhat uniform and dull section with no real attractiveness. There's no impact nor sense of detail and layering, nor real immersion. As a practical example, the drum at the beginning of Fleetwood Mac's The Chain sounds slow and lifeless, as if they were hit while covered with a thick felt layer covering them.
Midrange is heavily shifted towards the top. The lower area is recessed and takes body and presence away from most instruments, that appear as if they lacked something vital – because they do. Adding a couple of decibels on an equalizer around 300-600 Hz and removing the same amount between 3 kHz and 6 kHz makes everything sound more round and present – tonality is restored and music sounds fine. Without equalisation, pianos, guitars and voices sound artificial and shrill. It took me a while to realise this, but during a listening session I listened to the Main Theme from the Final Fantasy VII Piano Collections CD by accident (though it's not an audiophile recording, it's one I know by heart!) and then it became apparent. There is not much detail to be found in the midrange, either, so everything appears more confused and hazy than it should. Practical example: Foundations of Stone from The Lord of the Rings: the Two Towers soundtrack, which has violins and brass instruments that sound totally lifeless, dull and blended.
Treble is poorly executed, with little extension and a slight peak where they connect with upper midrange. There are in fact a few dips and peaks going on, which make treble appear extremely present in some situations and absent in others. Let's take David Brubeck's Blue Rondo a la Turk: cymbals are not equally present, but are either in front of everything else or completely behind the rest. The detail is also really poor, with the aforementioned cymbals that appear more like a carpet of sounds casually thrown there rather than a set of carefully crafted sounds with precise identity and position. I know this may sound like audiophile jargon without real meaning, but it's hard to translate what I hear in words. To take on the matter from another perspective, it is is as if I was listening to a 32 kbps MP3 or other heavily compressed music file (while I'm listening to a 863 kbps FLAC). This maybe could give you an idea of how treble sounds on the Geek Wold GK3: distorted and without any detail whatsoever!
I tried the Geek Wold GK3 listening to different genres and ranging from classical to jazz, from blues to classic rock, from black metal to trance and cyberpunk. No genre sounded good, sometimes because of excessive bass, sometimes because of wrong midrange tonality, sometimes because of treble. Sometimes for all those things.
I could compare the Geek Wold GK3 to a handful of other products. The thing is, every single product I compared it against was better. KZ ZST, KZ ZSA, KZ ED16, RHA MA650a, HiFiMAN RE-00… they are all way better than the GK3 in almost every respect, except bass depth. That is the only thing the GK3 does better, but everything else is worse. This is why you won't find the usual comparisons – they would be pointless.
Final Thoughts
The GK3 is Geek Wold's first attempt at producing a budget IEM. There are lights and shadows, but alas shadows outweigh lights: tonality is off and makes the midrange sound wrong, detail is very low throughout the spectrum and technical capability is indeed very low. This is a bit surprising, considering the earphones' triple-driver approach that should have at least granted good instrument separation.
It could be acceptable if this was the norm in this entry-level tier, but the Geek Wold GK3 are not able to compete with the other products on the market in a similar price range. There are many better alternatives out there that blow the GK3 out of the water – KZ ZST, ZSA and ED16, RHA MA650a… The list could go on and on. Yes, they are cheap, but I see no reason to buy the Geek Wold GK3, unless you are looking for something comfortable that can isolate you from the surroundings with some background tunes.