Small, portable DACs with an integrated headphone amplifier are more and more common, with an ever-increasing variety of inputs and outputs. The Questyle M15 keeps things simple while offering some flexibility with a 4.4 mm balanced output as well as a traditional 3.5 mm jack. What really sets this device apart is the design, which is quite unique, but we shouldn't judge a book from its cover as there's much more to it than just nice design.
Disclaimer: I received a free unit directly from the people at Questyle, whom I thank. The M15 retails for $249.

TL;DR: recap
Pros




Cons

Premium materials

Great design

Removable USB-C cable

Balanced output with 4.4 mm jack

Neutral and transparent

Pricey
Rating: 9/10
Packaging & Accessories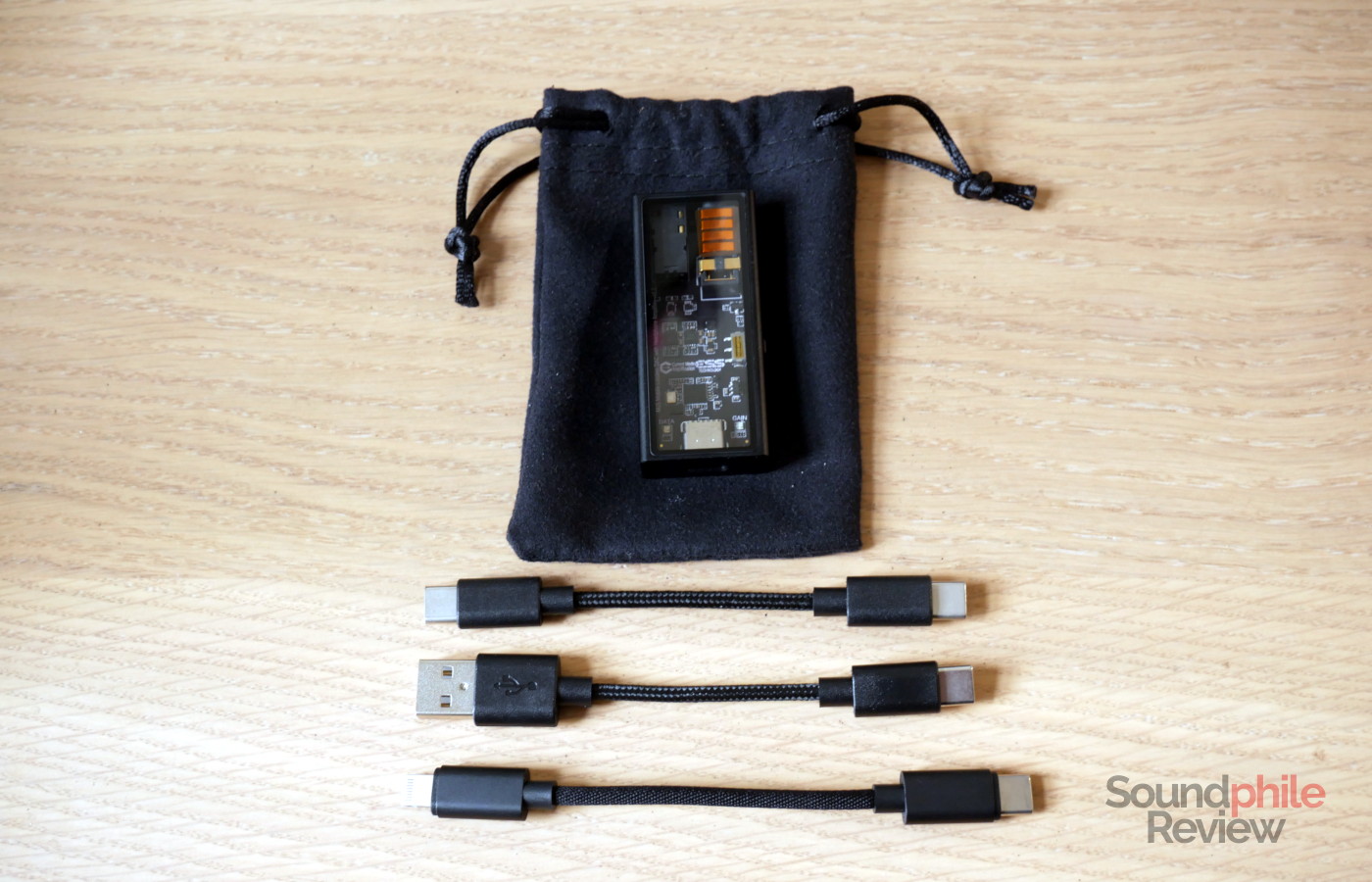 The Questyle M15 comes in a simple yet elegant cardboard box which contains the device itself along with two cables: USB-C to USB-C and USB-C to USB-A. The company kindly sent me an additional USB-C to Lightning cable in a drawstring pouch, which you can buy as an add-on for an additional $20.
Design & Build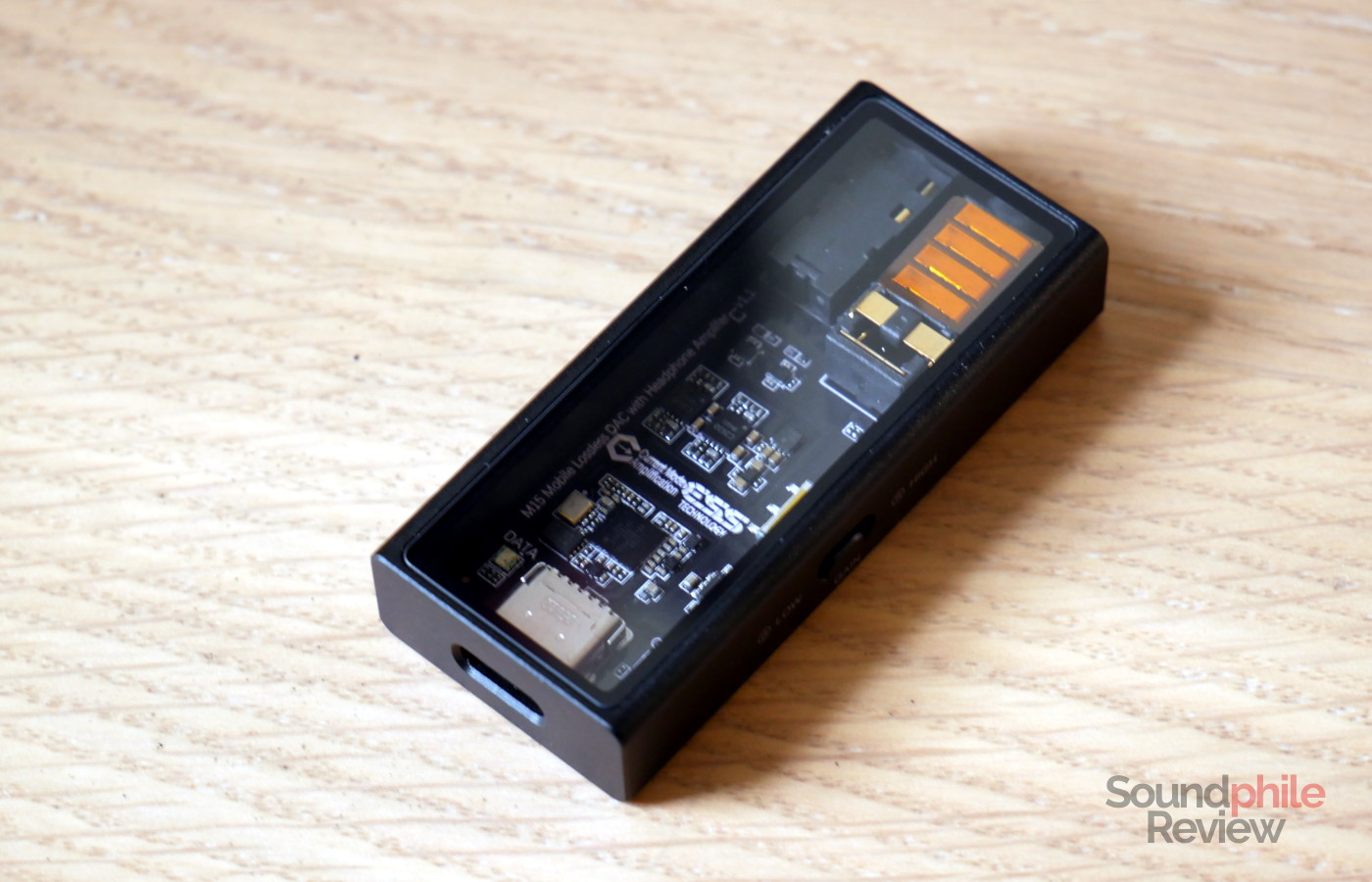 The Questyle M15's design is surely quite striking. The presence of a transparent window that shows the circuit board with all the components is definitely unusual and shows quite some confidence on the part of Questyle, given how it displays the circuit layout – something that could potentially expose it to criticism from those who are more demanding in this regard. Still, it's a sight to behold and I applaud this choice as it really sets the M15 apart from the competition. The funny thing about the transparent window is that it allows you to see how Questyle really optimised this device to be as small as possible and there's no wasted space inside it.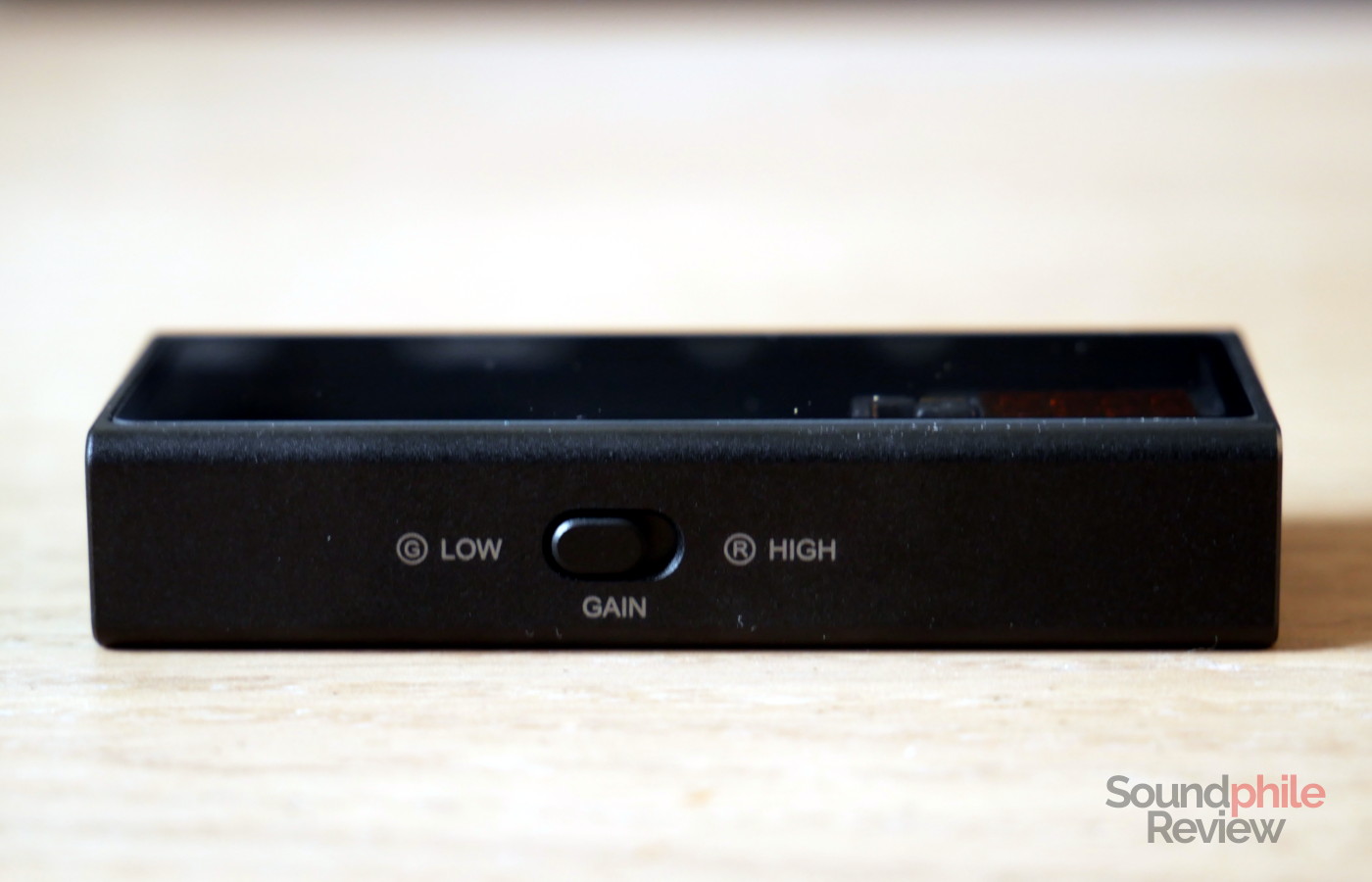 A more practical consideration about the transparent window is that Questyle took advantage of it to show two LEDs on the board: the on the left hand side indicates gain and is either green (low gain) or red (high gain), while the one on the right hand side lights up to show the resolution of audio being reproduced with green (48 kHz or less), red (more than 48 kHz) and magenta (MQA).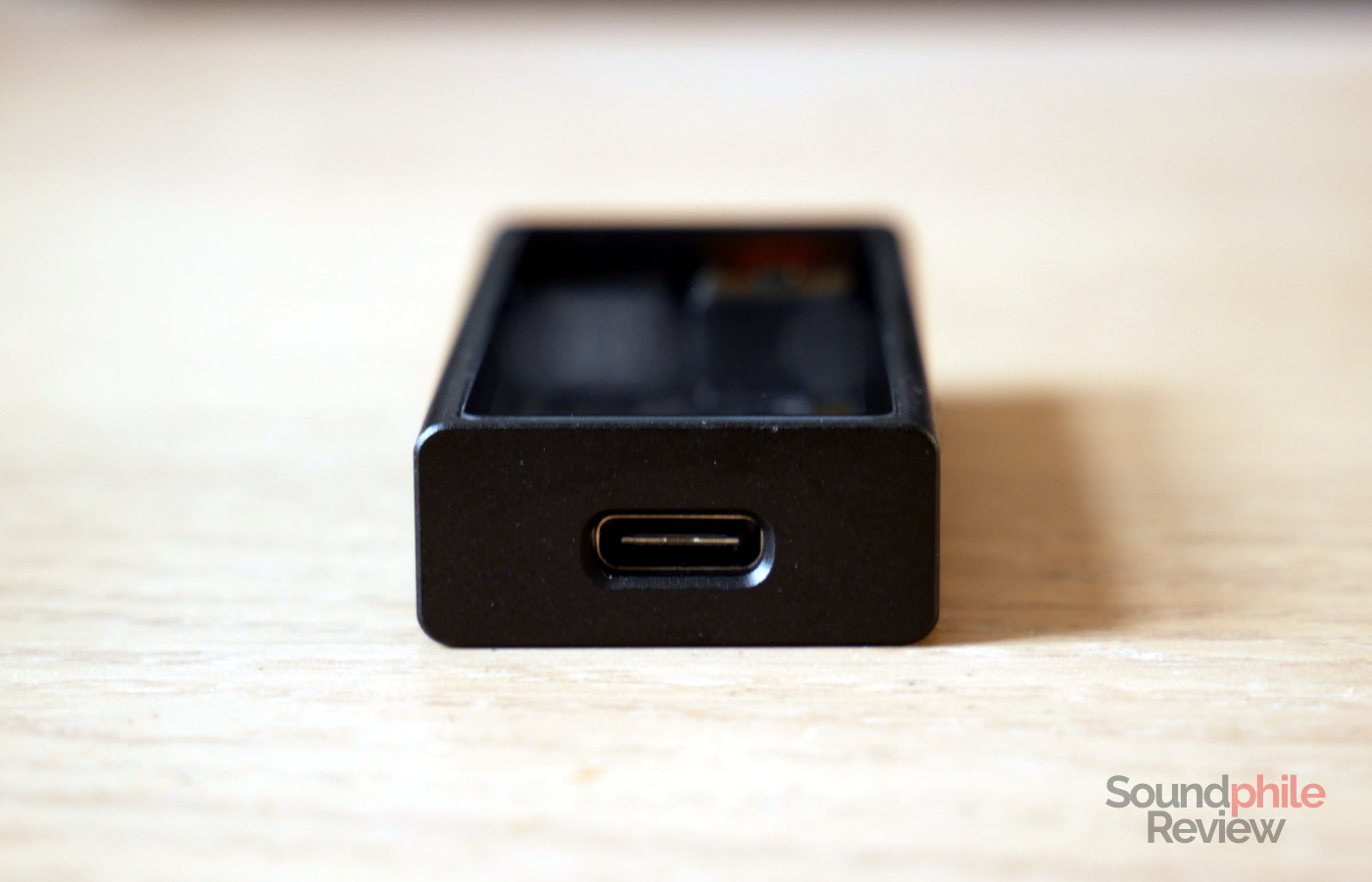 The Questyle M15 has a flawless assembly, as far as I can see. The main part of the chassis, made of aluminium, fuses perfectly with the glass of the transparent window. The top hosts a USB-C port, while the left hand side hosts the gain selector and the bottom hosts the two audio ports, one 3.5 mm and the other 4.4 mm.
Features & Specs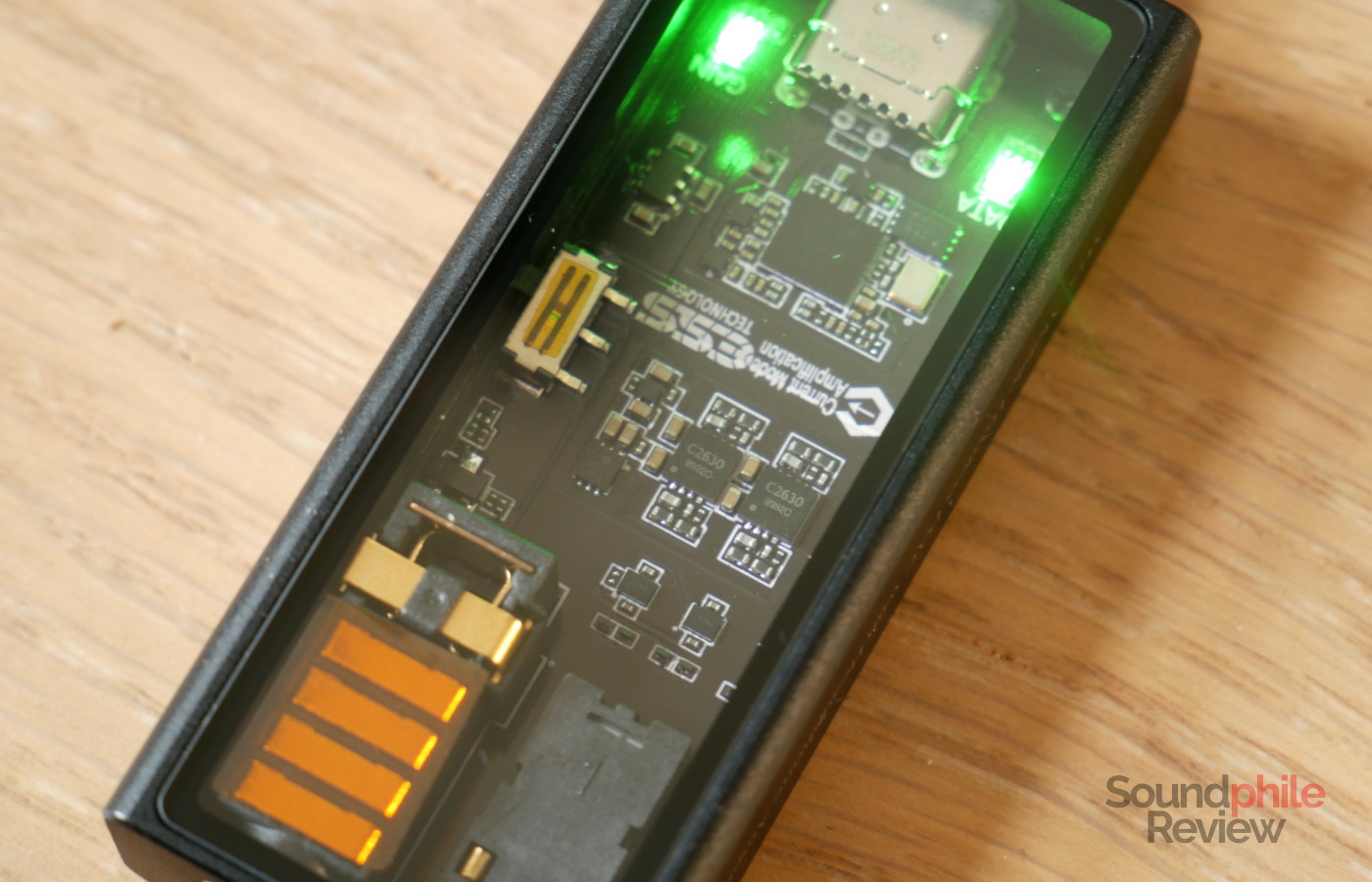 When I first tried out the Questyle M15 it took me a while to understand what was wrong, as the device wouldn't show up in the available audio devices. Not only that: the system logs (I use Linux) showed that the device wasn't even being detected as plugged in. It wouldn't work even with my Android devices. I then realised that the M15 requires headphones to be plugged in in order to show up as an available audio device independently of your operating system, so keep that in mind!
Speaking of operating system support, it is supported by basically every operating system out there and works great with the Steam Deck, too.
Input
USB (up to 32 bit / 384 kHz PCM, DSD256, MQA)
Suitable headphones impedance
N/A
Output impedance
0.4 Ω (single-ended)
0.8 Ω (balanced)
Maximum output power
11.97 mW (300 Ω, single-ended)
22.6 mW (300 Ω, balanced)
Frequency response
20 – 20,000 Hz (± 0.1 dB)
THD+N (@1 kHz)
0.0003%
SNR
N/A
Crosstalk
N/A
The core of the the Questyle M15 is the ESS Sabre ES9281AC DAC, the same as the older M12. The device uses the company's own Current Mode Amplification circuits, developed in-house to deliver lots of power while maintaining low output impedance and distortion – as evidenced by the data above. It should be noted that the distortion is incredibly low: at 0.0003%, it is even better than on some desktop devices, which is quite the achievement.
In terms of compatible formats, the M15 is able to play everything but the highest-resolution content, with PCM going as far as 32 bit / 384 kHz and DSD up to DSD256. It is also an MQA-compatible device that effects the final unfold.
Sound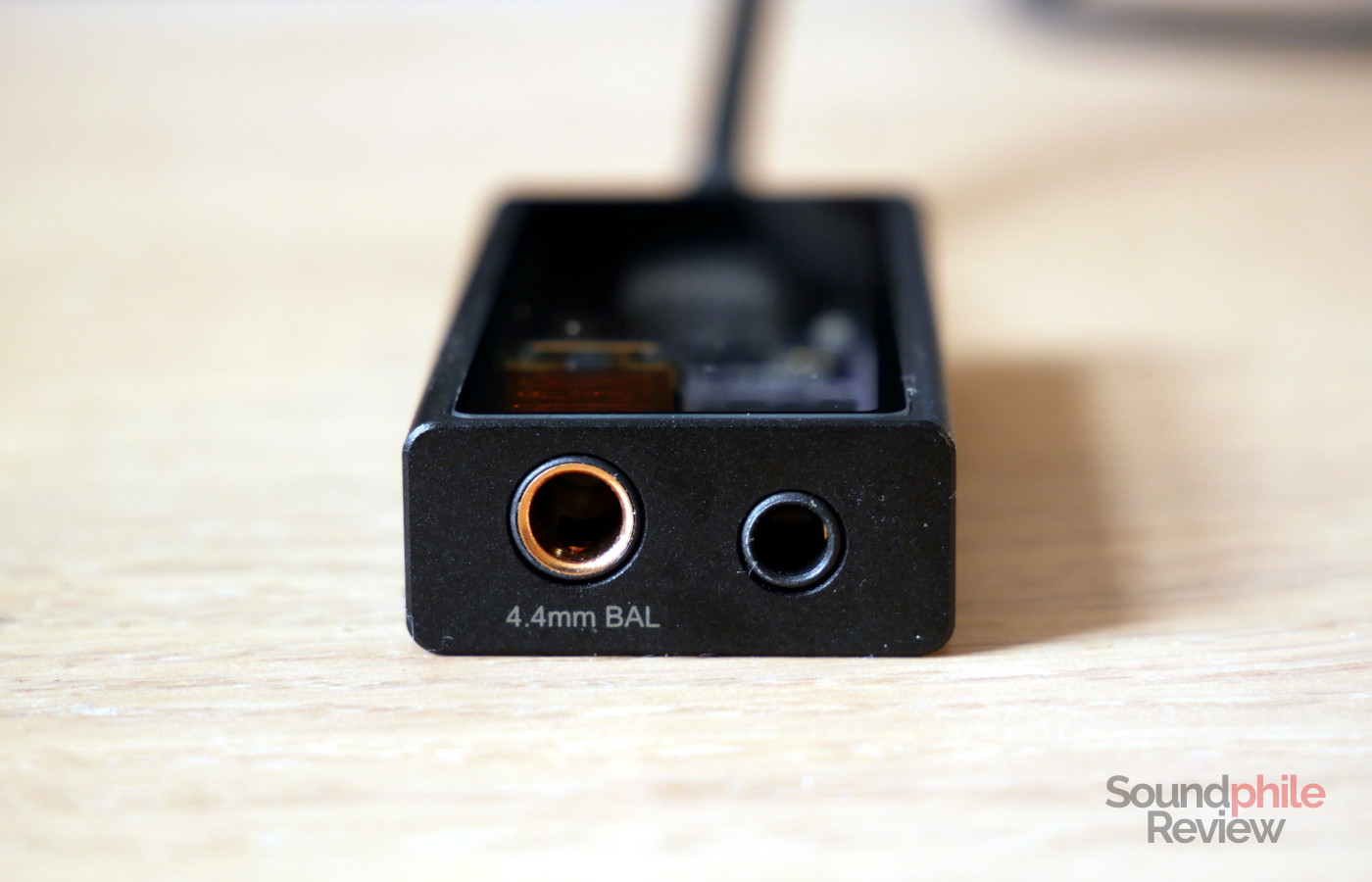 I have tested the Questyle M15 with various headphones, including the Sennheiser HD 6XX, the HiFiMAN Edition XS, the Moondrop Stellaris and the RØDE NTH-100.
The Questyle M15 is notable because it delivers a completely black background – there is no hiss or hum whatsoever to be found, even when using a not-exactly-clean USB port (in terms of power, that is).
It has enough power to drive even demanding headphones with good authority; only the ones with very high impedance or extreme current requirements (like some planars) are not driven to their best. In terms of tonality, I find the M15 to be perfectly neutral, with no alterations made to the sound; it sounds really clean and clear, with great representation of the transients that sound fast and well-controlled. Decay is quite short, too, adding to this sensation of speed. Fast headphones like the NTH-100 delivery great transients with the M15 and sound even more engaging. A by-product of this is that there's also a whole lot of details to be found.
There's no significant difference in tonality when switching from the single-ended output to the balanced one; the difference is mostly in power output, which means that you should use the balanced output with higher-impedance or more power-hungry headphones (e.g. the Sennheiser HD 6XX) as it's better able to drive them.
Final Thoughts
At $249, the Questyle M15 is certainly not cheap. It has, however, everything you might ever need from a portable DAC – and even from a desktop DAC, to tell the truth – in terms of power output and format support. What's most notable about the M15 is that it offers a completely black background, with no hiss whatsoever even with noisy source devices. This helps it deliver a great amount of detail. It drives even demanding headphones with authority and with sufficient power to make them loud and clear. The overall impression is that of great cleanliness, both in sound and design. This cleanliness has a price, but overall I feel like it is worth the expense, especially considering this is one of the few portable units that offer 4.4 mm balanced output.