Two and a half years after launching the Shanling UP4, the company is back with an update. Sold exclusively by Aoshida Audio, the new Shanling UP4 2022 offers a few changes under the hood, including an all-new AK Audio DAC – after a very long hiatus in supplies due to a fire at the factory. So how does the new unit fare?
Disclaimer: I received this unit directly from Shanling. The UP4 retails for $119. Additional info on Shanling's official website.

TL;DR: recap
Pros




Cons

Well designed and built

Very long battery life

Supports practically all Bluetooth codecs

Balanced output

Good power output

Volume wheel may be difficult to operate with large thumbs
Rating: 8.8/10
Packaging & Accessories
There's not much new in terms of packaging and accessories with the Shanling UP4 2022: it offers the usual set of a USB to USB-C cable, a hard plastic case and a manual.
Design & Build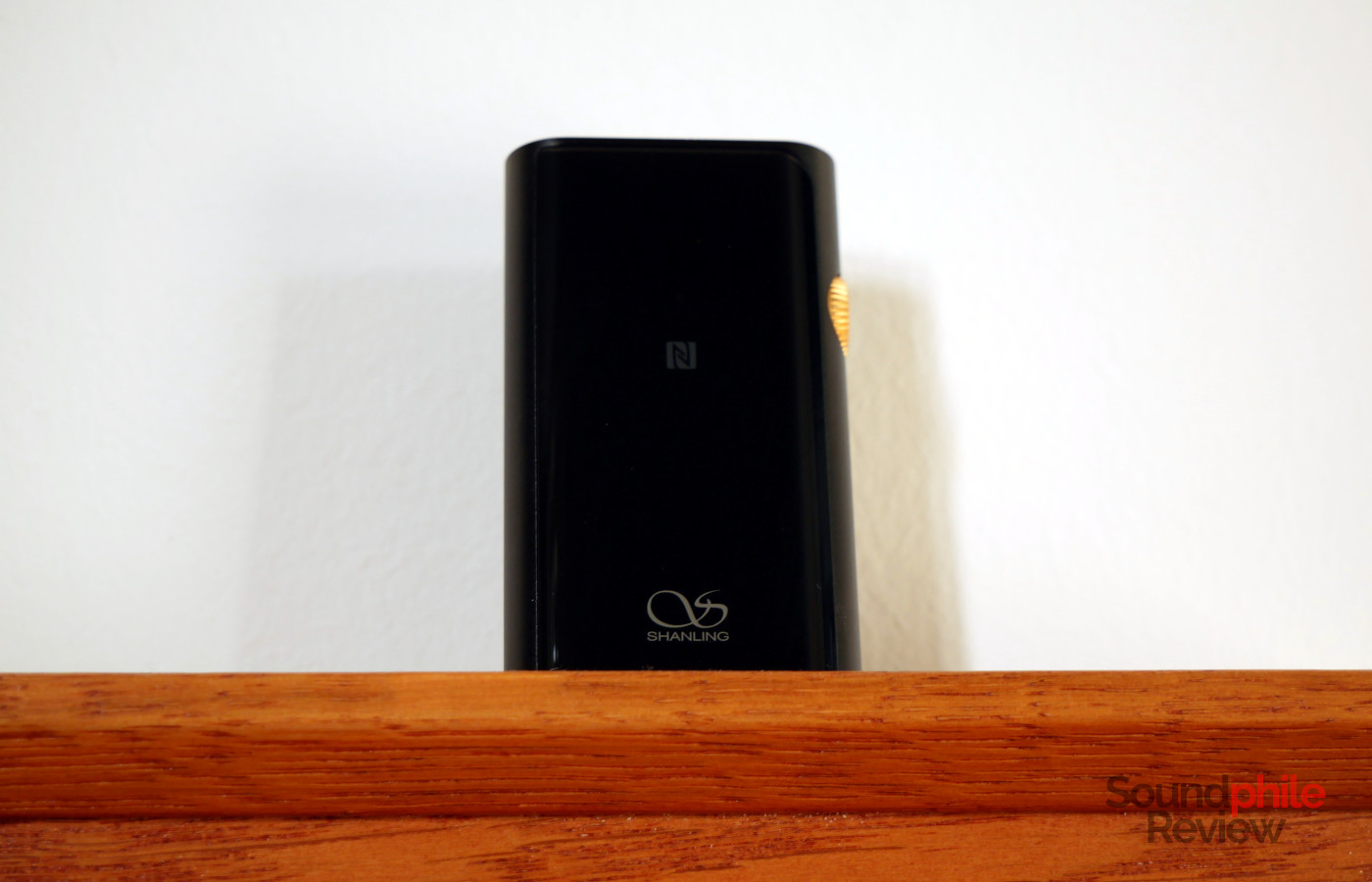 There are basically no changes when it comes to the design of the UP4 2022. The only significant difference is that the volume wheel is gold in colour, but the rest is identical. This is actually a good thing, as the UP4 was quite well designed and built. The device has an aluminium frame with the front and the back covered by glass; everything is coloured in black.
The front hosts an NFC chip for quick Bluetooth pairing, while the bottom has a USB-C port, the top is home to the jack outputs (3.5 mm and 2.5 mm) as well as a status LED and a mode selector button, while on the right hand side we find the volume wheel which also works as a multi-purpose button.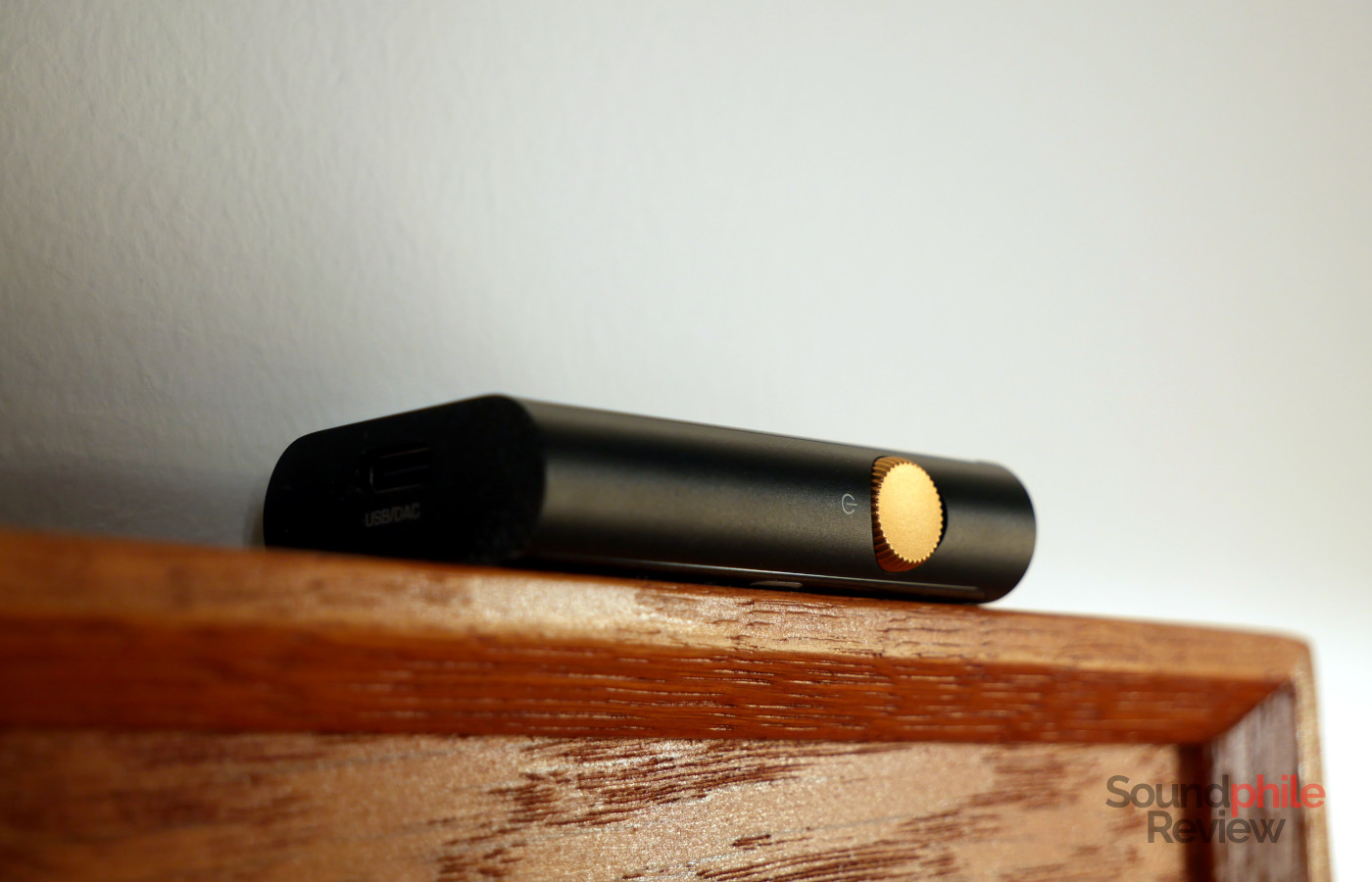 Just like all Shanling products I have reviewed so far, the UP4 2022 is masterfully built, with no apparent flaws in its construction.
The volume wheel has grooves on it that help with grip, and it has steps in its rotation so you can actually feel the changes with your touch.
Features & Specs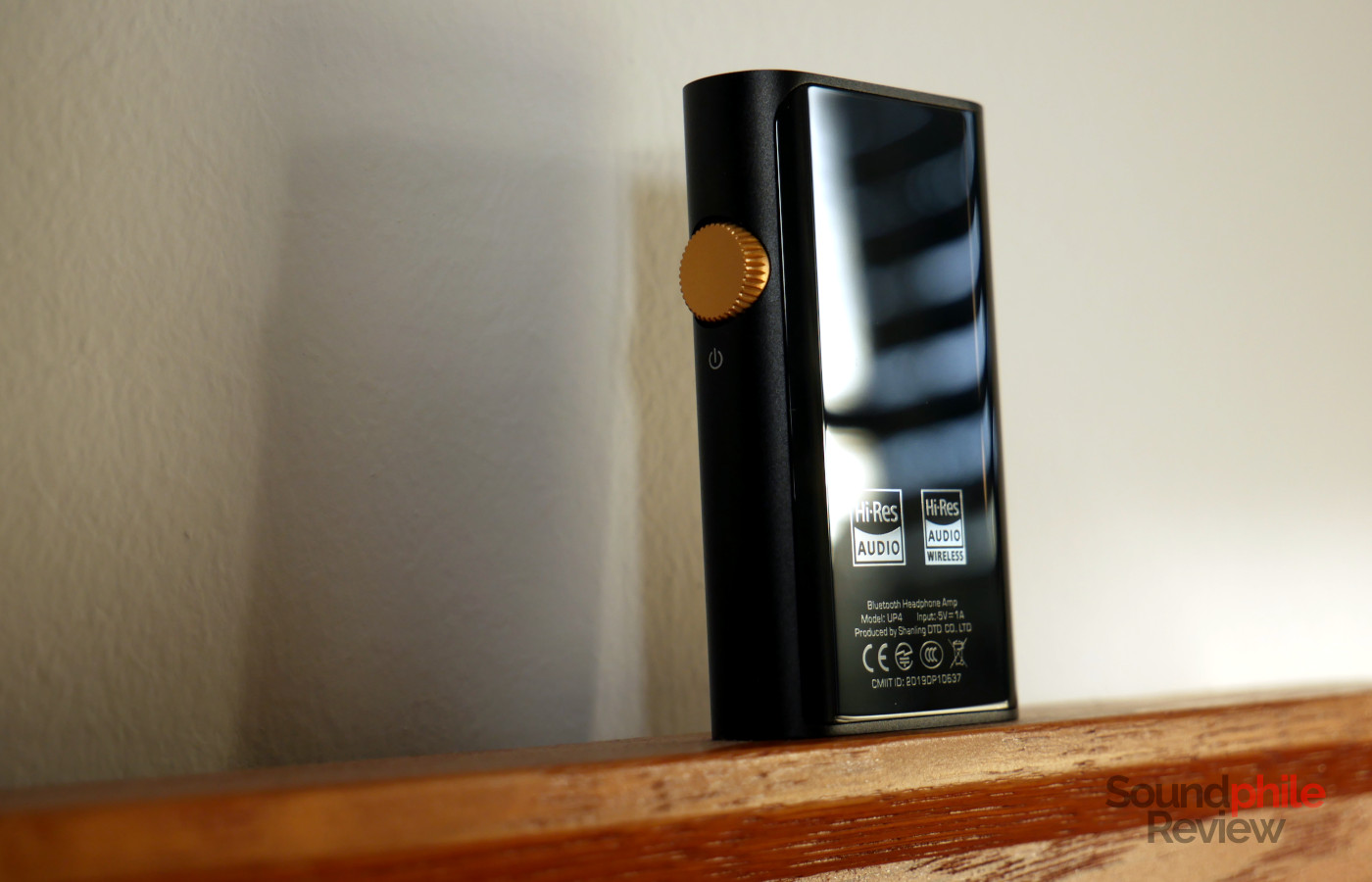 The Shanling UP4 2022 offers compatibility with the Bluetooth 5.0 standard and, on top of that, there's a wide variety of codecs available that includes basically every single one available out there: SBC, AAC, aptX, aptX low latency, aptX HD, LHDC, LDAC. You can be quite sure that the UP4 is going to be compatible with whatever source device you're using.
You can also use the UP4 2022 as a wired DAC (e.g. with computers or consoles) using the USB-C port; in this scenario, it is able to reproduce content up to 24 bit and 96 kHz.
The volume is independently adjusted on the UP4 2022, so you can probably have a finer adjustment than that allowed by most source devices (especially phones!); the other upside of this is that the volume is actually adjusted in hardware, rather than in software, thus better preserving the dynamic range of the source material.
The device has a microphone on board, so you can use it to e.g. take calls with your computer, though it is only active when using the UP4 2022 through Bluetooth. The microphone is a Knowles SiSonic and it uses the cVc 8.0 noise cancellation technology.
One interesting feature is the so-called "dual DAC mode". It allows you to use both DACs at the same time while using the single-ended output, increasing the power output at the expense of additional power consumption.
The "mode" button on top allows you to select the DAC operation mode (cycling through low gain, high gain and dual DAC; one click shows the mode and two clicks selects the next one) and the filter being used (long-press, cycles through linear phase fast roll-off, linear phase slow roll-off, minimum phase fast roll-off, minimum phase slow roll-off).
Just like its predecessor, the Up4 2022 works with basically all operating systems (including Linux and, therefore, the Steam Deck).
Input
USB (up to 24 bit / 96 kHz PCM)

Bluetooth 5.0 (SBC, AAC, aptX, aptX LL, aptX HD, LDAC and LHDC)

Suitable headphones impedance
N/A
Output impedance
< 1 Ω
Maximum output power
Single-ended output:

71 mW (32 Ω, single-DAC mode)
100 mW (32 Ω, Dual DAC mode)

Balanced:

Frequency response
20 – 40 kHz
THD+N (@1 kHz)
0.002% (LDAC)

0.0018% (other codecs)

SNR
119 dB
Crosstalk
71 dB (single-ended)
The main innovation introduced with the UP4 2022 is the DAC, which is now an ESS Sabre ES9219C (there are actually two on board). It is interesting to note that the specs haven't improved across the board due to this, as there are some that are slightly worse than the predecessors (crosstalk, SNR). There are however several areas that saw an improvement: primarily power output, but also distortion (especially with the balanced output).
Battery Life
Shanling declares a battery life of 11.5 hours and in my experience that's quite close to reality, as the UP4 2022 easily gets to the 11 hours mark using low gain. Enabling LDAC and high gain brings that figure down quite significantly to about 8 hours, which I still find perfectly acceptable given the size of the device.
Sound
I tested the Shanling UP4 2022 with a variety of earphones and headphones, including the HiFiMAN Edition XS and the 7Hz Salnotes Zero.
There's not much to say about the sound of the Shanling UP4 2022, and I mean this in the best possible way. It just stays out of the way without colouring your sound and altering it, so that you can actually hear your music without any meddling. It just sounds great with almost anything you can throw at it; there might be issues with high-impedance headphones, but those are not really recommended with such a low-powered device in the first place. The tonality of the UP4 2022 is entirely neutral from what I can tell, and distortion is kept to a minimum. Transients are fast and with very fast decay – as much as it is possible to ascertain just with your ears, anyway.
I quite like that volume has a very wide range of values, so you can drive basically anything with it, even very sensitive stuff (and the low output impedance means that you shouldn't get any issues on that front either).
Final Thoughts
The Shanling UP4 was a very successful device when it launched in early 2020 and a refresh is therefore not entirely surprising. In general, the new 2022 version takes what was good about it and makes it better. The differences are, however, minor and they do not seem to entirely justify the jump in price from $99 to $119. It is true that the recent economic trends, with high inflation, and the issues with supply chains have put a lot of strain on companies and prices are rising across the board, though, so this might be a case where this is less of a choice by Shanling and more of a simple adjustment to the rising costs that we're all facing. That said, the UP4 2022 is a marvellous device that I can recommend as it offers everything you need and then some more.