Of all the things I thought I'd review when I founded Soundphile Review more than three years ago, portable projectors were not what I expected. This category is however expanding and, most importantly, rapidly advancing from a technological perspective. Battery life, colour reproduction and brightness are improving steadily, providing more and more value to buyers and making these device more and more useful (and pleasant to use). The Nebula Capsule Max is the latest generation of Nebula's growing line-up of products. The company was born as a spin-off of Anker, which decided to split its offerings into multiple specialised brands; this means that despite its new name, Nebula is not an unknown company but it's part of a well-known group. This has a direct effect on the product: the Capsule Max is appreciably good, especially for the size.
Thanks to these advancements in technology, portable projectors are increasingly popular and reaching lower price points which further help their popularity. Let's see then how the midrange Capsule Max (the manufacturer's top product, actually) performs.
Disclaimer: this unit came courtesy of Julie at Anker. The Capsule Max pico-projector sells for $499. Additional information is available on the manufacturer's website.
Packaging & Accessories
The Nebula Capsule Max is sold inside a cardboard box which holds little else to the projector and the power supply. There are in fact a few leaflets, but that's it. Considering the price, this accessory set is a bit meagre – I would have expected at least a fabric bag to transport the device. Anker sells an official hard case which is quite fancy (resistant to water and dust, with bespoke slots for the projector and the charger, etc), but it will set you back an additional $30.
Design & Build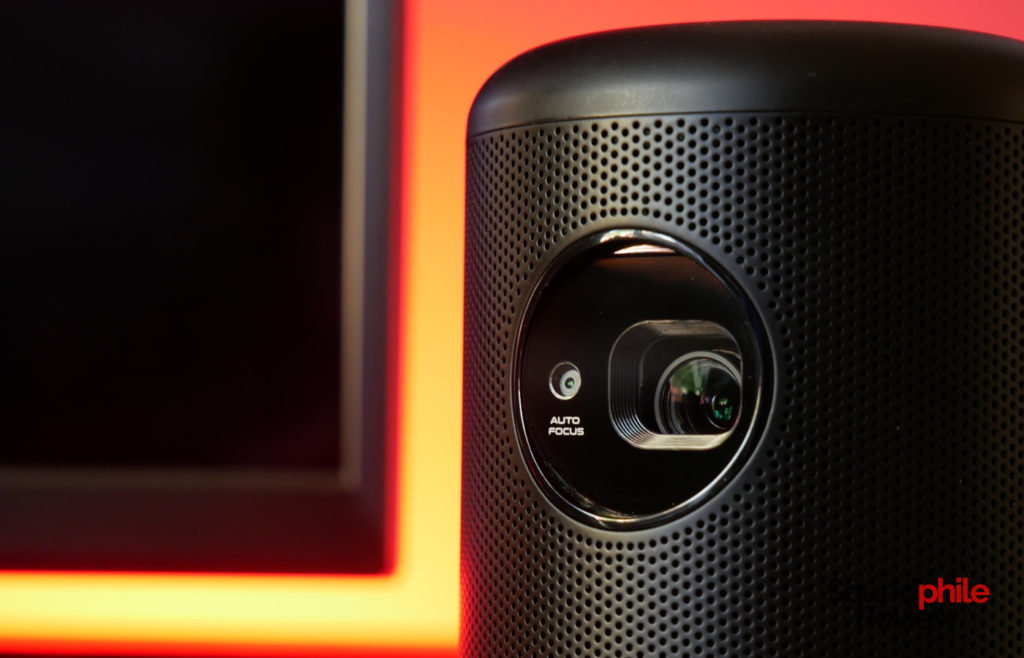 When looking at the Nebula Capsule Max you wouldn't say that it is a projector: it looks more like a fancy Bluetooth speaker. In fact it is a 150 × 80 mm (it is compact!) aluminium and plastic can with holes all around the lateral surface and controls on top. Design isn't anything special, yet its simplicity makes it kinda attractive. It is built reasonably well, with no apparent flaws. The 737 g weight is also low enough for it to be portable without issues.
The front hosts the lens and the camera for automatic focusing, while the back is where all the connectors are: there are HDMI and USB inputs along with a 3.5 mm jack output and the power connector. There are also the power button, the "Bluetooth speaker mode" button and the IR sensor for the remote. The lower side has a screw thread to mount the Capsule Max projector on top of a tripod.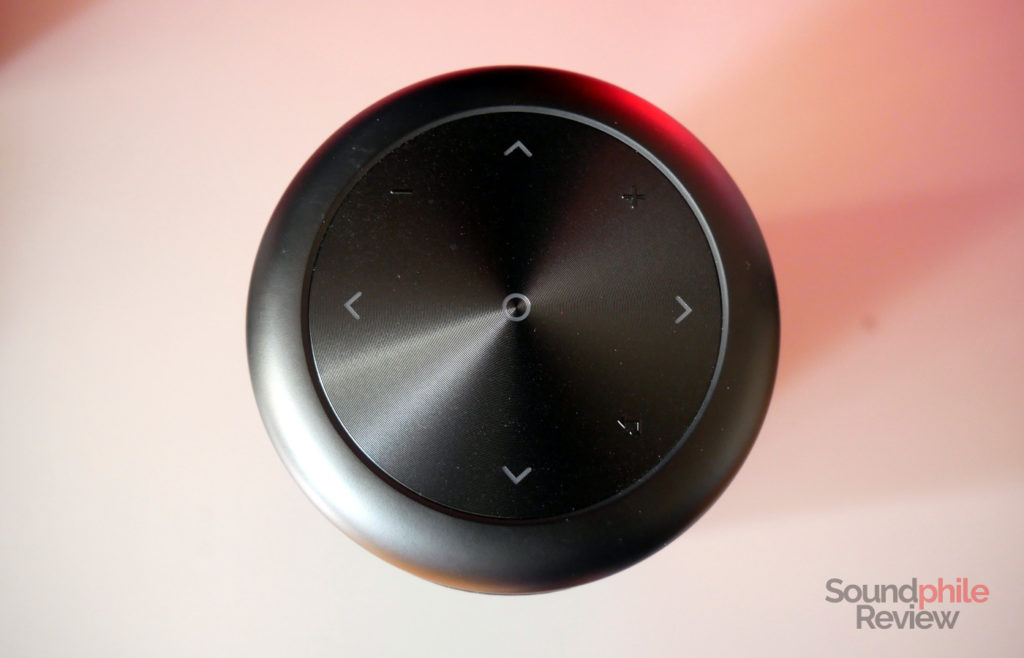 The top has touch-sensitive buttons: on top of up, down, left and right, there is a "select" button, vol-, vol+ and back. These buttons light up as you touch them, but they're actually not too responsive. It's best to use either the remote or the smartphone.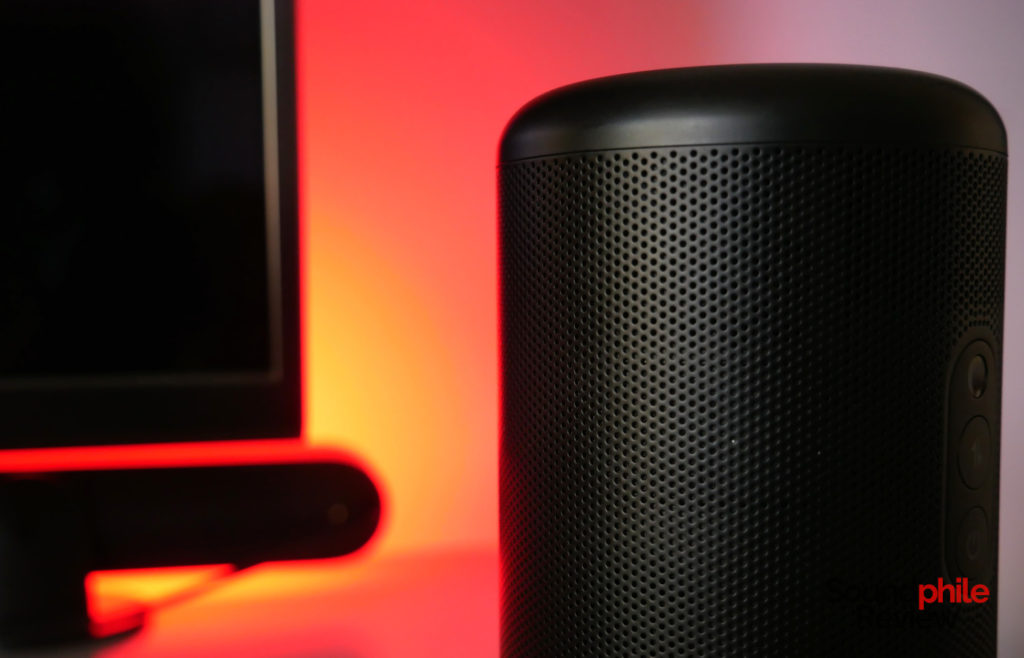 The lens is exposed and there's no lid to cover it and prevent damage during transport. That's a huge issue in terms of durability and this practically forces you to buy a case to avoid damaging the lens. Given the not-exactly-low price, some kind of protection would have been well accepted.
The small body size led me to think that the fan would be really noisy. To my surprise, though, it is absolutely not as it is barely audible. That's true even in a quiet room, with no audio playing. The fan is so quiet it's almost entirely silent! That means you'll be able to enjoy audio from movies and other content even at lower volume.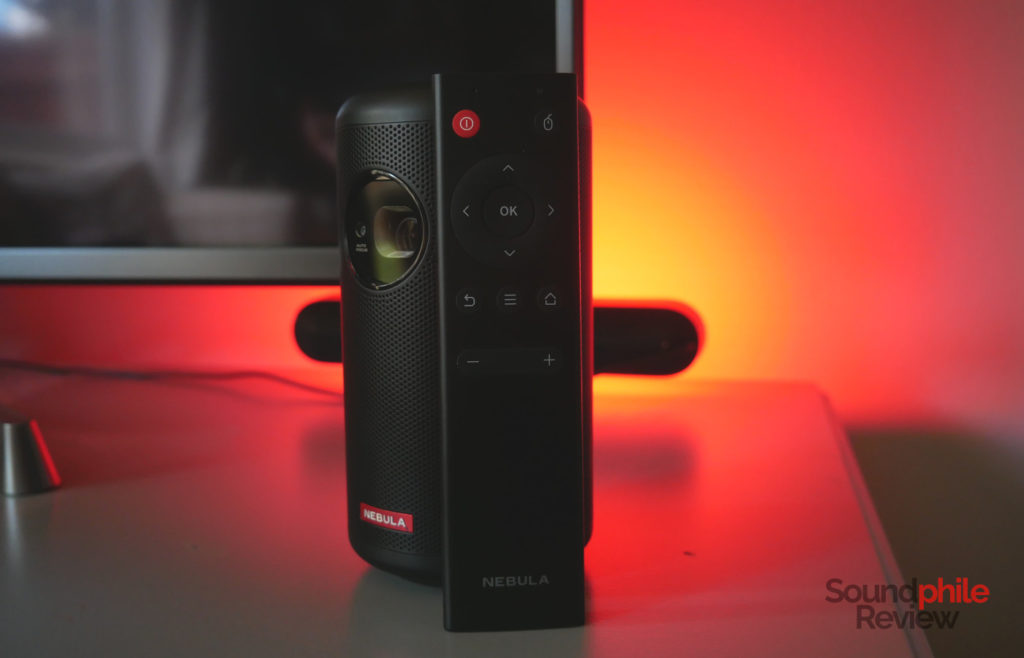 The remote is small and lightweight. It offers all basic functions to navigate through the menus and set volume, but offers no direct access to input switching as that's done via software. It also offers a "mouse mode" which allows you to move the pointer by using the directional arrows, but it's so slow it's painful to use.
Specs & Features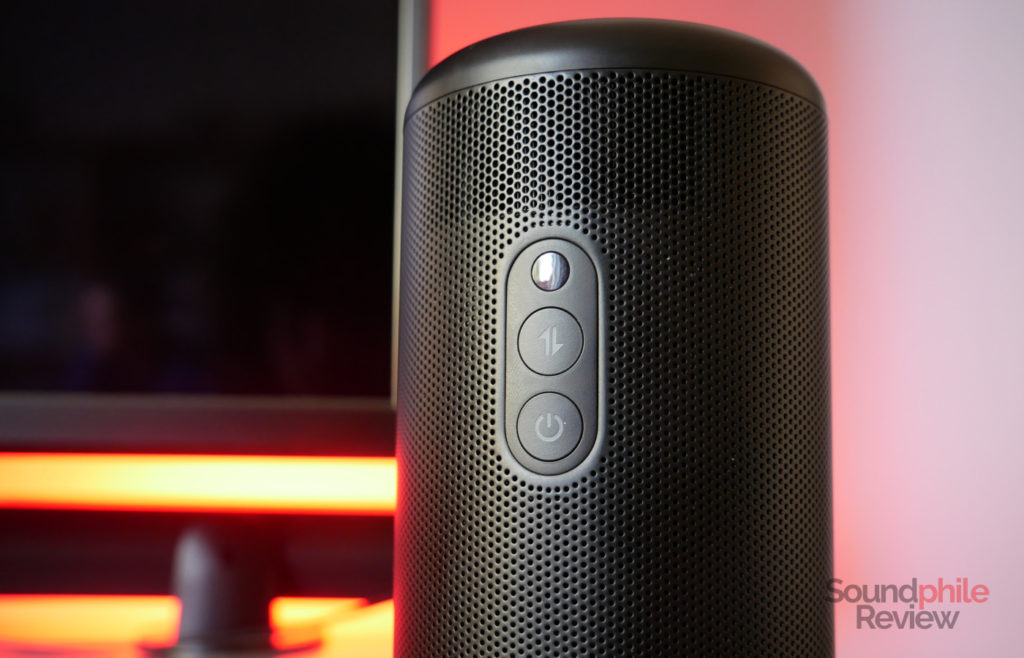 The Nebula Capsule Max has a projector capable of displaying images at 200 ANSI lumens with a max picture size of 100 inches and a resolution of 1280 x 720. The throw ratio is as follows:
100 inches at 3.08 m
80 inches at 2.46 m
60 inches at 1.73 m
40 inches at 1.15 m.
This means that it is possible to get the full-size picture even with relatively low space available. Even when projecting on the ceiling the distance in most modern houses is such that placing the Capsule Max on the floor allows to get almost the full 100 inches (in Italy modern houses have ceilings set to 2.7 m).
For the 0.3-inches display the projector uses the DLP technology, which is notable for its high contrast, smoother projection and smaller footprint than LCD projectors. On the other hand, though, it requires more brightness to look the same, has poorer colours and is less efficient (produces more heat). It should be noted that many cinema projectors use this technology.
The lamp offers a service life of 30,000 hours, but after those it's hard to see it being replaceable – at least easily. But to put this number in perspective, if we were to use the projector for 24 hours a day it would be roughly three and a half years of constant usage; with eight hours a day of use it would be more than ten years. I guess that's plenty of time.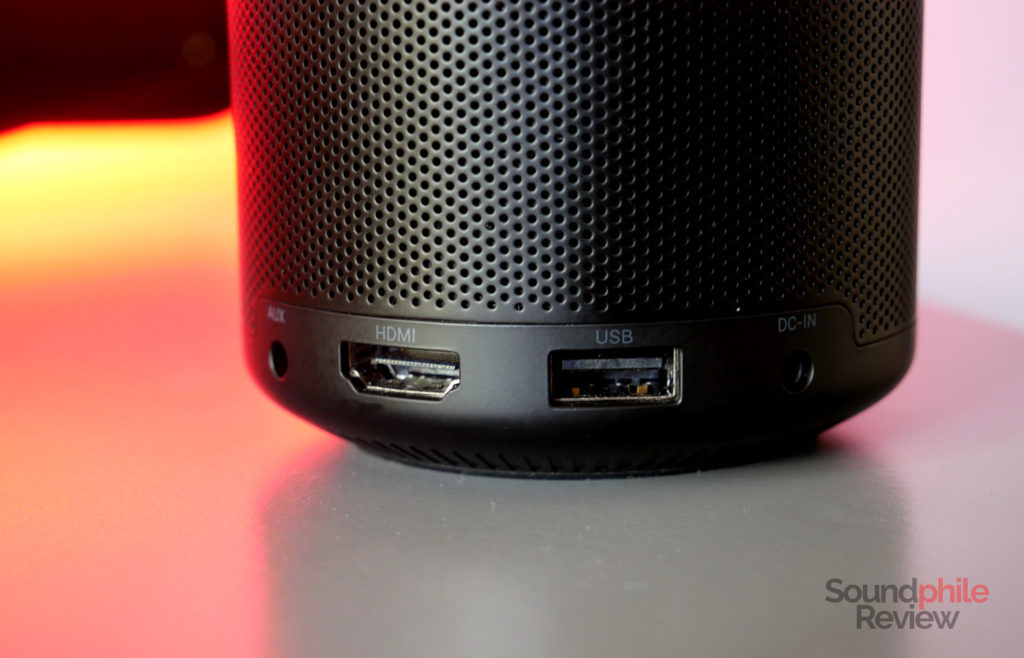 Supported video formats include H.264, H.265, VP8, VP9 and DivX 4x/5x/6x, with video decoding up to 1080p at 60 fps. Audio decoding includes MPEG-4 AAC, MPEG-4 HE-AAC, MPEG-4 HE, AACv2, AAC ELD, AMR-NB, AMR-WB, FLAC, MP3, MIDI, Vorbis, PCM/WAVE and Opus. This explains why when I tried playing an MKV of Koyaanisqatsi I ripped off the DVD (yeah, that's legal in Italy as long as you own the original!) the Capsule Max wouldn't play the audio despite it being standard AC3. There seem to be a few formats that are not recognised by the device and that require installing different player apps, though one has to resort to manual installation as the Play Store is not present.
The processor appears to be a Qualcomm Snapdragon 625, an octa-core Cortex-A53 CPU, coupled with 2 GB of DDR3 RAM and 16 GB of eMMC storage. This is a fairly decent set of specs, which allows to perform most tasks with ease. On the connection front are Bluetooth 4.2 Dual Mode and WiFi 802.11b/g/n/ac (so up to WiFi 5, with support for both 2.4 GHz and 5 GHz).
The speaker has 8 W power output, which is enough to provide sound to a small room. With larger rooms (30+ sqm) the need for a dedicated speaker arises.
What I find interesting about the projector is that it offers keystone correction (making the image rectangular even if you are projecting at an angle) of ± 40° both vertically and horizontally, with an "auto-adjust" feature that works quite well. It projects the Nebula logo and the camera on the front captures it, automatically putting the image in focus and with the right keystoning in roughly one second. Once it's done it does not need repeating until the device is turned off; once turned on the process is done automatically, though I found it to be slightly less accurate than when starting it manually from the settings menu (for some inexplicable reason).
Battery Life
The real downside to the small size is the limited battery life. Using the high brightness mode you can get around 1.5 hours of battery life, which is barely enough to watch a (short) movie. In order to squeeze more out of it, you have to switch to the low brightness mode: this makes battery life jump to around 4 hours (though it's more like 3.5 hours), enough to watch one movie out of the Lord of the Rings trilogy. Given the short battery life in high brightness mode, that's only really useful for situations where you can leave the projector connected to the electricity main.
Software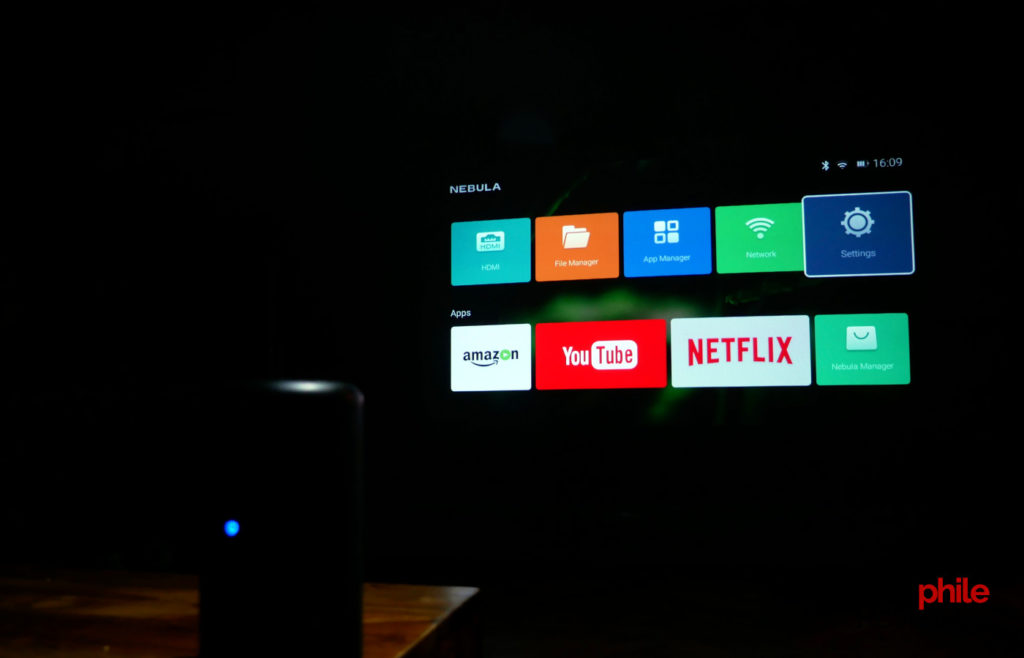 The Nebula Capsule Max uses Android 8.1 Oreo with a custom skin on top called "Nebula UI". This UI makes it possible to use Android without a touchscreen as it is designed to be used with the remote. It works quite well as it's intuitive and well laid out.
There is no Google Play Store installed on the device and one has to rely on the proprietary Nebula Store, which however hosts practically all of the most relevant services including Netflix and Amazon Prime Video. There are quite a few applications available there, so the lack of the Play Store is not felt too much.
Alas applications such as Netflix and Prime Video are not usable without the companion app for smartphones, Nebula Connect: this is available for both Android and iOS and allows to control the projector with both a remote-like and a mouse-like control system. A pop-up appears when you open these apps recommending you to use the smartphone control. The nebula Connect app connects fairly easily and fast to the projector, so it's easy to set up the connection and start watching content.
In the end it's quite a good setup which will be supported for many years, as Android 8.1 won't be EOL'd for at least four years, so it should continue to be compatible with app updates.
Picture & Sound Quality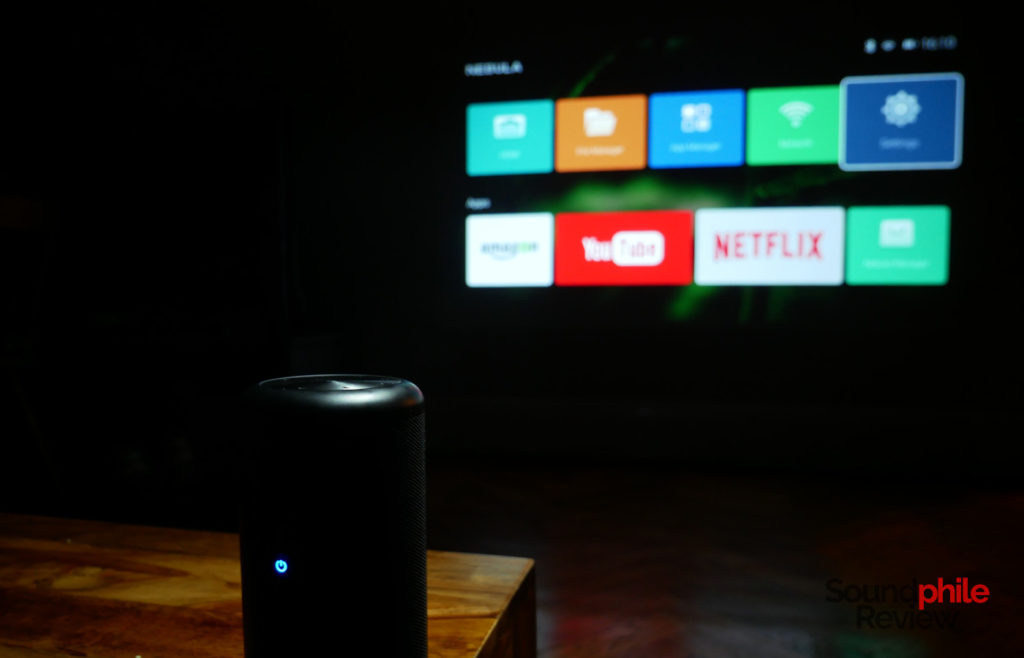 I've always been more of an audiophile than a cinephile. Picture quality is something I always looked for when watching movies though, as experiencing movies with poor visual quality means losing a good chunk of what the director envisioned – just as what happens when you listen to music with poorly performing headphones or speakers.
The Nebula Capsule Max offers two picture modes: "battery mode" and "normal mode". As we described before, the former allows for ~3.5 hours battery life, while the latter allows for ~1.5 hours of battery life. This difference is justified by a large difference in brightness: "normal mode" has much higher brightness, which results in brighter and more brilliant and saturated colours. The pictures you see here are out-of-camera JPEGs with no colour correction or any alteration other than resizing and watermarking. While they're obviously not 100% accurate, they can give you an idea of what to expect in a completely dark room. The difference between "battery mode" and "normal mode" in the pictures below is actually quite close to the difference in the real thing, which is however a bit brighter in both cases (because, again, this is not meant to be completely accurate).
Colour is not what I would call "accurate" even in the best of conditions. Most probably, though, the Capsule Max won't be used in the best of conditions: the typical setting is to use the projector on a wall or some other less-than-ideal surface. Considering this, the colours are good enough: even when projecting onto a wall they look fine. There's enough depth and contrast for images to look vibrant and saturated. Colours tend to the warm side and it is especially apparent with the skin tones. This does not take away from the vision at all, though, as it's a relatively small deviation. This is true regardless of the mode being used, even though the "normal mode" has brighter colours that appear to have less of this issue.
Dark colours are credible and reasonably deep, without the "dark grey" effect that many projectors exhibit. Contrast is quite good, though it is best in "normal mode"; even with the heightened brightness dark hues stay so. This is quite significant given the small size of the Capsule Max: obviously it doesn't offer the same performance of larger, more expensive projectors, but it offers great performance for its size. Given how it can just be tossed in a backpack, its performance is laudable – and among the best in its size class.
Although the Nebula Capsule Max offers a "speaker mode", which allows one to use it as a speaker, it offers limited audio quality: bass is neither powerful nor very deep and there's definitely a "boxy" ring to it. Voices have decent enough timbre and there's good clarity even in action films. Using an external speaker, even a small and portable one such as the SoundCore Flare+ or the Creative iRoar Go, delivers much better results than using the embedded one. That's absolutely understandable though, and the Capsule Max is indeed decent for watching films.
All in all sound quality is not bad for a portable solution where compromises have to be made, but it is not comparable at all with specialised solutions or even just with a decent TV. Volume can get to fairly high levels, though with some compromises in quality as there may be some slight distortions. You don't need a speaker when using the Capsule Max and the quality and volume are enough to satisfy most people, but a dedicated setup connected via Bluetooth is certainly going to deliver much better quality and immersion.
Final Thoughts
Anker's foray into portable projectors bears quite good fruits. The Nebula Capsule Max is a compact projector that ticks most of the right boxes by offering decent picture quality, good sound quality and great ease of use. It's a great device to watch films, series and documentaries at night with friends and the setup is so easy it can be used practically anywhere without the need for a dedicated screen. In terms of convenience it's a great product whose only flaw is that it requires a smartphone to fully take advantage of its capabilities.
In terms of value it is quite good, though the slightly more expensive (and larger) Mars II Pro offers much better features including better picture quality and better battery life. That's why I decided to give the Capsule Max a 8.5 – it's a great device, but it makes a few compromises one has to deal with. But it's still the dream of anyone looking for a portable project with a very small footprint!