TRN has long been active in the super-budget area of the IEM market. Sometimes with noteworthy products, sometimes not, with an almost strict alternation in good and not-so-good products. The TRN V90 is part of the "this turned out to be good" camp, luckily, and presents the listener with a V-shaped signature that's fun without being annoying at all. And they're comfortable, too. (but the cable still sucks. Yeah, I know.)
Disclaimer: I received this unit free of charge from AK Audio, who sell it for ~$35.
TL;DR: recap
Pros




Cons

Good comfort

Very decent technical ability

Fun tuning

Sometimes fatiguing upper midrange and treble

Bad cable
Rating: 8.2/10
Packaging & Accessories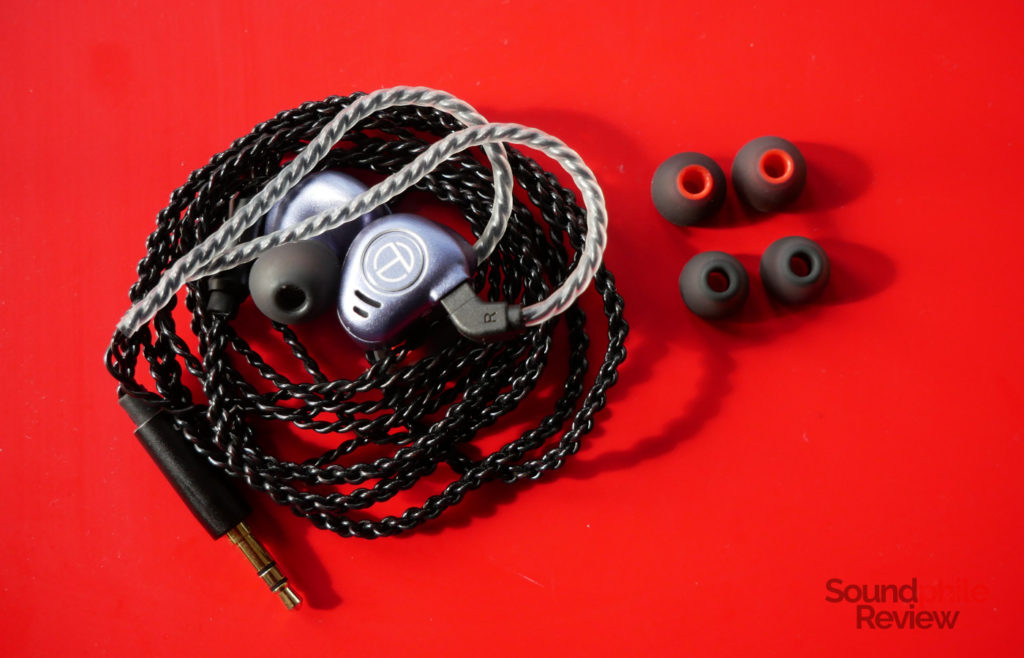 The packaging is down to basics and only includes the earphones and three sets of eartips in different sizes. The TRN-labelled case is not included in the box and was provided to me separately; you can find it in the best earphone cases article.
Design & Comfort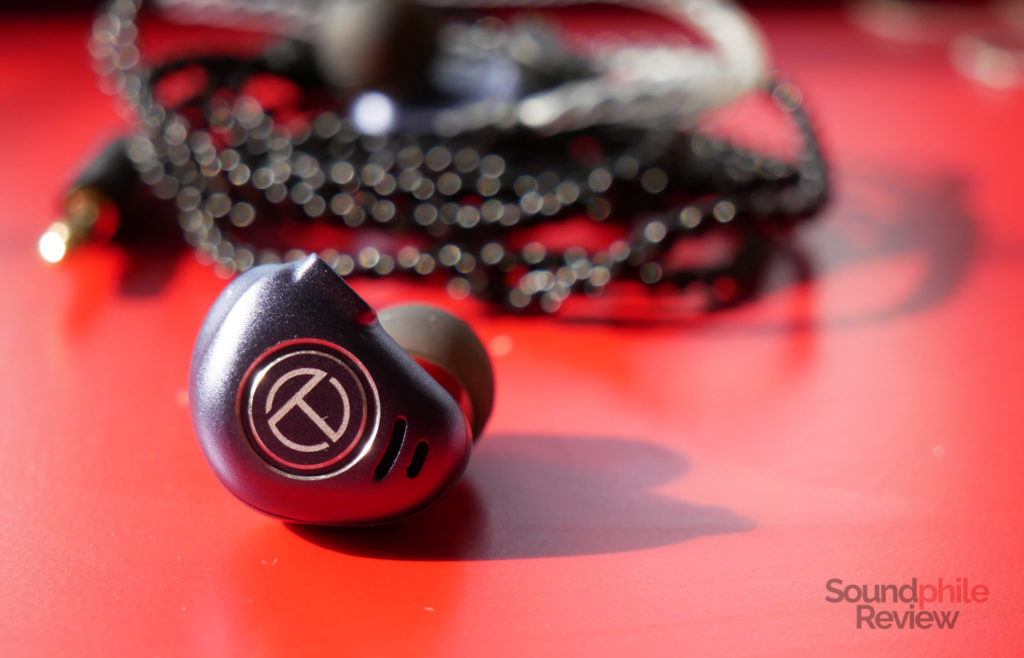 The TRN V90 is a slightly larger and smoother version of the V80. It has a roughly triangular shape, with all edges smoothed out and curved. It's really simple and made a bit more sophisticated through the use of a circle with the TRN logo on the faceplate. There are also what appear to be two holes with a kind of filter in them, which should improve bass response by allowing air to escape and therefore avoiding pressure to build up.
TRN says the aluminium is "aerospace-grade", but to my untrained eyes that can't tell it from common aluminium it just seems sturdy metal that should guarantee good durability of the earphones. The shells are entirely made of the material, with the exception of the nozzle which appears to be at least different in how it's worked (but it may be a different material altogether). The shells are made of two pieces that don't quite fit perfectly together, but they're still well assembled.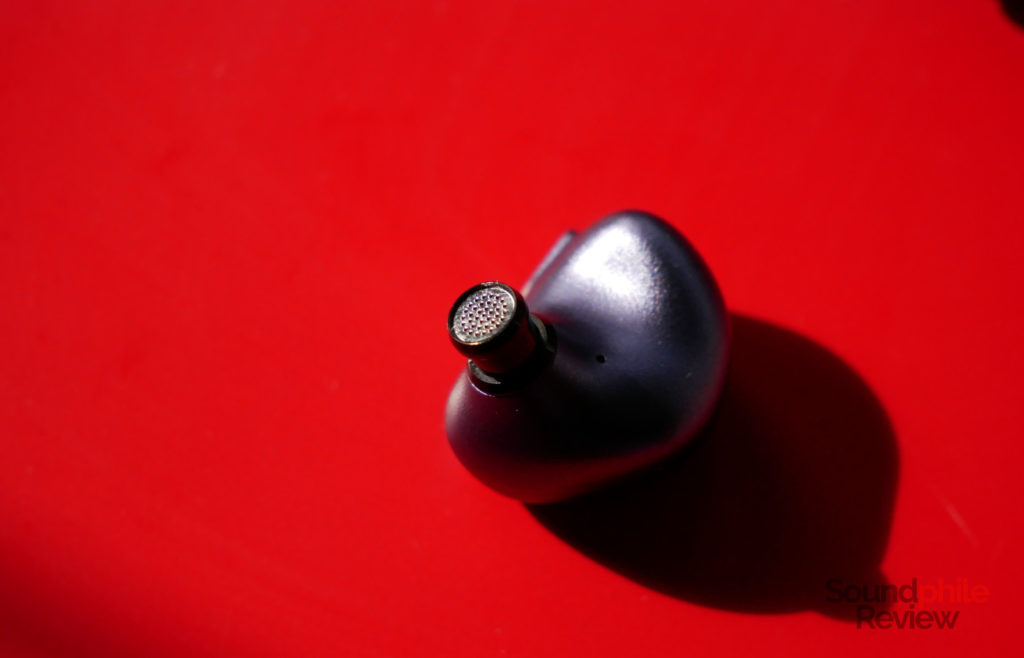 Thanks to the fact the shells are curved and without any hard edges, the TRN V90 are fairly comfortable once you find the right fit. The only element out of place is the damned ear hook on the cable, which presses on the top of your ears and causes fatigue after half an hour.
Isolation is decent, but barely more than that: in crowded and noisy place it shows its limits as a large chunk of the noise gets in and forcese you to raise the volume. I would not count on the V90 for a flight, but they're good enough for using on the street and on quieter public transport.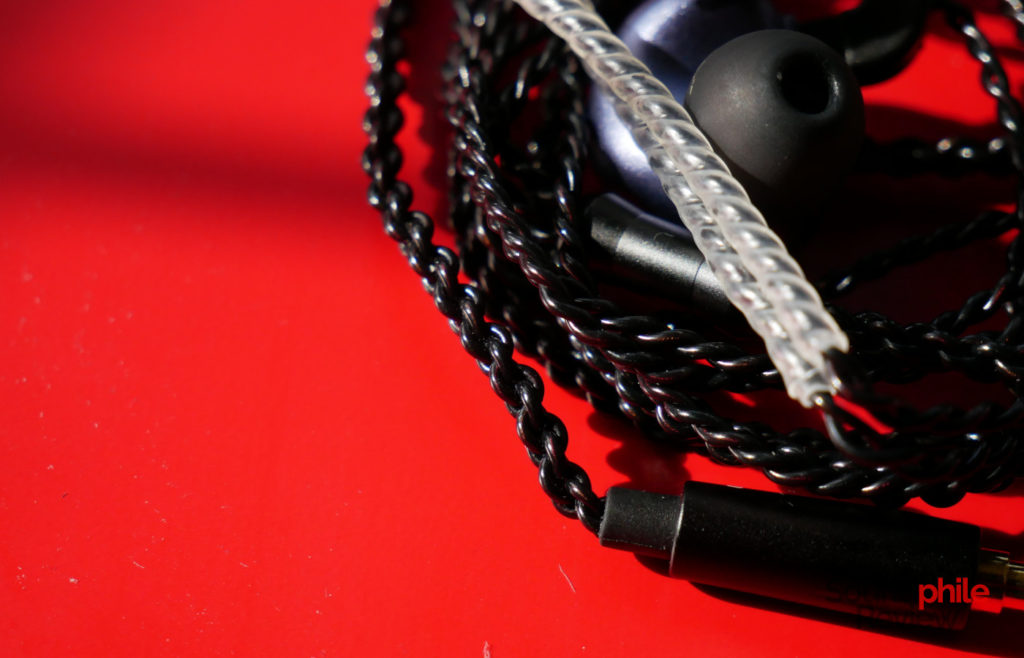 The cable is the same of every other TRN earphone and that's not a plus by any stretch of the word. It's not really stiff in its entirety, but it is enough locally to form lots of kinks that are annoying to deal with. That's possibly because of the thick plastic used for the sleeve. In any case, a new earphone cable is probably warranted. It uses the 0.75 mm 2-pin standard.
Sound & Specs
I tested the TRN V90 using an RHA DACAMP L1, a HiBy R5 and a FiiO M9, all with the same source files (mostly FLACs in 16 bit, 44.1 kHz).
| | |
| --- | --- |
| Frequency response | 70 – 40,000 Hz |
| Impedance | 22 Ω |
| Sensitivity | 110 dB |
The TRN V90 uses a penta-driver configuration with one 10 mm dynamic driver (which has neodymium magnets) and four balanced armatures (two 50060 for the midrange and two 30019 for treble). This is a fairly large driver count for IEMs in the sub-$50 range and, even more surprisingly, it seems like TRN got the tuning right.
Soundstage is wide, but offers little depth: it's as if the instruments were playing at the sides of the listener. This also makes imaging poor in terms of placing the instruments in the left-front-right spectrum ,though there is a clear place for every instrument. Separation is quite good even in crowded tracks.
Bass is prominent and clearly emphasised, as it emerges on top of midrange and even on top of treble. It's powerful, but also gentle: it never oversteps the limit after which it would become bloated and overbearing, it never covers the mids. It adds quite a bit of fun to the signature, though, as it delivers a very good sensation of impact and it has good depth which further increases the fun sensation. There's a very decent amount of detail which makes the bass really pleasant – it's not just pure fun which disregards fidelity, there is actually some technical prowess to it that makes it palatable to audiophiles too. Layering is quite decent and allows for a good amount of detail to pop out even in crowded tracks. Speed is quite good for a dynamic driver and possibly the best thing about bass together with its physicality.
Midrange is itself V-shaped, with a larger presence in the lower area but especially in the upper area, where it has its peak. Despite the TRN V90 having a V-shaped signature, midrange does not appear too recessed or distant, although it clearly sits behind bass and treble. The peak in the upper part can be fatiguing at times, but it's not large enough to cause issues in most cases. There's a good amount of detail which makes the midrange quite interesting as the detail is still there even in crowded tracks. Possibly due to the fact that midrange is produced by a balanced armature there is good speed, but little physicality.
There's at least one peak in treble which is clearly shown by Carbon Based Lifeform's Polyrytmi: it can be fatiguing, especially as the volume rises. Other than that, treble is mostly fine: it doesn't have a large extension, but it has enough to have a decent amount of air and openness. It also has a good amount of detail. It is emphasised, but in a way that exposes the detail more without compromising the overall pleasantness of the listening experience. Still, the treble-sensitive folks will probably find it fatiguing.
TRN V90 Comparisons
Here's a comparison to other products in a similar price range:
TRN V90 vs TRN V80: the V80 and the V90 are surprisingly similar, but they have a few key differences. The V90 have deeper and more present bass, which also has slightly more detail. The midrange is less bright on the V80, which appear to be more balanced in this area. Treble is also less prominent on the V80, so that it lacks the fatiguing peaks of the V90 while offering a similar level of detail. The soundstage presentation is almost identical and so is the imaging, which is quite surprising. Instrument separation is comparable. In the end the main difference is with details: the V90 offers slightly more detail and slightly better instrument positioning, but also a tonality that's more fatiguing than the V80's in the long run.
TRN V90 vs CCA C10: the C10 are much better balanced than the V90. They offer less bass presence and less depth, with a similar level of detail. Midrange is much less recessed on the C10, so it takes much more of a central role in the signature and offers a better representation of the instruments, with less emphasis in the upper range; it's also slightly more detailed. Treble is more extended than on the V90, it doesn't have any of the peaks and it's also slightly more detailed. Soundstage is wider on the V90, but the C10 have more depth and a more coherent presentation – it's more of a room than a corridor. Imaging is much better on the C10, which also win in instrument separation.
Final Thoughts
The TRN V90 are probably the best earphones the brand has created so far, with a a relatively balanced signature that emphasises bass and treble without exceeding in that. The good amount of detail portrayed, the good physicality and the overall good technical ability make the TRN V90 quite attractive. They're also comfortable on top of that. What I really can't wrap my head around is why they stick to that terrible cable. It was terrible on the V10 and it's still terrible now. Please, TRN, will you switch to a more civilised cable that doesn't hurt my ears for the next model? Thank you.