UGREEN is a name I've come across a lot in the past – in fact, I have bought several of their products from Amazon, mainly cables and other accessories. So it was a pleasant surprise when they contacted me to try out their newest TWS earphones, the UGREEN HiTune T3. They sit in the entry-level section of the market, but they actually perform better than the price would suggest.
Disclaimer: I received a complimentary unit directly from UGREEN. The HiTune T3 retails for $39.99.
TL;DR: recap
Pros




Cons

+ Nice design and usability touches

+ Noise cancelling

+ Decently long battery life

+ Great connection range and stability

– Sound quality could be improved
Rating: 6.7/10
Packaging & Accessories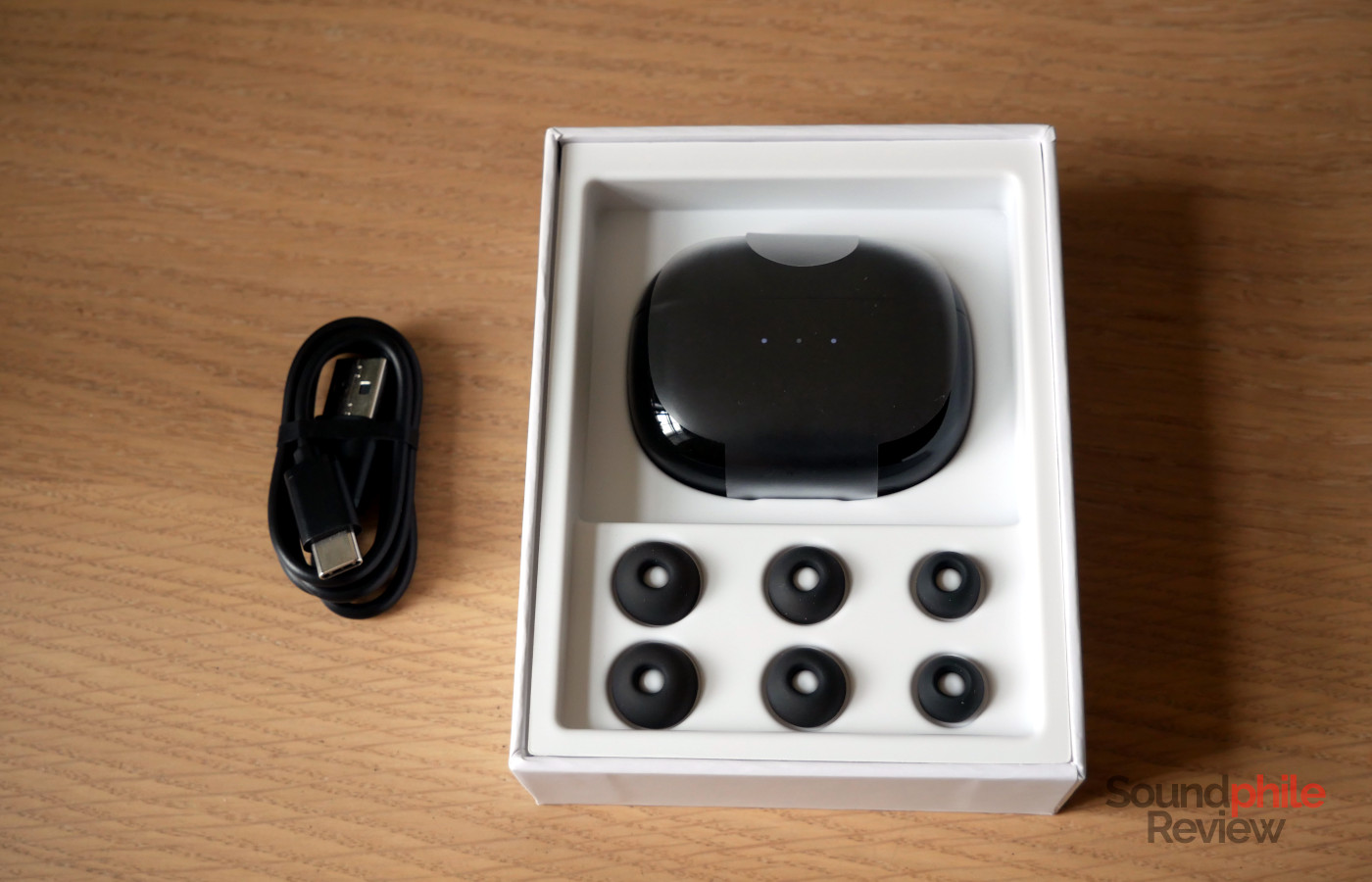 Packaging is simple and to the point: the cardboard box has a tray that slides out and reveals the case with a set of three sizes of eartips, plus a manual and da USB to USB-C cable under them.
Design & Comfort
The design of the earpieces is a common one and, in fact, it is quite close to that of the QCY T13. In fact the UGREEN HiTune T3 do not really bring anything new to the table, opting instead to use a tried-and-true approach which does bear its fruits, as this design will surely appeal to most people. The glossy finish makes them look shiny, but it also makes them quite prone to showing dirt and fingerprints, at least in the black version (there's also a white one). Overall, UGREEN played it safe with the HiTune T3 with good results.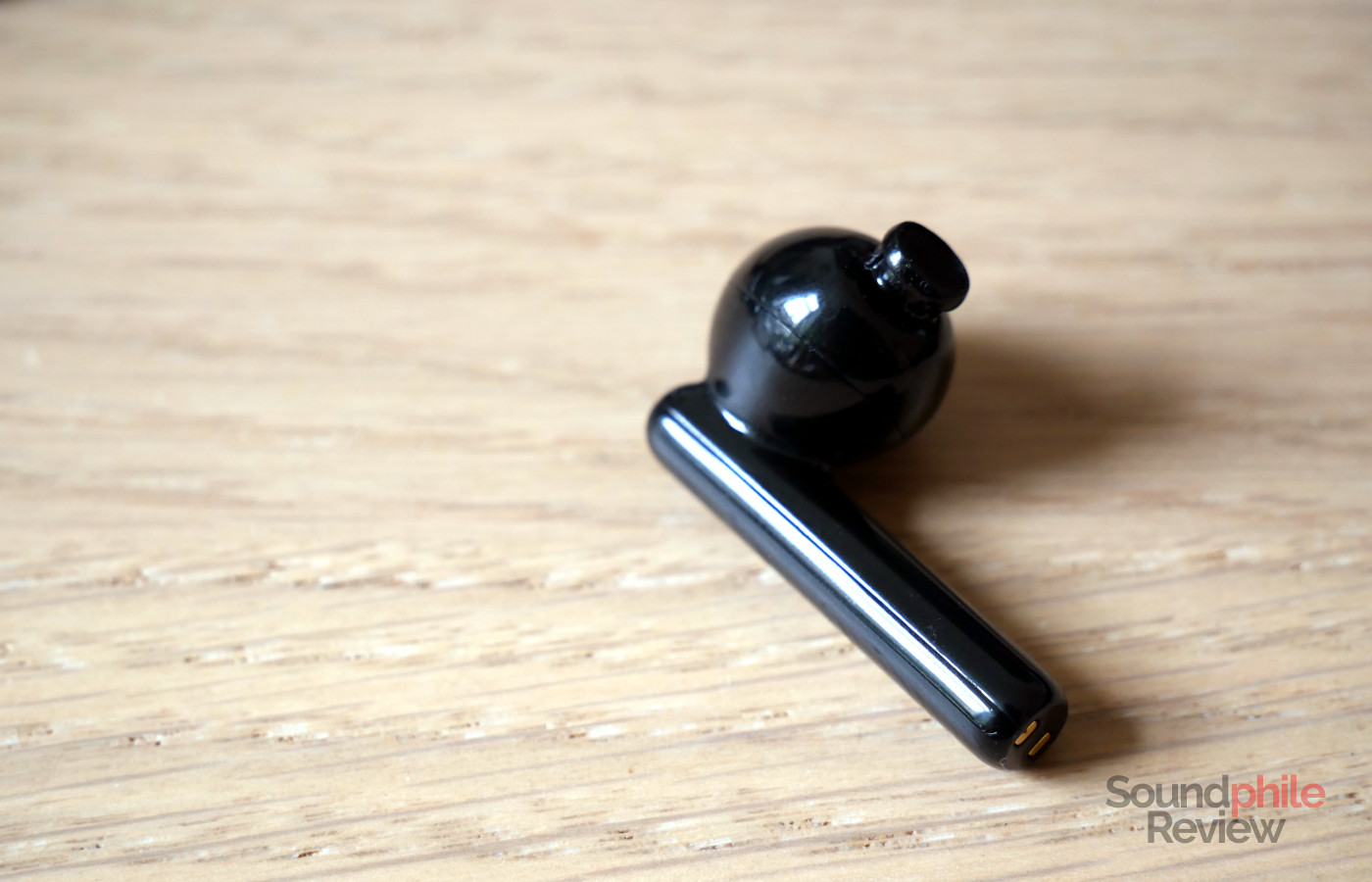 Build quality is quite good and exceeds expectations for the price point. In fact, the HiTune T3 are very well built in general. Unfortunately they don't appear to feature any water resistance, but that's totally understandable.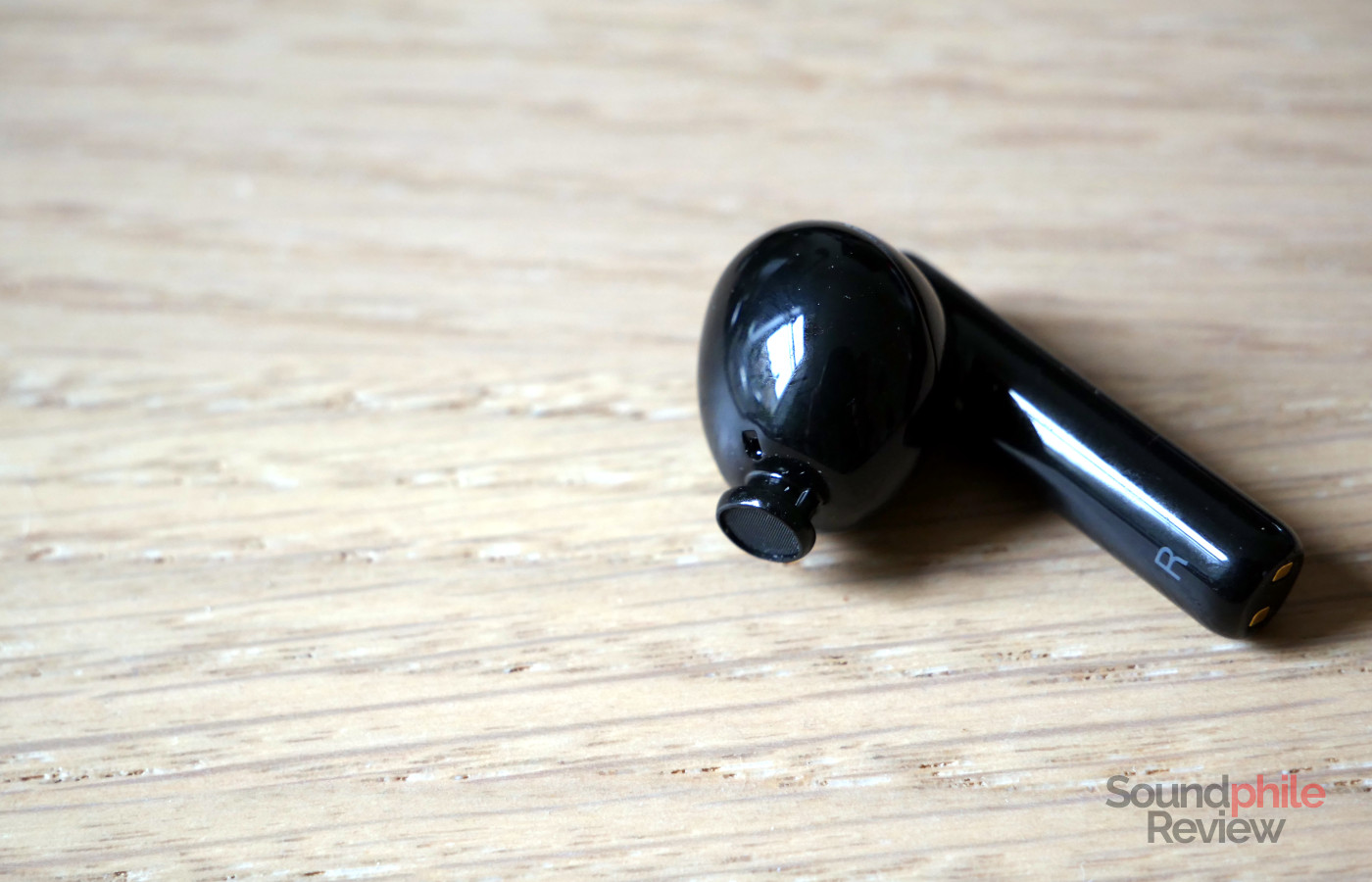 Comfort is top notch thanks to both the limited weight and the small size of the shells. The only thing that is worth mentioning is that the fit is quite shallow, especially with the stock tips, so people who are used to a deeper fit (me included!) will find that normal-size eartips work better.
Passive isolation is quite good as although it doesn't shield you from the loudest sounds, it has a perceivable impact on the volume of sounds from outside, making them bearable. In quiet environments, the sensation is that of perfect silence, even when listening to very calm and quiet music (e.g. Carbon Based Lifeform's Stochastic album).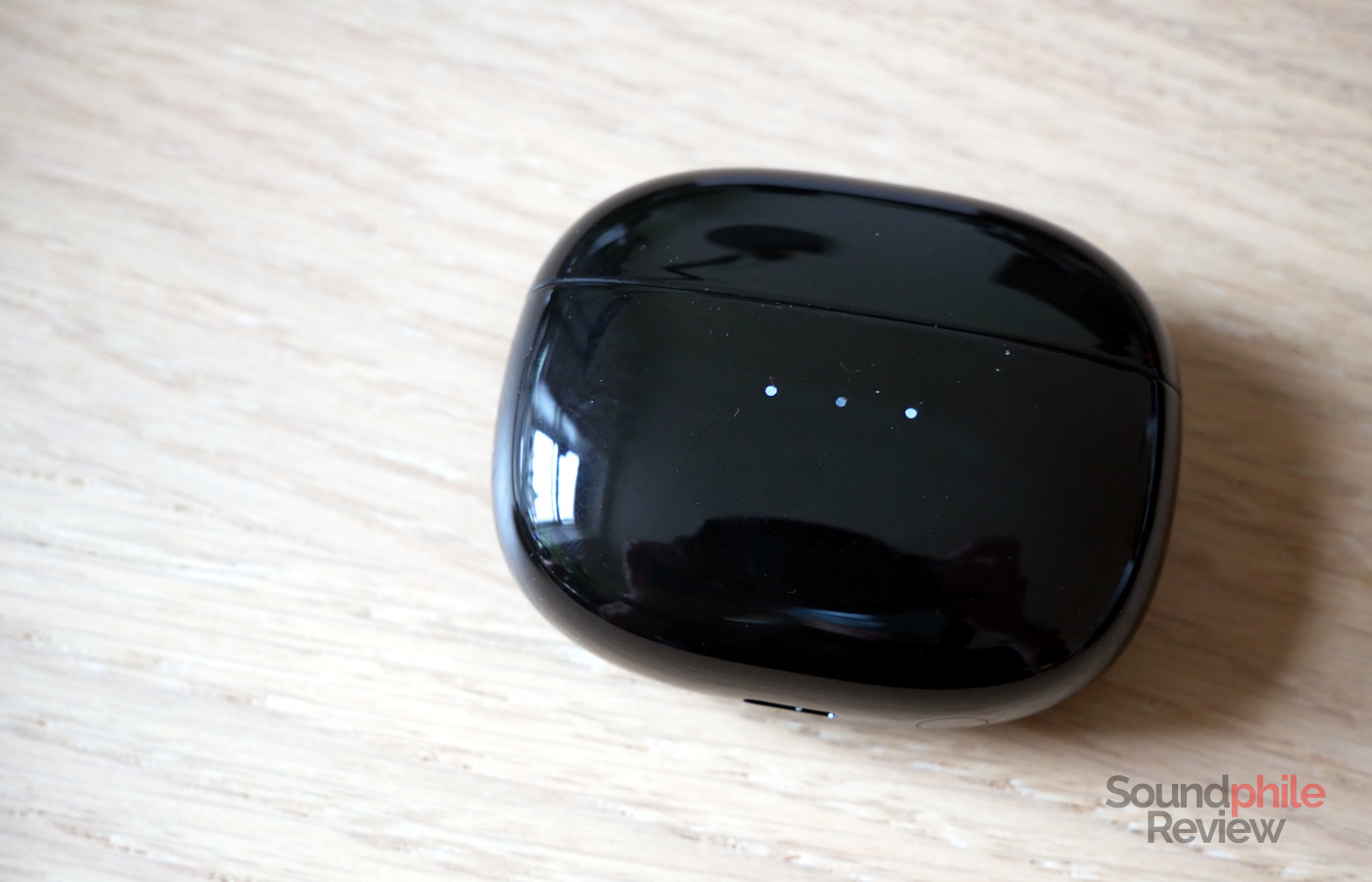 The case is small and made of the same glossy plastic of the earphones, with the same pros and cons. On the front there are three LEDs that are ingeniously used to not only indicate the status of the case's battery, but also to confirm that the two earpieces are correctly charging: when you put them in, the two outermost LEDs light up (you can see this in the picture above, though it's a bit tricky to capture!). On the bottom there's a USB-C charging port. The lid is easy to open with one hand and stays open even if you put down the case (e.g. on a desk), making it easy to extract the earphones. A positive note is that normal-sized eartips fit perfectly well inside the case, which is quite unusual for TWS earphones.
Extra Features & Battery Life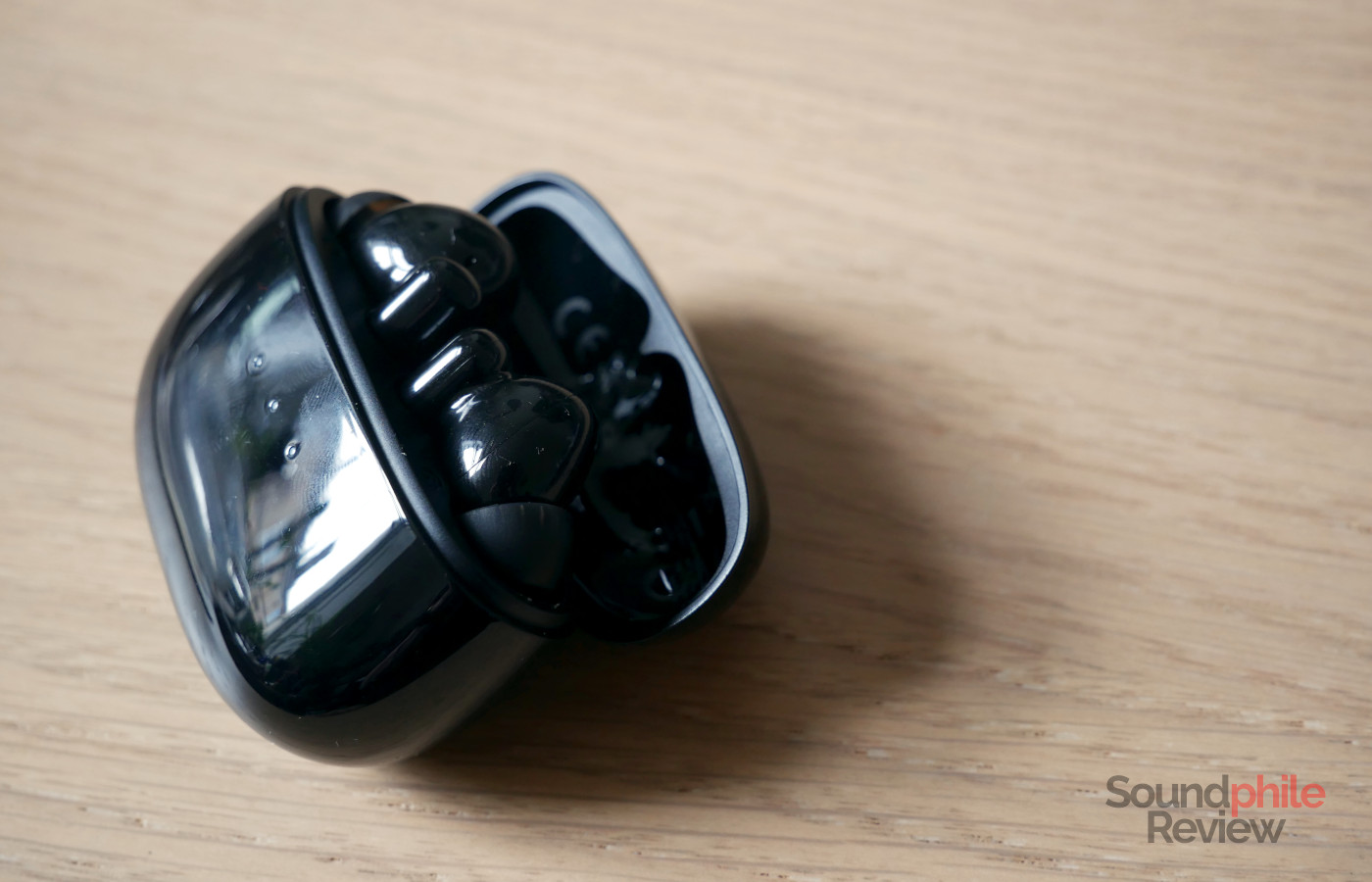 The UGREEN HiTune T3 offer compatibility with the Bluetooth 5.2 standard as well as with the SBC and AAC codecs. The range and stability of the connection offered by the T3 caught me quite by surprise, as I can just walk around the whole house without any interruption or hiccup but in the farthest corners. The earphones try to pair with the latest-paired device as soon as you open the case, so that they should be ready to play music by the time you are wearing them.
Despite the low price point, which is something I feel the need to stress again, the T3 offers noise cancelling, and a decent one at that. While it isn't strong enough to completely exclude high-intensity noise, it is enough to reduce the volume of lower-frequency noise significantly.
The microphone does a very decent job, though it doesn't perform well in noisy environments.
Battery life is rated at 7 hours and that is true as long as the ANC is turned off; once you turn it on, you get around 5 hours, which is still quite a good result. Three additional charges are available through the case, for a total that's around 22 hours.
Sound & Specs
I tested the UGREEN HiTune T3 using both my PCs and a HiBy R5.
| | |
| --- | --- |
| Frequency response | N/A |
| Impedance | N/A |
| Sensitivity | N/A |
| Bluetooth version | 5.2 |
| Codecs | SBC, AAC |
Soundstage doesn't have a lot of width, but it has surprisingly good depth. The impression is that of a relatively small, square room – quite an interesting thing. Imaging offers more nuances than the standard left-centre-right, so you can actually hear instruments over the whole spectrum. Instrument separation is somewhat hampered by the frequency response, but it is overall decent.
Bass is heavily emphasised, so much so that it often gets in front of the mids. Luckily, though, it never ends up entirely covering them, so you still hear the lower mids well. As expected, lows are concentrated in the mid-bass area, but they have a slow roll-off which confers them very good depth overall. What I find surprising is that the bass is actually very nicely fast and tight; bass lines in tracks like America's A Horse With No Name are snappy and enjoyable. The level of detail is quite good, too.
Midrange is slightly recessed and overall has a warm tonality, due to the bump in the mid-bass slowly rolling off well into lower midrange territory. This makes male voices more present than female ones, as an example, though higher-pitched instruments are still present in the mix. There's a decent level of detail as well as the same good speed that characterises bass.
Treble is as heavily emphasised as bass, with multiple peaks throughout the middle and upper region that make it somewhat aggressive. This is especially evident in tracks such as Led Zeppelin's We're Gonna Groove, which is especially rich in cymbals; while they are not overpowering the rest, the peaks make it so that some parts come on top – the parts that can cause fatigue, especially if you are sensitive to treble. Overall the level of detail is sufficient, but the fact that what you hear is mostly the peaks and not the full continuum makes details less than it could.
Final Thoughts
The UGREEN HiTune T3 make a lot of compromises to keep the price down, but I would say that, all in all, they make the right kind of compromises. The sound signature may not be to everyone's liking, as its multiple treble peaks and large bass presence confer it a somewhat aggressive attitude, but it's not overly coloured to the point of it sounding wrong. The rest is quite well done, especially if we consider the extremely affordable price tag: connectivity range and stability are great, touch controls are responsive and useful, comfort is very good and isolation is decent. There's also noise cancelling, which is fantastic in this range. Overall I find that the UGREEN HiTune T3 can be a very good compromise if you are budget conscious and are looking for good value at an entry-level price point.