Although xDuoo updated their renowned XD-05 DAC/amp last year, they still didn't provide a balanced output. That gap has now been bridged with the xDuoo XD-05 Bal, which is a completely re-engineered and re-designed product that's smaller as well as more powerful and richer in features.
As a funny aside, "bal" (pronounced more or less like "bahl") means both "ball" and "lie" in Milanese, the language once spoken in and around Milan (forcefully eliminated by the Italian government in the past few decades and now basically extinct). Thankfully enough, though, there's no lie about the XD-05 Bal!
Disclaimer: I received this unit free of charge from Linsoul, who sells it for $429. Additional info is available on xDuoo's website.

TL;DR: recap
Pros




Cons

+ Well built with a nice design

+ A whole ton of features

+ A wide variety of inputs and outputs

+ Good battery life

– Bluetooth is quirky

– Too powerful for IEMs
Rating: 9/10
Packaging & Accessories
xDuoo really upped their game when it comes to the packaging: the box is shiny and premium-looking and it contains a treasure trove of accessories. The list is quite long: a metal plate with the xDuoo logo (a key chain?), a set of two op-amps, a 1.2 m USB-C to USB-C cable, a USB-C to USB-A adapter, a screwdriver, three 10 cm long cables with a USB-C connector on one side and USB-C, Lightning and micro-USB terminations on the other, a mini-XLR3 to mini-XLR3 cable, a 3.5 mm to 6.3 mm jack adapter, an adhesive patch to attach the DAC to another device, a set of rubber feet, a set of five spare screws, two pins to seal the 3.5 mm jack ports and a manual.
There's also an optional faux leather case, which in my case is blue; it only protects the sides and it is quite thin, but it does offer protection against scuffs and scratches.
Design & Build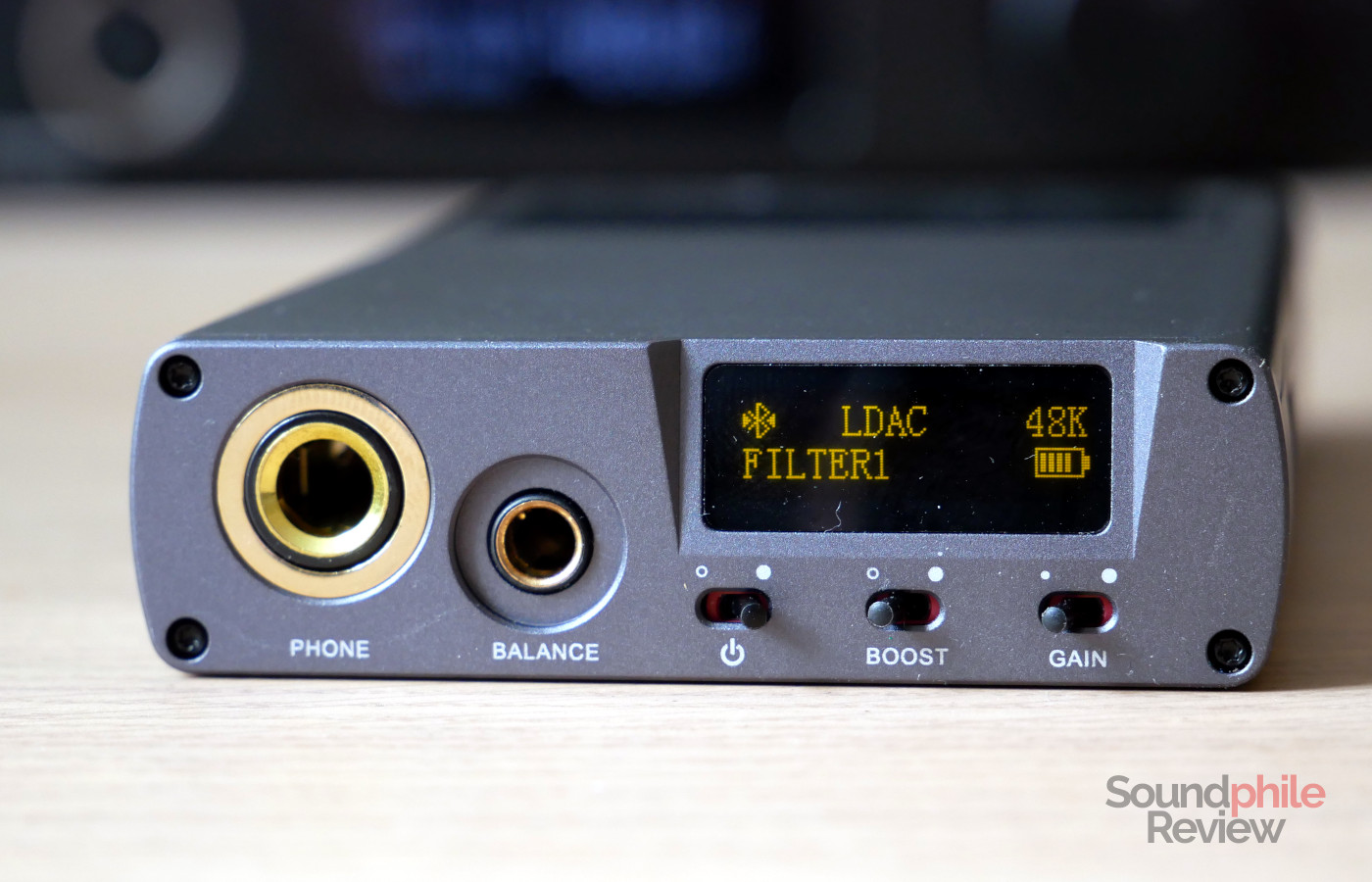 The design of the xDuoo XD-05 Bal is quite similar to that of the XD-05, with a few key differences. The basics are identical: it is a metal parallelepiped with various ports and connectors on the back, as well as a screen on the front, with additional buttons on the side. The main difference is that the device is now a dark grey instead of black and it has red and white accents, while the volume knob that was on the front has been moved to the right hand side. It's a simple, modern design that's almost austere, but it gives you all the things you need to use the device in a clear, accessible way.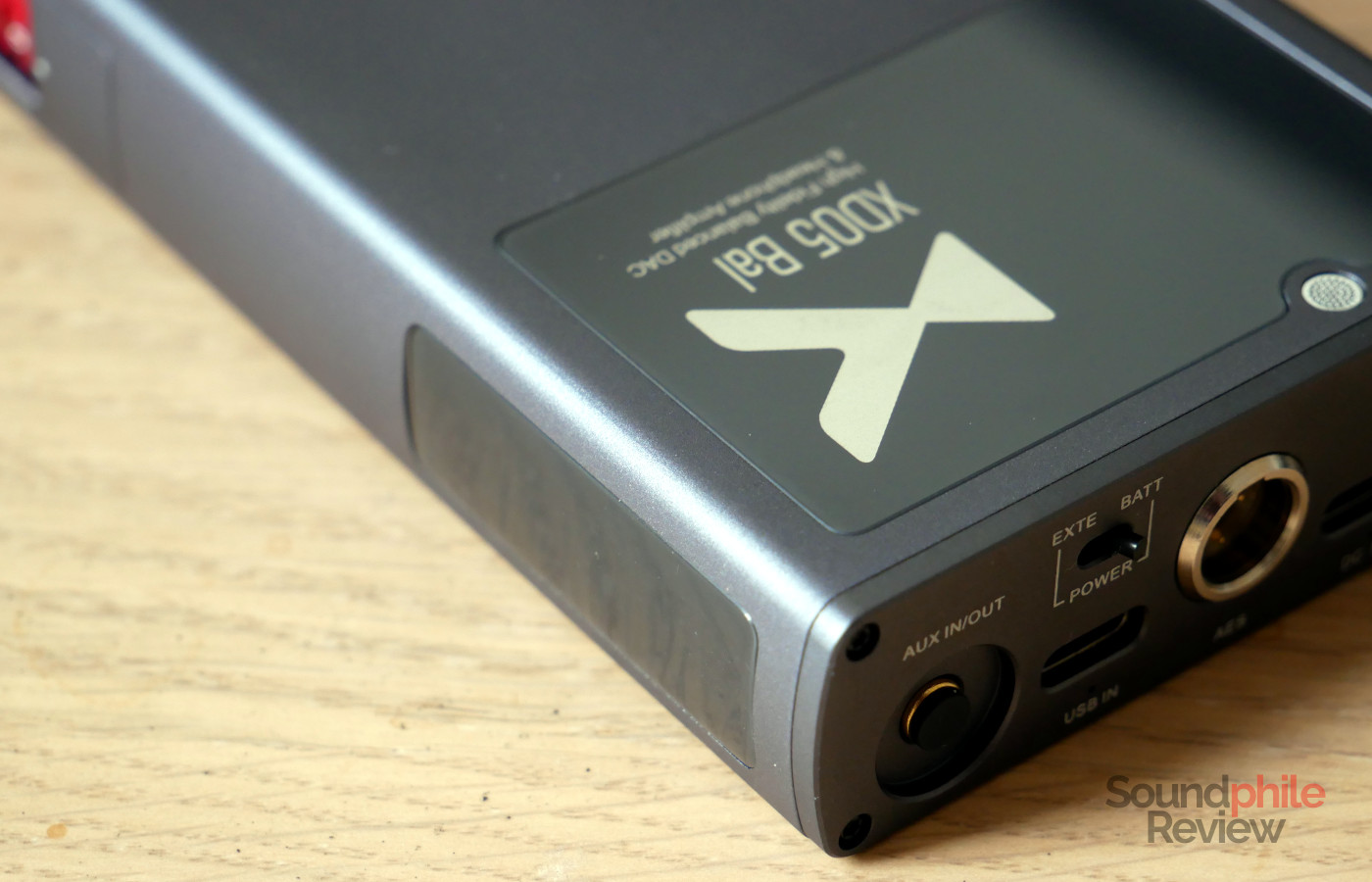 The peculiarity of the XD-05 Bal is the presence of three glass inserts in the posterior area of the top and lateral sides. What appears like a concession to mere form is instead a very functional choice, as the presence of these glass inserts allow Bluetooth to work: if those weren't there, the case would act like a Faraday cage and block (or severely limit the strength of) any signal coming from and going to the inside. These inserts also make the device look quite a bit more stylish, so there's also that. There's also a small metallic circle with holes in it, but it's not clear which function it performs as the manual doesn't mention anything related to it.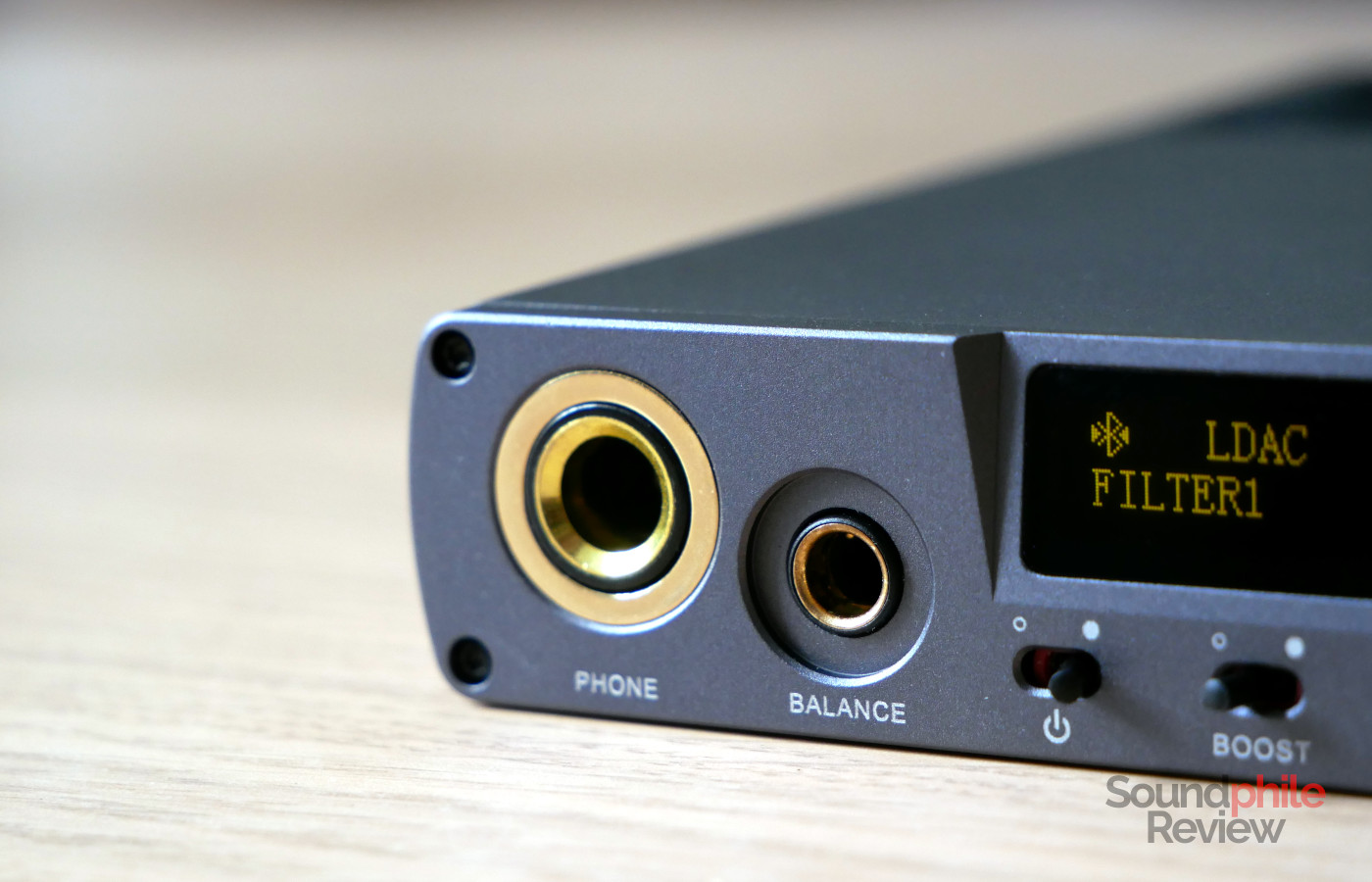 The size of the xDuoo XD-05 Bal is certainly not that of a device you can keep in your pocket, unless you have very large pockets; it is more of a desktop device that you can carry around and use with a notebook or another portable device, rather than a DAC/amp you can use while out in the streets. Its weight is considerable at 297 grams, but it's still low enough that it won't weigh you down if you carry it in a backpack.
Build quality is quite nice and in line with expectations from xDuoo, which has progressed quite a bit in the past few years in terms of perceived quality of its products. The metal is machined with precision and there are very small seams between the main section and the two lids, held in place by screws, on the front and the back. xDuoo gives you a screwdriver to remove them so that you can replace the op-amps with ones of your choosing – opening up the device is how I discovered about the function of the glass inserts.
The various buttons and switches are located in logical and easy to access places. The front hosts the 6.3 mm jack and the 4.4 mm jack outputs; the power, gain and bass boost switches, and the main OLED screen. On the right hand side there is the volume wheel, of which you only actually see the side, while on the left hand side are the input, filter and Bluetooth buttons. The back hosts 3.5 mm aux input/output jack, a switch to select if power should be drawn from the battery or from the USB port, the USB-C port that makes this possible, a second USB-C port that handles the signal, a micro-XLR3 port to manage AES input and a combo coaxial and optical input through a 3.5 mm jack. All in all it's a very complete input-output section that puts the XD-05 Bal in iFi micro iDSD series territory in terms of flexibility.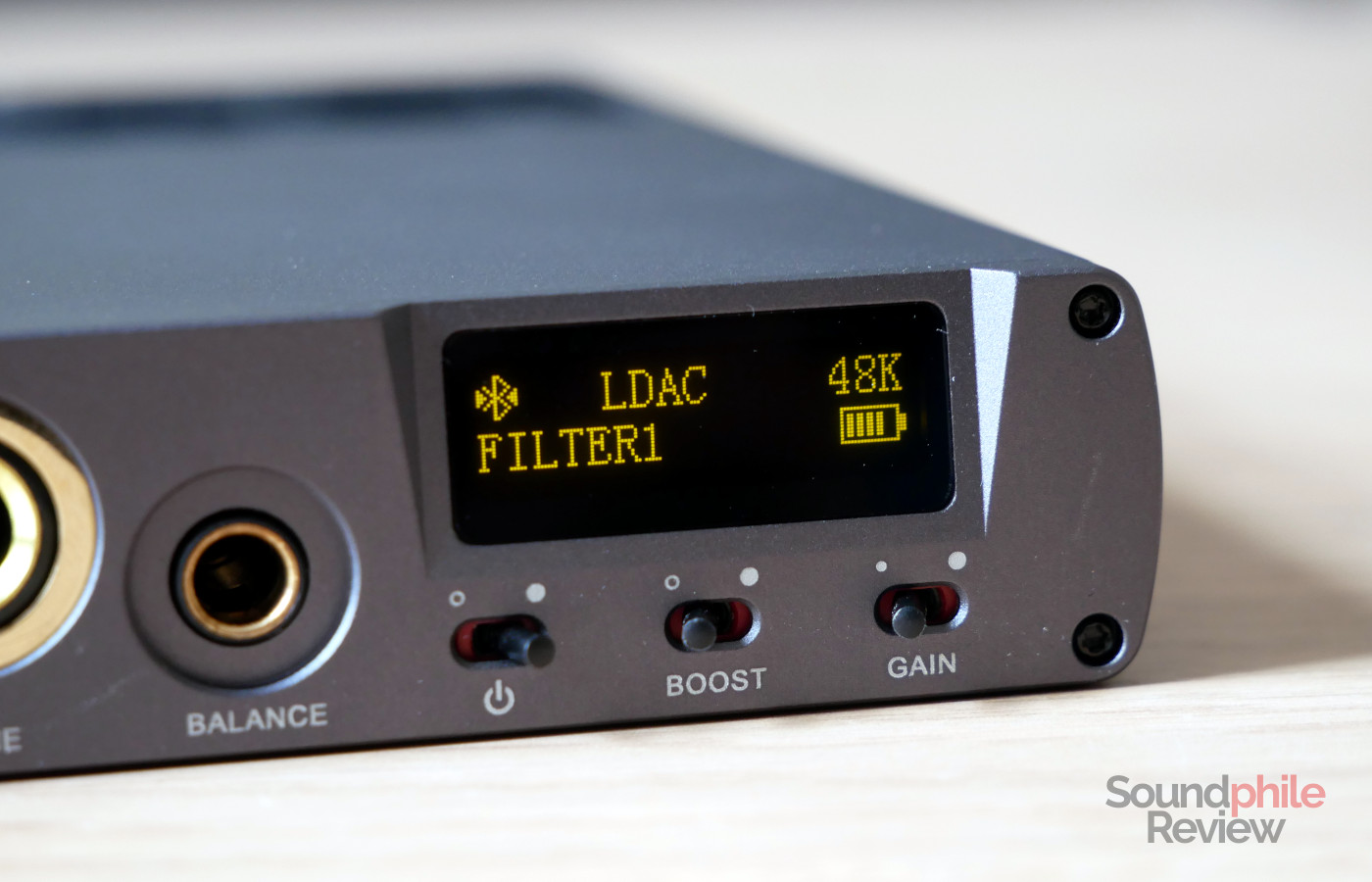 The screen has a yellow-orange hue and is visible even under direct sunlight even though it's not extremely bright; conversely, this means it won't blind you if you use the device in the dark. In general, the colour o the text is quite a bit easier on the eyes than the blue of previous models. The screen tells you information on the input, the sampling rate, the filter and the battery level.
There are also LEDs coupled with the USB ports which are meant to tell you if the device is charging and if it receives the signal correctly. My only complaint with them is that they're placed below the ports, so that it's quite difficult to see them. Placing them above the ports would have made much more sense and would have made it possible to, as an example, see at a glance if the device is still charging when a cable is plugged in.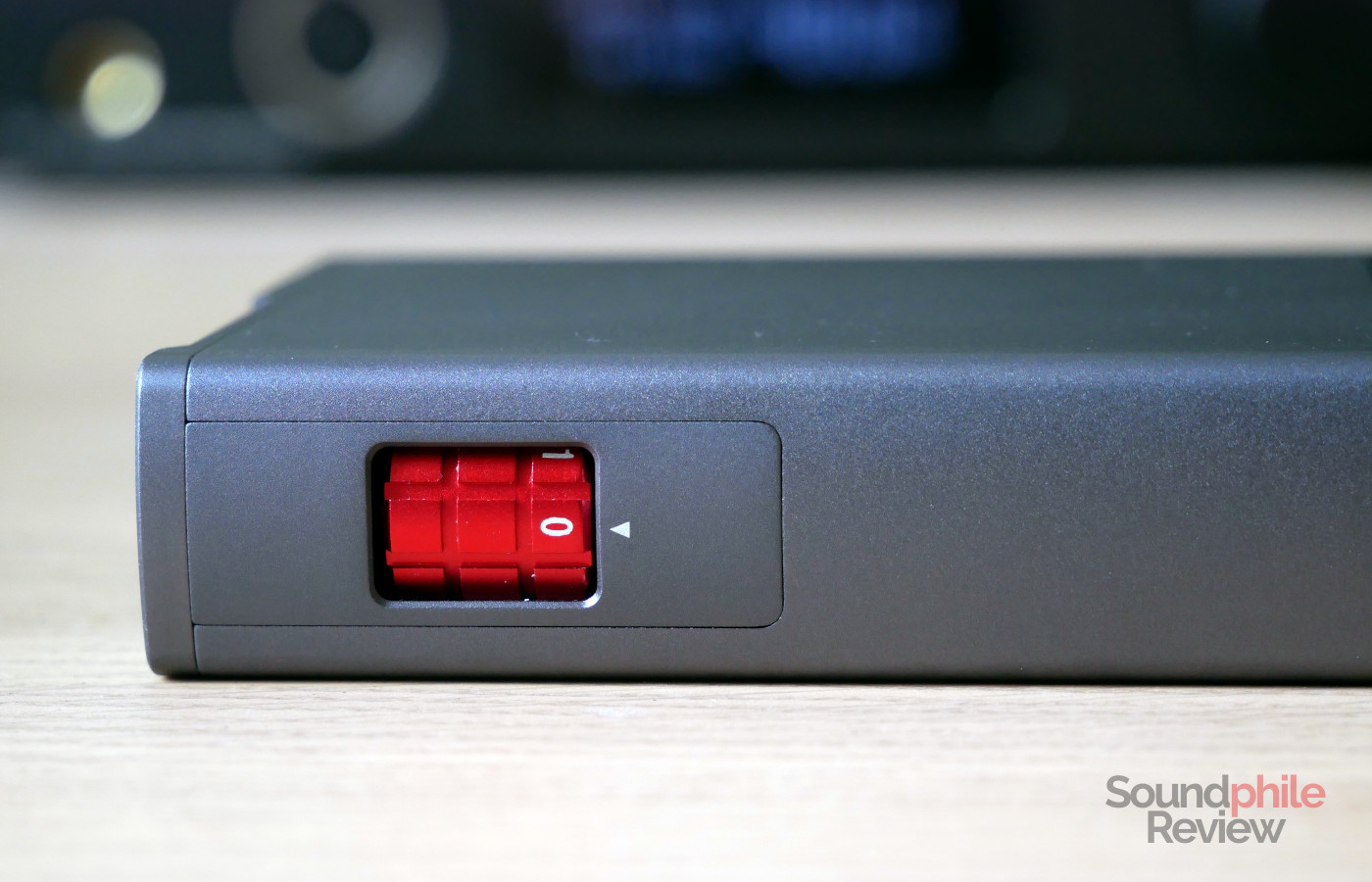 The volume knob has a good feeling when rotating it, with a nice weight that allows you to adjust volume precisely, but the fact that it is embedded makes it difficult to rotate it without directly looking at it and gives you little space to do so. It has an imbalance zone between 0 and 0.75 in which audio is played with the left channel louder than the right one; after that zone the two channels have the same volume.
Specs & Features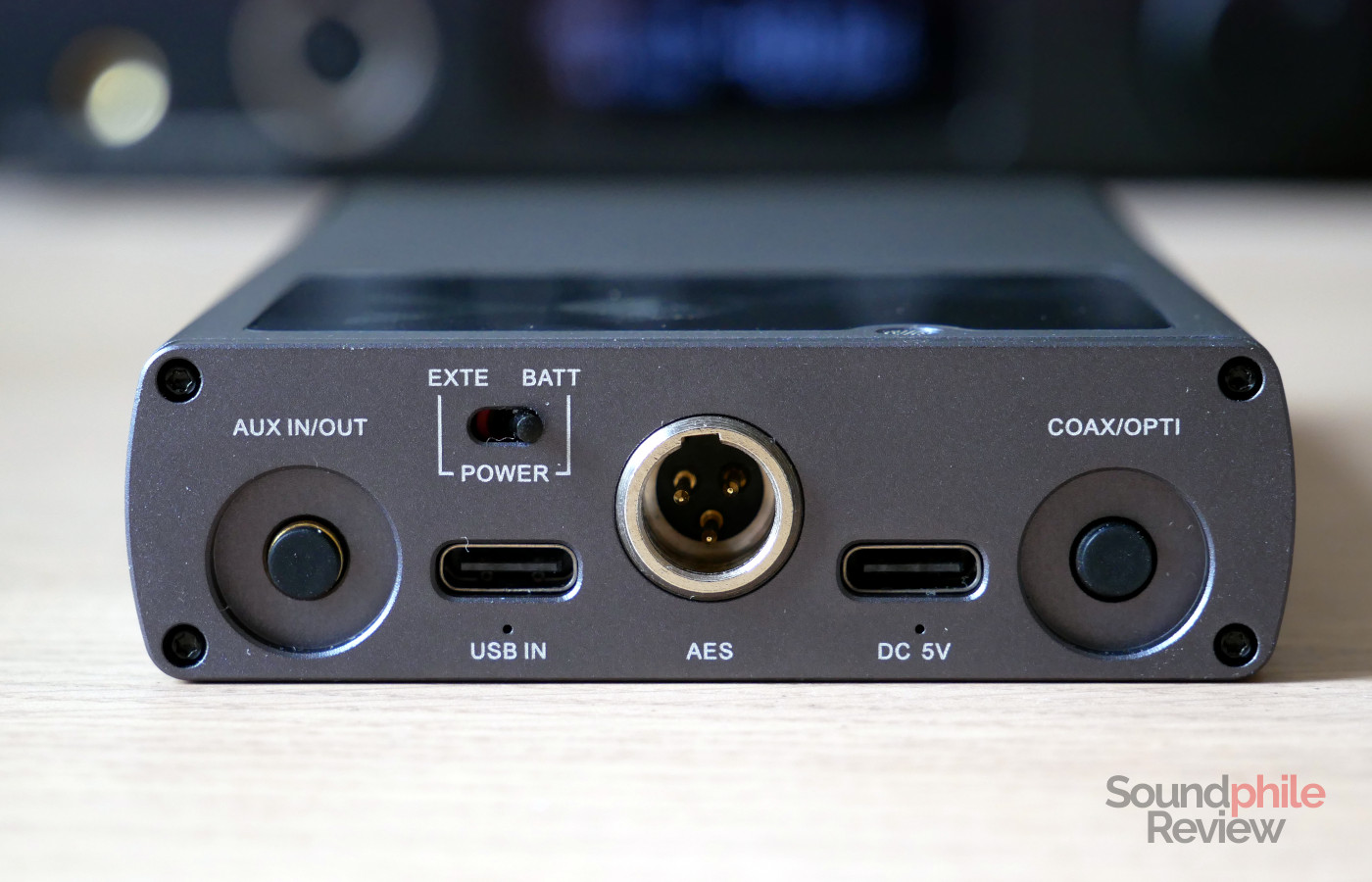 The xDuoo XD-05 Bal offers many ways to connect it to your sources: USB-C, optical, coaxial and even AES in the digital domain, plus aux in/out. This makes it quite versatile and able to be employed in many different use cases. The AES input is basically made to pair it with the xDuoo X10T II, but there's actually quite a large choice of desktop devices that feature that feature the connection as well.
As I mentioned, there's an aux in port which allows you to use the XD-05 Bal plus just as an amplifier, bypassing the digital stage entirely. Selecting aux as the input method actually shuts down the electronics related to the digital portion, allowing you to save battery life. The port actually works as line out as well, though unfortunately this is a real "line out" with no way to adjust the volume.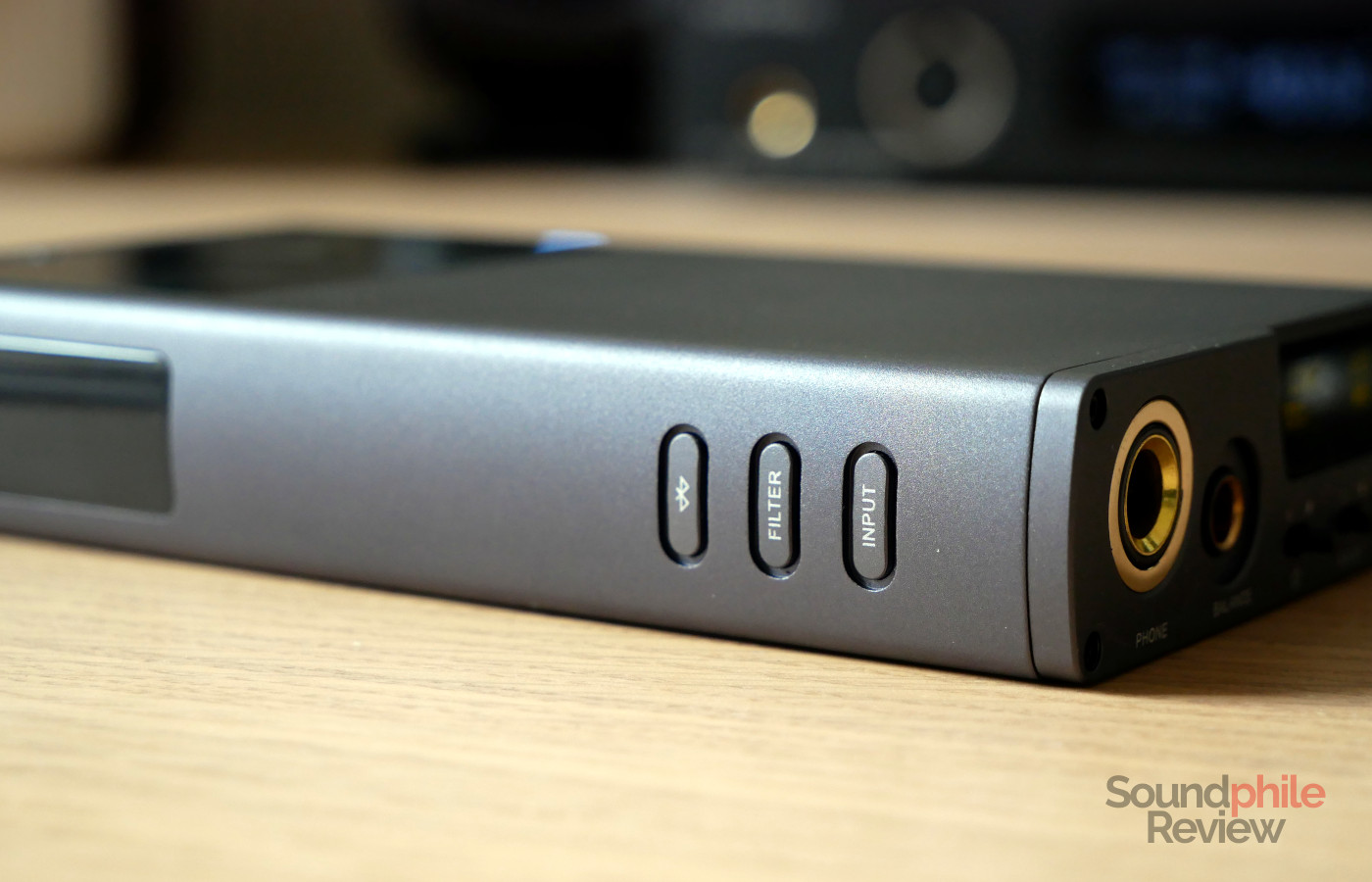 On top of all these possible connections, the XD-05 Bal features Bluetooth as well: although xDuoo doesn't disclose what version of the standard it uses, they do say which codecs are available and those are SBC, AAC, aptX, aptX LL, aptX HD and LDAC. That means that basically every codec out there with the exception of LHDC is represented. The Bluetooth connection is relatively stable, but it's a bit temperamental and shows some random dropouts that are difficult to ascribe to anything specific, while the range is not quite large: I can walk around my small studio, but as soon as I get out of it the connection stutters and there are interruptions. Bluetooth is therefore best used to connect to a smartphone or other connected device in a convenient manner, but not as a mean to have the source too distant from the DAC/amp.
Input
USB (up to 32 bit / 768 kHz PCM, up to DSD512)
AES, optical, coaxial (up to 24 bit / 192 kHz, up to DSD64 through DoP)
Bluetooth (up to 24 bit / 96 kHz)
Suitable headphones impedance
N/A
Output impedance
N/A
Maximum output power
Single-ended:

Balanced:

Frequency response
20 – 20,000 Hz (± 0.5 dB, DAC)
10 – 60,000 Hz (± 0.5 dB, amp)
THD+N (@1 kHz)
< 0.0009% (balanced)
< 0.0015% (single-ended)
SNR
> 117 dB (balanced)
> 115 dB (single-ended)
Crosstalk
> 72 dB
xDuoo uses the ESS Sabre ES9038Q2M DAC, made specifically for mobile applications. It's not clear why xDuoo chose this in place of a desktop DAC, but it may involve battery life. The XD-05 Bal supplies 1 W of power from both the balanced and the unbalanced connectors, which is quite unusual and defeats the purpose of using the balanced one in the first place – since the main advantage around it is the additional power output. It's not clear how THD can be lower on balanced than on single-ended, too, given that balanced is inherently more distorted than single-ended, so if the data is to be trusted there's a suspicion that the path may not be fully balanced and that amplification could be actually not balanced. It's only a suspicion, though, and I have no proof either way, so take this with a full mine of salt.
I found the xDuoo XD-05 Bal too powerful for in-ear headphones and other sensitive, low-impedance headphones: even at the minimum volume, music is just too loud and I had to either lower the volume via software or use a device like the iFi IEMatch. Unfortunately the latter is not an option if you have a 4.4 mm cable as no IEMatch-like device exists currently as far as I know.
Battery Life
xDuoo mentions 9 h of battery life when using the XD-05 Bal with USB input and 24 h when using it with aux input. I found the 9 hours figure with USB to be pretty accurate. Charging takes quite a long time and in my experience it can take up to 5 hours to charge the device an that's quite a long time, even for a device with a battery this large – though once again xDuoo is right here with the numbers.
Since the XD-05 has a hardware switch to power it up, it has no automatic sleep or power off function, so if you forget to power it off it's going to drain the battery completely. I quite like the fact that you can actually choose how to power the XD-05 Bal through a switch on the back, even though I would have preferred for a single USB port to be present since the stock cable xDuoo provides also carries power, defeating the purpose of a distinct port.
Sound
I've tested the xDuoo XD-05 Bal with a HiFiMAN Arya, a Sivga SV021 Robin and a Sennheiser HD 6XX.
With 1 W output, the XD-05 Bal has enough power for basically any headphones out there; even power hungry headphones such as the HE-560 have no issues getting to very high volume. In addition to this, the background is completely devoid of any hum or hiss: you can hear just the music (or the silence, if you press pause).
Soundwise I find the XD-05 Bal to be quite neutral – I can't hear any effect on sound in terms of pure frequency response, as the device gets totally out of the way.
I can hear very little difference when enabling the "boost" feature. I can sense some change, but it's so slight I don't know if it's a product of my imagination (or of the placebo effect). The same goes for the filters: if there is any difference between them, I can't really say I hear it clearly – and that's expected, so there's nothing really new or surprising here.
Final Thoughts
The xDuoo XD-05 Bal is a very welcome evolution over the previous XD-05 devices as it integrates a few changes that are quite welcome: USB-C is certainly one of them, but so are Bluetooth and the 4.4 mm output. The XD-05 Bal is quite a complete device that offers a ton of functionality in a design that's quite convenient to use and that's built to last. It also offers some quite unusual options, too, such as AES input, as well as an accessory set that is beyond complete.
Overall, the xDuoo XD-05 Bal is quite a great device that trades blows with the de facto rulers of this space, the iFi products, while having a much lower price. And while it's by no means perfect, it's a device that has a lot to offer as a portable desktop DAC/amp. So much so that I can't see any valid reason not to put it in the "Best of" page – it's just so good I can't avoid recommending it.