The world is going wireless, for better or for worse (if you ask me, it's for worse). It's ony natural therefore to see Bluetooth amplifiers popping up on the market to address the need for high-quality sources that can do wireless. That's the niche the xDuoo XP-2 fits in, combining Bluetooth 5.0 with (relatively) high power output and a variety of input options.
Disclaimer: Steven at Xtenik sent me this unit and I won't have to return it. They sell the xDuoo XP-2 on their website at $110. Additional information is available on the manufacturer's website.
TL;DR: recap
Pros




Cons

Manages Bluetooth, micro-USB and aux

High-quality codecs

Small and portable – pocket-size even

Does not drain the battery of the source

Low power output

Large imbalance zone on the volume knob

Bluetooth connection has a low range
Rating: 7/10
Accessories & Packaging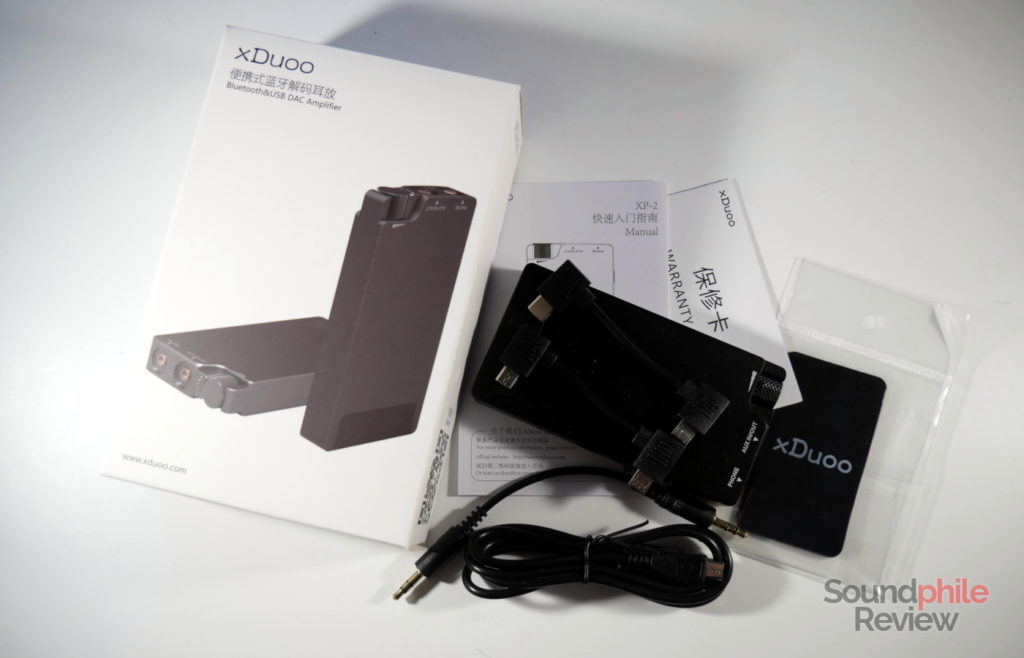 The xDuoo XP-2 comes in typical xDuoo packaging: a (refined) cardboard box with a lot of padding and a few accessories. Those include one USB to micro-USB cable, one short micro-USB to micro-USB cable, one short USB Type-C to micro-USB cable and an adhesive pad that can be used to secure the XP-2 to any device such as smartphones. There is also a manual with basic usage instructions and a warranty card.
Design & Build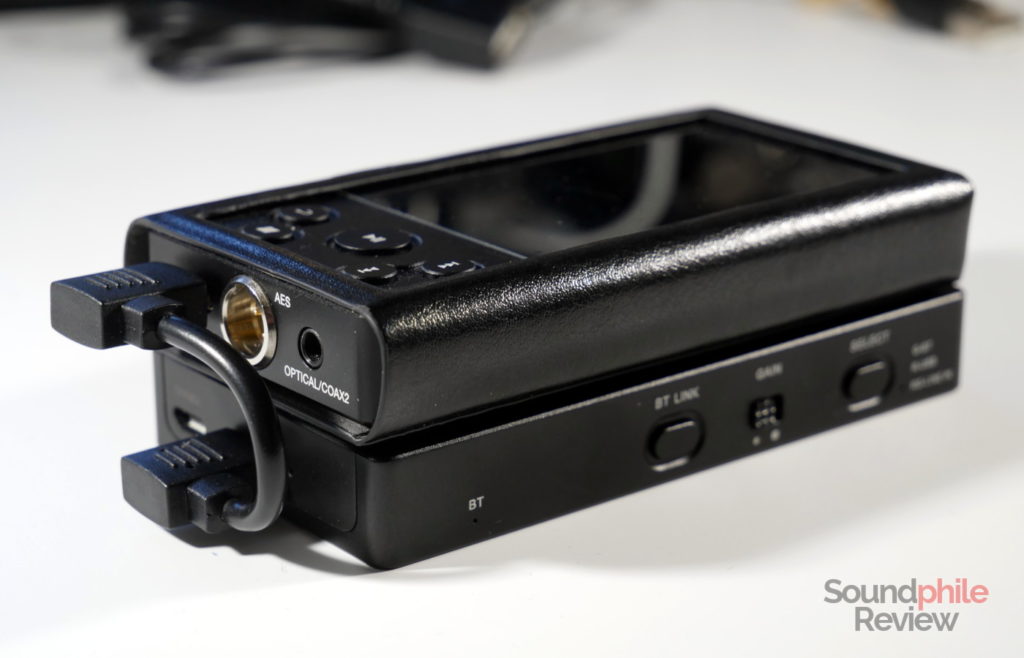 The xDuoo XP-2 is a rectangular slab of aluminium, much like the xDuoo X3-II – except it does not have a screen nor buttons on the front. It is very similar in terms of dimension and even of the radius of corners. The shell is made of a single piece of aluminium with the back fixed to the rest through four screws. The lower corner is made of plastic in order to allow radio waves to pass through it. Design is dead simple – it's a black piece of aluminium with (somewhat inelegant) white text and markings on it. Curiously, the top side is slightly curved, so one can't safely place the XP-2 upside-down on a surface.
The size of the xDuoo XP-2 is not perfectly identical to the players by the company – the X3-II and the X10T II are in fact a bit larger. The difference is small, as the XP-2 is just a couple millimetres taller and four millimetres wider.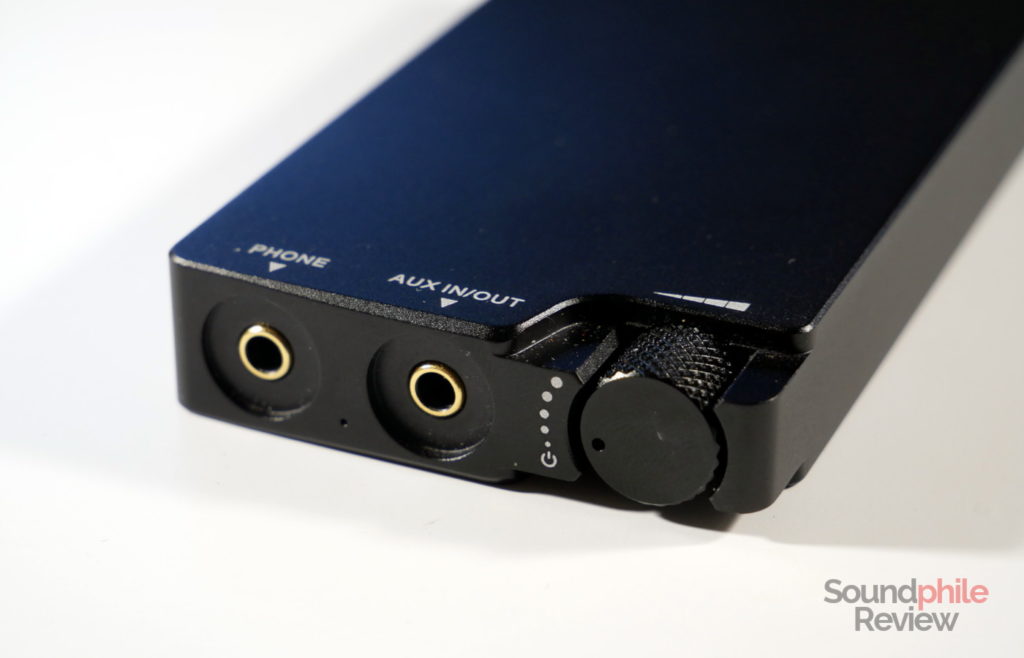 There is a volume knob on top of the xDuoo XP-2 which also acts as the power button – once it is rotated past a certain point, it clicks and the device powers up. The top also hosts the aux input and output port and the headphone output port. On the right side are the Bluetooth pairing mode button, the gain switch (low and high) and the connection mode button. The latter button allows one to choose between Bluetooth, USB and aux inputs; the currently selected mode is indicated by the LED that sits beside the button. There's an additional LED for the status of Bluetooth.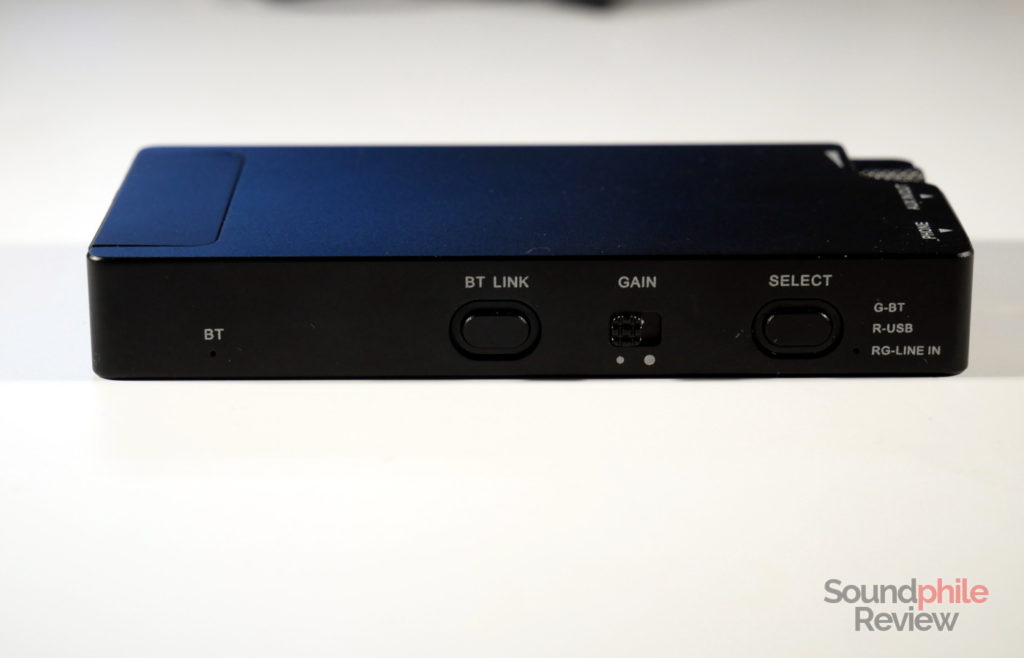 The xDuoo XP-2 is really simple in its design and this also helps in terms of build quality. In fact the XP-2 is built decently well, without clear flaws in its assembly. It's not flawless, as the plastic bits are not flush with the metal ones, but it's still really good.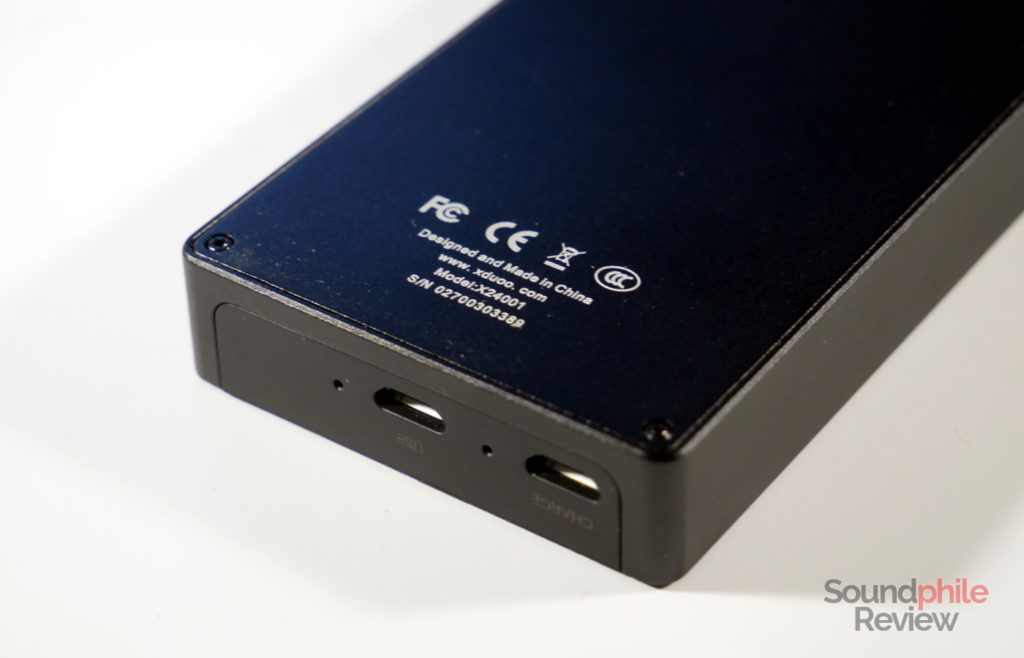 Despite already having USB Type-C products on the market (and despite including a USB Type-C adapter in the box), xDuoo decided to use the old micro-USB standard on the XP-2. My guess is that cost was the main factor behind the choice, as Type-C connectors are still much more expensive than micro-USB ones.
The knob is far from being flawless. It feels good when used as it offers just the right amount of resistance, so a bit of force is needed to rotate it. The machined aluminium makes grip very good. The problem is that the imbalance zone is extremely wide and makes listening to music at low volume nearly impossible with sensitive headphones. Rotation starts around 7 o'clock, but there is no volume at all until 10 o'clock and then the imbalance zone runs through 11 o'clock – below that point the right channel is the only audible one. After the 11 mark it quickly becomes balanced between channels, although at that point power output is enough to make volume excessive on the most sensitive earphones and headphones.
Features & Specs
The xDuoo XP-2 is meant as a Bluetooth DAC and amplifier, but it does not forgo the possibility of using it wired and it also offers aux and USB inputs. This makes it a rather flexible device, one capable of meeting the user's needs in a variety of situations – from purely portable scenarios to desktop ones. Not only can it act as a stand-alone device, leveraging the embedded DAC, but it can also work as an amplifier.
The xDuoo XP-2 features Bluetooth 5.0 as the wireless connection standard and it thankfully includes additional codecs: AAC and aptX, respectively meant for devices with iOS and Android. I say "thankfully" because while Bluetooth 5.0 actually allows for more bandwidth, it does not change anything when it comes to audio – the default is the usual badly-tuned SBC codec which makes Bluetooth famous for its bad quality. The main advantage is that Bluetooth 5.0-equipped devices have better battery life, as the real news is that audio can be managed in low power mode. The inclusion of better-quality codecs (e.g. aptX, LDAC) makes the final audio quality of the xDuoo XP-2 better.
Input
Bluetooth 5.0 with SBC, AAC, aptX codecs

micro-USB (up to 24 bit / 192 kHz)

3.5 mm jack

Suitable headphones impedance
16 – 300 Ω
Output impedance
N/A
Maximum output power
245 mW (32 Ω)
Frequency response
10 Hz – 100 kHz (± 0.5 dB)
THD+N (@1 kHz)
< 0.008%
SNR
N/A
Crosstalk
N/A
With 245 mW at 32 Ω, power output is not great. In fact the xDuoo XP-2 can only do so much with power-hungry or high-impedance headphones. When using my Sennheiser HD 6XX or HiFiMAN HE-560, I could only get to a low listening volume even when maxing out volume and placing the gain switch on "high". The XP-2 only works well with low-impedance, (relatively-) high-sensitivity headphones and earphones.
Connection quality is barely sufficient when using Bluetooth: a few metres are enough for the connection to drop or to interrupt playback. The XP-2 should therefore not be considered as a device one can use to leave the player on the table and then to roam around the house; it is useful if one wants to move inside the same room or within a restricted range near the source.
Battery Life
xDuoo claims a battery life of 15 hours when using aux in, 12 hours when using Bluetooth and 8 hours when using micro-USB. That appears rather surprising as USB is usually seen as less power intensive than Bluetooth, but it seems like they used a power-hungry chipset that drains battery faster than Bluetooth. The figures are close enough to reality anyway, as I was able to squeeze roughly six and a half hours out of the battery using USB and around 10 hours when using Bluetooth.
As it is designed with portability in mind and with mobile devices as the target sources, the xDuoo XP-2 has two micro-USB ports: one is used for charging, the other for data. The reasoning is the following: if one plugged the XP-2 to a normal micro-USB cable and then linked it to a mobile device (phone, tablet…), then the XP-2 would start charging by draining the battery of the device. This is far from ideal. So the solution is to use two micro-USB ports to prevent any battery drainage. The flip side is the impossibility of using one cable when connecting the XP-2 to a laptop or desktop.
Sound
I tested the xDuoo XP-2 with the following headphones: Fearless Audio S8 Pro, BGVP DM7, Tin Audio T3, Hyland Headphones Saturn One and BGVP DMS. I used a Shanling M2X as the wireless source and my desktop PC and laptop as the wired sources. FLAC files (16 bit / 44.1 kHz) were used. I also used an iFi IEMatch.
Due to the large imbalance zone and to the large imbalance present there, it may be difficult to use the XP-2 with sensitive earphones without an attenuator. Were it not for this, the xDuoo XP-2 would be really good as it has no background noise at all.
As the DAC is the same, there is no real and discernible difference in sound quality between the Bluetooth connection and the micro-USB one as far as tuning and technical ability is concerned. This is expected and normal if we take into account the differences made by the codecs and the fact that Bluetooth compresses the music. The differences in tuning are negligible, if there are any.
The xDuoo XP-2 is slightly warm or, more correctly, less bright than other sources which I deem transparent and almost perfectly neutral (e.g. iFi xDSD).  There is in fact a bit less presence in the upper midrange and lower treble which makes the sound appear more laid back and mellow. All in all it's not a bad presentation at all, as it is relaxing and pleasant – it's just not perfectly transparent, so this has to be taken into account.
The sound is also not as three-dimensional and wide, with good instrument separation that is not however as clear-cut as on the xDSD. This is not to say that it is bad, because it clearly is not: instruments are still clear and clean, just not to the maximum extent.
Final Thoughts
The xDuoo XP-2 is a relaxing, enjoyable DAC and amplifier that can provide good sound quality while on the move. It isn't able to compete with more accurate (and expensive) products, but it is a great compromise in all relevant respects. It has a few significant flaws, such as the large imbalance zone and the low power output, that somewhat restrict the range of possible use cases. If one can put up with its limitations it can be quite satisfying, though. It's a nice little box.