With the death of the 3.5 mm jack on phones, which some companies are shameless enough to say it's for the sake of "courage" (as they would have no valid reason to give otherwise), the market for dongles and adapters is booming. Why have something that has always been in phones for free when you can make people pay for it? Audio companies saw the opportunity to deliver new products and new form factors and took it, some with more merit than others. The iBasso DC02 is a small dongle for the 3.5 mm aficionados that also look for compatibility with high-res audio, and it offers a bit more power than usual dongles while keeping a tiny footprint – a fact which makes it worth looking at.
Disclaimer: I received a free sample from Sunny at HiFiGo. They sell the DC02 on their online store at $59. A $5 discount is available using code IBASSODC02.

TL;DR: recap
Pros




Cons

Extremely small and portable

Very good build quality

Laid-back tuning with a touch of warmth

Very low power output
Rating: 8/10
Packaging & Accessories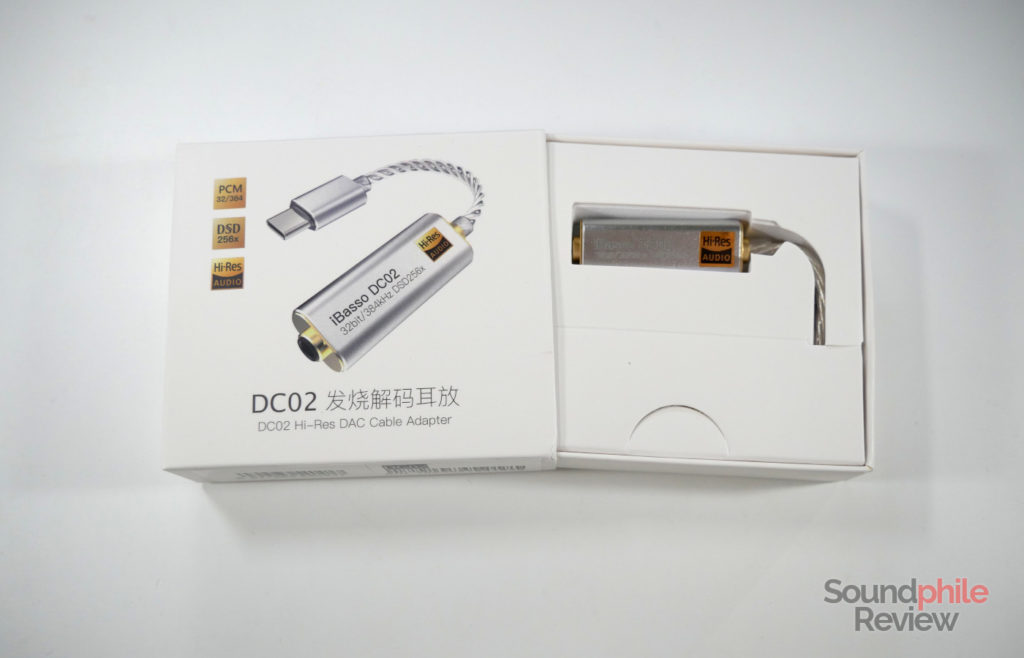 Well, to say that packaging is not the main focus of the DC02 would be an understatement. Despair not, though, as the cardboard box the device comes in is more than sufficient to protect it. It's just really, really simple and almost bare in its presentation, but it's practical. Inside the box are the device, a USB Type-C to USB Type-A adapter and a manual.
Design & Build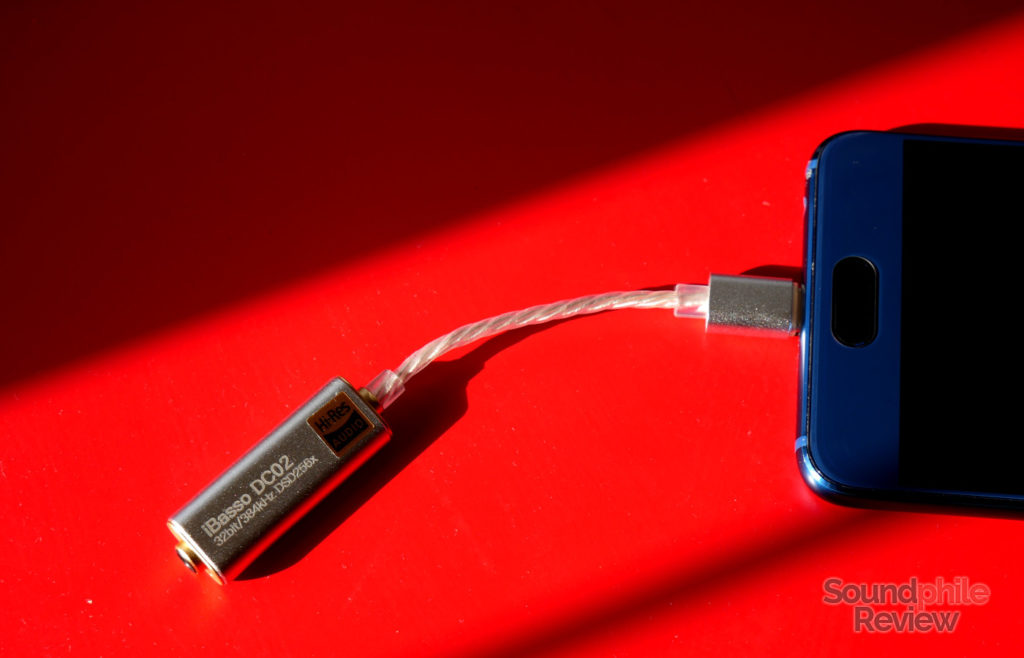 The iBasso DC02 appears like the usual USB audio dongle: a USB Type-C connector on one side, a cable and a small metallic housing with a 3.5 mm jack on one end. Finding a unique design is not easy given the constraints designers have to work with, but iBasso managed to find a good compromise between beauty and usability. The housings are made of aluminium with a grainy-looking (but smooth) texture, with strain reliefs made of transparent plastic between them. The cable is silver-plated and is covered by a thick and relatively stiff transparent plastic sleeve. The larger housing, the one where the jack output is, has golden "lids" on both ends and the iBasso DC02 name printed on it. There is also a genuine "Hi-Res Audio" sticker on it. Beside the jack port is a small hole where a status LED is.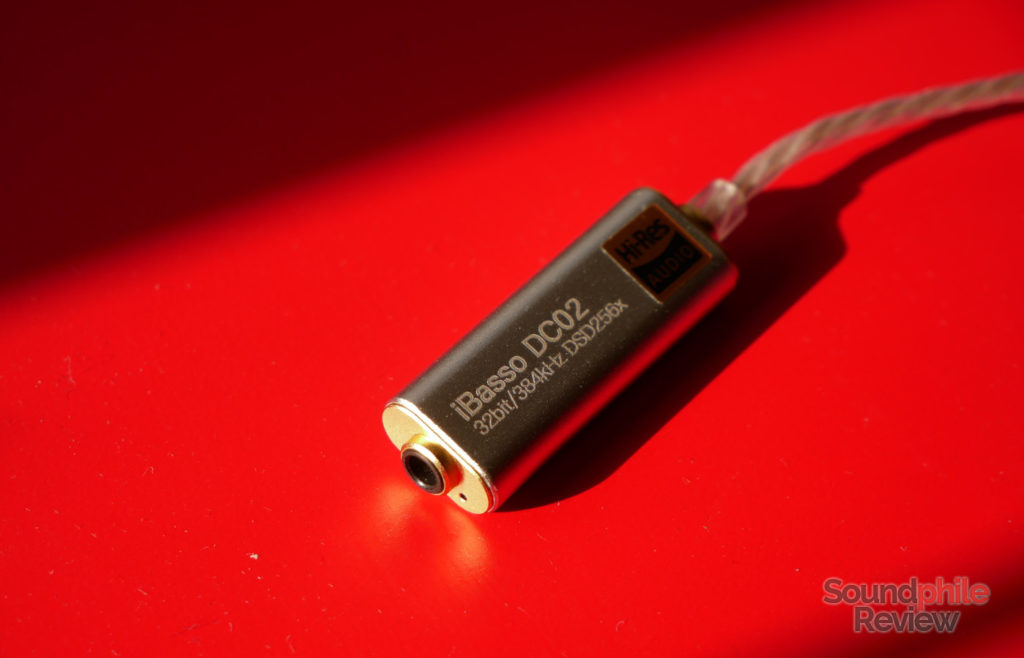 All in all the iBasso DC02 does not innovate too much on the design front, though it's different from other "mobile DACs" I've seen due to the larger housing where the jack is, but it's elegant and refined. In my opinion it's actually more elegant and refined than already great products such as the Audirect Beam or the Creative SXFi AMP. Contrary to those, though, the iBasso DC02 does not have any physical controls, instead relying on software. More on that in the next section.
In terms of build quality, it appears to be well made and I can't find significant flaws in its construction. One thing that has to be noted is the presence of a USB Type-C port, which makes it impossible to use on iPhones and older iPads with Lightning ports unless one uses a special adapter – which then might seem a bit overkill.
Specs & Features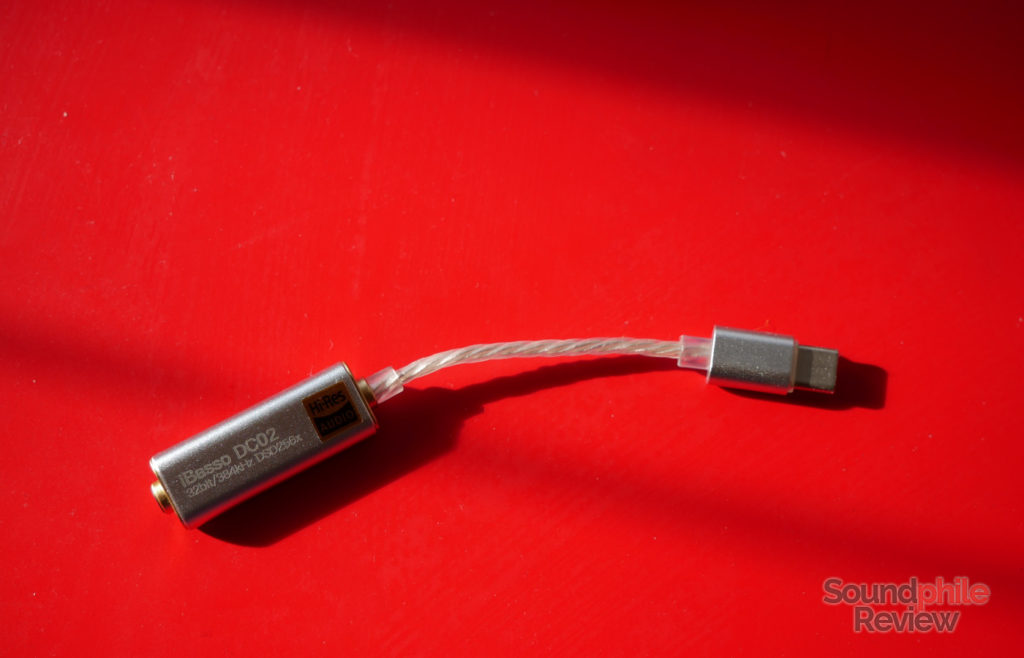 While most platforms (macOS, Linux, iOS…) support USB Audio Class 2, other platforms do not. This support is essential in order to control volume using hardware instead of software, and therefore to keep sound quality intact despite the lower volume. That's why iBasso has drivers for Windows and an app for Android: because the former does not support USB Audio Class 2 natively before version 1809, and the latter has varying implementations of USB Audio and compatibility is not always guaranteed (one of the many, many sides of Android fragmentation…). Speaking of Android fragmentation, not every phone out there supports audio output through USB and even if it does there is a non-trivial chance that the implementation is off-standard, so keep that in mind.
| | |
| --- | --- |
| Input | USB (up to 32 bit / 384 kHz PCM, DSD256) |
| Suitable headphones impedance | N/A |
| Output impedance | N/A |
| Maximum output power | 25 mW (32 Ω) |
| Frequency response | 20 – 40,000 Hz (± 0.5 dB) |
| THD+N (@1 kHz) | < 0.001% (32 Ω) |
| SNR | N/A |
| Crosstalk | N/A |
Alas iBasso only publishes partial specifications for the DC02, contrary to the DC01. They say it's 900 mV at 32 Ω, which would amount to a very low 25 mW power output. That's even less than some smartphones! The main advantage over those would only be in terms of compatible formats, as the DC02 is compatible with PCM streams up to 32 bit / 384 kHz and DSD streams up to DSD256.
Inside the iBasso DC02 is an AKM AK4490EQ DAC, which is now five years old but which still has some impressive specs and is widely regarded as a great DAC.
Sound
I tested the iBasso DC02 using a few headphones, including the Moondrop A8, Sennheiser HD 6XX and Tin HiFi P1. I mainly used the iBasso DC02 with my notebook, desktop PC and Shanling M2X.
Despite the output power being rated as low, I was able to get a decent volume out of the HD 6XX even if I was using the DC02 at 35% of its volume. That came as a surprise to me, though the device was then not really able to drive the HD 6XX correctly as bass and highs were a bit lacking and not precisely controlled. They sounded much more open, too, when using them with more powerful amplification (e.g. Topping DX7), so that's another thing to keep in mind if planning to use the DC02 with high-impedance cans.
Background is black despite power not being clean (other DACs have background noise using the same PC and cable). This is a sign that iBasso did good in the design of the device.
The main limit of the iBasso DC02 is its output power which makes it unable to drive headphones with high impedance and/or low sensitivity. Apart from this I would say that it is a perfectly fine mobile DAC, with a good level of detail and a good speed. In terms of tuning, it seems to me like it is warmer than other sources, or at least there is a bit less presence in the upper midrange and treble. It's a very slight difference, so small it could be just an impression of mine, but I've been hearing it consistently and that's why I write about it (and it has to be noticed that I usually don't hear differences in solid-state amplifiers).
Final Thoughts
The iBasso DC02 has an advantage over most of these mobile DACs made to pair with phones and other portable devices: it supports high-res PCM streams and DSD streams. That's not usual, though it's not the only one – the aforementioned Audirect Beam offers that support, too. So the real value of the DC02 is in its support for these exotic formats together with a lower price and a smaller footprint, although power output is lower too. The judgement on the iBasso DC02 is positive, but I feel like this device would be much more competitive (and attractive) if it was priced $10 less. The DC02 also suffers from the DC01 being the star of the show thanks to its better specs and balanced output. I still think it is a great device and that it's still marvellous how they managed to fit everything into such a tiny device with such a good manufacturing quality. iBasso deserves credit for their effort.