DACs are getting smaller and smaller without losing on audio quality – you might call it progress. Radsone's EarStudio HUD100 is so small it is just a fraction of the smallest portable DACs, yet it packs quite an interesting set of features and high output.
Disclaimer: I received this unit straight from Radsone. The EarStudio HUD100 retails for $149 on Drop.com.
TL;DR: recap
Pros




Cons

Extremely small size

High power output

Intelligent filters

USB-C!

No onboard volume control
Rating: 9/10
Packaging & Accessories
The EarStudio HUD100 comes with a fairly generous set of accessories which includes a leatherette case, a 10 cm and a 1 m USB to USB-C cables and a manual. The case is really small and I found it requires some practice to get the HUD100 out – one has to push on the closed end in order for the device to move and be at fingertip's reach. It's still quite a good addition as it prevents the device from getting scratches while in the bag.
Design & Build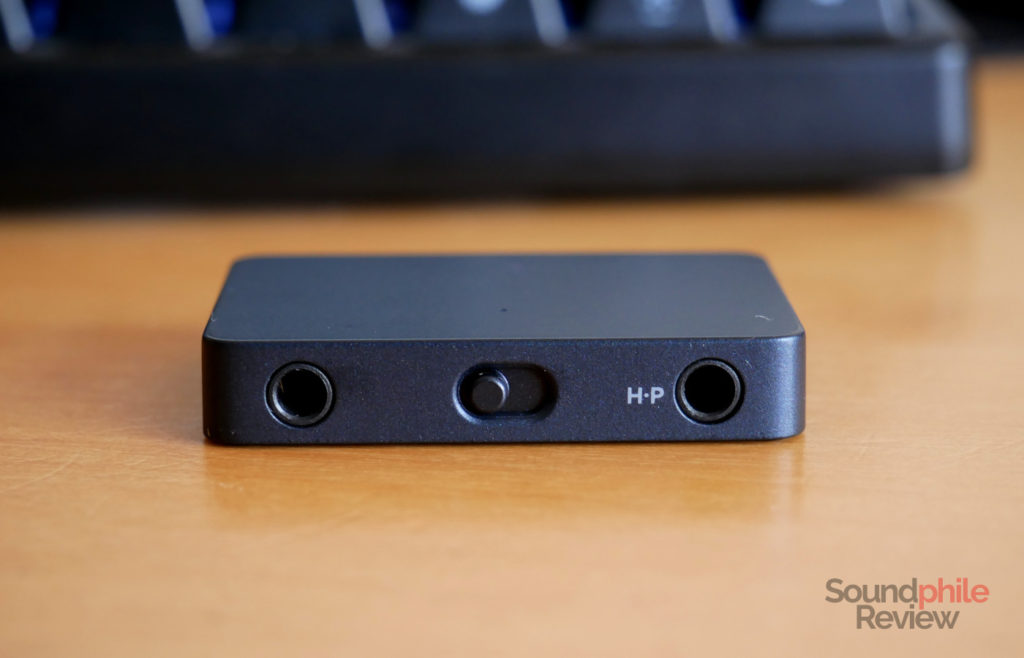 Tiny is the first word that comes to my mind when I think of the HUD100. This device is in fact just 45 x 32 x 8 mm – yes, it is tiny! It's made of two pieces of aluminium and is unremarkable in its design, which is a positive thing as it keeps the size to a minimum and has a "no nonsense" approach to design (my favourite approach, really). It's mostly squared, with the lateral edges smoothed.
The top hosts a status LED which indicates the current sampling rate, the front hosts two 3.5 mm jacks (one for "normal" output and the other for high power output) and a filter selector, the back hosts a slider for firmware updates and a USB-C port.
The EarStudio HUD100 is built flawlessly and I see no concerns on this front – it's basically a small chunk of metal with some electronics inside.
Features & Specs
Volume is controlled by the source and there is no way to control it directly from the HUD100 (no volume knob, you know…). While it is digitally controlled, the actual volume adjustment is done in the analogue domain.
Radsone advertises support for Windows and macOS, but the EarStudio HUD100 is perfectly supported under Linux, too (without any user intervention!). There is also support on Android and iOS, though you will need cables for both.
Input
USB (up to 24 bit / 384 kHz PCM, DSD128 via DoP)
Suitable headphones impedance
N/A
Output impedance
N/A
Maximum output power
52 mW (16 Ω, normal mode)
319 mW (16 Ω, high power mode)
Frequency response
N/A
THD+N (@1 kHz)
0.00056% (standard mode)

0.00079% (high power mode)

SNR
118 dB
Crosstalk
N/A
Alas Radsone did not deliver the usual huge amount of information for nerds and instead limited the available specs on the device to the basics. Inside the EarStudio HUD100 is an AKM AK4377 DAC, a 32-bit DAC which theoretically supports PCM streams up to 768 kHz and DSD256. It is the same DAC used in the Creative SXFi AMP, as an example.
Despite being so small, the EarStudio HUD100 offers quite a large power output: the company declares 0.914 Vrms of output in normal mode and 2.26 Vrms in high power mode. This translates to 52 mW @ 16 Ω in normal mode, which are enough to power low-impedance earphones and mobile headphones, and to a stunning 319 mW @ 16 Ω in high power mode. The high power mode has enough juice to drive headphones with 300 Ω impedance with fairly good results (it outputs 17 mW at 300 Ω, but that's enough to get a decently high volume in most cases).
What's interesting about the EarStudio HUD100 is the fact that it uses an ARM Cortex processor to implement its DSP algorithms. Radsone worked on two different algorithms: "DCT", which should recreate the same analogue feeling of tubes and vinyl records, and "Dynamic", which should provide a more dynamic and powerful sound.
Sound
I tested the EarStudio HUD100 using a variety of headphones including the HiFiMAN HE-560, the Tin HiFi T4, the Spirit Torino Radiante and the Shozy Form 1.4. Most source files were FLACs ripped from CDs (and therefore in 16 bit, 44.1 kHz format)
Power output is enough to power any headphones I own, including the famously-hard-to-drive HiFiMAN HE-560 in the cover picture. The high power output port should have enough juice to drive even high-impedance headphones with good results.
The EarStudio HUD100 offers three different filters to change how the sound is processed and, ultimately, the signature of the headphones connected to it. They act as follows:
bypass: this filter bypasses processing entirely, as its name says, and delivers music without altering it;
DCT: the second filter aims to give the listener a more "analogue" feeling, in that there is a slight boost in bass and lower midrange presence and a little less speed to them;
dynamic: the last filter gives more punch to music by boosting the presence of bass and sub-bass. No other differences are present.
The differences are in any case small, yet they are enough to be audible clearly. The "bypass" mode has no colouration I can discern and provides an unfiltered look on music. It gives you a clean, clear representation of the music you are playing without ever getting in the way. This lack of colouration means that whatever you are going to play it's going to be equally good.
Final Thoughts
Looks don't always tell the whole story – that's as true about people than it is about audio. The EarStudio HUD100 confirms that once again, as it offers a large power output with some interesting filtering options despite being one of the tiniest DACs I've tried to date. The thing about the HUD100 is that it is as good when used on the go as it is when used at the desktop. It improves the listening experience as it provides enough power to drive practically anything while also offering the listener the ability to change the signature through intelligently-designed filters. It's as easy to like this device as it is to use it – just plug it in, connect your headphones and you're done.