One of the latest trends in the Chi-Fi space is tuning through switches on the earphones. The BGVP DH3 are an example of this: they have two switches on top of the shells, so one can experiment with different tunings. They are classic BGVP headphones in terms of both tuning and design, though the extra bit of the switches obviously set them apart from the rest of the line-up. It's hard to say if this tuning switches thing will be only a temporary fad or if it is the start of a new evolution of the earphone space, but it's an interesting change – let's dig into it.
Disclaimer: Lillian at Linsoul kindly sent me this unit free of charge for the purpose of this review. The DH3 are on sale on Linsoul's Amazon page for $169.
TL;DR: recap
Pros




Cons

Comfortable

Decently neutral signature

Tuning system with switches

Peak in the lower treble region
Rating: 8/10
Packaging & Accessories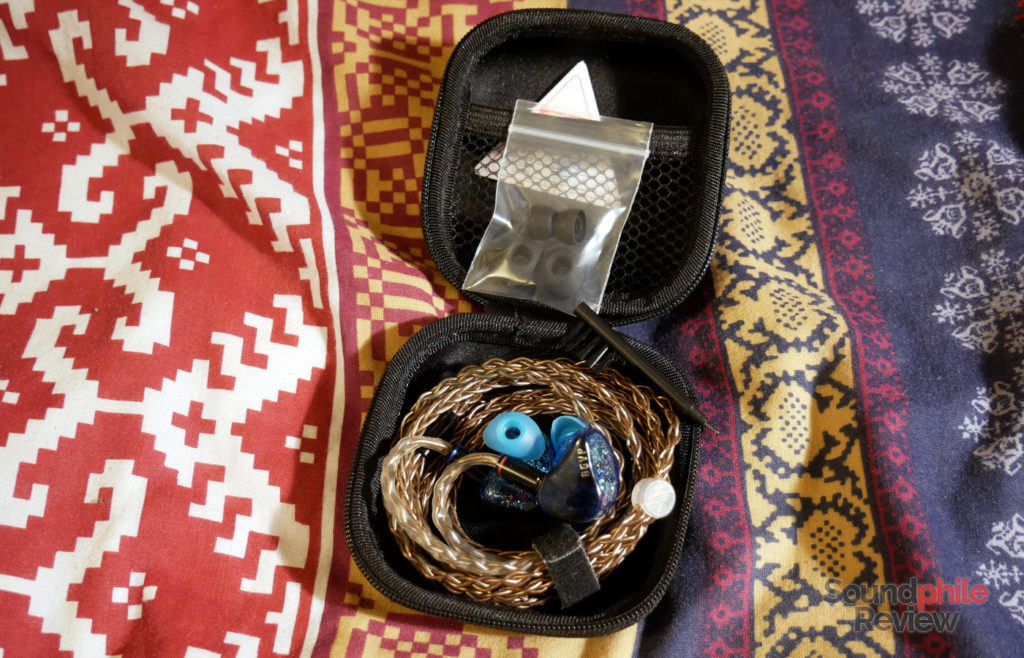 BGVP fitted the DH3 with a good amount of accessories. They even (finally) put in a hard case! Other accessories include SpinFit-like eartips, black silicone tips and a brush to clean the nozzle.
Design & Comfort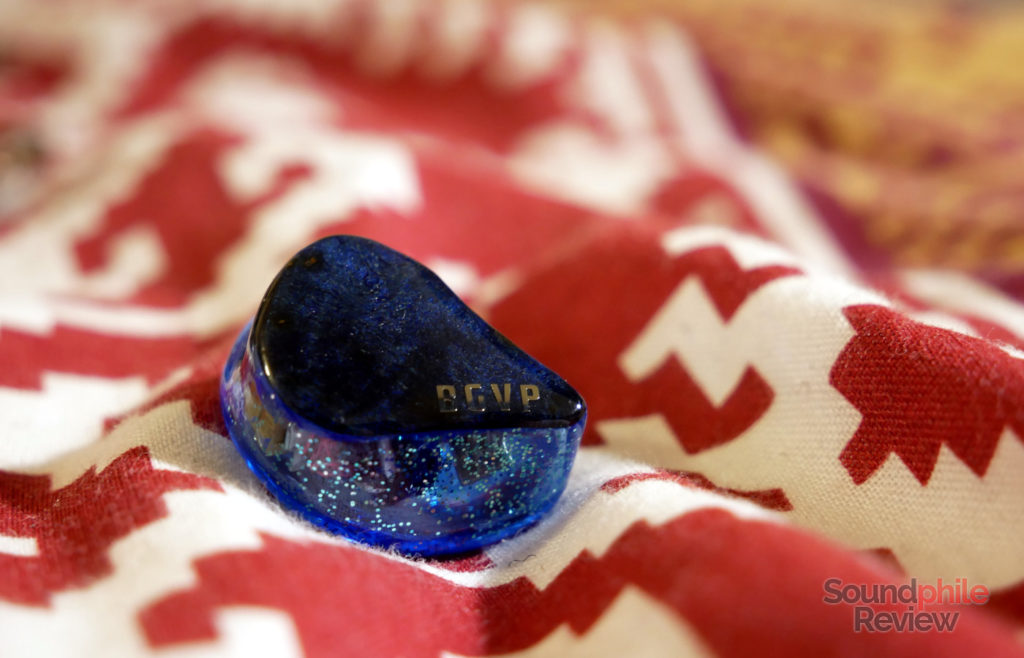 We might say the design is typical BGVP, but there are a few peculiarities about the DH3 that set it apart from other models in their line-up. The general shape is roughly the same of the DM6 – a triangular shell with a few (small) valleys and peaks to make it more comfortable. What's different is not much the design in terms of shapes, but the colours and the materials. The BGVP DH3 is in fact made of plastic in two different tones: the shell is light blue and has glitters in it, while the faceplate is dark blue and has darker whirls in it.
The faceplate is especially interesting as it seems to have swirling clouds of varying shades of dark blue on it, with the BGVP text in silver in one corner. They look great! It's not something super fancy, but it's simply beautiful.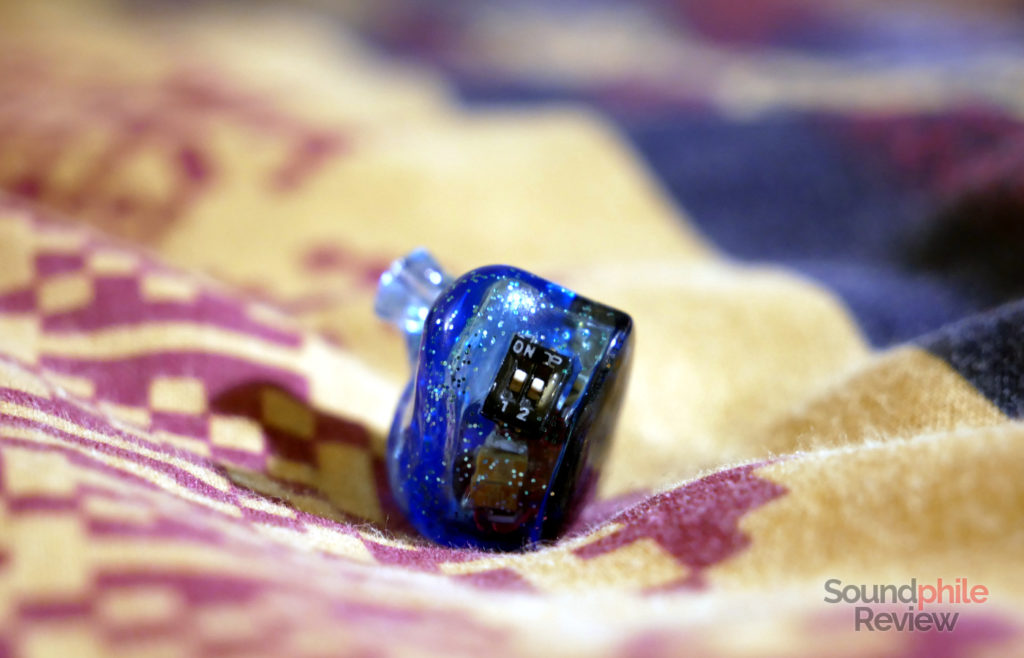 In terms of build quality, the BGVP DH3 are not too distant from the other headphones in the BGVP line-up I've tried so far: they're made of plastic which seems to be put together fairly well. The only things that puzzles me a bit are the lips on the nozzle: they're large, yet they don't seem to be able to retain the eartips when I take the earphones out of my ears. In more than one occasion the eartips got stuck in my ear canal because the lips couldn't keep them on.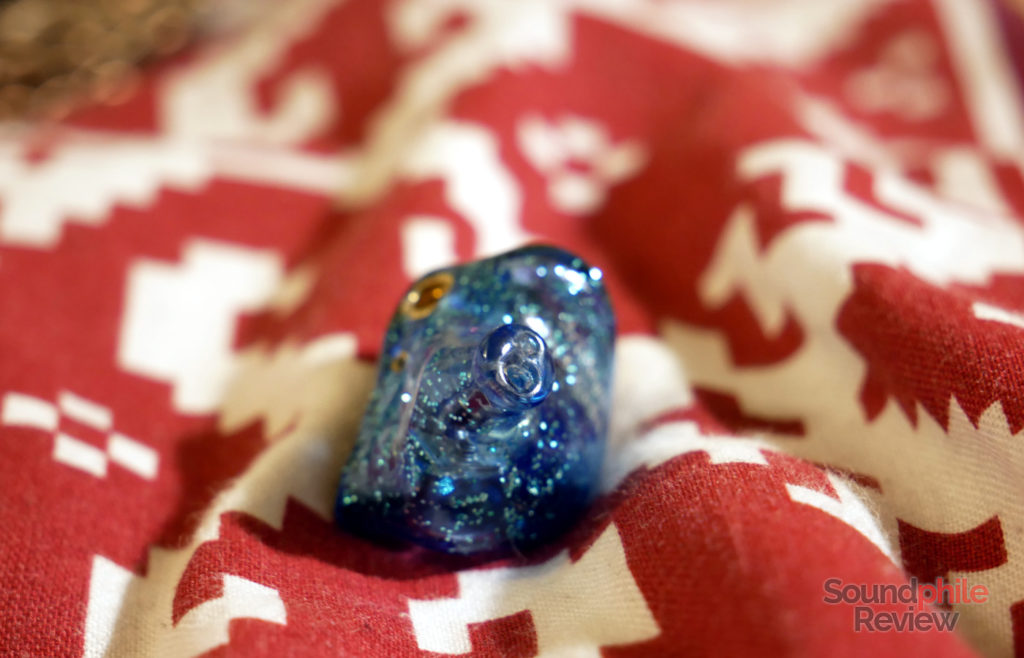 Comfort is really good and I can wear the BGVP DH3 for many hours at a time, without much discomfort building up. That's especially true when using foam eartips.
Isolation is low enough to be almost negligible, whatever eartips I have tried to use. The BGVP DH3 therefore are not recommended for usage in loud environments, unless you really want to crank the volume up (which I recommend not to do).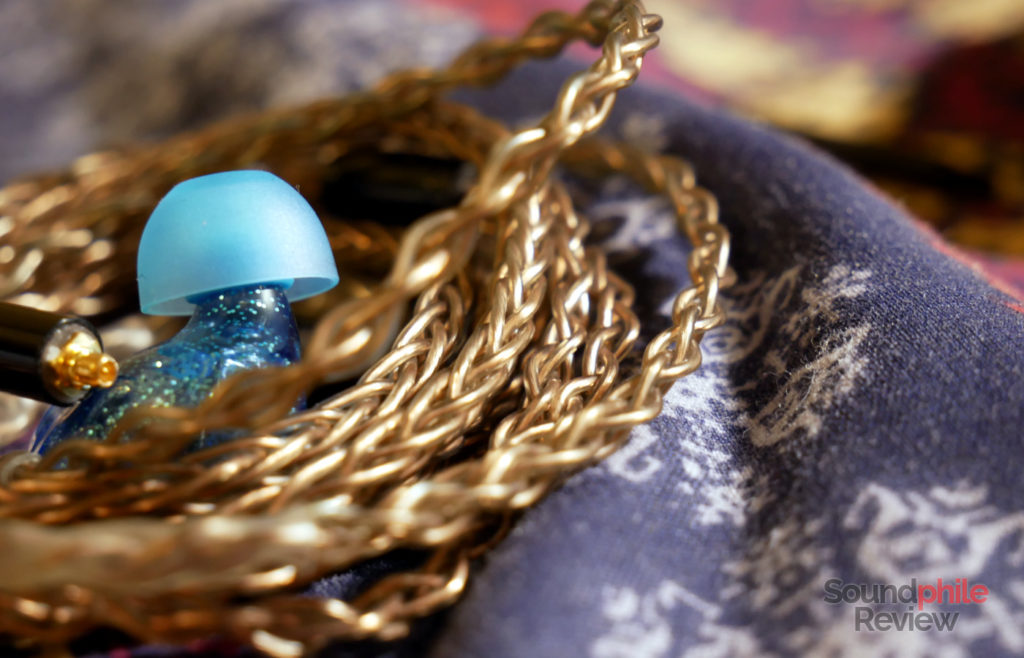 The cable has eight cores with a dark copper hue, possibly also caused by the plastic sleeve. The cable is relatively soft, though it tends to have kinks which are then hard to remove (and which make the cable not go in the direction one would like it to).
Sound & Specs
I mostly listened to the BGVP DH3 using a Burson Audio Playmate while I was at the desk and a Shanling M2X while I was not. In both cases source files were the same and were mostly standard-resolution FLACs (16 bit / 44.1 kHz).
| | |
| --- | --- |
| Frequency response | 10 – 40,000 Hz |
| Impedance | 15 Ω |
| Sensitivity | 105 dB |
The BGVP DH3 uses a single dynamic driver coupled with two balanced armatures made by Knowles. The dynamic driver takes care of the low end, one balanced armature is dedicated to upper midrange and the other to treble.
Soundstage is moderately wide, with a hint of depth that gives sound a relatively large space to move into. Imaging is decent, though the sensation of sound coming from inside the ears is always there; despite that, instruments are placed in a variety of places in space so they sound like they come from different points. Instrument separation is good and leads to good clarity.
The general signature is leaning towards neutrality, though there is a small peak in the lower treble area that may be fatiguing to some people (me included). It's not immediately perceivable as such, and it does not have a huge influence on the tonality, but I feel a fatigue on my tympani when using the DH3, even at low volume. That's why I realised it is there. Now, this may be a personal issue with this specific frequency, so please take my words with a large pinch of salt.
The BGVP DH3 does not have a filtering system as other earphones on the market, but they have a tuning system based on switches which alter the behaviour of the crossover and therefore the frequency response. There are two switches, with a total of four possible tunings. The fact is that there are just two relevant switch positions: with the first switch set to "0" and with the first switch set to "1". The second switch seems to have such a minor impact that it's not noticeable. Here's a rundown of the four switch positions:
00/01: there is noticeably less bass, and the midrange is also more recessed. Bass is not only less emphasised, but also less deep – or, to say it more correctly, less present in the deeper areas. This setting is the most neutral one.
10/11: read on!
The following description is based on the "11" filter configuration, so with both switches on the "1" (or activated) position.
Bass is deep and just north of neutrality, without the peculiar features of dynamic drivers. What I means is that usually dynamic drivers have punchy, physical bass, whereas the DH3 lack such features and are closer to what balanced armatures offer. They're actually halfway between the two extremes: they're not as fast and controlled as those produced by balanced armatures, but they're a bit more physical and with longer decay which feels more natural. In terms of depth, they reach down to 30 Hz with very good presence and then roll off below that. They definitely do lay a solid foundation for the rest of the sound, which is therefore full and well-rounded. There's a very good amount of detail in this space, though more crowded tracks lead to some smearing.
In terms of tuning, midrange is really easy to like: it has close to no colouration and its place in the mix is right in the centre as it should be. It's always clearly audible as it is in the front of the stage, so it never sounds distant or suffocated – on the contrary, it is always just there in front of you. This leads to everything from voices to guitars, from drums to pianos to be where you would expect them. There's also great clarity, so they sound polished too. The amount of detail is really good, with little details popping up everywhere – though the smallest details still elude the DH3. As for physicality, lower midrange is much more physical than the rest. In Tool's Ticks & Leeches drums are much more physical than the bass drum. This is a bit unexpected given the setup, but it is explained by the small diameter of the dynamic driver: it is small, so it moves relatively little air that lower frequencies require to create the feeling of impact and physicality. Speed is really, really good, so percussion instruments sound really nice – Dead Already from the American Beauty soundtrack has many drums and other percussion instruments that sound great.
My own preference goes towards neutral, "analytical" signatures, so I like treble to be present in the mix instead of it being laid-back or rolled off. The BGVP DH3 are just perfect in terms of treble tuning in my opinion. Personal preference notes aside, I think that treble has really good tuning as it is present in the mix without being overly emphasised, and on the other hand with good extension. It has good tonality, too, with the aforementioned small peak around the 3-3.5 kHz mark that is however small enough not to be piercing or to influence the overall tonality too much. There is also a surprising amount of detail to be found here: even smaller details come through easily, however crowded the track is.
BGVP DH3 Comparisons
Here's a comparison with other earphones, of which just the Tansio Mirai has switches like the DH3:
Tansio Mirai TSMR3 Pro: the TSMR3 Pro feature a similar tuning mechanism that uses switches to alter the tuning. The two earphones are however different in how they portray sound. The TSMR3 Pro have a bit less overall bass presence, but their deeper notes are more clearly audible and there's a bit more control and speed; midrange has a bit more emphasis on the upper area and it's more detailed; treble is very similar both in extension and detail. The DH3 are more physical, but generally a bit slower. Soundstage is wider on the TSMR3 Pro, but imaging is better on the DH3, while instrument separation is better on the TSMR3 Pro that appear clearer and cleaner.
BGVP DM7: the DM7 are superior to the DH3, yet there are some things that make the latter preferable to many people. Even though the DM7 are more technically accomplished, their treble is more emphasised and therefore more fatiguing to some. Bass is much less deep on the DM7 while also being more detailed, fast and controlled; midrange is similar, with a bit less presence in the lower area that makes it brighter; treble is more prominent and more sibilant. In any case, the DM7 are more detailed and faster, sometimes even more physical. They seem to lack bass in comparison to the DH3 due to the relatively weak lowest notes. Soundstage is wider on the DM7 and imaging is more accurate, while instrument separation is much better.
Final Thoughts
The BGVP DH3 are very good in-ear headphones for the price. They lean towards neutrality and, for the joy of those preferring more fun, the integrated switch system allows one to tune them and add some more low-end oomph. The good comfort, good building quality and good technical ability make them easy to recommend. They're a great addition to an existing collection or a good way to start with in-ear headphones costing more than $100!