FiiO's newest low-tier offering is the FiiO X3 III, a new take on the X3 range which also gets a few bonus features from its higher-tier siblings. With a complete renovation of design and the all-new all-touch navigation wheel, the X3 III feels new yet familiar.
This, together with the X1 II, is the only device in FiiO's lineup not to use Android as its operating system. It's the well-known FiiO OS that powers it, with a few new features and a few incredibly annoying bugs.
Disclaimer: FiiO's Italian distributor, PlayStereo, kindly loaned a unit to me in order to write this review. The unit was returned to them after the review had been published. They sell it here.
TL;DR: recap
Pros




Cons

Solid build, modern design

Intuitive, minimal UI

Decent battery life

Neutral, transparent sound

Balanced output

No gapless playback

No automatic power off, just sleep mode

It skips the first half a second of every track
Rating: 7/10
Packaging & Accessories
As I wrote in the Out of the box: FiiO X3 III article, the box has many accessories which are typically sold separately in this price bracket: two cases, one made of silicone and one of faux leather; a 3.5 mm to coaxial adapter; a USB to micro-USB cable; two screen protector films and a few manuals and leaflets. You can have a look at the Out of the Box article I published a few weeks ago for additional information.
Design & Build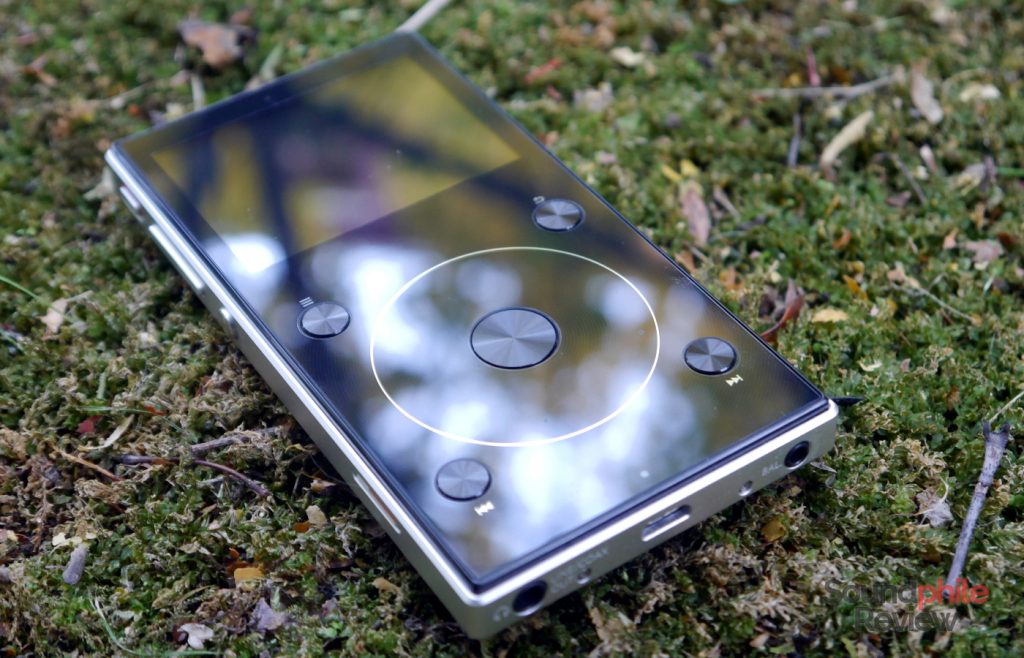 The FiiO X3 III inherits a lot of design cues from its predecessors: we find the same rectangular landscape screen with a wheel below it, surrounded by four buttons. It is very similar to the FiiO X5 II, though the wheel is now fully touch and is flush with the rest of the front.
The body is made of aluminium, while the back is covered in plastic at the top and the front is covered in glass. While it is not as premium-looking as the similarly-priced Aune M1s, the FiiO X3 III holds its own against the competition thanks to good build quality.
Though it is 114 x 59 x 12.8 mm and it weighs 126 g, the FiiO X3 III fits in every pocket and it is easy to forget about it once it's there. Its shape also allows you to keep hold of it easily, since it's smaller and a bit thicker than most current smartphones.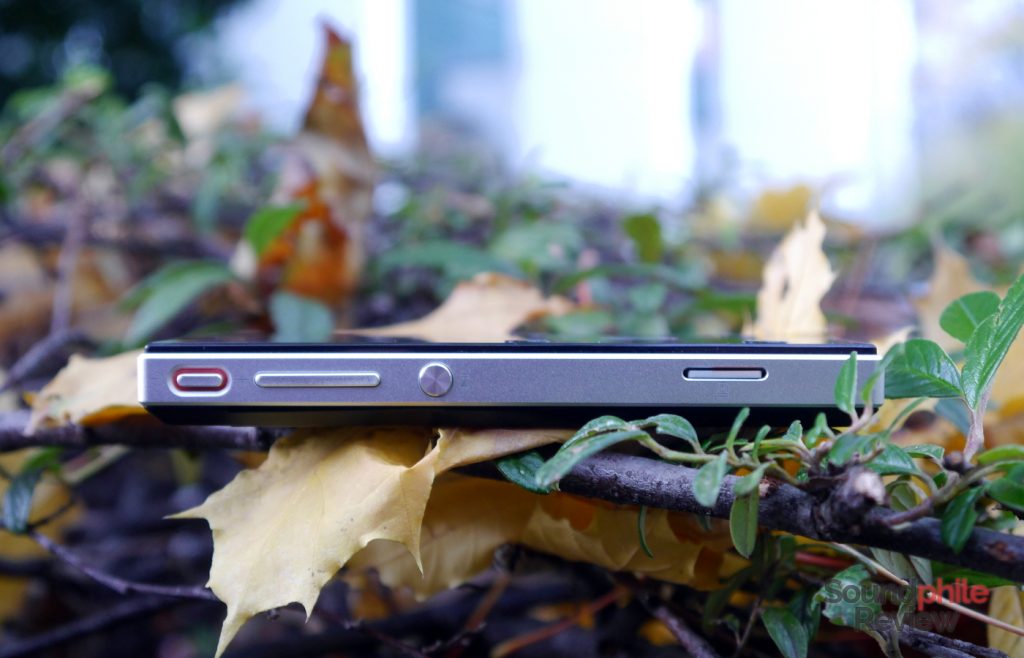 The device appears rather solid in its entirety, though the glass front has me a bit worried about its resistance to accidents. It feels great when held in hand, though, and the cases provided in the box should help avoid unpleasant consequences to falls and the like.
The left side hosts most playback-related buttons: from top to bottom, we find the power button, the volume rocker and the play/pause button. There's the microSD slot, too. On the bottom there are the 3.5 mm jack port, the micro-USB port and the 2.5 mm balanced jack output. The right and top sides are clean.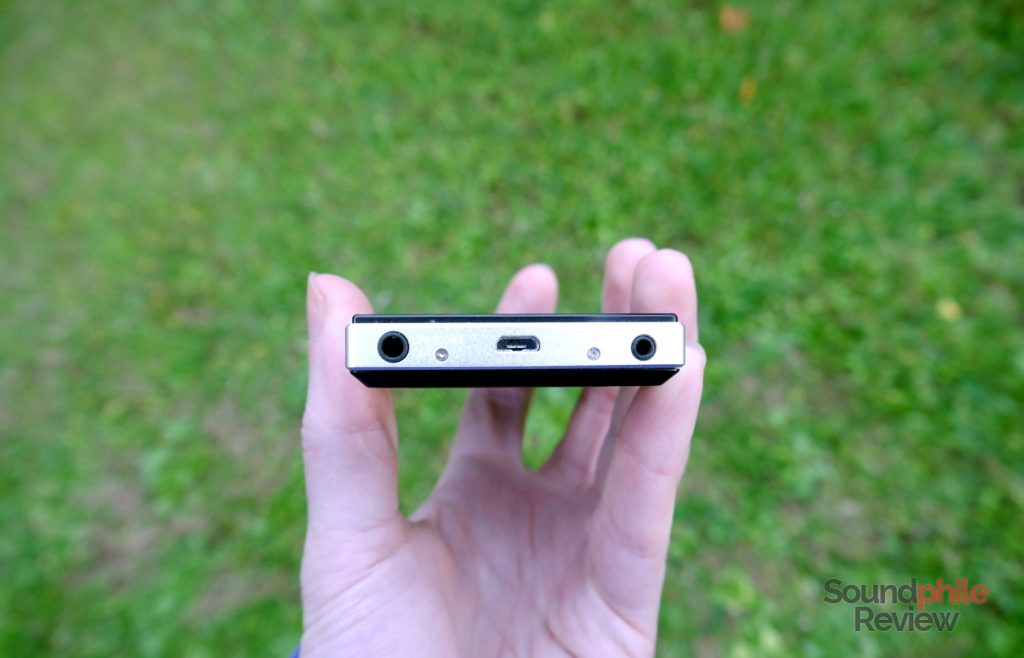 The front hosts a touch wheel with four buttons at the corners and a central button. They are the menu button, the back button, the play button (in the centre), the previous track and the next track button. On the bottom of the front lies a status LED which can glow red, blue or green.
Although I have been using the FiiO X3 III for almost two months now, the wheel is still difficult to use. It is often on the two extremes of sensitivity – either too little or too much. As a consequence, getting to the desired menu item often takes longer than necessary and is a bit burdensome. User experience is a far cry from traditional buttons and players such as the Aune M1s has a clear advantage in this regard. Of course, your mileage may vary, but it is something FiiO needs to fix with either a firmware upgrade or a hardware change in future revisions. Luckily, the "previous" and "next" buttons can also be used to navigate through menus.
The 2.3″ screen is decent, but nothing more; its viewing angles are rather small and its brightness is acceptable. The 320 x 240 resolution is enough to provide a decent user experience. It could see a few improvements, though it works pretty well even as it is.
Specifications
DAC chip
2x PCM5242
Amp chip
OPA1622
Suitable headphones impedance
16 – 150 Ω
Output impedance
Single-ended: 1.4  Ω

Balanced: 1.2 Ω

Maximum output power
120 mW (16 Ω, single-ended)
160 mW (32 Ω, single-ended)
15 mW (300 Ω, single-ended)110 mW (16 Ω, balanced)110 mW (16 Ω, balanced)
190 mW (32 Ω, balanced)
20 mW (300 Ω, balanced)
THD+N (@1 kHz)
Single-ended: 0.002%

Balanced: 0.003%

SNR
112 dB
Operating System
Proprietary, FiiO OS
Supported formats
WAV (16 – 32 bit, 44.1 – 384 kHz), FLAC (16 – 24 bit, 44.1 – 192 kHz), DSD64, APE (up to 24 bit, 192 kHz), AIFF (16 – 32 bit, 44.1 – 192 kHz), AIF (16 – 24 bit, 44.1 – 192 kHz), WMA Lossless (24 bit, 48 kHz), ALAC (16 – 24 bit, 44.1 – 192 kHz), MP3, OGG, WMA, AAC
The FiiO X3 III supports microSD cards up to 256 GB, so most people should be covered. Just to give you a reference, my rather large collection of 6800 tracks is ~160 GB.
Though it has balanced output, it should be noted that it actually outputs less power at 16 Ω when using balanced headphones. It outputs more power going up with impedance, as it outputs 190 mW vs 160 mW at 32 Ω. The difference is small, however, so the advantage of using the balanced connection theoretically only amounts to the higher crosstalk (69 dB single-ended vs 97 dB balanced).
FiiO touts a frequency response of 5 – 70,000 Hz, which is why the device earned the Hi-Res Audio sticker found on the back.
Battery Life
When it comes to battery life, the FiiO X3 III performs decently and in line with the manufacturer's estimates. The device can run for 8~10 hours while reproducing standard-res files on single-ended output. While it still is a far cry from the 30 hours of music playback of the MP3 players from the days of yonder, it is perfectly in line with other players capable of reproducing hi-res FLAC files.
Sadly, there is no warning about the battery being almost empty, so the player will suddenly stop reproducing music. There also seems to be a bug in the battery display: it often goes from two bars left to zero in less than 15 minutes. There either is an issue with the battery or the firmware shows the wrong result.
I also found it does not correctly charge when using my 6-port USB power source, which never had any issues charging tens of different devices. After a few minutes it just stops charging, as the LED on the front shuts down. I was left with an empty battery on a few occasions, though I left it charging overnight. The problem seems to occur when the device is powered on and is connected to the power adapter, though I have no evidence that the two things are directly linked.
Software
The FiiO X3 III uses FiiO's proprietary firmware, the same used on previous-generation players (which is based on Linux, by the way!). People familiar with the firmware will find themselves at home. It's simple and intuitive enough, with clear-cut sections and informative screens. Alas it has a few flaws, too, which may be due to the device having just launched, but that needs fixing as soon as possible.
The home screen shows five different options: now playing, library, folders, playback settings and general settings. The top also shows the volume, the gain level, the equalizer preset, the microSD status and the battery level.
The music library is organized by categories: besides the classic ones (artist, album, tracks), there are genre, favorites and recently added, too. Contrary to players such as the Aune M1s or the ONN X6, tracks are sorted by metadata, thus enabling a faster search of the desired track. If you like to browse the folders of the microSD, though, it is possible to do so and to manually select the desired file(s) or folder(s).
The "now playing" screen shows the time elapsed, the total playing time, the current track and the total tracks in the album (i.e. 7/8), and the file name. The background is the album cover, if available, but it can also be set to full-screen which makes the status bars disappear and only shows the cover.
Long-pressing the various buttons leads to different results:
The central button shows the volume control wheel;
The menu button shows the details of the track (title, artist, album, file type, sampling rate and bit depth);
The back button goes to the home screen;
The previous and the the next buttons rewind or go fast forward through the track.
The most annoying issue I found with FiiO X3 III's firmware is that it skips the first half second or so of each track. This totally ruins concept albums and tracks that fade into each other, and even "normal" tracks that start right away. Fixing this issue should be top priority, though so far there is no information on when the new firmware will be released.
Play settings host a few different settings related to playback:
play mode, which can be set to random, repeat, repeat current track, go through folders, play once;
resume mode can be set to either resume playing the track from the start, from when it stopped or to not resume at all;
playback gap allows to set the fade in/out;
max volume can limit the maximum volume, up to 120 steps;
default volume can be set to either a default value or to last-used value;
gain is available in "L" (low) or "H" (high);
the equalizer offers 10 bands which can range from -6 dB to 6 dB (in Hz: 31, 62, 125, 250, 600, 1k, 2k, 4k, 8k, 16k) and a few presets (rock, classical, jazz, pop, dance, vocal, metal, ACG);
line out can output either fixed-volume signal or volume-adjusted signal;
balance can alter the channel balance;
"play through folders" allows to skip to the following folder after tracks in the current have been played;
the multifunction (play/pause) button on the left side can be used as playback control, EQ shortcut, jump list shortcut or theme changer.
There is also a host of other settings that define how the system behaves:
"update media lib" can be set to "auto" or "manual" – it will automatically update the library when changes are detected, as opposed to only when manual action is taken;
various Bluetooth settings to connect to Bluetooth-enabled devices;
it is possible to enable or disable the buttons when the screen is locked;
screen timeout is 30 s, 40 s, 50 s, 60 s, 90 s, 120 s or "on" – meaning the screen will not turn off automatically;
brightness has 10 different levels;
the FiiO X3 III can go – if set – into standby mode after a chosen period of time ranging from 1 minute to 8 minutes;
a sleep timer allows one to choose after how much time the music will stop playing and the device will suspend;
output is either to headphones, line out or SPDIF;
there are a few themes one can choose: the default theme is dark grey and blue, the others are grey and gold, black and carmine, jeans and brown, brown leather and wood;
support for in-line headphone remotes is optional and can be disabled;
it is possible to set cover, lyrics and file name display;
there is an option to enable or disable a tone when one uses the scroll wheel and selects menu items;
it is also possible to adjust the sensitivity in three different steps – low, medium or high.
There is no option to completely shut down the device after a given period of inactivity; this means the FiiO X3 III stays in standby indefinitely sipping the battery power. It is difficult to estimate how much battery is lost each hour, but battery life is significantly affected after 24 hours of standby.
The FiiO X3 III can also be used as a DAC for a computer, much as the bigger sibling the X5 3rd Gen. It needs a USB cable for the connection and it allows to play the music on the PC using the X3 III as the source. Alas, the FiiO X3 III does not seem to work as a DAC under Linux as the FiiO X5 3rd Gen does – as confirmed by FiiO themselves – nor under macOS.
Bluetooth connection is stable and reliable, with no disconnections even in an area crowded with Bluetooth devices. I tested it at reasonable distance (i.e. ~10 m) and there was no detectable issue. The only issue it has is its incredibly slow start-up, as it takes more than 10 seconds to get it running. Once it's up, though, it is solid and it offers a good listening experience.
Sound
To test the FiiO X3 III I used a 64 GB, class 10 microSD manufactured by Samsung. It was loaded with FLAC files (16 bit, 44.1 kHz) and 320 kbps MP3 files. I used the RHA T20i, KZ ZS6, Venture Electronics Monk Plus SPC, Venture Electronics Asura 2.0s, RHA MA650a, RHA MA750i, RHA MA650a and Yinyoo IN8 to test the FiiO X3 III, plus the UE WONDERBOOM as a Bluetooth device.
Before starting the sound analysis, I would like to point out a couple flaws I noticed. When music playback starts or stops, there is a sudden noise as if the jack was disconnected and reinserted. What's more, there is also a background hiss from the single-ended connection that is constant whenever music is playing. When music stops, all sound from the device is muted. I think this is linked to the problem I mentioned above about songs starting approximately after half a second. Whether it can be sorted out by updating the firmware, I do not know.
I found the FiiO X3 III to sound neutral and to couple well with most headphones I own. Its sound is balanced and it does not lean towards any particular colouration, thus being able to reproduce all genres without any bias. In short, the FiiO X3 III appears to be well-designed and not to have any flaws that make music sound differently from what it should.
Generally speaking, sound is detailed and shows many nuances. Since it sounds balanced, there is no significant remark to be made about the different parts of the spectrum. Everything is where it should be, and that's what counts. It's alive and dynamic, so it never becomes boring nor lifeless.
I tried it in balanced mode using the Asura 2.0s and the Monk Plus SPC. When used in balanced mode, the FiiO X3 III has a wider and deeper soundstage and a superior sense of space. Instrument separation is also better, with instruments more clearly defined and taking each its own spot. This is no "night and day" difference, but it's noticeable.
Final Thoughts
The FiiO X3 III is a good lower-midrange device which offers reasonable functionality and good sound quality at a reasonable price. Its value-price ratio is not extreme, but it's high enough for it to be a serious competitor for the Aune M1s, Shanling M2s and the other similarly-priced DAPs.
The X3 III has good build quality, it is easy to use and it has lots of different options that allow the user to customise their user experience based on their preference, it has neutral sound and throws the ability to use the device as a DAC in the mix. Its current flaws, though, are serious and require potential buyers to pay attention: the gap at the start of each track is a killer for involvement, and the sudden noises when music starts or stops playing should definitely not be there.
Leaving the current flaws aside, it is a good player that I enjoyed using. There are no major flaws in its design and its small size makes it ideal to carry it around. When compared to the Aune M1s, I prefer the latter when it comes to input methods, firmware simplicity and speed and sound quality, but the FiiO X3 III wins hands down on features. Given the ~$200 price tag, it is a valid choice if you want a feature-packed DAP with good sound quality.
A final note on the rating. I gave the FiiO X3 III a 7/10. That's because of its current flaws that spoil the listening experience, in my opinion. Given there is no assurance that they will be fixed in the future, the rating is lower than it would be without them – in fact, I would give the X3 III a 7.6/10 score. Please keep that in mind when reading the rating.
The FiiO X3 III has a $199 recommended price.