The Chromecast sparked a new trend of devices which connect to televisions and act as receivers for video content – be it pictures or movies or online videos. But someone thought of the same concept applied to audio and WiFi audio receivers were born (notably, the Chromecast Audio was among them). The AudioCast is a WiFi receiver which is able to stream content from both remote and local sources and can be controlled using a smartphone.
The device mimics the appearance of the Chromecast Audio, but it's actually quite different in terms of functionality – most notably because it has no support for the Chromecast ecosystem, which has become quite large over the years. It makes up for this with DLNA functionality that makes it independent of operating systems.
Audiocast's Achilles' heel is the software, which is quite bad and makes it a pain to use the device. But there are great alternatives out there that make it work like a charm once it's set up!
Disclaimer: iEast sent me two units in exchange for a honest review. Please have a look at their website to learn more about the device.
TL;DR: recap
Pros




Cons

Decent build quality

DLNA-compatible

Does not require Internet access to stream local music

Android app is terrible

Design is a rip-off from the Chromecast Audio

Not compatible with Chromecast ecosystem
Rating: 7/10
Packaging & Accessories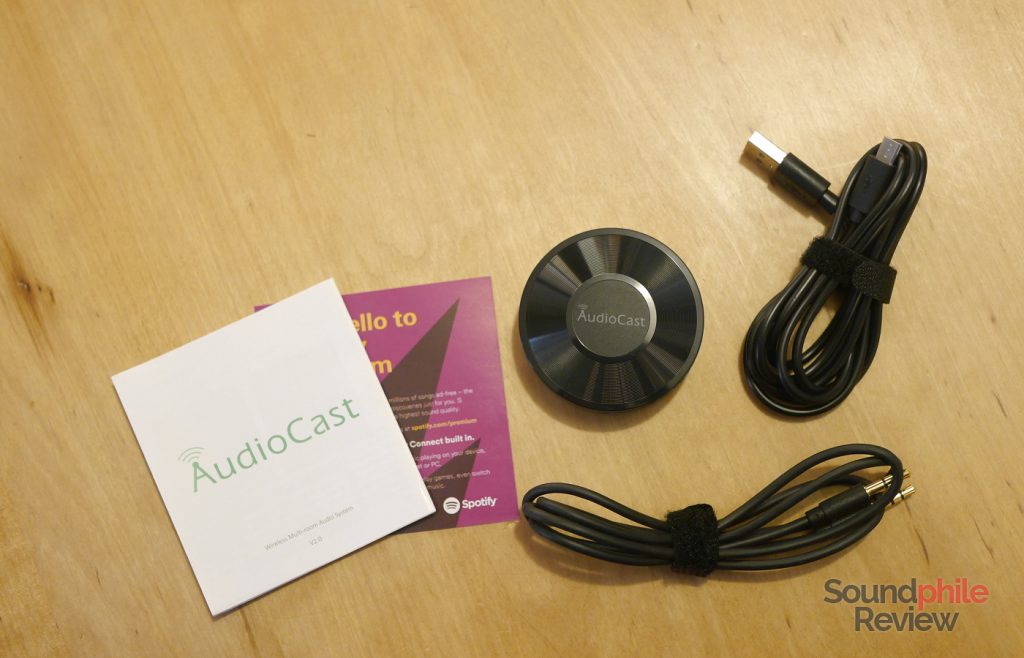 Packaging is quite simple: there's a cardboard box which holds the device, a USB to micro-USB cable to supply power (no power adapter is provided) and a cable with a 3.5 mm jack connector on each end.
Design & Build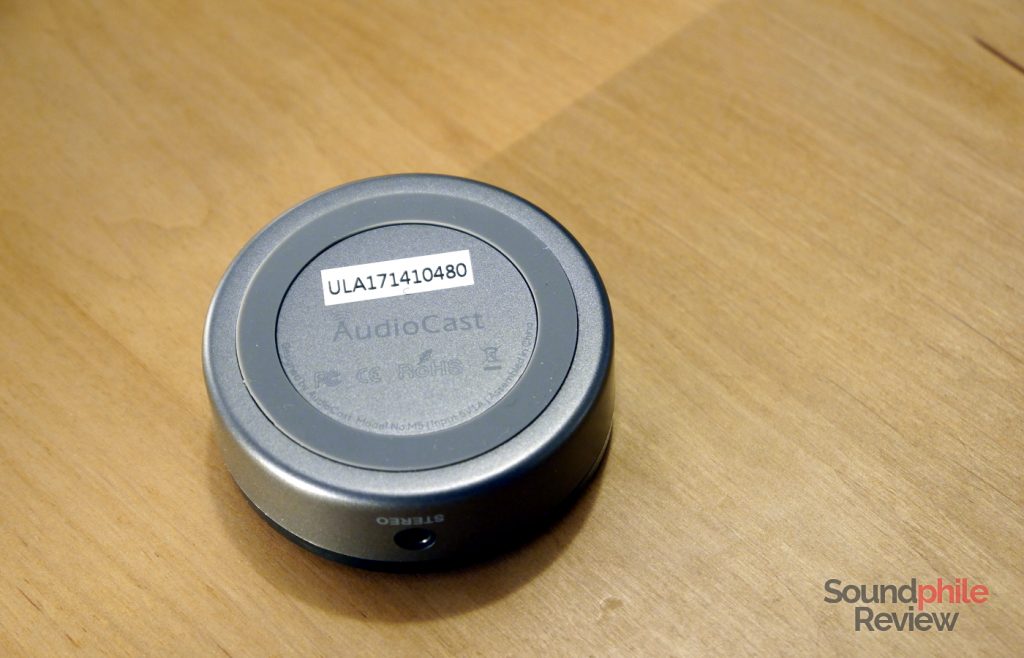 The design is directly ripped off of the Chromecast Audio – in fact it looks almost identical, to the point an untrained eye could mistake it for the original. Luckily the AudioCast logo is clearly visible and avoids any confusion.
The device is built with light but apparently solid plastic. It is round and it has just one micro-USB port, a 3.5 mm jack output, a status LED and a button. On the bottom a rubber ring makes it grip on surfaces. It's very simple and even a bit spartan, but it has everything it needs.
Specs & Features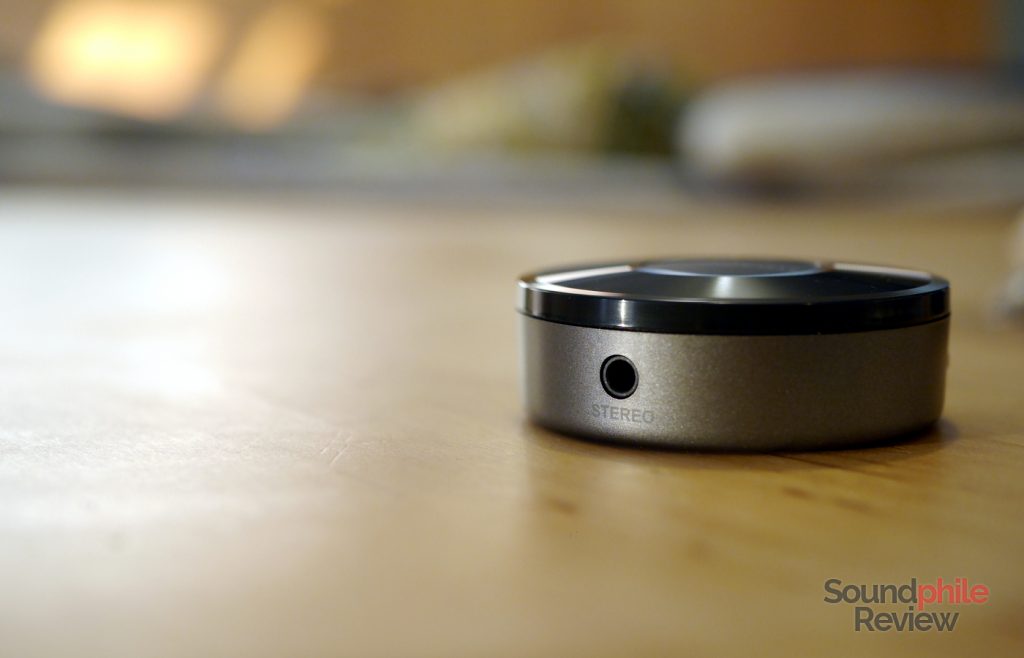 The AudioCast supports WiFi connections that allow it to stream music to your speakers. Alas iEast does not release any data on the device, so it is hard to tell even which WiFi standards it uses. It surely supports IEEE 802.11n and, given how it only showed my 2.4 GHz networks while setting it up, I'd say it does not support 5 GHz connections (and consequently IEEE 802.11ac networks). Range is the same as WiFi networks – theoretically up to 30 m. It should be able to cover most homes, but it also depends on how many WiFi networks there are – the more, the worse the signal is.
iEast claims AudioCast supports 24 bit, 192 kHz audio, so it may well be one of the few devices capable to support that in this size class. What's more, it is possible to connect multiple AudioCast devices in a single network to stream to different speakers, even in multiroom configuration. It is also possible to connect two AudioCast devices to have a left and a right channel.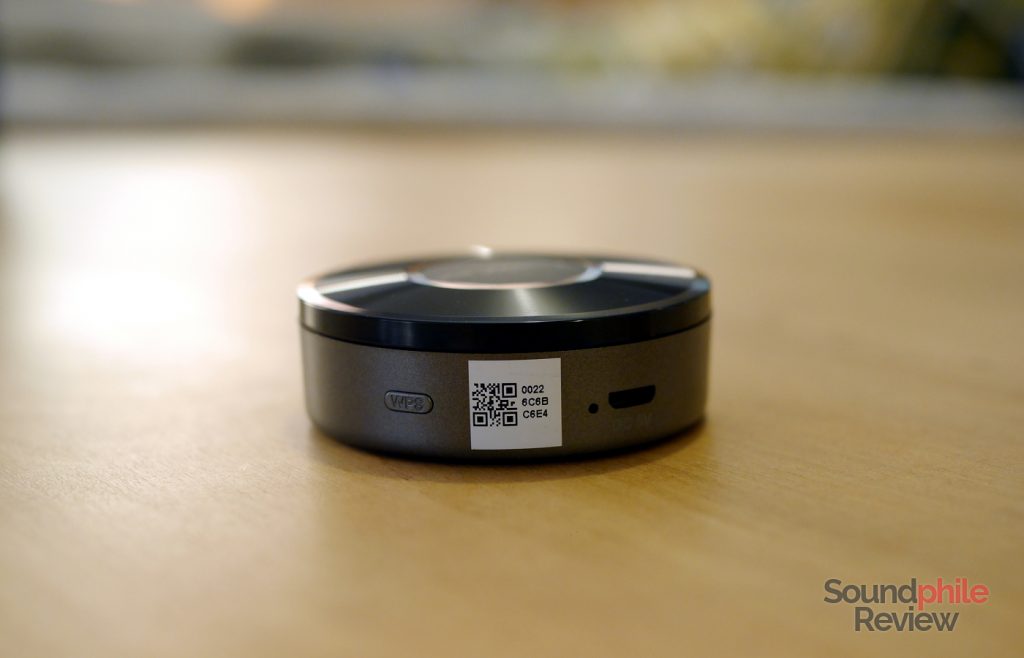 A few years ago I worked as a promoter for Google and I sold the Chromecast line of devices. The most asked question about the Chromecast Audio was about the need for an active Internet connection (it does). What's most interesting about the AudioCast is that it does not require an active Internet connection – it works perfectly fine on its own and one can just stream local music using the WiFi network it creates.
Software
The application developed by iEast and published on both the Apple App Store and the Google Play Store is a messy, clunky piece of software. The first indicator that something is not right is the Play Store rating, where there are more 1-star reviews (21) than 5-star ones (20). I only used the Android version as I do not have any iOS devices.
Let's leave the fact that the English translation is garbage aside. The setup process fails constantly, and even when it succeeds the app returns error messages. When the device connects, the app often disconnects and asks for the process to be repeated because it does not find the device on the network. This happens even when the configuration has already been done and it is incredibly frustrating. It can be avoided by manually setting up the connection through the app, by connecting to the AudioCast's own WiFi network, or from a computer. Once connected to the AudioCast's WiFi network, there is a browser interface one can use to set it up.
The user interface is terrible, with elements behaving completely random. Opening the navigation drawer on the left from the main page allows to select the desired functionality, but tapping in the right brings up the playlist screen – and makes the navigation drawer icon disappear.
Everything is non-standard on Android, meaning that the app does not feel like it's native to the Android ecosystem and has an unnatural feeling – it just does not seem right. From the navigation drawer to notifications, every single element does not adhere to Android design guidelines and this kills the integration to the system.
Luckily the Audiocast is also a DLNA renderer. This means any DLNA-compatible device can stream audio to it, so it is possible to use BubbleUPnP or similar apps on smartphones to stream music to the device. The experience is way smoother and much more pleasant, as there are just occasional small gaps between tracks.
Alas I found no way to make it work using VLC on Linux, though the software supports DLNA renderers for both audio and video. While it can work on macOS and Windows using iTunes, there is no software that I know of to use it on Linux.
As for online services, iEast claims the AudioCast works with Spotify, Pandora, Qobuz, vTuner, Tidal, iheartradio, Tunein, QQ Music, Ximalaya, TTPOD, douban, Qingting FM and Napster. Support for KKBox, Saavn, npr, SoundCloud and SiriusXM is touted as "coming".
Setting the devices as multiroom speakers is easy and only requires you to drag one on top of the other in the app. It works pretty well and once it's done, streaming a song to the devices means they both play it. There's no delay in sound and volume can be set independently, so the experience is very simple and positive.
Sound
I linked the AudioCast to the IK Multimedia iLoud Micro Monitor speakers in "left+right" mode and to a Creative iRoar Go and a Creative Sound Blaster Roar 2 to test multi-channel mode and multi-room mode.
Sound quality is decent enough, so you should not hear any significant difference when comparing the AudioCast to a mobile phone – if anything, the sound should be better than from low-end phones and at least on par with most computers.  Considering how the AudioCast is meant to be used as an alternative to speakers with integrated features (i.e. Sonos), its sound quality as a source is more than acceptable.
I can find no flaws in how it sound; as far as I can tell, it's neutral and detailed enough for it to be pretty interesting. The fact that it uses WiFi to stream audio also helps it deliver sound not affected by the streaming technology (as is the case with Bluetooth).
Final Thoughts
Considering the AudioCast retails for $39, I think it is a good product that lives up to expectations. Its Achilles' heel is software, but once the initial setup is done one can easily forget it. Sound quality is not stellar, but it's enough for a multiroom listening experience and it is at least on par with competing products.
The accompanying app is terrible, but you don't really need it if you use any other DLNA-compatible application (including Spotify!) to stream music. Given how the device offers alternatives to set it up and it is really not completely necessary to use it, the overall experience with the device itself is very positive.
I found the original Chromecast Audio concept interesting and a step in the right direction, but it had a few flaws that crippled a wider adoption (i.e. the requirement of constant Internet access). The AudioCast solves the main (technical) issues and although it does not offer the same integrated experience, it is a worthy replacement for the price.
The AudioCast sells for $39.