The introduction of the Plantronics BackBeat Pro in 2014 marked the Californian company's enter in the wireless, noise-cancelling consumer headphones market. They were large and heavy, but offered decent sound quality. The Plantronics BackBeat Pro 2 are a slimmed-down evolution of the previous model, also bringing to the table a more distinctive design and better size and weight.
Disclaimer: the local PR agency sent me the unit I reviewed. They told me I can keep it. You can buy them directly from Plantronics.

TL;DR: recap
Pros:
Premium design;
Nice touch & feel;
Good comfort;
Both Bluetooth and cable available;
Impressive feature set
Long battery life
Active noise cancelling included…
Cons:
…but very poor isolation mines its effectiveness
Heavy and large
Things to consider:
"Consumer" tuning with emphasised bass
Rating: 7.7/10
Package & Accessories
Packaging is very simple, yet effective. Inside the cardboard box is another black box which looks very refined. The headphones are placed inside their tissue travel bag, which is found after opening the flimsy paper which is wrapped around it. There are also a USB to micro-USB cable and a 3.5mm jack inside the bag.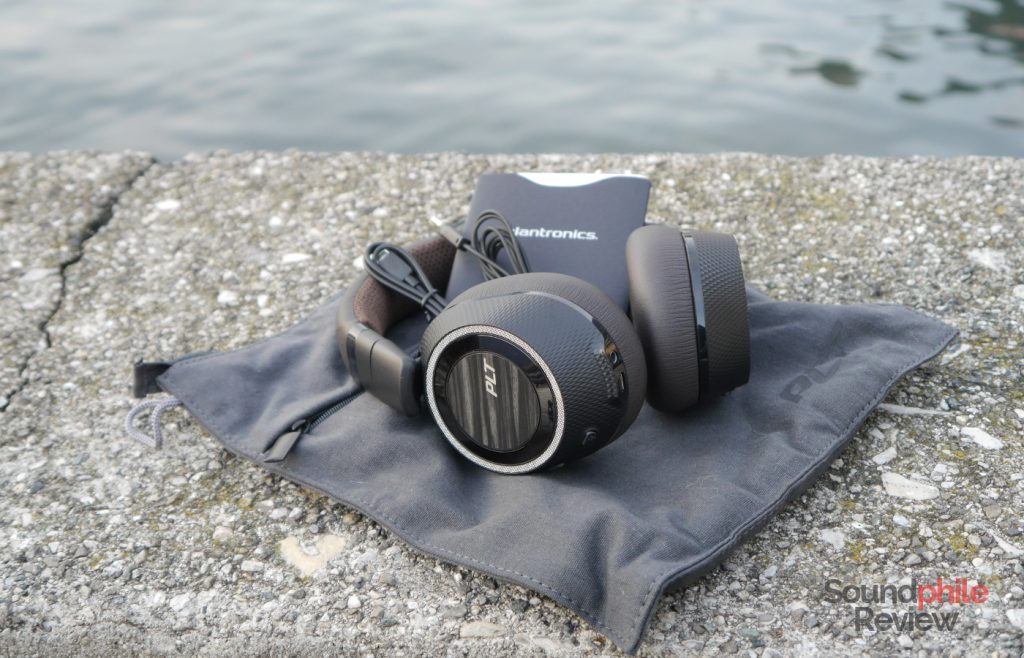 Plantronics put a lot of effort into making the unboxing experience feeling like you are unboxing a truly premium product; the little details (the flimsy paper, the small sticker with the "PLT" logo which holds it together, etc) are what really shows the firm's attention to details.
Design & Comfort
I would not be surprised if I saw a businessman wearing the Plantronics BackBeat Pro 2 in an airport lounge. Their design is elegant and sophisticated, with brown protein leather inserts, faux wood on the earcups and textured plastic. They appear as a luxury item, and the first impression of those I showed them was exactly these were premium both in appearance and feel. That is good news for Plantronics, although this kind of design may not appeal to everyone and young people may prefer a more colourful and minimalistic approach such as the one offered by Beats and other brands.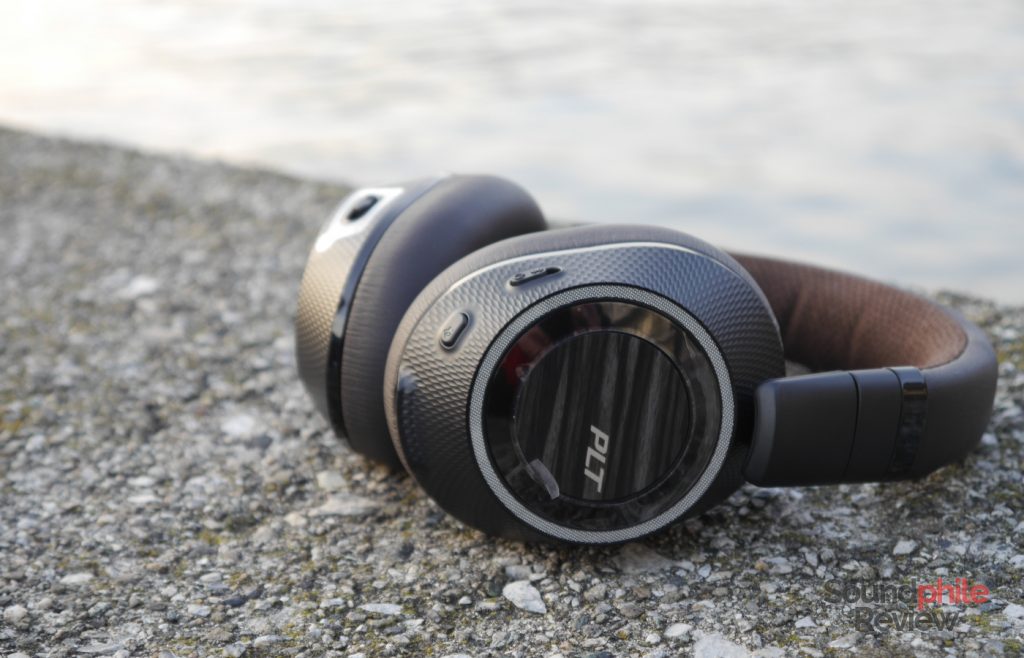 On the left there is a faux wood circle encompassed by a black, dotted circle and another silver circle; on the right we find a shiny black circle. The left earcup hosts the ANC switch, plus the remote commands (previous, play/pause, next) and the volume control, which is the dotted circle: it raises or lowers the volume as you move it. We find the on/off switch, the "mute microphone" button, the micro-USB port and the jack connector on the right earcups. The faux wood circle also acts as a button to answer and end calls. It's hard to express how much I like the big, bold letters that identify the right and left channels: thanks to this, they are easily identifiable so I never found myself putting the headphones on in reverse.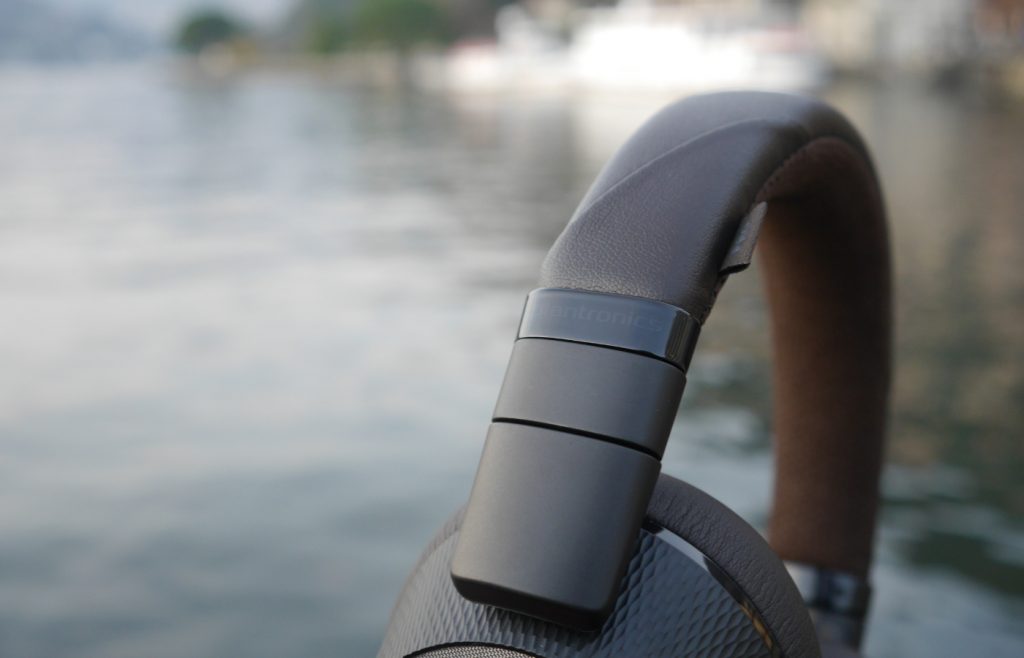 Build quality seems very good and the Plantronics BackBeat Pro 2 look like sturdy, reliable headphones which can withstand daily (ab)use.
The headband is adjustable and there is an astounding amount of twelve (12!) possible adjustment levels on each earcup – each of those can also tilt both horizontally and vertically.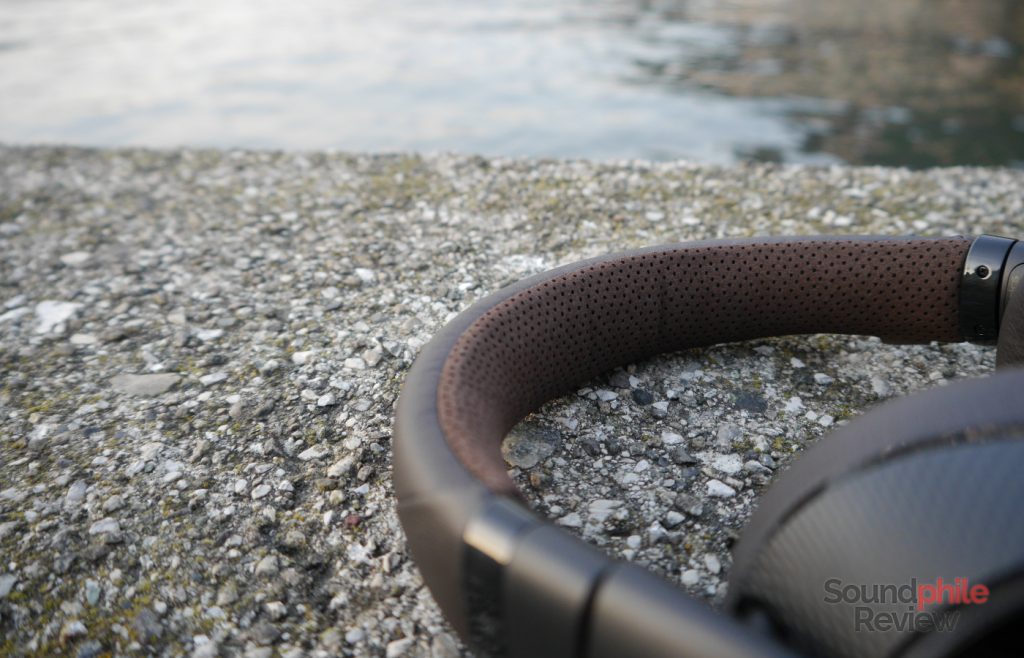 As I explained in the Bowers & Wilkins P3 Series 2 review, my scalp is very sensitive and I cannot wear headphones for prolonged periods of time without incurring in a painful irritation. That's why I wear a cap when I use most headphones – to reduce irritation. I gave the headphones to a few "normal" people and they told me they were quite comfortable in the medium term (~2 hours), so I think Plantronics did a good job here. There is enough padding in both the earcups and the headband, although it is not very soft. The headphones weigh in at 294 g, which is on the heavier side.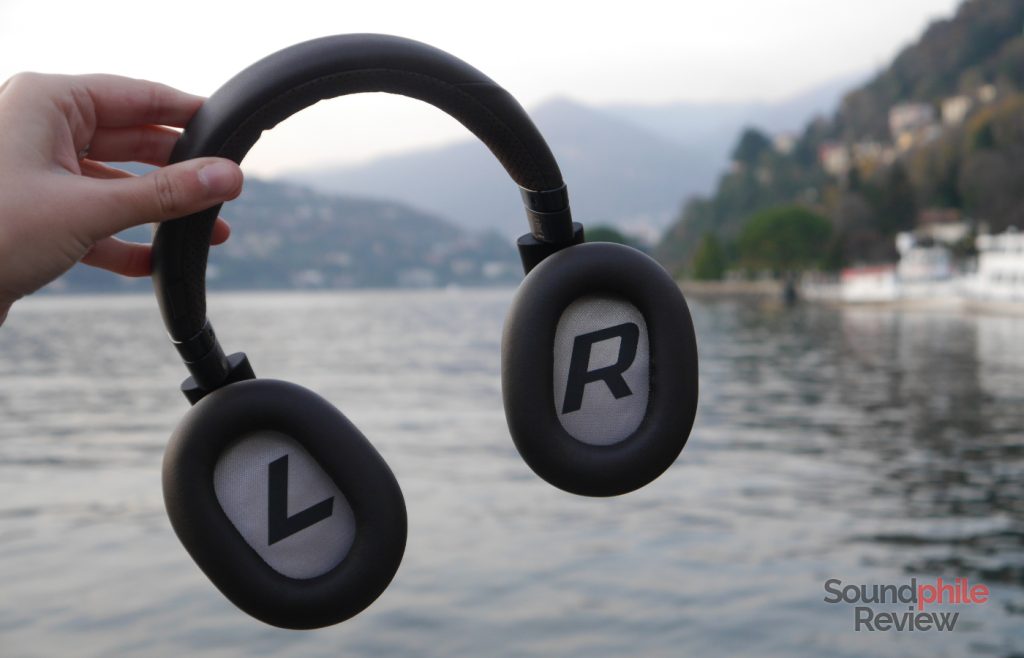 The Plantronics BackBeat Pro 2 are over-ear headphones, so they fully cover the ear. I have larger-than-average ears and I wear prescription glasses, but I never felt fatigue while using the headphones.
I have to note that it soon gets pretty warm inside the earcups, so the ears start to sweat after only half an hour of use – even during winter! This may of course be a problem during summer. The BackBeat Pro 2 lacks alternative options for the earcups (e.g. velour), so you should consider how your ears react to the headphones-induced hotness. This is not really a "con", as it is common among headphones and it is the natural result of enclosing the ears in a confined space with no air circulation.
Extra features & Battery life
One of the main selling points of these headphones is active noise cancelling. The feature in itself is just above acceptable, removing only a very small part of ambient noise. It removes bass frequencies with good efficiency, though, so I may say it does its job. BackBeat Pro 2's weakness is the fact that passive isolation is non-existent. When I wear them I can hear the exact same sounds as when I do not wear them; there is no audible difference in volume either. This makes the noise cancelling almost useless, as you will continue to hear all the sounds around you, they will just be a bit muffled up. Bose's QuietComfort 35, which I had a brief chance of trying (see also: Bose QuietComfort 35 review), seem to be very distant.
Update: Reddit user /u/jodv notes that diminished passive isolation may be due to me (and him) having larger ears and therefore having earcups not completely surrounding them, making sound creep in. This may be a good explanation as to why passive isolation is not on par with other headphones.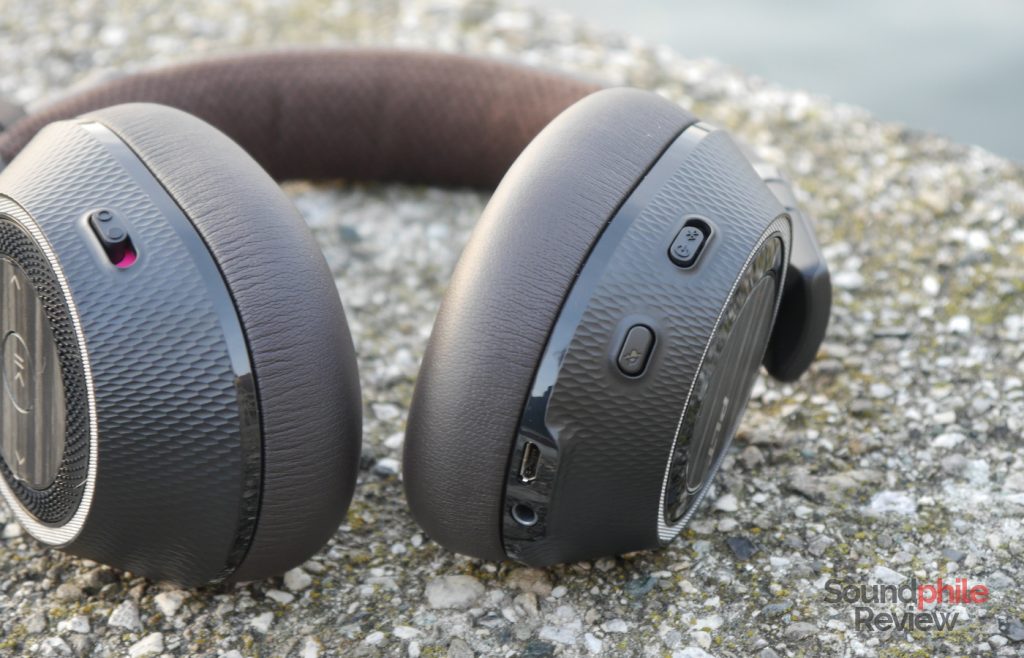 If I had to choose a headphone for a noisy environment (e.g. open-space office) I would not turn to the Plantronics BackBeat Pro 2, as they cannot guarantee the needed noise reduction. To put things in perspective, I find the Plantronics Voyager Focus UC, which are on-ear headphones and are not made with isolation in mind, offer a better seal. Even the Bowers & Wilkins P3 Series 2 have better passive isolation!
There is an "open mic" mode, which should allow the user to hear ambient sounds – an option which is particularly useful on public transport or while walking in cities. Since the headphones already let all the ambients sounds in, though, this mode seems to be totally useless. In addition to that, it makes high-frequency sounds so sharp they are very annoying and caused me fatigue in mere minutes.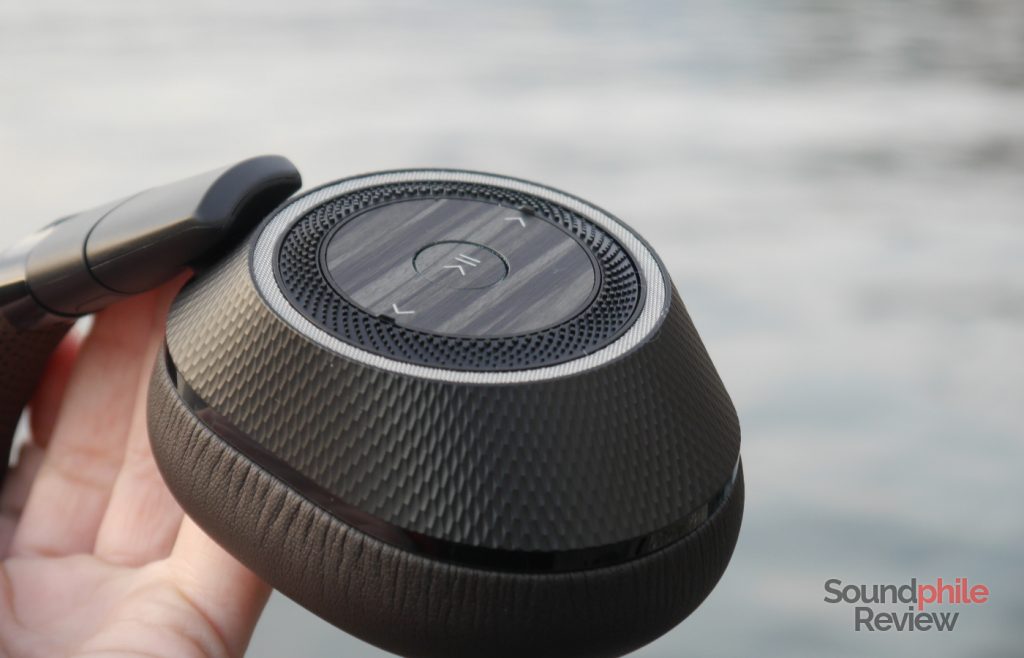 What I really enjoy about Plantronics headphones is that they're actually smart. They are packed with sensors so they can react to the user's actions: as an example, they automatically pause music when you remove them and play it when you put them on again. You can pair them with up to two different devices, so that you can link them to both your PC and your smartphone and use the same headset to manage music and calls. A voice also informs you of battery level, connection status and so on.
Bluetooth 4 EDR is included and it supports the aptX codec, too. That means sound quality will be noticeably better with compatible devices. As the list includes more or less all of the flagship phones from recent years and a vast array of less-expensive devices from most manufacturers, this should grant broad compatibility.
Battery life is advertised at a staggering 24 hours. Reality is not far from the claims, though, and the Plantronics BackBeat Pro 2 actually deliver on that promise. Of course battery life is dependant on a lot of different factors, including listening volume, Bluetooth signal quality, ANC and so on, so your mileage may vary – but it will probably be quite similar to the figures the company provides.
Sound & Specs
As I always do, I bruned in the Plantronics BackBeat Pro 2 for ~100 hours, using the provided cable and an MP3 player. I used both cable and Bluetooth to listen to music; the cable was attached to a Zorloo ZuperDAC used in conjunction with a desktop PC, while I used my Lenovo Vibe Shot with Bluetooth. Most test tracks are FLAC, with random MP3s (320 kbps).
Plantronics BackBeat Pro 2
| | |
| --- | --- |
| Frequency response | 20 – 20,000 Hz |
| Impedance | 32 Ω |
| Sensitivity | 93 dB |
Being headphones targeted towards the average consumer, the BackBeat Pro 2 pack a lot of punch in the bass section – and that's a good thing. These are the Bluetooth headphones I'd probably carry with me if I wanted to listen to electronic music while on a trip. Strong lows, clear mids and smooth treble combine to grant an exciting and immersive sound, especially with modern genres.
Dynamic range is compressed, so that loud sounds do not appear much louder than quiet ones. Soundstage is narrow and does not offer much depth; stereo imaging is also passable at most. Instrument separation is not bad.
As I expected from headphones such as these, bass is full and forward, a bit on the bloated side – but not to the point of being monotonous and without any detail. There is an evident emphasis in the mid-lows, so that bass appears to be bolder and stronger. While it is not very deep, it makes up for depth with discrete quality and texture. It is smooth and enveloping; while not the tightest I've heard nor the best controlled (it does sometimes spill over the lower mids), it is pleasant after all.
I would also like to point out that bass is not explosive, so it indeed is emphasized but not to the extent of being the sole tone you can hear. It is not overwhelming and this is very nice; Random Friday by Solar Fields pack a punch, but bass does not daze you. I would not listen to Shostakovich's compositions on these headphones, but genres with lots of bass should play fine.
The first word that comes to my mind when describing the midrange is "recessed". Much like most headphones these days, the Plantronics BackBeat Pro 2 focus on bass and leave midrange behind. That's because of how we hear sound frequencies (we hear more/better in the 2k-5k frequency range). This means, however, that recordings with mostly vocal and acoustic content will not sound that good with these headphones. Detail is nice and tonality is on the warm side.
Treble is not super-detailed nor extremely extended, but it gets the job done. It is in fact nice to listen to it; it provides just the right amount of detail and presence so that you can actually hear it without it stealing the scene from mids and bass – and that's what most people like. It's there, and that's it. Listening to Daft Punk's Get Lucky treble is adding context and detail to the song, but the focus is on Pharrel Williams' voice and on the guitar (and, of course, on bass guitar).
Turning on noise cancelling makes the sound become more shallow and narrow; the audible hiss also makes it more difficult to concentrate on mids and treble. There is no notable shift in how tones are reproduced, however, so it is almost transparent.
I recommend these headphones for people who mostly listen to modern, bass-rich genres: pop, metal, modern rock, electronic music… The Plantronics BackBeat Pro 2 will sound great with most of these genres. They will show their limits with the most congested songs (don't listen to black metal with these.), but they will otherwise fare well.
I do not have many Bluetooth over-ear headphones, but I can compare the BackBeat Pro 2 to other over-ear pairs without Bluetooth and to a few on-ear Bluetooth pairs:
Plantronics Voyager Focus UC: these are on-ear Bluetooth headphones whose focus is on treble: they are very bright and may sound a bit thin and harsh when you first listen to them. Bass is less dominant and there is more focus on the mids. Without taking comfort and type (on-/over-ear) in consideration, I would say these are better if you especially like bright headphones or if you listen to classical music or rock; the BackBeat Pro 2 are a better alternative for the average person.
Noontec Zoro II Wireless: the Zoro II are similarly tuned to the BackBeat Pro II, but they sound less natural – especially the midrange. Bass is in the same league, while treble is a bit more detailed and forward. The Plantronics win, but not by a wide margin – and they lose on passive isolation.
Meze 99 Classics: Meze's flagship costs ~300$/€, so it costs 50% more than the BackBeat Pro 2. The difference can clearly be heard: bass is tighter, mids are more natural and vibrant, treble is more extended and defined. Resolution is far better, so is soundstage and instrument separation. Comfort is also (subjectively) far better, and so is isolation. The obvious difference here is that the Meze has no Bluetooth connection and is priced higher, but this gives an idea of how different two (relatively) similar-tuned headphones can sound.
Superlux HD662 EVO: one of the latest products Superlux launched, the HD662 EVO share many features with the better-known HD681 – but they are closed-back headphones. Presentation is totally different here: bass are forward, mids are heavily recessed and treble is elevated, without being sharp. The Plantronics are generally more agreeable and better as "general purpose" headphones, but the Superlux are more enjoyable with electronic music as bass truly packs a punch.
Final Thoughts
The Plantronics BackBeat Pro 2 are definitely a nice product: Bluetooth, noise cancelling, an endless list of features, good build quality and good comfort make this headphones very nice. There are a few cons to consider, though: passive isolation is close to being non-existent and tuning may not appeal to discerning listeners, who may prefer more neutral headphones.
These are ideal, however, for most people. There is no major flaw and, while they could be improved, they fulfil much more than the basic needs. Given they are priced at nearly half the price of the competitors (e.g. Bose QuietComfort 35 and Sony MDR-1000X), I see no real reason not to recommend them: at ~200$/€, the Plantronics BackBeat Pro 2 are a sure hit.